Do you want an easy way for your site visitors to subscribe to your newsletter? Asking them to join your newsletter while they're filling out your contact form is a quick and easy way to build your email list.
In this article, we'll walk you through how to add an AWeber signup checkbox to your contact form.
Step 1: Create a New AWeber WordPress Form
The first thing you'll need to do is install and activate the WPForms plugin. For more details, follow this step by step guide on how to install a plugin in WordPress.
Next, you'll need to create a new form.
For help with this, check out our tutorial on creating a simple contact form in WPForms.
When you create your form, you'll need to add a checkbox to your for site visitors to select when they want to join your newsletter.
Here's what our form looks like: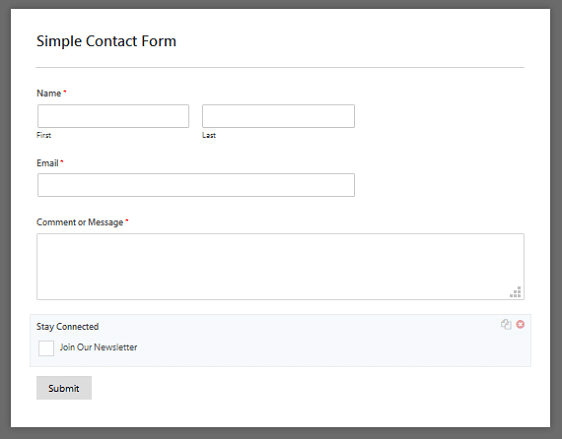 Keep in mind that right now this is just a checkbox on your WordPress form. You will need to connect it to your AWeber account to make sure site visitors clicking on it get added to your AWeber newsletter list.
Step 2: Connect Your Contact Form to AWeber
To start, install and activate the AWeber addon. For help with this step, check out our detailed guide on installing and using the AWeber addon with WPForms.
Now, navigate to your AWeber contact form in the WPForms editor. Go to Marketing » AWeber.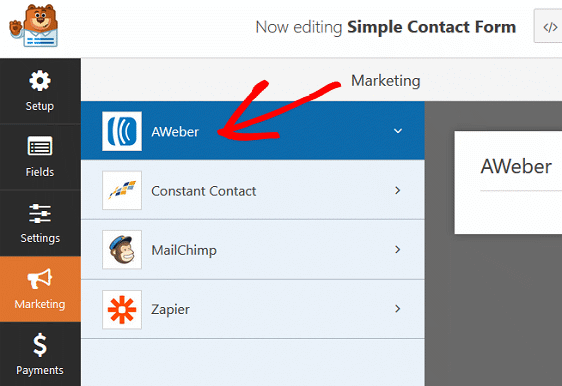 Click on Add New Connection.

You'll see a modal popup asking you to name your connection. This is for your reference only so you can name this connection anything you'd like.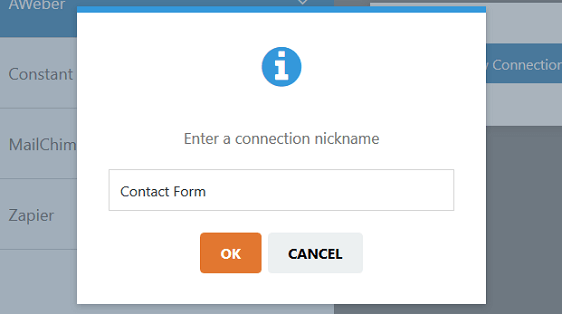 Click OK.
Once the connection is created, you can connect your form to a specific list in AWeber. This is where all of your subscriber information will go when site visitors click on your AWeber signup form checkbox.
Choose your AWeber account and select the list you want subscriber information to go to. Also, make sure to connect the email form field by choosing it from the dropdown menu in order to connect it to AWeber as well.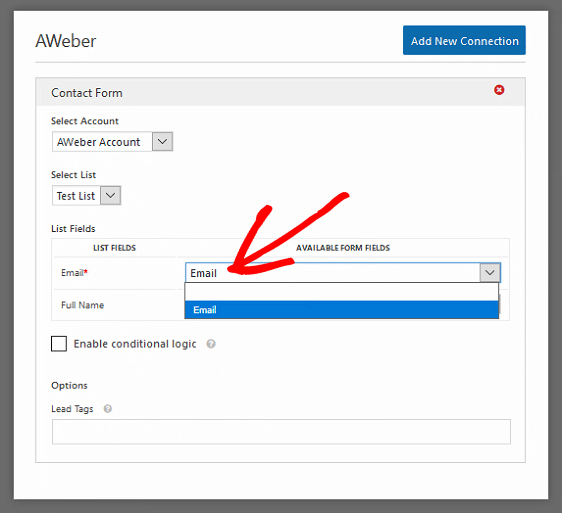 Step 3: Enable Conditional Logic
Now that your form is connected to your AWeber account, you'll need to make sure that anyone that clicks on your checkbox is added to your email list.
You can do this by selecting Enable conditional logic at the bottom of the preview panel.
From the Select Field dropdown, choose the AWeber signup checkbox. Ours was named Stay Connected.
From the Select Choice dropdown, choose the AWeber checkbox name. Ours was named Join Our Newsletter.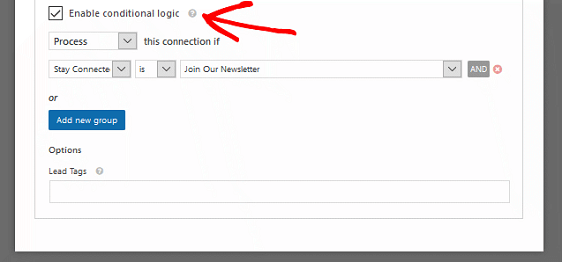 Click Save.
And that's it! You now know how to add an AWeber signup checkbox to your WordPress contact form. It's a great way to sign people up without creating a separate newsletter signup form.
The great thing about this is that now you'll only send your newsletter campaigns to those that actually want them, keeping you compliant with the CAN-SPAM laws that are in place to protect site visitors from unwarranted emails.
If you are looking for ways to thank those that subscribe to your newsletter, check out our stunning thank you page examples to help boost customer loyalty.
Or, if you are looking for other ways to use WPForms smart logic, see our guide on how to create clutter-free forms with smart logic and watch your contact form conversions increase.
So, what are you waiting for? Get started with the most powerful WordPress forms plugin today.
If you like this article, then please follow us on Facebook and Twitter.