Do you want to add an AWeber signup checkbox to your contact form? Asking site visitors to join your newsletter while they're filling out your contact form is a quick and easy way to build your email list and boost your email marketing efforts.
In this step-by-step guide, we'll walk you through how to add a mailing list opt-in checkbox to your contact form so you can grow your subscriber list and reap the benefits for your business.
Create Your WordPress Contact Form Now
Why Add an AWeber Signup Checkbox to Your Contact Form?
Adding an AWeber signup checkbox to your contact form is a great way to grow your email mailing list and save time for both you and your users.
In today's busy world, convincing people to sign up for another mailing list can be tricky. But if a user wants to contact you, providing a simple tick box on your contact form is a simple way to encourage them to stay in touch without the need to fill out another form.
Connecting AWeber to your contact form will help you grow a bigger email list to stay in touch with your followers, build better relationships with your customers, and inform them of business updates, new products or services, and promotions.
How to Add an AWeber Signup Checkbox to Your Contact Form
Step 1: Install WPForms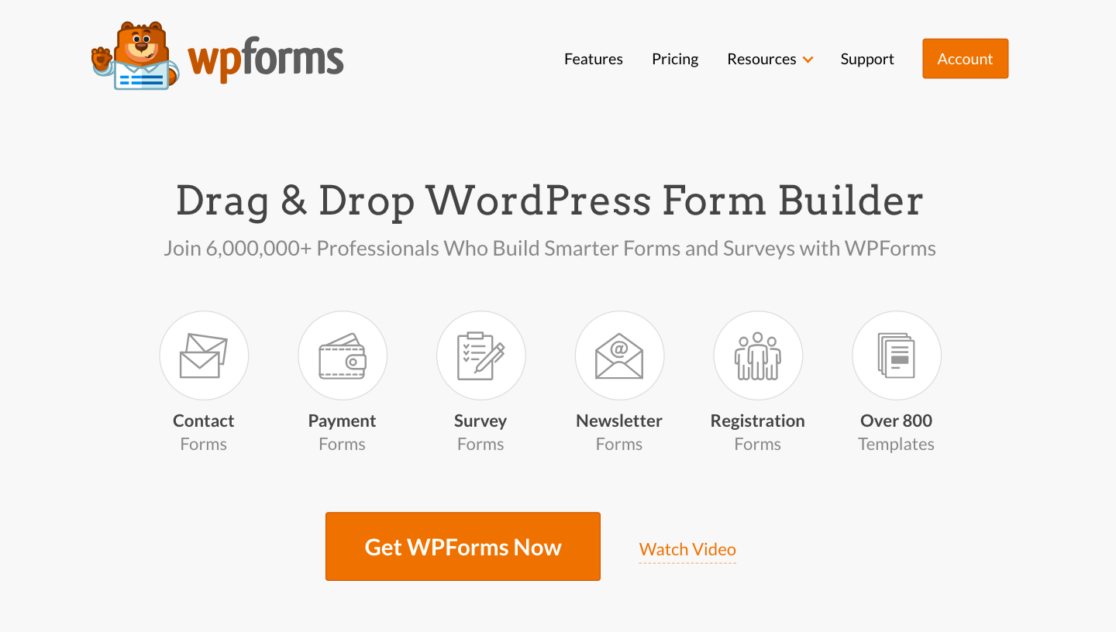 The first step is to add a contact form to your site. WPForms is the best form builder plugin for WordPress and is the quickest and easiest way to get a contact form up and working on your WordPress site with no need for custom html or code.
To use the AWeber addon, you'll need to purchase WPForms Pro. This gives you access to all the addons to connect with third-party marketing app APIs and lots of other useful features, such as conditional logic.
Once you've purchased a license for WPForms Pro, you can use this guide on how to install and activate the WPForms plugin if you need any help with the installation process.
Step 2: Create a Contact Form
Now you've installed WPForms Pro, you can build your contact form. WPForms comes with a simple contact form template you can customize and publish on your site in just a few minutes.
Go to WPForms » Add New to open the form builder. Enter a name for your form at the top of the builder and scroll down to see the Simple Contact Form template. Click the Use Template button.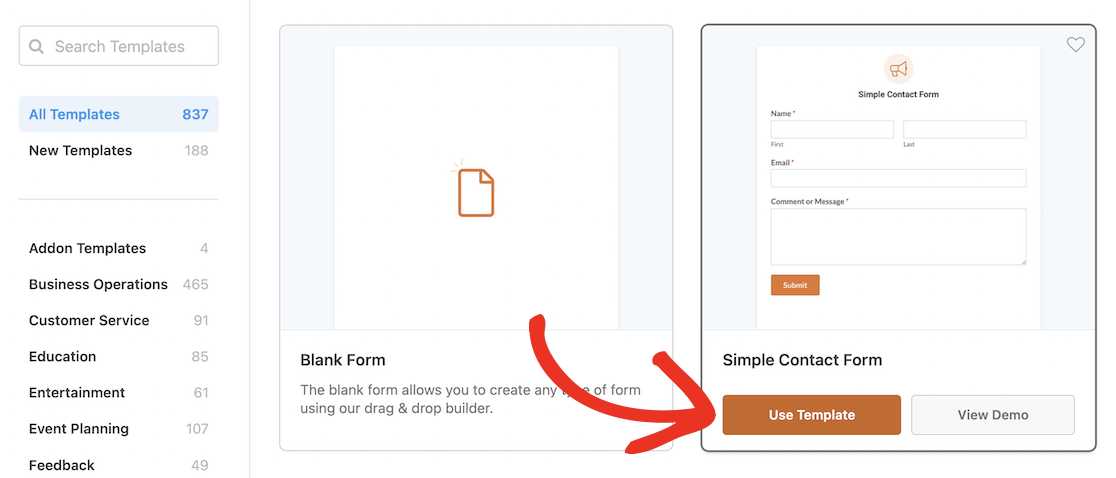 This template will create a basic contact form for you. But before you publish it on your site, you need to add a checkbox that users can tick if they want to sign up to your email list.
Step 3: Add an Opt-in Checkbox to Your Contact Form
Find the Checkboxes input type field in the left-hand panel of the form builder.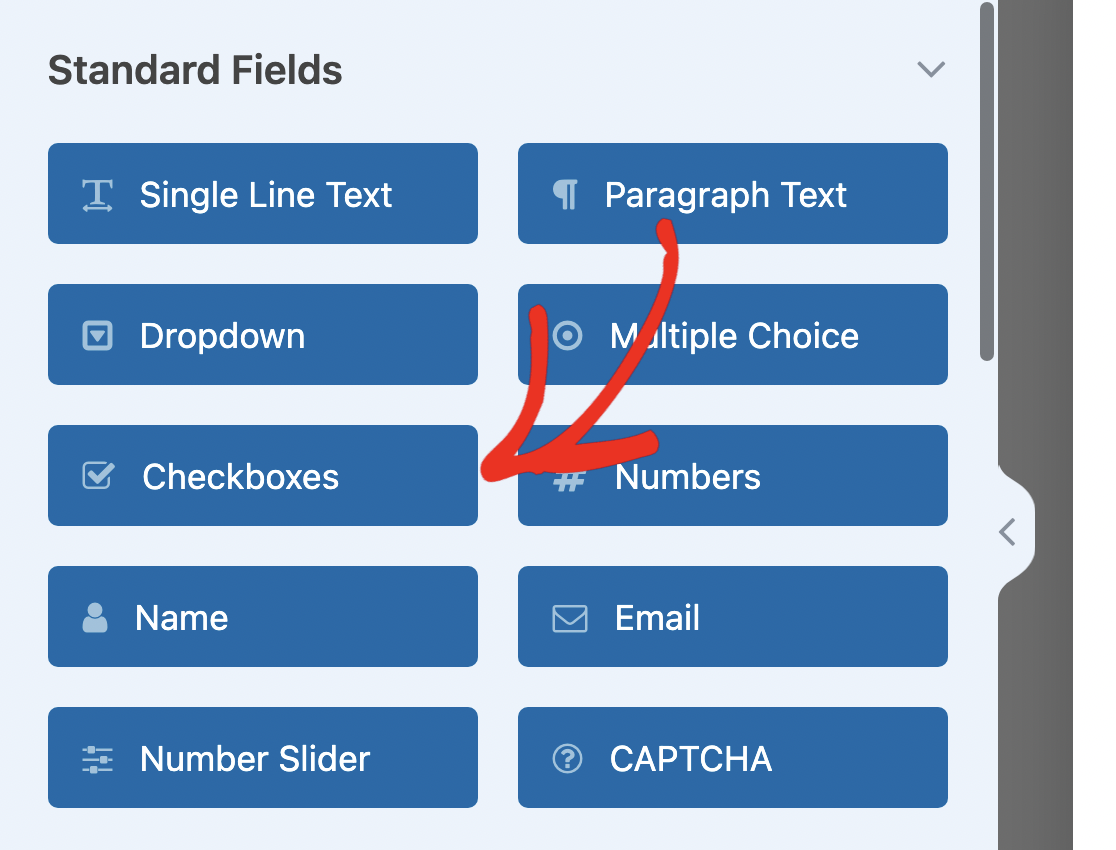 Drag the Checkboxes field onto your form. It makes sense to place it just before the submit button.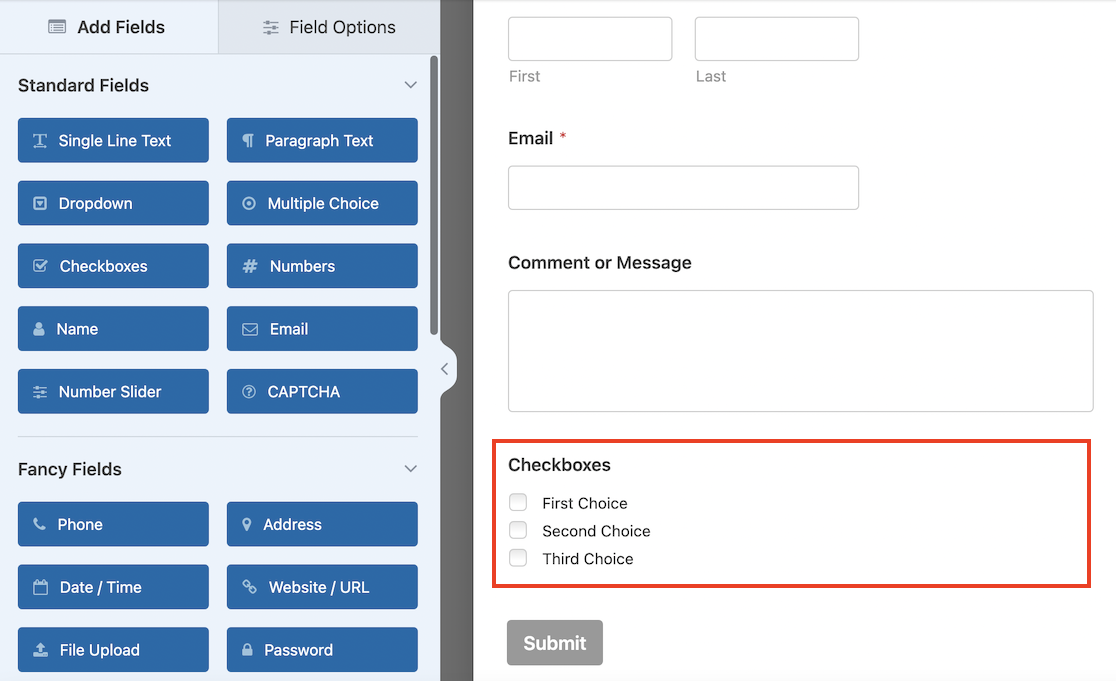 By default, the checkboxes field has three choices. You can delete the other two options, as you only need a single checkbox. Click on the Checkboxes field on your form to bring up the Field Options panel. Remove the second and third choices by clicking the minus (-) icon.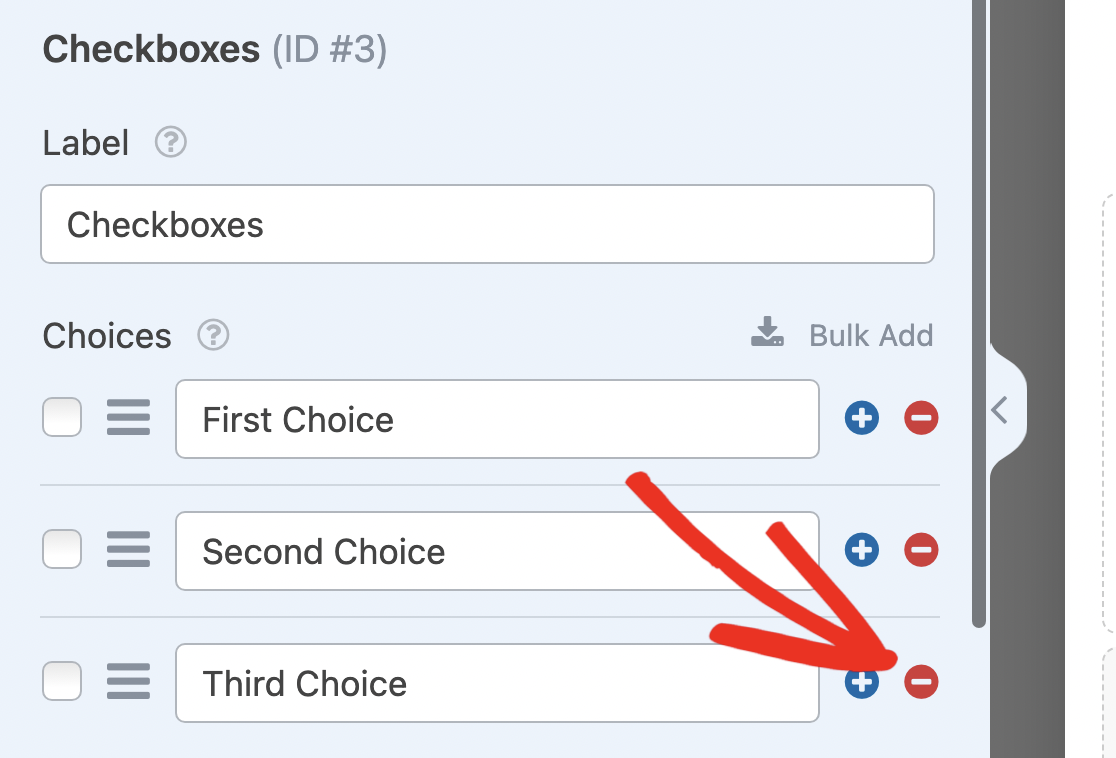 Change the Checkboxes Label and "First Choice" text to something more descriptive, such as "Sign up for our newsletter."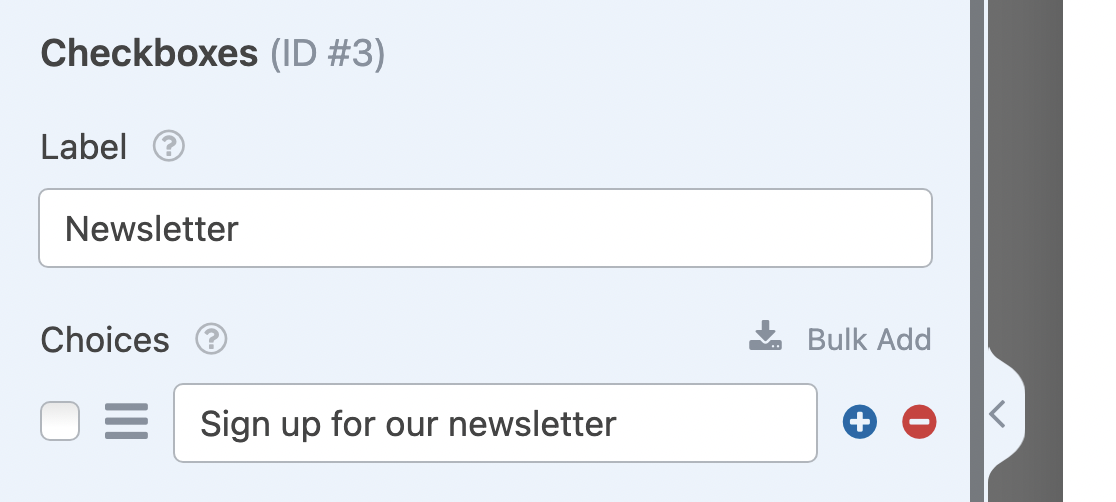 Your contact form now has a newsletter opt-in checkbox, but you'll need to connect it to AWeber to add the user's details to your AWeber list automatically.
Save your form and click exit (x) in the top right-hand corner of the form builder to close it.
Step 4: Connect Your Contact Form to AWeber
Go to WPForms » Addons and search for "AWeber "in the Search Addons field. Click the Install Addon button next to the plugin.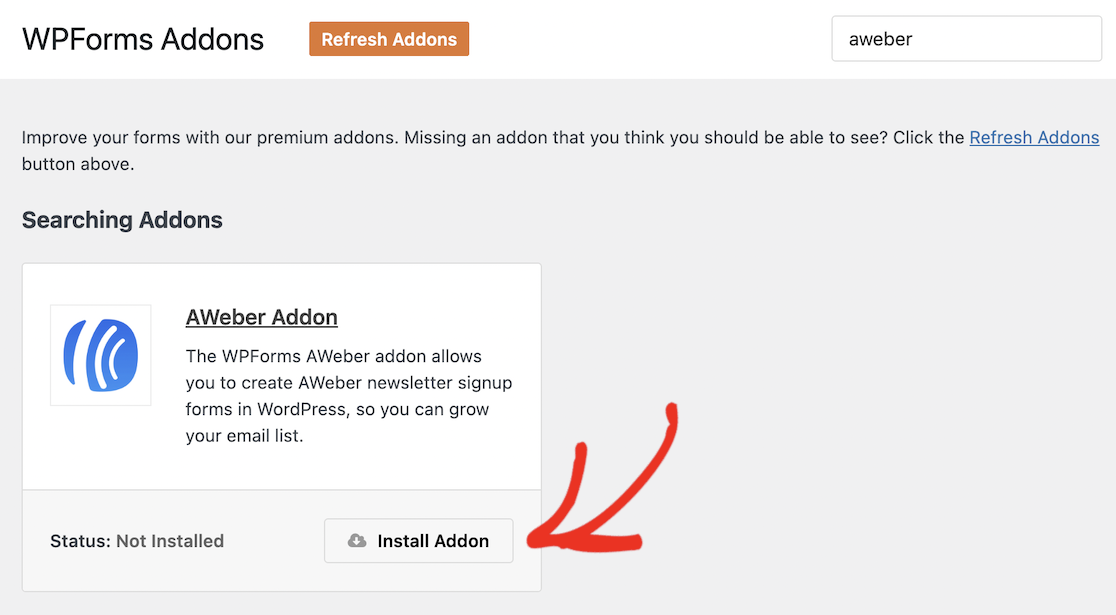 After a few moments, you should see a message confirming the AWeber addon is installed and active.
Navigate to WPForms » All Forms, find the contact form you just created (it should be at the top of the list), and click on the name of the form to go back into the builder.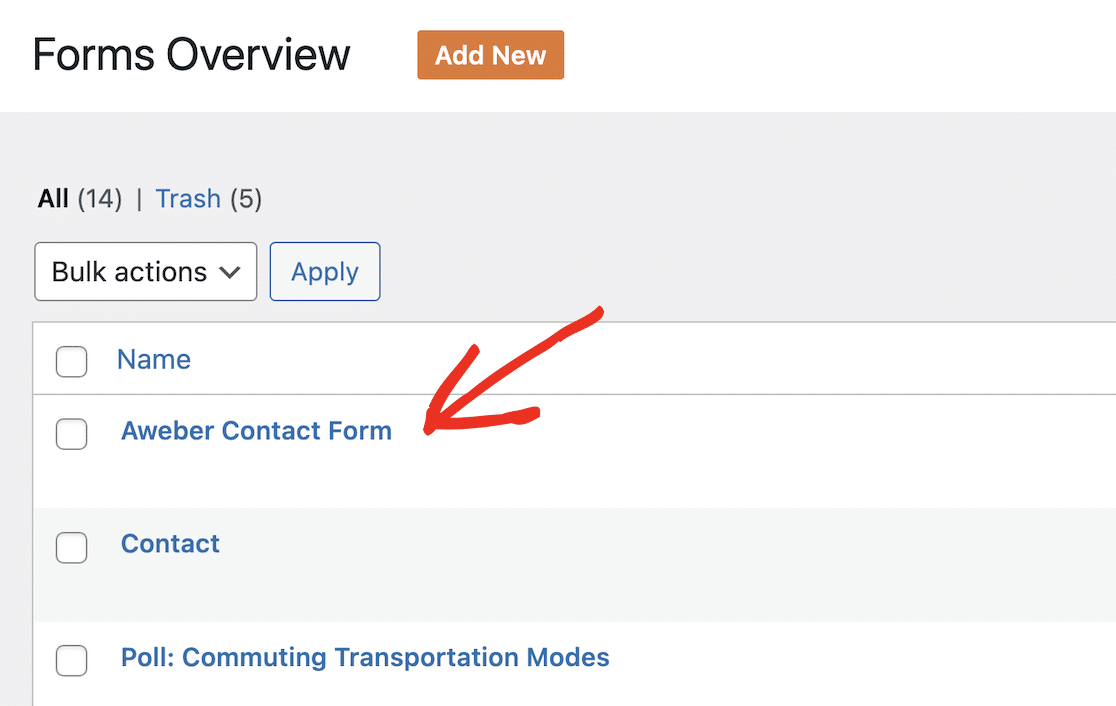 Click on the Marketing tab in the form builder sidebar and choose AWeber as your marketing integration.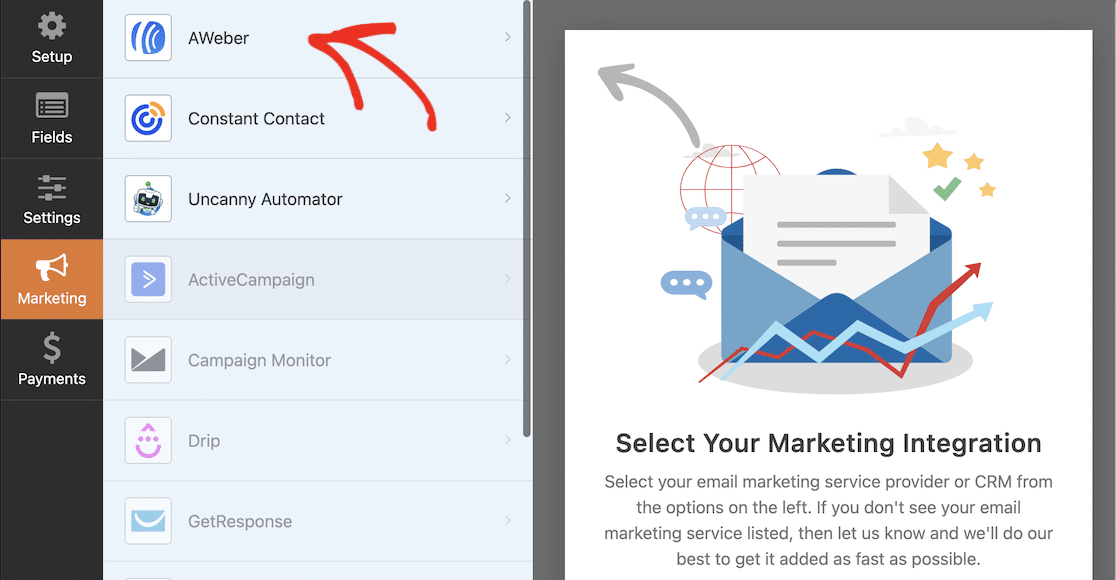 Click the Add New Account button.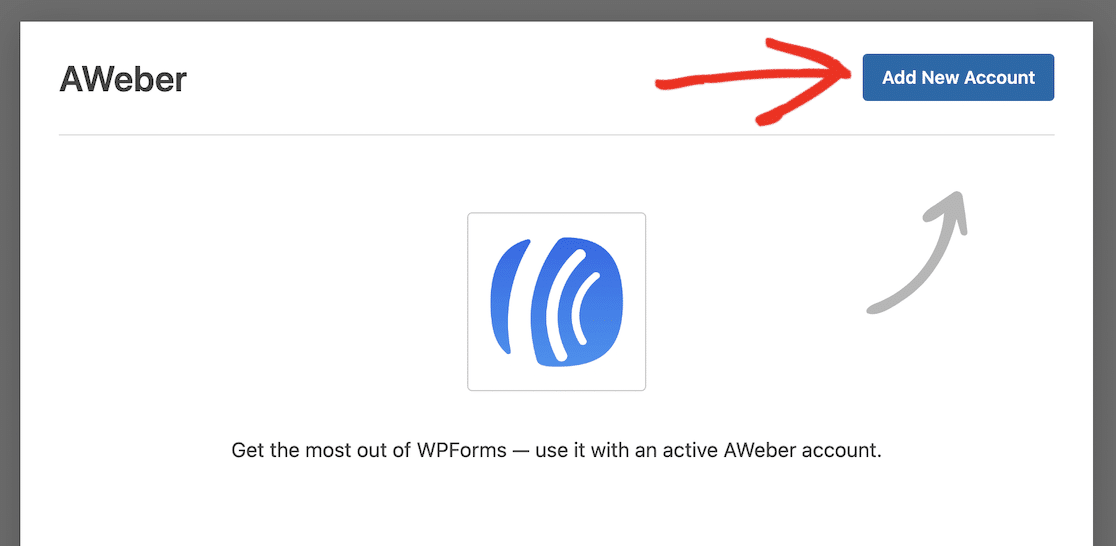 You'll see a popup box asking you for your AWeber authorization code and an account nickname.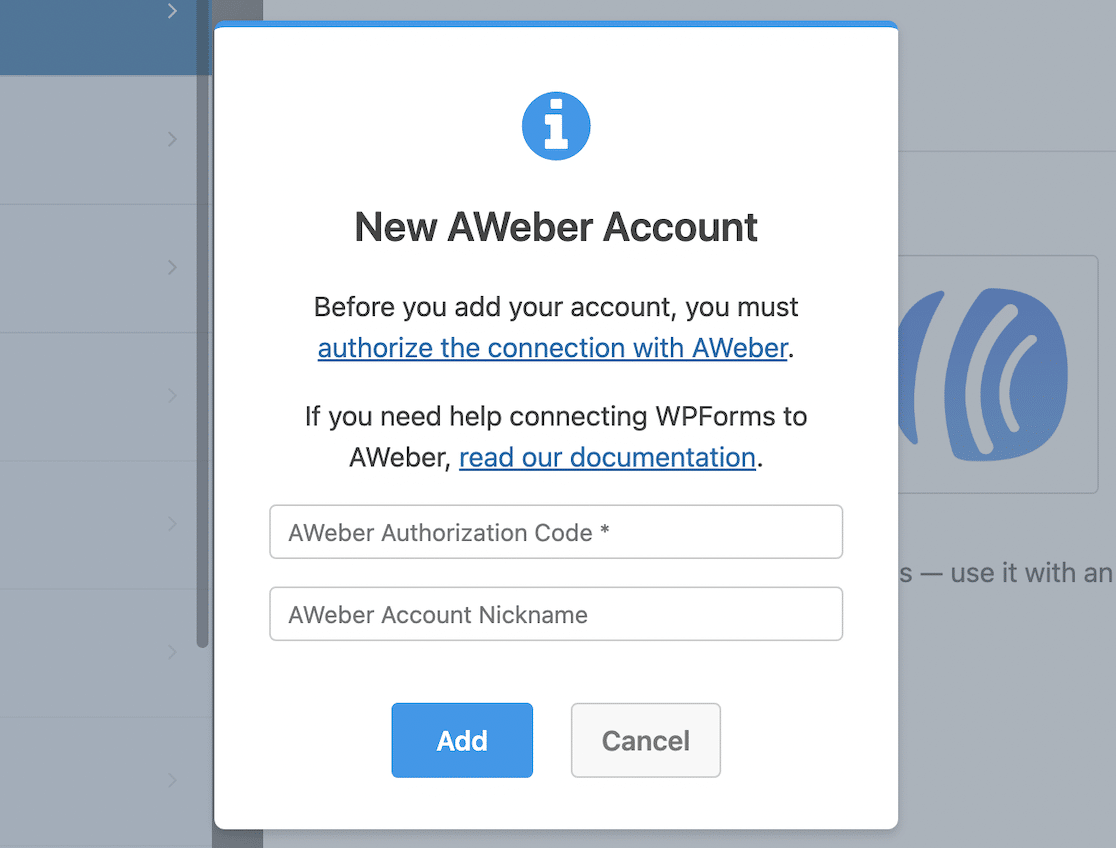 Click the link to authorize the connection with AWeber.  This will take you to the AWeber site, where you'll need to enter your AWeber account details to link your account with WPForms. Enter your AWeber login name and password and click Allow access.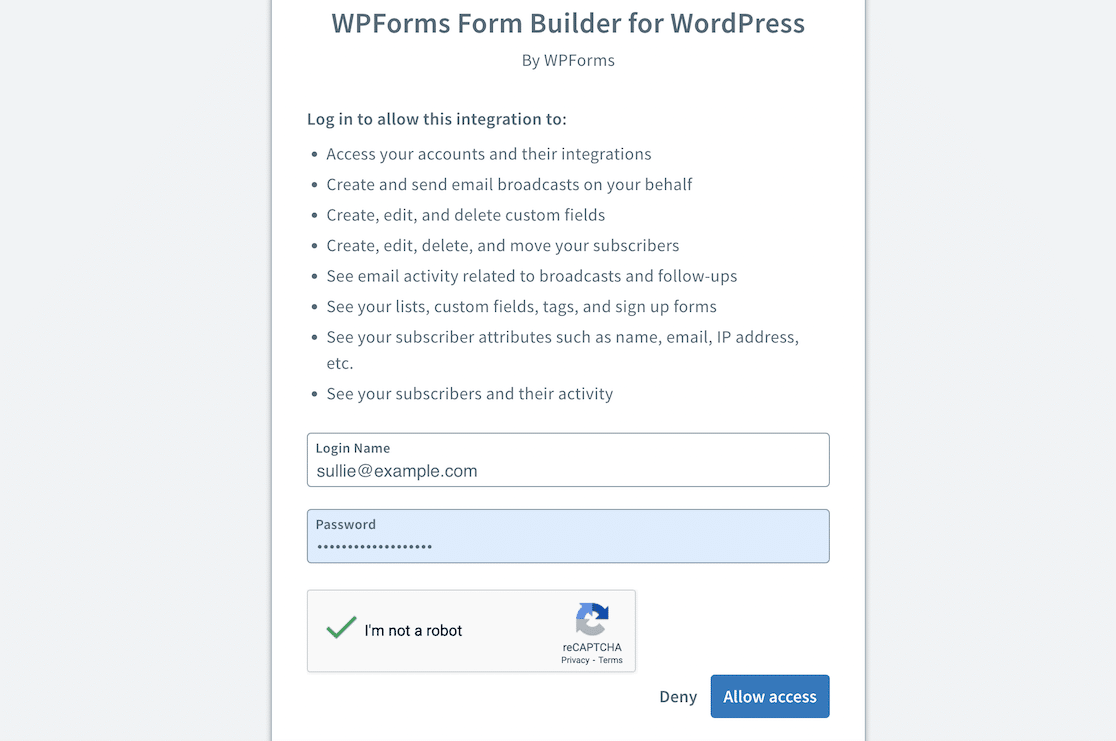 AWeber will then show you an authorization code. You can copy this code and paste it back into the popup box in the WPForms marketing settings.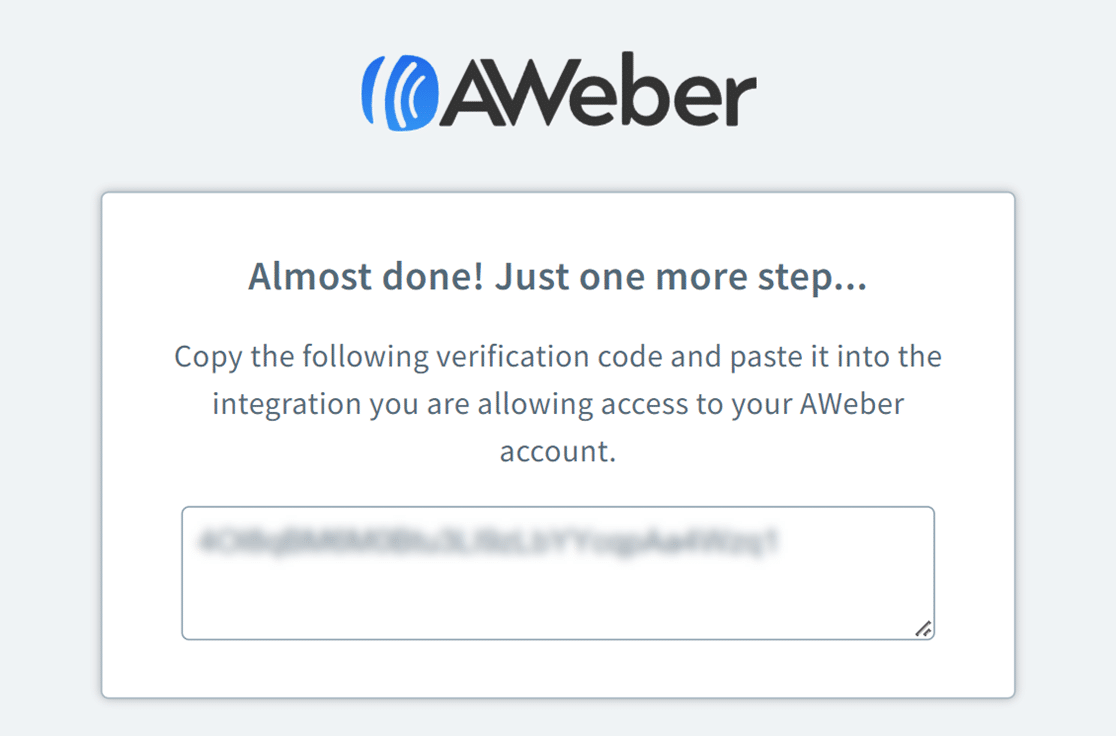 You'll also need to enter a nickname for the connection (you can call this "AWeber" or any name that will help you to remember the account if you have several AWeber accounts.)
Finally, click the OK button to connect your accounts.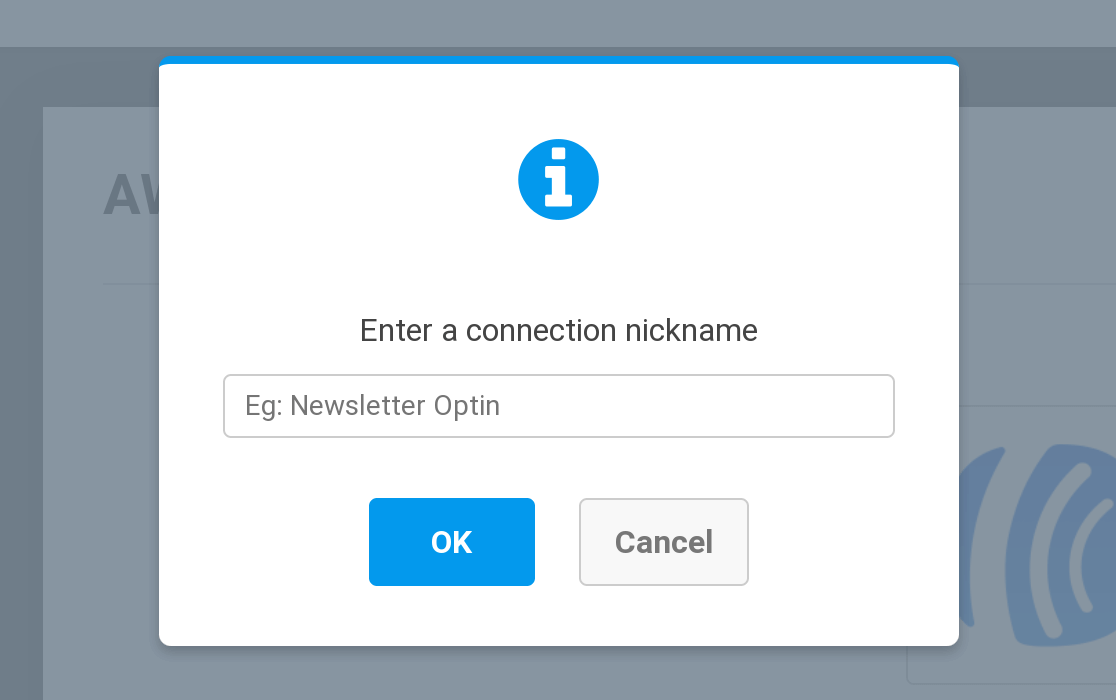 You should then be able to choose your AWeber account from the dropdown box.

Now You've linked your WPForms and AWeber accounts together, there's just a little more setup to get your form submissions to match up with your mailing list database.
Step 5: Matching Form Fields to Mailing List Fields
Start by choosing the mailing list you want the user to subscribe to from the dropdown under Select List.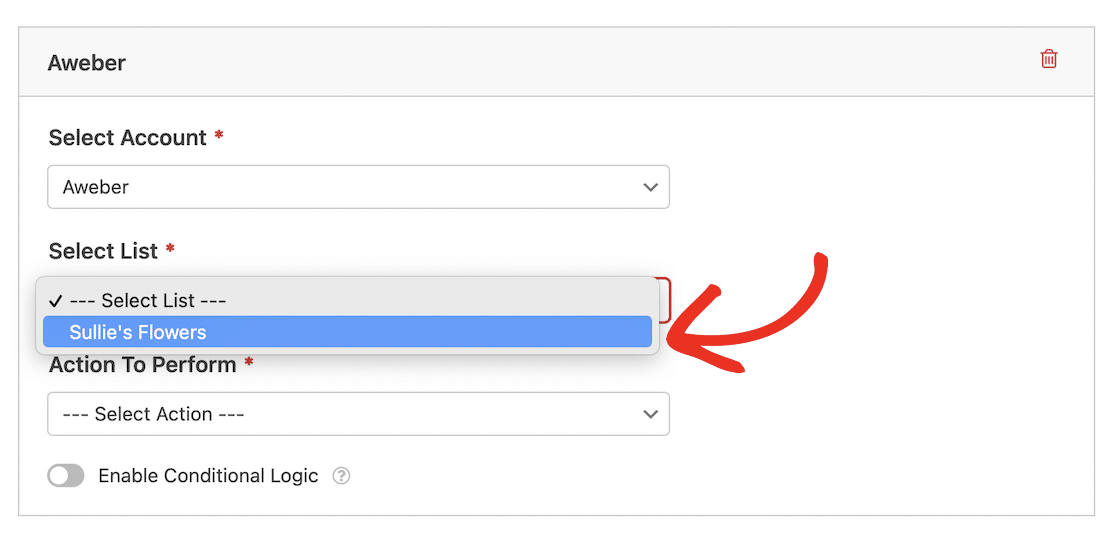 As soon as you choose a list, you will see more options appear in the settings. These options allow you to map form fields across to your mailing list database and add tags to subscribers for segmenting your list.
Start by choosing Subscribe from the Action To Perform dropdown. This will add the user to your list when they tick the mailing list checkbox on your contact form.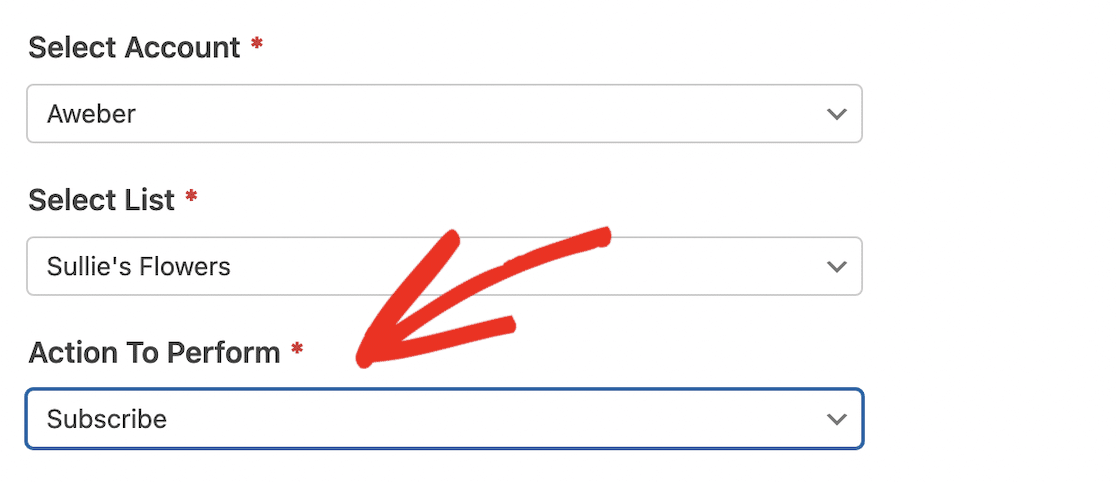 Next, select the Email and Name fields to map to the Subscriber Name and Subscriber Email.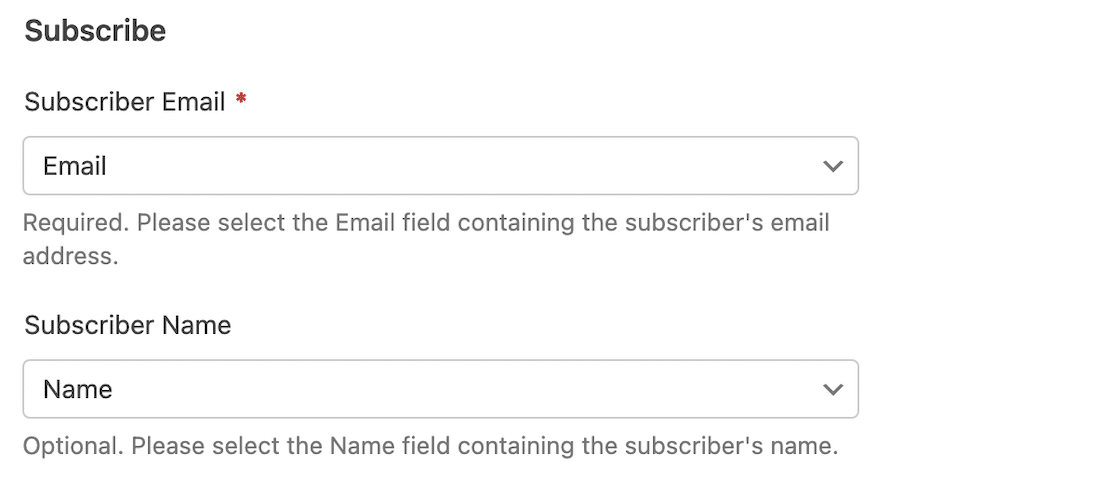 Finally, you can optionally select some tags for users who subscribe through your contact list. Tags To Add lets you select tags that are already set up in your AWeber account, and New Tags To Add gives you a place to add new tags. You can enter as many new tags as you like, separated with a comma.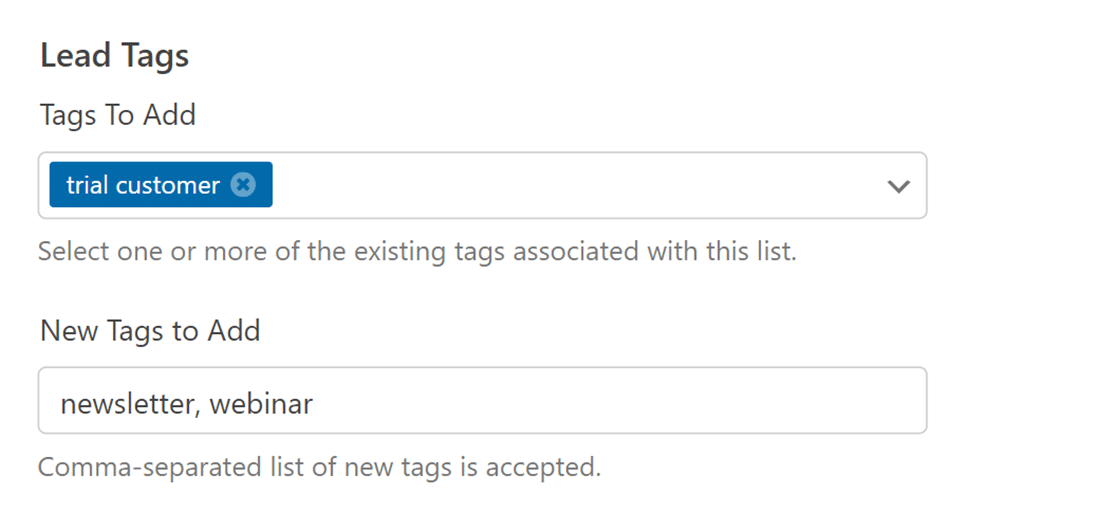 If you edit your contact form to include additional fields,  you can also map these fields to custom fields in your AWeber account. Once custom fields are created, they'll appear in your AWeber connection settings.
Step 6: Enable Conditional Logic
The final step is to enable conditional logic. This will allow you to automatically add users to your mailing list only if they tick the opt-in checkbox.
Toggle on the Enable Conditional Logic option, which will display some additional settings. You then need to choose options from the dropdown menus to create the following rule:
Process this connection if Newsletter is Sign up for our newsletter.

The form field labels may differ slightly if you gave them different names during setup, but the basic conditional logic will be the same for an opt-in checkbox.
And that's it! You can save your completed AWeber form and publish it on your site. Now, users who tick the option to sign up for your newsletter when submitting the form should be automatically added to your mailing list and sent email notifications. You don't even need to create a sign-up form for your newsletter unless you want to!
Next, Improve Your Contact Us Page
Do you want to encourage users to get in touch so you have more opportunities to add them to your mailing list? Take a look at these best Contact Us page examples to get some inspiration for your own contact page.
You can also check out our roundup of Thank You page examples if you'd like to show your appreciation for getting in touch when a user submits the contact form.
Need more ideas for growing your mailing list? Take a look through this list of proven ways to grow your email list for some tips and ideas for maximizing your newsletter signups.
Create Your WordPress Contact Form Now
Ready to build your form? Get started today with the easiest WordPress form builder plugin. WPForms Pro includes lots of free templates and offers a 14-day money-back guarantee.
If this article helped you out, please follow us on Facebook and Twitter for more free WordPress tutorials and guides.