Documentation, Reference Materials and Tutorials for WPForms
How to Install and Use the Signature Addon in WPForms
WPForms makes it easy to add a form that allows users to submit a signature. In this article, we will show you how to install and use the Signature addon for WPForms.
Based on the license you purchase, you will have access to specific addons that will help you extend the functionality of WPForms. If you do not have access to the Signature addon for WPForms, then please see our guide on how to upgrade your WPForms license.
We are assuming that you have already installed WPForms on your WordPress site.
Go ahead and install / activate the Signature addon on your site. For more details, see our step by step guide on how to install addons in WPForms.
Creating a Signature Form in WPForms
First thing you need to do is click on the WPForms menu item in the WordPress menu and click Add New.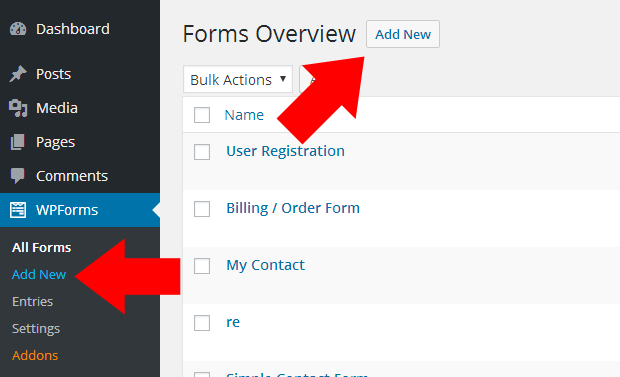 You'll be asked to enter a form name and select a form template. Go ahead and click on the Billing / Order Form template.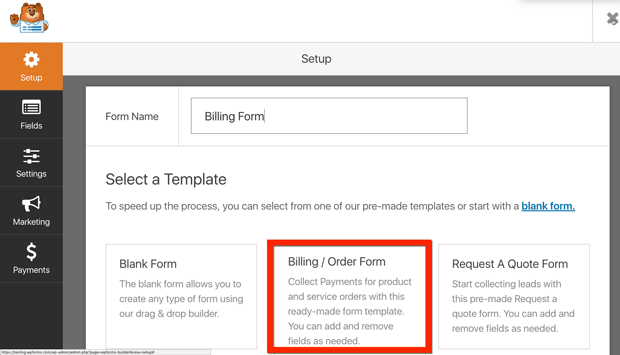 WPForms will create an order form for you. You can add new fields from the left panel as well as customize the order of existing fields by using our drag and drop interface.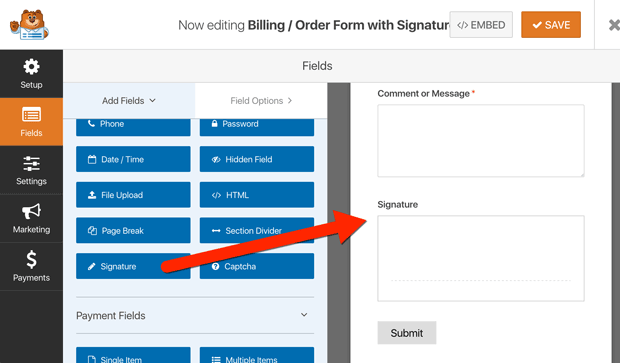 Once you are done, simply click on the save button and add your form on a page that you like.  Now users will be able to sign your form electronically by drawing their signature on a computer or mobile device.
That's all. Now you can request that your users submit signatures with forms in WordPress.
Changelog
1.0.3 (2017-08-01)
Fixed: Signature reset when scrolling on some mobile devices
1.0.2 (2017-03-09)
Fixed: CSS not correctly applying if using only Base styling
1.0.1 (2016-11-17)
Changed: Signature is stored and created in an image file, instead of a data URI
Fixed: Signatures not working when hidden on load (conditional logic, pagination)
Fixed: Signatures not displaying in Gmail/Google Apps
1.0.0 (2016-11-10)