Would you like to get SMS notifications when someone submits your contact form? Getting a text message really helps to speed up replies, and that's important when converting leads into sales.
In this tutorial, we'll show you how to get an SMS text message from your WordPress form. This is an easy method that doesn't require any custom coding.
How Do I Send WordPress Form Entries to SMS?
It's easy to send SMS notifications from your contact form entries with the WPForms plugin.
WPForms is the best form builder for WordPress. The free version, WPForms Lite, is 100% free forever. You can quickly build any kind of form using an easy drag and drop builder.
The paid versions of WPForms let you easily connect your forms to tons of different 3rd party services using Zapier. This simple integration is super powerful. It lets you get notifications from your contact forms in different ways.
We're going to show you how to connect WPForms to a Twilio WordPress plugin so you get an SMS each time someone submits your form.
How to Get an SMS Notification From Your Contact Form
If you'd prefer written instructions, keep reading.
Connecting WPForms to Twilio is easy and will let you receive texts when your forms are submitted.
Here's a table of contents for each step if you'd like to jump ahead:
OK, let's make your contact form first.
Step 1: Create a WordPress Contact Form
The first thing you need to do is to install and activate the WPForms plugin. Here's a step by step guide on how to install a WordPress plugin.
Also, you'll need to have a form created. See our tutorial on how to create a simple contact form as an example to get started.
Now that your form is created, we'll need to connect this form to your Twilio account.
Step 2: Connect Your Contact Form to Zapier
To create an SMS notification from your WordPress contact form, you'll need to install the WPForms Zapier addon.
The Zapier addon lets you connect your forms to over 2,000+ web apps, including things like Drip, Jira, and Twilio so that you get alerted when someone submits your form on your site.
We're going to use Zapier as our Twilio WordPress plugin to get a WordPress contact form SMS notification.
When you've installed the WPForms Zapier addon, open a new tab and log in to your Zapier account. Then, begin to make a Zap. For a complete step-by-step guide to making a Zap, you can check out our tutorial on how to get started with Zapier.
When you get to the Edit Options screen, select the form you just created.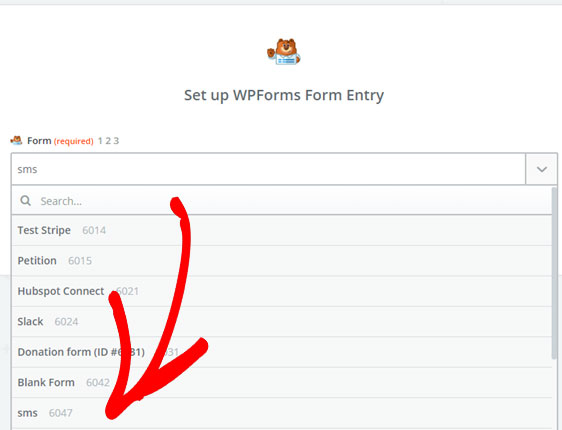 After this step, select Continue.  Now you can test your form's connection to Zapier. Be sure to have at least one test entry on your form before fetching existing entries.
After a moment, you should see a success confirmation message.
Step 3: Set Up Your Twilio SMS Integration
Now that you've connected Zapier to the WPForms plugin, the next step is to connect your form to Twilio. This will trigger your WordPress contact form SMS notification.
So as an Action app, you'll need to choose Twilio.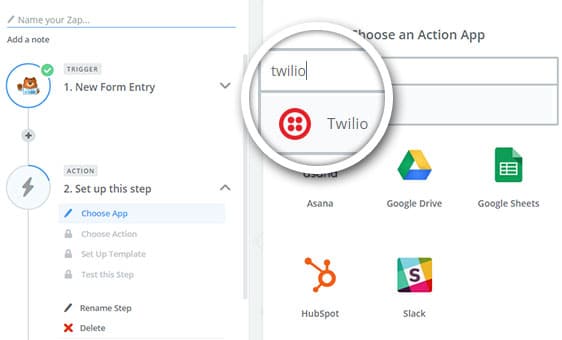 As we're looking to create an SMS alert when a form is being submitted on your site, you need to select Send SMS. Then, select Save + Continue.
Then, you'll need to connect your Twilio account with Zapier.
Click Connect a New Account. If you do not have an account created, you'll need to create a free account and then, allow Zapier to access your Twilio account by entering its Account SID and Auth Token.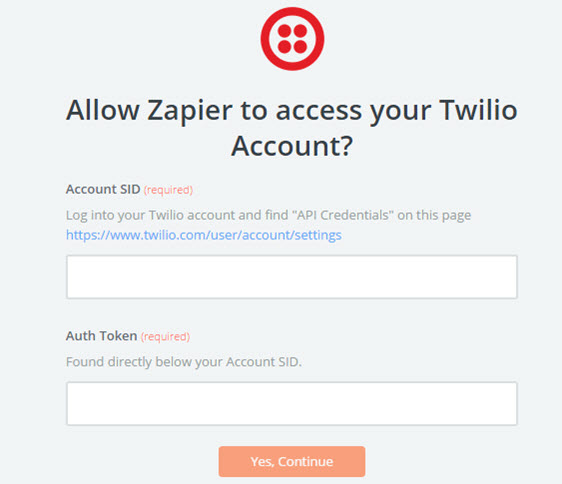 To find Account SID and Auth Token, log in to your Twilio Console and navigate to Account » Account Settings.
Now scroll down your page until you find API Credentials. You can copy the required details into Zapier and click Yes, Continue.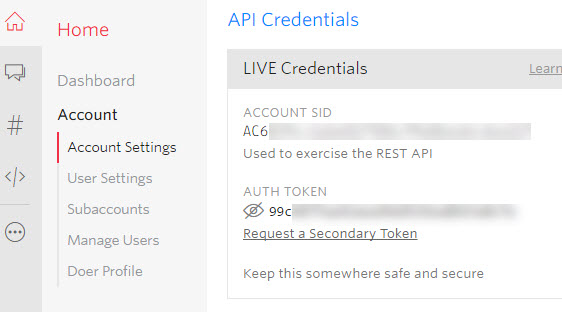 After allowing access, select Save + Continue.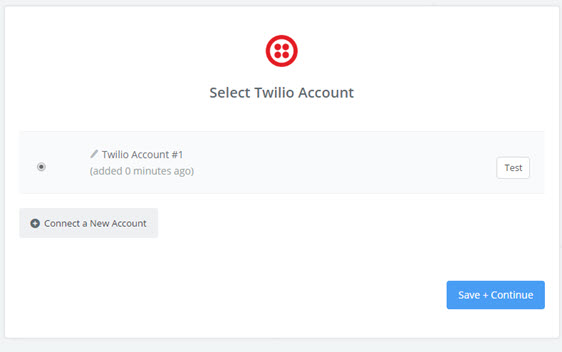 Now to continue setting up your WordPress contact form SMS notification, go back to your Twilio Console and click the # tab in the left panel. Then, click Active Numbers » Get Started.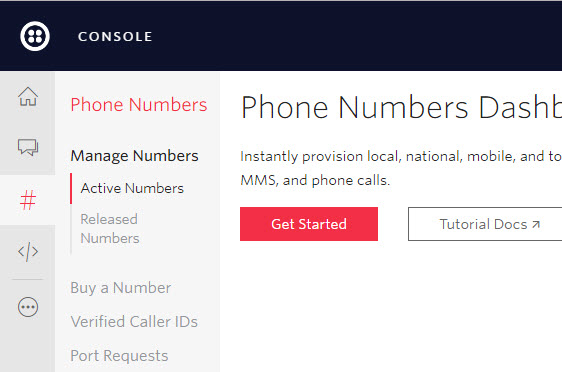 Then, click Get your first Twilio phone number. Now you'll be shown a Twilio phone number that you can use for your text notifications.
Click Choose this Number. Then, click Done.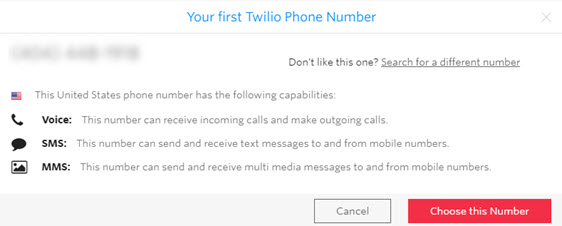 That's the basics of your Twilio WordPress plugin set up. Now we'll need to tell Twilio how to send the SMS notification.
Step 4: Configure Twilio in Zapier
Next up, switch back to your Zapier account. You'll need to specify 3 settings:
From Number: This is the number you've just created in your Twilio account. You can choose it from the dropdown menu.
To Number: You may enter your phone number where the SMS should be sent. You can use an internet phone system like VoIP.
Message: Here you can specify all the form fields and customize them the way you want. For example, you can look at the screenshot below.
You may leave the other optional fields blank and click Continue. You've almost set up your SMS notifications for your WordPress contact forms!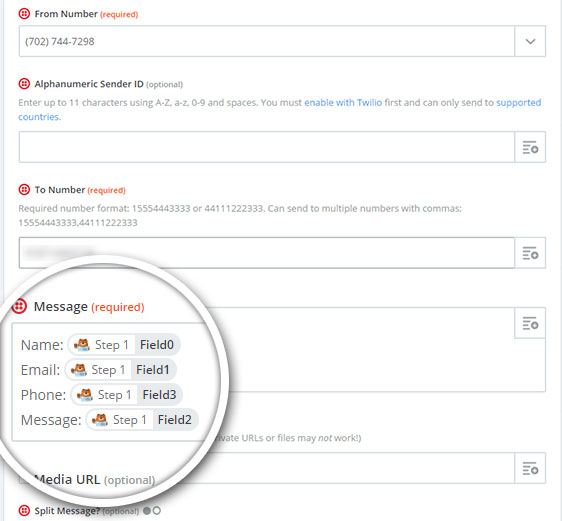 Now you can test Twilio by clicking Create & Continue. If everything is done right, you'll now receive an SMS to your mobile number.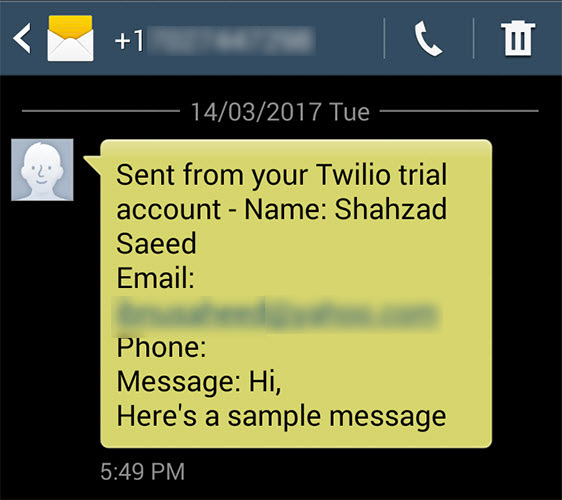 In the final step, you'll need to name your Zap and turn it on, so you'll be notified through SMS when you get a form submission.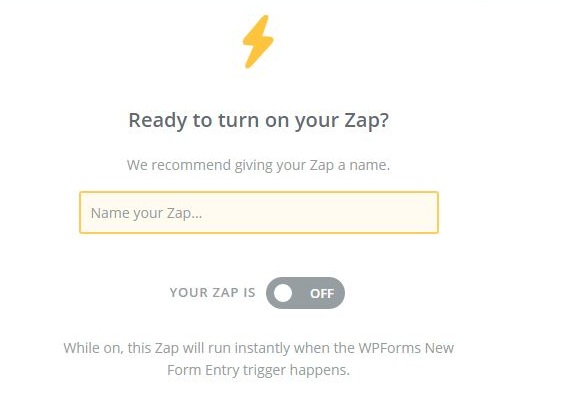 Next Step: Set Up More Form Integrations
We hope this guide helped show you how easy it is to get WordPress contact form SMS notifications. You can easily get an email notification for entries too.
Now you've integrated a Twilio WordPress plugin, you can easily use WPForms to:
If you're considering WPForms vs Contact Form 7, WPForms is worth it because it makes integrations super easy. You don't need to download unsupported addons to get everything set up the way you want it.
What are you waiting for? Get started with the most powerful WordPress forms plugin today!
If you like this article, then please follow us on Facebook and Twitter for more free WordPress tutorials.