Documentation, Reference Materials and Tutorials for WPForms
How to Set Up reCAPTCHA in WPForms
Want to stop spammers from filling out your forms? Google's reCAPTCHA allows you to add human verification technology to your forms. WPForms makes it super easy to add reCAPTCHA to your forms.
In this article, we will show you how to set up and enable reCAPTCHA in WPForms.
1. Log into your WordPress admin area and go to WPForms » Settings page.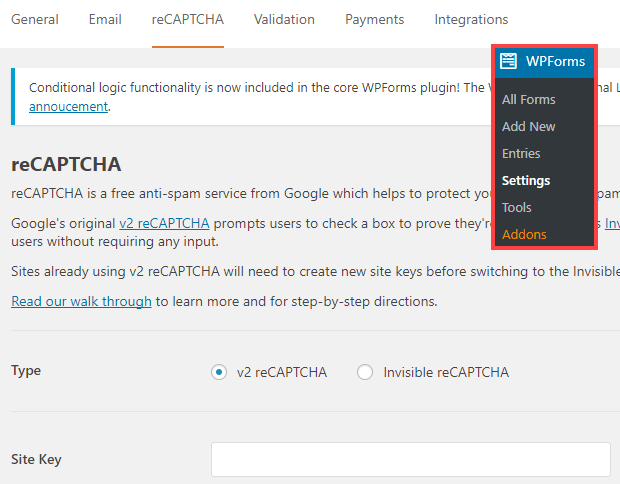 2. Make sure to click the reCAPTCHA tab on the top.
ReCAPTCHA is a service provided by Google. It is free, but requires a site key and secret key. There are two versions of reCAPTCHA available for your forms:
Note: Each reCAPTCHA type requires a different set of keys, so if you later decide to switch types you will need to generate a new set of keys.
You can easily generate the site key and secret key for your site by clicking on the either of the following links: v2 reCAPTCHA or invisible reCAPTCHA.
3. Either link will take you to corresponding reCAPTCHA website. You'll need to click on the Get reCAPTCHA button in the upper right corner to get started.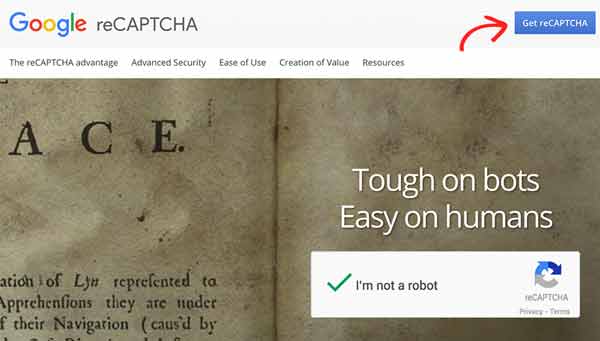 4. After clicking this button, you will be asked to sign in with your Google account. Upon login, you will then be redirected to a page where you can register your site for either version of reCAPTCHA.
On this form, you can enter the name of your website in the label field. This is for your own use so that you can identify the website if you ever needed to get the keys again.
Next, you'll have the option to select which type of reCAPTCHA you'd like to use. Selecting a reCAPTCHA type will display two additional fields to complete: Domains and a checkbox for a terms of service agreement.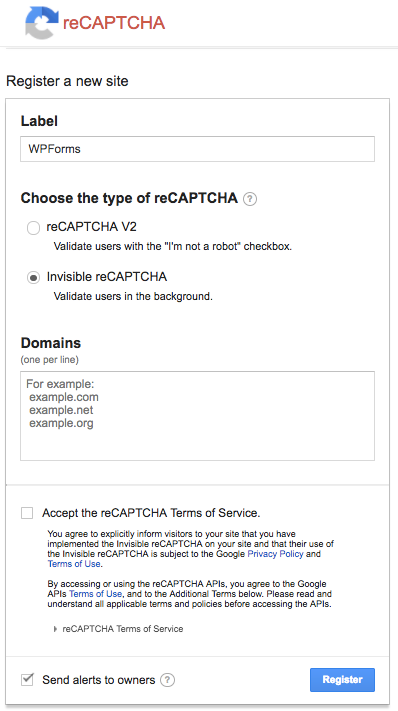 When you've completed this form, go ahead and click on the Register button.
5. You should now see a page with the site key and secret key for your website.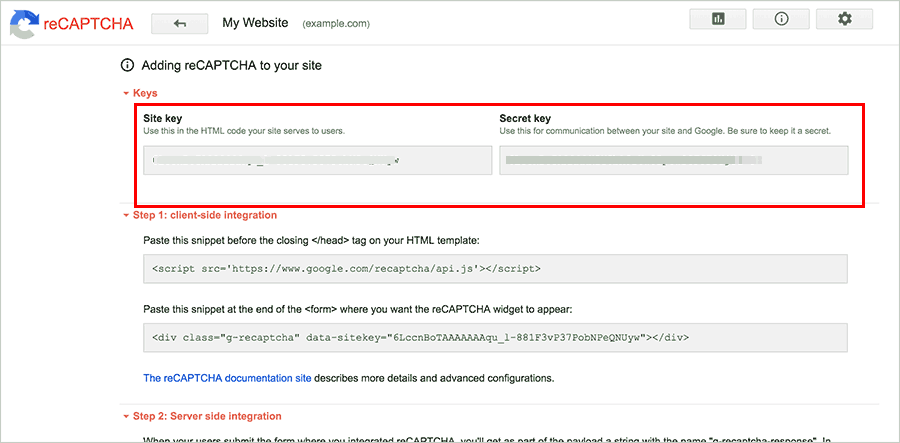 6. You'll need to copy your site key and secret key, and then switch back to WPForms » Settings page. If you return to the reCAPTCHA section, you can select the type of reCAPTCHA you're using and then paste your site and secret keys into their corresponding fields.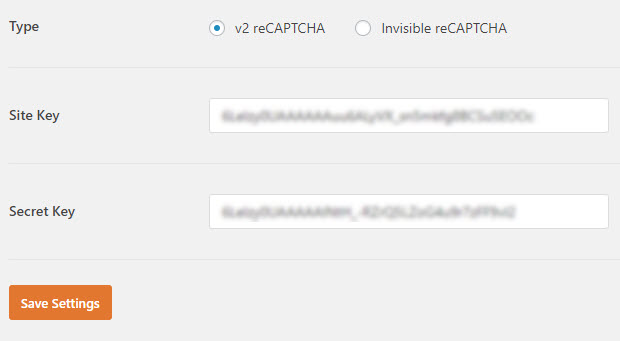 Be sure to remember to click on the Save Settings button at the bottom of this page to store your changes.
Adding reCAPTCHA to a Form in WPForms
7. To add reCAPTCHA to a form, click on the WPForms menu in the admin bar and then create a new form or edit an existing form.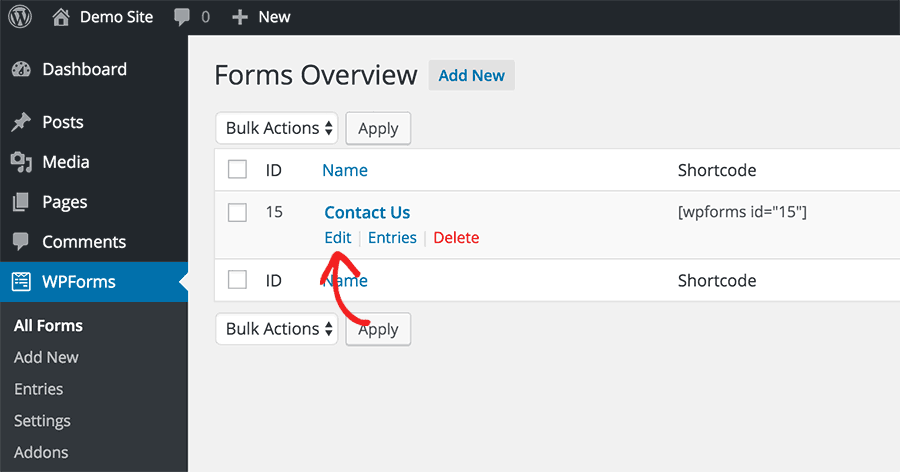 8. Now that you've opened the form builder, you can go to Settings » General and check the box next to Enable reCAPTCHA option (if you set up Invisible reCAPTCHA, this text will read Enable Google invisible reCAPTCHA).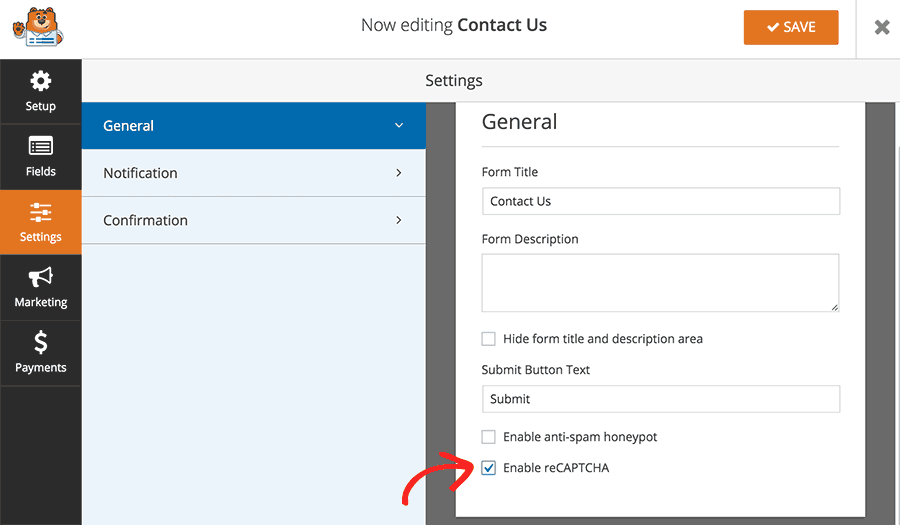 9. The last step is just to click on the Save button to save your form.
That's it! You have successfully set up reCAPTCHA in WPForms and added it to your form.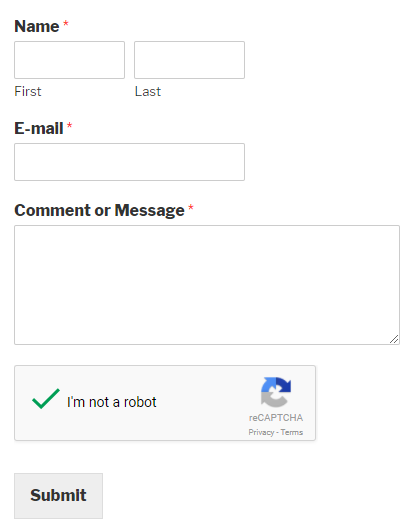 If you've enabled invisible reCAPTCHA, here is how your form will look like: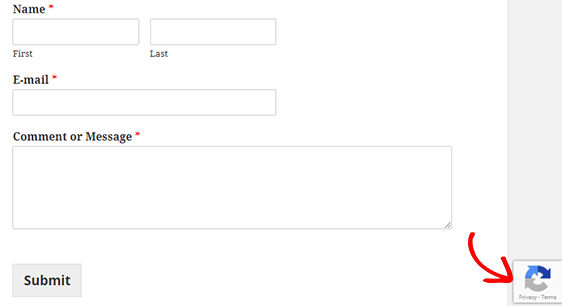 Need more tips on stopping spammers? See our list of simple tricks to stop spam user registration.