Are you using AMP on your site to speed up mobile views? AMP, or Accelerated Mobile Pages, can be set up to allow your site to load faster on mobile devices. However, it can also prevent some functionality on your site from working properly. In this tutorial, we'll show you how you can use WPForms on AMP pages of your WordPress site.
Google AMP, or Accelerated Mobile Project, is an open source initiative with the goal of making web content load faster for mobile users. However, in order to achieve these load speed improvements AMP will prevent many resources from loading. As a result, functionality such as web forms will not function as expected on AMP pages.
In order to ensure your users do not encounter these functionality issues, WPForms will automatically detect if your forms are being loaded on an AMP page. If an AMP page is detected, the user will see a link to load the full (non-AMP) version of the page.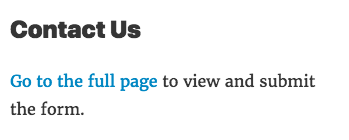 That's it! With WPForms, you can be sure your users will still be able to access fully functional forms from within AMP pages.
Next, would you like to learn how you can collect form submissions even when no internet is available? Be sure to check out our tutorial on the Offline Mode addon to find out more.