Are you looking for some customer satisfaction survey examples?
Customer satisfaction surveys provide beneficial insight into what your customers are thinking about their in-store experience –prices, products, and everything in between.
This information is valuable when determining how to make improvements to your business.
In this post, we've put together a list of customer satisfaction survey examples to show you how to create this survey on your WordPress site and ensure you get the best feedback possible.
Use the Customer Satisfaction Survey Template
Customer Satisfaction Survey Examples
The questions below will help to establish whether a customer is new, how loyal they are to your brand, and whether or not they are likely to recommend your company and products.
1. How Long Have You Been a Customer?
Knowing how long a customer has been with you allows you to do one of 2 things:
If they're relatively new, their feedback in the survey gives you insight into what it will take to keep them coming back.
If they've been with you for a while, their feedback can tell you what's worked well to build that customer loyalty.

The WPForms customer satisfaction survey template gives precise options for customer response. It's also fully customizable. If you would rather group the response options in different chunks, you can do that by going into the Field Options.
This question uses the multiple choice form field. Not sure which kind of field to use for questions like this? Check out this article on radio buttons vs checkboxes for some tips.
Asking this as the first question helps you to better analyze the responses that follow.
2. Which of Our Products Have You Used?
Knowing whether a customer uses one or several of your products can help you build brand loyalty. If a brand new customer is only using one of your products, how can you make that a great experience so that they want to try more?
And if you have a customer who's been with you for 3 years but has never tried anything beyond the original product choice, why? What can you do to keep that customer engaged and give them a reason to try other products too?
In addition to that insight, asking customers which products they use is another way to determine what's most popular with your buyers.

This is one is a checklist field and you'll definitely need to customize it in Field Options with your own products and services. If you have too many items to list individually, you can also list out the product categories (for example: makeup, skincare, hair care). Then use conditional logic to provide a more specific list of only the items that are relevant to the selection.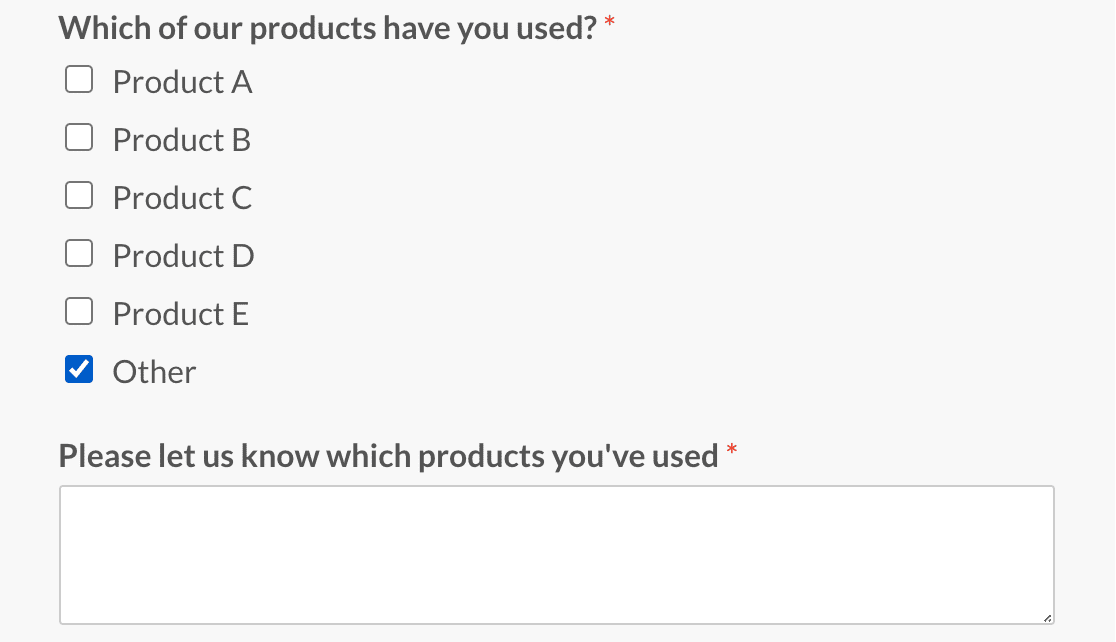 The customer satisfaction survey form template uses conditional logic to let users provide their own details, as well. When "Other" is selected, a box will open, prompting them to list which of your products they've used. This can be a good alternative to listing all of them out.
3. Did You Consider Similar Products During Your Research Prior to Purchasing?
Asking your customers if they considered similar products before purchasing yours is a good way to learn more about their process.
The Customer Satisfaction Survey template is set up with conditional formatting so that if the customer answers "yes" to this question, they'll be prompted to note which similar products they considered.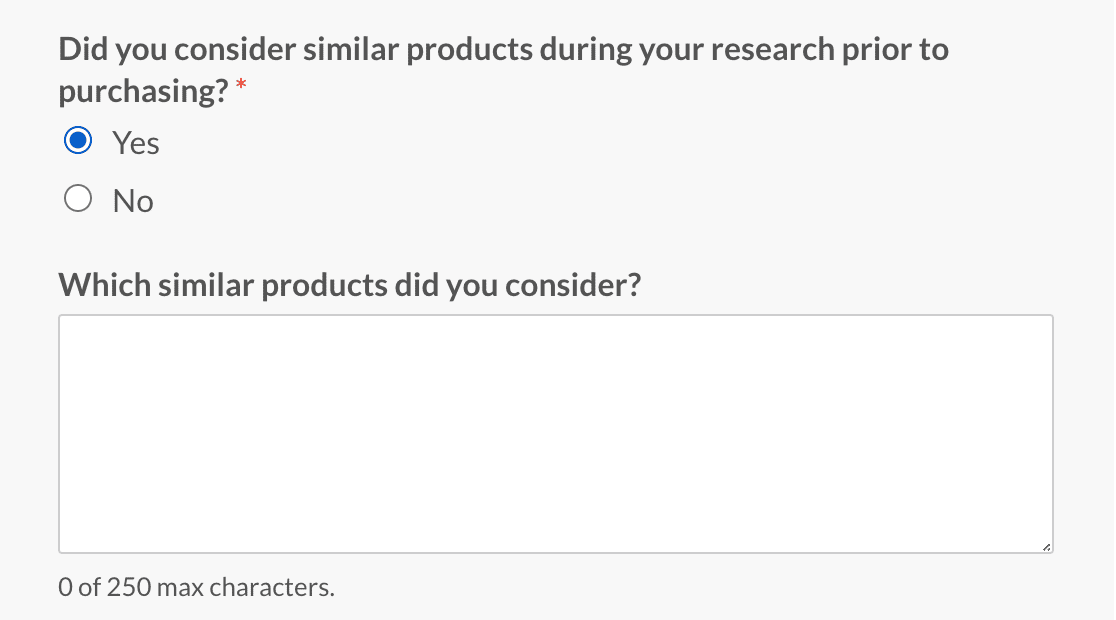 Knowing what other products and services customers researched can also help you identify features they might want. If you want more detailed responses, you can edit this question to also ask why they considered those products.
4. How Satisfied Are You With…?
Now comes the point where you come right out and ask your customers how satisfied they are with their experience. For this, we're using a Likert Scale for consistency.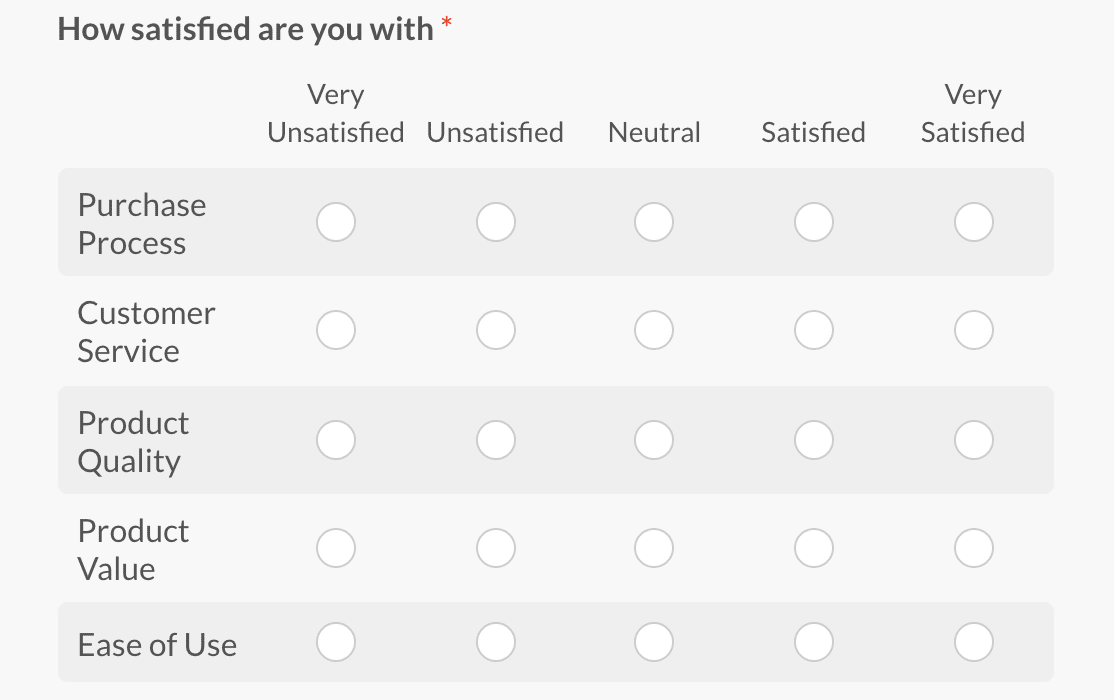 You can ask your customers to rate their satisfaction with any aspect of your business. The Likert Scale is customizable. If it doesn't make sense for you to ask about the ease of use but you want to know their thoughts on shipping or store cleanliness, you can adjust the form to suit.
Note that you'll need to install the Survey and Polls add-on, which is available in WPForms Pro.
5. Have You Needed to Contact Customer Service?
Maybe you have a customer support number or a chat on your website. Maybe you're just curious to know how the in-store customer service is with your employees. This is another question that can provide additional insight in the context of the customer's other answers.

When evaluating the response here, it's important to determine if the customer is engaged. Maybe they've never contacted customer service because everything has gone exactly as expected. If so, you'd see that in their responses to the "Are You Satisfied With…?" question). Maybe they were immediately unhappy but never reached out for some reason.
If you wanted to add conditional logic to ask about reasons why they haven't, you could customize it. That would give a better idea of whether their reasons for not reaching out were positive or negative if you find that information would be helpful to you.
Currently, the template uses conditional logic to ask customers about their experience only if they have contacted customer service.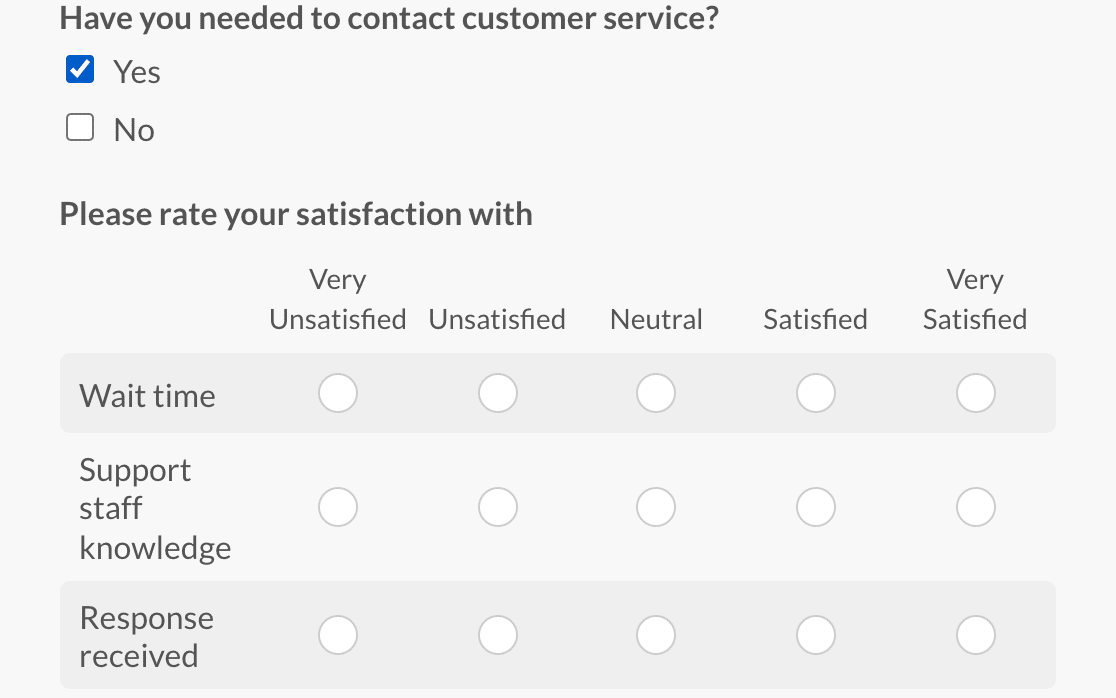 The template is based on customer service by phone or online chat, so if you provide service in a different form, you'll need to edit the Likert Scale to reflect your process.
6. How Likely Are You To…?
Likert Scales are great for gathering consistent ratings. That's why they show up so often in surveys, including our customer satisfaction survey template.
Knowing how likely a customer is to give you repeat business or recommend you to friends and family is another strong indicator of customer satisfaction.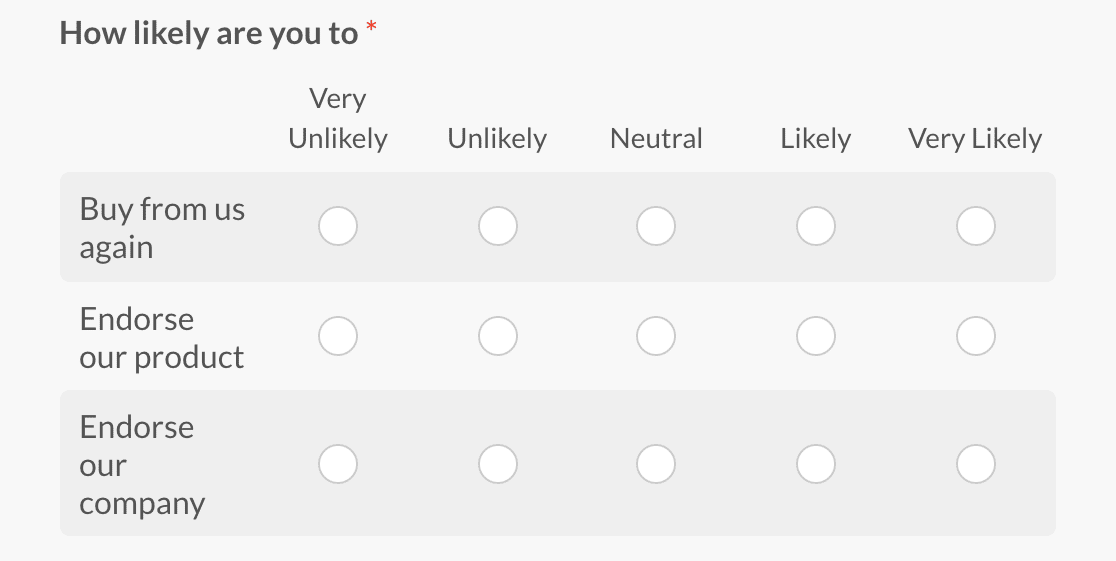 Again, if you find that you'd like the template to dig a little deeper, you can edit it and use conditional logic to ask them for more information if they're unlikely to recommend you or your products. Satisfied customers make for strong brand ambassadors.
7. Additional Comments or Suggestions
Finish out the survey by asking customers to provide additional comments or suggestions. It gives them a way to cover anything that wasn't specifically asked in the previous questions.
Maybe they have a great idea for a product feature. Perhaps they've identified a flaw that could be fixed. It's possible they want to give just a little more information about their overall experience, in their own words.

The survey template caps responses at 300 characters. You can increase or decrease that number, or remove the limit altogether. Giving a character limit helps to keep feedback concise.
And that's it! You've got a customer satisfaction survey that can be live on your WordPress site in a matter of minutes so that you can start collecting feedback.
FAQs on Customer Satisfaction Surveys
What questions should I ask in a customer survey?
A good customer survey asks focused questions about specific areas of your business. These usually include questions about your customer's opinion of your products, pricing, quality of customer support, and whether they're likely to recommend you to their friends or purchase from you again.
When creating a customer survey,  be economical with your questions. Be sure the questions you're asking are going to get you the most valuable information and insight.
With WordPress websites, the easiest way to do this is with the WPForms plugin, which has 1,200+ pre-made form templates.
How can I get more people to fill out a customer satisfaction survey?
It's important to spread the word about your survey so more and more customers learn about it and participate. One of the best ways to do that is to send an email to your newsletter subscribers and request them to fill out your satisfaction survey form.
How can I measure the results of my customer survey form?
Using the WPForms Surveys and Polls addon, you can view the results of your survey in graphical form with easy-to-understand charts. These charts allow you to see overall scores for each question, giving you insights into what your customers really think about your products and services.
Next, Dig Deeper With a Net Promoter Score (NPS)
Getting your NPS, or Net Promoter Score, is another way to measure how your customers are thinking and feeling about your brand.
You can create an NPS survey for your WordPress site in a matter of minutes with the WPForms Surveys and Polls add-on. To help you get started with this, here's how to calculate a Net Promoter Score.
And to make your forms more user-friendly, consider using conversational forms that allow you to create surveys that show one question at a time.
Ready to build your customer satisfaction survey form? Get started today with the easiest WordPress form builder plugin. WPForms Pro includes lots of free templates and offers a 14-day money-back guarantee.
If this article helped you out, please follow us on Facebook and Twitter for more free WordPress tutorials and guides.