Are you comparing radio button vs checkbox for your forms?
Radio buttons and checkboxes are both elements for making selections. As a common practice, they are both used interchangeably and thus sometimes incorrectly.
Though they both display a list of options for users to select, they are different in appearance and use. If you are also confused with multiple choice and checkboxes, it may affect your overall user experience and create a negative impression on the users.
In this article, we will compare the radio button vs checkbox so your forms always contain fields that make the most sense for a given purpose.
Can You Use Checkbox as Radio Button?
No, you can't use checkboxes as radio buttons or vice versa. The decision of whether you should use checkboxes or radio buttons depends on the number of items you want the respondent to be able to select in a field.
For example, you should use radio buttons when you want the user to be able to select only one option from the available choices. In contrast, if you're giving multiple selection choices to your users, you should use the checklist field.
Let's consider the different use case scenarios between the checkbox vs radio button in more detail.
Radio Button Vs Checkbox – The Differences
Both radio buttons and checkboxes are used in forms to offer predefined response items that users can select. Let's understand both of them clearly with examples from the WPForms template library.
What is Radio Button?

The multiple choice or radio button is mutually exclusive, meaning users can select only one of many options. It is represented by a circular button that you can select.
Radio buttons are very common. You can often see them in surveys that use scales like NPR or Likert Scale, where each question can only have a single response.
What is Checkbox?

The checkbox is a mutually inclusive button that allows users to select multiple answers from the available choices. It's usually a small square box that you can check or uncheck.
The checkbox field is perfect when you want respondents to be able to select multiple options from a predefined set of choices.
Radio Button Vs Checkbox – Which One to Use
When you are choosing between the radio button and the checkbox, answer the question: how many options do you want the user to be able to select from a predefined list of choices?
If you want the user to be able to pick any one of the multiple choices, use the radio button. On the other hand, if you want the users to be able to pick more than one option from the available choices, use the checkbox.
Let's consider usage examples for both the form fields.
Suppose you run a restaurant and want to collect customer feedback. You want to ask questions to your customers about your restaurant's customer service, hygiene, food quality, service time, and more.

In this case, you'd probably want your customers to give you a definite answer about their experience. Here you can use the radio buttons because they are best suited for collecting one-answer responses.
Now consider you are sharing an order form with your customer. Here you want customers to be able to order multiple food items at the same time. The logical approach in this scenario would be to use the checkboxes field so that customers can select various items.

Now that you understand the key difference between the radio button and checkbox, let's see how you can create them in your next form.
Creating Radio Button and Checkbox Field With WPForms
WPForms is the best online form builder tool for WordPress sites. Using its advanced features, you can create professional-looking and beautiful forms with a user-friendly interface.
It is the most popular form builder plugin on WordPress.org, with 5+ million active installations and 11,000+ 5-star ratings.

Other than the ability to add radio and checkbox fields, some other notable WPForms features include:
Drag and drop Visual Builder: It is super easy and fun to build forms using the drag-and-drop form building tool.
Template Library: WPForms has over 400+ pre-built form templates like contact forms, order forms, feedback forms, sign-up forms, and more.
Integrations: Integrate your forms with top CRMs, email marketing services, and over 4000 other web apps with Zapier.
Conditional Logic: Using the conditional logic feature, you can personalize your forms according to user responses.
Form Field Validation: There can be errors while filling out a form. Form field validation allows you to set field parameters to notify users about the mistakes.
Anti-Spam Feature: Use hCaptcha, reCaptcha, or custom Captcha to limit form spams.
Form Notification: Receive email notification when users complete a form. You can also send email notifications to your team members and users.
Multi-page Forms: Create multiple-step forms by splitting forms into multiple pages to improve user interaction.
Online Payments: Receive online payments with Stripe, Square, PayPal, or Authorize.net.
Surveys and Polls: Create exciting feedback forms with surveys and polls addon.
How to Add Multiple Choice (or Radio) Fields to Your Forms With WPForms
Start with downloading and installing the WPForms plugin on your WordPress website. You can follow this step-by-step guide to learn how to install a plugin in WordPress.
After you've installed the WPForms plugin, go to WPForms» Add New to create a new form.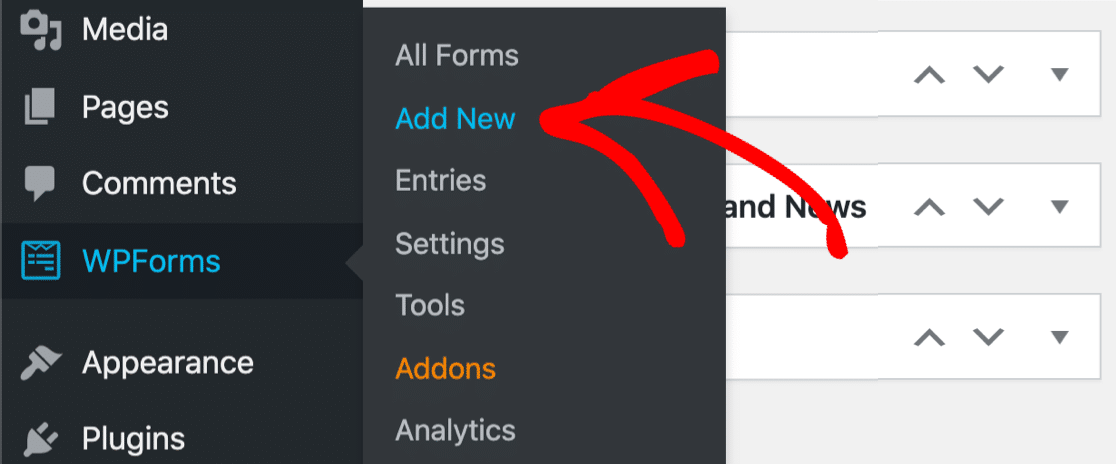 Search for any template from among 400+ form templates available on WPForms or create your own from a blank form.
For this example, we will create a blank form and name it the Restaurant Review Form (you're free to give your form any name you want).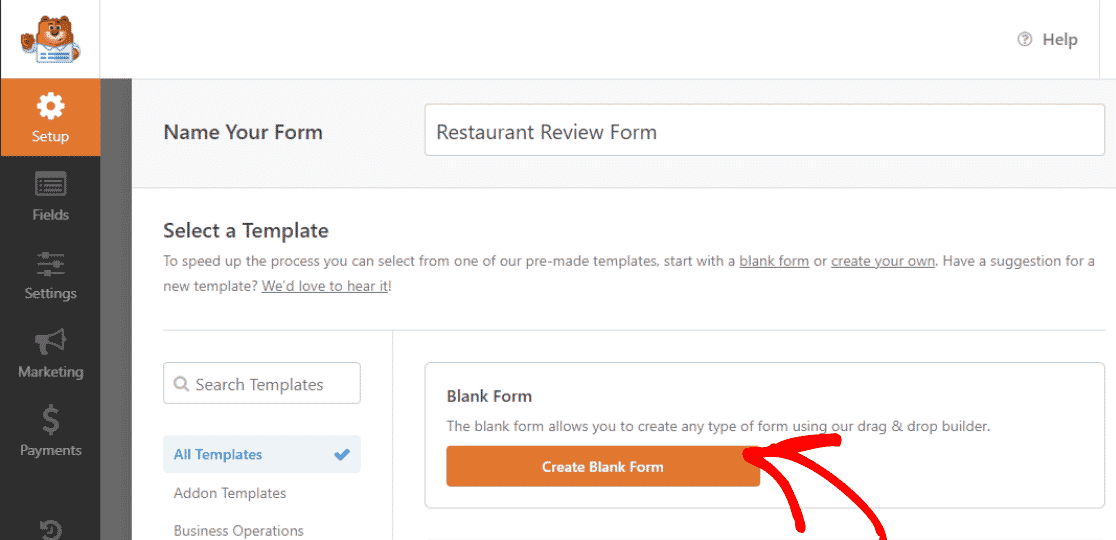 Note: If you want Restaurant Review Form template, there's a ready-to-use form available in the WPForms template library.
To add the multiple choice field to your form, drag and drop the Multiple Choice field from the left of your screen onto your form.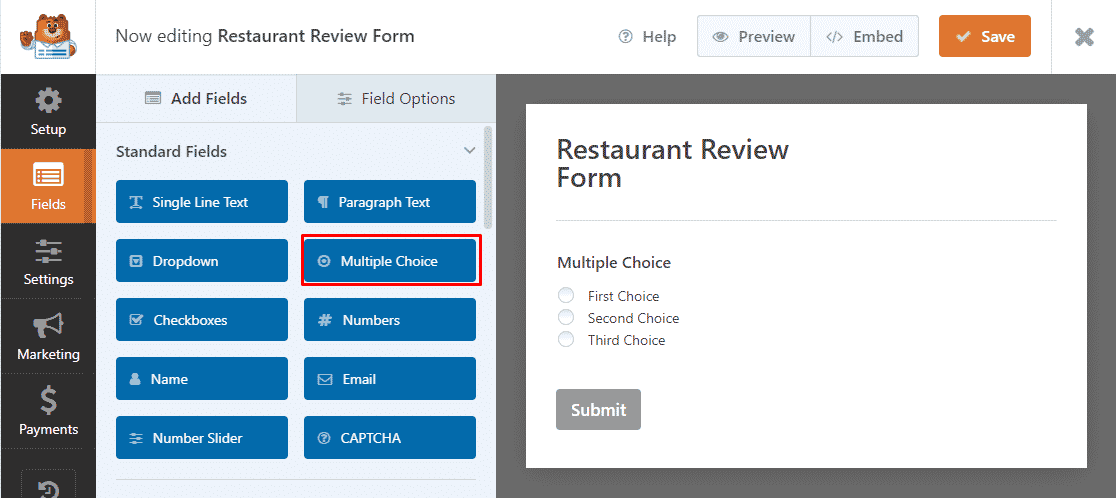 Next, click on the multiple choice field created in your form.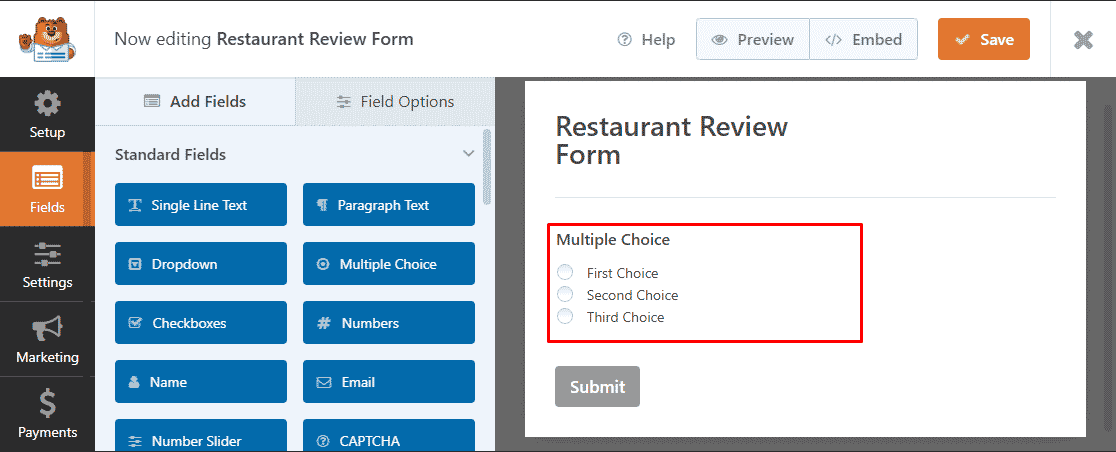 When you click on it, you'll see the Field Options for the field open on the left of your screen. Enter your question in the text box below the Label section and button text in the Choices sections.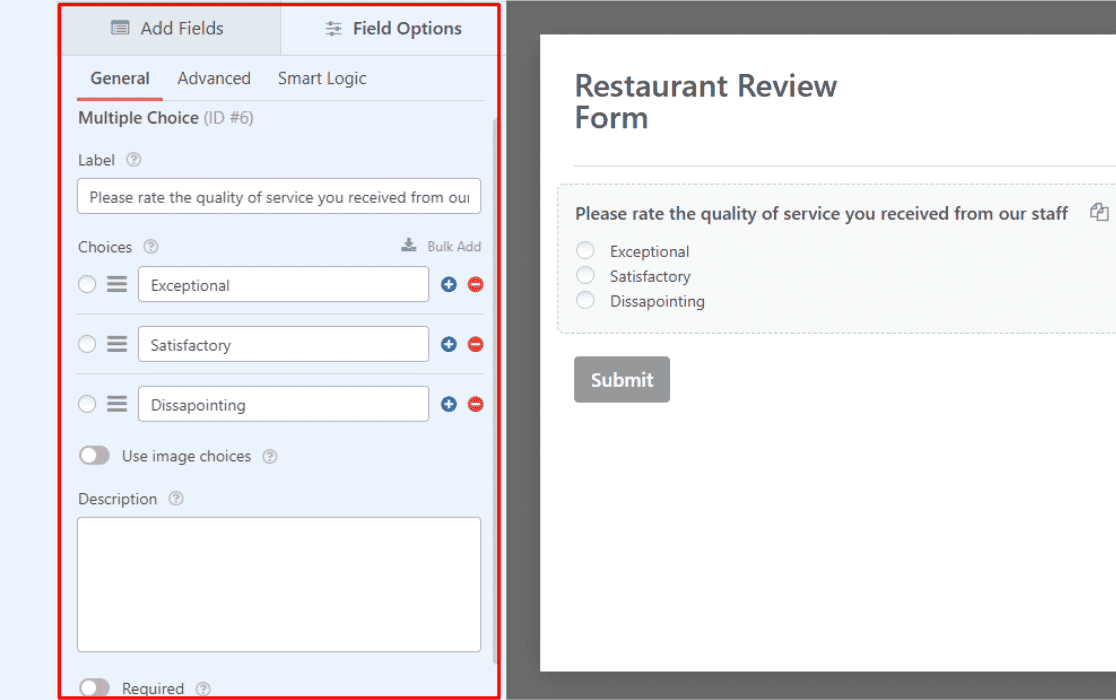 You can customize the multiple choice field by adding image choices or enabling conditional logic.
After you have customized your multiple choice field, click Save to keep the changes.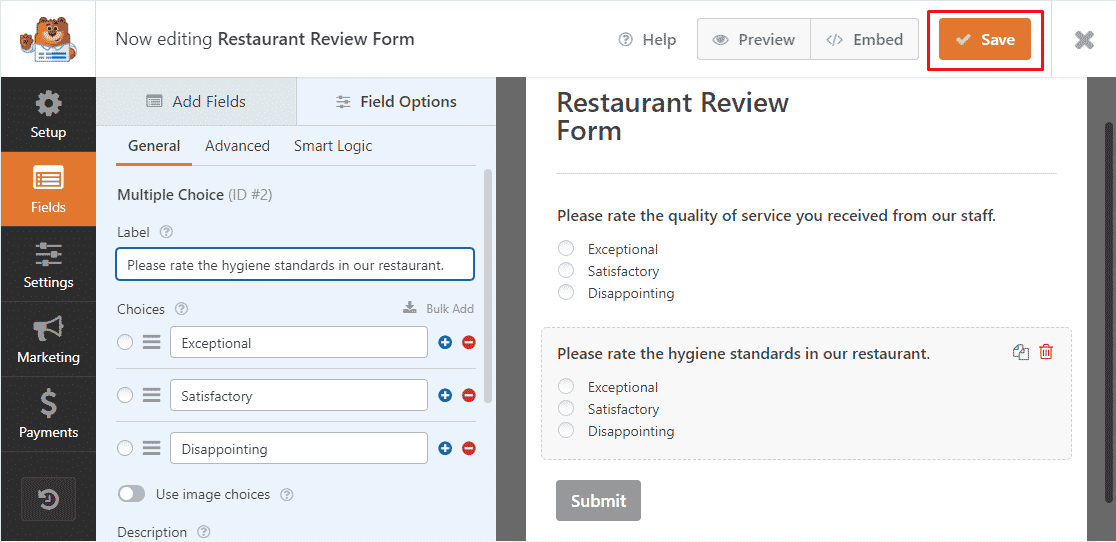 Congrats! You've successfully added multiple choices to your form in WPForms.
Now, let's take a look at adding checkbox fields.
How to Add Checkboxes Field to Your Forms With WPForms
Adding the checkboxes field is very similar to adding radio buttons in WPForms.
After creating your form, drag and drop the Checkboxes field option to your form.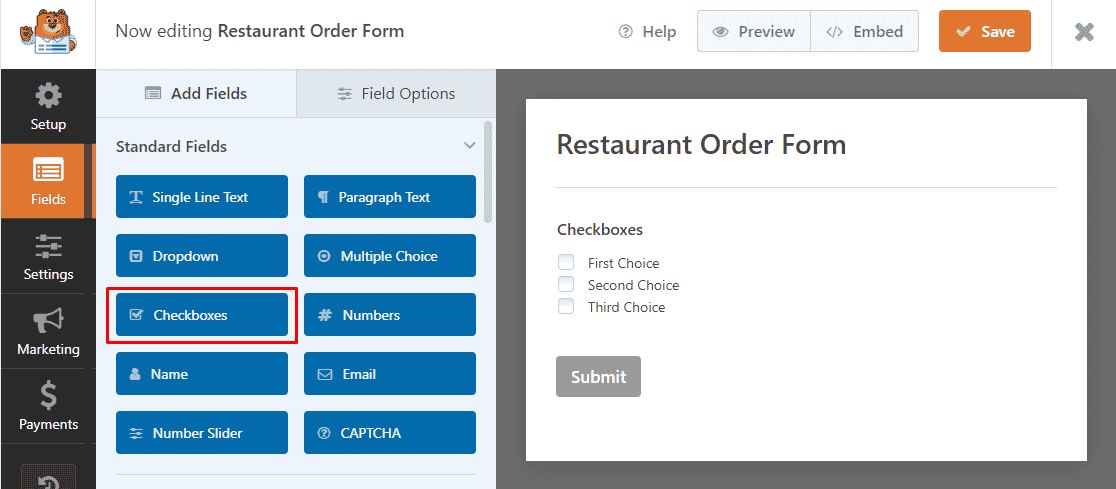 Next, click on the Checkboxes field that you just added to your form.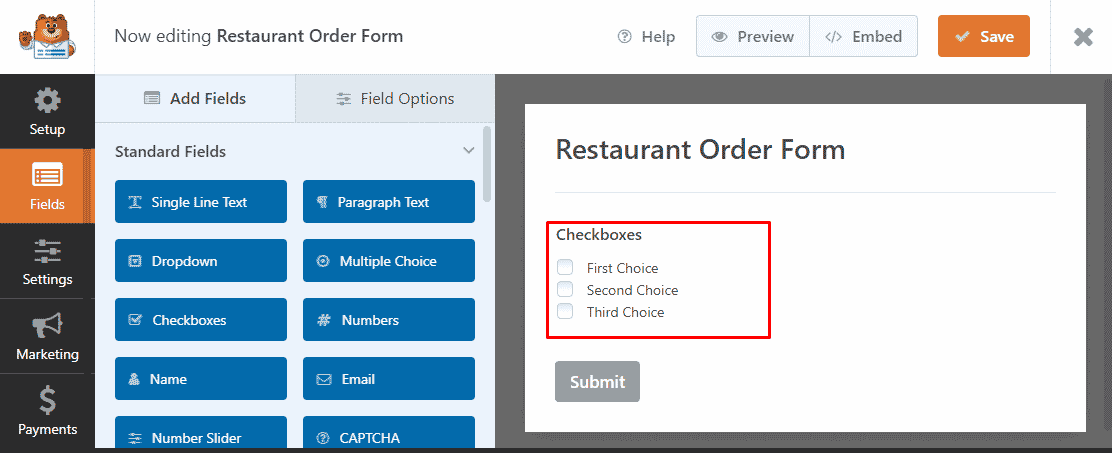 As before, this will open the Field Options view where you can customize the settings for this field. Enter your field text below the Label and options text in the Choices sections.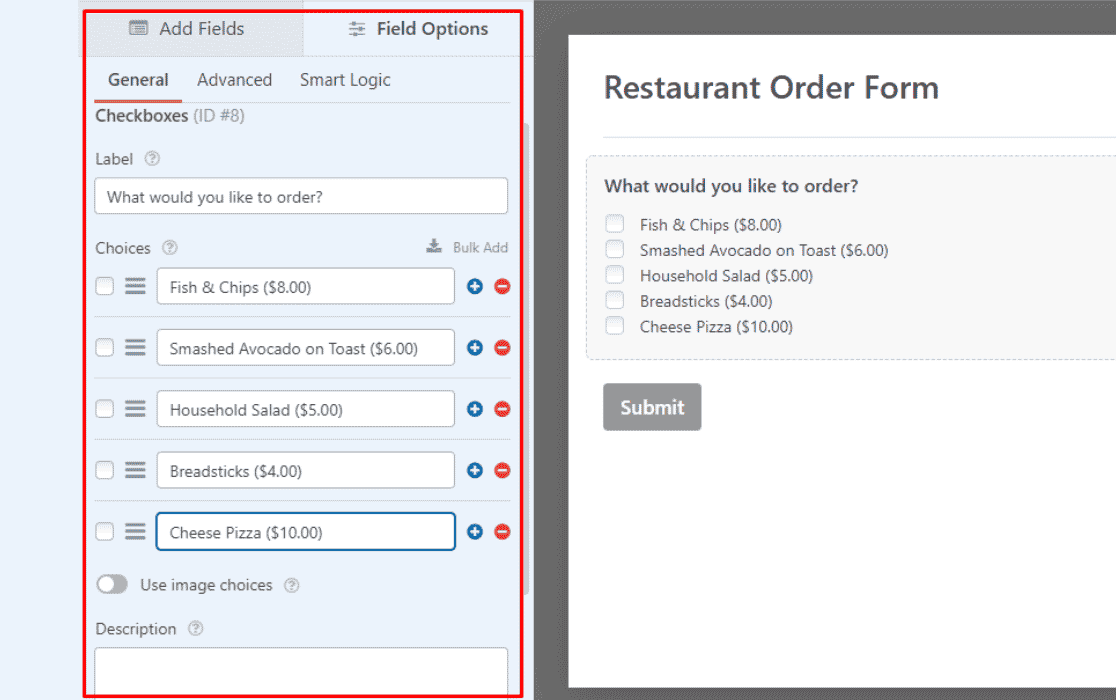 You can add image choices or even conditional logic to customize your form.
Finally, click Save to keep the changes.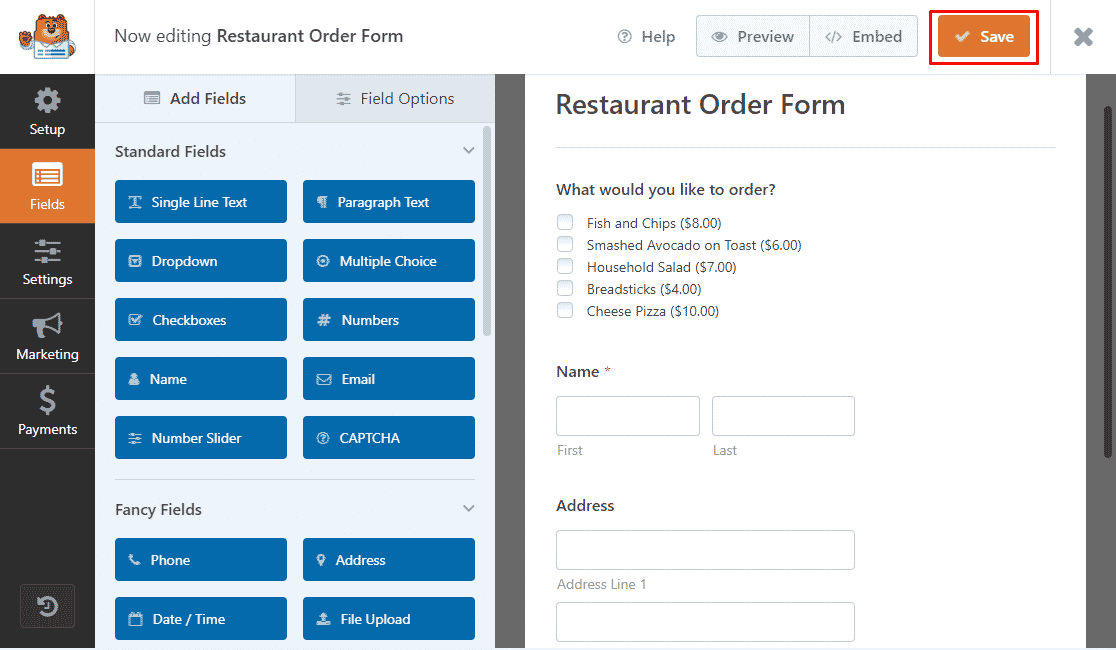 Congratulations! You have successfully learned how to add checkboxes to your form in WPForms.
That's all on the radio button vs. checkbox for today. We hope you have understood the difference between both and can confidently use it in your next form.
Note: We recommend testing your form before you publish it to make sure it works as expected. See our complete form testing checklist for a step-by-step guide.
Next, Add Images Next to Radio Buttons
Do you want to allow users to select images instead of just text buttons? With WPForms, you can add images next to radio buttons to impress your customers with engaging forms. Learn how to add an image next to radio buttons in WordPress forms.
Also, you might want to check out how to create an order form in WordPress.
Create Your WordPress Form Now
Ready to build your form? Get started today with the easiest WordPress form builder plugin. WPForms Pro includes lots of free templates and offers a 14-day money-back guarantee.
If this article helped you out, please follow us on Facebook and Twitter for more free WordPress tutorials and guides.