How to Create a T-Shirt Order Form in WordPress (Step by Step)
by Shahzad Saeed on Oct 12, 2017
Do you want to allow users to create and purchase a custom created t-shirt on your website? With WPForms, it is easy to start a print-on-demand venture and make money online. In this article, we'll show you how to create a t-shirt order form in WordPress.
Why Create a T-Shirt Order Form With WPForms?
WPForms makes it easy to create any types of online forms including a T-Shirt order form.
You don't necessarily need to install a heavy eCommerce plugin just for allowing users to create a custom t-shirt style and purchase it. With WPForms, you can allow users to choose the custom style for their t-shirt, sell it, accept payments and process shipping without any hassle.
Let's take a look at the step-by-step guide to create a t-shirt order form with WPForms.
Start Creating a T-Shirt Order Form
The first thing you need to do is to install and activate WPForms on your site. Here's a step by step guide on how to install a WordPress plugin.
After the activation, you'll need to create a form. You can see our tutorial on creating a simple contact form in WPForms.
In our form, we'll need to create two sections for customizing the style of the T-shirt and submitting payment details.
Create a T-Shirt Style Section
To create a t-shirt style section on your form, you'll need to add the following fields.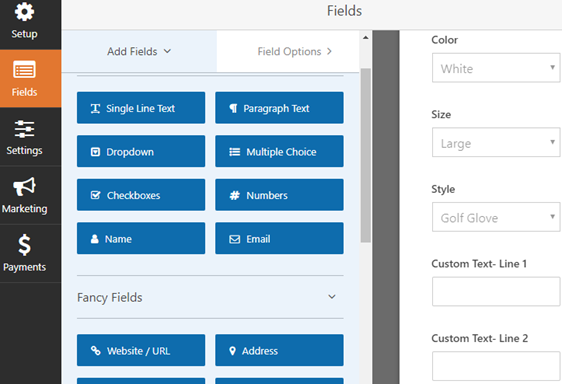 Color: Add a Dropdown field to your form and specify different colors your customers can choose.
Size: Create a Dropdown field and allow customers to choose their preferred t-shirt size.
Style: Add another Dropdown field and let your customers choose the perfect style for their t-shirt.
Custom text- line 1: To create a unique style, you can allow users to specify a custom line with a Single Line Text
Custom text- line 2: Add another Single Line Text field to your form that allows customers to specify the second line on their t-shirt.
While the above fields give you a head start to create a t-shirt order form, feel free to customize the fields per your requirements.
Now we'll have to separate the form into two sections.
Add a Section Divider to the form and drag it to the top of the form. You can change the label and description of the field per your needs by clicking on the field.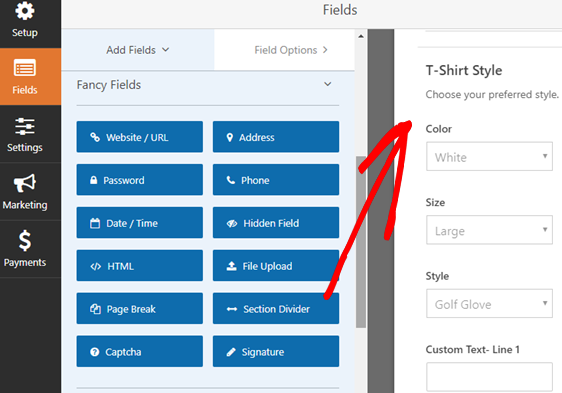 Create the Payments Section
Now let's create the payments section at the bottom of the form.
We'll have to add a Section Divider and then change the label and description of it.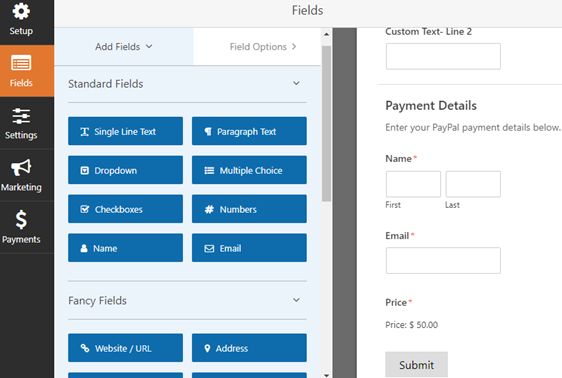 To process payment and to allow users to submit their contact details, we'll have to add the following form fields:
Name
Email
Single Item: After adding this field, you can click on it to customize the label and item price. Make sure to set the field as required.
Now that we've added all necessary fields to the form, let's go to Payments tab to configure the payments settings. WPForms allows you to process payment using PayPal or Stripe. In this example, let's choose PayPal Standard to process payments.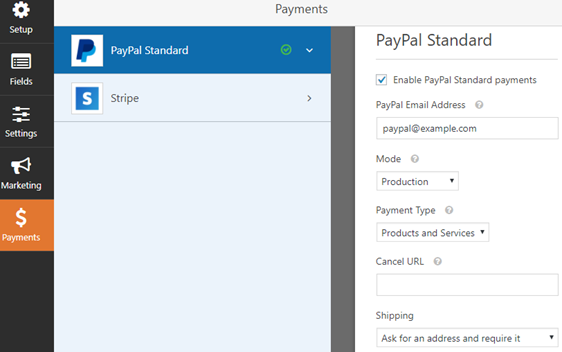 Select the checkbox near Enable PayPal Standard Payments. Enter your PayPal email address to receive payments. In the Mode dropdown, select Production to receive payments. Choose Products and Services as the payment type.
Under Shipping, choose Ask for an address and require it. This way you don't have to ask for shipping details on your T-shirt order form. Your customers can submit the shipping details while entering their payment info.
Publish the Form
To publish the form you just created,  you can go to your page editor. Then click Add Form button above the text editor.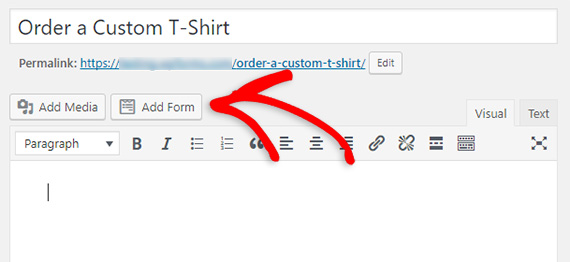 You'll now see a modal popup where you can choose the right form you want to publish. Choose the form and click Add Form. Don't forget to update the post or page.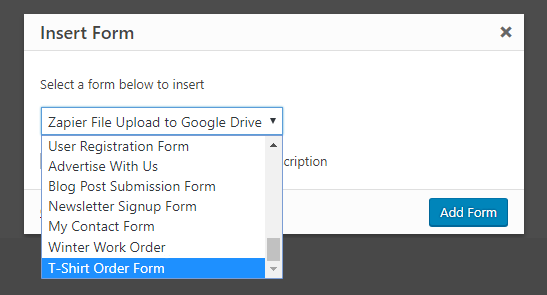 That's it!
We hope this article helped you to create a stunning T-shirt order form in WordPress. To further style the form, you can read how to create a multi-part form in WordPress.
What are you waiting for? Get started with the most powerful WordPress forms plugin today.
If you like this article, then please follow us on Facebook and Twitter for more free WordPress tutorials.