Are you searching for a way to integrate your Instagram account with your WordPress website? If not, you should be!
Linking Instagram to your site can significantly enhance your website's social media integration and user engagement. It's simply a great way to improve your growth.
You can use a plugin to simplify the process, as there are many plugins available and all with their own unique features. But which one should you pick?
We've rounded up all the best Instagram plugins out there to show you what they do, so you can find the one that works the best for your WordPress site.
Best Instagram Plugins for WordPress: Overview
Short on time? Check out this table for a quick overview of the tools we cover in this post.
Why Should I Add an Instagram Feed to My WordPress Website?
As we said, integrating Instagram with your site is a great way to enhance engagement and increase your overall growth. Linking the two will drive website traffic to Instagram and vice versa, increasing your followers for both.
Not only that, but adding an Instagram feed to your WordPress website also adds social proof to your site by showcasing likes and comments, and keeps your website fresh by utilizing your existing Instagram content. Plus, it's an easy way to share your Instagram content with non-Instagram users.
10 Best Instagram Plugins for WordPress in 2023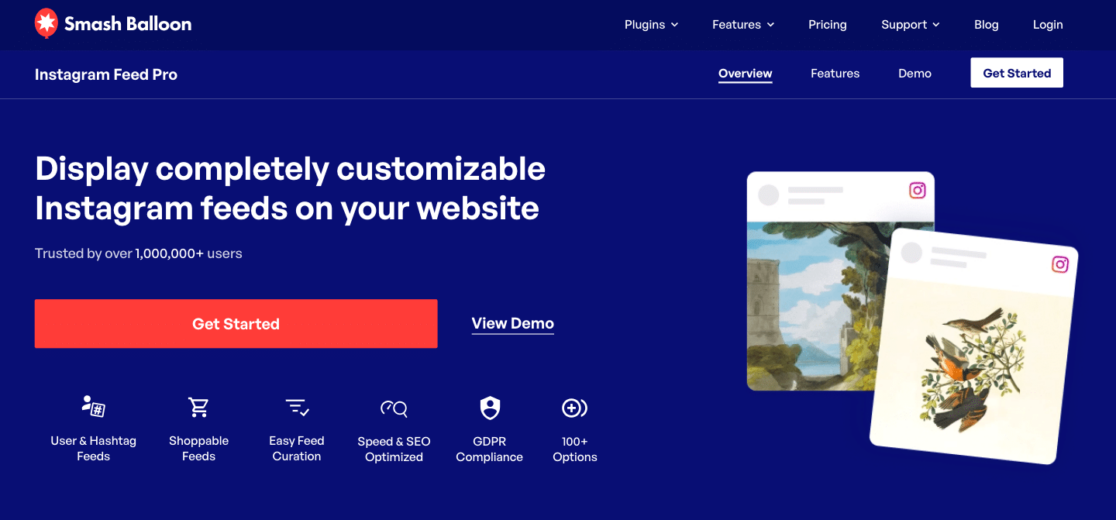 The Smash Balloon Instagram Feed Pro plugin for WordPress is a robust tool that enables effortless integration of Instagram feeds into your websites and is the first entry on our list of best plugins.
It offers versatile display options and customization to showcase photos and videos, enhancing user engagement and social presence.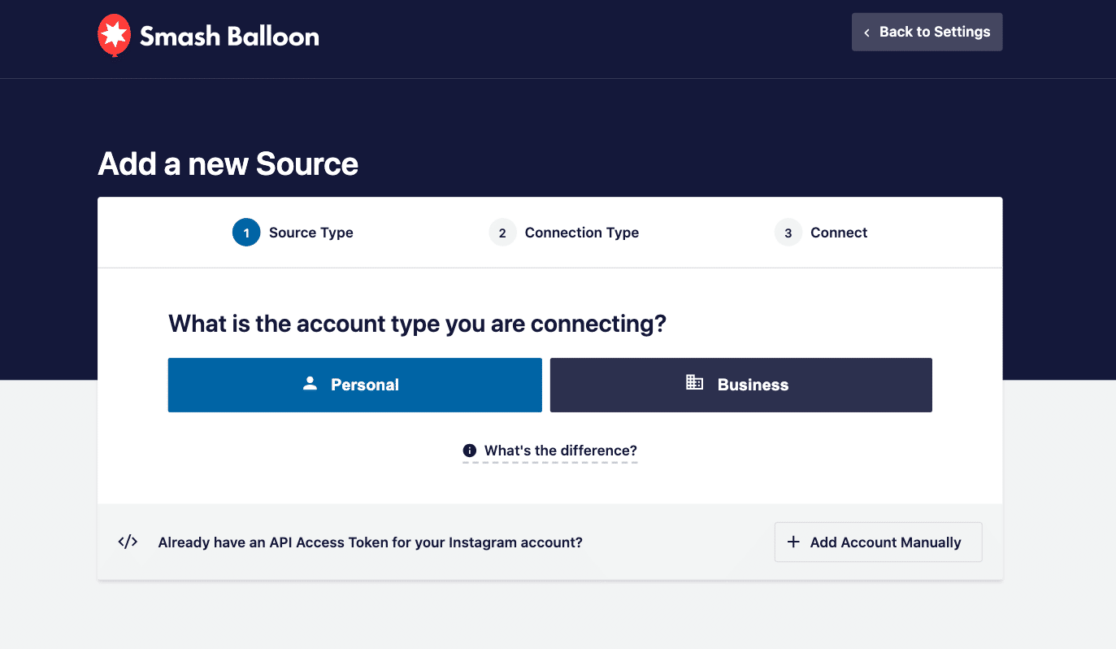 With a user-friendly interface, Instagram Feed Pro simplifies the process of curating and exhibiting Instagram content to enrich your website's user experience.
Highlights:
Instagram Feed Pro lets you show several different Instagram feeds on your site from multiple sources, including #hashtag feeds and Instagram stories.
The plugin is easy to set up, is responsive for mobile devices, and is super fast. It optimizes images for page speed and won't slow down your WordPress site.
Instagram Feed Pro supports multiple feeds with various layouts, including masonry grid, carousel, horizontal layout, and more. The plugin also has a lightbox popup option with built-in social sharing buttons.
The plugin allows for user and hashtag feeds, shoppable feeds, easy feed curation, GDPR compliance, and more. Visual moderation tools allow users to control which photos appear in the feed, and configuring the feeds doesn't require technical knowledge.
Why we like it: Smash Balloon offers all kinds of customization options across a few different plugins. We mentioned the Pro and Lite versions of Instagram Feed, but we also want to include Social Wall Pro, another great social media integration tool from Smash Balloon.
Price: Smash Balloon Instagram Feed Pro starts at $49 while Smash Balloon Instagram Feed Lite is free.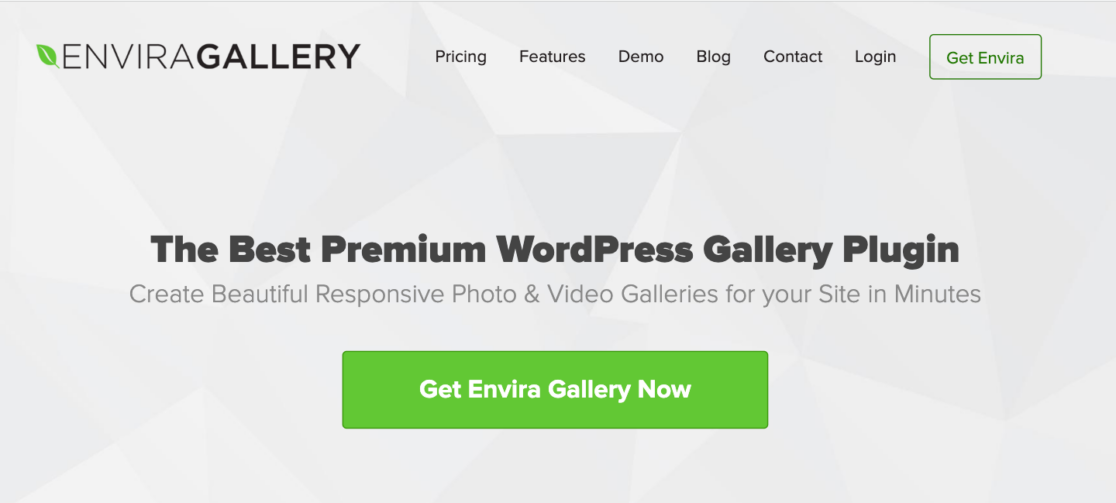 Envira Gallery is a powerful WordPress photo gallery plugin that makes our list thanks to its ability to be used as an Instagram plugin on your website.
Enviro Pro comes with an Instagram Addon that allows you to dynamically create photo galleries based on your Instagram photos. Instead of having to manually re-upload your photos to WordPress, you can import your Instagram photos into WordPress in 3 simple clicks.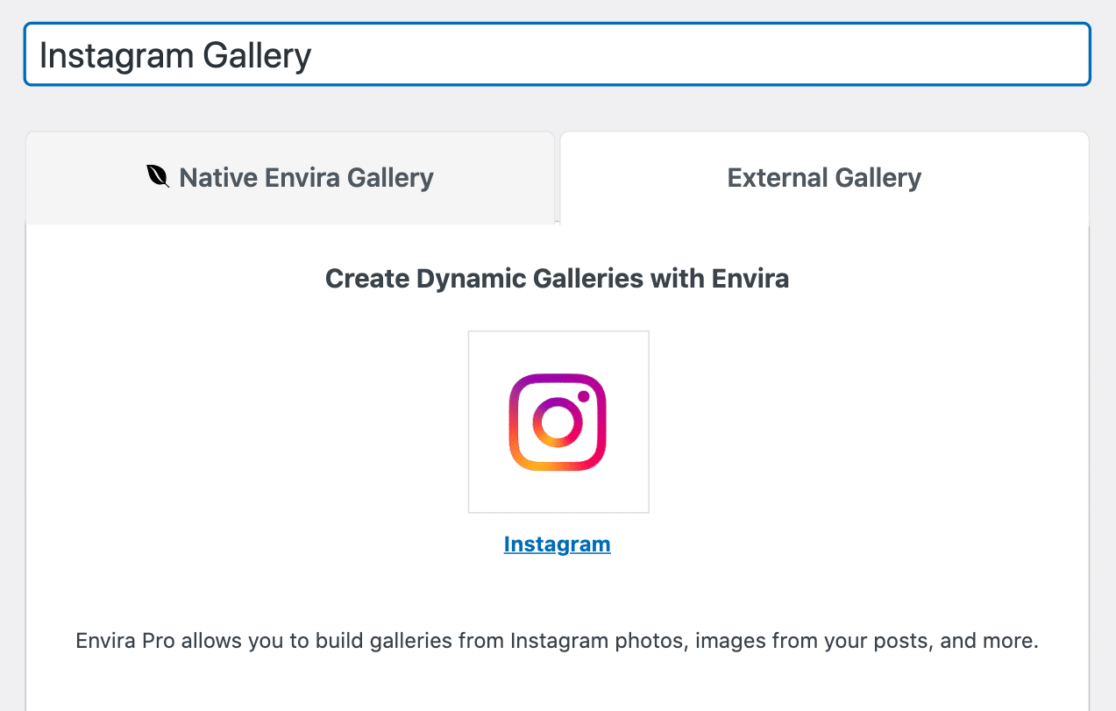 You can have the Instagram images on your website open in a beautiful lightbox. Or, you can link the images directly to your Instagram posts to increase engagement and followers.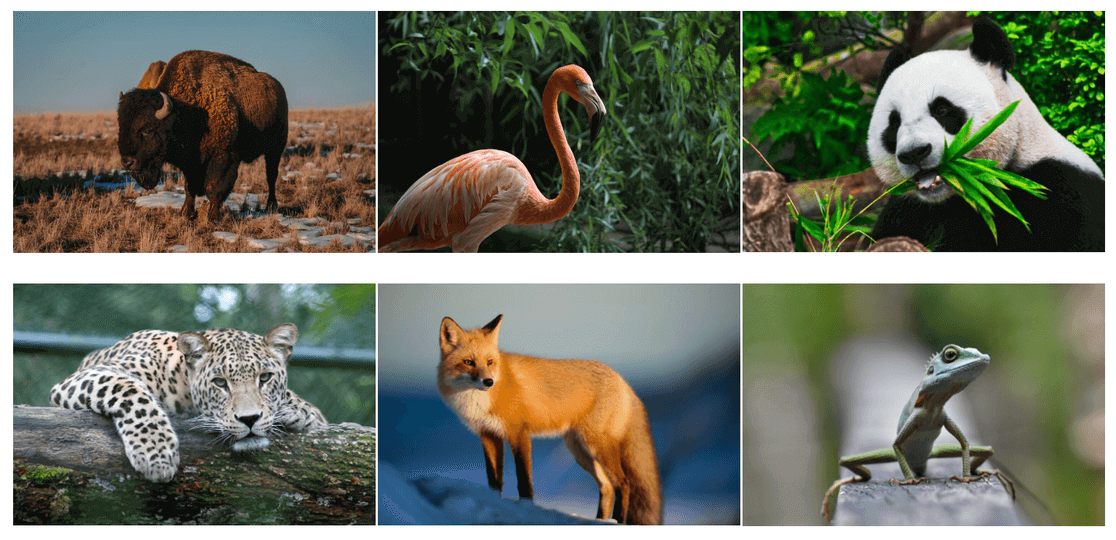 Highlights:
Envira Gallery features a drag-and-drop gallery builder, custom gallery templates, photo and video galleries with albums, slideshow and fullscreen modes, lightbox popups, social media integration, and more.
This plugin has SEO in mind, with mobile-friendly and SEO-optimized galleries, deeplinking and pagination for SEO, watermark and protection features, e-commerce store support, tagging, and more.
This plugin does not require coding skills, is translation ready, and integrates with tools like Adobe Lightroom
Envira Gallery offers an affiliate program for interested users.
Why we like it: Envira Gallery stands out thanks to its collection of unique tools and uses, like its ability to work with WooCommerce to sell your photos online and the affiliate program it offers to its users.
Price: While Envira Gallery Lite is free to use, the Pro version is necessary to get the Instagram addon. Envira Gallery Pro comes in at $89 per year.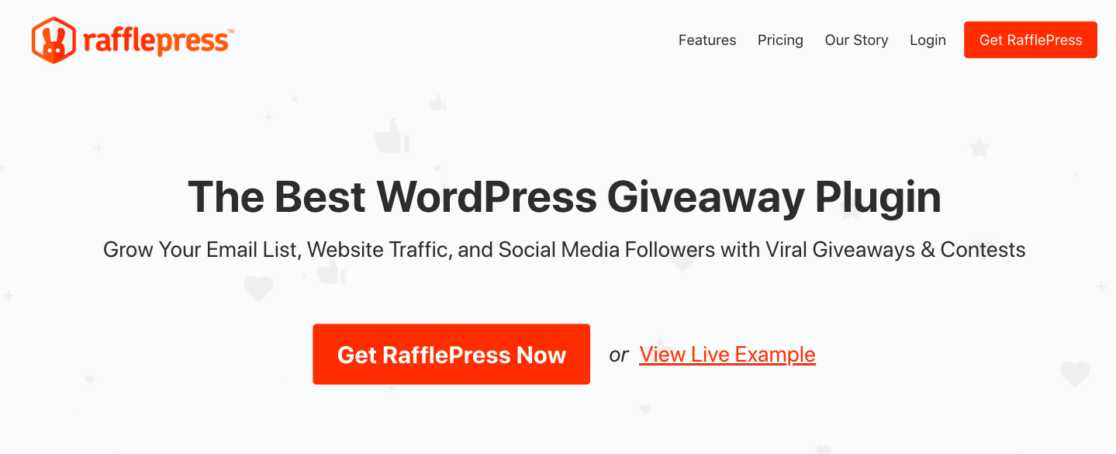 The next WordPress Instagram plugin to make our list is RafflePress. It's a giveaway creation plugin that can be used to boost your followers by directing website visitors to your Instagram channel as entries to a giveaway.
It's quite easy to create giveaways and link them to your social media, with other platforms aside from Instagram available, too.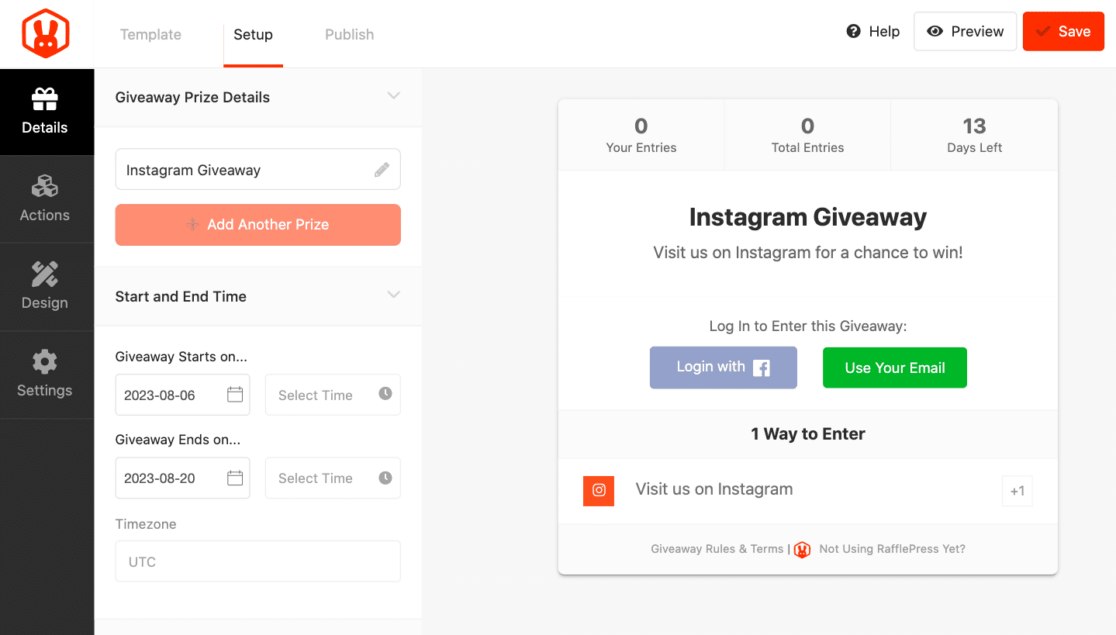 Highlights:
The drag-and-drop giveaway builder is extremely easy to use. You can create successful giveaway campaigns in just a few minutes.
RafflePress features multiple social media integrations and helps you grow your following on Facebook, Instagram, YouTube, Twitter, and more.
With the plugin, you can host a WordPress giveaway that asks your visitors to take specific actions using Instagram like viewing a post, visiting your profile, etc.
RafflePress makes it easy to invite people to join your newsletter to enter your contest and grow your email list.
Why we like it: RafflePress is geared towards giveaways, whereas other plugins are not. By hosting giveaways linked to your Instagram account, you're incorporating creative ways to gather social media followers and increase your website traffic.
Price: RafflePress Lite is free to use, while upgraded licenses start at $39.50 per year. Additionally, Lite users get 50% off RafflePress Pro.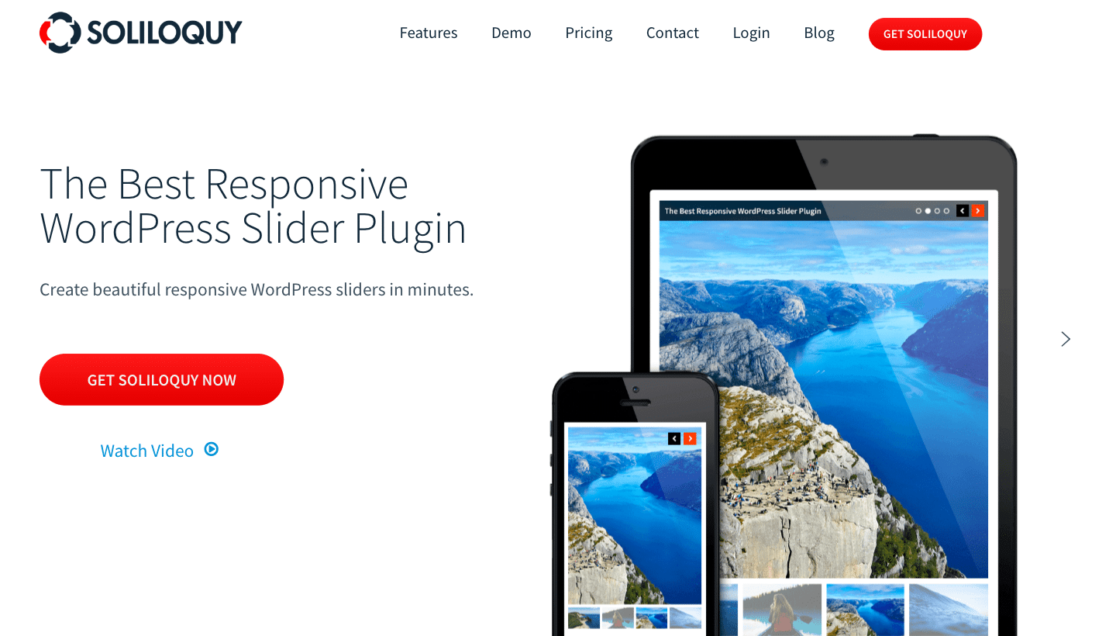 Soliloquy finds its way to our list of WordPress Instagram plugins thanks to its simplicity for adding your social media images to your website. There are lots of customization options available too, so you can easily match the slider to your brand.
Highlights:
Soliloquy supports images, videos, and HTML content, making it a versatile all-in-one slider solution. It's also fully responsive and mobile-friendly, and optimized for SEO.
This plugin offers drag-and-drop functionality, enabling you to build beautiful image and video sliders with ease. You can also use pre-built templates to customize the appearance of your WordPress sliders.
Dynamic sliders can be created from featured blog posts, Instagram images, testimonials, and more. Soliloquy also integrates with WooCommerce, allowing you to create interactive product sliders for your online stores.
Fullscreen lightbox mode is available for a better user experience. Plus, over 100+ configurable hooks and filters are available for adapting the slider to various needs.
Why we like it: For a gallery slider that can integrate with Instagram and offer incredible customization options, Soliloquy is the best.
Price: Paid licenses start at $19/50 per year. Soliloquy Multi is needed for the Instagram integration, and comes in at $49.50 per year.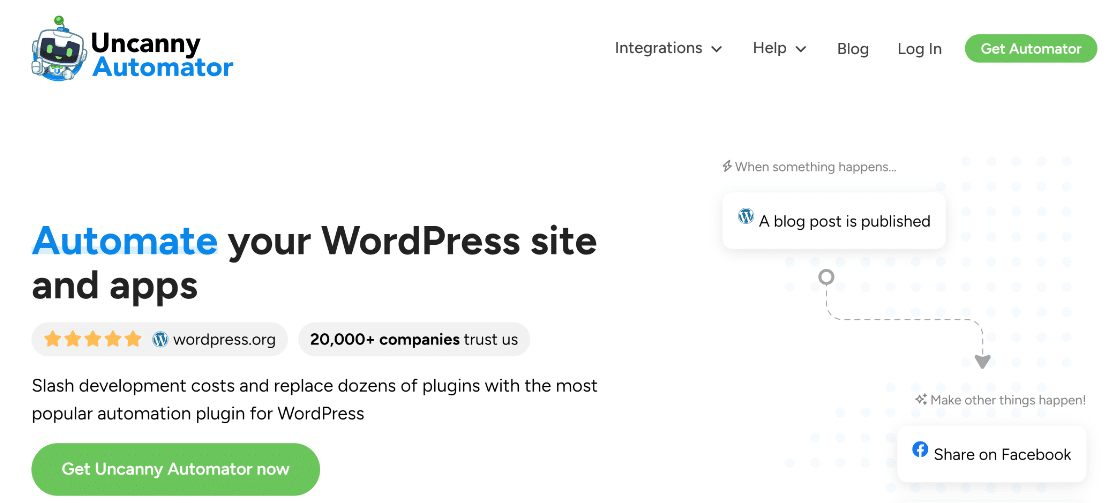 The Uncanny Automator plugin is a powerful tool that allows you to automate and connect different actions and events across various plugins and platforms, enabling seamless interactions without the need for complex coding or manual intervention.
And since it can be easily integrated with Instagram, it makes it onto our list of plugins.
Highlights:
Uncanny Automator allows users to create workflows involving Instagram and other WordPress plugins like WooCommerce Mailchimp, LearnDash, and more.
Examples include sharing a blog post image on Instagram, sharing a certificate photo when a user completes a series of courses, or publishing a photo when a form is submitted. All of these actions can be shared from WordPress to Instagram.
Uncanny Automator is geared towards data ownership. It ensures that all WordPress plugin data stays safely on the user's site, not processed and stored externally.
Why we like it:  This plugin simplifies complex tasks by creating automated sequences that will enhance your user experience and optimize your website functionality.
Price: The Pro version of Uncanny Automator comes in at $149 per year.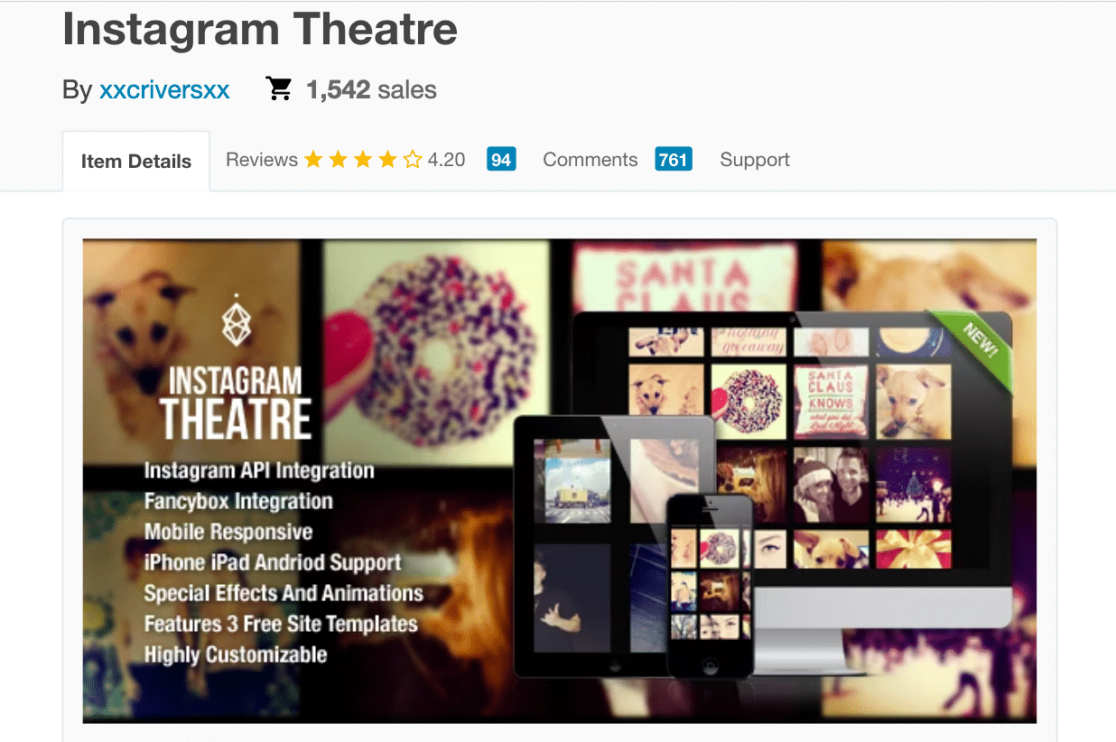 Instagram Theatre makes it on our list of the best WordPress Instagram plugins because it's simply a no-fuss tool that lets you display your images on your website. Plus, it offers some other good options for things to do with your website and Instagram.
Highlights:
This plugin utilizes an intuitive and easy-to-use admin panel featuring an array of options for customizing your experience, such as effect speed, delay interval, and alternate layouts.
Offers an extensive selection of layouts, including fullscreen, thumbnail, and list mode. This plugin also features specific Instagram layouts, such as popular Instagram and location Instagram feed modes.
Instagram Theatre is fully mobile responsive so your images on your website will look great on any device.
Why we like it: With Instagram Theatre you're getting the plugin after one payment for the download–no plan subscription required.
Price: One-time payment of $16.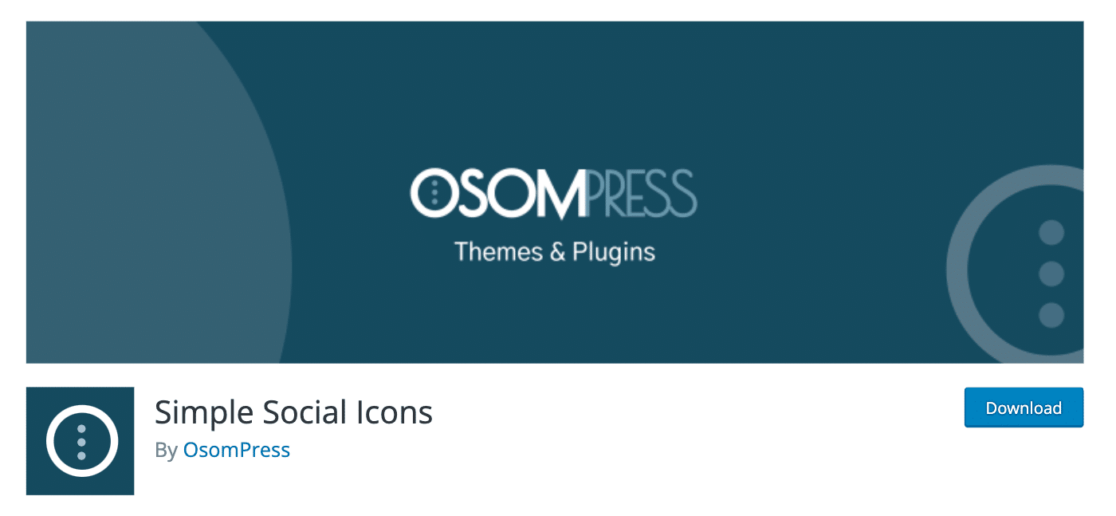 Simple Social Icons is an easily-customizable way to display icons that link visitors to your various social profiles. With this plugin, you can easily choose which profiles to link to, customize the color and size of your icons, and align them to the left, center, or right, all from the widget form with no settings page necessary.
Highlights:
Simple Social Icons is incredibly easy to set up and use.
The action happens all in the widget, so there is no need to work with a settings page.
With this plugin, you can customize the color and style of each icon to help match your branding, plus you can choose their alignment (left, center, or right) on your site.
You can place the Instagram social icon in multiple places, including a sidebar widget.
Why we like it: The Simple Social Icons plugin is totally free for users.
Price: Free!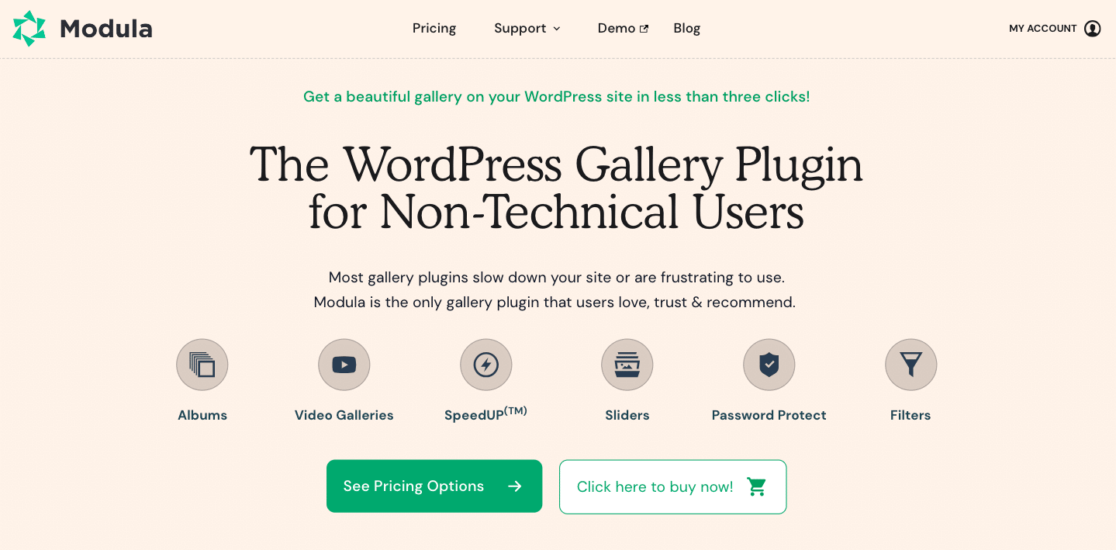 Modula Gallery is another great Instagram integration plugin to consider for your WordPress website.
Modula is a fast, customizable WordPress Gallery Plugin with user-friendly features, is trusted by thousands of businesses, and offers various gallery layouts and optimizations for improved website performance.
Highlights:
The easy drag-and-drop builder makes it very simple to use, even for beginners. It offers features such as Albums, Video Galleries, SpeedUP(TM), Sliders, Password Protection, Filters, and more.
Modula allows you to resize images, and create a customized layout that matches your website and brand. Gallery layouts include Masonry, Custom Grid, and Automatic Layouts.
This is a fully responsive plugin for great-looking galleries no matter which device is being used to view your images. It also enhances website speed with features like SpeedUP ™ for faster galleries with CDN, unlimited image optimization, and optimized code.
Why we like it: We are obviously big fans of drag-and-drop builders, and Modula is one of the best gallery builders to include this feature.
Price: Modula offers a free version and paid plans start at $39 per year.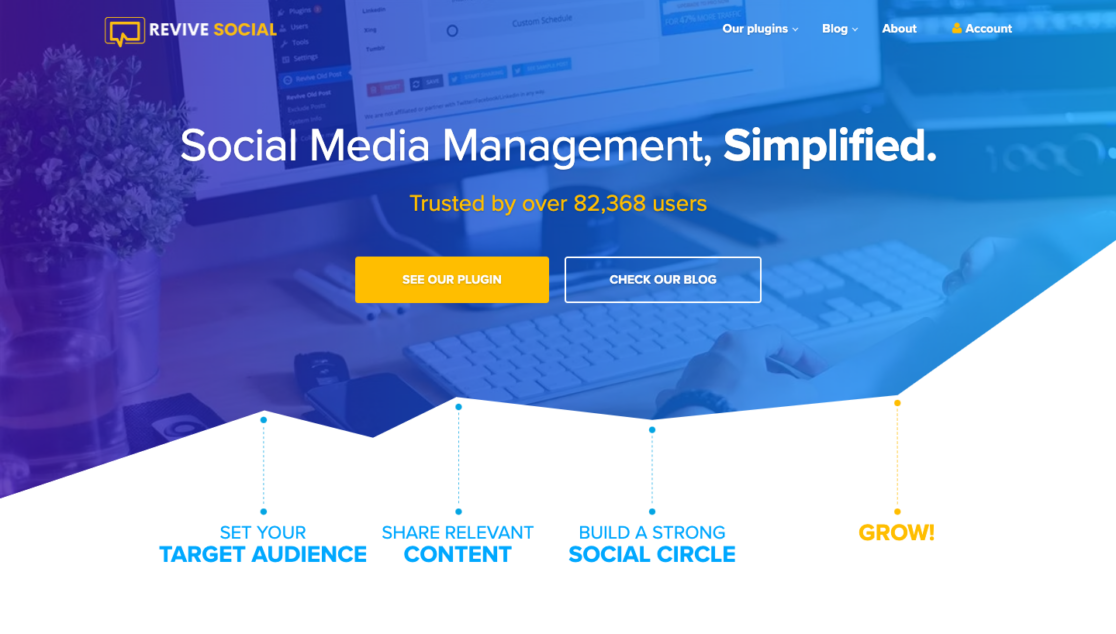 Revive Social is the maker of a great Instagram integration tool, Revive Old Posts, and is the next entry on our list of the best Instagram plugins for WordPress. In a nutshell, it's a social media scheduling plugin that supports Instagram, so it can help you run your social media very smoothly.
Highlights:
Revive Social allows you to add custom UTM tags to your posts from Instagram so you can track performance with Google Analytics. This allows you to see how popular your posts are and monitor the traffic coming to your site from Social Media.
This plugin will automatically share new content. Whether it's posts, pages, images from your WordPress Media Library, WooCommerce or Big Commerce Products, Recipes or Projects, Revive can share them to your social media accounts.
Easily share old and new content on social networks, including Instagram. Revive allows you to share your content to multiple accounts on each of the supported social networks. No limitations.
Simply exclude specific content that you don't want to share. Whether you want to share just the titles of your posts, include hashtags, add additional custom text or shorten your share links, Revive allows you to do that, and more.
Why we like it: We think that having the ability to share all kinds of media from WordPress to Instagram is pretty cool.
Price: The Personal plan starts off pricing at $75 per year.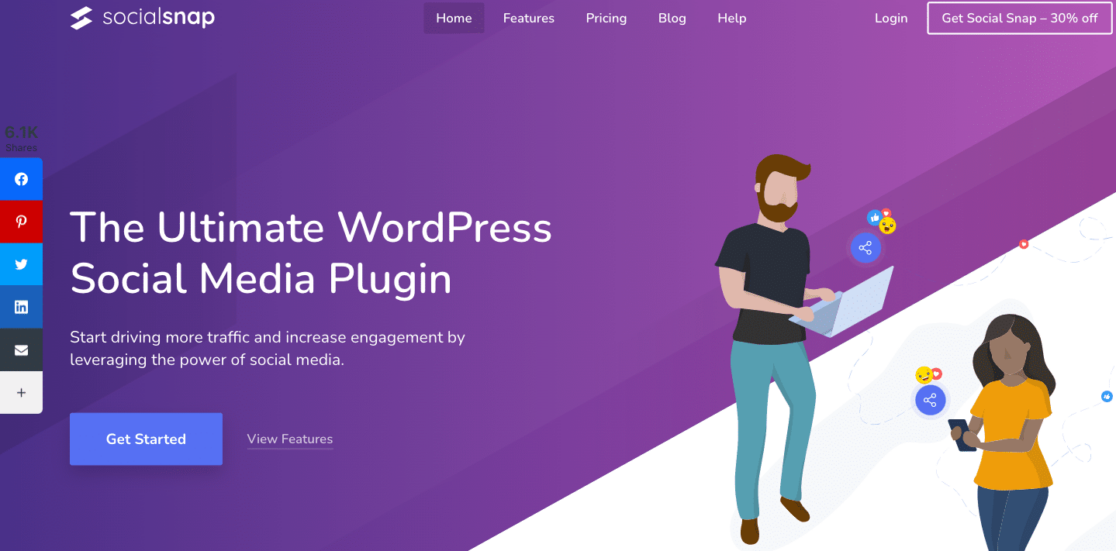 The SocialSnap plugin is a powerful tool that seamlessly integrates social sharing functionality into your WordPress website, allowing you to effortlessly share content across over 30 popular social networks and apps, including Instagram.
Highlights:
SocialSnap supports Instagram, plus Facebook, Twitter, LinkedIn, and Google logins.
Share buttons can be placed anywhere on the website, with customizable button shapes, colors, animations, and more to match the website's design.
Integrated statistics and analytics help track social sharing strategy performance along with advanced statistics that allow tracking of engagement and performance.
Why we like it: Social Snap is a user-friendly WordPress plugin that empowers effortless social sharing, analytics, and add-ons for optimized social marketing strategies.
Price: Upgraded versions of Social Snap start at $39 per year.
Which Is the Best Instagram WordPress Plugin?
So, after examining each of these Instagram plugins for WordPress, which one should you ultimately decide on for your site?
In our opinion, Smash Balloon's Instagram Feed Pro is the way to go. This plugin is an absolute must-have for all WordPress websites that also use Instagram.
We've determined it's the best Instagram WordPress Plugin because with it you can add your social media feed to your website without slowing it down, build incredible feeds including shoppable feeds to make more money online, and join millions of users already using this trusted WordPress plugin.
…plus so much more.
So what are you waiting for? Click here to get started with Smash Ballon's Instagram Feed Pro right now.
Next, Explore More WordPress Plugins
Now that you have your Instagram integration in the works, discover how other plugins and tools can optimize your WordPress site. Check out these additional resources we've put together to help you find the perfect plugins for your site.
Ready to build your form? Get started today with the easiest WordPress form builder plugin. WPForms Pro includes lots of free templates and offers a 14-day money-back guarantee.
If this article helped you out, please follow us on Facebook and Twitter for more free WordPress tutorials and guides.