Are you looking for an awesome Instagram plugin for your WordPress website?
Connecting your website to your social media is more important now than ever before since it can help explode your growth.
So we've rounded up all the best Instagram plugins out there to show you what they do so you can find the one that works the best for your WordPress site.
Best Instagram WordPress Plugins
Without further ado, we put together this list of the best plugins for your Instagram account to connect with your website.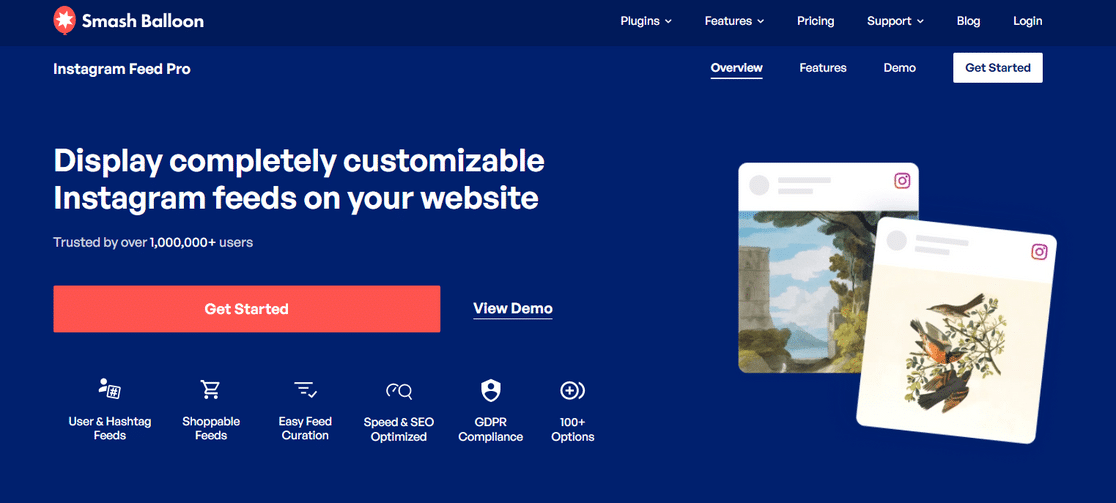 Hands down, the best Instagram plugin for WordPress is Instagram Feed Pro from Smash Balloon.  It lets you very easily make a custom Instagram social photo feed right on your WordPress website. Simply add your Instagram feed to any post, page, or even a sidebar widget.
There's a premium version or a free version, and we think the paid one is very worth it.
Features:
The Pro version lets you show several different Instagram feeds on your site from multiple sources including #hashtag feeds.
Comes with multiple layout choices including masonry grid, carousel, horizontal layout, and more.
Super fast and won't slow your WordPress site down.
Supports Instagram stories.
Has a lightbox popup option with built-in social sharing buttons.
Build shoppable feeds.
More than a million websites use the plugin to create custom Instagram photo feeds.
The plugin also supports Instagram stories and brings them to your WordPress site.
Pricing: Starts at $49/year.
Get started with Instagram Feed Pro today!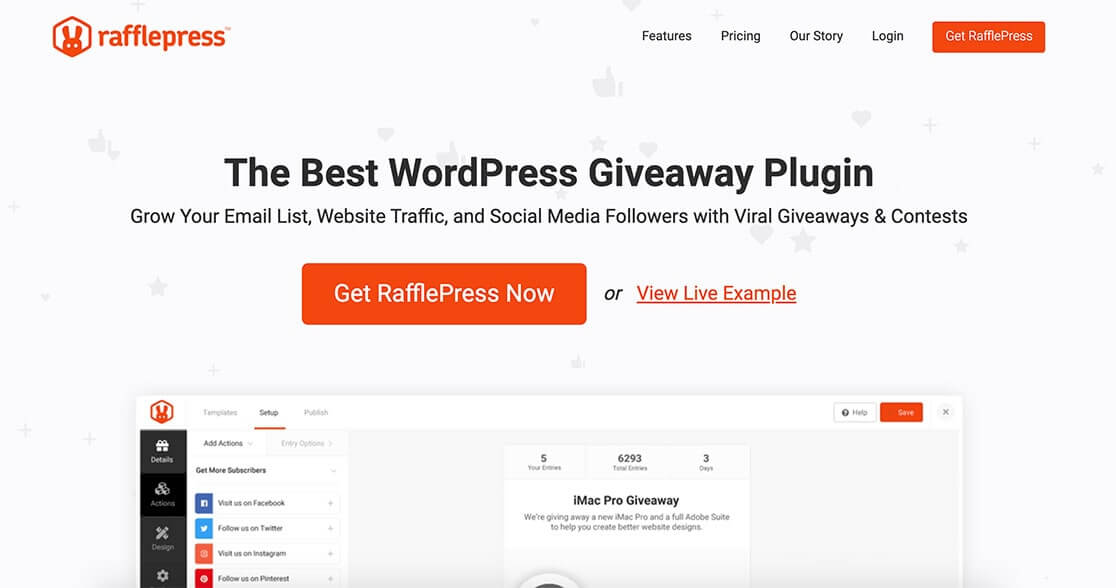 Another one of the best WordPress Instagram plugins on our list is RafflePress. It's a giveaway plugin and it can be used to skyrocket your Instagram followers by directing website visitors to your social media channel as entries to a giveaway.
Features:
Extremely easy to use.
Host a WordPress giveaway that asks your visitors to take specific actions using Instagram like viewing a post, visiting your profile, etc.
Invite people to join your newsletter to enter your contest and grow your email list.
Get users from Instagram to visit your website.
Feature-rich with lots of different tools to grow your website and small business.
Pricing: Starts at $39/year.
Get started with RafflePress today!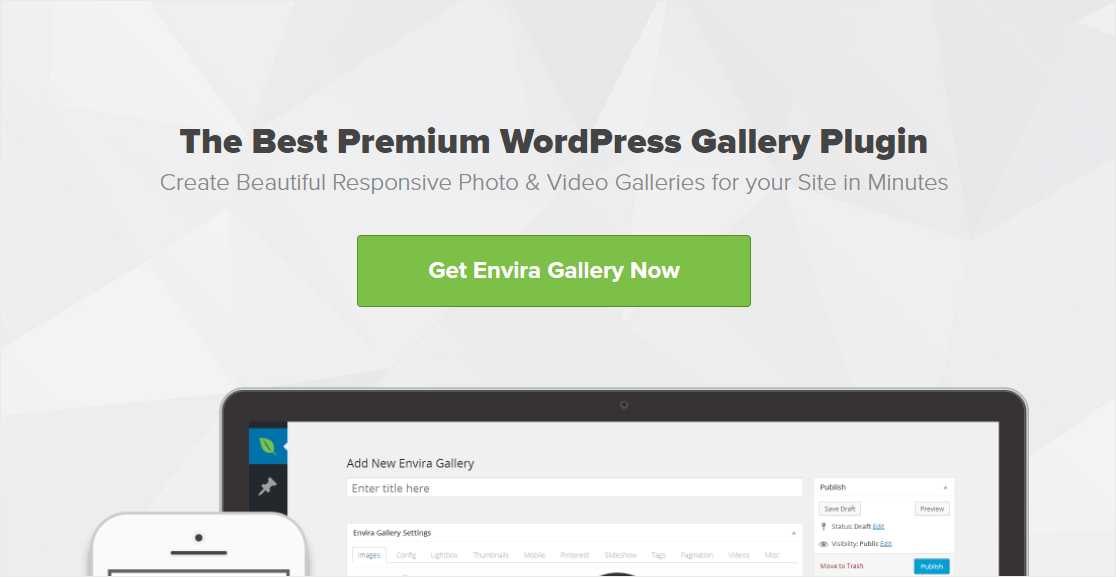 Envira Gallery is a WordPress photo gallery plugin that can be used easily as an Instagram plugin on your website. It includes an Instagram addon that works great.
Features:
Photo and video galleries with albums, lightbox popups, tagging, pagination, and more.
Link your Instagram images to WordPress to display them alongside other photo galleries, blog images, or open them in a popup.
Link images on your blog to your Instagram images.
Pricing: Envira Gallery Pro starts at $49/year.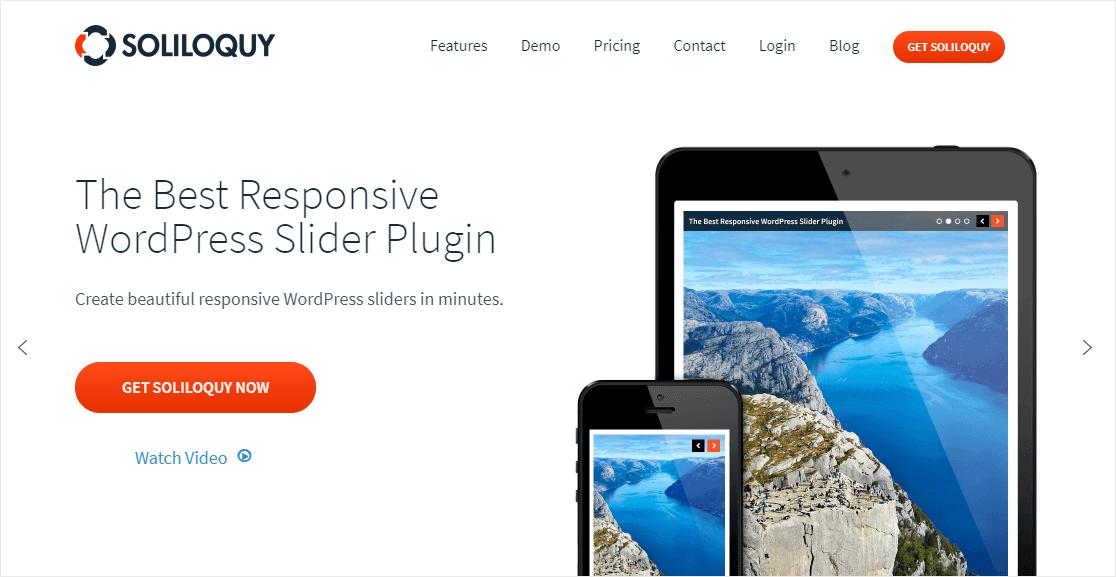 Soliloquy lands on our list of WordPress Instagram plugins because of its simplicity for adding your social media images to your website. There's a lot of customization available too so you can easily match the slider to your brand.
Features:
Control the speed of the slider.
Customize which content from your Instagram to use in your slider.
Ability to only use a feed with specific hashtags.
The Dynamic slider addon lets you add Instagram photos, your featured blog post thumbnails, testimonials, and more to a slider.
Pricing: Soliloquy Developer starts at $89/year.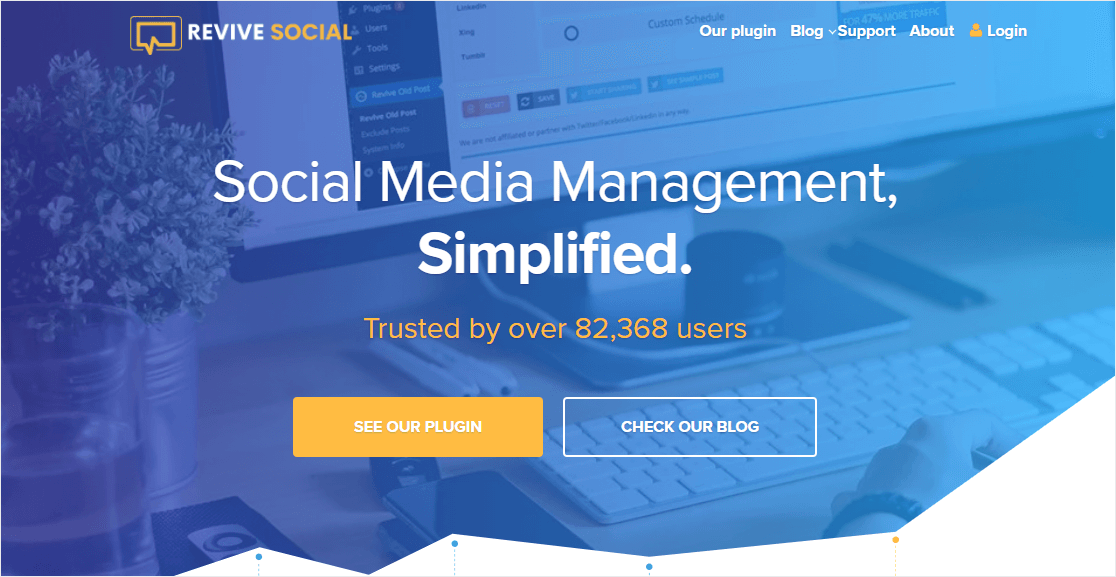 There's a great Instagram WordPress plugin called Revive Old Posts by Revive Social.  It's basically a social media scheduling plugin and it supports Instagram, so it can help you run your social media even more smoothly.
Features:
Gives you control to share images from the WordPress Media Library onto your Instagram.
Add custom UTM tags to your posts from Instagram so you can track performance with Google Analytics.
Automatically share new posts.
Easily share old and new content on social networks, including Instagram.
Create future social media posts with a custom schedule.
Exclude specific content that you don't want to share.
Pricing: Revive Old Posts Personal starts at $75/year.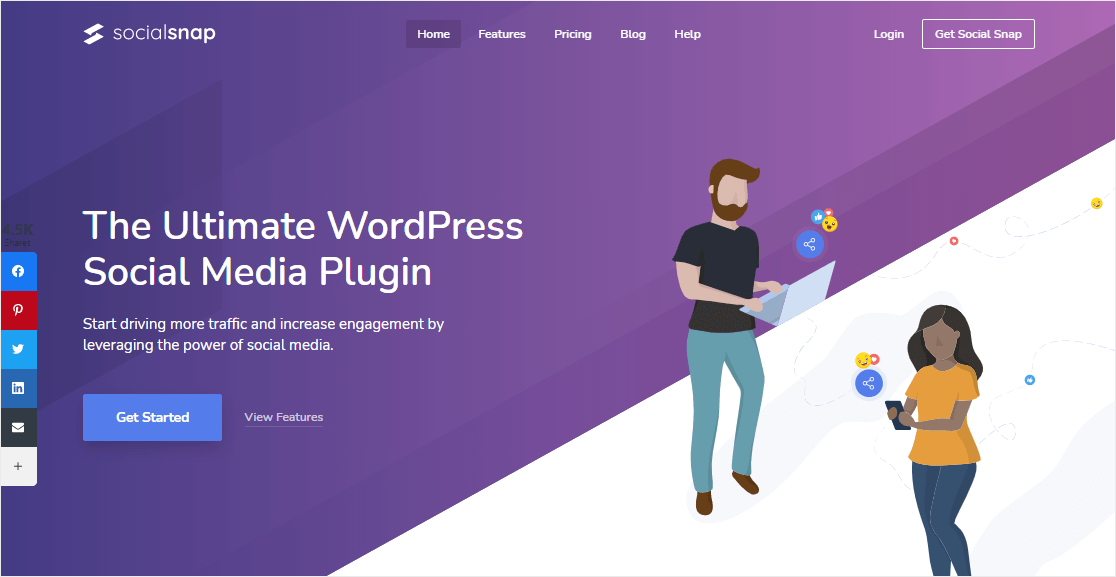 Social Snap is another one of the best WordPress Instagram plugins in this post. It allows people to log in using their favorite social media account including Instagram.
Features:
Supports Instagram plus Facebook, Twitter, LinkedIn, and Google logins.
Make it easier for people to log in by using social media accounts they more likely will remember their passwords so things get sped up.
Pricing: Social Snap Pro starts at $69.30/year.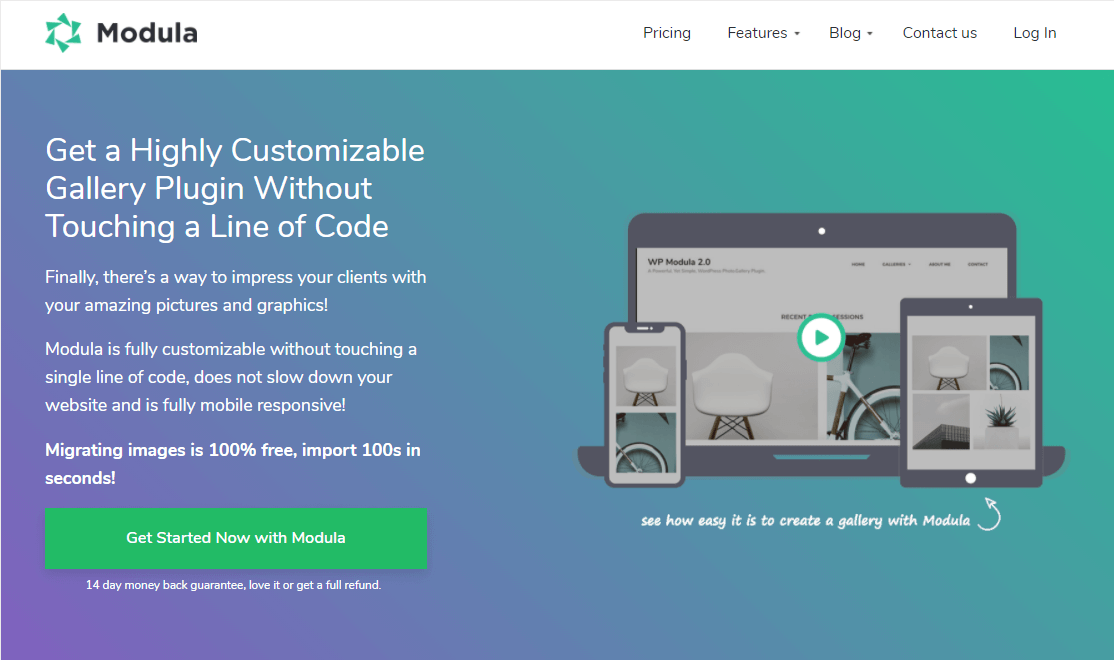 Modula Gallery is a WordPress plugin that is great to use with Instagram. It lets you show a gorgeous gallery with your images right on your site. It's awesome because it lets you give your website visitors the opportunity to look through your galleries for things they want, using filters for hashtags, dates, and more.
Features:
Easy drag-and-drop builder makes it very simple to use even for beginners.
Create a customized layout that matches your website and brand.
A fully responsive plugin for great-looking galleries no matter which device is being used to view your images.
Integrates with many social media services, including Instagram.
Lets you resize the images.
Pricing: Modula Business starts at $99/year.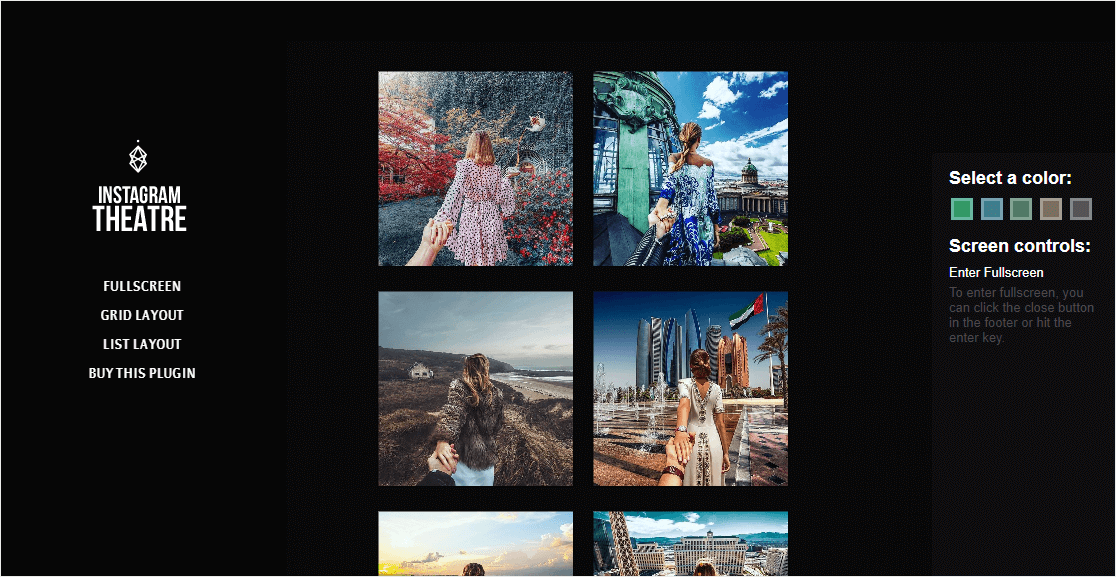 Instagram Theatre is on our list of the best WordPress Instagram plugins because it's a no-fuss tool that lets you show your pictures on your website, plus offers some other good options for things to do with your website and Instagram.
Features:
Includes multiple layout options.
Is fully responsive so your images on your website will look great on any device.
Has a Tag Instagram Feed mode to specify a hashtag to search for and then post a stream of.
Location mode lets you display where the image was captured.
Will let you pull in pictures from multiple users.
Has customizable effect speed.
Pricing: $16 one-time payment.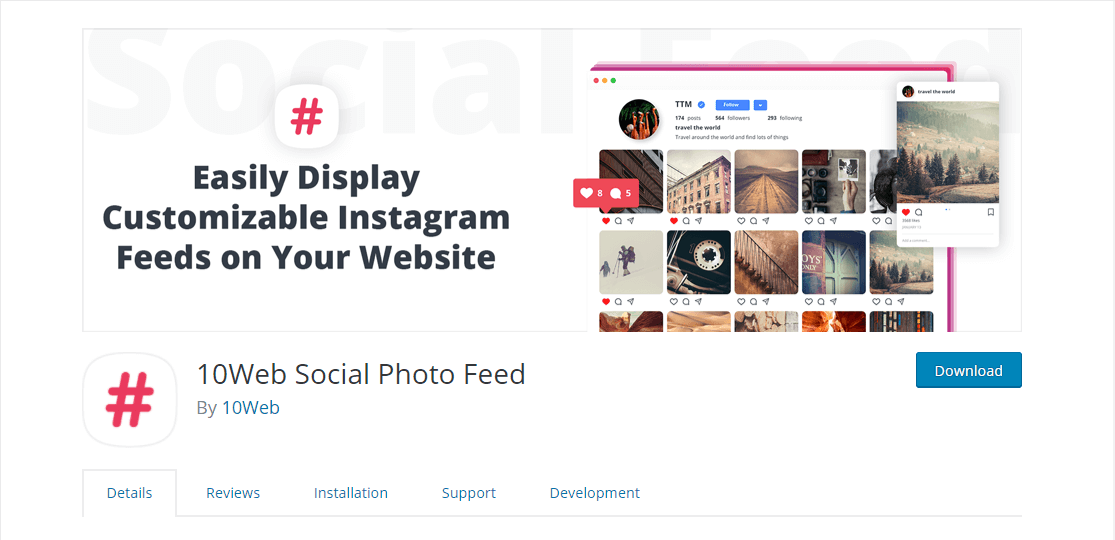 10Web Social Photo Feed is a straightforward free plugin that works great to display your Instagram posts on your WordPress website.
Features:
Display your Instagram posts in your WordPress sidebar using a built-in widget.
Easy to use and set up.
Include Instagram account feeds or use a hashtag to display certain posts.
There's a paid version that lets you make a feed that will show multiple hashtags.
Pricing: Free.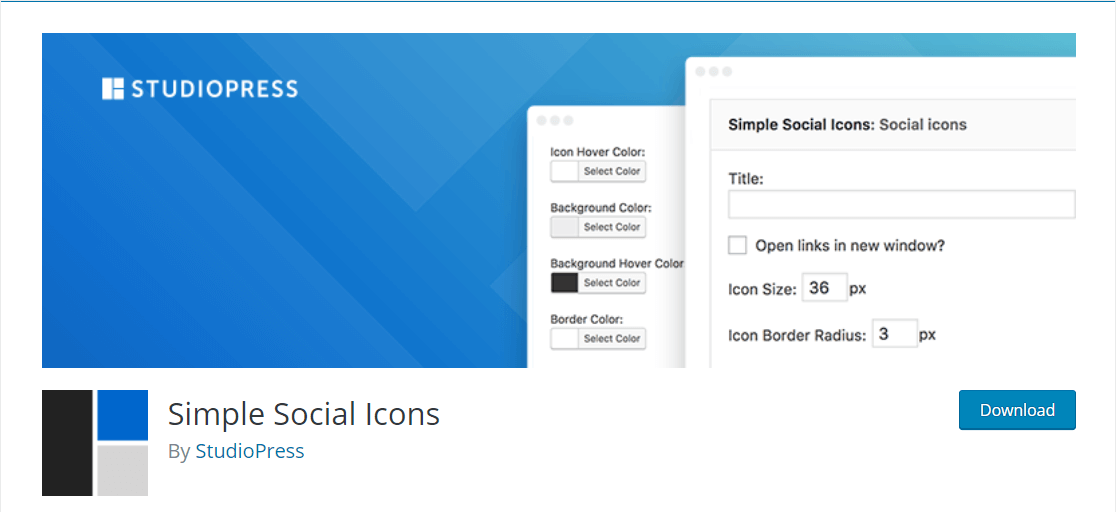 Simple Social Icons lets you share an Instagram button on your WordPress website. This is a great Instagram plugin because it encourages people to find you on social media, growing your following.
Features:
Totally free.
The action happens all in the widget so no settings page to need to mess with.
Easy to set up and use.
Customize the color and style of each icon to help match your branding, plus their alignment (left, center, or right) on your site.
Place an Instagram social icon in multiple places including a sidebar widget.
Pricing: Free.
Which Is the Best Instagram WordPress Plugin?
So there you have it. A complete list of the very best Instagram plugins out there for WordPress. Hopefully, now you have a better idea of which tool is going to work the best for your small business website.
Still asking yourself what's the best Instagram plugin?
In our opinion, Smash Balloon's Instagram Feed Pro is an absolute must-have for all WordPress websites that also use Instagram.
It's our winner here because with it you can:
Add your social media feed to your website without slowing it down.
Build shoppable feeds and make more money online.
Join the millions of users already using this trusted WordPress plugin.
…and so much more.
So what are you waiting for? Click here to get started with Smash Ballon's Instagram Feed Pro right now.
Next, Create Lead Magnet Optin Forms
And now that you've got a great Instagram plugin on your website, you want to make sure you're capturing email addresses from visitors. You might also be interested in checking out our post on how to create a lead magnet optin form.
Also, check out this list of best WordPress eCommerce plugins if you're an online store looking to grow you fast.
Ready to build your form? Get started today with the easiest WordPress form builder plugin. WPForms Pro includes lots of free templates and offers a 14-day money-back guarantee.
If this article helped you out, please follow us on Facebook and Twitter for more free WordPress tutorials and guides.