Are you looking for good Google optimize alternatives to run experiments on your site?
Google Optimize is a handy tool that enables marketers to conduct A/B tests on their sites.
Unfortunately, this tool is sunsetting in September 2023. After that, any experiments you may have created using Optimize will stop.
Thankfully, there are a lot of excellent alternatives to Google Optimize that can help you launch successful A/B experiments.
Does Google Optimize Cost Money?
No, Google Optimize is a free tool that any website can use to set up A/B tests in order to improve their conversions. Because it's free of cost, it's one of the most popular tools for running landing page experiments.
With the tool sunsetting in September 2023, you'll no longer be able to create new experiments with Google Optimize. Plus, you'll also lose data for any past experiments you have performed using Google Optimize.
So now is a good time to switch to other alternatives. There are some really good options out there that offer you a lot more flexibility and improved ease of use than Google Optimize when it comes to running A/B tests.
Best Google Optimize Alternatives
Thrive Optimize is the top Google Optimize alternative for WordPress sites. It's one of the many plugins from the Thrive family, and it works as an addon for the popular frontend page builder,  Thrive Architect.
If you've run experiments with Google Optimize before, you've probably been making landing page variations for your experiment by editing code snippets. But you won't need to be touching a single line of code with Thrive Optimize. This plugin gives you a completely code-free way to run A/B tests in WordPress.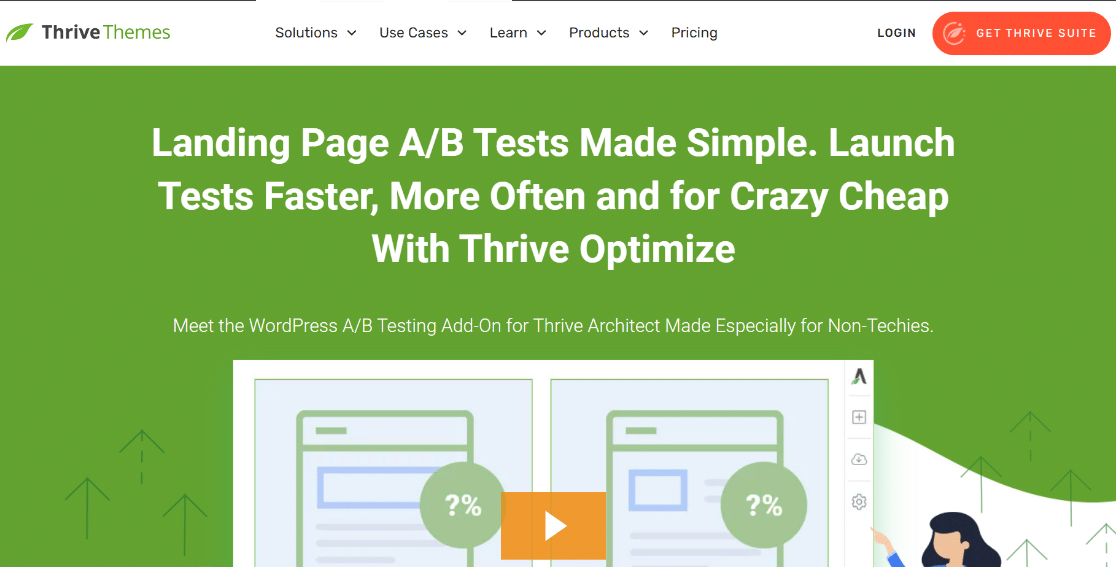 Unlike the long-winded setup process of Google Optimize, Thrive Optimize works right out of the box once you've installed it alongside Thrive Architect on your site.
You can use Thrive's block editor to add, remove, or edit any page element for your A/B test. To speed up the process, you can easily duplicate your existing page and change specific parts of it to create a variant for experimentation. The plugin also lets you control the traffic allocation for your page variations using a simple slider bar.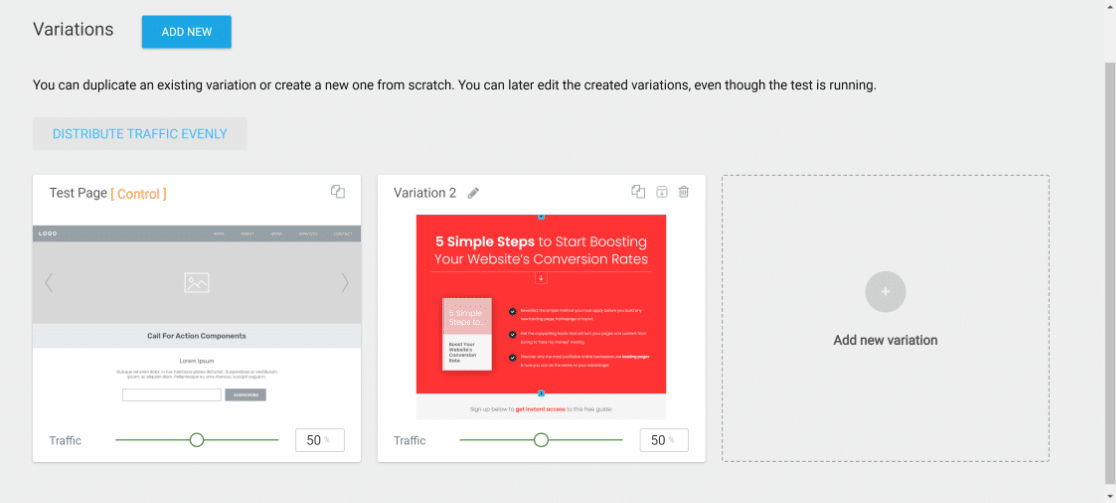 Thrive Optimize brings detailed reporting and statistical data of your tests right to your WordPress dashboard. This greatly simplifies the process of monitoring the success of your experiments. In contrast, you can only measure Google Optimize experiments in Google Analytics, so you must leave your website to view results.
There are 3 different testing goals that you can choose from: revenue, visits to a target page, and subscriptions. Thrive Optimize can then measure the performance of your tests based on your defined goals. Once you launch an experiment, it will measure the results over a given period of time and pick the winner automatically to ensure your goal is met.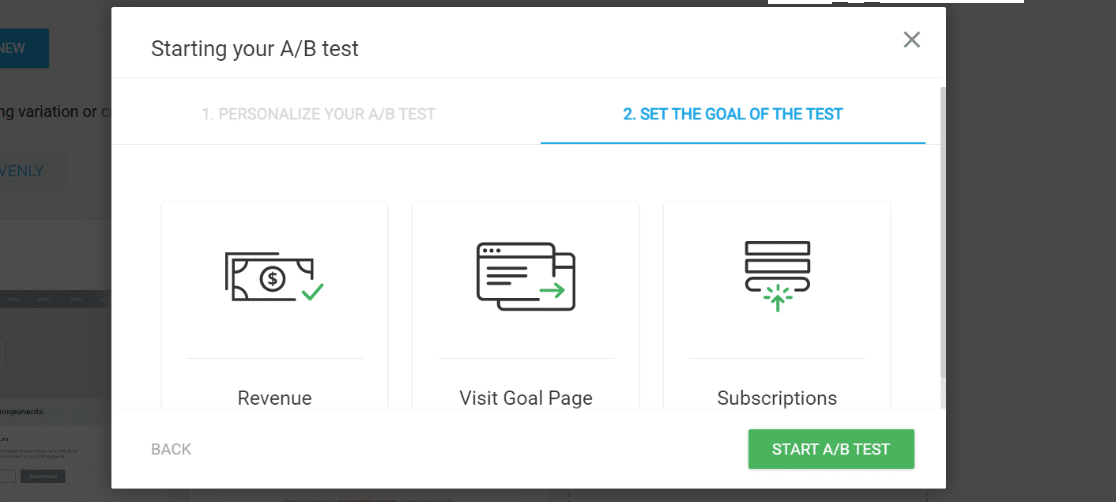 Another major benefit of Thrive Optimize is that it lets you create multiple test variations without any limits. With Google Optimize, you're limited to only 16 variations per test. Another limitation of Google Optimize is that you can't run more than 5 A/B tests at a time. So if you want to run more complex experiments without being bound by limits, Thrive Optimize is a superior A/B testing tool.
Thrive Optimize strikes the perfect balance between affordability, ease of use, and the range of A/B test options needed by most small businesses. This makes it our most strongly recommended alternative to Google Optimize.
Pricing: Thrive Optimize is included in the Thrive Suite plugins at $299 per year.
OptinMonster is a popular lead generation tool for WordPress sites. It's a versatile solution for creating high-converting marketing campaigns like floating bars, exit popups, gamified spin to win wheels, and more.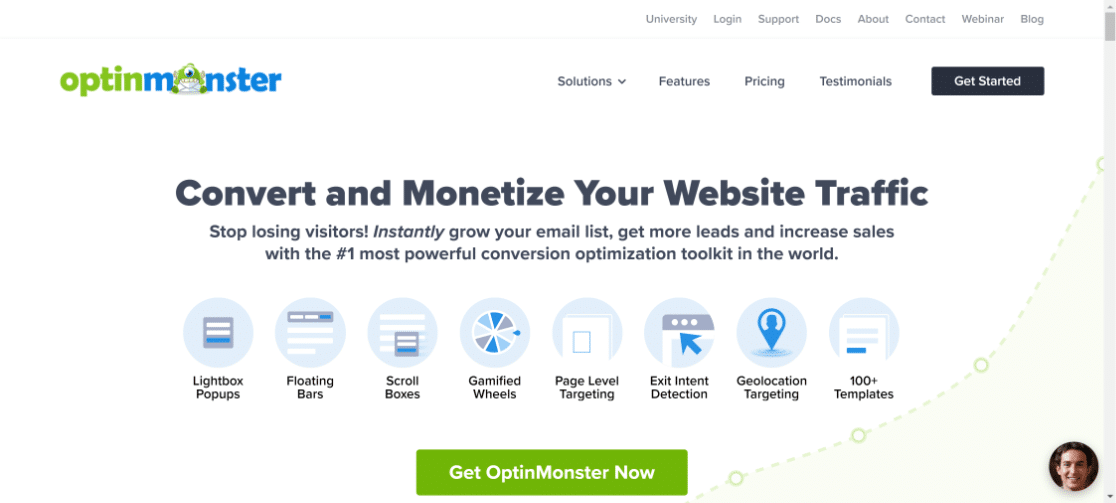 Since there are so many different types of campaigns, how do you know which one would work best for you?
This is where the OptinMonter split test feature comes in.
If your marketing hunch tells you to use a particular campaign, it'd be helpful to run an experiment by creating another variation using a different campaign type. Using split testing, OptinMonster will show different versions of your campaigns to randomly selected visitors. It will then pick a winner based on the campaign that performs better.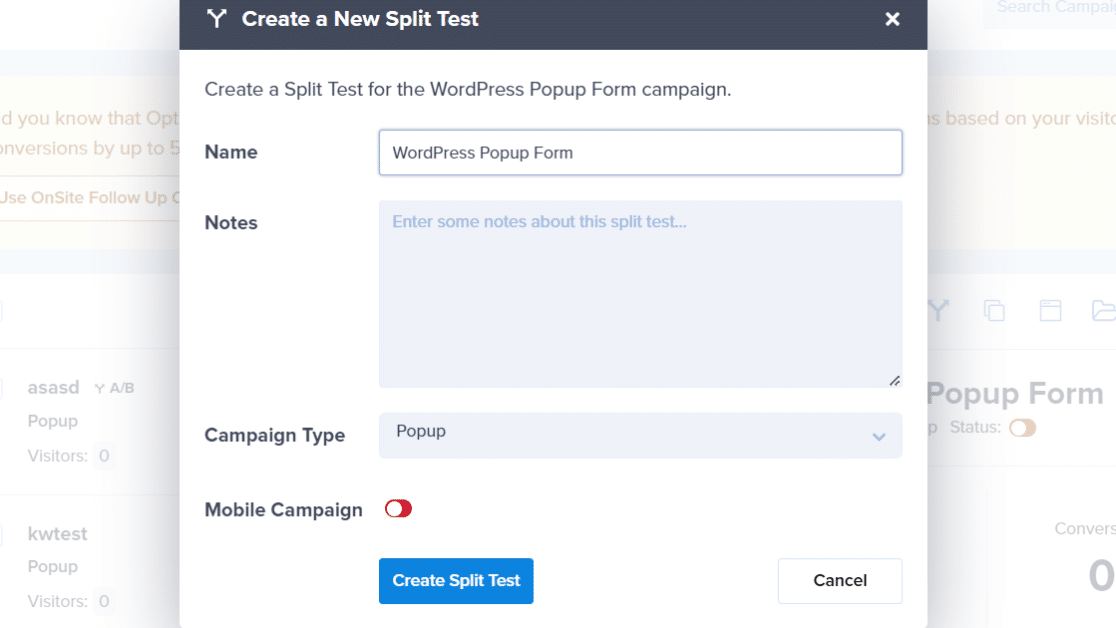 OptinMonster is an excellent alternative to Google Optimize for small businesses if you're testing advanced kinds of campaigns. For instance, it's complicated to create popups and spin wheels to experiment with using Google Optimize. With OptinMonster, you can create and test advanced campaigns in point and click style.
However, OptinMonster doesn't enable you to run multi-variate experiments or more than 2 variations of your campaign. It also doesn't enable you to control your traffic distribution for A/B tests. Thrive Optimize is the tool you want if you want access to advanced experimentation settings.
Pricing:  OptinMonster's A/B testing feature is available in the Plus and higher plans, starting at $19 per month (billed annually).

VWO Testing is one of the most powerful A/B testing tools. It includes tons of features that enable you to set up advanced experiments and fine tune your conversions.
VWO Testing supports a visual editor for changing elements of your page and unlimited concurrent experiments.
If you want to include a high level of targeting in your A/B tests, VWO enables you to target users by device, URL, and more. This feature can be very useful if you want to factor in the type of users viewing your campaigns during a test run of your landing pages.
For every experiment, VWO offers detailed statistical analysis showing you how likely each variation is to outperform your control campaign. Using these stats, you can effortlessly understand which campaigns are working better for you effortlessly.
The free version of VWO allows tests for the traffic of up to 50,000 per month, which is quite generous but limits you to only 3 variations per test. But you'll need to upgrade to the paid version to unlock advanced features like multi-variate testing and extra targeting options.
Overall, VWO Testing is a powerful Google Optimize alternative, though its paid plans are quite expensive.
Pricing: VWO Testing offers a free plan for an audience of 50k visitors with limited variations and goals. Paid plans remove these limits and start at $286 per month (billed annually)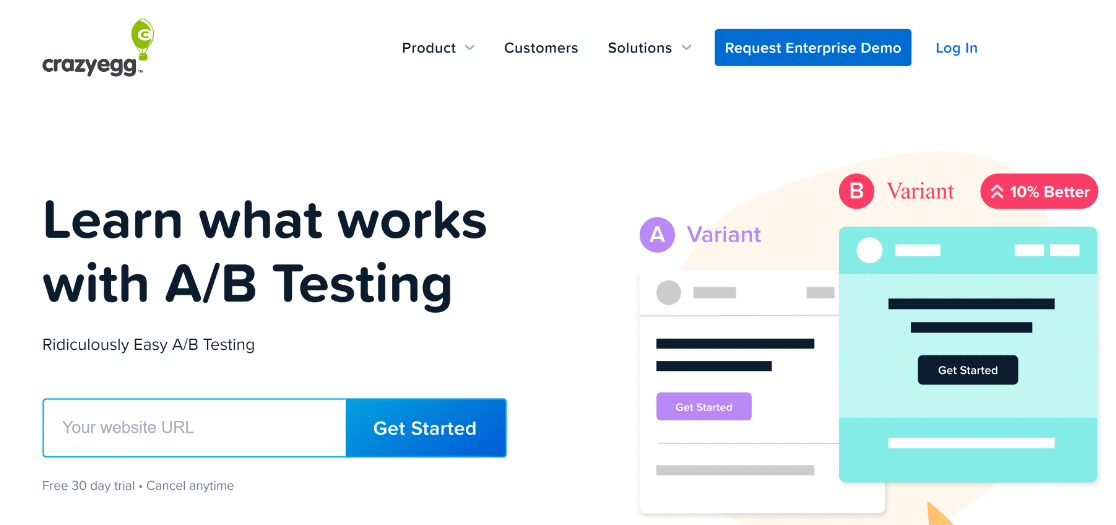 Crazy Egg is widely known for its heatmapping features that allow you to observe user behavior on your site. But it also has an A/B testing tool that enables you to run experiments on your landing pages while utilizing its other features like recording visitor behavior.
What makes Crazy Egg a better alternative to Google Optimize is that it makes analytics more visual. You can view user recordings and heatmaps to actually see how visitors are interacting with your A/B test experiments.
In addition, Crazy Egg is a lot easier to use than Google Optimize because you don't need to work with any code snippets to set it up. The A/B test editor supports frontpage editing, so you can easily change any element of your page without tinkering with any HTML.
The reports dashboard summarizes the results of your A/B tests with just enough detail to help you measure performance without getting overwhelmed. You can compare your variations and see which one shows an improvement over others based on your chosen experiment goals.
Pricing: CrazyEgg's plans start at $29 per month (billed annually).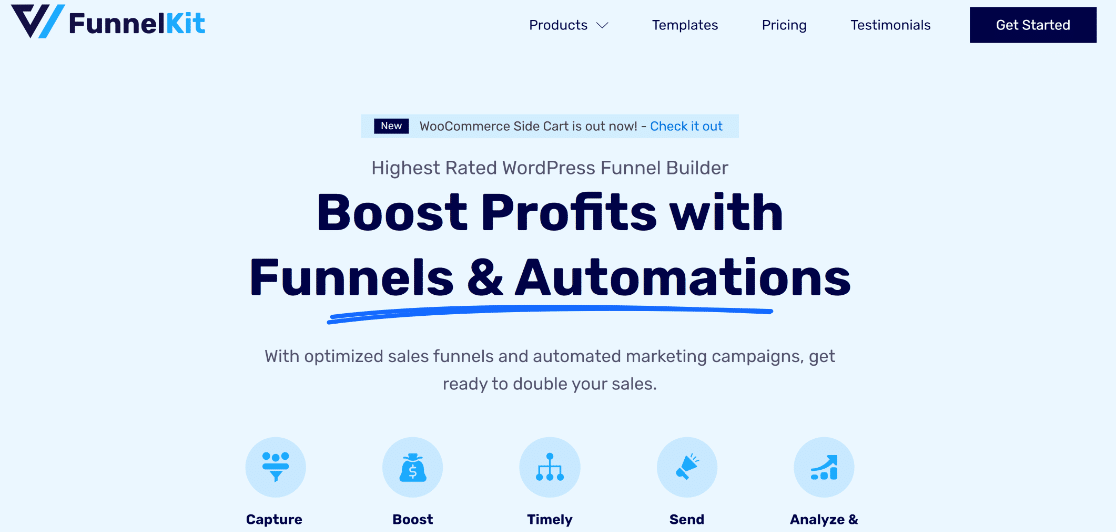 FunnelKit is a plugin that allows you to design sales funnels for your WooCommerce store.
This tool is specially designed for WooCommerce stores that want to boost conversions from their checkout pages, thank you pages, and other key pages of your online store.
It also includes an A/B testing tool that works well as a Google Optimize alternative. The A/B testing features are relatively simple, but these are perfect for small eCommerce stores looking to optimize their important sales pages for maximum conversions.
FunnelKit makes it super convenient to get started with your A/B experiments using pre-designed page templates. You're free to either design your experiments by duplicating and editing your original page or choose from one of its many templates designed to produce the best results.
Pricing: FunnelKit's A/B testing feature is available for Plus and above plans starting at $179.5 per year.

Convert offers a wide and fairly advanced range of features for performing web experiments on your site.
With Convert, you get a lot of flexibility to customize your experiments and set up complex tests. Apart from conventional A/B tests, it also supports split tests that you can run on multiple pages at the same time.
Convert gives offers an outstanding level of configurability to your tests. You can define the statistical settings of each experiment based on your needs. This is helpful when you have a complex split test running on various pages with multiple different kinds of audiences.
If you're an expert marketer, Convert can be a great tool that gives you a lot of freedom for experimenting with your landing pages. But it can be an overwhelming tool for smaller businesses looking for a straightforward Google Optimize alternative to launch simple A/B tests. 
Pricing: Convert starts at $99 per month.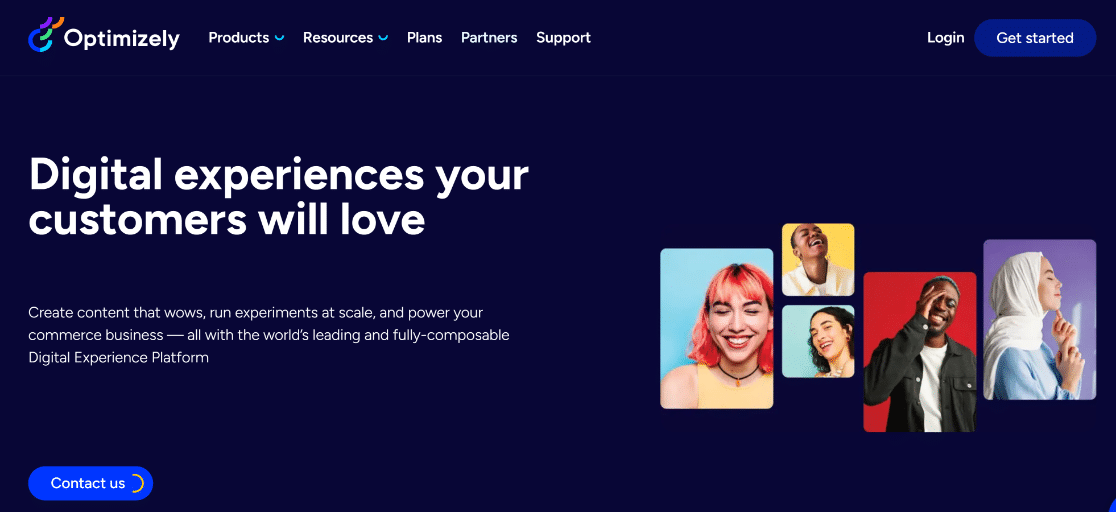 Optimizely is another A/B testing tool that many enterprises use to launch web experiments at scale.
It has an impressive range of features that let you run and customize experiments with a lot of flexibility.
For instance, you can use exclusion groups to run multiple experiments on the same page but expose a single user to only one experiment at a time. This way, you can observe the results of each experiment independently rather than letting one test affect the other.
At the same time, many of the advanced features Optimizely offers are too complex than what small businesses would usually require. In addition, it's one of the priciest solutions on this list.
For this reason, we only recommend Optimizely for large enterprises that routinely perform complicated web experiments.
Pricing: Optimizely has variable pricing that's quoted directly to their customers, but it's the most expensive tool on this list.
Next, Explore More No-Code Tools
Are you interested in no-code tools and plugins? We have a couple more guides you'll want to check out:
Also, did you know that you can connect WPForms with ChatGPT? Try out the integration to improve your workflow efficiency.
Create Your WordPress Form Now
Ready to build your form? Get started today with the easiest WordPress form builder plugin. WPForms Pro includes lots of free templates and offers a 14-day money-back guarantee.
If this article helped you out, please follow us on Facebook and Twitter for more free WordPress tutorials and guides.