Do you want an easy way to create a contact in Zoho from your WordPress form? Using WPForms and Zapier, integrating your contacts into the Zoho CRM is a lot easier than you might think. In fact, doing this makes it so you never have to manually import another contact again.
In this article, we'll show you how to import a contact into Zoho whenever someone submits your WordPress form.
Step 1: Create a WordPress Form
The first thing you'll need to do is install and activate the WPForms plugin. For more details, follow this step by step guide on how to install a plugin in WordPress.
After a successful installation, you'll need to create a new WordPress form. You can check out our tutorial on creating a simple contact form in WPForms. It takes just a few seconds with WPForms pre-built form templates.
Give your form a name. In this example, we'll call our form Zoho.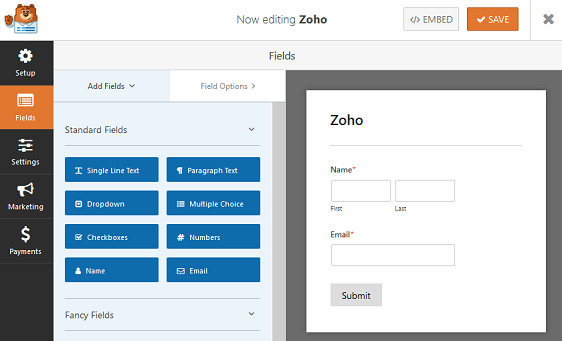 You can easily customize the form and add whatever fields you want with the drag & drop form builder.
After you have created your form, you'll need to install and activate the Zapier addon. This way you can import your contacts from submitted forms into your Zoho CRM.
The Zapier addon lets you connect your WordPress forms to over 2,000+ web apps, including Jira, Google Calendar, and the Zoho one. For more help with this, you can see our tutorial on how to install and use the Zapier addon.
Now, let's take a look at how to connect your WordPress forms to the Zoho CRM.
Step 2: Create a New Zap
You first need to log into your Zapier account and click on the Make a Zap button near the top of the screen. If you don't already have a Zapier account, you can create one here.

From there, you'll need to choose a trigger app, which in this case is WPForms. Search WPForms in the search bar and click on it.
The only option you'll have to choose from is New Form Entry. Click Save + Continue to make WPForms the trigger when someone on your site submits a form.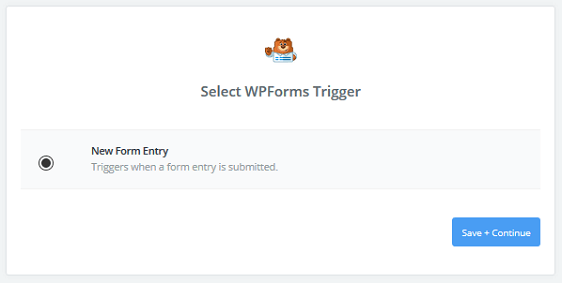 From there, follow the instruction for finalizing WPForms as the trigger app, which will include selecting a WPForms account and verifying that it's valid.
For a helpful guide on how to do this, see our tutorial on using Zapier with WPForms.
When this is done, Zapier will be connected to WPForms.
When you are prompted to set up the WPForms form entry, make sure to select the new WordPress form you created earlier from the dropdown menu. Remember, we named our form Zoho.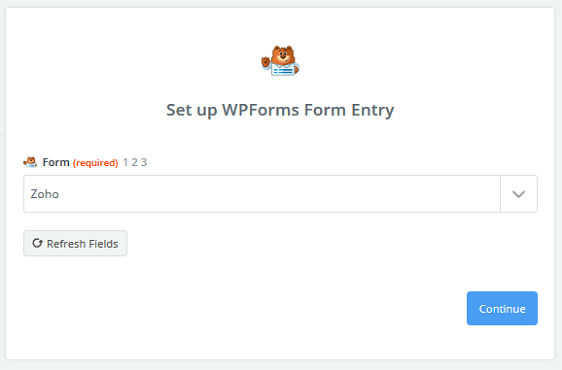 Click Continue.
You now need to make sure your Zoho form works right. To do this, you must have at least one test entry submitted on your form.
To create a test entry so Zapier can fetch and test your WordPress form, navigate to to WPForms » All Forms and find your Zoho form.
Click Preview.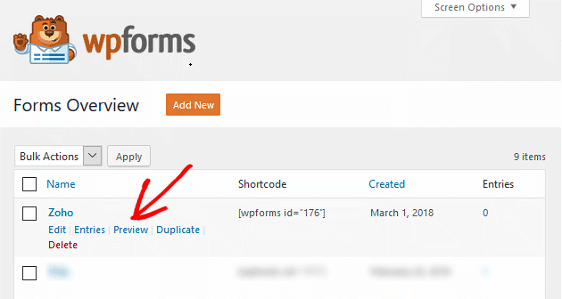 You'll now see a preview of your form. Fill out the form and submit it as though you were a site visitor. This will give your Zoho form one entry, which you'll see in the dashboard.

After you have one test entry for your Zoho form, go back to your Zapier account and click on Fetch & Continue.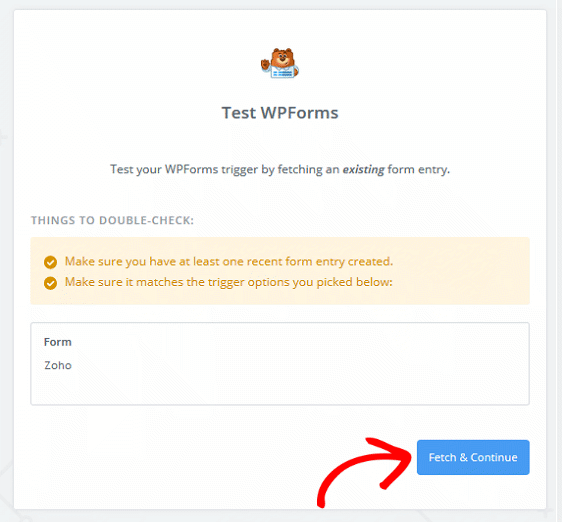 When the test is finished, you'll see a success message. Click Continue.
Step 3: Connect Your WordPress Forms to Zoho
Now that you have connected Zapier to WPForms, you need to connect WPForms to Zoho.
To start, search for the Zoho app in the search bar and select Zoho CRM as the action app.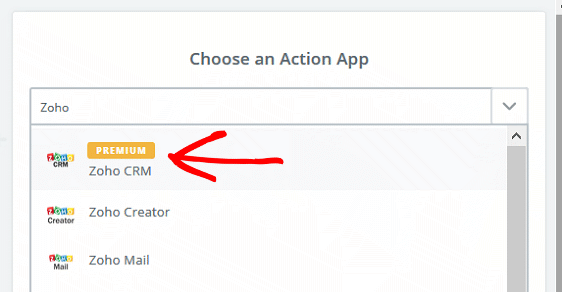 On the next screen, you'll need to choose the Zoho CRM action. Since we're looking to add contacts into your Zoho CRM, select Create Contact and then Continue.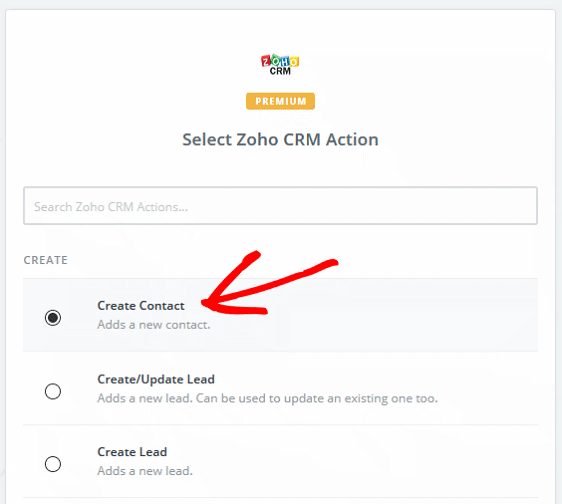 Now you'll need to connect your Zoho CRM account to Zapier. To do this, you'll need to authorize Zapier to access your Zoho CRM data.
Start by clicking Connect an Account. You'll then see a modal popup asking you for the domain in which your Zoho account resides, .com or .eu, and the authorization token.
Generate an authorization token by clicking the appropriate link based on the domain your Zoho account resides.
Copy the authorization token and paste it in the popup field.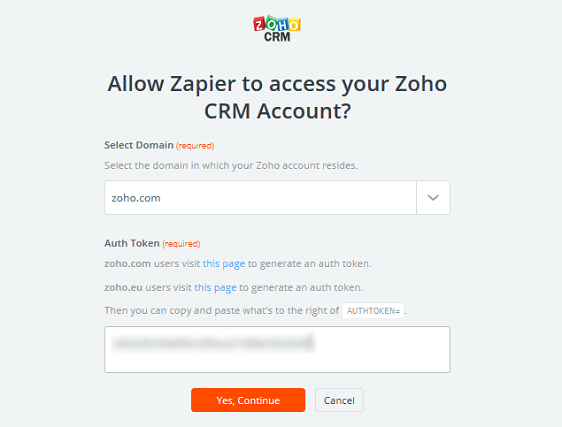 Click Yes, Continue.
Step 4: Test Your WordPress Forms
After authorizing Zapier to access your Zoho CRM data, you'll be asked to set up a Zoho CRM contact. Here, you'll define which information should be sent to Zoho when someone submits a form on your website.
The only required field is Last Name. To find the Last Name form field, scroll through the other fields on the test form.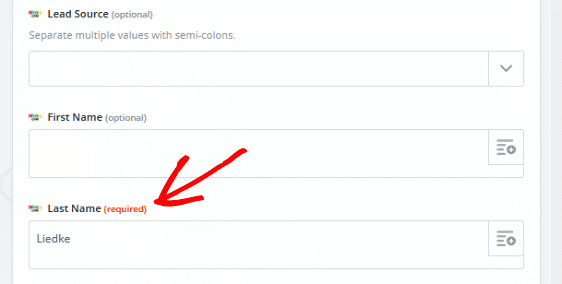 Fill in a name for testing purposes, and any other form fields you want to, and click Continue.
To test the form, and make sure the contact information is sent to your Zoho account, click on Send Test to Zoho CRM.

In your Zoho account, navigate to Contacts to see whether your contact was recorded.
You have now successfully tested the Zoho app in Zapier.
Click Finish and name your zap if you want to. Then make sure to toggle your zap On to make sure any time someone submits a form on your WordPress website their contact information is sent to your Zoho account.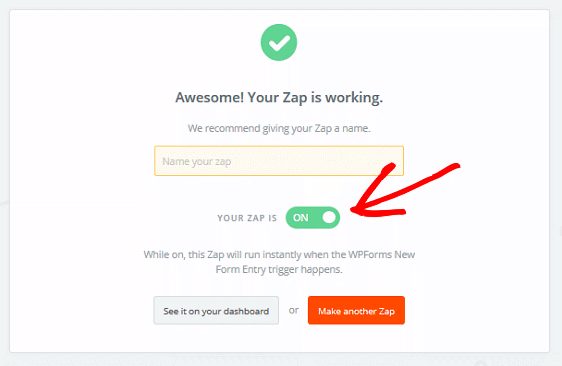 Final Thoughts
And there you have it! You now have a simple way to create a contact in Zoho and import that contact information into your Zoho account when someone fills out your form, making it easier than ever to continue your email marketing efforts.
Do you use Zoho Mail too? Find out how to use Zoho Mail SMTP in WordPress to improve deliverability.
And for more awesome ways to use WPForms and Zapier together, check out these guides on how to:
So, what are you waiting for? Get started with the most powerful WordPress forms plugin today.
If you like this article, then please follow us on Facebook and Twitter.