Do you want to automatically create an Asana task from a WordPress form?
You can collect every form submission and organize it on Asana, so you don't need to spend hours copying them manually.
In this post, we'll show you how to integrate Asana with WordPress forms to save time and keep your team in the loop.
Why Integrate Asana With WordPress?
Creating an Asana task from a WordPress form will help you to assign the task to the right person in your organization. For example, when a form is being submitted on your site, in the Asana account, you can assign…
presale queries to your marketing team
job applications to your HR team
guest post offers to your content team
…and so on.
Then you can make sure that each submission gets a response by tracking its progress on Asana.
Check out our full list of Asana integrations to get more ideas.
Creating Your WordPress Form
The first thing you need to do is to install and activate the WPForms plugin. Here's a step by step guide on how to install a WordPress plugin.
Also, you'll need to have a form created. See our tutorial on how to create a request a quote form as an example to get started.
You can create Asana tasks from any type of WordPress form. However, for the sake of example, we'll be showing you how to keep track of presales form submissions in Asana.
Now that your form is created, we'll need to connect this form to your Asana account.
Connecting Your Form to Zapier
We'll be using Zapier addon to integrate your WPForms plugin with Asana.
The Zapier addon lets you connect your forms to over 500 web apps including Asana, so that you can save your time by automating different tasks. You can learn how to connect WPForms with Zapier here.
Now let's connect your form to Asana.
The first thing you need to do is to login to your Zapier account. Then begin to make a Zap with WPForms as your Trigger App. For a complete step-by-step guide to making a Zap, you can check out our tutorial on how to get started with Zapier.
When you get to the Edit Options screen, select the Request a Quote form you just created.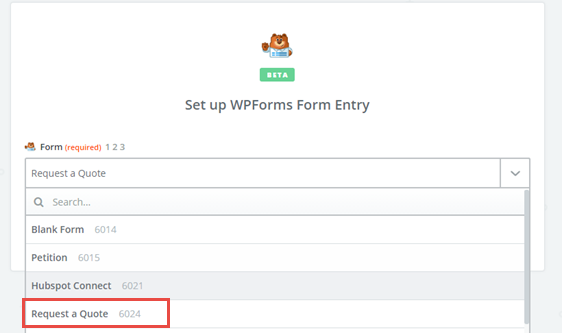 After this step, select Continue.  Now you can test your form's connection to Zapier. Be sure to have at least one test entry on your form before fetching existing entries.
After a moment, you should see a success confirmation message.
Setting Up Your Asana Integration
Now that you've connected Zapier to WPForms plugin, the next step is to connect your form to Asana.
You'll need to choose Asana as the action app.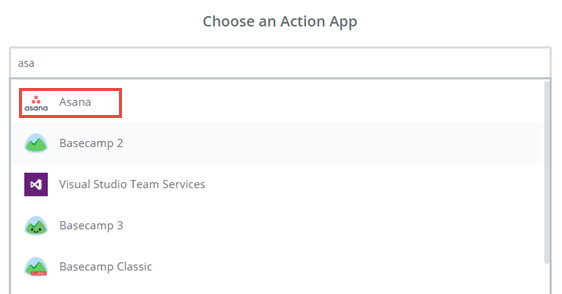 Next, you'll be prompted to select an Asana action. As we're looking to create a task in Asana when a form is being submitted on your site, you need to select Create Task.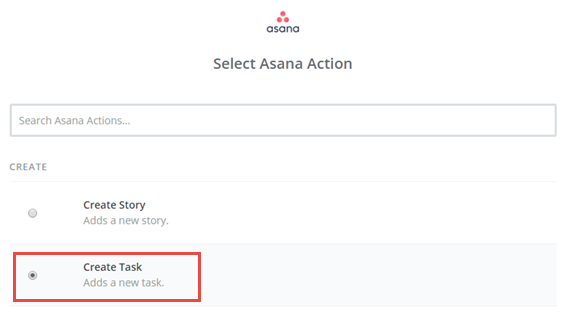 Then, you'll need to connect your Asana account with Zapier. Click Connect a New Account and grant permission to Zapier to access your Asana account.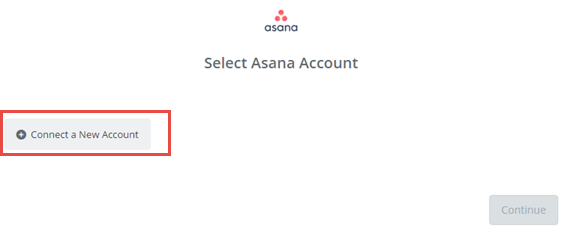 After authorizing permission, select Save + Continue.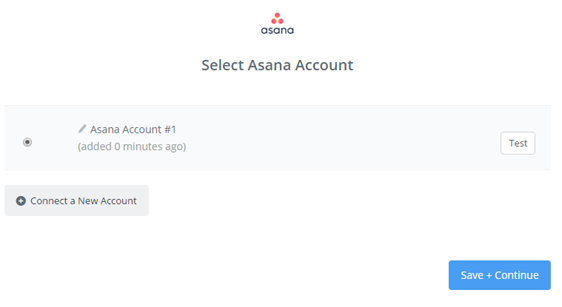 In the Set up Asana Task step, you'll need to specify the Workspace to create your tasks in. Optionally, you can also set up Project Name, Name, Notes, Assignee, Due on, and other details.
You'll need to connect the form's name field with Asana's Name field and add other form fields to Notes. This way, you can make sure that all the form fields (except the name field) are included in Notes fields.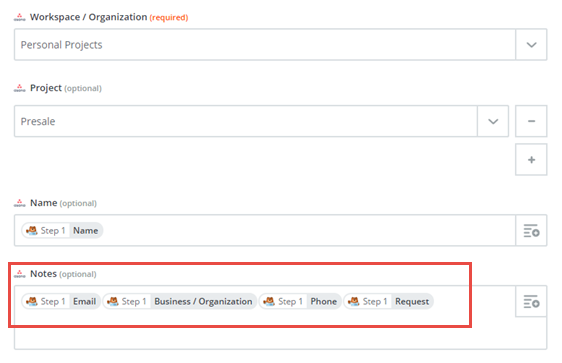 Now, if you prefer you can customize the Notes field and make it look the way you want in Asana. For example, take a look at the screenshot below.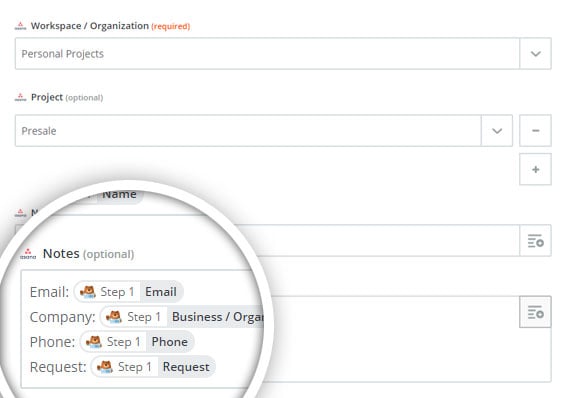 If you didn't customize the Notes field, the WordPress form data will be displayed in a single line. By customizing it, you can make sure that the Asana Notes are easy to read.
Next, select Continue to test out your new Zap.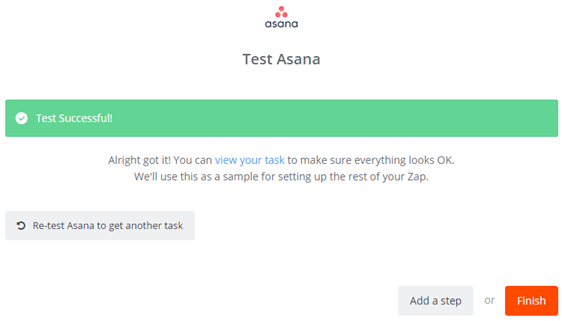 Now you can login to Asana to make sure the connection is working, and your tasks are set up the way you want.
In the final step, you'll need to name your Zap and turn it on, so that future form entries will be automatically added to Asana tasks.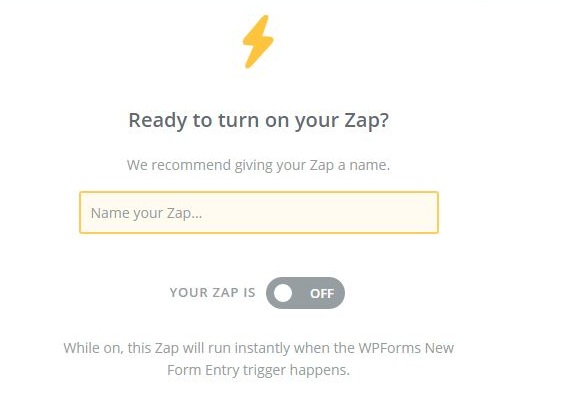 Zapier helps you to do all kinds of neat tricks with WPForms. If you track time, check out how to create a Toggl project from a form entry, or send a Slack auto invite from a WordPress form.
In Conclusion
We hope this guide helped you to automatically create Asana tasks from WordPress forms.
Keeping your team in the loop when you get new form entries is crucial. You can automate the process even more with our tutorial on creating multiple notifications in WordPress forms.
What are you waiting for? Get started with the most powerful WordPress forms plugin today.
If you like this article, then please follow us on Facebook and Twitter for more free WordPress tutorials.