How to Add a Contact Form in Your WordPress Post Content
Last updated on Jan 18, 2017 by Sameen Imtiaz
Looking for a way to include a form in the middle of your blog post, not just on your contact page? As a site owner, you need to give your readers an easy way to contact you from your site. In this tutorial, we'll show you how to add a contact form in your WordPress post content.
Step 1: Create Your WordPress Form
The first thing you need to do is install and activate the WPForms plugin. For more details, see this step by step guide on how to install a plugin in WordPress.
Once you have installed the WPForms plugin, go to WPForms » Add New to create a new form. Then on the setup screen, click on Simple Contact Form to create one.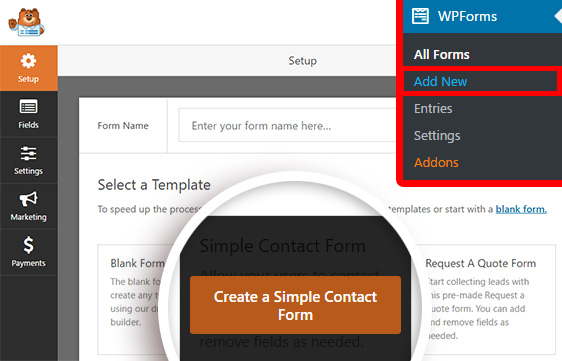 Now WPForms will create a simple contact form for you.
When the pre-built form loads, most of the work is already done with a name field, email field, and message field automatically added to the form.
Step 2: Customize Your Form
Once the form loads up, the left pane shows all the fields you can add to your form. On the right, you can see a preview of the form you are creating.
To add a field to your form, you can simply drag it from the left column onto the form.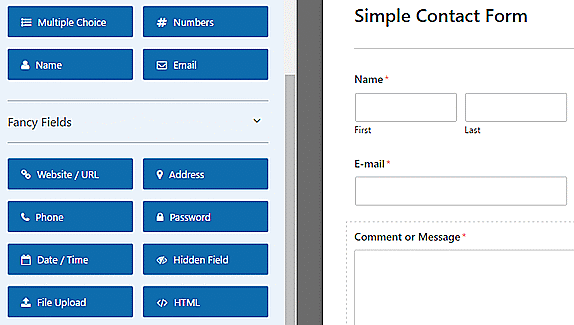 You can also select the fields on the preview side of the screen to customize them or to rearrange their order.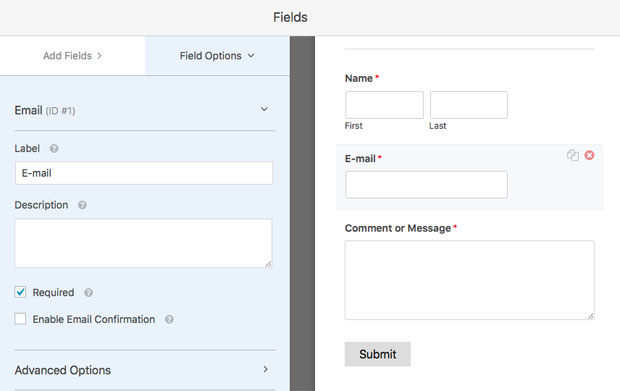 Step 3: Choose Your Form Settings
Once you are satisfied with your form, you can click the Settings tab on the left. This will take you to the form's settings.
You can click on General to change the form name and its description. You can also edit what text appears on the submit button.

In the Notifications section, you can add any email addresses you want to receive email notifications whenever a user submits your form. For more details, check out our guide to creating multiple form notifications.
In the Confirmation section, you can choose what the user sees once they have submitted the form. For instance, you can show them a message, redirect them to a page on your website, or you can redirect them to a different web address.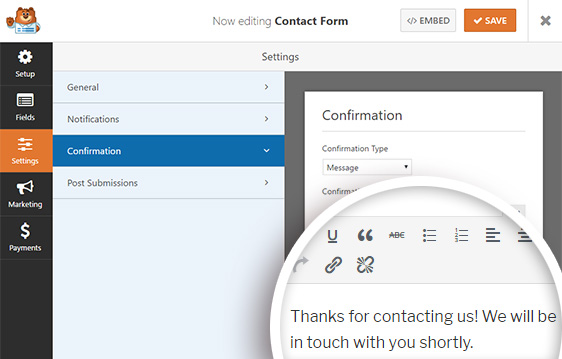 Click the Save button on the top right hand corner to save your form, and then click on the X to exit the form builder.

Step 4: Add a Form to Your WordPress Post
WPForms allows you to add your forms in various locations including your blog posts, pages, and your sidebar (widget-ready areas).
The first thing you need to do is either create a new blog post in WordPress or edit an existing post where you want to add the contact form.
We will be using the WordPress contact form shortcode to add the form in a post. Simply click on the Add Form button at the top and select the form you want to add.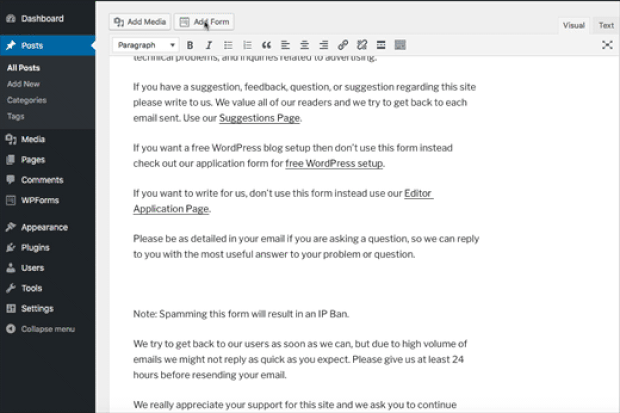 A contact form shortcode will be added in your page content. Now go ahead and save your page to preview it.
Here's what the form would look like on a sample WordPress page: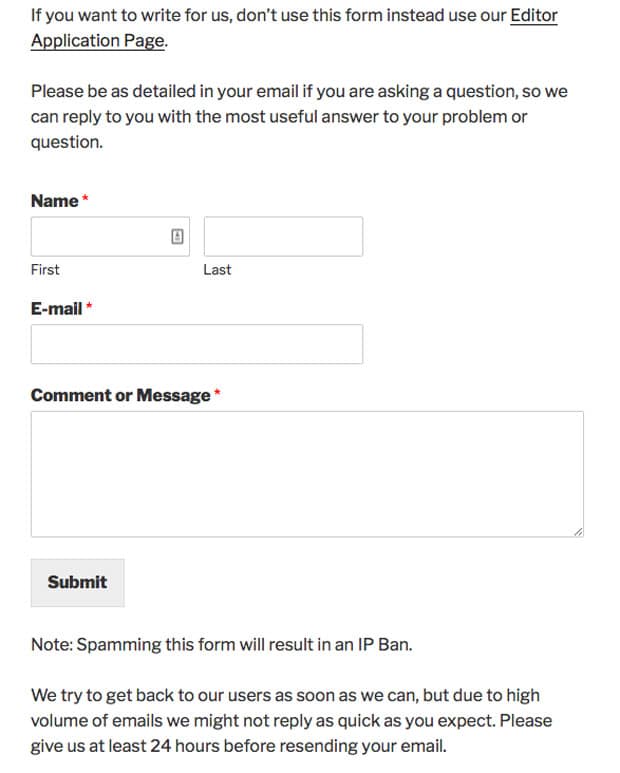 That's it! You've just added a contact form in your WordPress post content.
Want a quick and easy way to grow your email list while your blog readers are getting in touch with you? Check out how to add a MailChimp signup checkbox to your contact form.
What are you waiting for? Get started with the most powerful WordPress forms plugin today.
If you like this article, then please follow us on Facebook and Twitter for more free WordPress tutorials.