Are you looking for a way to include a contact form in the middle of your blog post, rather than just on your contact page? As a site owner, you need to give your readers an easy way to contact you from your site.
In this tutorial, we'll show you how to add a contact form in your WordPress post content.
Step 1: Create Your WordPress Form
The first thing you'll need to do is install and activate the WPForms plugin. For more details, see this step by step guide on how to install a plugin in WordPress.
Once you've installed the WPForms plugin, go to WPForms » Add New, and name your form. Then, click on the Simple Contact Form template to create a contact form.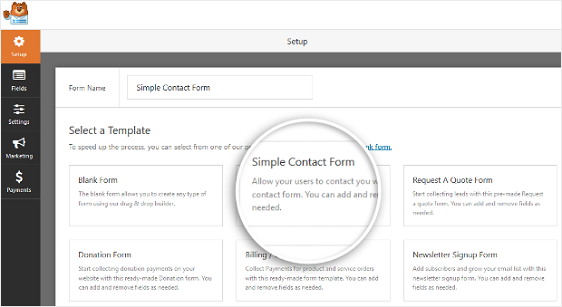 WPForms will create a simple contact form for you.
In fact, when the pre-built contact form loads, most of the work is already done. You'll see a Name, Email, and Message field have automatically been added to the form.
You can add additional fields to your form by dragging them from the left hand panel to the right hand panel, like this datepicker field.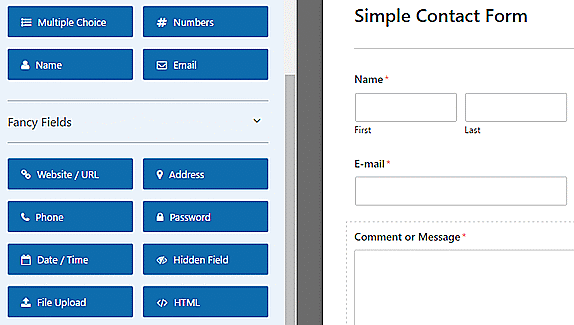 Then, click on the field to make any changes. You can also click on a form field and drag it to rearrange the order on your contact form.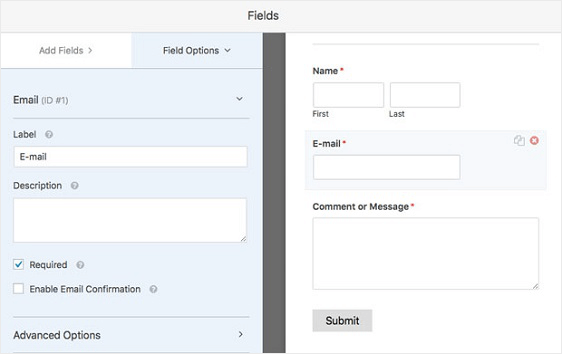 For instance, if you want people to be able to subscribe to your email list, in an effort to boost your email marketing efforts, you can always add a signup checkbox to your simple contact form that people can easily select.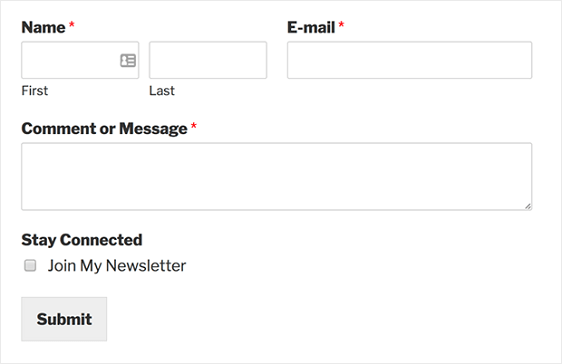 And if you're worried about being GDPR compliant, you can also add a GDPR Agreement field to your form so people can explicitly consent to you sending them marketing materials in the future.
Step 2: Configure Your Form Settings
Once your contact form looks the way you want it to, click the Settings tab in the Form Editor. This will take you to the form's settings.
There are many form settings to configure:
General Settings: Here you can change things like your form's name, description, and submit button copy. You can also enable additional spam prevention features to keep your website secure from unwanted form submissions.
Form Confirmations: Form confirmations are messages that display to site visitors once they submit a contact form on your website. WPForms has three confirmation types to choose from: Message, Show Page, and Redirect. You can choose one or a combination.
Form Notifications: Notifications are a great way to send an email whenever an order form is submitted on your website. A notification will automatically send to your once a form is submitted on your site. You can also send one to the site visitor that submitted the form and anyone else that needs to be notified of a form submission.
In addition, if you've added a subscribe checkbox to your contact form, you'll need to integrate it with your preferred email marketing provider.
WPForms offers the following email service provider integrations:
Step 3: Add Your Form to Your WordPress Post
WPForms allows you to add your forms in various locations including your blog posts, pages, and your sidebar.
If you're using Elementor, you can skip this section and follow the steps in our Elementor contact form guide instead.
To add a contact form in your WordPress post content, the first thing you need to do is either create a new blog post in WordPress or edit the existing post where you want to add the contact form.
Next, click on the Add Form button in the section of the post content you want to add your form.
When you do this, you'll see a modal pop up. Select your contact form from the dropdown menu and click Add Form.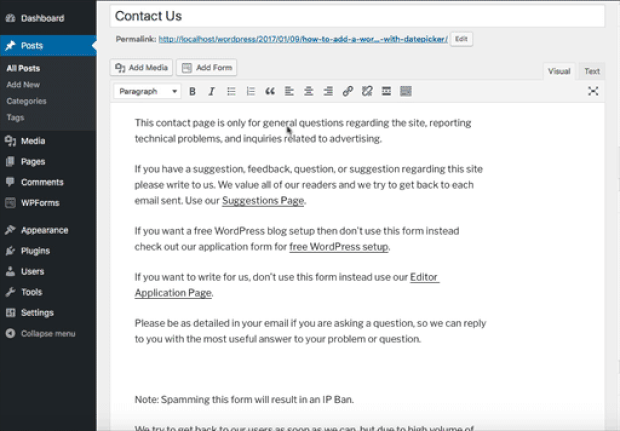 Then, publish your post so your contact form will appear on your website.
Here's what our form looks like when added to the middle of a blog post: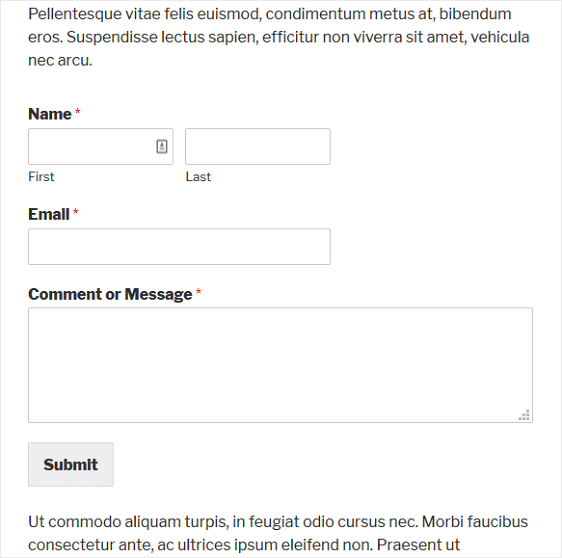 And there you have it! You now know how to add a contact form in your WordPress post content, making it easier than ever for your site visitors to get in touch and even subscribe to your email list.
If you're looking for other places to add you WordPress contact forms, be sure to check out our roundup of the best places to place your contact form for more leads. Adding to that, make sure to track your WordPress form conversions so you know that the places you're placing your contact form are converting.
So, what are you waiting for? Get started with the most powerful WordPress forms plugin today.
And don't forget, if you like this article, then please follow us on Facebook and Twitter.