Do you want to automatically create a Trello card from a WordPress form? You can collect every form submission and organize it in Trello, so you don't need to spend hours copying them manually. In this post, we'll show you how to connect Trello with WordPress forms to save time and keep your team in the loop.
Why Integrate Trello With WordPress?
Creating a Trello card from a WordPress form helps you to assign the card to the right person in your organization. A few benefits of integrating your form with Trello are:
You can ensure that all form submissions get a response in a specified timeframe. To do this, all you need to do is to define a due date for cards that are created from WordPress form entries.
You can keep inquiries organized by defining which board and list the card should be added to in Trello.
As all entries will be collected and organized in Trello, you can easily track the progress of your form entries.
Creating Your WordPress Form
The first thing you need to do is to install and activate the WPForms plugin. Here's a step by step guide on how to install a WordPress plugin.
Also, you'll need to have a form created. See our tutorial on how to create a request a quote form as an example to get started.
You can create Trello cards from any type of WordPress form. However, for the sake of example, we'll be showing you how to keep track of request a quote form submissions in Trello.
Let's rename our form to Trello. This way you can easily identify which form should be connected to your Trello account in the next step.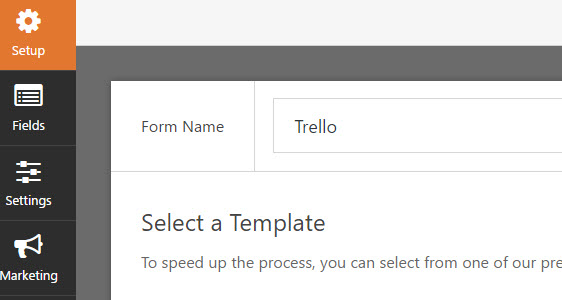 Now that your form is created, we'll need to connect this form to your Trello account.
Connecting Your Form to Zapier
We'll be using Zapier addon to integrate your WPForms plugin with Trello.
The Zapier addon lets you connect your forms to over 2,000 web apps including Asana, Jira, and of course Trello. That way, you can save your time by automating different cards. You can learn how to connect WPForms with Zapier here.
Now let's connect your form to Trello.
The first thing you need to do is to log into your Zapier account. Then begin to make a Zap with WPForms as your Trigger App. For a complete step-by-step guide to making a Zap, you can check out our tutorial on how to get started with Zapier.
When you get to the Edit Options screen, select the Trello form you just created.
After this step, select Continue.  Now you can test your form's connection to Zapier. Be sure to have at least one test entry on your form before fetching existing entries.
After a moment, you should see a success confirmation message.
Setting Up Your Trello Integration
Now that you've connected Zapier to WPForms plugin, the next step is to connect your form to Trello.
You'll need to choose Trello as the action app.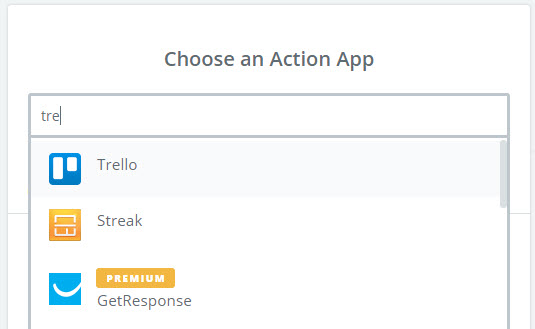 Next, you'll be prompted to select a Trello action. As we're looking to create a card in Trello when a form is being submitted on your site, you need to select Create Card.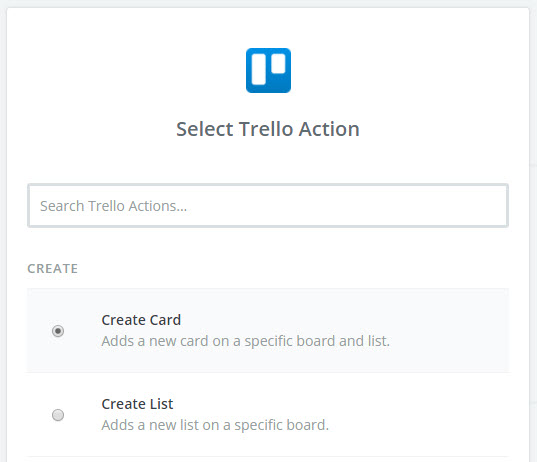 Then, you'll need to connect your Trello account with Zapier. Click Connect a New Account.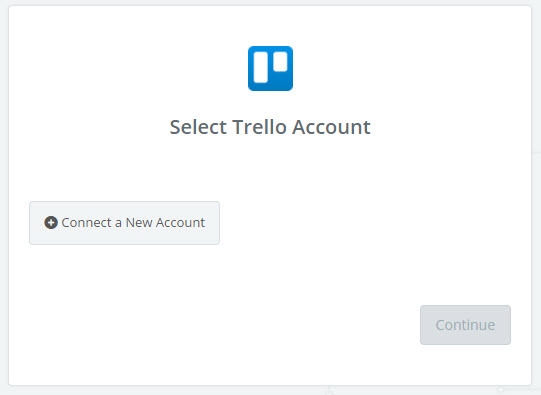 Then allow Zapier to access your Trello account.
After allowing access, select Save + Continue.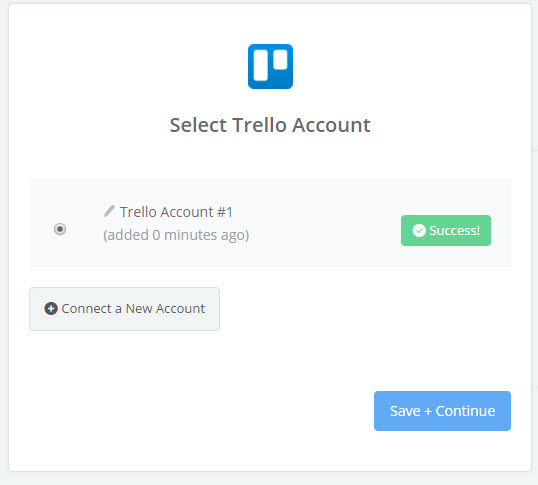 In the Set up Trello Card step, you'll need to specify the right board and list in which you want to create your cards. Best of all, you can even assign a member in your organization and set a due date for the cards that are being created. This way you can make sure that all your leads get a response within the specified timeframe, close deals quickly and make more revenue.
By default, all entries are organized horizontally in your card if you add them to the Description field.
Now, if you prefer, you can customize the card and make it look the way you want in Trello. For example, take a look at the screenshot below.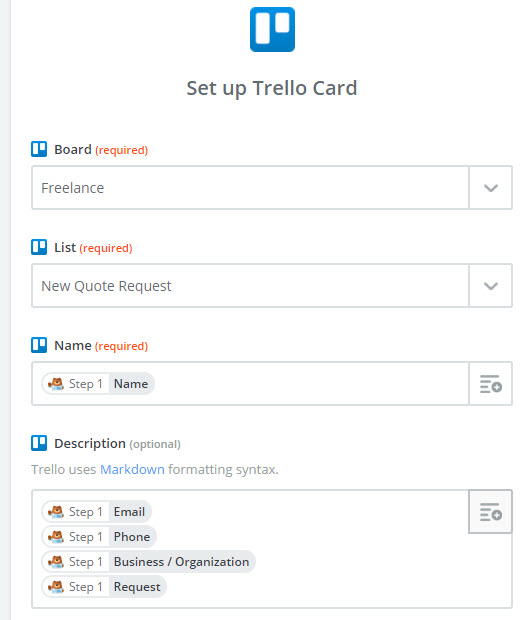 Next, select Continue to test out your new Zap.
Now you can log into Trello to make sure the connection is working, and your cards are set up the way you want.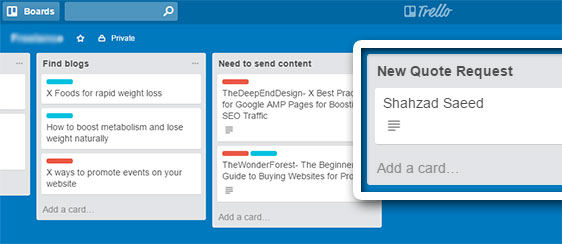 When you click on the card, you can see that entries are automatically being added to the description field.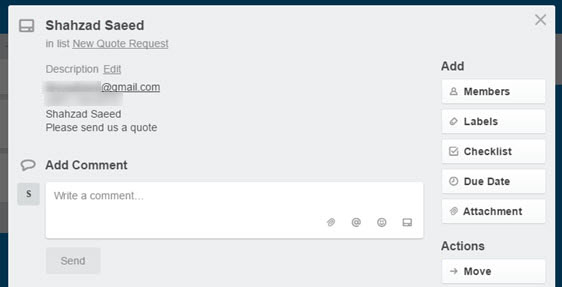 In the final step, you'll need to name your Zap and turn it on, so that future form entries will be automatically added to Trello Cards.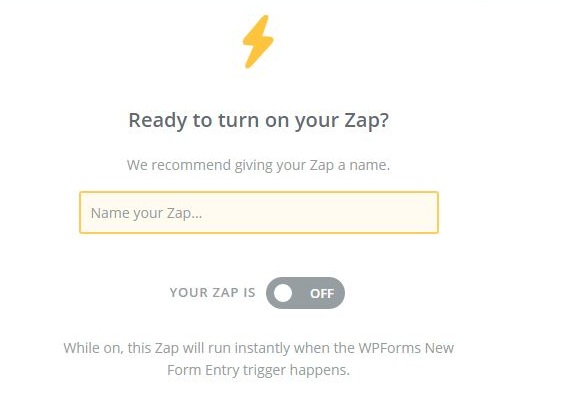 We hope this guide helped you to automatically create Trello cards from WordPress forms.
Keeping your team in the loop when you get new form entries is crucial. You can automate the process even more with our tutorial on creating multiple notifications in WordPress forms.
What are you waiting for? Get started with the most powerful WordPress forms plugin today.
If you like this article, then please follow us on Facebook and Twitter for more free WordPress tutorials.