Are you wondering how to set up affiliate link tracking on your WordPress website?
Properly structuring your affiliate program can be key to growing your business. It's easy to do this when you know which affiliate links bring in the most traffic.
Fortunately, it's really easy to set up affiliate link tracking on a WordPress website. In this article, we'll show you how.
How Do You Track the Success of Affiliate Marketing Campaigns?
To track the success of your affiliate marketing campaign, you'll need to use an analytics tool. Tools like Google Analytics, MonsterInsights, and AffiliateWP all offer ways to monitor things like user visits and conversions.
For WordPress sites, MonsterInsights and AffiliateWP are two of the best solutions to consider using. But while MonsterInsights is a comprehensive analytics tool, AffiliateWP is more focused on affiliate management and tracking.
So, in this guide, we'll focus on tracking affiliate links in WordPress using AffiliateWP. Let's get started!
How to Set Up Affiliate Link Tracking in WordPress
1. Install AffiliateWP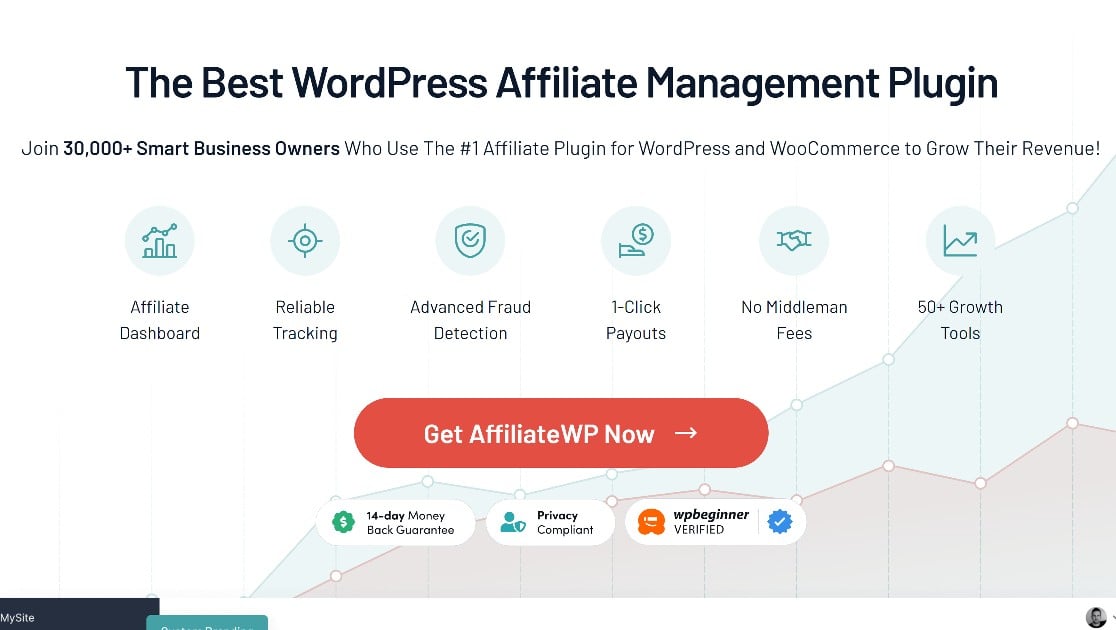 AffiliateWP is the best WordPress affiliate management plugin. Not only does AffiliateWP help you set up effective affiliate programs, but it is also an excellent way to track affiliate links. 
So we'll get started by installing and activating AffiliateWP on your WordPress website. For a bit of help with this step, here's a step-by-step guide to uploading WordPress plugins for beginners. 
After installing AffiliateWP, look for the AffiliateWP icon on the left sidebar and click Settings.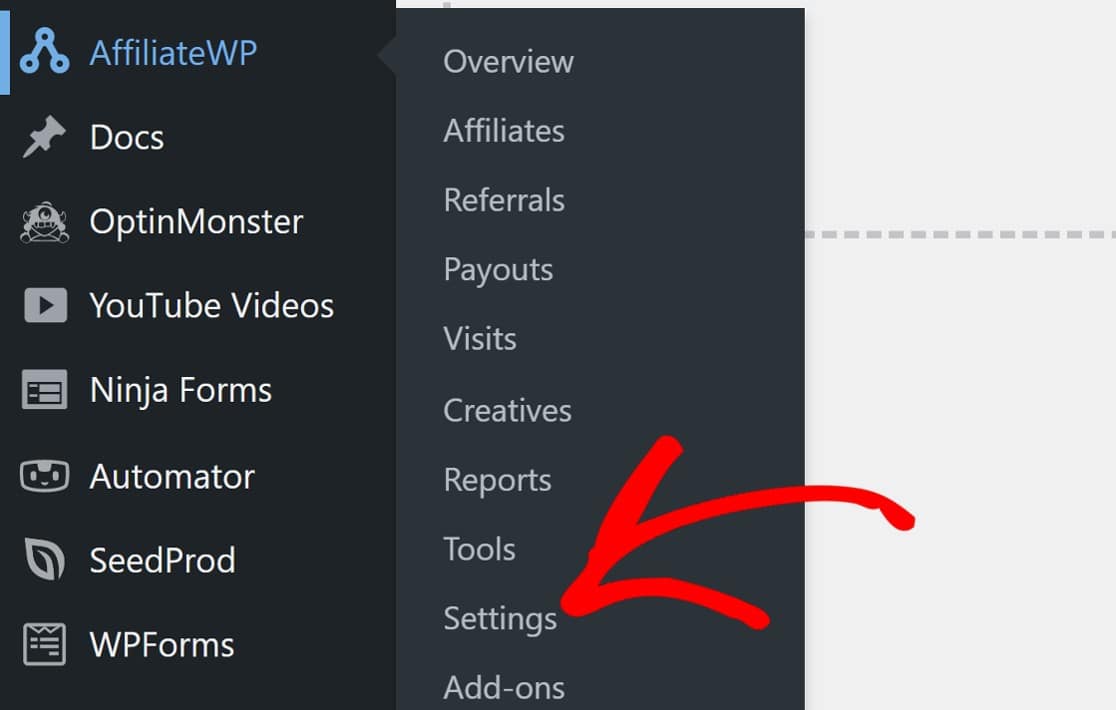 Once you're on the AffiliateWP settings page, scroll down till you see the button labeled Launch Setup Wizard.

Great! In the next step, we'll be configuring your affiliate program using the AffiliateWP setup wizard.
2. Configure AffiliateWP Settings
Once the setup wizard is initiated, you'll be prompted to enter your license key. Copy the key from your AffiliateWP account, paste it here, and click Continue.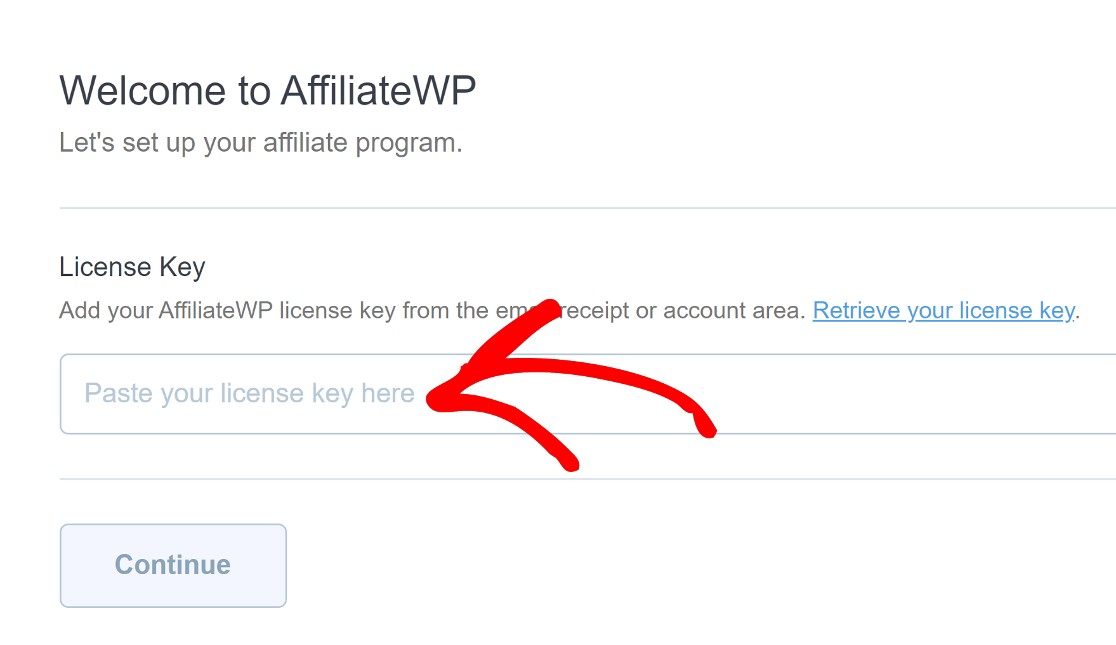 On the next page, you'll be prompted to choose which AffiliateWP integrations you'll be using to generate referrals.
There are a ton of options that cover multiple potential uses, so you can choose the ones that best suit your business. For this guide, we'll be working with WPForms—so we'll click on Form Integrations.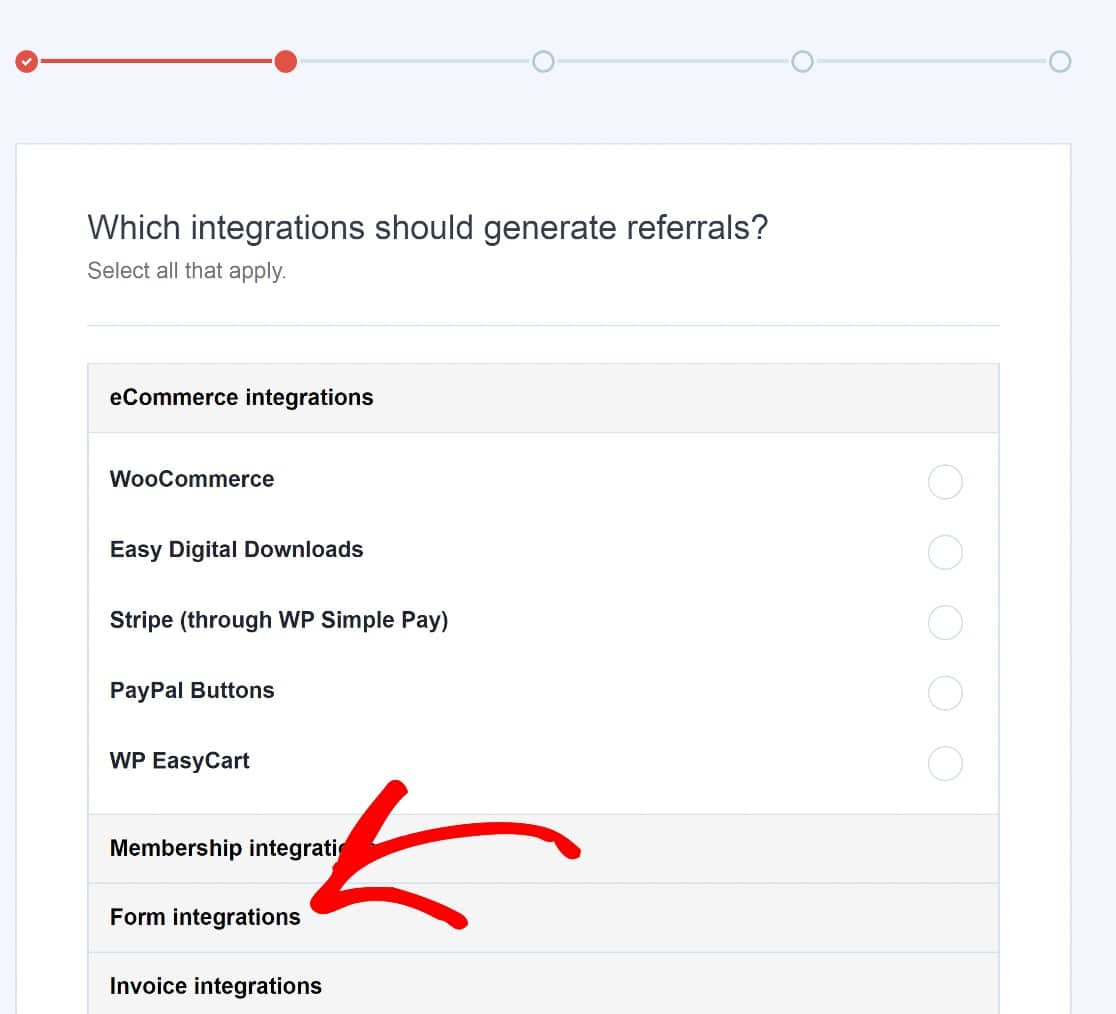 Then click on WPForms.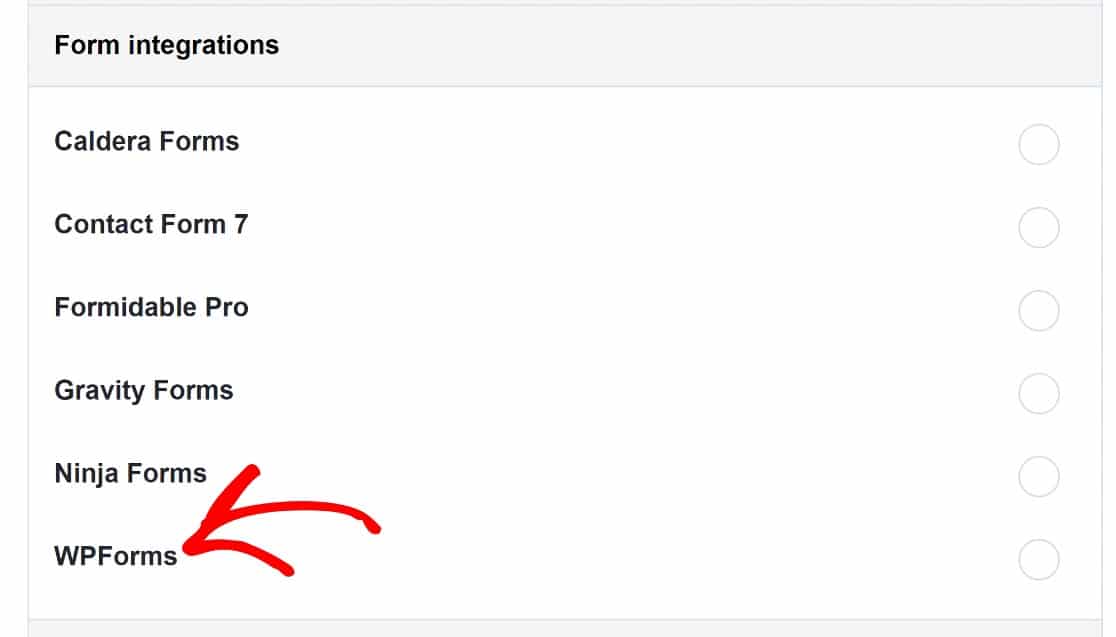 On the next page, you'll need to set an affiliate structure. By default, this will be set to generate a percentage-based commission per referral.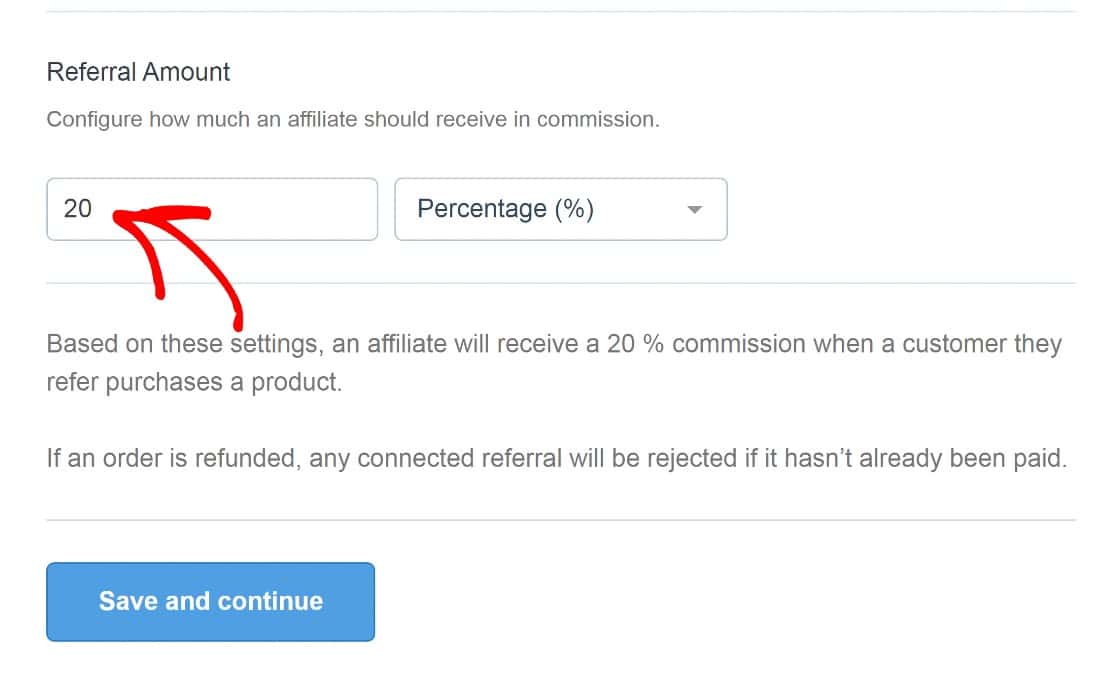 Using WPForms allows us to get creative, however, and you'll be able to set a pay-per-lead affiliate structure by using a flat commission instead. To do this, just click on the dropdown icon next to Percentage and choose Flat USD.
You'll notice a third field open up—this is where you'll choose between paying a commission per product sold or per order made. If you want to generate a commission each time a user submits a form, choose Per Order.

One thing to note is that you can always change these details later from the AffiliateWP Settings page if you decide you'd like to try something else. 
On the next page of the setup wizard, you can change the affiliate link structure and cookie expiration period. The presets are just fine, so it's okay to leave these as they are.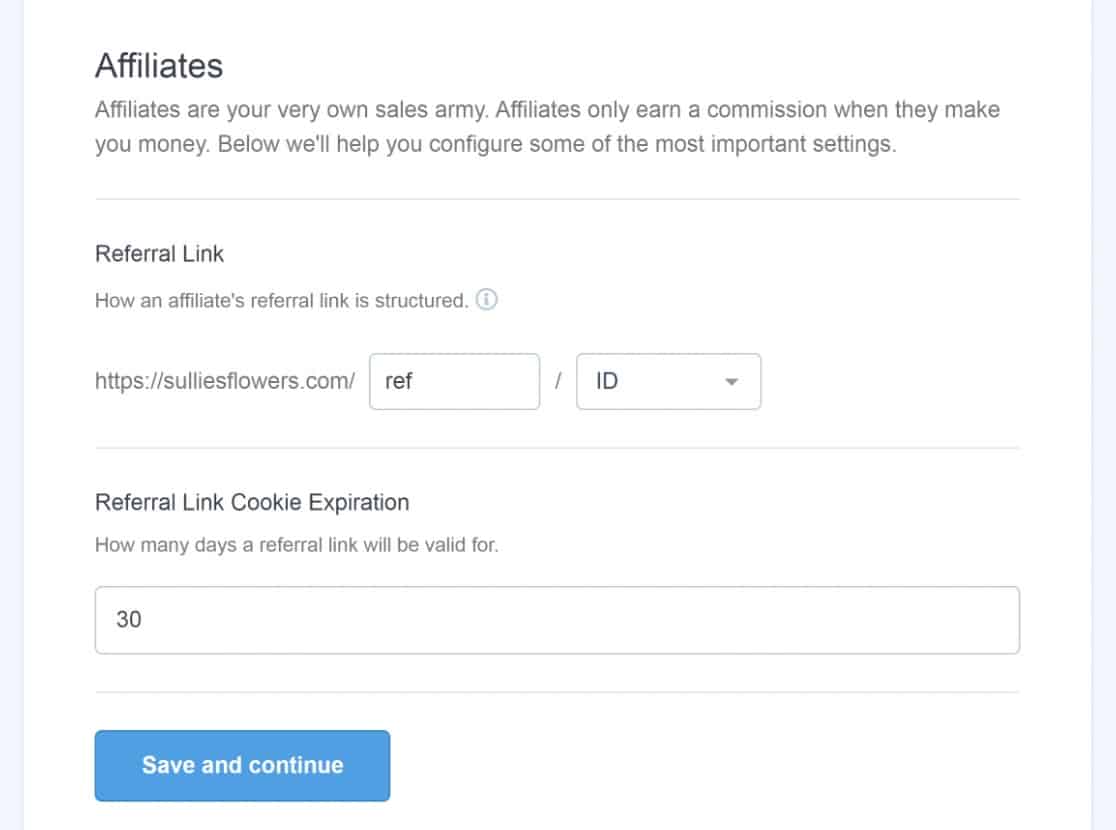 Click Save and Continue, and that will be it! On the next page, click Finish the setup and exit the wizard.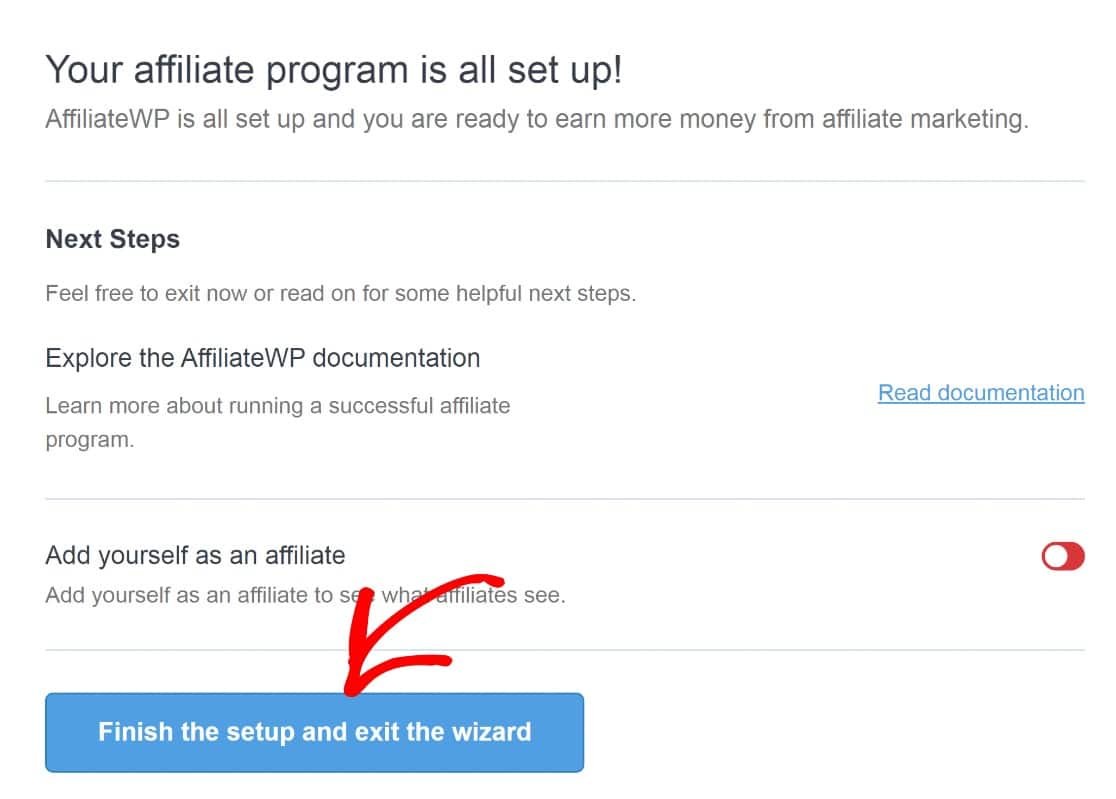 At this point, AffiliateWP will automatically track referrals to your affiliate links. Now, we just need to give affiliates something to actually refer users to.
3. Generate Affiliate Links
Since we're using WPForms, one thing we might want to do is set up form referral tracking in WordPress. 
For other affiliate tracking needs, the process is simple. This is because AffiliateWP allows your affiliates to generate affiliate links on their own.
AffiliateWP comes with a pre-built Affiliate Area page that serves as a dashboard for your affiliate marketers.

All you need to do is publish the affiliate account area the same way you'd publish a regular WordPress page, and affiliates will then be able to sign up on their own.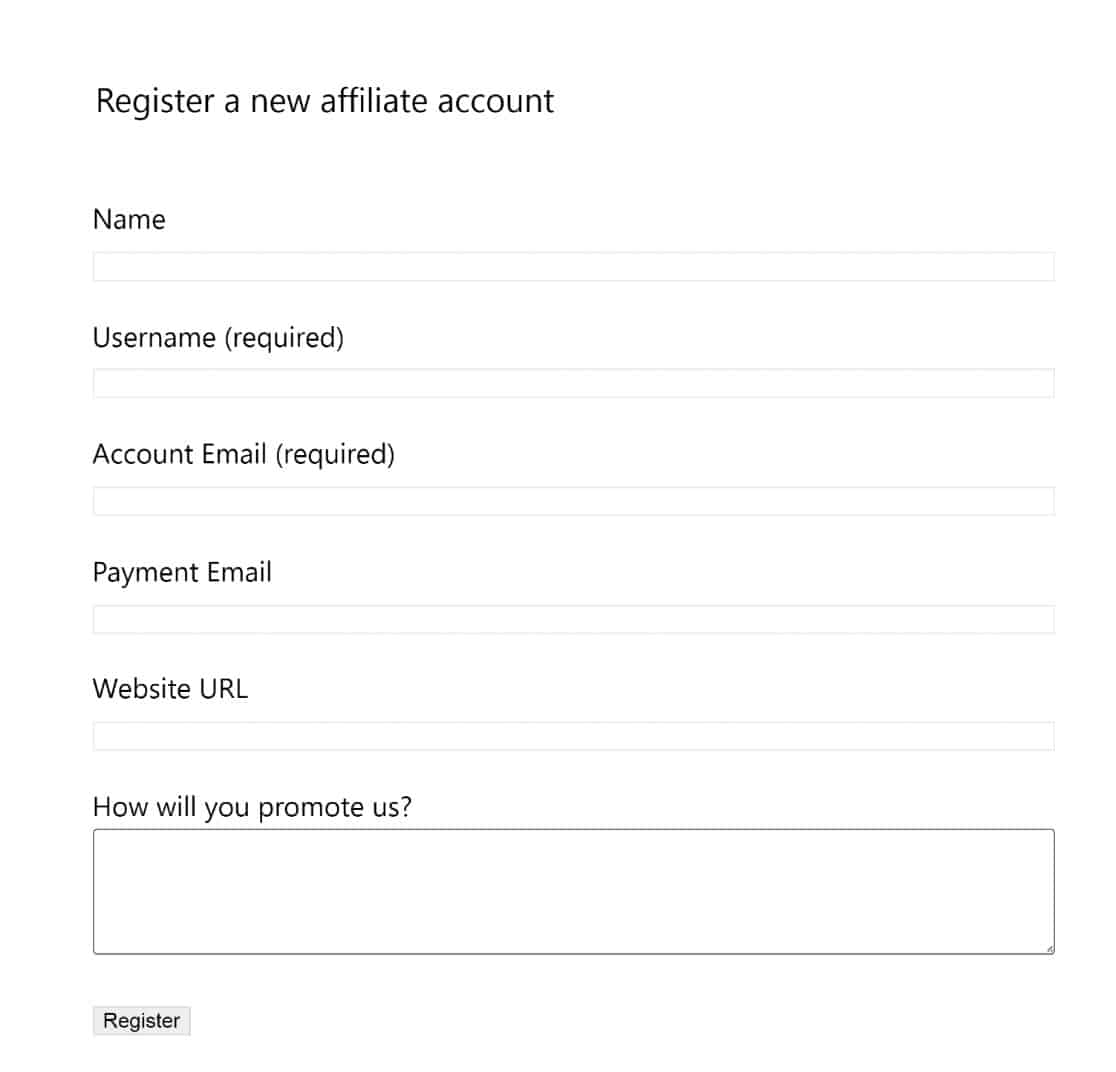 Once you approve new affiliates on the backend, they'll then be able to generate affiliate links on their own that you can track.

One thing to note before we move on is that you can also create new affiliates manually from the Affiliates tab if you prefer.
With all that out of the way, the only thing left to do is keep an eye on these links to see how they're performing.
4. Track Affiliate Links
Now that you have AffiliateWP all set up and have enabled affiliate tracking on your forms, let's take a look to see how AffiliateWP tracks affiliate links.
We'll head back into the WordPress admin area and click on AffiliateWP » Visits. Now you'll see all the data on visits to your affiliate links.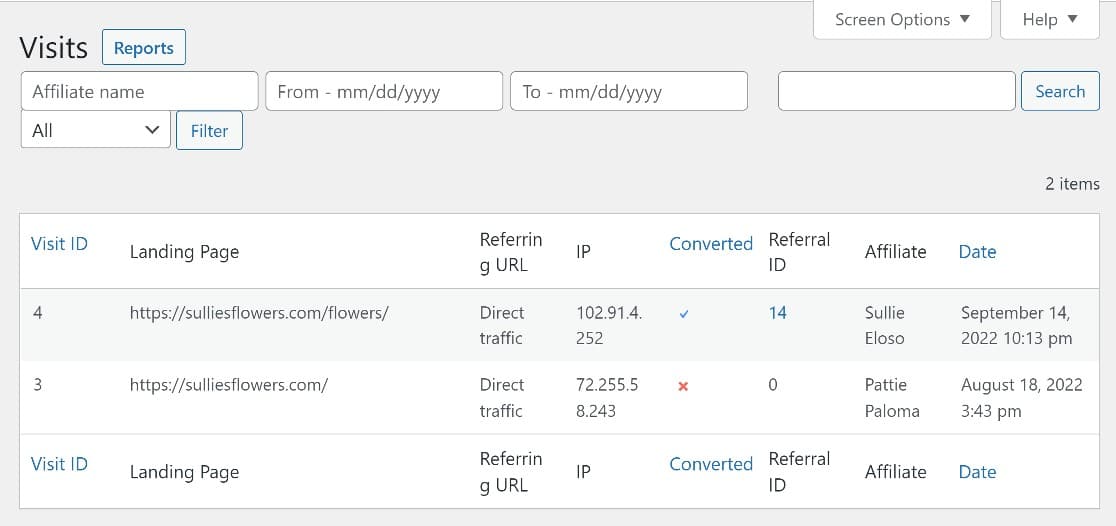 If you want to see affiliate statistics for your site and view conversion and traffic trends for your site, you can click on the Reports tab.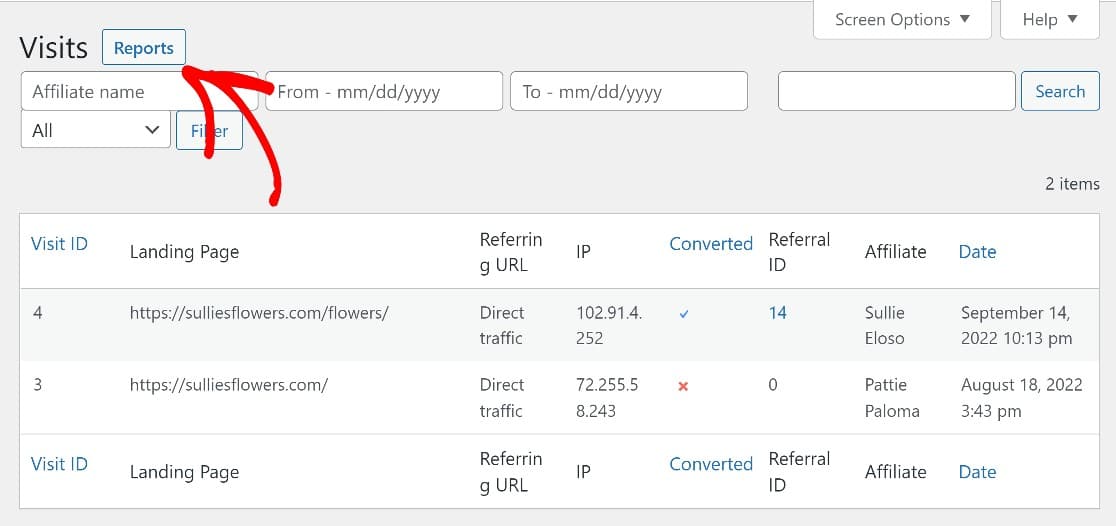 And that's it! You now know how to track affiliate links in WordPress.
Additional Ways to Track Affiliate Links in WordPress
Installing AffiliateWP and using its Views report to track affiliate links is the most efficient way to track affiliate links in WordPress. But there are a few additional methods you may want to consider:
Using the WPForms User Journey Addon
The WPForms User Journey addon is an excellent tool that allows you to see a map of your users' behavior on your website. You'll be able to see where they're coming from, how they interact with your site, what pages they navigate to, and so on.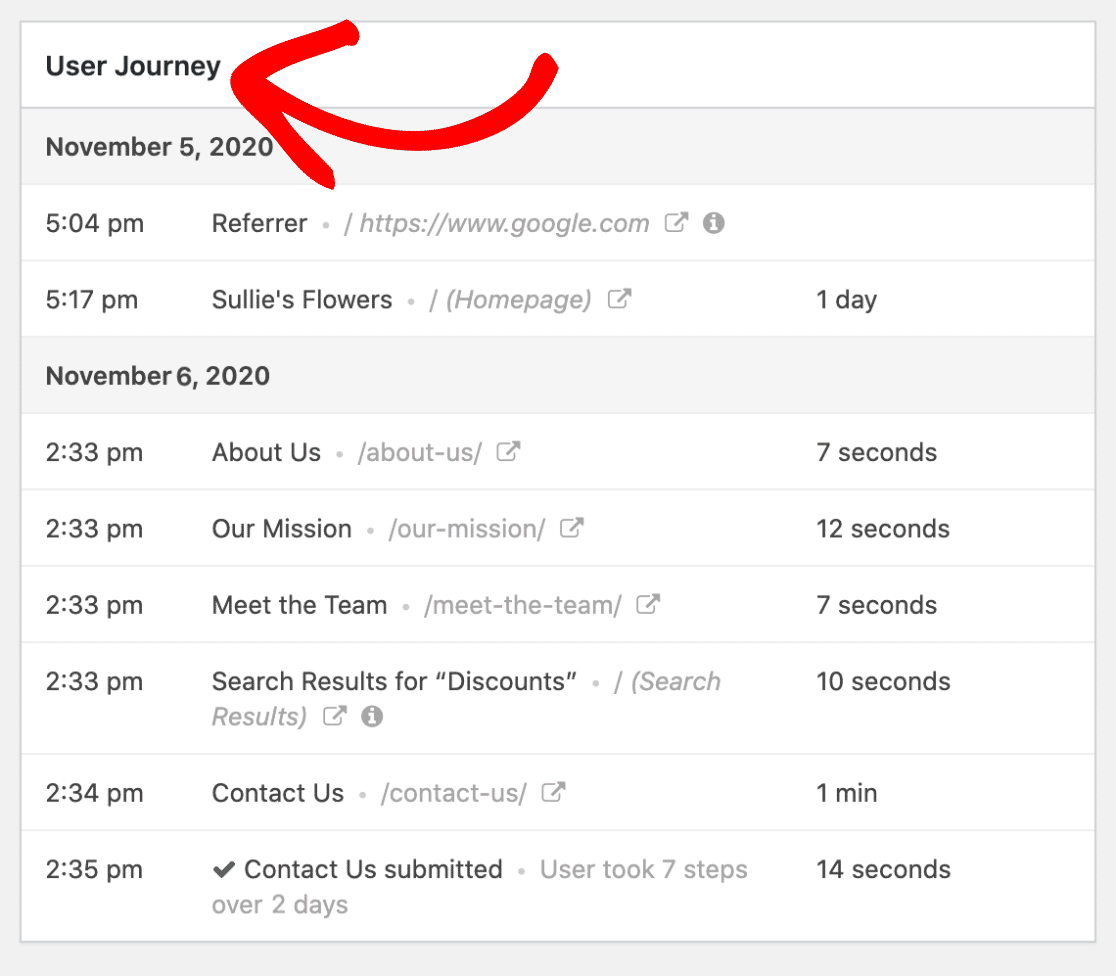 The User Journey addon is available with a WPForms Pro license which starts at $159.60 annually. Here's how to set up user journey mapping for beginners.
Using Monsterinsights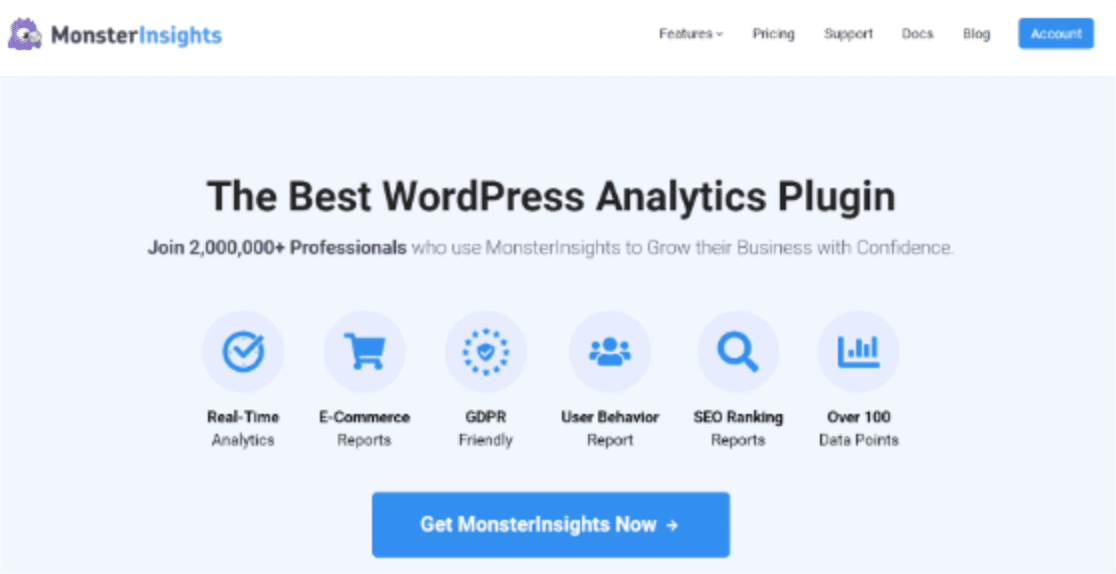 Monsterinsights is the most powerful Google Analytics plugin for WordPress sites. What the plugin does is allow you to connect your site with Google Analytics so you can easily view your analytics right from the WordPress dashboard.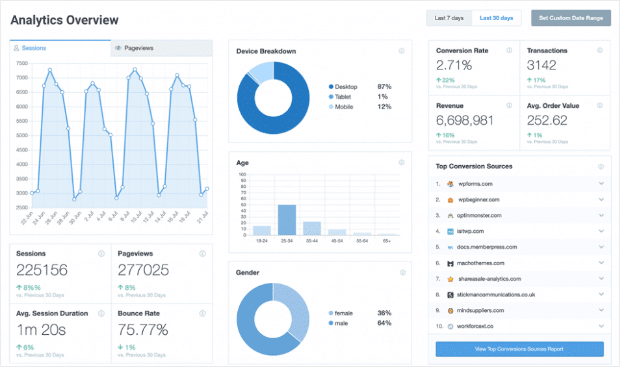 To get started, you'll need to create a Google Analytics account, then install MonsterInsights on your website, and finally, enter your Google Analytics tracking code in the MonsterInsights settings in WordPress.
For the step-by-step guide, check out our guide to tracking visitors to your WordPress site.
Next, Create a Pay Per Lead Affiliate Program
Now that you know how to set up AffiliateWP, we can move on to creating unique affiliate structures.
Sometimes, paying affiliates for each lead generated is an excellent way to attract high-quality leads while rewarding your affiliates fairly. To learn how to set this up, take a look at our guide to setting up a pay-per-lead affiliate program.
Create Your WordPress Form Now
Ready to build your form? Get started today with the easiest WordPress form builder plugin. WPForms Pro works great with MonsterInsights and offers a 14-day money-back guarantee.
If this article helped you out, please follow us on Facebook and Twitter for more free WordPress tutorials and guides.