In August of 2017, we announced the launch of WPForms' Zapier integration. This made it easy for you to connect your WordPress forms with over 1300+ apps and automatically move information between them without writing a single line of code.
Today, we're excited to share that WPForms is the 8th fastest growing app on Zapier's platform in 2018.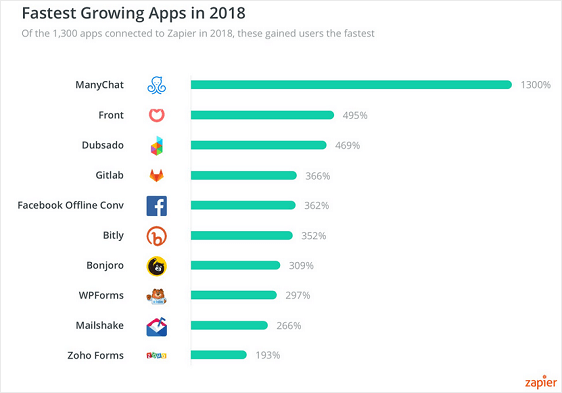 This is a huge win for our hardworking team that strives to make smart WordPress forms easy.
But the real winners here are our loyal WPForms users that save time and money integrating their WordPress forms with such a flexible and comprehensive online automation tool.
We created WPForms to help small businesses grow and compete with the big guys.
We're on a mission to make it easy for business owners (you) to create forms without writing any code, so you can start collecting data that empowers your business and send it anywhere you want to streamline your workflow.
With WPForms and our Zapier addon, you can connect your forms with your favorite apps to automate your business processes without writing a single line of code.
Here the most popular Zapier integrations WPForms customers use to grow their business.
1. Salesforce
Salesforce is the most popular customer relationship management (CRM) platform giving companies a way to grow their business by strengthening customer relationships.
Why use Salesforce with WPForms?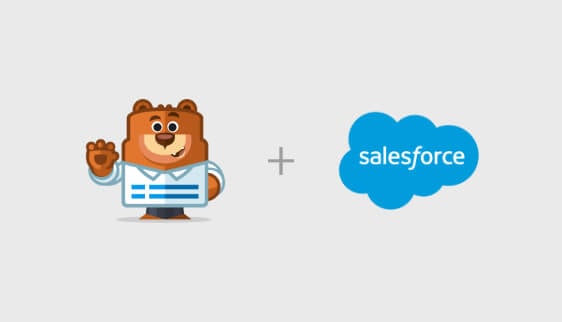 With WPForms + Zapier, you can collect lead information with your form and send it straight to your Salesforce CRM. No need to manually enter subscribers' contact information into your Salesforce account. Now you can use the time you save here on other areas to grow your business.
2. Google Sheets
Google Sheets is a web-based spreadsheet that you can use anywhere, no matter the location or device. Bundled with Google Drive, Docs, and Slides, you can easily share files, documents, and online presentations with others.
Functioning much like an Excel spreadsheet, this online application takes it further by giving you features such as real-time collaboration capabilities, instant messaging, and the ability to upload spreadsheets directly from your computer.
Why Use Google Sheets with WPForms?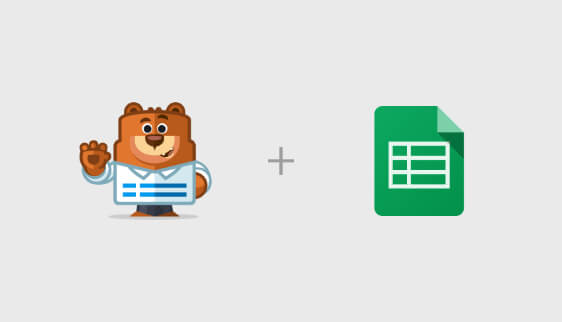 You might be asking yourself why you'd need a spreadsheet app with your WordPress form builder.
Well for starters, you can automatically add all lead data to your Google Sheets, so your team can review and analyze data trends from a single place.
For instance, if you have a survey form on your website, you can automatically add all survey submissions to your Google Sheets and then tally survey responses, evaluate customer complaints, and even identify best-selling products.
In addition, with Google Sheets connected to your WordPress forms, you'll never have to manually input data for evaluation. This saves you time and money, so you can focus on more important things, like promoting your brand and generating revenue.
3. PipeDrive
PipeDrive is a sales management tool that helps small business owners manage sales processes after collecting lead information. You can use it to send emails to prospects, setup reminder emails, and even get activity-based alerts during the process.
Why Use PipeDrive with WPForms?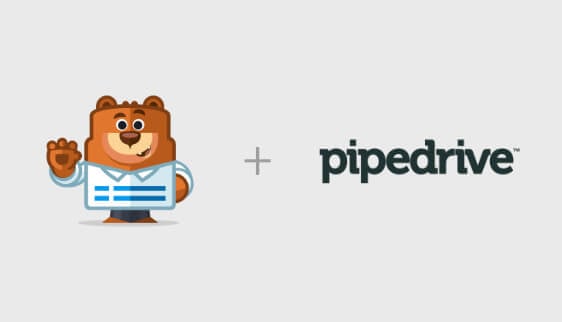 PipeDrive and WPForms work together seamlessly for helping you generate new leads and following up with current customers to encourage them to come back and buy again.
WPForms handles things like collecting necessary information, processing online orders, gathering poll and survey results, and even determining the location of people, so you can better cater to their needs.
You can then send all the information submitted through your WordPress forms straight to your PipeDrive account and get proactive about landing more sales.
Don't waste time figuring out who is a first-time buyer, when someone fits specific customer criteria, or when a form is submitted on your website. All you have to do is worry about how you're going to improve customer relationships and convince more people to convert as customers.
4. Slack
Slack is a communication hub giving you and your team an easy, real-time way to talk to each other, share files, assigns tasks, and more.
Why Use Slack with WPForms?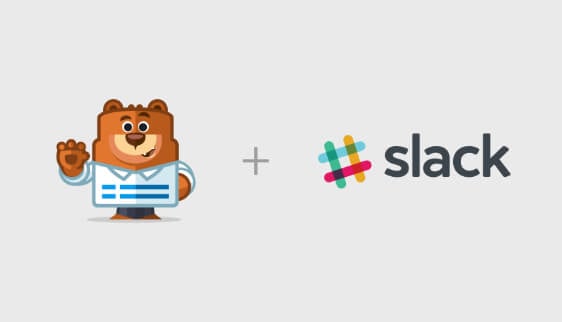 When you connect your WordPress forms to Slack, choose one of two things to automate:
Notify your entire team when a new form has been submitted
Notify a single point of contact within your organization when a new form has been submitted
In addition, you can configure WPForms' email notifications to send out at a specified time to avoid distracting people with too many emails whenever someone submits a form on your website.
Adding form entries to your Slack channels is a great way to keep your team updated on which forms have been processed. It prevents your team from missing critical lead information, improves your customer support procedures, and gives site visitors more satisfaction when they receive faster responses.
This integration is great for both sales and marketing teams.
5. Google Calendar
As part of the comprehensive G Suite, Google Calendar lets you schedule meetings, receive reminders about upcoming events, and share calendars with other people so everyone is on the same page at all times.
Why Use Google Calendar with WPForms?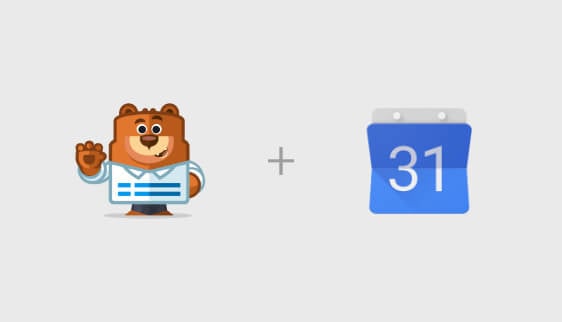 The great thing about using our Zapier addon to connect your WordPress forms to your Google Calendar is that you and your team will never be late to another meeting or event again.
In fact, managing events will become a whole lot easier because WPForms will automate the calendaring part of event planning for you, so you don't forget to schedule things or have to add things to your calendar manually.
Whenever you add an RSVP form, an appointment booking form, or even a simple event planner form on your website, all information on the form automatically gets added to your Google Calendar.
You can get a bird's eye view of what your week looks like by automating the scheduling process in your business. This way you never overbook yourself or your team, but you always have a working appointments system for securing leads, landing sales, and growing your business.
6. SMS Text Messaging
SMS, also known as text messages are part of most phones. It's an easy way to communicate with customers that can be used by small business owners like yourself to reach out to new leads and current customers.
Why Use SMS Text Messaging with WPForms?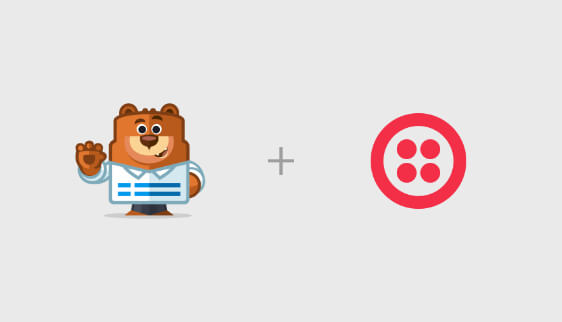 Connecting your WordPress forms to an SMS app like Twilio, makes staying up to date on form submissions easier than ever. It also makes communicating with customers simple and offers a better, less intrusive experience for those that are interested in doing business with your company.
When you integrate your WordPress forms with an SMS text messaging system, anytime someone submits a form on your website, you'll receive an alert, even if you're offline. This can help expedite responses to sales questions and concerns, close deals faster, and boost customer satisfaction.
You can also use it to send SMS reminders to people submitting the forms like your customers.
7. Trello
Trello is a an online project management tool that lets your team collaborate on projects in real-time.
Why Use Trello with WPForms?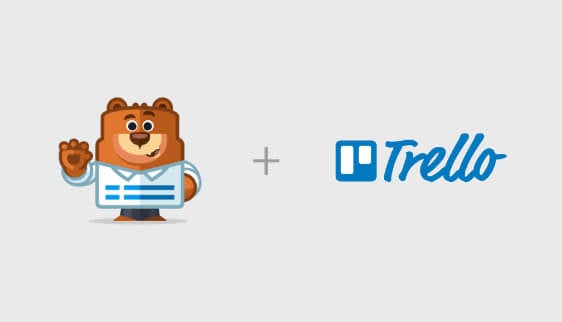 Connecting your Trello account with your WordPress forms allows you to automate the process of assigning tasks to your team. For example, whenever someone submits a form on your website, you can automatically add a card to your Trello board.
Sales inquiries, support tickets, email subscribers, and more can all be their own Trello card, so your team stays on track with responses and customer satisfaction.
You can track the progress of form entries in Trello by assigning them to team members and setting due dates. And best of all, say goodbye to manually entering any Trello board or card information as form entries come in, since WPForms and Zapier do it all for you automatically.
And there you have it!
These are 7 of the best integrations WPForms has with Zapier, so you can save time, money, and the hassle of having to manually handle every business process you have in place. But these are just scratching the surface. There are over 1300 apps you can connect with WPForms.
There's a reason why over 1 million websites use WPForms. Small business owners looking to grow their business while automating important tasks, rely on their WordPress forms to generate leads and stay in touch with their website visitors.
So, what are you waiting for? Get started with the most powerful WordPress forms plugin today and integrate with Zapier, so you can improve your workflow and grow your business.
As always, thank you for your continued support of WPForms. We look forward to bringing you more updates soon!
Lindsay and the WPForms team