Do you want to compare the features and pricing in SurveyMonkey vs GetFeedback vs WPForms?
SurveyMonkey and GetFeedback are geared towards completely different audiences. But with WPForms, you could get a ton more features.
In this article, we'll look closely at these survey builder platforms so you can decide which one is the best fit for your business.
Create Your WordPress Form Now
What's the Difference Between SurveyMonkey and GetFeedback?
GetFeedback and SurveyMonkey are owned by the same company, but look and feel very different. The survey builder in SurveyMonkey is more advanced, while GetFeedback is a little friendlier for those who don't need the market research features.
GetFeedback is also very tightly integrated with Salesforce. We'll look more closely at that in the main review.
SurveyMonkey vs GetFeedback vs WPForms: Which Is Best?
Let's take a look at how SurveyMonkey, GetFeedback, and WPForms stack up when it comes to their features, ease of use, and pricing.
SurveyMonkey vs GetFeedback vs WPForms Features
The most important consideration between SurveyMonkey vs GetFeedback vs WPForms is whether your chosen platform has all the survey features you need.
SurveyMonkey Features
SurveyMonkey is a survey platform with some advanced features for larger businesses. Some parts are designed for market researchers who want to be able to survey large numbers of people and export the survey data in different ways.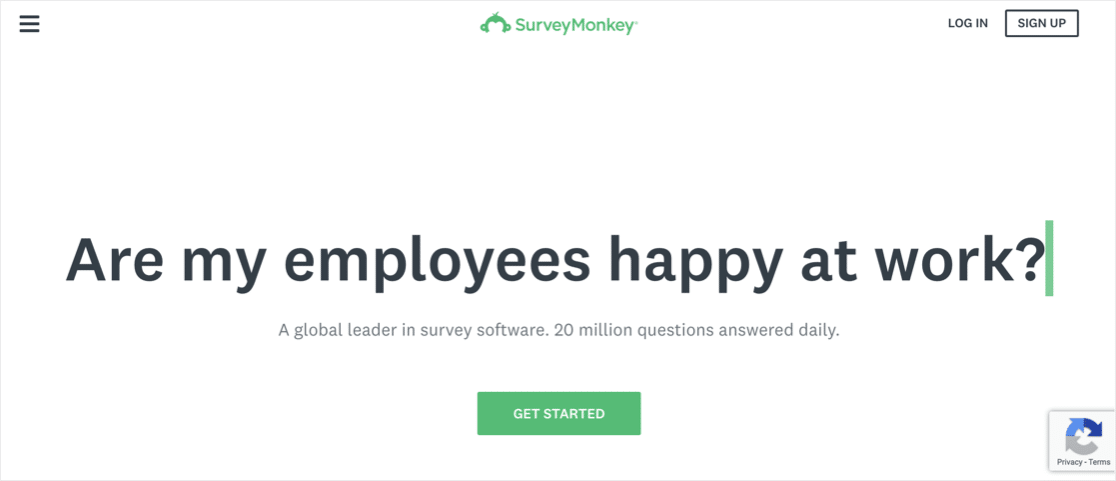 SurveyMonkey has all the features you'll need to create basic surveys, including:
Pre-built templates
Conditional logic
SPSS, Excel, and PDF data export
Reporting tools
Various sharing options, including direct links and popups
You can also buy audiences for your surveys if you want to conduct very wide research projects.
That said, this isn't just a tool for enterprise customers. As you can see from the survey here, SurveyMonkey clearly knows it has an audience less used to making surveys online.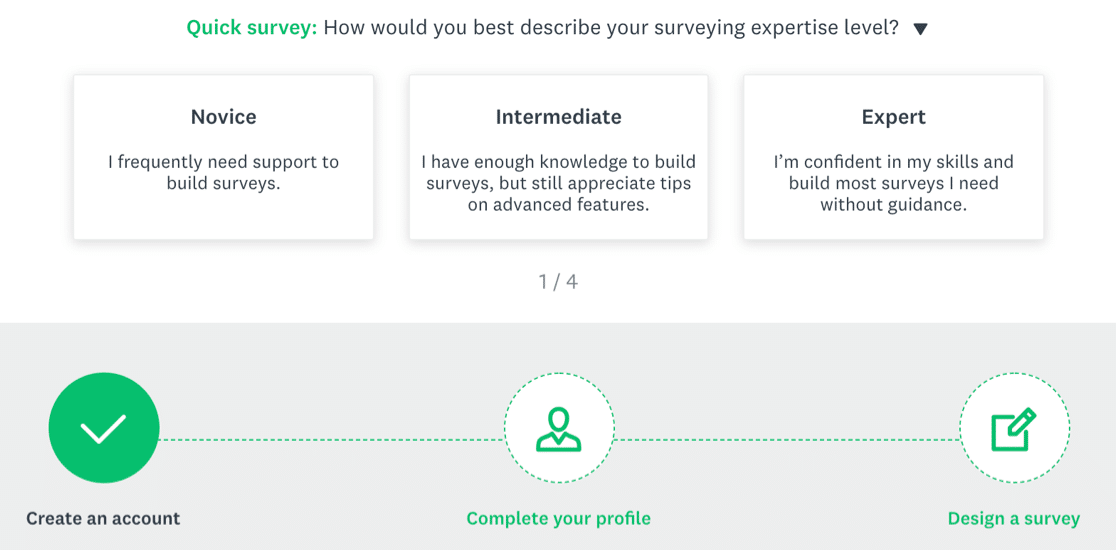 Overall, the SurveyMonkey interface is easy to use, although it feels a little cramped in places. Learning where everything is located can take some time, but it gets faster the more you use it.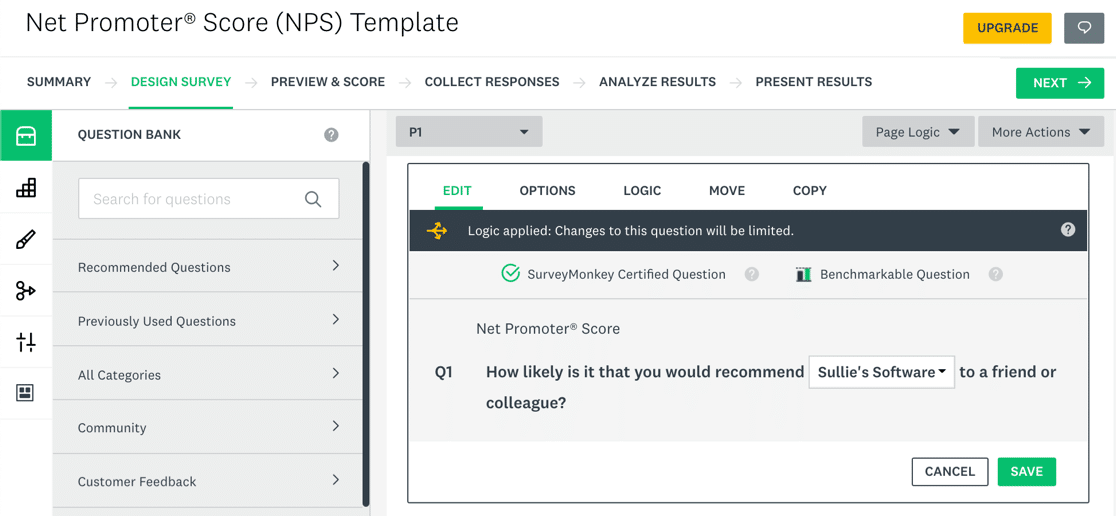 You can write your own questions or pick them from the Question Bank. The Question Bank can make survey creation faster. Depending on your business, it's sometimes easier to write questions rather than to adapt the pre-made ones.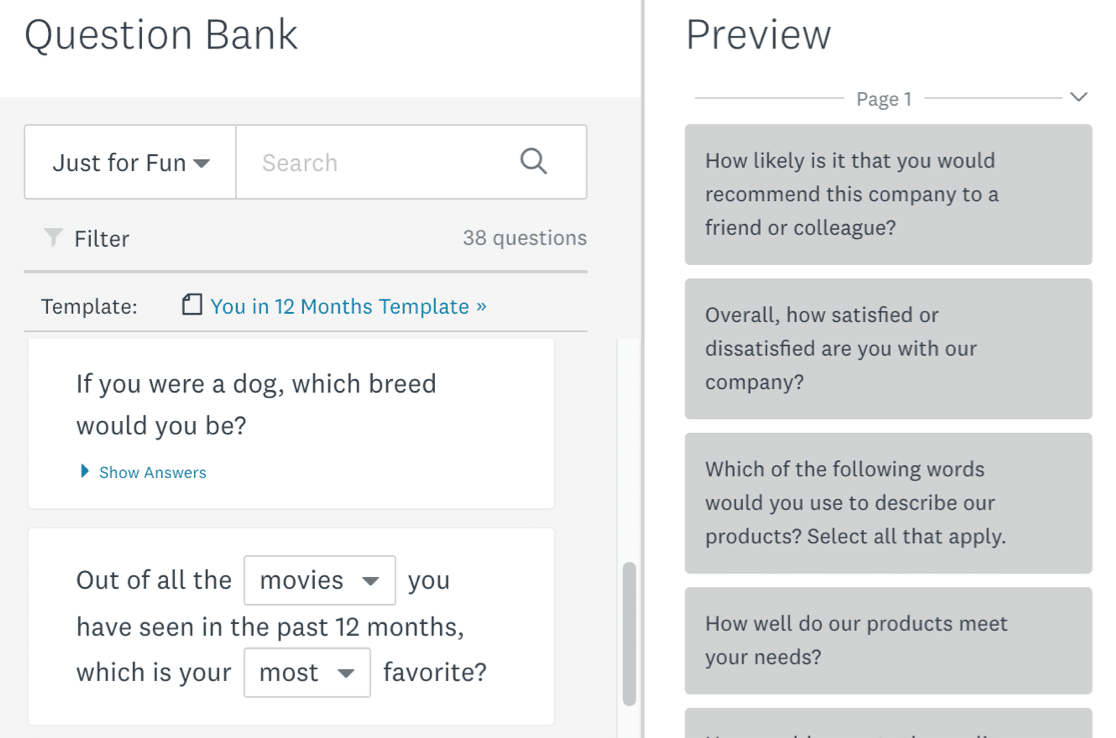 SurveyMonkey also allows you to change the look of your survey using templates. These are mainly based on different color schemes and backgrounds. Themes don't drastically change the layout of your survey.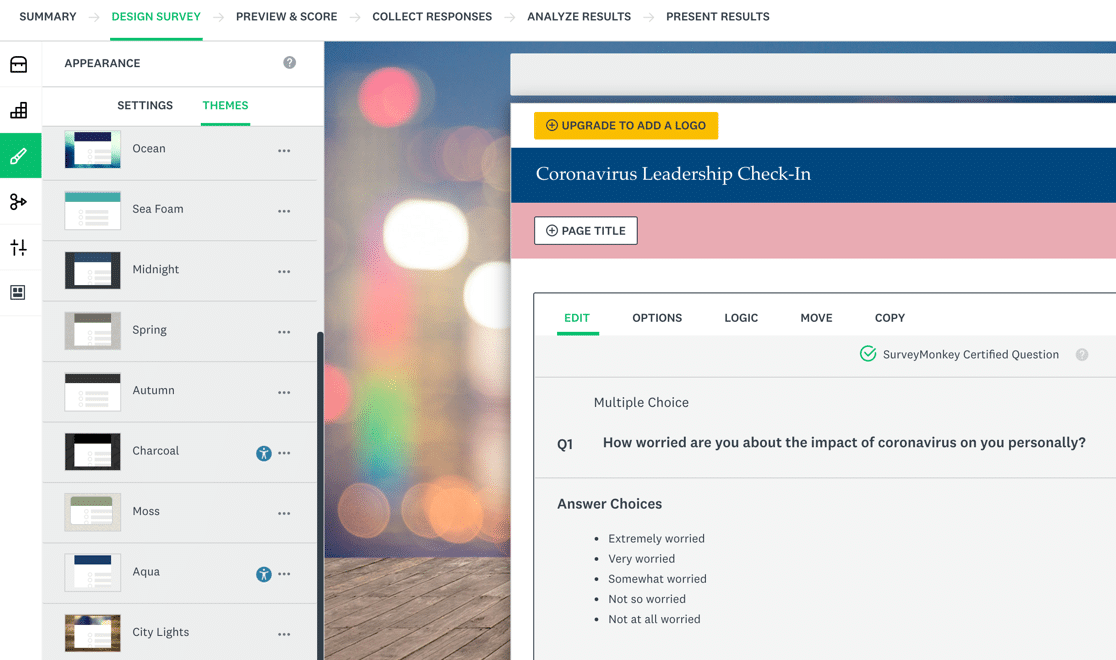 If you compare SurveyMonkey vs Qualtrics, you'll notice that SurveyMonkey has a different approach to survey reporting. It isn't designed to handle massive surveys that'd be more common in an educational research setting.
Instead, you can quickly see a summary of results and analyze or export them later.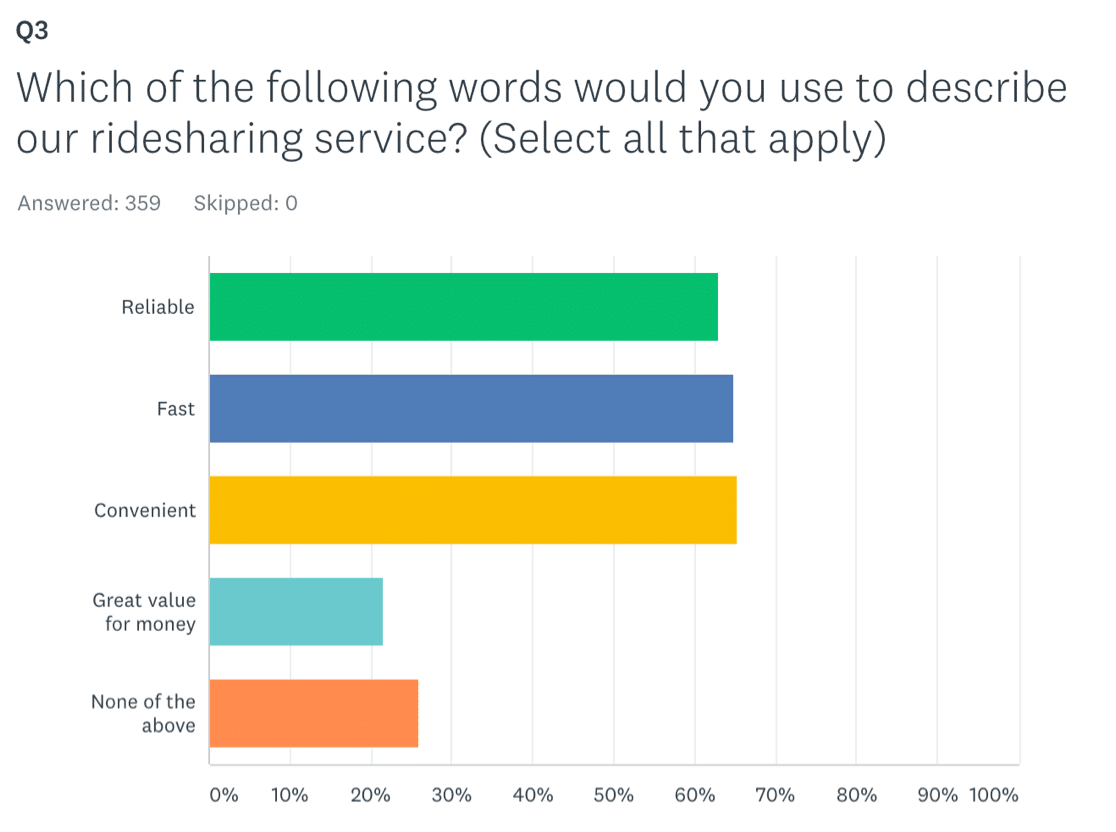 GetFeedback Features
GetFeedback was acquired by the same company that owns SurveyMonkey. There are some similarities, but GetFeedback has a completely different look and feel once you've logged in.
At a high level, GetFeedback allows you to:
Make mobile responsive surveys
Add images and videos to your surveys
Adapt the template and branding
Export your data
As soon as you log in to GetFeedback, you'll notice that it's a lot less cluttered than SurveyMonkey, even though there are small clues that they're related, including the similar font used here.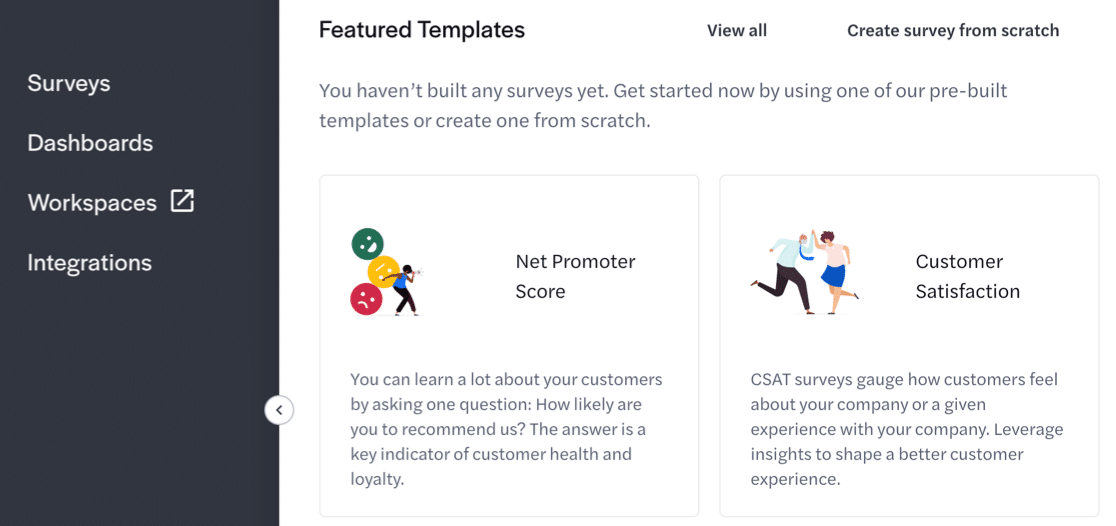 The minimal feel also continues through the survey creation screens, which makes it look closer to a JotForm alternative than a market research tool. There's a ton of beginner-friendly guidance on the left-hand side to help you decide how to build your survey.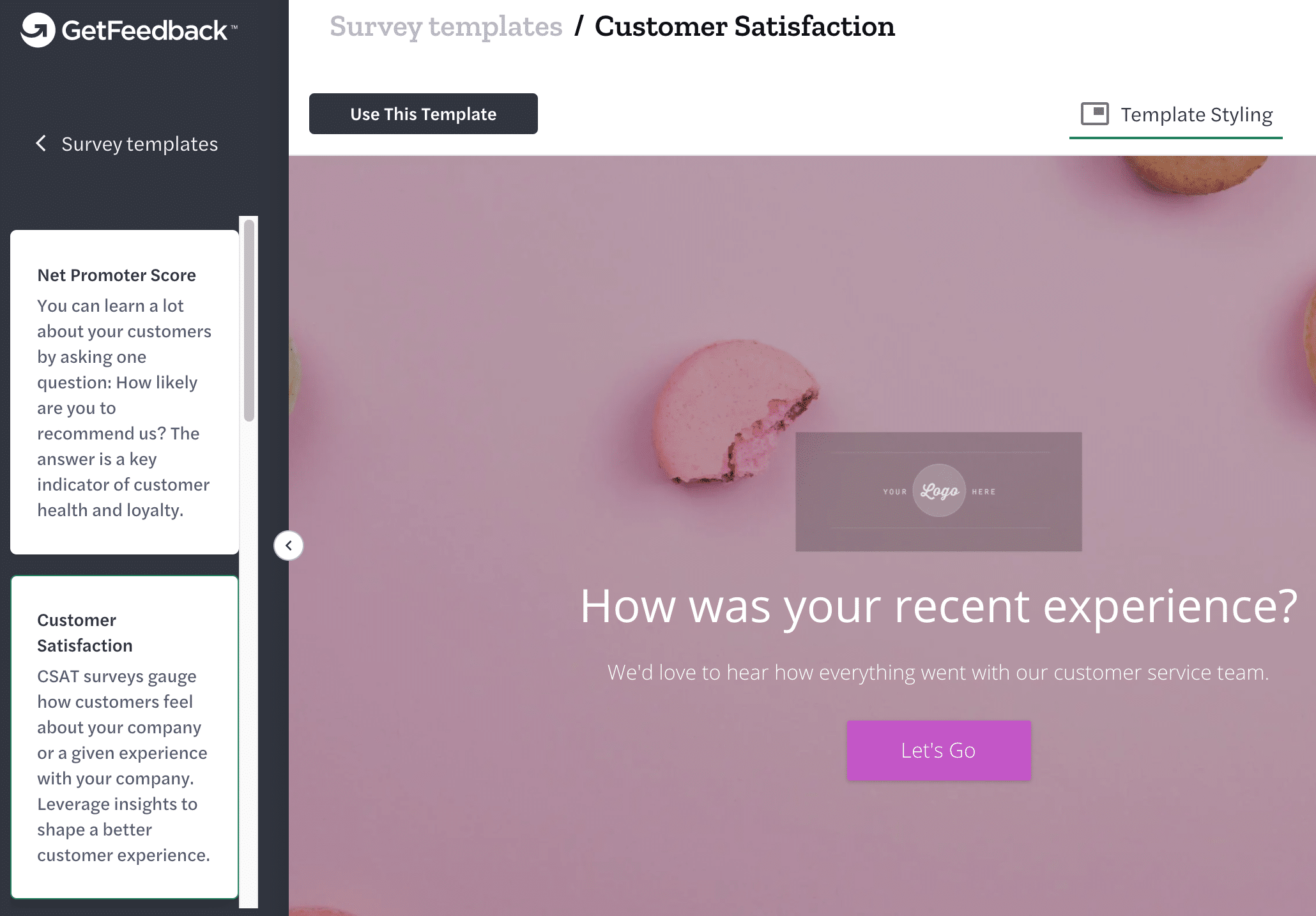 The survey builder itself is much less complicated than SurveyMonkey. When you adapt your questions, it works in a similar way to Google Forms.
This layout is easy for any beginner to learn pretty quickly.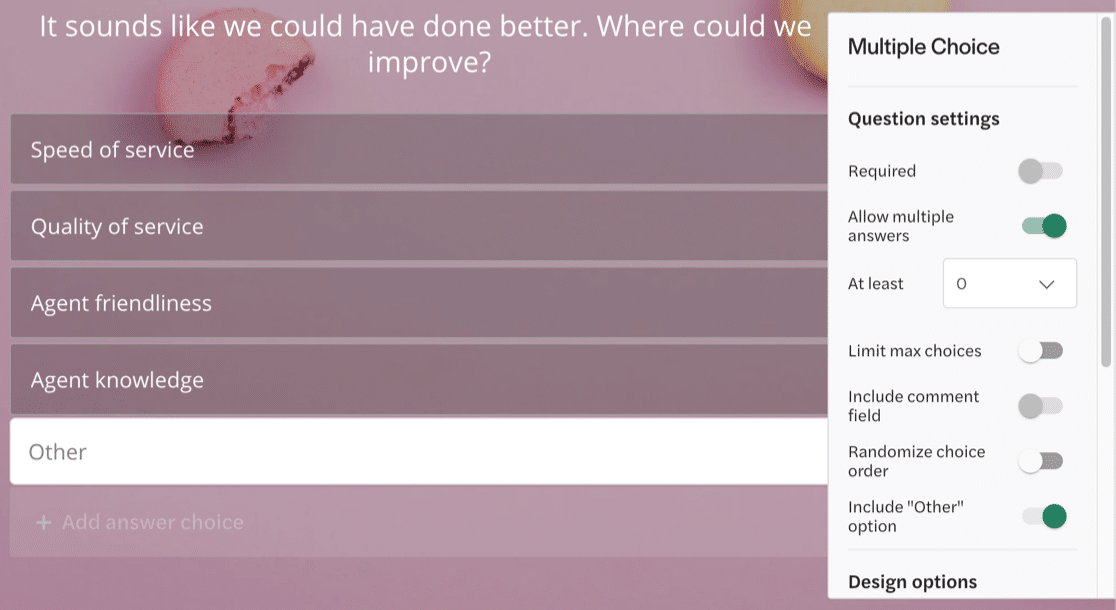 The questions are all clearly labeled with icons so it's easy to build different types of surveys without diving into documentation.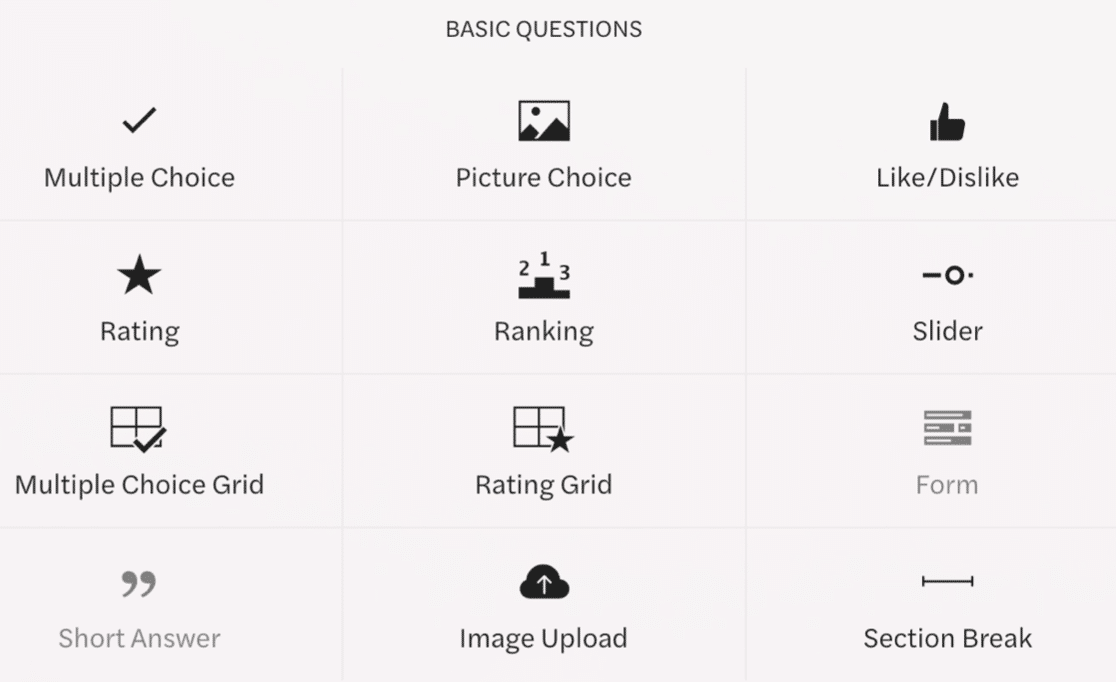 One huge difference between GetFeedback and other survey platforms is the focus on Salesforce integration. GetFeedback also works with Pardot, but Salesforce is the big selling point.
You can create custom question mappings inside the builder, and this is definitely the main distinguishing feature. In fact, practically every review of GetFeedback mentions the Salesforce integration.
WPForms Features
WPForms is the best form builder plugin for WordPress. The Pro version has a Surveys and Polls addon that lets you create professional surveys in WordPress.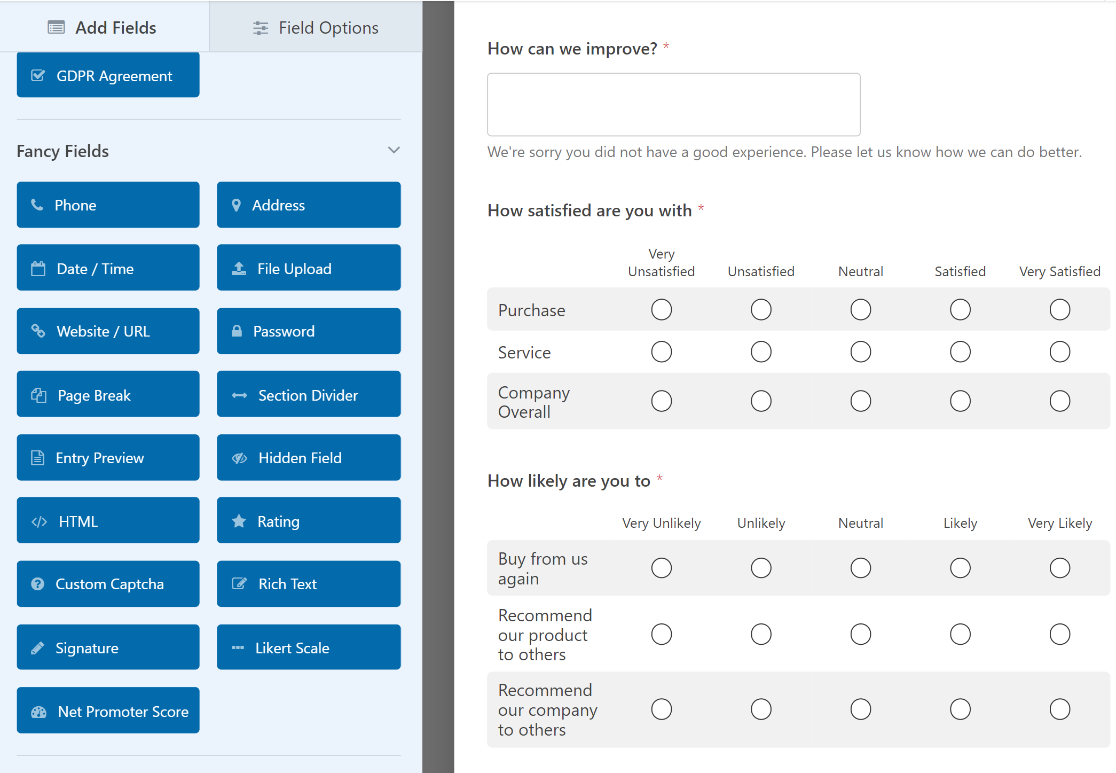 With the WPForms Surveys and Polls addon, you can:
Make surveys from templates. WPForms comes with form templates for surveys, polls, and questionnaires. You can easily adapt any template for your own survey.
Make contact forms and newsletter signup forms. WPForms is the only solution on our list that also functions as a professional form builder. If you're currently paying for a separate form builder platform, you can use WPForms to replace that, which could save time and money.
Use conditional logic. Smart conditional logic lets you easily show and hide questions. This lets you customize surveys so that each respondent only sees the questions most relevant to them.
Take payments. If you want to take payments on any form, you can add payment connections for Authorize.Net, PayPal, Square, or Stripe.
Let visitors upload files. Want to let your respondents send files along with their answers? It's easy to add a file upload field, then store the uploads in your Media Library so you can easily locate them later.
Export and work with survey data. Having your survey answers in WordPress is super convenient. If you want to analyze them in a 3rd party tool, you can send form entries to Google Sheets, or print survey responses as PDFs.
WPForms lets you build surveys in exactly the same way that you'd build a contact form. You can drag and drop your survey fields onto your form and move them around easily.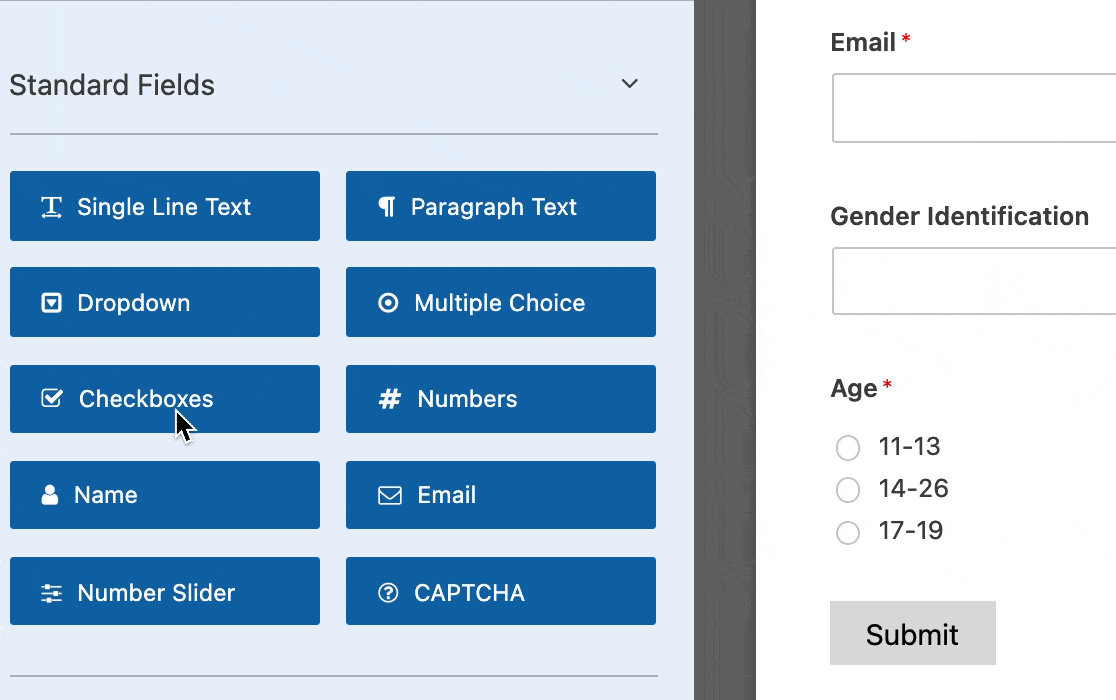 Survey reporting can be enabled on tons of field types, including regular checkbox fields. But you also get fields specifically for surveys, including:
Star Rating
Net Promoter Score
Likert Scale
And when you get the results, it's easy to generate reports right in the WordPress dashboard.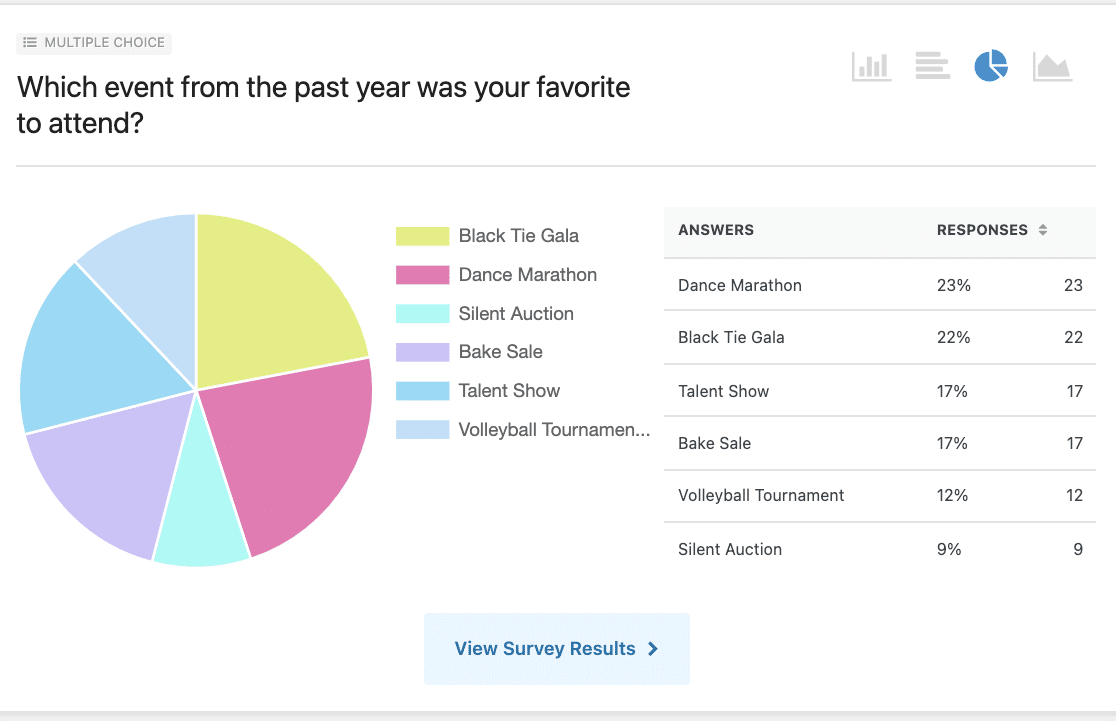 WPForms Salesforce Integration
If you're specifically looking for a survey builder that sends information to Salesforce, you don't have to use a separate platform.
The WPForms Elite license includes our Salesforce addon, which lets you connect any form to Salesforce easily.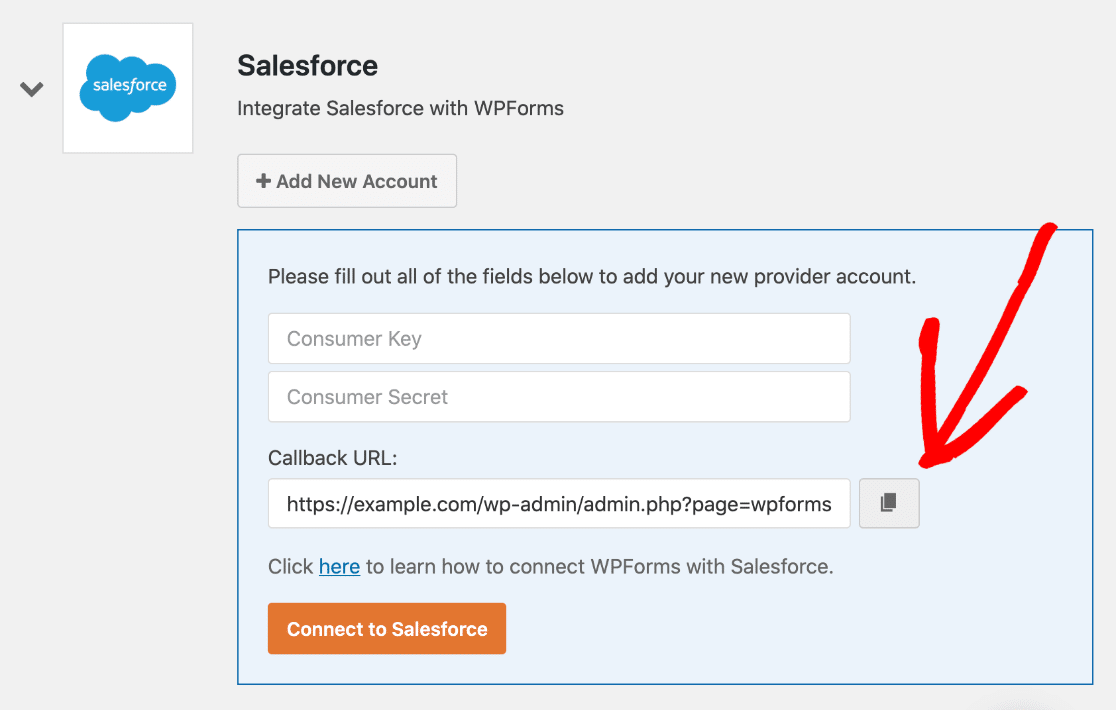 You can use the Salesforce addon to create different kinds of Salesforce objects right from WordPress, including:
This is a more versatile way to get data into Salesforce vs using GetFeedback because you can use the same connection with any form on your website.
And if you have a form that's already up and running and sending information to Salesforce, just install the surveys and polls addon. With 1 click, any form on your site can start reporting survey data.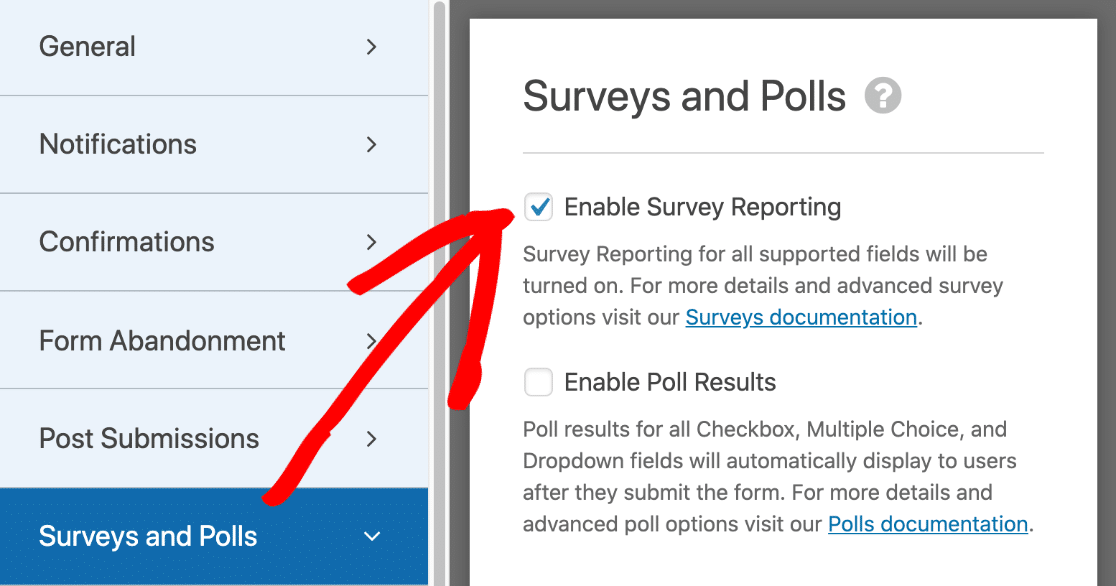 Publishing Surveys
Once you've built your survey, it's super important that you can publish it easily. All of these tools offer different ways to share surveys.
Publishing Surveys With SurveyMonkey
If you're wanting to use SurveyMonkey with WordPress, you'll need to set up a Website Collector. This option isn't available on the free SurveyMonkey plan, but there are other options available to you instead.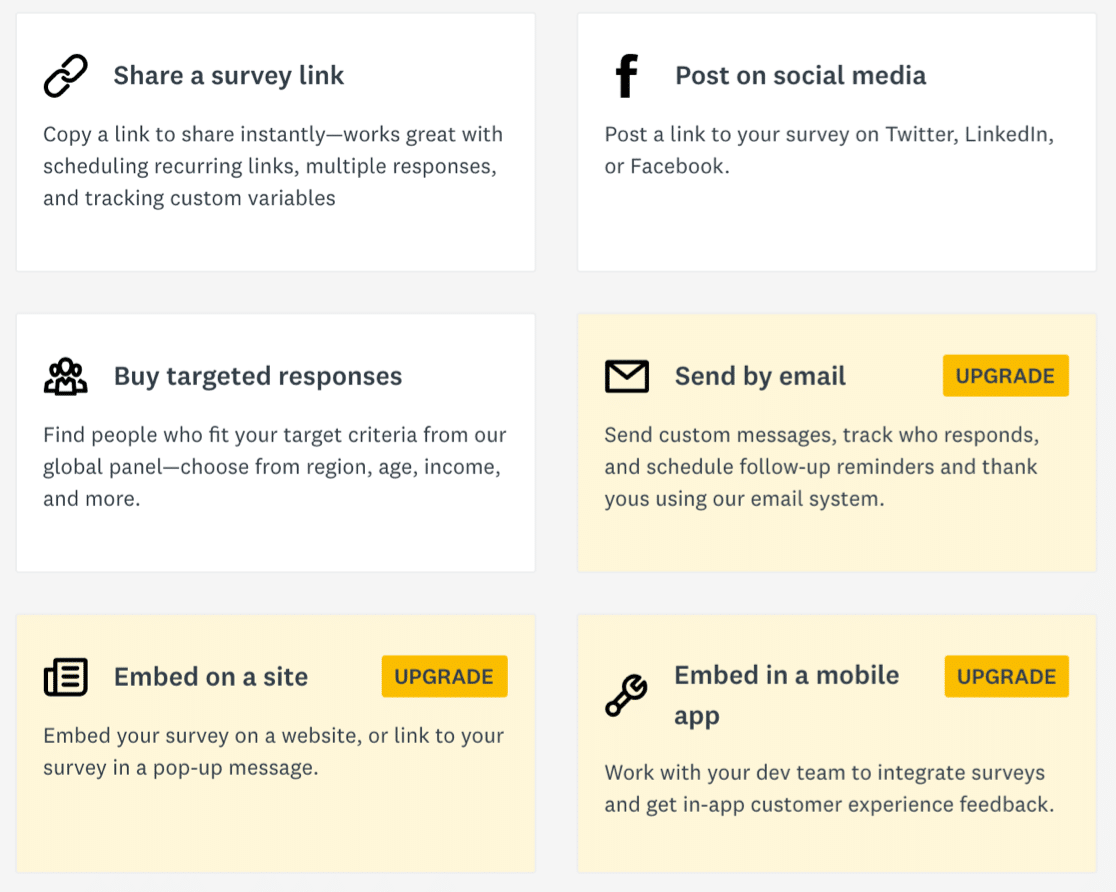 There's no SurveyMonkey WordPress plugin to make embedding simple. So there are 2 alternative options in the Website Collector for WordPress users:
Publish your survey using JavaScript
SurveyMonkey says that the JavaScript embed method is better, but if you're not keen on copying and pasting code, you may not agree.
On top of that, it's important to note that many WordPress sites on WordPress.com can't embed JavaScript code. If you're on the Pro plan, you'll be fine. But JavaScript embed isn't allowed on the free plan.
Not sure if this applies to you? Check out this comparison of WordPress.org vs WordPress.com.
Publishing Surveys With GetFeedback
Like SurveyMonkey, GetFeedback isn't really designed to be used with WordPress. And there's no GetFeedback WordPress plugin either.
You can use the Web Embed feature to place your survey on a page using an iframe. You can customize the look and feel, but ultimately, this still involves copying and pasting code. You won't be able to adjust the way the iframe looks without regenerating the code and pasting it in again.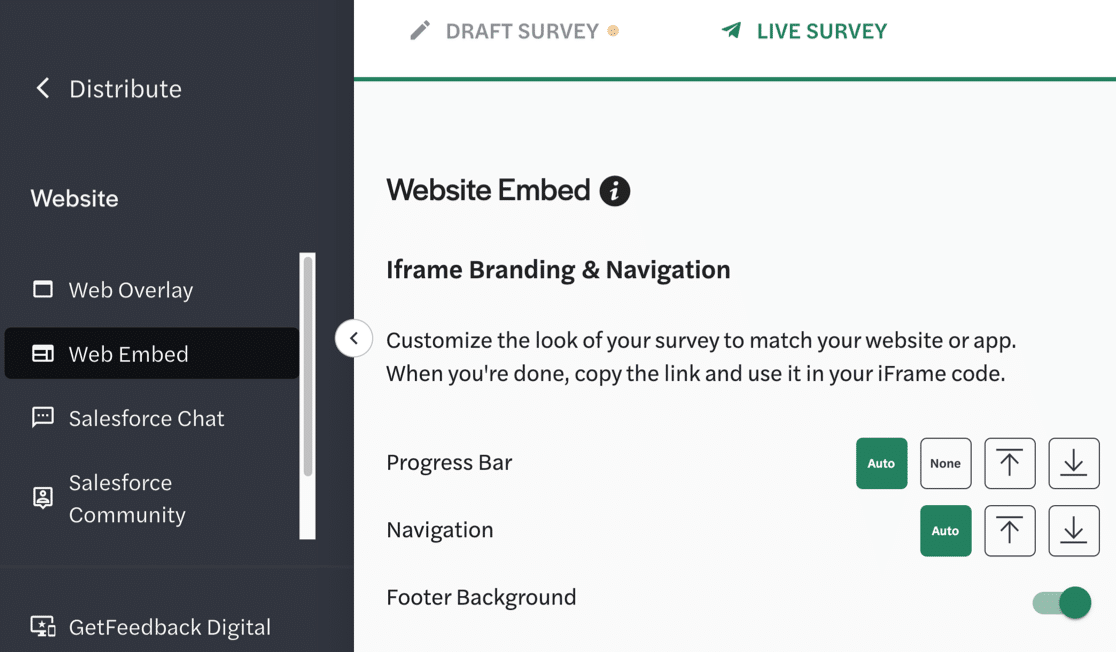 Again, the options are very geared towards Salesforce here, and it doesn't have as many alternatives as SurveyMonkey.
Publishing Surveys With WPForms
WPForms is the only survey plugin in this article that directly integrates with WordPress.
So you can:
Build your survey inside the WordPress dashboard (so that's 1 less password to remember!)
Store entries inside your WordPress database
Create survey reports inside WordPress
Embed a survey in any post or page
Use the Form Locator to keep track of all the areas where you've published your surveys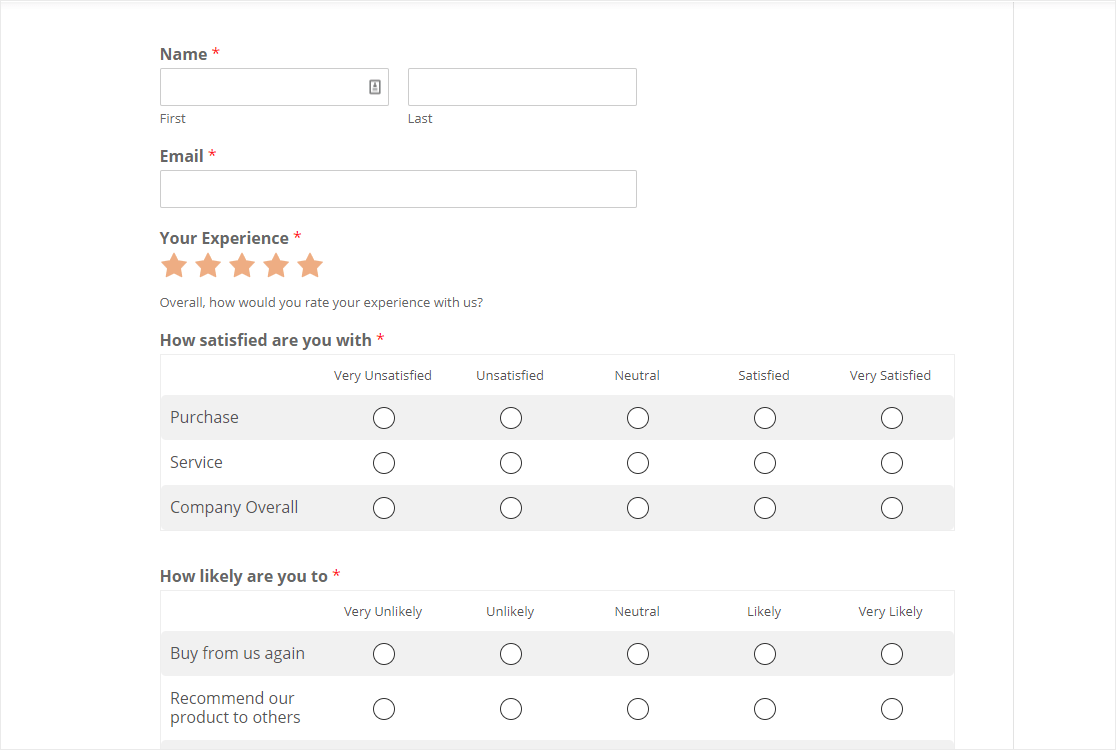 Looking more specifically at the WordPress integration, it's easy to see why so many WordPress users prefer to use WPForms rather than a 3rd party platform. It's easy to:
The Embed option is the easiest way to publish a survey in seconds and quickly grab the link.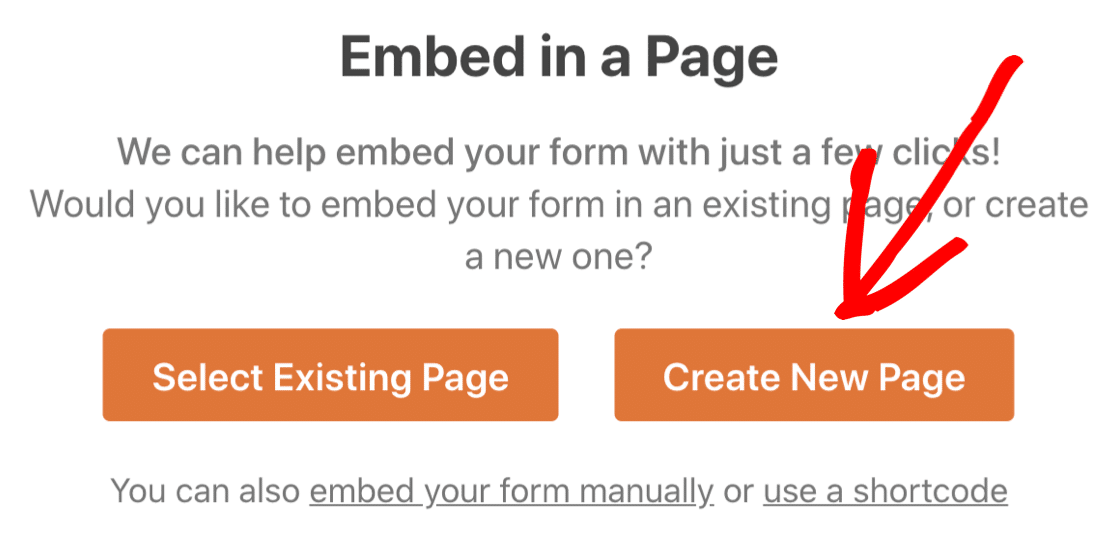 Once your survey is live, you can use all of the social media plugins you already set up in WordPress! You don't need to learn a whole new way of working or create those connections all over again.
When you get responses, they'll be right there in the WordPress dashboard. It couldn't be easier to analyze them at a glance.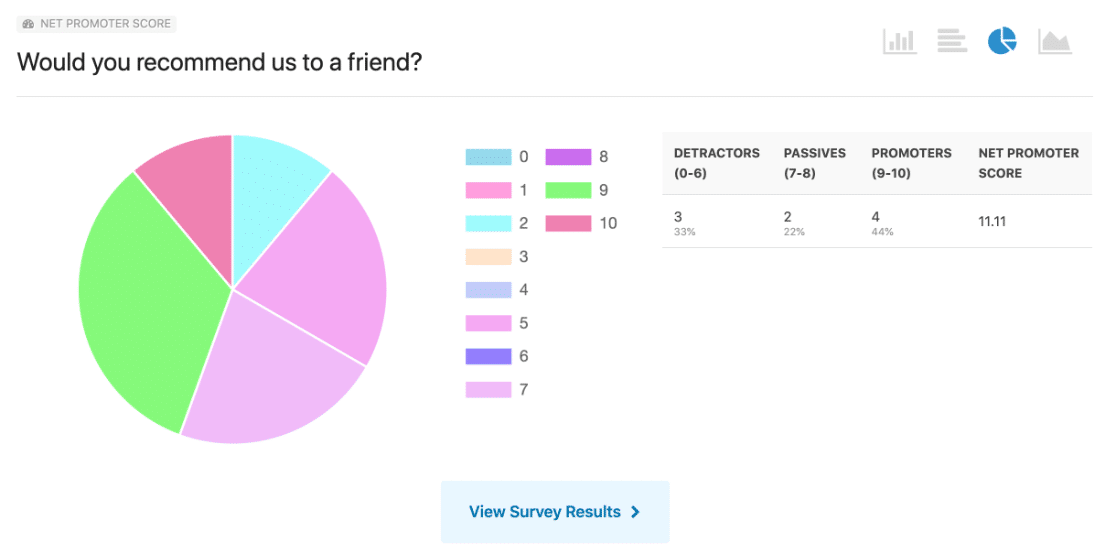 And different question types have different layouts. WPForms automatically uses the right layout so you get the best view of your data. Here's a Likert Scale question as displayed by WPForms.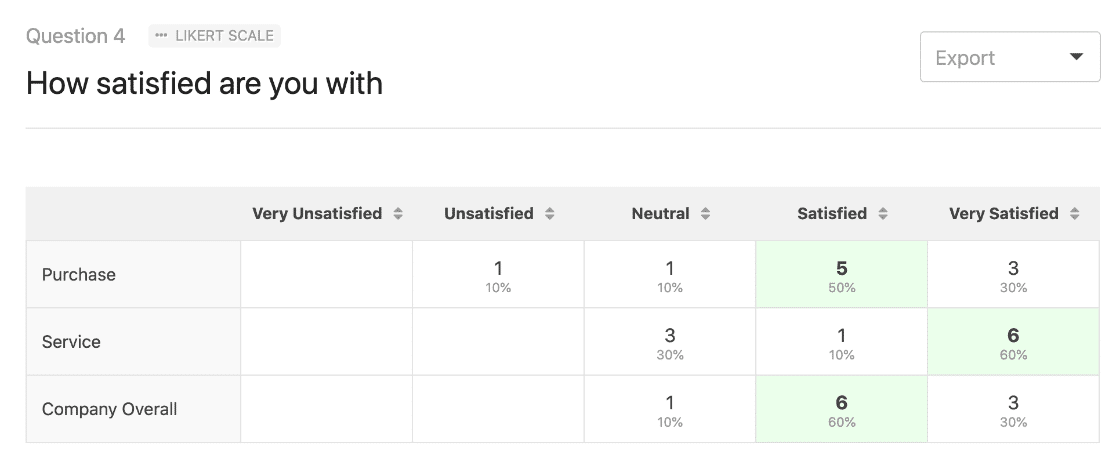 Pricing
Now we've looked at the different ways these form builders work, let's quickly summarize the pricing.
SurveyMonkey Pricing
SurveyMonkey has a free plan. This is super limited. For example, you can't embed surveys on a website on this plan, and the customization options are heavily restricted.
However, it does allow you to create surveys with:
10 questions per survey
100 responses per survey
For multiple users, the Team Advantage plan is the best option. It costs $900/ year for 3 users, with each extra seat incurring an extra charge of $25/ month.
GetFeedback Pricing
GetFeedback initially offers a 14-day free trial. After that, you'll need to contact the sales team for a customized price.
Even though there are no published prices, it's worth noting that all plans are priced annually and are based on teams using the product. So for a single user, GetFeedback is unlikely to be a good fit.
WPForms Pricing
To build surveys, you'll want to buy the WPForms Pro license or higher. This includes the Surveys and Polls addon.
The Pro license is priced from $399/year and includes:
All survey fields
All survey reporting features
Unlimited users, surveys, and responses
If you also need to connect your survey platform to Salesforce, you'll want to upgrade 1 tier further to the Elite license.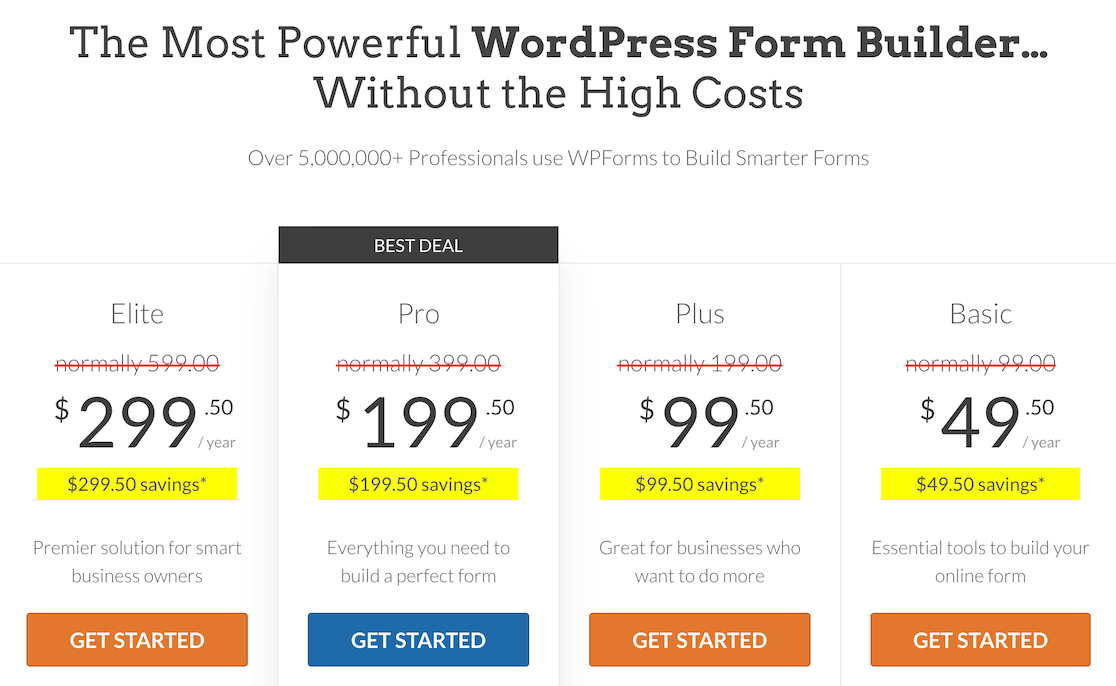 We took this screenshot during a sale event. Find out if this deal is still available!
In addition to the survey and poll features, the Pro version of WPForms also includes:
So even though the pricing is comparable with SurveyMonkey, you can do a lot more with WPForms because it gives you extra form creation tools on top of just surveys.
Which Is the Best Survey Builder?
We've looked in detail at these 3 survey builders, and we have to say that WPForms comes out as the winner in every category.
WPForms is the only form builder that lets you embed surveys easily in WordPress. That sounds like a small detail, but it could make the difference between a survey people enjoy using and a survey that annoys your respondents.
And we also looked at the awesome reporting options for your surveys. No other contact form plugin can rival WPForms when it comes to integrated survey charts and reports.
In addition to making surveys, WPForms will also support your business and help you to make money from your blog. It's by far the most versatile option on the list!
Alternatively, if you'd like to check out a more specialized option, you might like UserFeedback. This plugin helps you build popup customer feedback surveys that you can show to users all over your website.
Create Your WordPress Form Now
Next, Reduce Form Abandonment and Capture More Leads
That's it! Now you can make an informed choice between SurveyMonkey vs GetFeedback vs WPForms.
If you have a problem getting users to complete your surveys, make sure you check out our Form Abandonment addon. It lets you collect partial entries even if users leave your site before they hit submit, so you can see the fields they did fill out.
You might also be interested in learning about how to let users pause your survey and finish filling it out later or reducing shopping cart abandonment.
Ready to build your form? Get started today with the easiest WordPress form builder plugin. WPForms Pro includes lots of free templates and offers a 14-day money-back guarantee.
If this article helped you out, please follow us on Facebook and Twitter for more free WordPress tutorials and guides.