Wondering what the best Jotform alternatives are?
Jotform, unfortunately, isn't right for most people with WordPress websites.
So in this post, we've rounded up all the best Jotform alternatives available so you can find the one that works best for your small business.
Best Jotform Alternatives for WordPress
If you're looking for something better to handle your webforms, look no further than these Jotform competitors.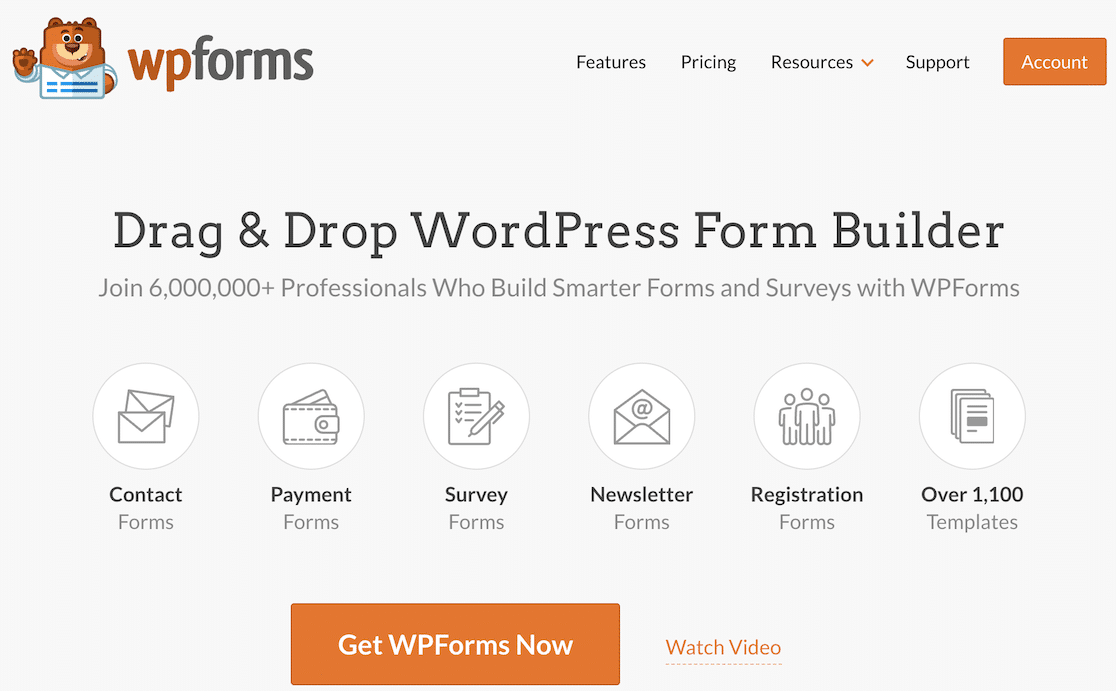 WPForms is the best of all the Jotform alternatives out there, hands down. It's #1 for a lot of reasons, and WPForms Pro comes with some amazing features that can explode your website's success.
Features:
Surveys Tools: Customizable online surveys and polls with results in beautiful graphs that include things like NPS Surveys, Likert scales, and more.
WordPress Compatibility: WPForms is a WordPress plugin and part of the WordPress community, built to work perfectly with the popular website platform.
Security: Fight form spam with hCaptcha, reCAPTCHA, Cloudflare Turnstile, or custom Captcha.
Easy to Use: Form creation is insanely simple for even beginners because of the drag-and-drop visual builder.
Easy Embeds and Form Locator: Publish your forms from the builder in just a few clicks, and see which pages on your site have forms on them.
Form Revisions: Track changes in the form builder and restore older versions of your forms if you want to undo your changes.
Conversational Forms: Tap into the power of conversational marketing and give your forms a human feel while watching conversion rates skyrocket (users love these).
Awesome Landing Pages: Use the Form Pages addon to create distraction-free landing pages.
Multiple Integrations: WPForms connects with thousands of the most popular web apps using Zapier. Or, connect to over 50 popular plugins with Uncanny Automator.
Payments: Accept payments with Stripe (all licenses, including WPForms Lite), Square (Pro), PayPal (Pro), and Authorize.Net (Elite).
Instant Form Notifications: Get email notifications sent to yourself or others so your team knows you've got a lead right away.
Conditional Logic: Use the nifty and popular Conditional Logic feature to personalize your questions based on users' other answers.
Form Templates: WPForms comes with 1,200+ WordPress form templates so you never have to build a form from scratch.
Excellent Support: Knowledgeable and friendly customer support as well as tons of documentation.
Marketing Addons: If you upgrade to the Elite license, you can create Salesforce or HubSpot lead capture forms.
Calculations: Want your forms to calculate items or serve as calculators? The WPForms Calculations addon is one of the most powerful ones out there.
Pricing: WPForms Lite is free and offers unlimited forms and responses, as well as free entry backups you can use to store submissions so you can unlock them when you upgrade. WPForms Pro, which includes the features above, starts at $199.50/year.
Get started with WPForms Pro today!
If you want to see how WPForms compares with some popular form builders in more detail, see Gravity Forms vs Jotform vs WPForms.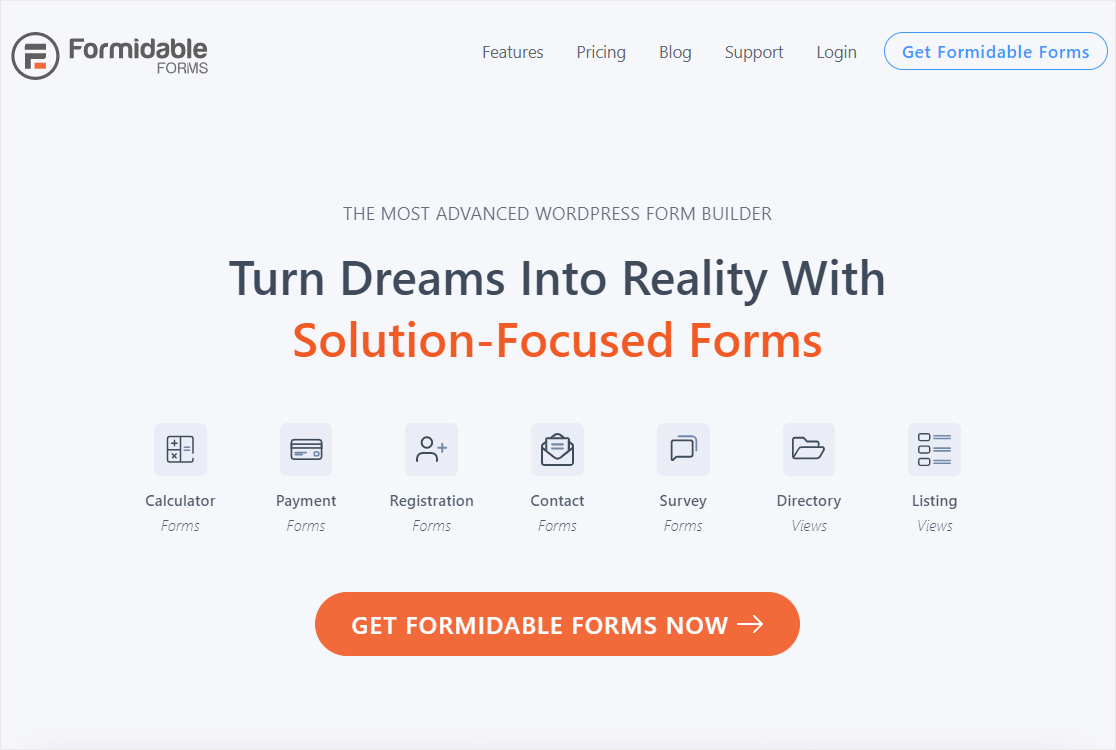 Formidable Forms is on our list of the best Jotform alternatives if you'd like to build technical forms on your site. It allows you to get really advanced with things (it also includes calculations) and is a good option for developers.
Features:
Free Plan: There's a free version of the plugin offered at WordPress.org, but you'll need to pay to access most features.
Visual Builder: A drag-and-drop builder helps you preview your form in real-time so you know what it looks like as you're building it.
Math Calculations: Offer users instant online estimates and calculate advanced product options.
Quiz Maker: Create forms with quizzes that display scores.
Conditional Logic: Skip questions or make additional ones appear based on users' answers.
Integrations: Connect your forms with popular 3rd party services.
Form Notifications: Send email notifications to yourself or others.
Payments: Formidable Forms offers access to Stripe (all licenses, including the free tier), PayPal (Business+), and Authorize.Net (Elite).
Pricing: Formidable Forms Business starts at $199.50/year.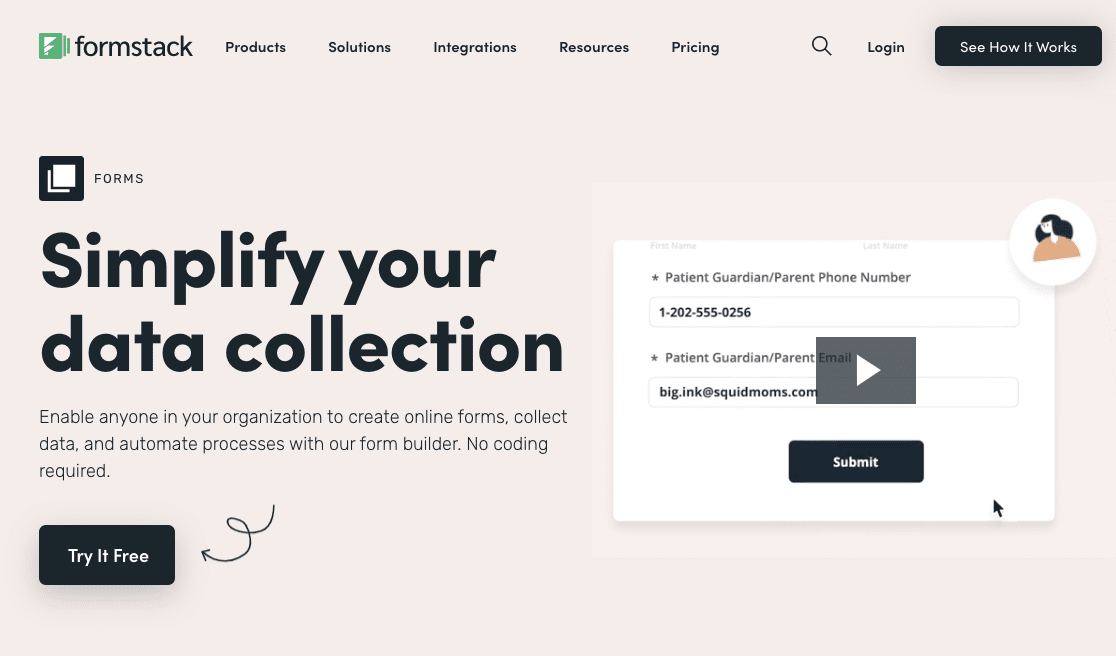 Formstack is an online form builder just like Jotform is. That means it will probably be a little trickier to add your forms to your website than if you used a WordPress form builder plugin. However, it still has some handy features, including tons of industry-specific templates.
Features:
Industry-Specific Form Templates: Includes templates for healthcare, education, insurance, and more.
3rd Party Integrations: Connects to over 100 other platforms including CRMs and payment processors.
Visual Builder: Create forms using a drag-and-drop builder so you can see what you're doing.
Conditional Logic: Change the fields in your form based on users' input.
PCI and HIPPA Compliant: Follow guidelines for online sales and healthcare privacy.
Pricing: Formstack Forms plans start at $50/month.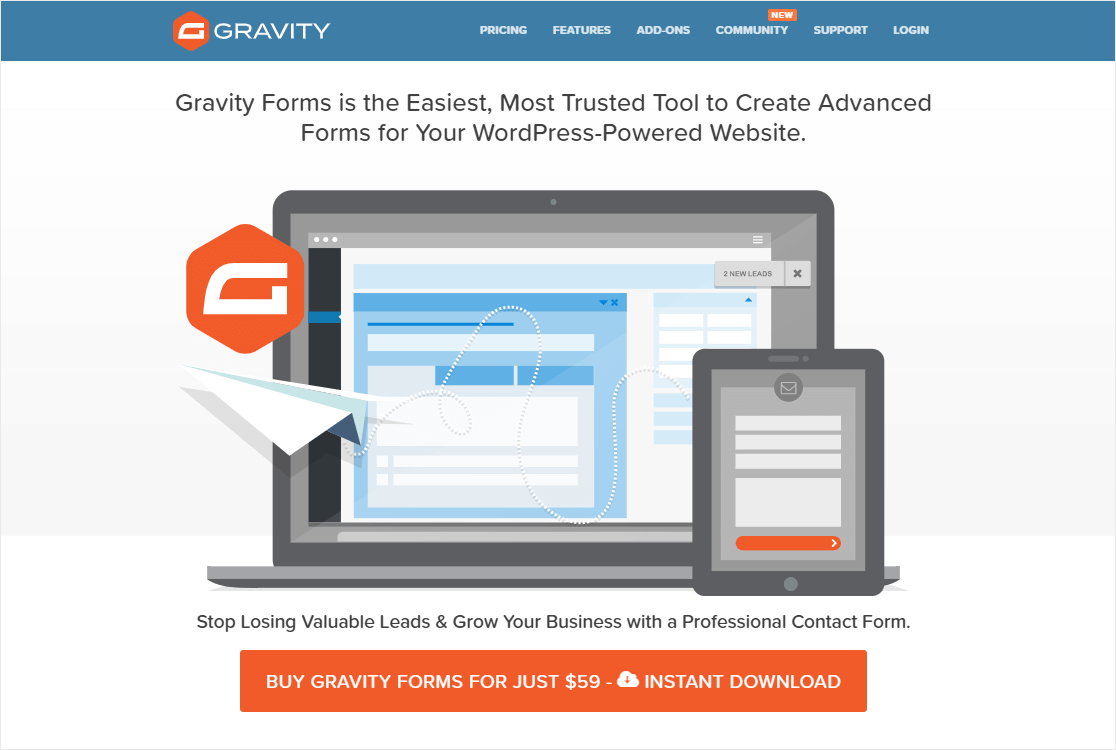 Gravity Forms is a well-known form builder that works well on WordPress websites. It's another option as an alternative to Jotform.
Features:
Multi-Page Forms: Break up longer forms by using a multi-step form with breadcrumbs.
Conditional Logic: You can hide or display fields based on previous answers.
File Uploads: Let users upload files to your forms.
Pricing: Gravity Forms Pro is $158/year.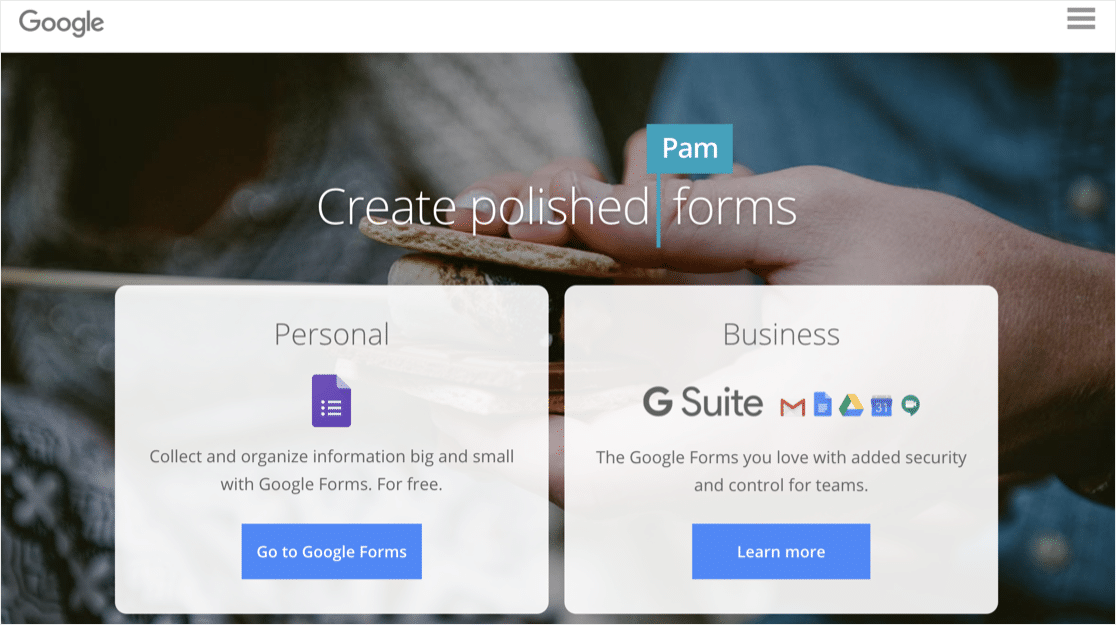 Another form builder on our list of Jotform alternatives is Google Forms. It's free, well-known, and easy to use. But it's not completely WordPress-friendly or flexible.
Features:
Skip Logic: Use conditional logic to jump to specific pages based on users' previous answers.
Basic Customization: You can change color schemes and fonts for a tiny bit of customization.
Multi-Step Forms: Break up long forms into more than one page.
Easy Embedding: Allows you to embed a form into your website.
Email Notifications: Get notifications when someone submits your form.
Offline Mode: Access data even when there's no internet connection.
Easy to Use: It's a popular choice that's wildly simple and doesn't take much to set up, but offers very few features compared to others on this list.
Images: You can add pictures to your forms to make them stand out or clarify things with your visitors.
Pricing: Google Forms is free.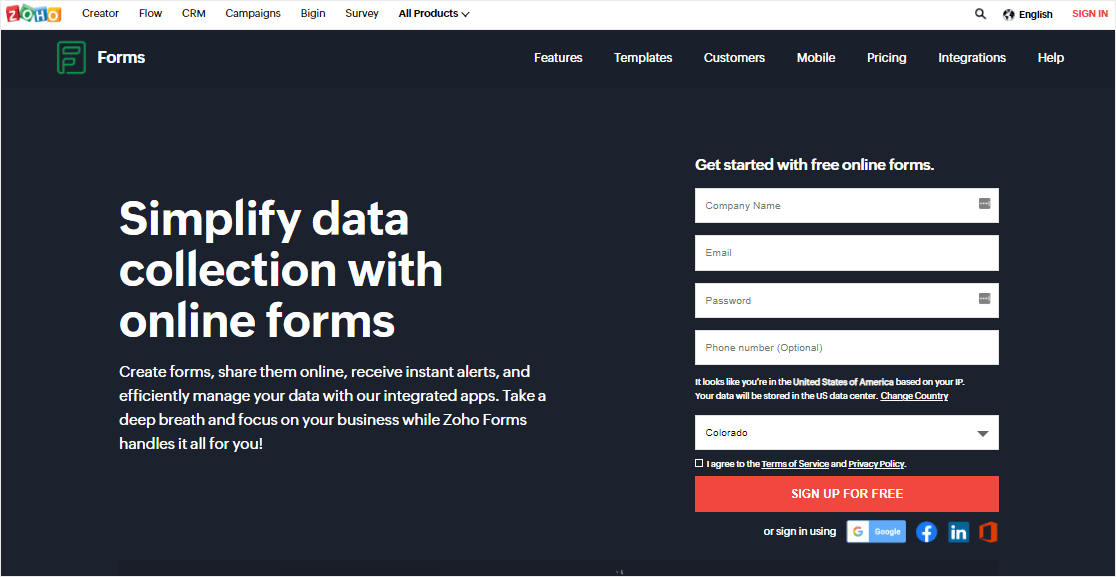 Zoho Forms is another one of the best Jotform alternatives out there that lets you easily collect form data.
Features:
Works With Zoho CRM: If you're already using Zoho CRM, it's super simple to get started since it's part of the same program.
Customization: For better branding, you can build your form design to match your colors and look more professional.
Zoho Surveys: Connect Zoho with your online surveys.
Form Analytics: See how your web forms are performing and then share your findings with your team using the exporting feature.
Great for Teams: There are tons of features you can use as a team to streamline things.
Embed Forms on Site: Easily embed your forms directly onto your WordPress website.
Security: Built-in safety measures like assigning roles to help keep your website and data safe.
Pricing: Zoho Forms starts at $10/month.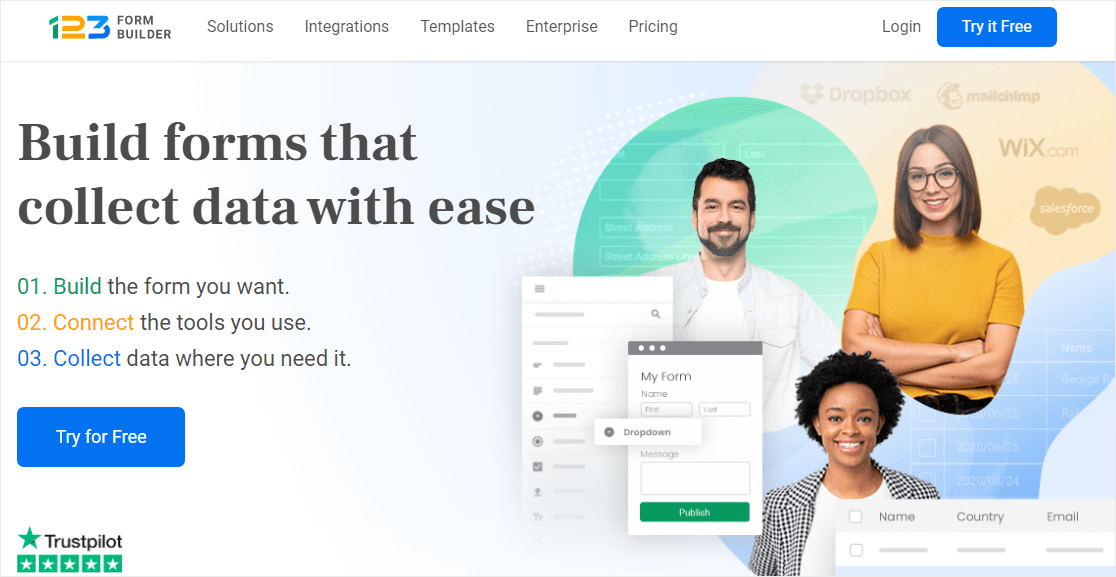 123 Form Builder is a simple, straightforward alternative to Jotform. It's incredibly basic, so if you don't want to do anything flashy you may want to look into this online form builder.
Features:
Payment Integrations: Square integrates with this form builder, and it also offers a PayPal integration.
Easy to Use: The drag-and-drop builder makes it easy to make simple forms for your website.
Reports and Analytics: Track how your forms are doing with reports.
Form Templates: This form builder has some basic form templates.
Pricing: 123 Form Builder starts at roughly $240/year for a paid plan.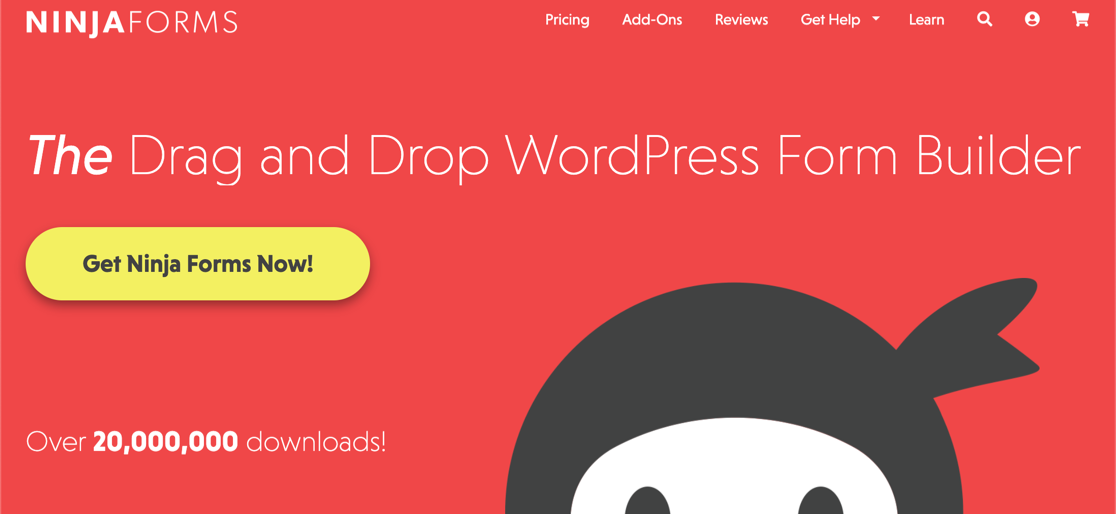 Ninja Forms is another option if you're looking for an alternative to Jotform. This WordPress plugin has a drag-and-drop builder and a good user interface.
Features:
Somewhat Easy to Use: Ninja forms offer a drag-and-drop tool to make forms in a visual builder.
Form Import: Lets you import other Ninja Forms onto your site, which is helpful for developers building sites for multiple clients.
Captcha: Only supports Google reCAPTCHA v2.
A la Carte Prices: In a unique pricing model, some tools are offered in a 'build-your-own-plan' type of option with this particular form builder.
Basic Templates: A  handful of additional templates are offered.
Pricing: Ninja Forms Professional starts at $99/year.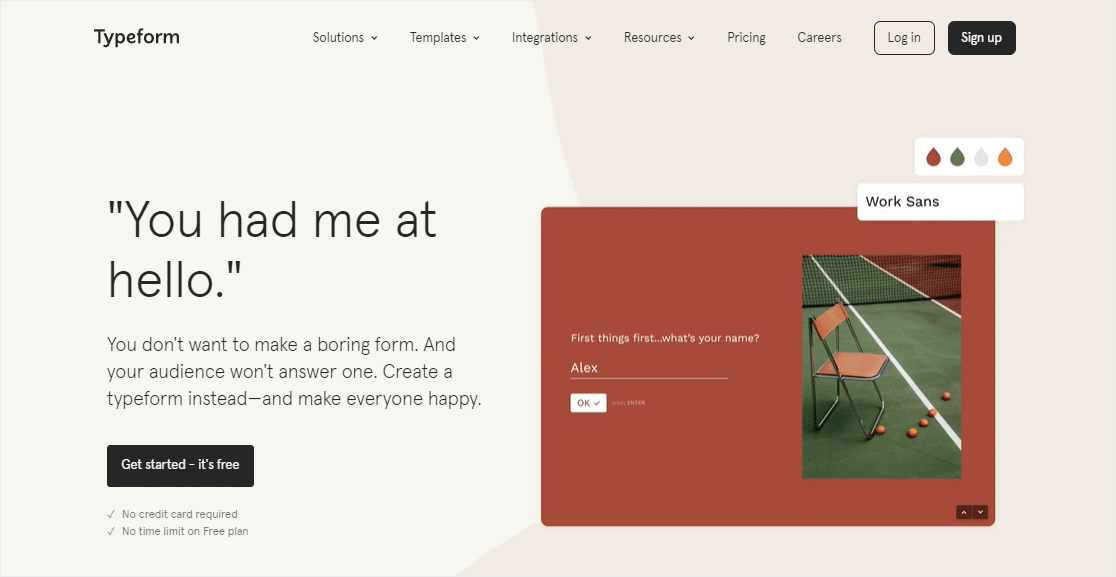 If you're looking for a solid alternative to Jotform and have a big marketing budget, you could try checking out Typeform. It takes a "one-question-at-a-time" approach much like Conversational Forms with WPForms.
Features:
Gorgeous Forms: Includes some of the prettiest-looking modern form templates available right now.
Templates: Typeform offers templates so you can have a place to start when building a form.
Logic Jumps: Offers conditional logic on your forms.
Pricey: Can really cost you if you want to access its most powerful features.
Pricing: Typeform Professional starts at roughly $420/year.
The Best Jotform Alternative = WPForms
We hope this list helped you learn more about all the Jotform alternatives out there for WordPress sites.
If you're still asking yourself what the very best option is over Jotform, we think:
WPForms is the clear winner. It's truly the best Jotform alternative out there.
Create Your WordPress Form Now
The easy-to-use drag-and-drop builder makes it incredibly simple for anyone to create and manage their own website's forms. Plus, it's the most popular form builder for a reason. There are over 5 million downloads of WPForms, and it's also on the top 10 list of the most popular WordPress plugins of all time.
Among other issues, Jotform is not suited to WordPress because you can't manage your forms from WordPress directly.
WPForms ticks all of these boxes:
Simple to Use: Since most small business owners aren't website developers, a form builder should be so easy to use that anyone could build and manage different types of online forms.
Flexible Features: Look for a form builder that has the right amount of features that you need and isn't too basic.
WordPress Integration: Jotform isn't a WordPress plugin. You want your online forms to easily connect to your website. And you should look for a WordPress form plugin that has great reviews on WordPress.org that shows why people love it.
Captures Partial Form Submissions: Jotform has no ability to save details that have been typed into a form that never gets submitted, while WPForms does.
Syncs to Email Marketing: You'll want to ensure your forms can easily connect to your email marketing service.
Support: Look for a form builder with plenty of documentation and tutorials on all its features, not just the popular ones. Ensure it provides helpful and friendly support when and if you need to reach out.
And there you have it! You now know about the best Jotform alternatives for WordPress sites.
Next, Display Registration and Login Forms
You may also want to check out our post on how to display a login form on any WordPress page. Registration and login forms are some of the coolest features that WPForms Pro offers.
Also, check out our post on Caldera form alternatives, since Caldera has now retired.
You may also be interested in checking out this list of free form builder options for your WordPress site.
If you're ready to watch your website's success soar, get started with WPForms Pro today. There's nothing to lose to try it because there's a 14-day money-back guarantee.
And if this article helped you out, please follow us on Facebook and Twitter for more free WordPress tutorials and guides.