Do you want to compare the features in Caldera Forms vs Ninja Forms vs WPForms?
Since Caldera Forms shut down in 2022, you might be looking for an alternative form builder available in WordPress.
In this article, we'll compare Caldera Forms vs Ninja Forms vs WPForms head to head by comparing their features, ease of use, and price.
What Is the Best Form Builder for WordPress?
WPForms is the best form builder for WordPress. We sound biased… right?
Let's compare the data in the table below:
| | Caldera Forms | Ninja Forms | WPForms |
| --- | --- | --- | --- |
| Active Installations 🚀 | 200,000+ | 1+ Million | 6+ Million |
| 5 Star Reviews ⭐ | 300+ | 800+ | 12,000+ |
The statistics for Caldera Forms in the table above are the last available numbers from before the plugin was discontinued.
As you can see, WPForms has 6+ million active installations and 12,000+ 5 star reviews, which makes WPForms the #1 contact form builder for WordPress.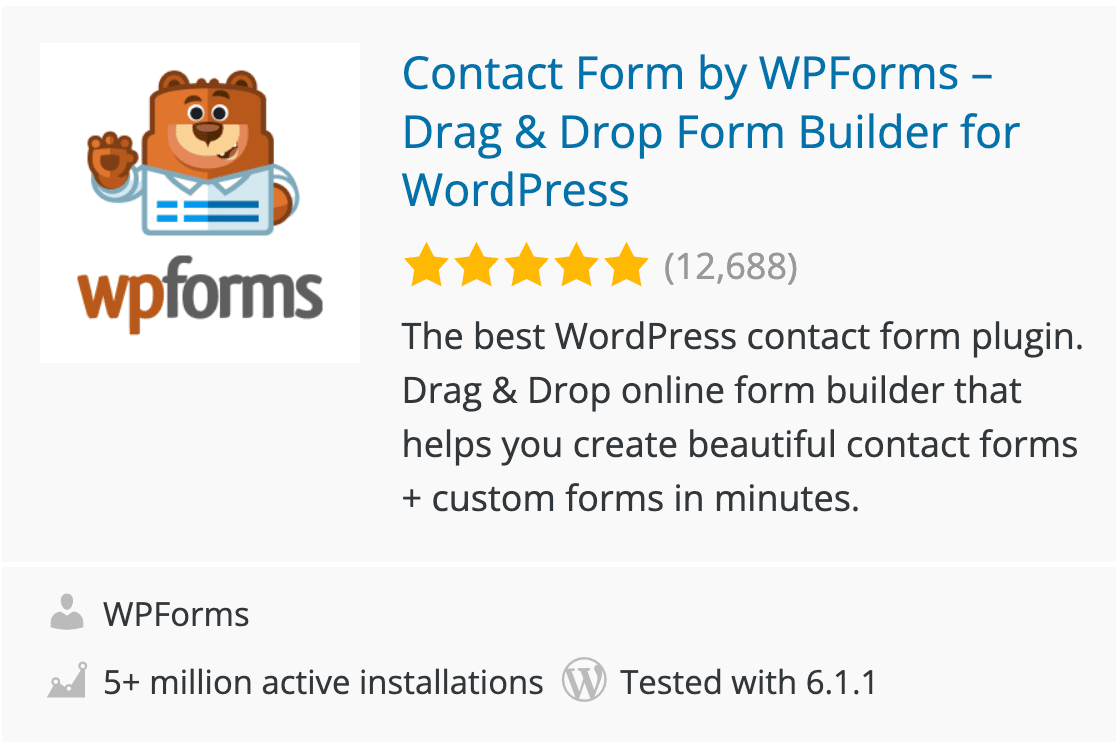 WPForms comes in both lite and premium versions. Its lite version is 100% free forever and lets you create simple contact forms.
The paid version of WPForms is loaded with powerful form features, and you can create any online forms that you can imagine, be it a survey form, payment form, job application form, or a college admission form. If you can name it, you can build it with WPForms.
Caldera Forms vs Ninja Forms vs WPForms
We'll compare these form builder plugins based on their features, ease of use, and pricing. Let's start checking the features first.
Note: Caldera Forms has been discontinued and is no longer available to purchase or download from WordPress.org. If you're still using it on your site, we recommend switching to a different form builder plugin. This will make sure your plugin works with the latest version of WordPress, prevent security issues, and give you access to new features.
Features
A form builder plugin may have a plethora of features. The common features to look into before choosing a form plugin for your site are:
Pre-Built Form Templates
Pre-built form templates save you a ton of time, provide you with an easy way to create forms, and make your form building process a breeze.
And if you're a beginner, these form templates help you get started quickly.
In our plugins list, WPForms has the highest number of ready-made form templates. It includes 600+ customizable form templates, whereas, in Ninja Forms, you get 17, and in Caldera Forms, you get 6 form templates.
Create Your WordPress Form Now
All WPForms form templates are created by marketing experts; you won't have to put in any extra effort while using these templates. However, if you want, you can customize them as per your preferences.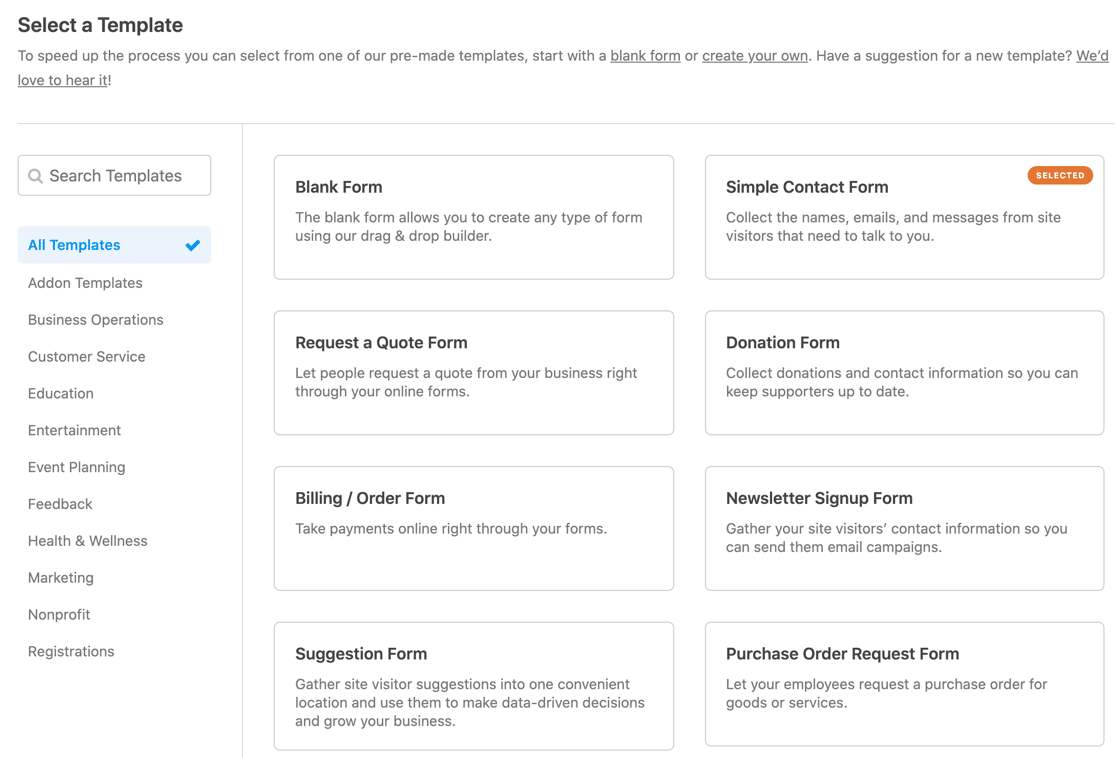 The form templates are included considering every business need in mind. Whether you've got an educational site, marketing site, or non-profit site, you get a pre-built template that quickly solves your contact form needs on your website.
Let's see some examples:
Spam Protection Tools
How your form builder tool helps in preventing spam and fake entries plays a vital role.
These spam protection tools keep your website safe from bots and malicious traffic. Let's check out the spam protection options you get with Caldera Forms, Ninja Forms, and WPForms.
| | Caldera Forms | Ninja Forms | WPForms |
| --- | --- | --- | --- |
| ReCAPTCHA support | ❌ | v2 only | v2 and v3 |
| Custom CAPTCHA | ❌ | ❌ | ✔️ |
| hCaptcha support | ❌ | ❌ | ✔️ |
| Cloudflare Turnstile | ❌ | ❌ | ✔️ |
| Secure form with password | ❌ | ❌ | ✔️ |
WPForms is the best plugin to stop contact form spam on your website. While Ninja Forms only supports ReCAPTCHA v2, WPForms offers more CAPTCHA options, hCaptcha support, smart spam detection, and custom captcha fields to stop fake registrations.
Also, you can password protect your form using the powerful WPForms Form Locker addon.
Payment Integrations
Payment gateways are one of the most important aspects to consider while choosing a form builder plugin. If you're collecting payments or donations via a contact form, you want a plugin that provides extensive options to receive payments on your site smoothly.
First, let's see the popular gateway integrations that come with Caldera Forms, Ninja Forms, and WPForms.
| | Caldera Forms | Ninja Forms | WPForms |
| --- | --- | --- | --- |
| PayPal Integration | ✔️ | ✔️ | ✔️ |
| Stripe Integration | ✔️ | ✔️ | ✔️ |
| Authorize.Net | ✔️ | ✔️ | ✔️ |
| Square Integration | ❌ | ❌ | ✔️ |
| Recurly | ❌ | ✔️ | ❌ |
As you can see, both WPForms and Ninja Forms provide similar payment gateway options.
However, with WPForms you also add Square payment forms and even receive recurring payments through Stripe or PayPal without adding any extra 3rd party addons. Plus, you can use Stripe with the free version of WPForms.
In Ninja Forms, you'll have to install the Recurly addon to accept recurring payments on your WordPress sites.
Uncanny Automator or Zapier Integration
Uncanny Automator and Zapier give you the flexibility to connect 3rd party apps with WordPress plugins.
WPForms directly integrates with Uncanny Automator and Zapier, while Ninja Forms only supports Zapier and Caldera Forms supports none.
By integrating WPForms with Uncanny Automator and Zapier, you can:
If you're looking for a form plugin that works flawlessly with the Uncanny Automator plugin, WPForms is the best option available.
It also integrates directly with Google Sheets so you can save entries from WPForms to Google Sheets.
These are some of the important features of the form builder plugins in our list. Now let's see how beginner-friendly these tools are and how easy it is to create a form with them.
Creating a Form With Caldera Forms
As Caldera Forms is closed, you can't access it anymore. We have some images from the lite version to show you how it compares to the other form builders if you're still running an old version.
The plugin installation and activation processes are similar to other WordPress plugins; still, if you need guidance for this step, you can check out the guide on how to install a WordPress plugin.
Caldera Forms' form builder interface isn't very interactive. Its builder opens in the WordPress dashboard, so it doesn't provide a distraction-free way to build form.
The active screen of the Caldera Forms form includes 5 tabs. You can start creating your form by clicking on the New Form tab.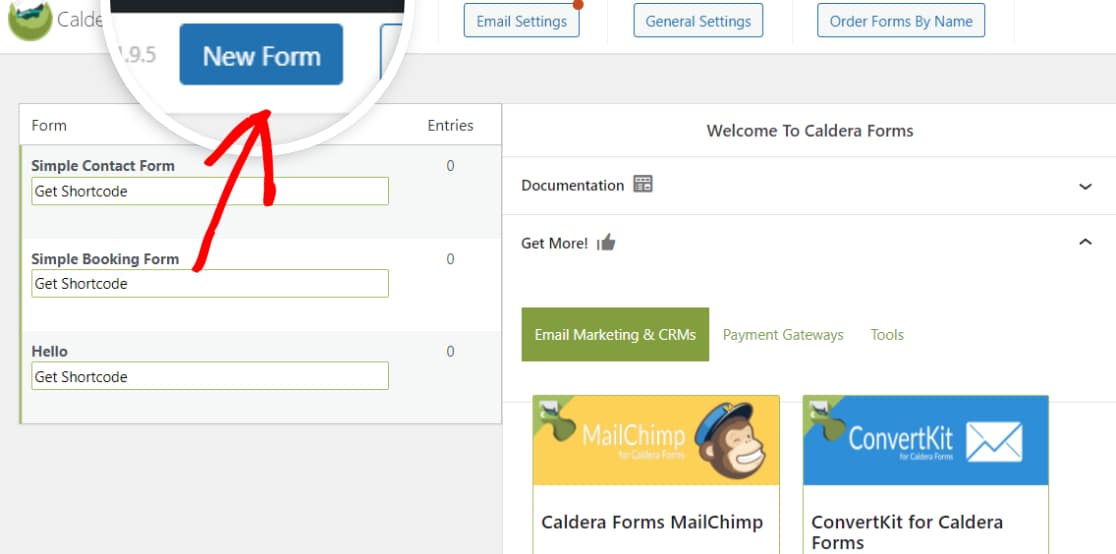 Next, you get the option to choose your form template. As we mentioned above, Caldera Forms includes 6 pre-built form templates that you can choose from.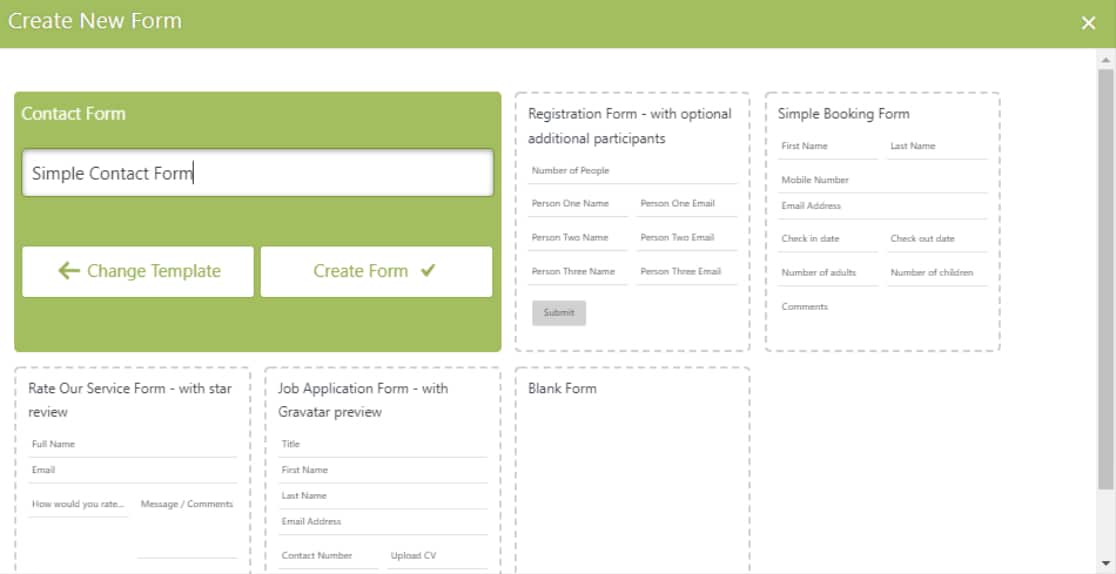 Once you choose your template, you'll see your form on the live editor. The form builder interface is not very user-friendly. It has a drag-and-drop builder but is not very interactive for small screens.
Adding new form fields is also quite complicated. The live screen doesn't include any additional field options to add to your form.
First, you'll need to drag the icon, and then it'll open the list of fields. It takes a while to understand the process of doing it correctly.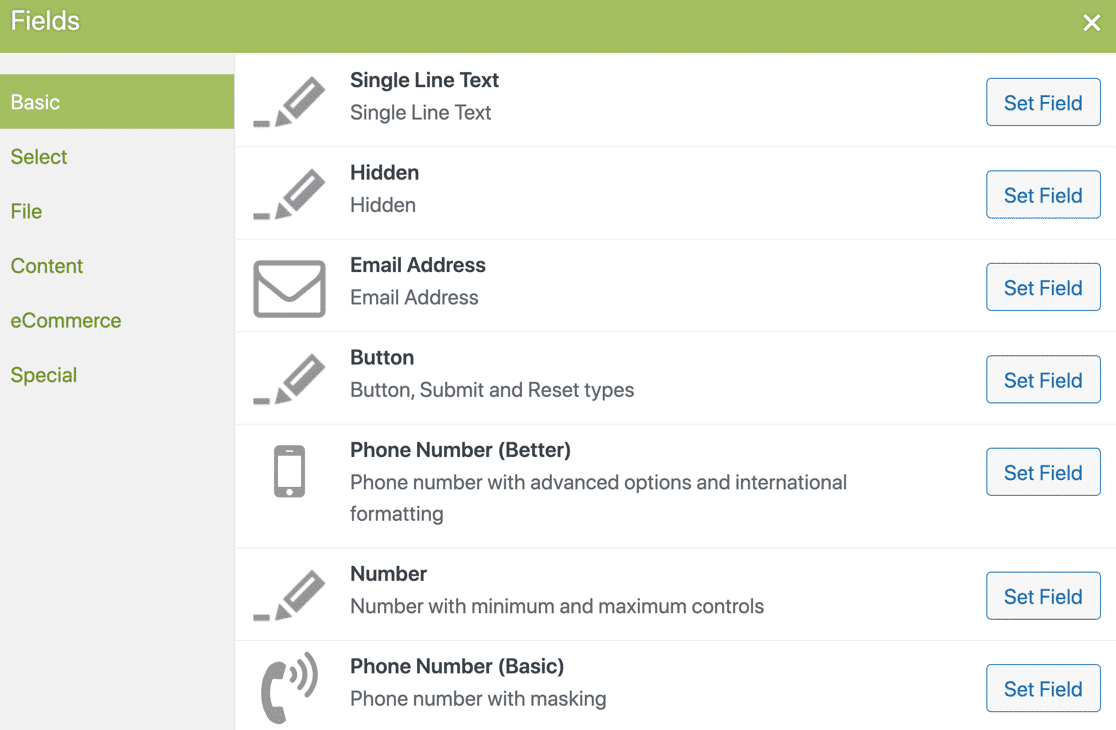 Caldera Forms form builder has some major drawbacks, but we'll not go into depth since it's shut down and we don't recommend using it anymore.
Building a Form With Ninja Forms
Below you can check the Ninja Forms form builder dashboard. It includes 4 major options: Form Fields, Emails & Actions, Advanced, and Preview Changes.
You'll notice there are no additional form fields on the active screen. You have to click on the blue plus (+) icon each time you want to add a new field.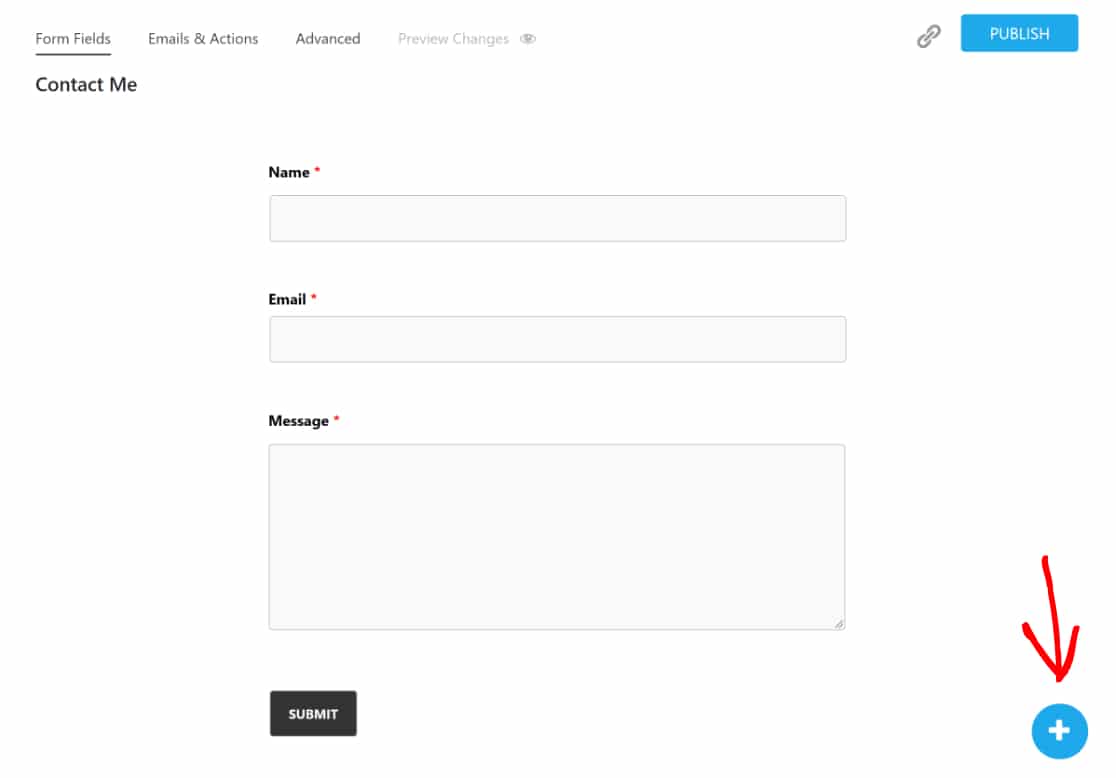 This will open the additional form field table, and you can drag and drop the field into your form.
One thing users will find a bit frustrating is that in the Ninja Form form builder, you can't perform other actions without closing the additional field table.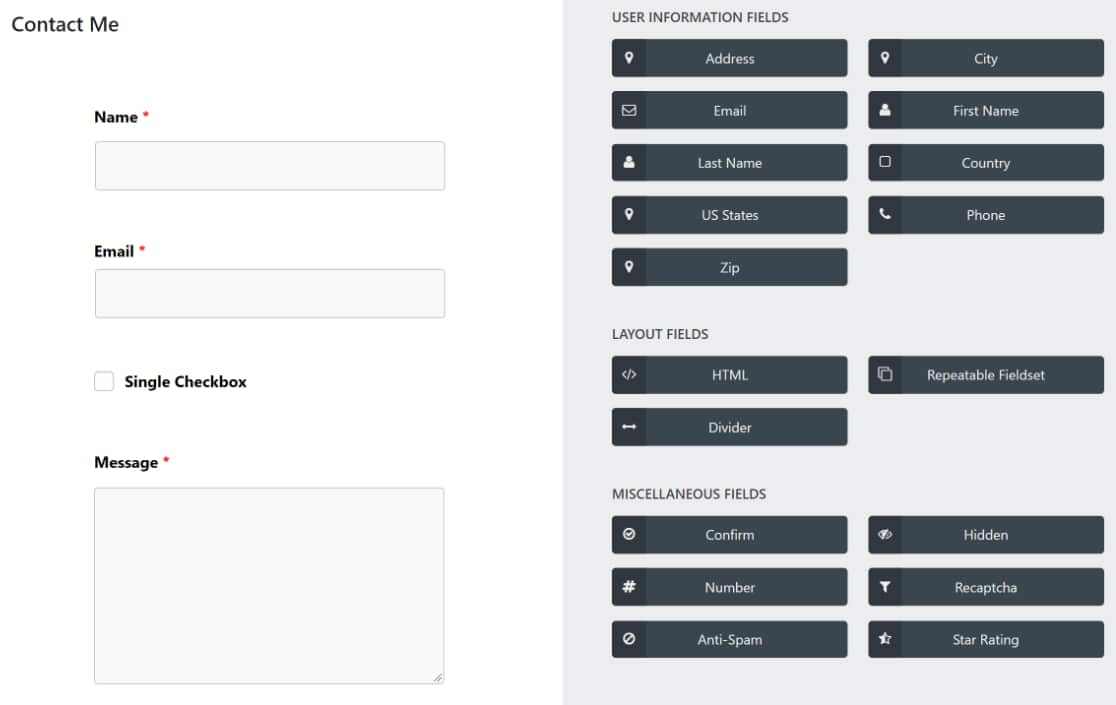 At first glance, you won't find an option to delete a field. You have to hover over the gear icon on the form field and wait for the trash icon to pop up before deleting the field. All of these options make Ninja Forms a less beginner-friendly form plugin.
Many options for the field controls are hidden in Ninja Forms. And to reveal all of the functions, you need to turn on Developer Mode.
Creating a Form With WPForms
WPForms is the most beginner-friendly WordPress form builder plugin, and it lets you create any contact form by following 3 simple steps:
Choose your template
Customize it
Publish your form
WPForms gives you an option to select a form template from its huge built-in template library.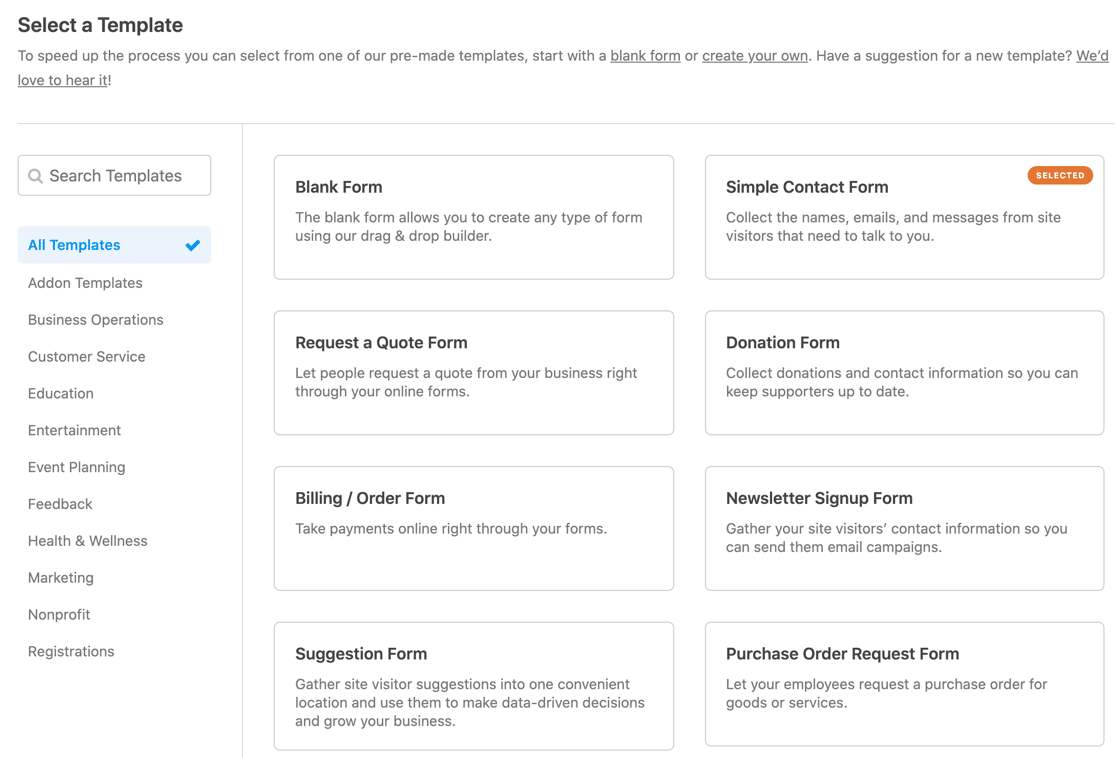 And once you select your form template, you'll be taken to the WPForms form builder dashboard.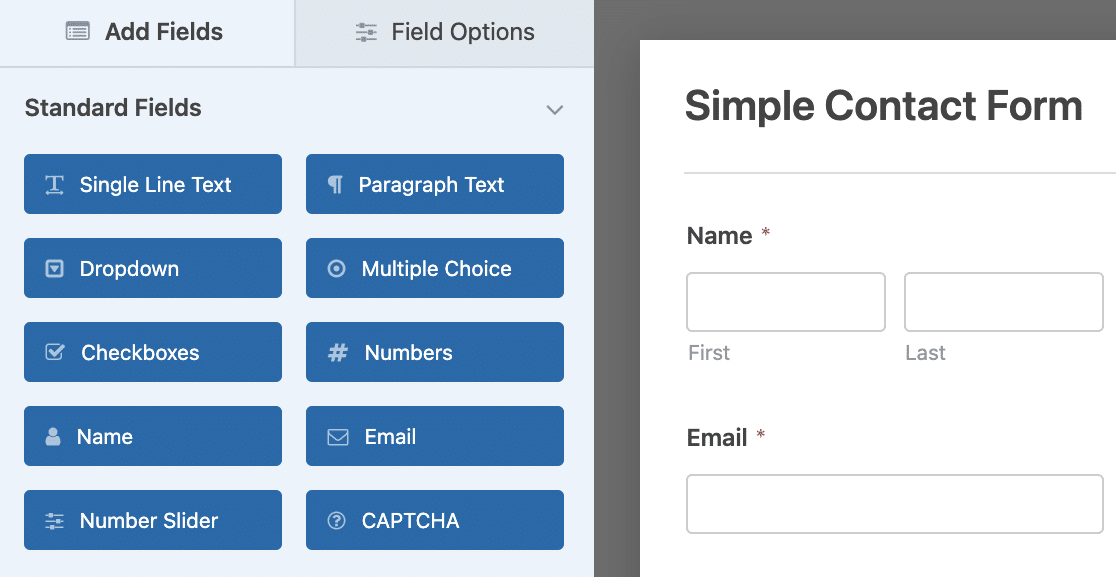 You can see your live form on the right side and additional form fields on the left. This makes it very easy to add new form fields to the form.
You just need to drag and drop the fields into the form. And if you want to edit, adjust, or delete form fields, you can do it with a single click.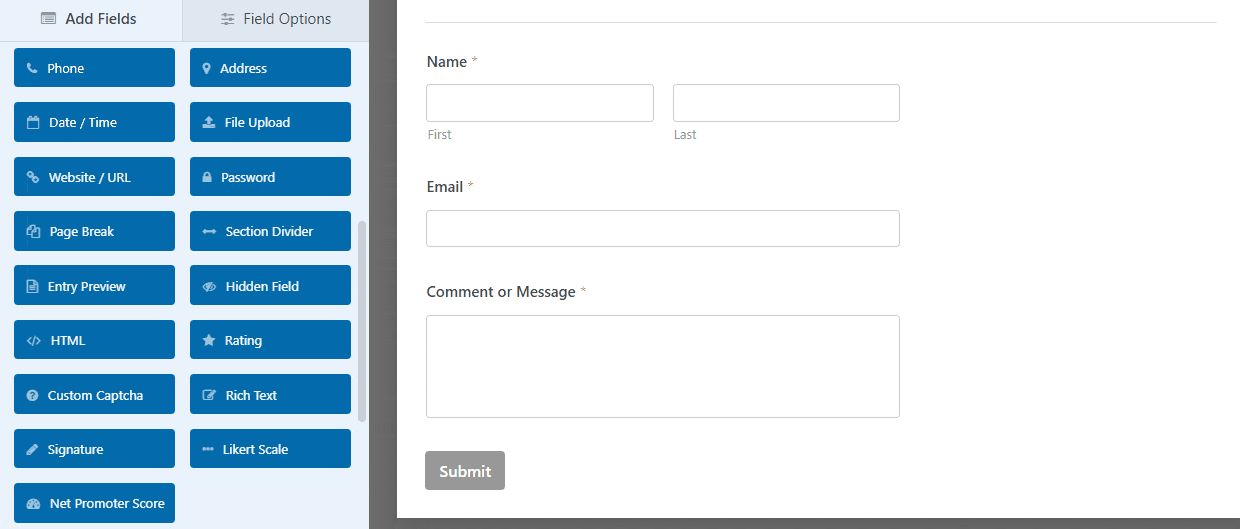 If you've turned on Form Revisions, you'll be able to see all the past versions of your form if you open it for editing.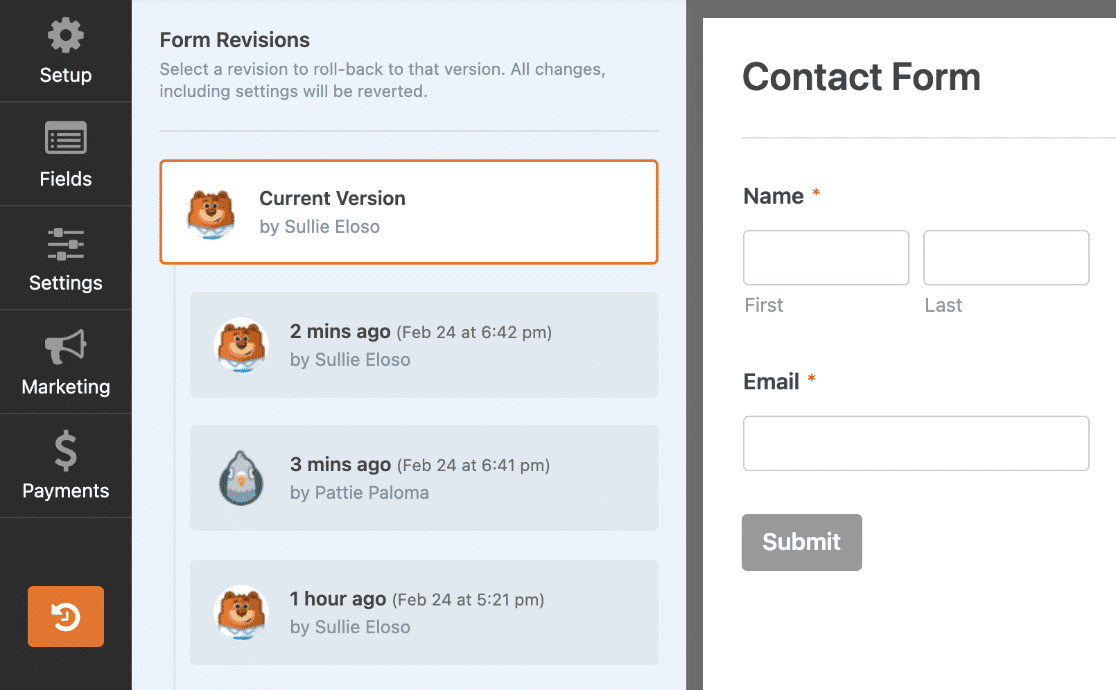 And the best part, in the form builder, you'll get options to Preview, Embed, and Save your form.

WPForms literally allows you to manage your complete form-building process using a single screen.
Caldera Forms vs Ninja Forms vs WPForms: Pricing
Now you know the features and form building process, let's see the complete pricing package of each plugin.
Is Caldera Forms Free?
Caldera Forms used to include both Free and Premium plans. But since it's shut down, you can't get access to it anymore.
Ninja Forms Pricing
Ninja Forms is a freemium plugin. The paid plans are priced between $99 and $499. The price might vary depending on the combination of addons and the number of sites you're activating the plugin on.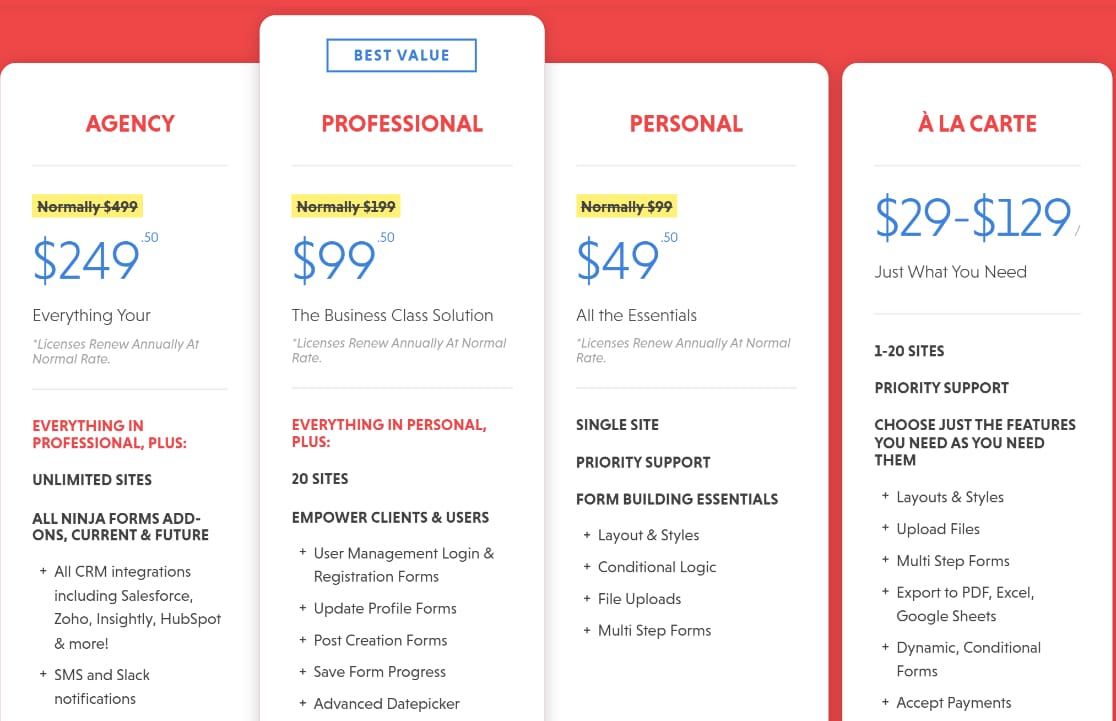 For example, the Paypal integration comes with the Personal plan of Ninja Forms, which costs $49 and supports a single site. The rate for this addon increases to $79, $99, $129, $199, or $499, depending on the purchase and how many sites you're activating it on.
WPForms Pricing
WPForms has both free and premium versions, too. If you're new to WordPress, you can use the lite version to start building forms and later switch to the Pro version to create more powerful online forms.
WPForms Pro offers 4 premium plans: Elite, Pro, Plus, and Basic.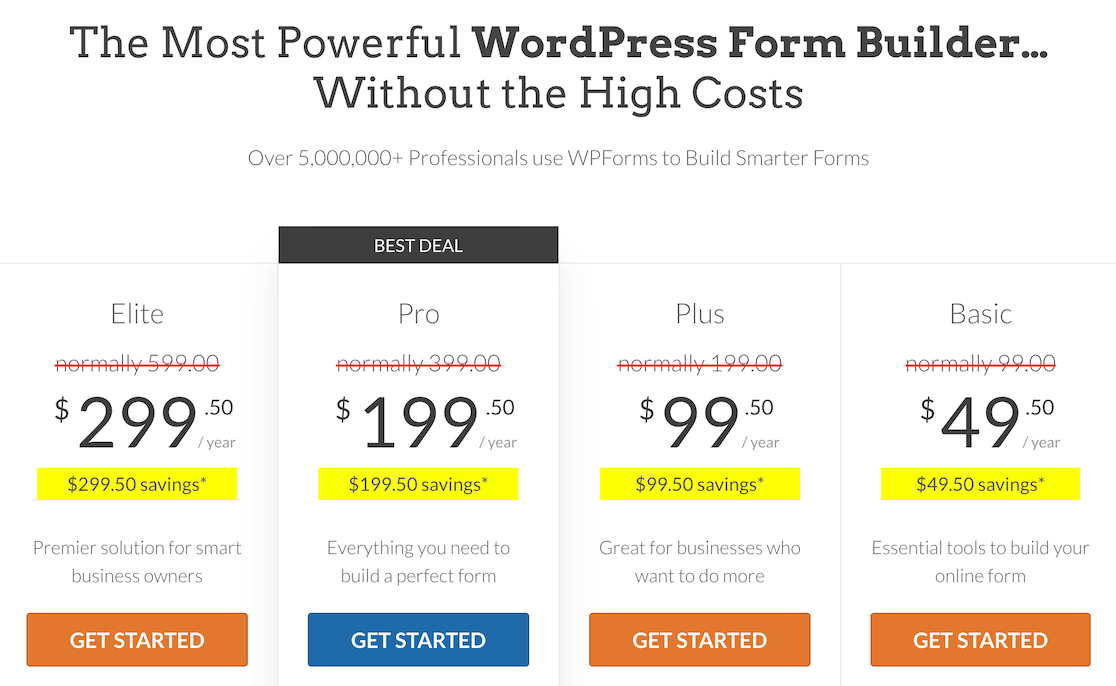 We took this screenshot during a sale. Click here to see if the discount is still available!
And that's it! Now let's see which one is the best form builder plugin for WordPress.
Caldera Forms vs Ninja Forms vs WPForms: Which One Is Best?
Considering the ease of use, form features, and pricing, WPForms is the best form builder for WordPress.
Here are some more reasons to validate our statement:
Also, WPForms offer a 14-day money-back guarantee so that you can use WPForms on your WordPress sites worry-free.

Next, Find an Alternative to Caldera Forms
That's it! Now you know all about the differences between Caldera Forms vs Ninja Forms vs WPForms.
If you're still looking for a new form builder plugin to replace Caldera Forms, check out our complete list of Caldera Forms alternatives.
Create Your WordPress Form Now
Ready to build your form? Get started today with the easiest WordPress form builder plugin. WPForms Pro includes powerful form features and pre-built form templates.
If this article helped you out, please follow us on Facebook and Twitter for more free WordPress tutorials and guides.