Do you want to start a monthly giving program online? If you receive donations on your website, then a monthly program is crucial for your organization's success.
A monthly giving program is a recurring donation system that allows donors to automatically donate a specific amount to their favorite organization on a monthly basis. And with WPForms, your organization can be the favorite one being donated to. All it takes is your website and a donation form. What's more? It's free to do with WPForms.
In this article, we'll show you how to (easily) start a monthly giving program in only 5 steps.
Why Should I Start a Monthly Giving Program?
Starting a monthly giving program online empowers individuals to make a lasting impact on causes they care about, while enjoying the convenience, engagement, and flexibility offered by digital platforms.
And by utilizing recurring payments—donations that come in monthly—you're reaping benefits for your organization, too.
Not only does a monthly donation program provide a consistent stream of income for your organization, but it will also foster a stronger connection between you and your donors. Plus, monthly giving programs allow donors to contribute smaller amounts that fit their budget, which will then compound over time to make a long-term impact.
How to Start A Monthly Giving Program (Easy Method)
Step 1: Get the WPForms Plugin
Since your monthly giving program is operating online, you'll need to get the WPForms plugin for your website.
You can download the plugin here at WPForms, or you can get to it with a quick search through the plugins page on your WordPress dashboard.
Make sure that your WPForms plugin is installed and activated.
Then, you'll see a new "WPForms" menu item in your WordPress dashboard. Click on it to access the WPForms plugin settings and start creating your form.
WPForms one of the best WordPress payment plugins for your monthly giving project as it integrates with many popular payment gateways. We'll show you how to integrate with the Stripe payment gateway later in this article.
Step 2: Create a Donation Form
Once you have the WPForms plugin, you can start building forms.
The great thing about this plugin is that you can either create your own form totally from scratch, or you can get a head start with one of 1063 templates offered in the WPForms gallery.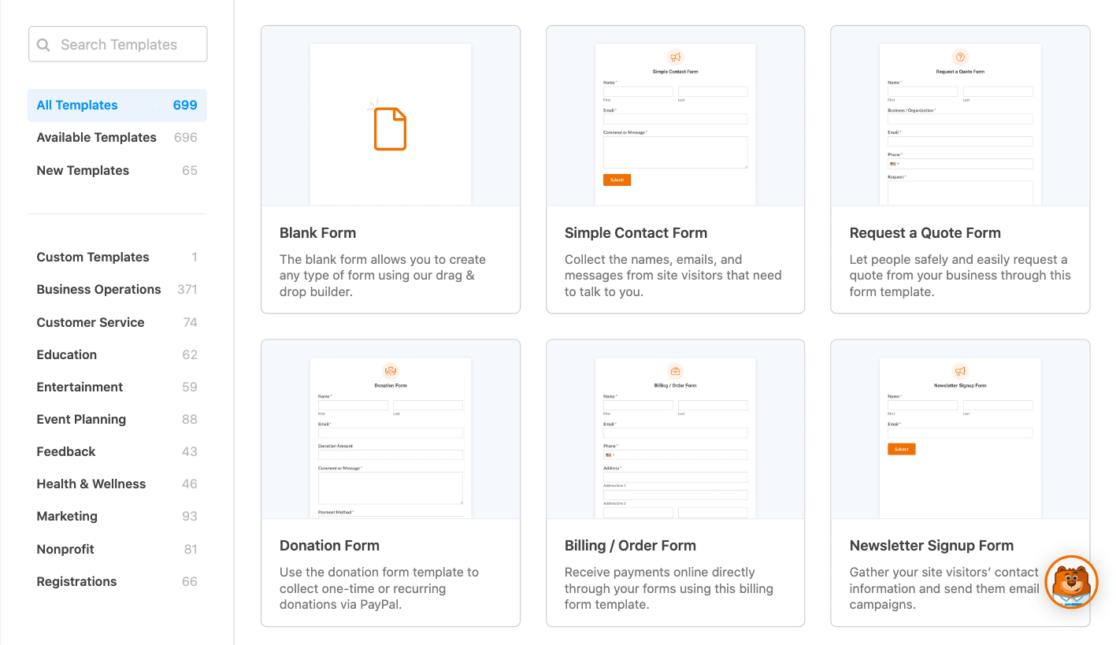 In fact, we'll use a template for the donation form now. Navigate to the templates gallery within the plugin and choose a donation form template to get started.
You'll simply enter "donation" in the search bar to locate a donation form template.
There are lots of donation templates available to choose from, ranging in style and content. For this tutorial, we're using the simple Donation Form.
When you see it, click on Create Form.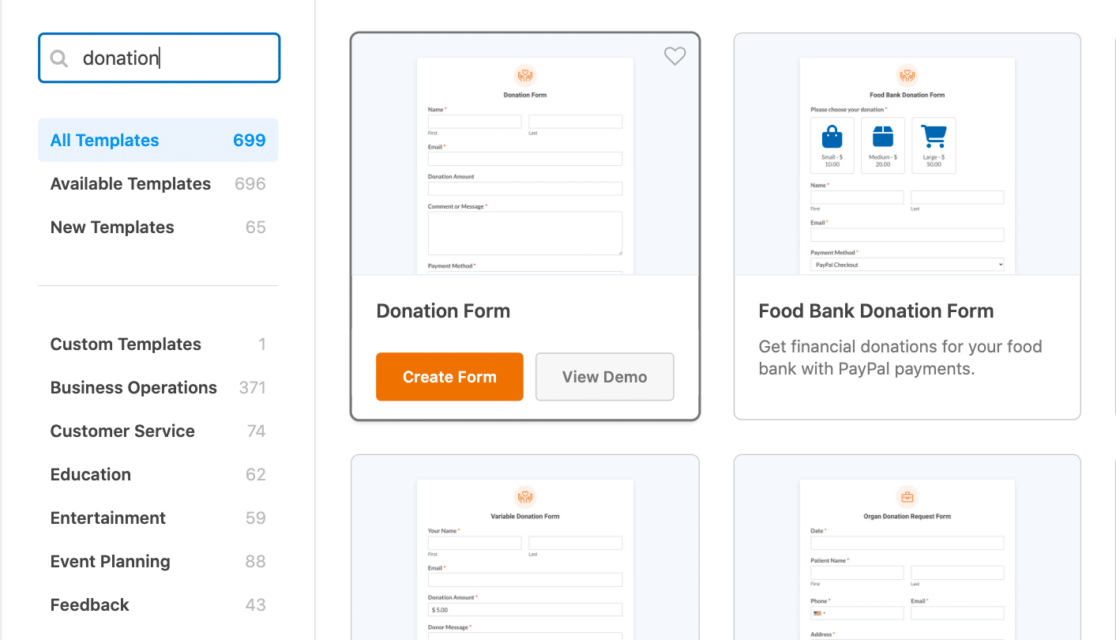 You'll now be taken to the form builder to edit and customize your newly created donation form.
Step 3: Add Form Fields
As you can see, this donation form template comes pre-made with the fields you need to get started creating a good donation form. It contains fields for the donor to enter their name, email, donation amount, and a comment or message.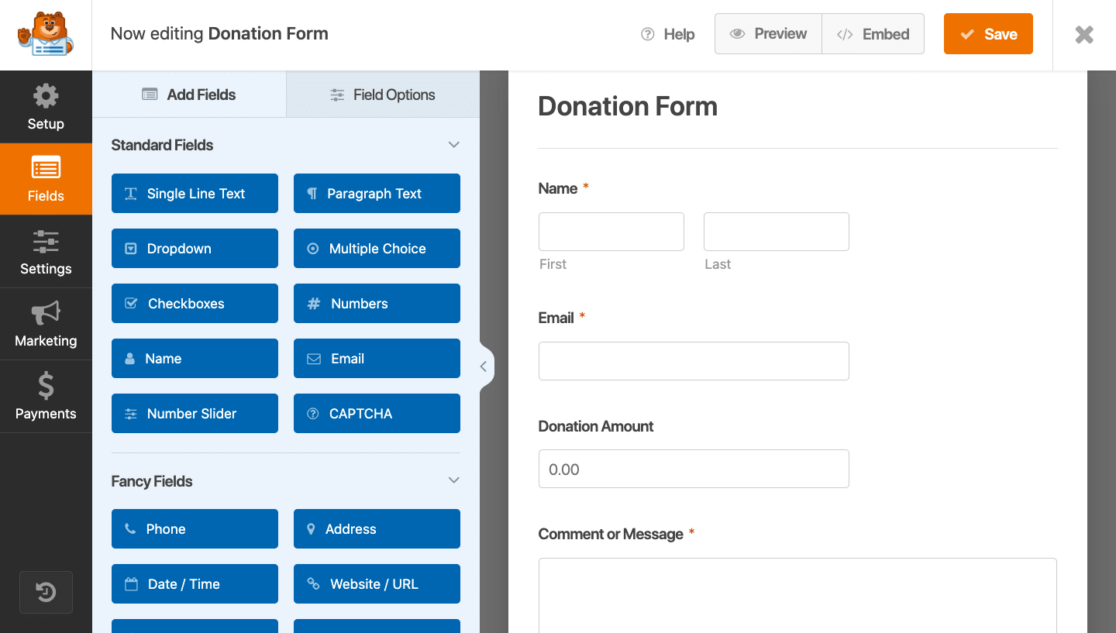 But, thanks to the easy and fun drag-and-drop form builder, you can further customize your form with just a few clicks.
If you wanted to add your nonprofit's logo or specific imaging to the form, for example, you can do so by dragging over the Content field and uploading your media.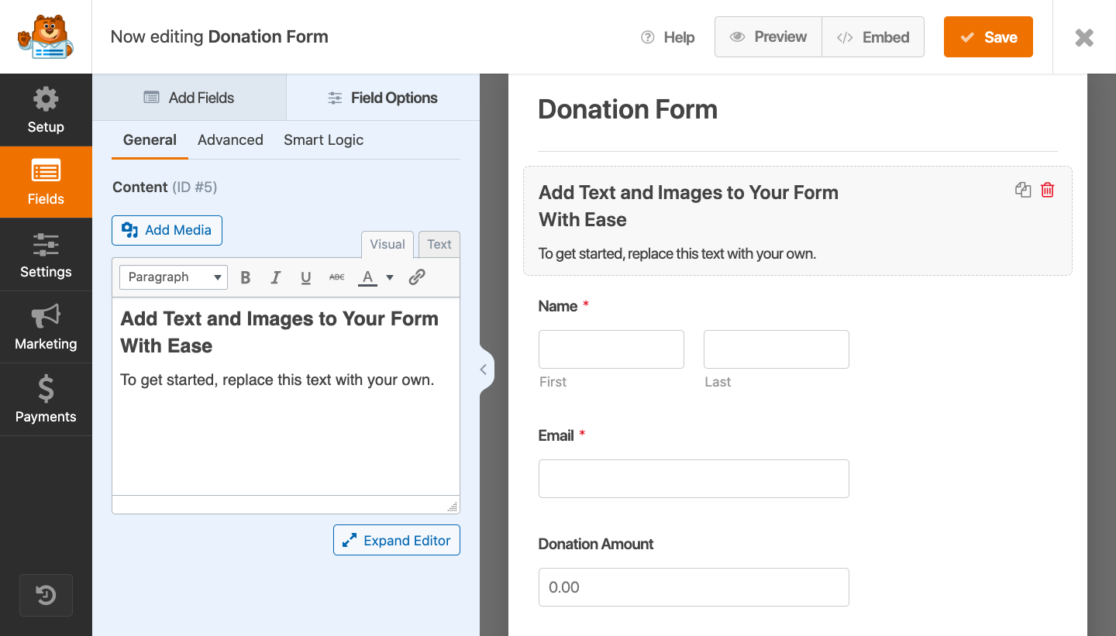 You can drag the Content field anywhere you want it on your form, to use multiple ways. Adding logos, media, instructional text—you can do it all quickly and easily with the form builder.
We should mention here that in order to use the Content field upload functionality, you'll need to have an upgraded license like Pro, Plus, or Elite. However, there are lots of customization options available for your donation form without a higher license.
For example, perhaps you'd like to add a question or preference selection that your form user will interact with by checking a box. Just drag-and-drop the Checkboxes field where you want it, click on it, and start editing your field!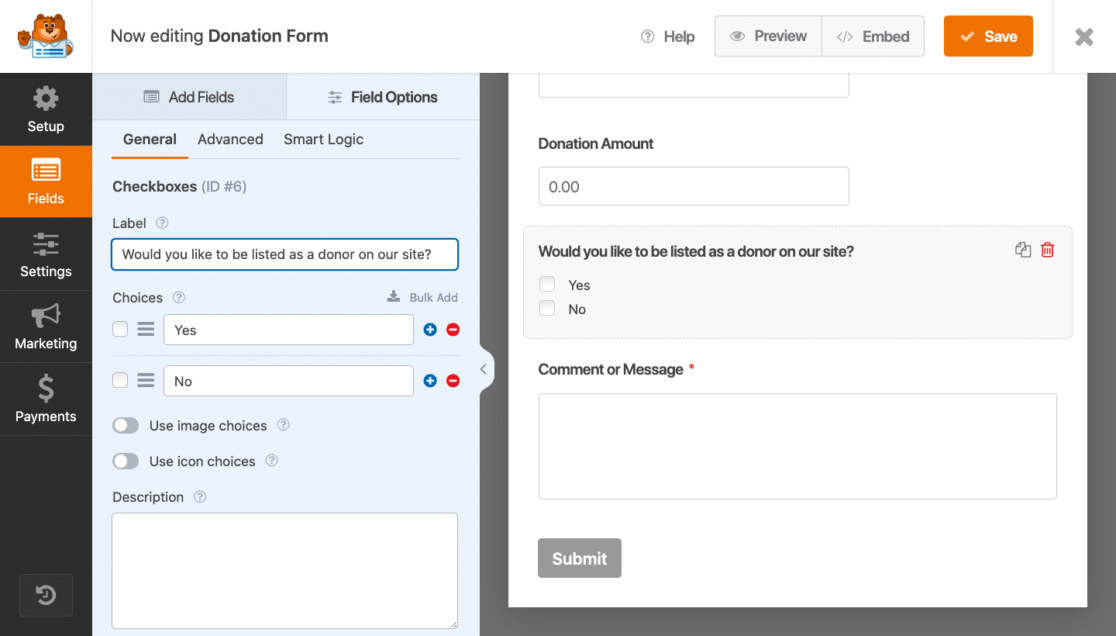 While there are many perks that come with an upgraded license, you can do a lot creatively with the Standard fields that come with a lower or free plan, like WPForms Lite.
That's the best part, actually! You don't need a Pro, Plus, or Elite plan to add a Payment field to your donation form—you can accept payments on your forms right away with WPForms Lite.
We'll customize your Stripe credit card payment options for your donation form in the next step.
Step 4: Set Up Stripe Payment Options
Now, it's time to set up the payment option for your donation form. Since the Stripe Credit Card option is available for Lite users, go ahead and use it. And for Pro and Elite users of WPForms, be sure to install the Stripe Pro addon to access additional features.
To set up your Stripe payment options, first, navigate to WPForms » Settings in the left side menu of your WordPress dashboard. From here, click on the Payments tab.
Don't forget to change the Currency selection here too, if you need.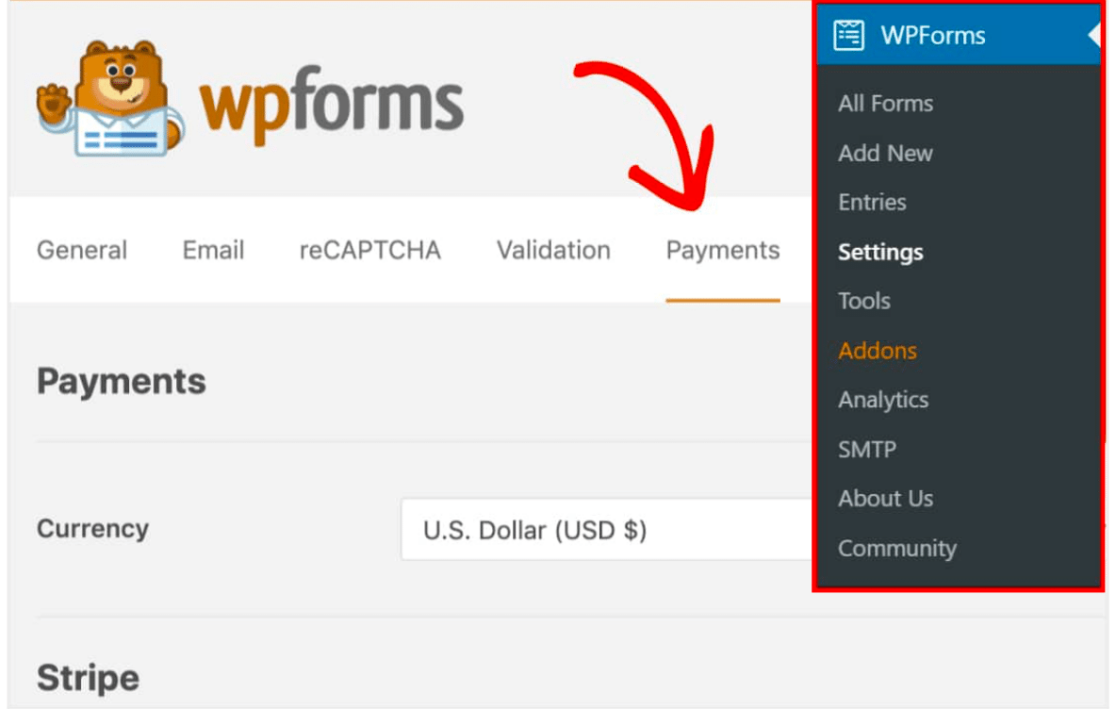 Then, scroll down to the Stripe section and click the blue Connect with Stripe button.

You'll then be asked to authorize the connection between your forms and Stripe.
Keep in mind that what you see on this page will depend on whether or not your Stripe account is already activated. If you don't have an account yet, you'll need to set it up now.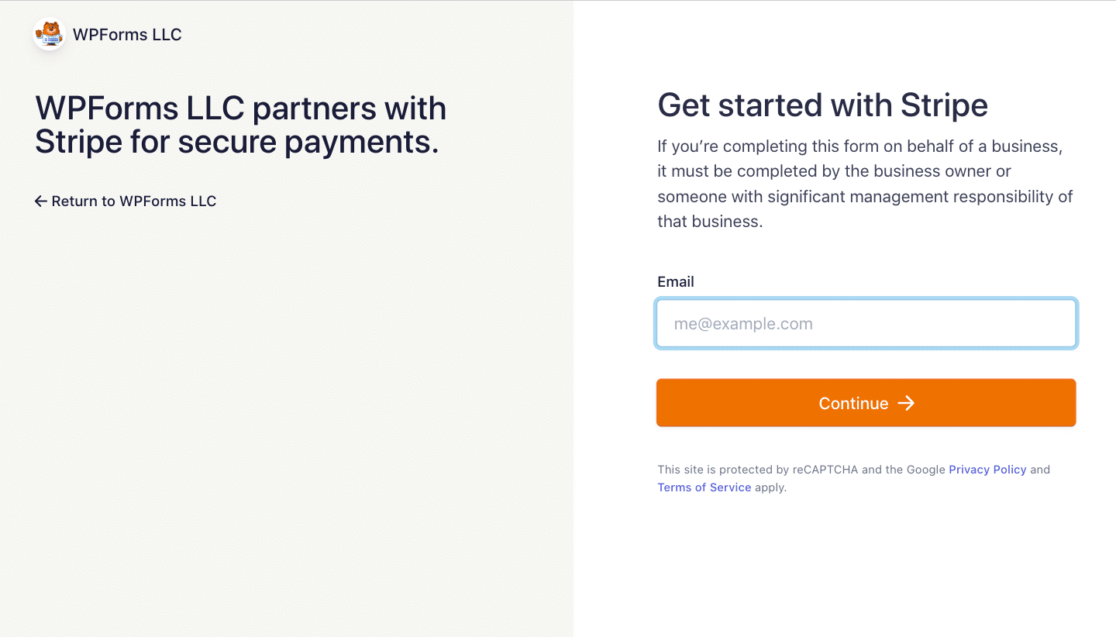 Then, you'll be redirected back to your WordPress admin area.
The Connection Status should have a green checkmark confirming the connection is secure and that you're now able to accept payments with Stripe.

Now you're able to add and enable the Stripe payment option on your donation form.
Step 5: Add Stripe to Your Form
Back in the form builder, go ahead and select the Stripe Credit Card field and drop it where you want it, probably at the bottom of the form.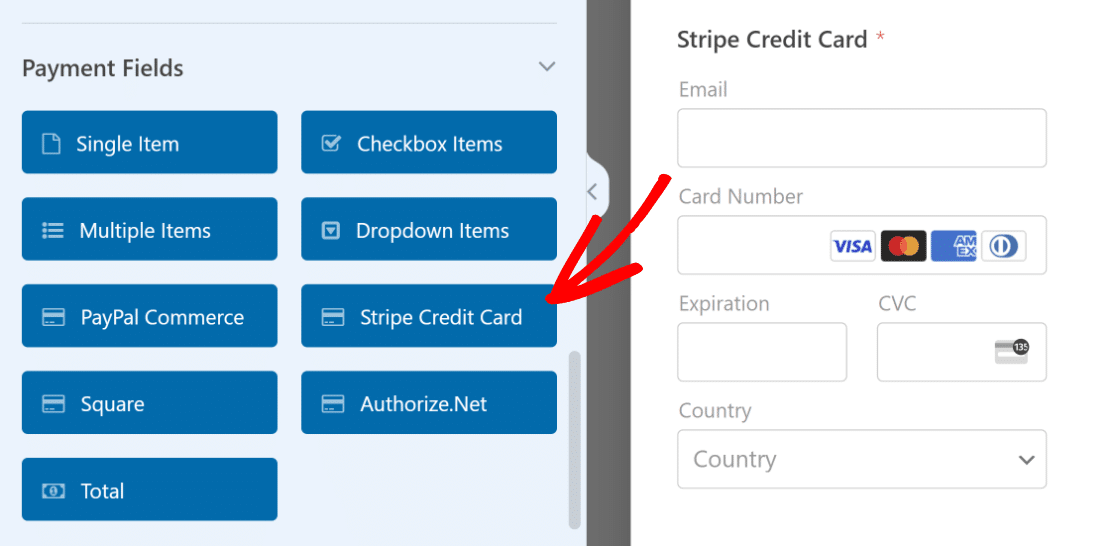 Keep in mind that in order for your donation form to work with Stripe, you'll need at least one items field (Single Item, Multiple Items, Checkbox Items, or Dropdown Items) from the Payment Fields on your form.
Once your donation form is ready with all of the fields you'd like, go to Payments » Stripe. Then from the Stripe panel, toggle the option labeled Enable Stripe payments.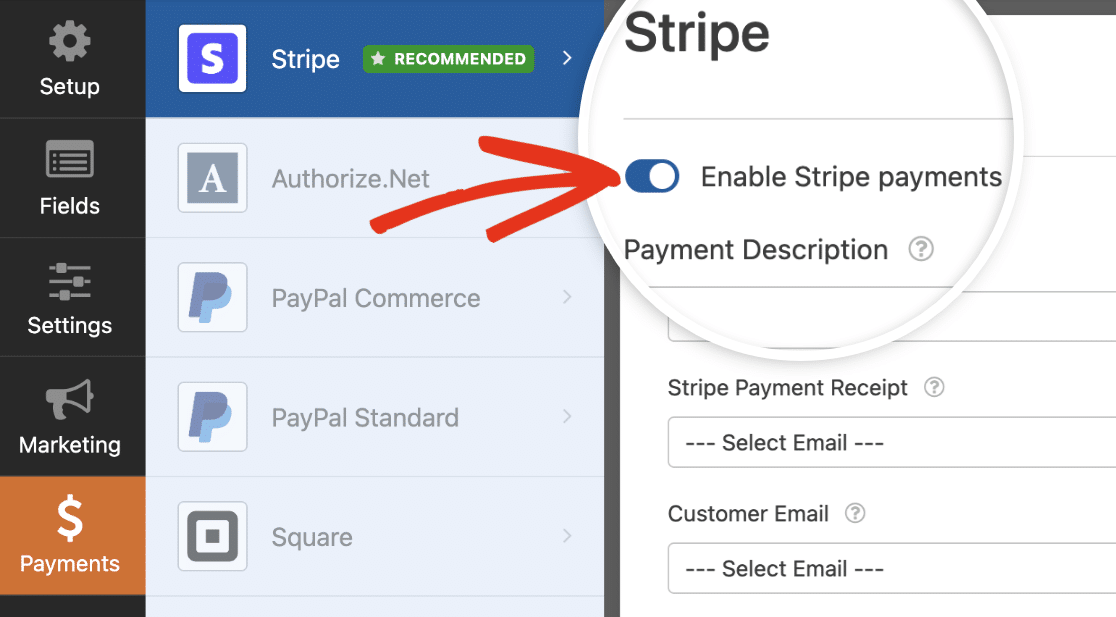 You're able to enter a short Payment Description here too, which will appear on the donor's bank or card statement.
Then, under Stripe Payment Receipt you can choose an Email field where Stripe can send a receipt.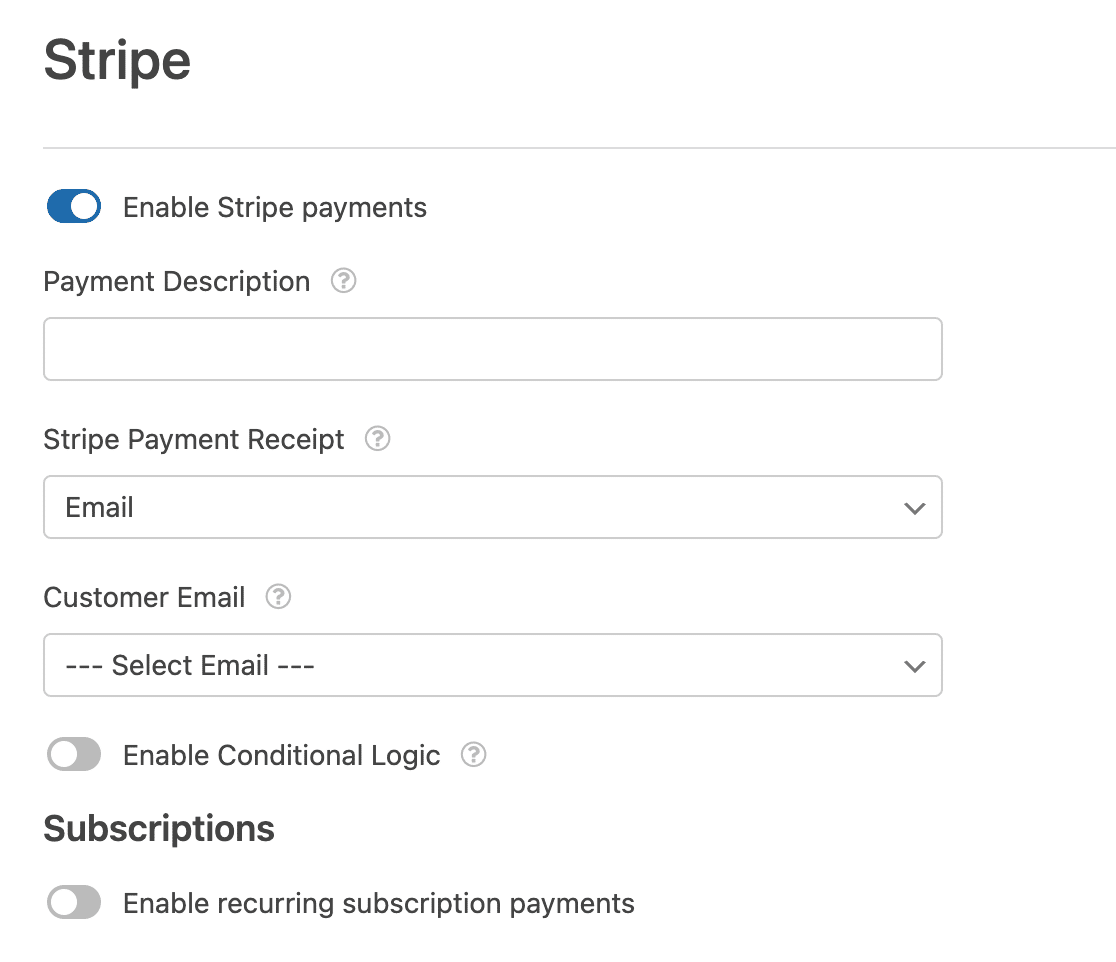 If you were accepting a one-time donation, you could be done here. But, since you're creating a monthly giving program, you'll need to set recurring payments. This part is the key to having a successful monthly giving program.
Toggle the option that says Enable recurring subscription payments.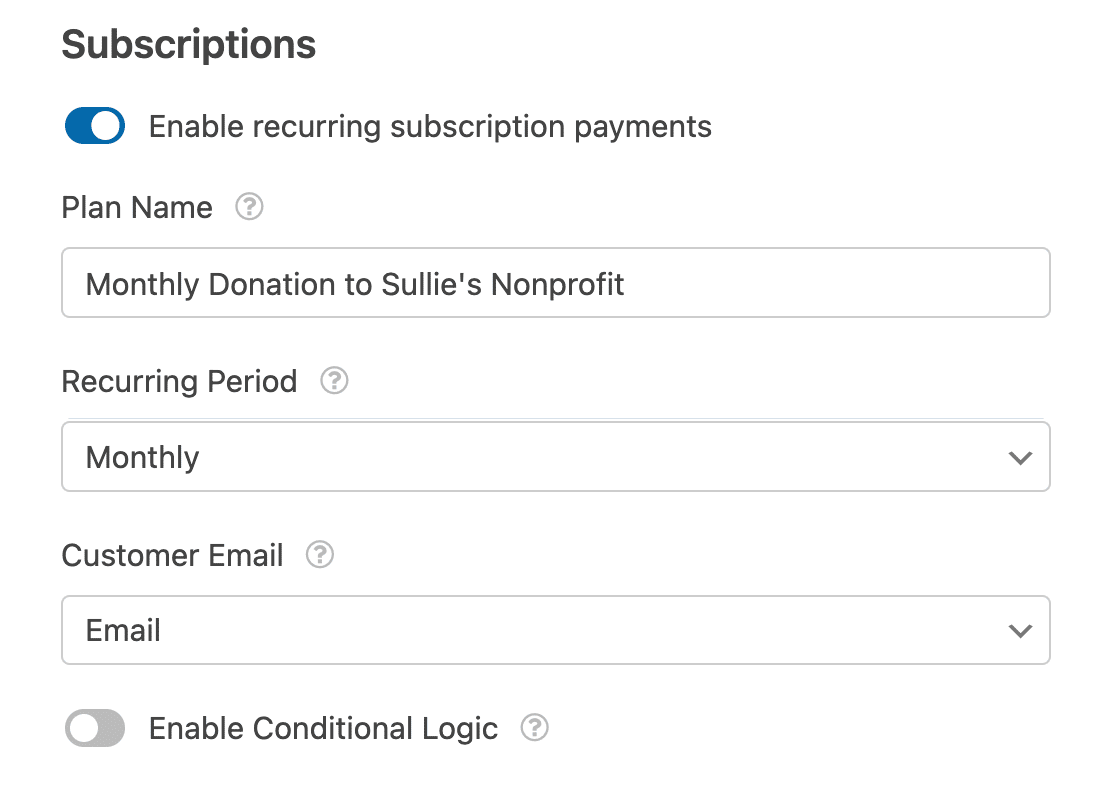 Now, you'll need to complete the following settings that have appeared.
Plan Name: Enter a title for the subscription that your donors will see. This will appear within the Stripe transaction.
Recurring Period: You can choose how often the recurring payments should occur: Daily, Weekly, Monthly, Quarterly, Semi-Yearly, or Yearly. This is where you will choose the Monthly option for your giving program.
Customer Email: Within this dropdown, select an Email field from your form where the customer can be contacted.
And that's it! The donation form is all set for you to put on your website and start receiving donations from your donors. And if you'd like to inspire donors to give a desired amount, check out our tips for setting suggested amounts.
But before officially launching your monthly giving program, we recommend testing Stripe payments. Then, all that's left for you to do is promote your program and point donors in the right direction.
Next, Create a Donation Page That Inspires
Now that you know the basics of creating a donation form for your monthly giving program, it's time to style your donation page in a way that makes it irresistible to donors.
Take a look at our extensive list of donation page examples for ideas and inspiration to apply to your own donation page.
Ready to build your form? Get started today with the easiest WordPress form builder plugin. WPForms Pro includes lots of free templates and offers a 14-day money-back guarantee.
If this article helped you out, please follow us on Facebook and Twitter for more free WordPress tutorials and guides.