Do you want to compare Forminator vs. WPForms for your WordPress website?
Choosing the best form plugin can be tricky, but the right decision can play a huge role in helping you increase leads and create a good user experience. You want something that's feature-rich and user-friendly.
In this article, we'll look at two popular form builders – Forminator vs. WPForms. We'll compare them in terms of their features and ease of use to determine which is the best for your site.
Create Your WordPress Form Now
Does WordPress Have a Form Builder?
WordPress is one of the most popular blogging platforms and content management systems, but it doesn't have a native form builder.
Forms are good to have on your website, whether they're simple contact forms, email signups, registration forms, or payment forms. To add them, you'll need to install a WordPress form builder plugin.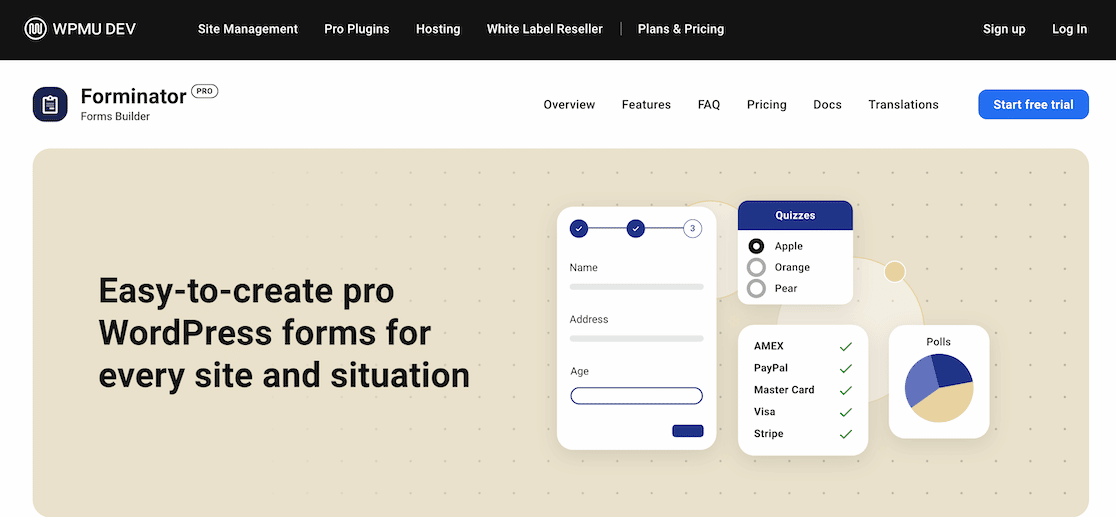 These types of plugins let you build forms and embed them into emails, posts, pages, and widgets on your site.
Forminator and WPForms are both WordPress form plugins. Both have user-friendly drag and drop interfaces. Plus, both offer a free version as well as paid options.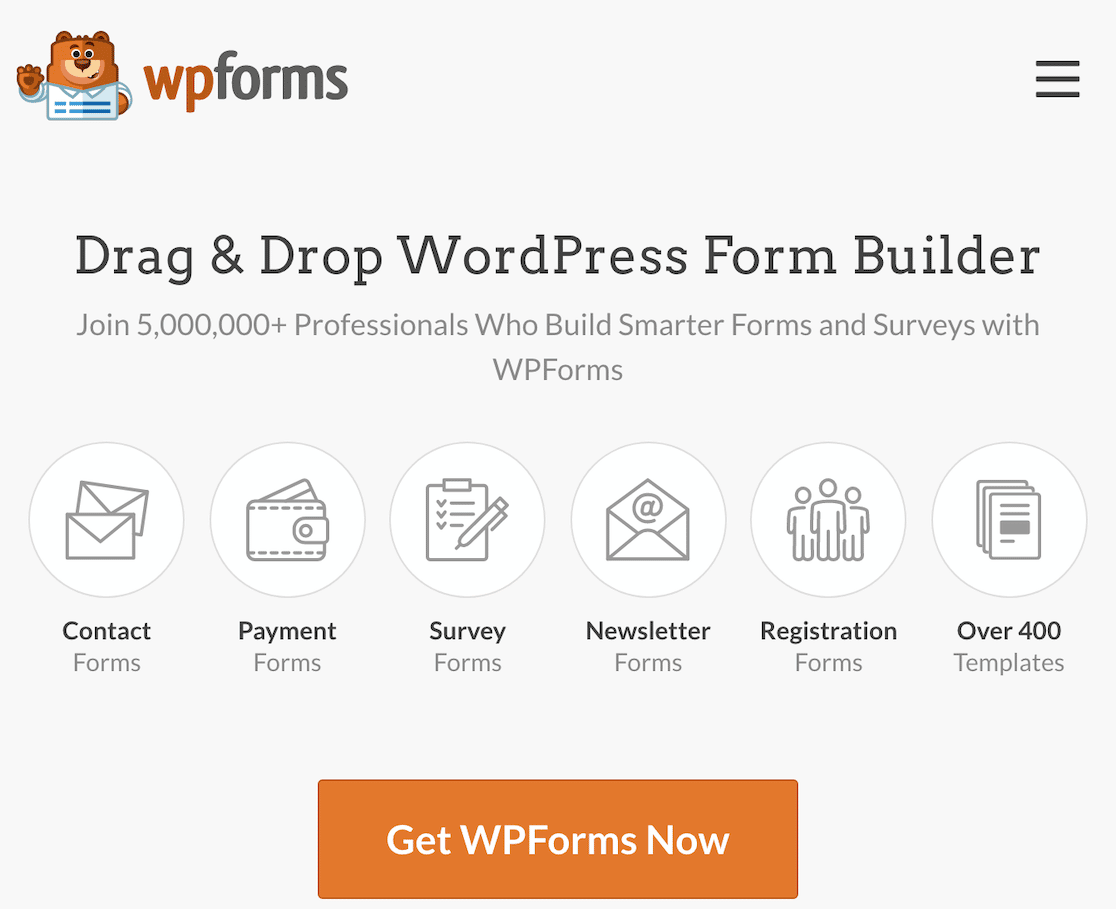 Next, we're going to take a look at both plugins to see which features they include and how easy they are to use.
Forminator vs. WPForms: Form Builders Compared
First, we'll walk through getting started with each plugin to determine which is easiest to set up. Then we'll look at some of the features each plugin has to create forms and polls. We'll finish up by looking at overall ease of use.
Forminator vs. WPForms: Getting Started
Let's see how easy it is to get started with Forminator vs. WPForms, so we can compare which option offers better ease of use.
Forminator
After installing the Forminator plugin, you can open the form builder and create a new form.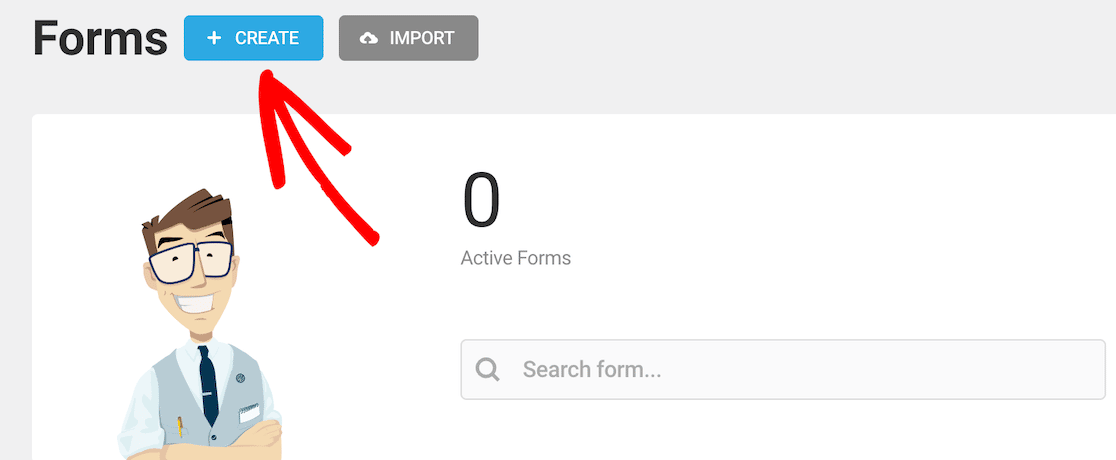 After that, you'll see template options. As of this writing, there are 6 template options in the free account. You can also start from scratch using the blank form.
If we want to create a quick and easy contact form, we can select that template.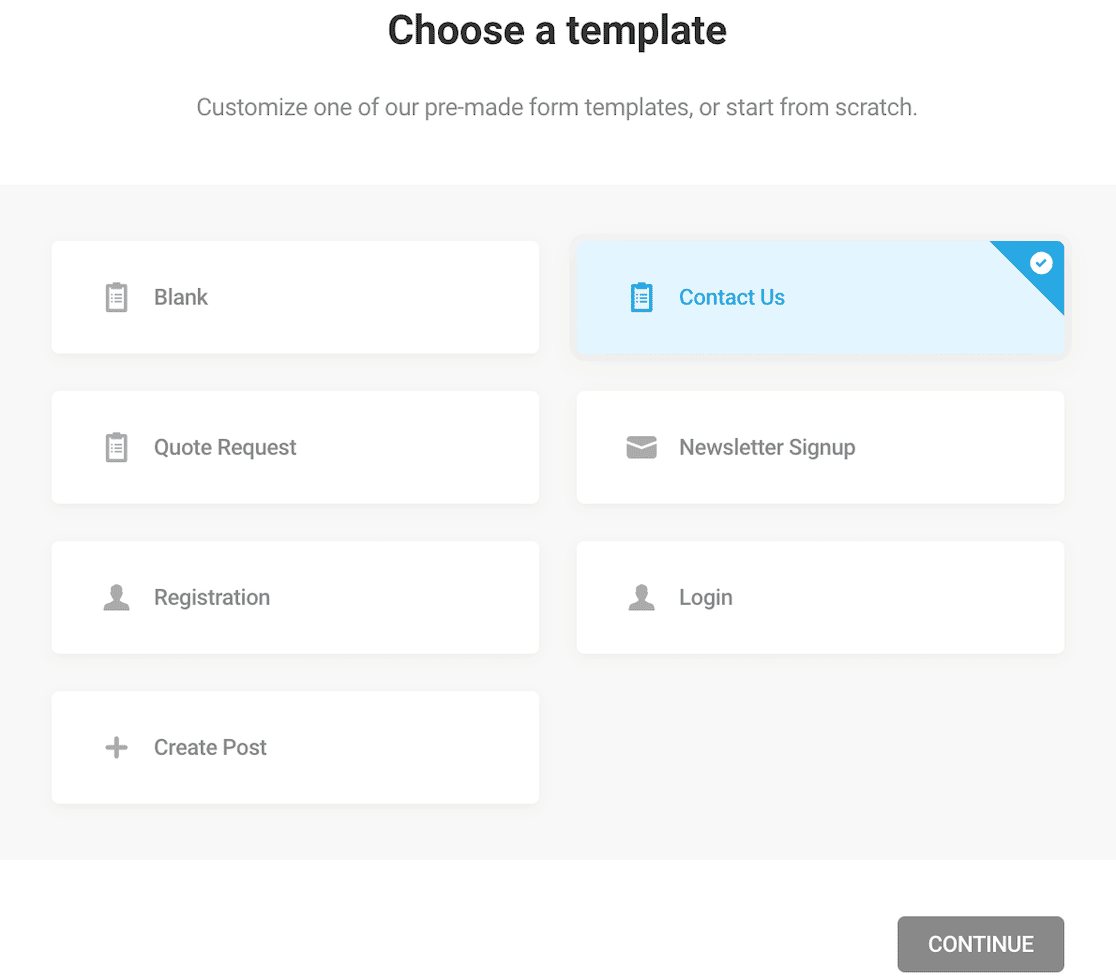 The template includes required first name and email address fields. It also includes optional phone number and message fields. You can customize these if you like.
To remove fields, click on the gear icon in the field you want to remove and you can delete it there.
Similarly, you can add fields by clicking on the Insert Fields button, and you'll see a menu of fields you can add.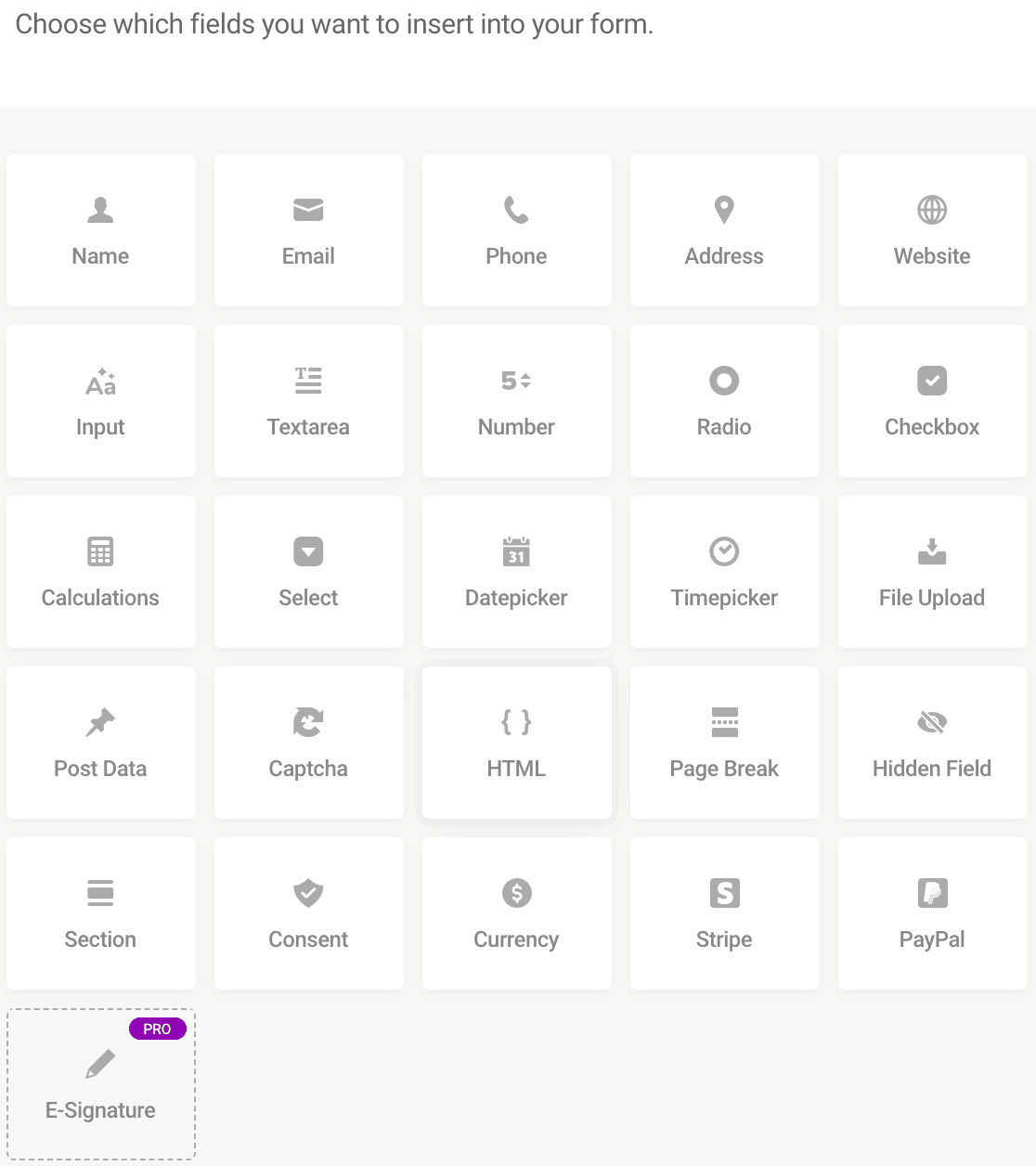 Note that if you want to add multiples of the same field for any reason, you have to add the first one, then click out of the field editor, go back in, click it a second time, and so on.
You'll see that Forminator is more of a "click-and-pick" system. You click on all of the fields you want all at one time. After you confirm them, they appear in a stacked column. That lets you know what fields are there but doesn't allow you to really know what the form will look like without previewing.
Once your fields are in place, don't forget to check the form's email settings to make sure you'll receive notification of form submissions if you want them.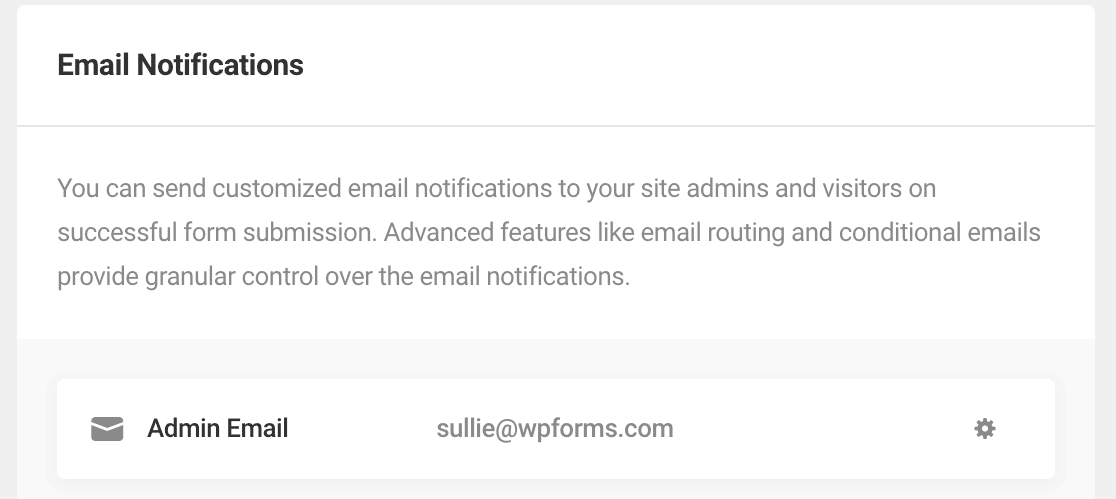 Once you're happy with your form fields, you can click publish.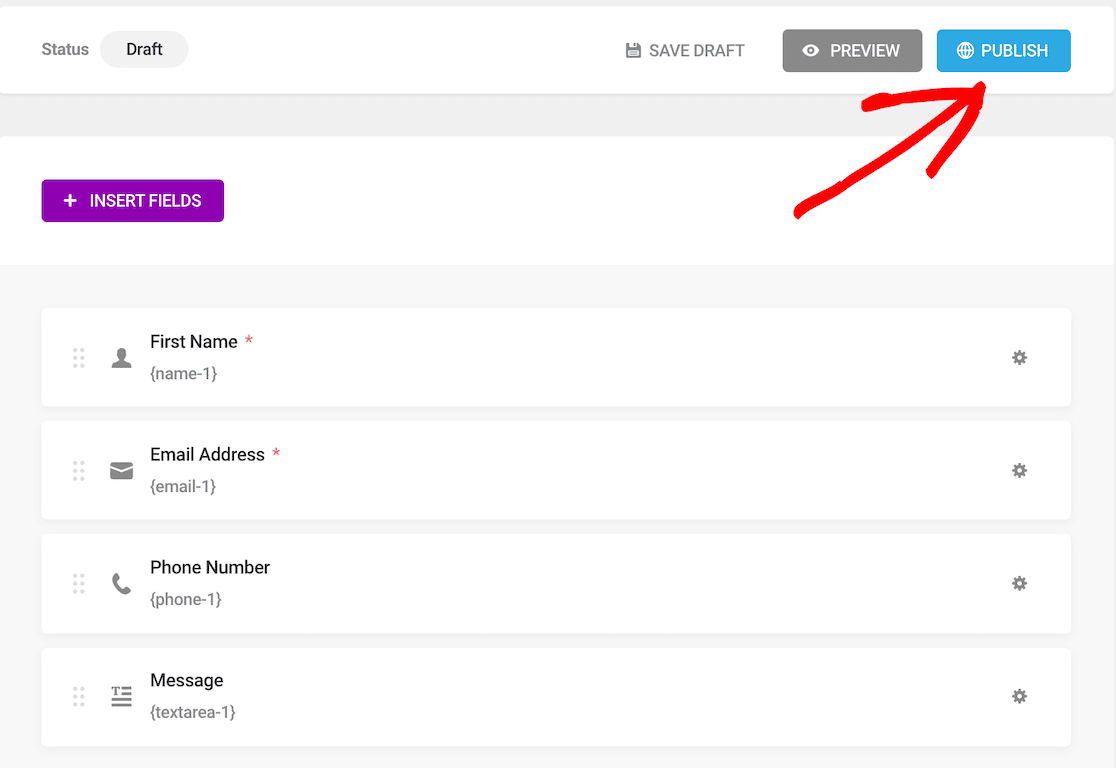 The form is now published, but not on your website. It's only live in the Forminator plugin itself and must be embedded somewhere before anyone can use it.
You should see a message with the shortcode that you can copy and paste wherever you want the form to appear on your site.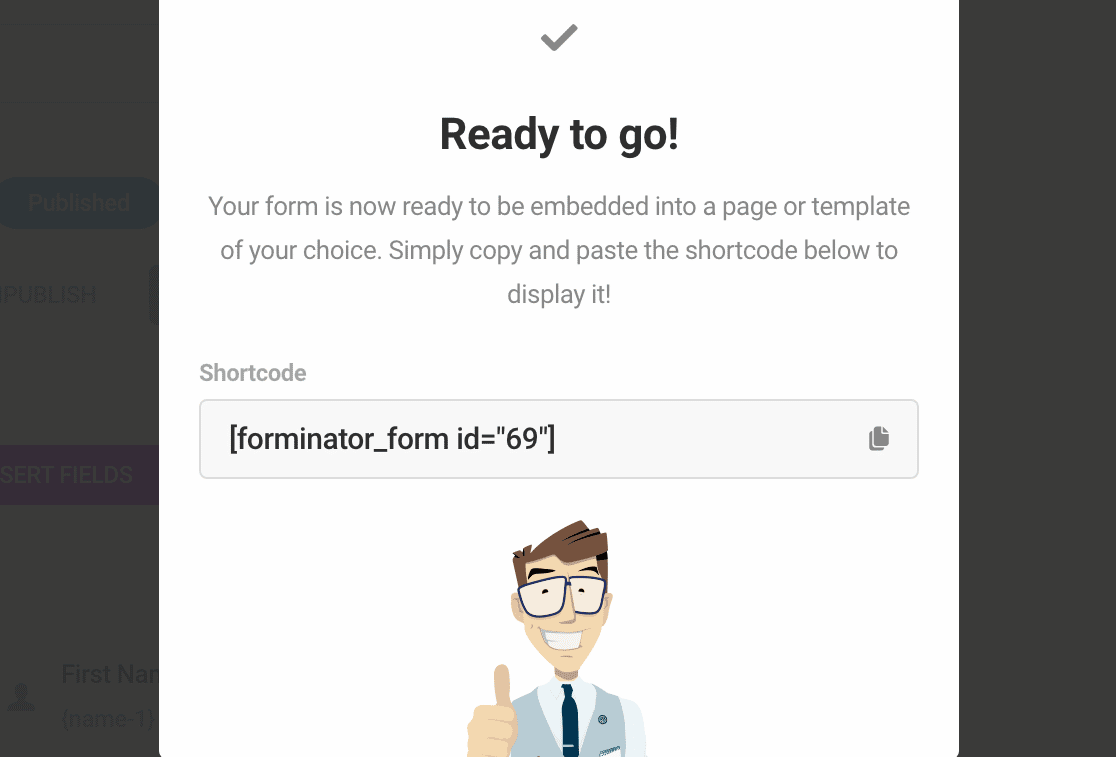 After grabbing that shortcode, either create or go to the post or page builder where you want to embed the form.
Paste the shortcode. The form will appear, and then you can hit publish on the page. You're ready to receive messages.
WPForms
Now let's go through that same process with WPForms.
Getting started with WPForms is even easier. The first time you want to create a form with WPForms, it will show you a challenge that works like a great interactive tutorial.
Take the WPForms Challenge and a full wizard will show you around while helping you build your first form in less than 5 minutes.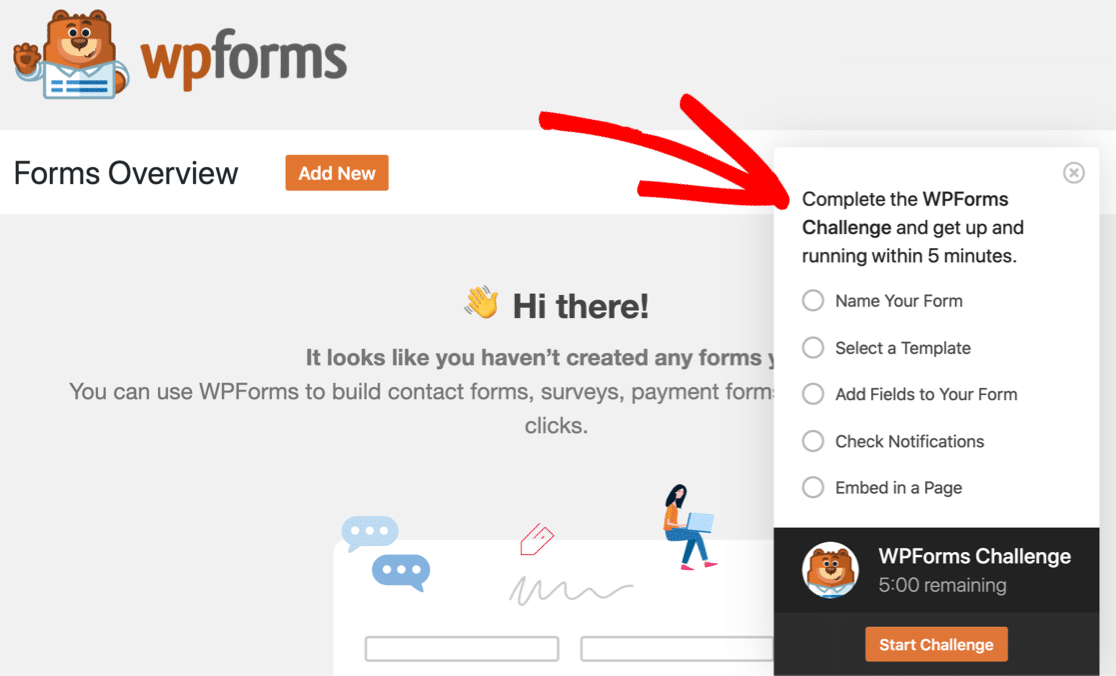 Whether you decide to take the WPForms Challenge or not, the setup process is just as easy. If you decide to create a form without taking the challenge, open the WPForms plugin and click on the button to add a new form.

You'll see a range of template options, more than 20 of which are available for free. Since we're just looking to create a simple contact form, that's what we'll select.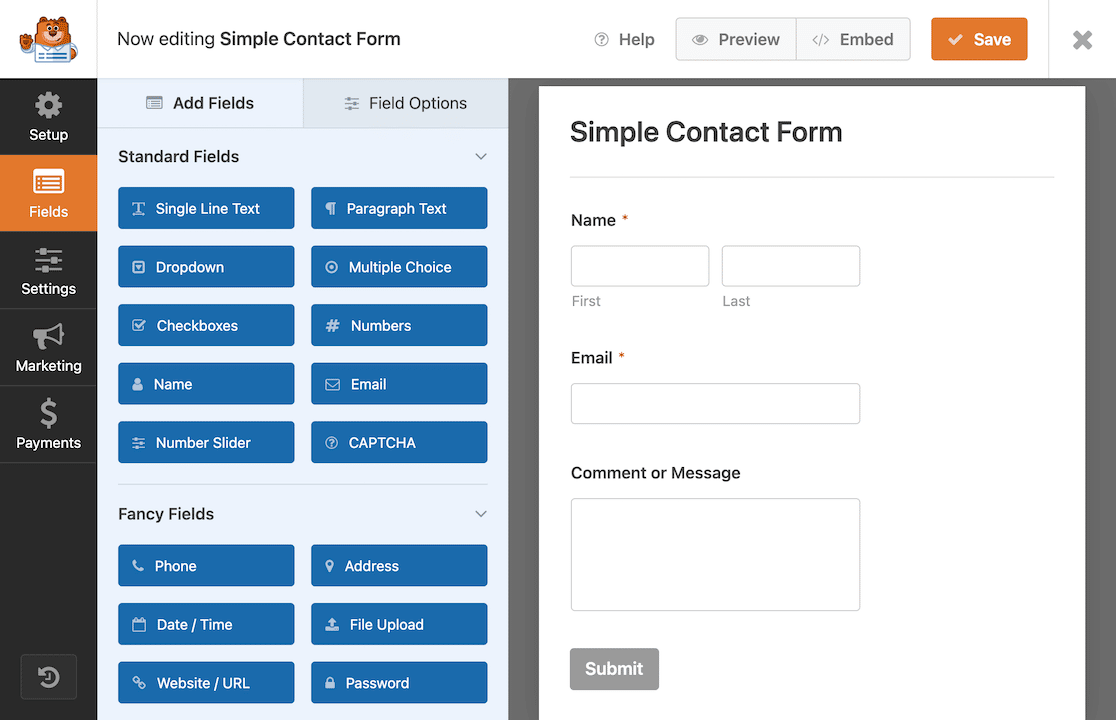 Within the form builder, you can see exactly what the form will look like when it's published. The drag and drop form builder makes it easy to drop other fields in if you want them or remove or reorder any existing fields in the template.
And that's it. The form is complete. Before we publish this, let's click over to the form settings quickly to be sure our email notifications are set up properly for when we have form entries.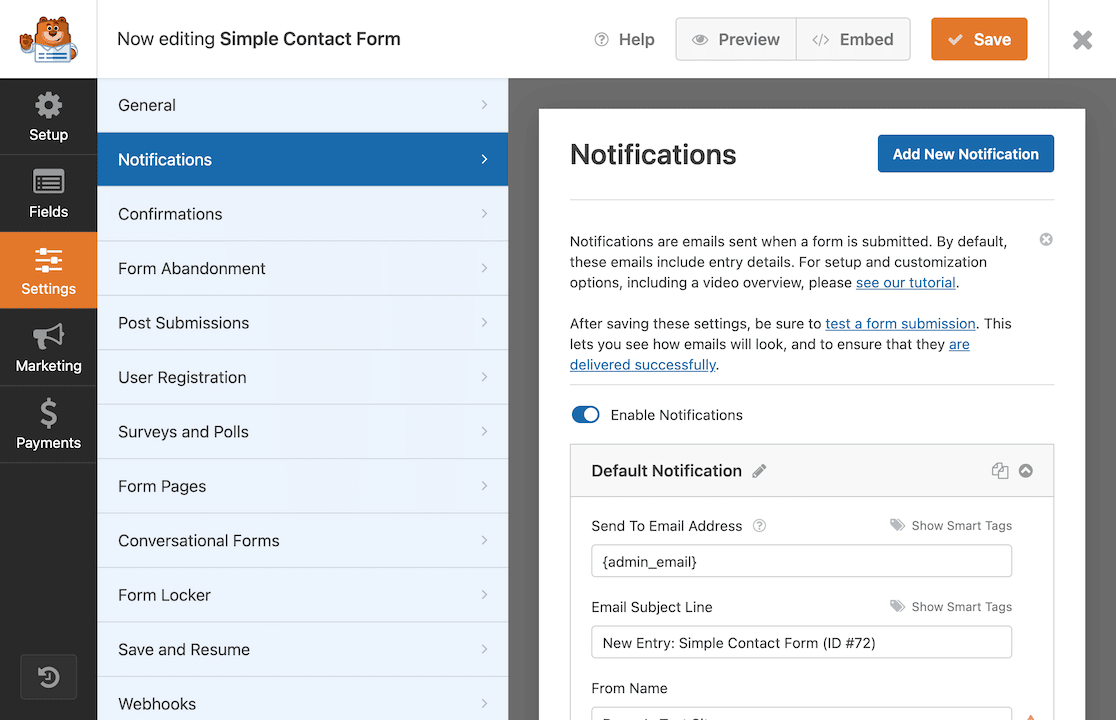 If everything looks good, you're ready to embed your form!
An excellent feature that WPForms has is the ability to embed the form right from the form builder. Of course, you can do it in other ways, such as using a shortcode or a widget. The embed feature just makes this lightning fast.
Click the embed button at the top.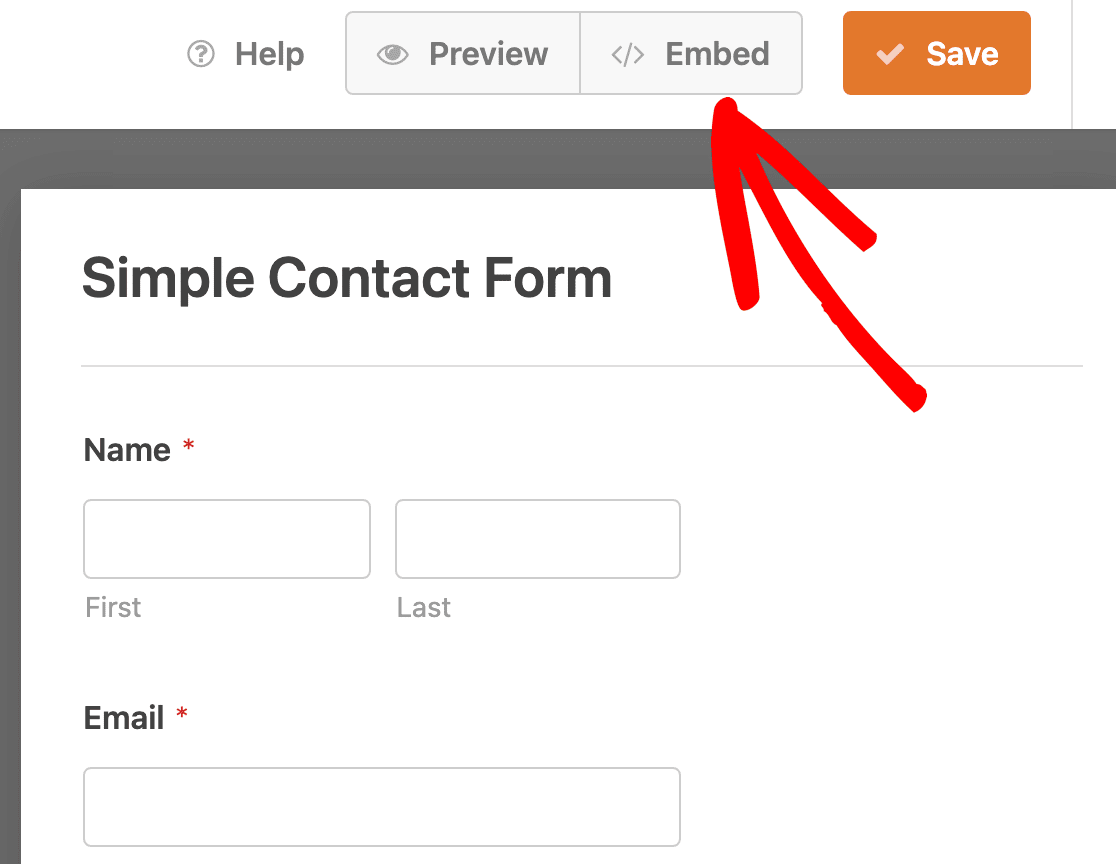 WPForms gives you the option to embed your form in an existing page or in a new one. If you choose to embed the form in a new page, a message prompts you to name your page.
This is great if you're truly just getting started and want to create the page that will house your form. If you want to embed the form manually or use a shortcode, those links are available to you as well.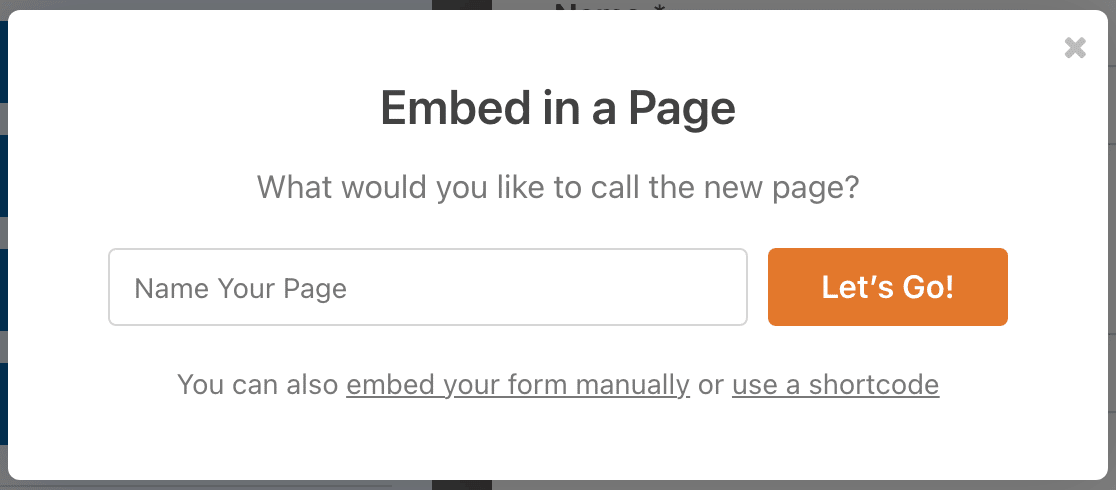 In this case, you can name the page something like Contact or Contact Us! Click on the Let's Go button and the page will load with the form already embedded.
You can hit publish and then you're ready to receive contact information from site visitors.
Overall, the WPForms user interface is better and easier to use than Forminator. The ability to drag and drop your form fields and see what your form will look like right away makes it more user-friendly than Forminator.
Forminator vs. WPForms: Features
Let's take a look at some of the key features in these form builders to see how they measure up.
Conditional Logic
Both plugins have options for including conditional logic.
In Forminator, you add a field. Let's say you use checkboxes. A modal window opens so you can add your selection options, and your last option is "other."
You close out of that modal window and click to add another field. This time, to go with the "other" field, we'll use a text field and apply conditional logic.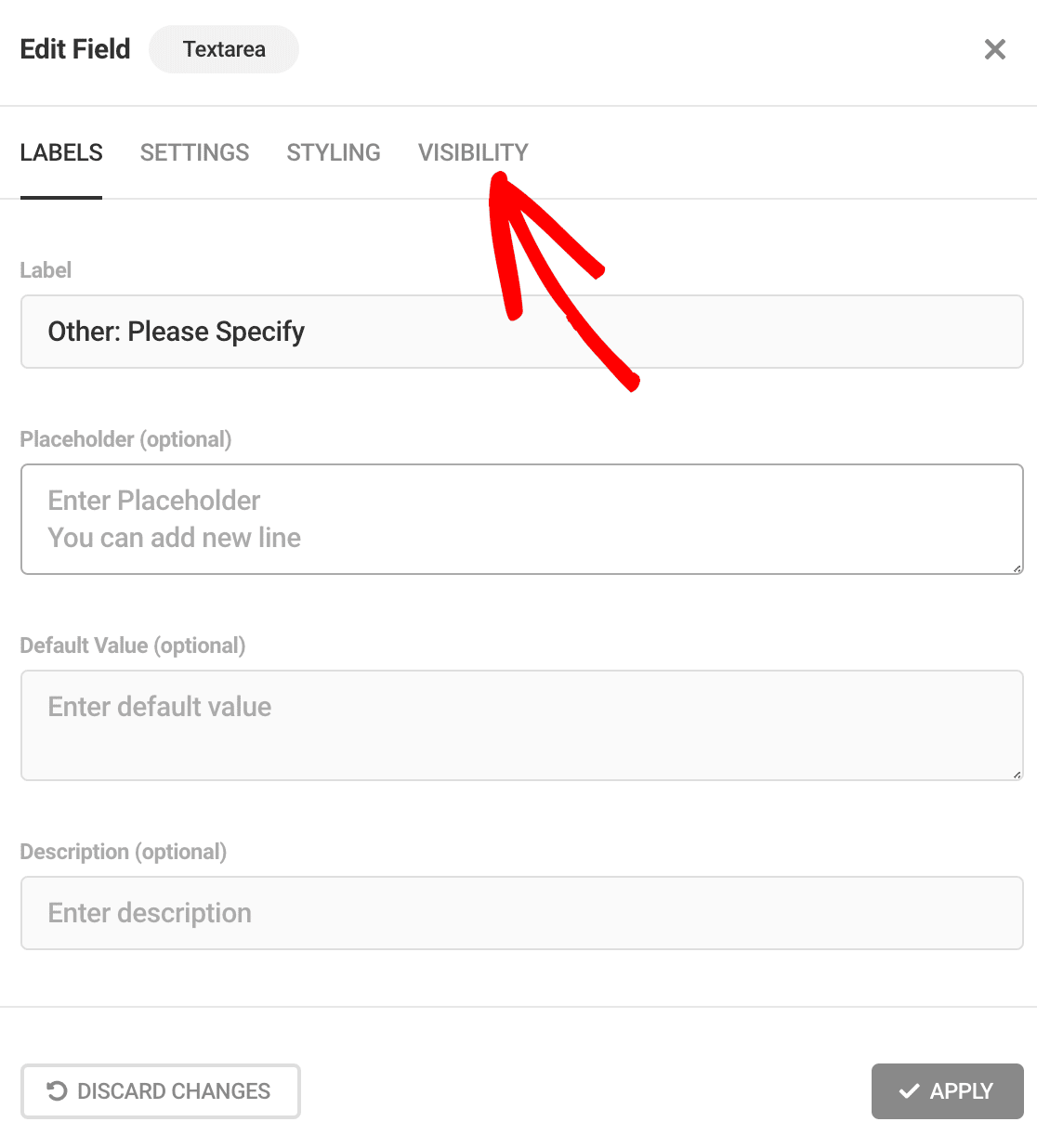 After you've entered the text you want to appear on your text box, you have to click on the Visibility tab.
Then you need to set up rules.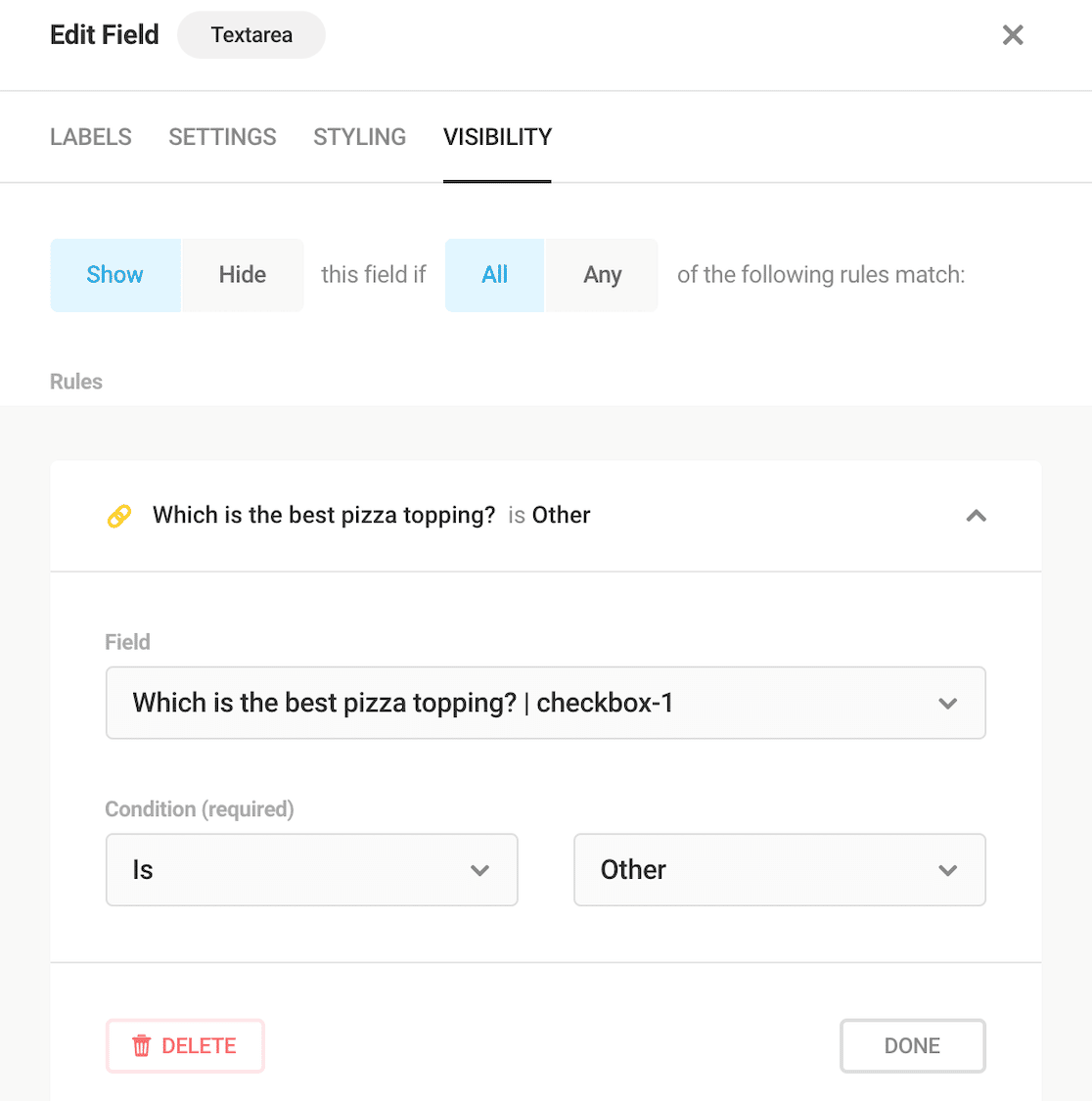 Forminator's modal window, while visually appealing, actually slow the process down by requiring users to click in and out of every individual field. This isn't a big deal when you only need to set up conditional logic on one or two questions, but if you have a complex form with a lot of conditional logic, this will slow you down considerably.
WPForms is faster to apply conditional logic rules because it reduces the amount of clicking around that you have to do. All of your fields are visible as you're editing.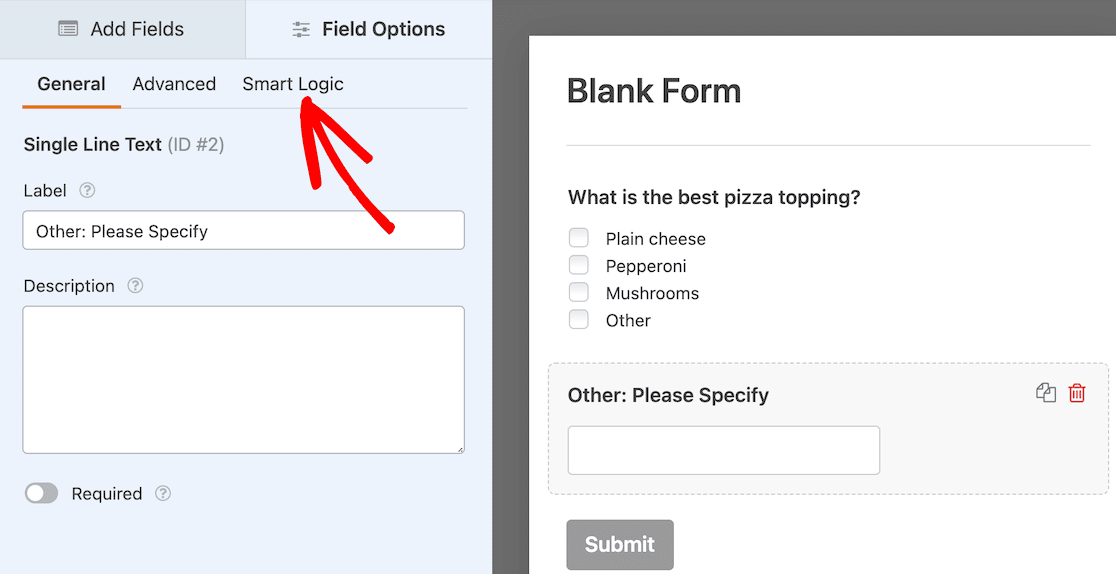 You can apply advanced formatting and conditional logic while also being able to see the form you're editing. To turn on conditional logic, click the Smart Logic tab.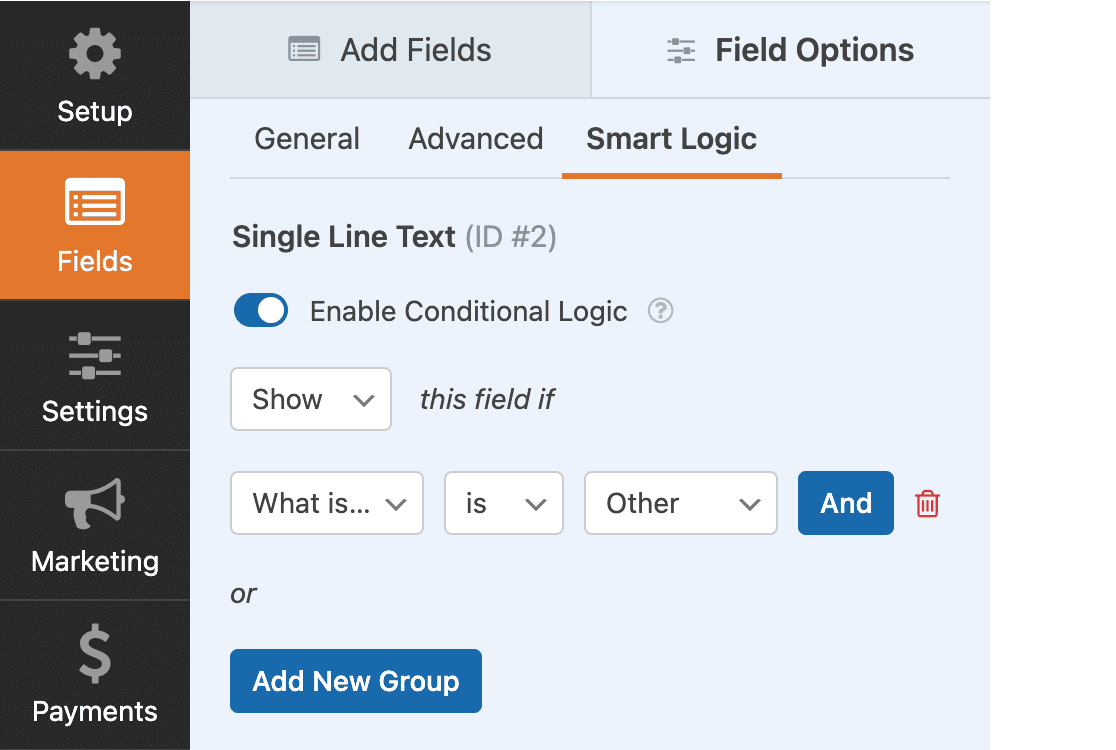 After setting the toggle switch to Enable Conditional Logic, you can quickly and easily click to set up your rules.
It's done in seconds.
In WPForms, each field you click is already displayed, so you don't have to close one modal window to open another as you do in Forminator. For this reason, setting up conditional logic in WPForms is faster and easier than it is with Forminator.
CSS Customization
Both plugins allow the user to customize using their own CSS to match their WordPress site.
File Upload
WPForms and Forminator both come with file upload fields so respondents can submit documents if need be. This is useful for job or scholarship application forms.
Spam Protection

WPForms and Forminator offer similar spam protection. Both offer hCaptcha, as well as reCAPTCHA v2 checkbox, v2 invisible, and v3. If you have the Akismet plugin installed, it will also integrate with both plugins. Forminator will also work with Honeypot.
A major difference is that WPForms also has an option for a Custom Captcha. This allows users to set up their own security questions or simple math problems to check that the form submission is coming from a human and not a bot. It's a big plus in the WPForms column.
Payment Options
With Forminator, you can use PayPal for one-off payments, or you can connect Stripe for recurring payments.
WPForms offers several options for your payment forms:
The Stripe integration is available for all users (both free and paid), so you don't need the addon to enable it. The addon only allows you to apply conditional logic to your Stripe payment field, which is a really handy feature for Pro and above users.
WPForms offers a lot more flexibility than Forminator when it comes to payment options. Connecting WPForms with your payment gateway is easy and straightforward. Plus, the fact that you can use PayPal Commerce to offer both credit card and PayPal checkout options is a really powerful advantage with WPForms.
Form Templates
Forminator and WPForms both offer templates to help users get started quickly.
At the time of this writing, Forminator has 6 free templates available, in addition to the blank form. Their site says the Pro version includes expert, pre-made templates, but doesn't say how many or share any examples.
WPForms has more than 20 free templates and more than 400 templates that come with paid licenses.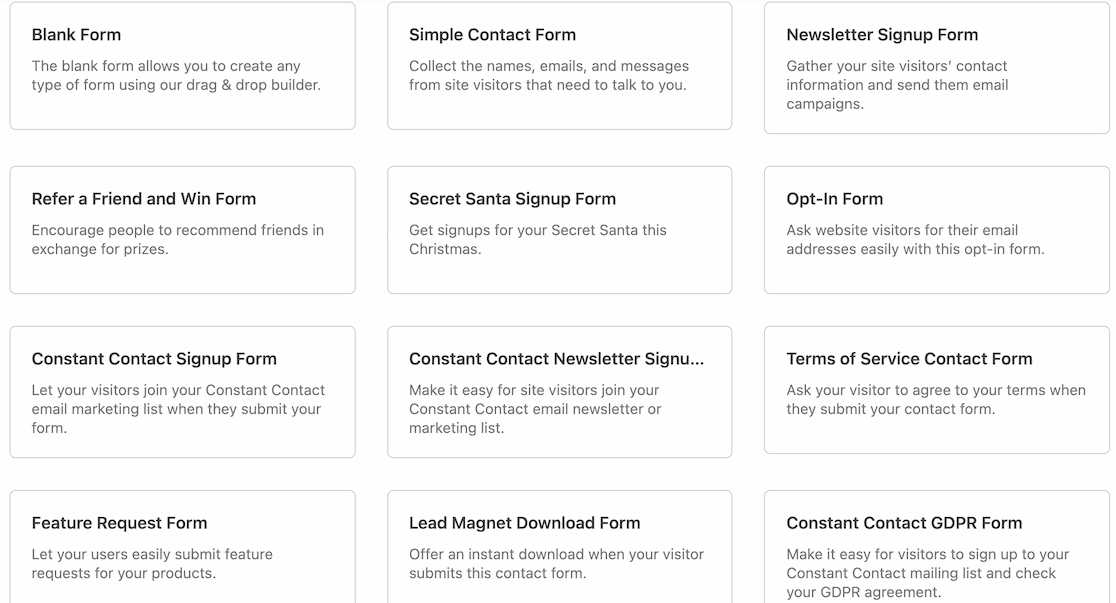 You can view all of the available templates on WPForms, even as a Lite user. They'll be marked as Pro if you need to upgrade to use them.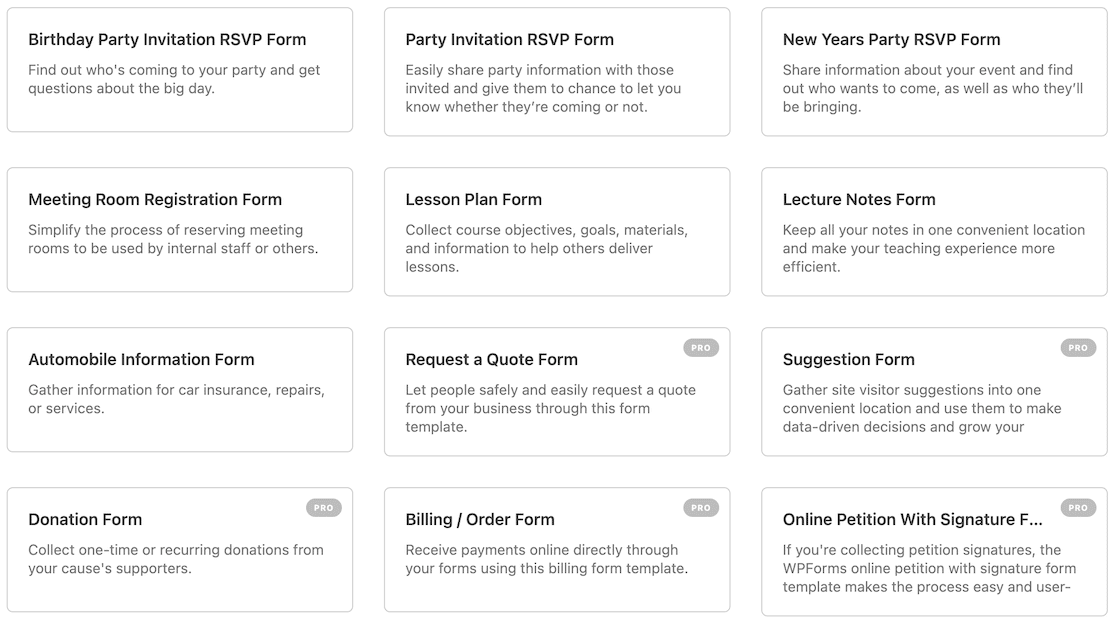 Integrations
Forminator's site notes that it has support for third-party apps through Zapier and Uncanny Automator.
WPForms also supports numerous native integrations such as Mailchimp. Constant Contact, MailerLite, ActiveCampaign, and we regularly add new native integrations.
If an integration isn't natively supported by WPForms, then you can just use Uncanny Automator to connect WPForms with other plugins and apps.
There is a complete breakdown of WPForms addons and integrations on the website.
These are just a few of the key features for both plugins.
Forminator vs. WPForms: Surveys and Polls
Whether it's just for fun or to get audience feedback, polls and surveys are a good way to boost engagement.
Both plugins are pretty easy to use when it comes to setting up your poll.
Let's look at Forminator first. After choosing a name for your poll, the plugin directs you to the builder page where you can set it up. For our purposes here, we just created a very basic poll.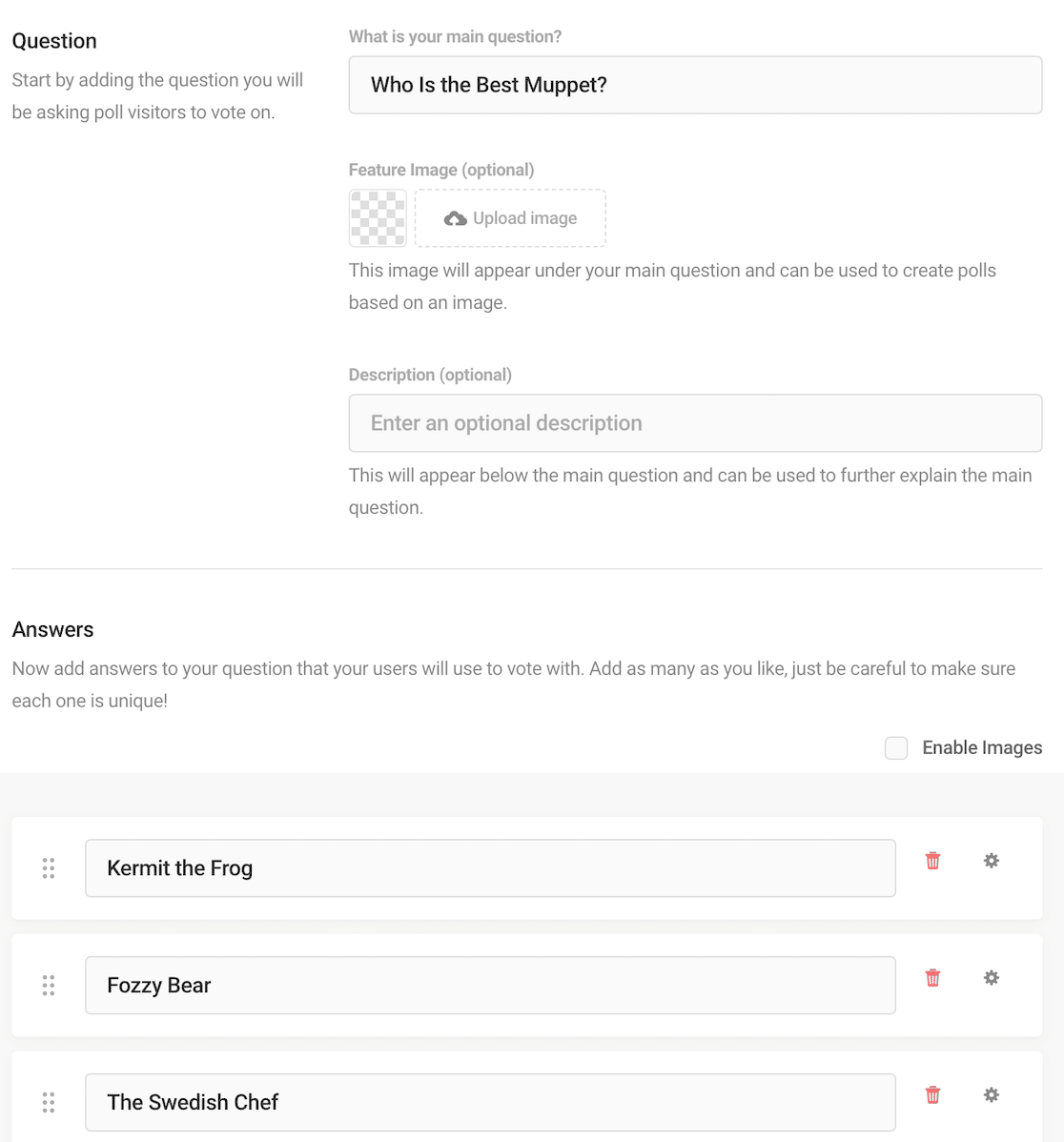 After you're finished adding all of your options, you can publish the poll and embed it on a page or post using the same steps we used to embed a form.
This is what your poll looks like once it's live on your site and ready for voting.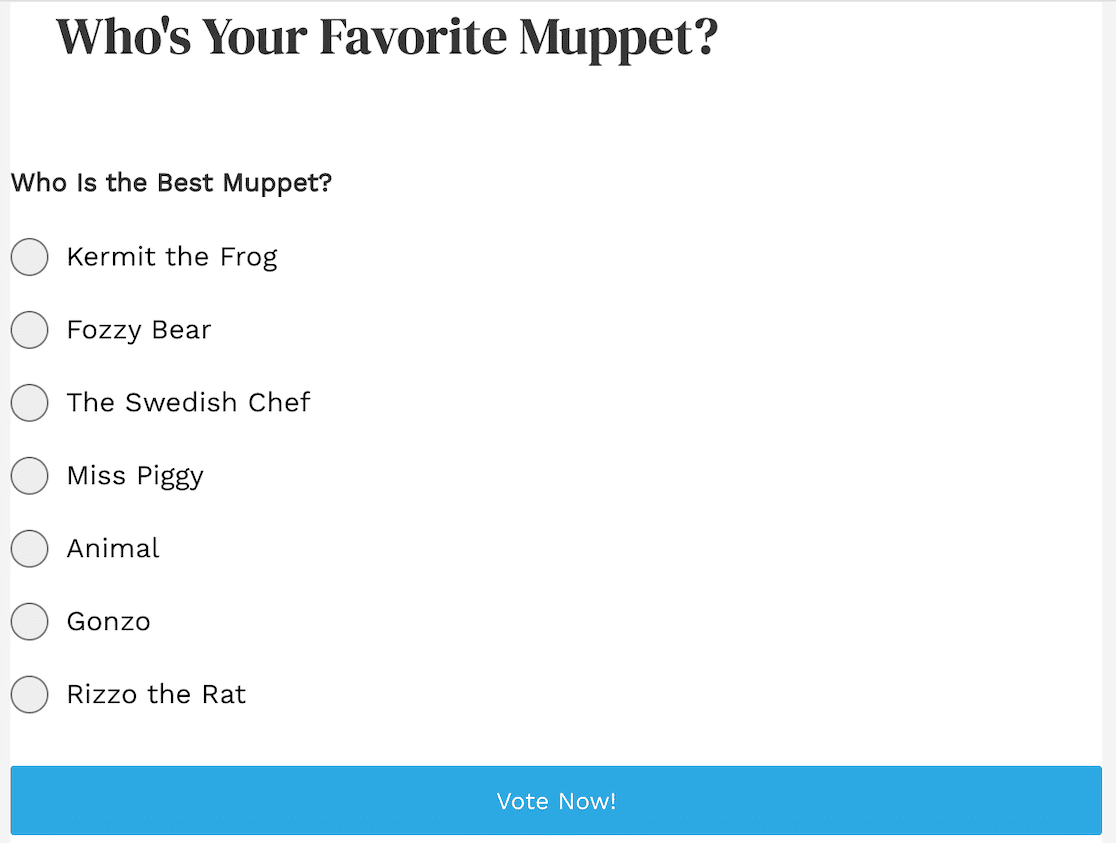 After people have voted, you can view the results on the Forminator dashboard. Click on the gear on the form you want to review, then click View Submissions. You get a colorful chart that you can include in presentations or social media graphics.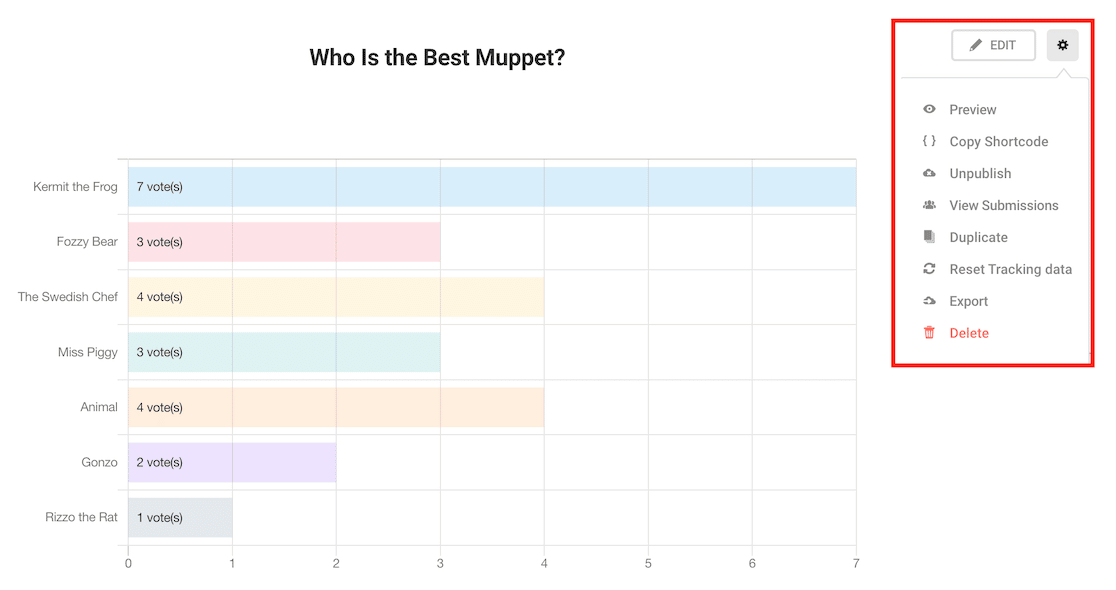 Now let's take a look at WPForms.
To create a poll on WPForms, start by making sure you have the surveys and polls addon installed and activated. This is what will give you advanced survey form reporting.
Then you go ahead and add your questions. How you choose to do that is up to you. For example, you could use radio buttons or checkboxes for your poll. Our example here uses radio buttons (or the Multiple Choice field as it is known in WPForms).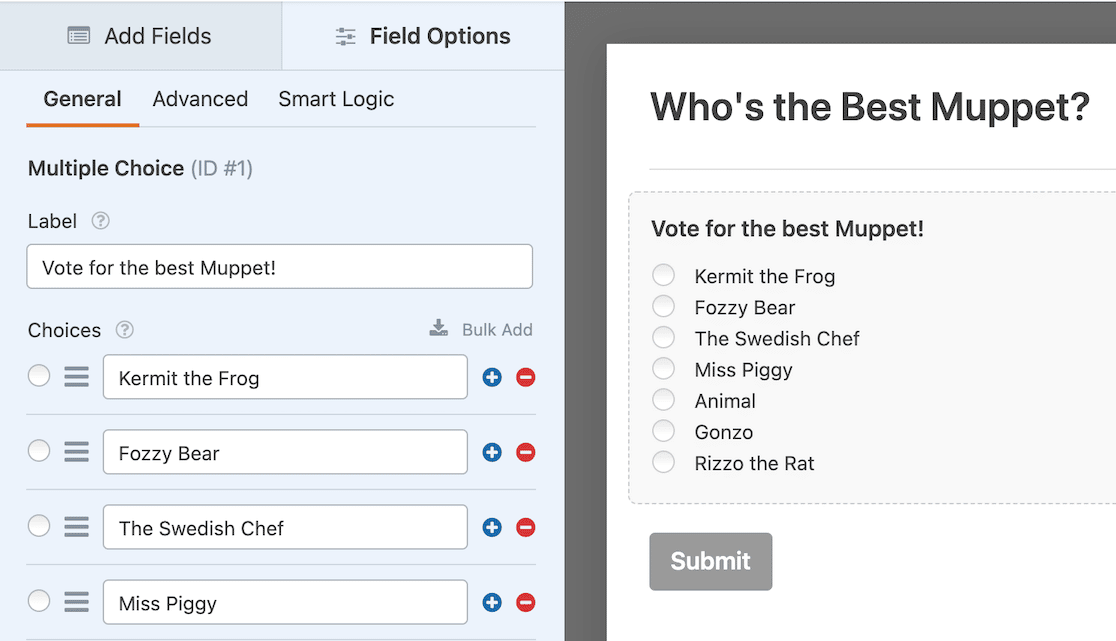 After your form is set up, click on Surveys and Polls from the form settings.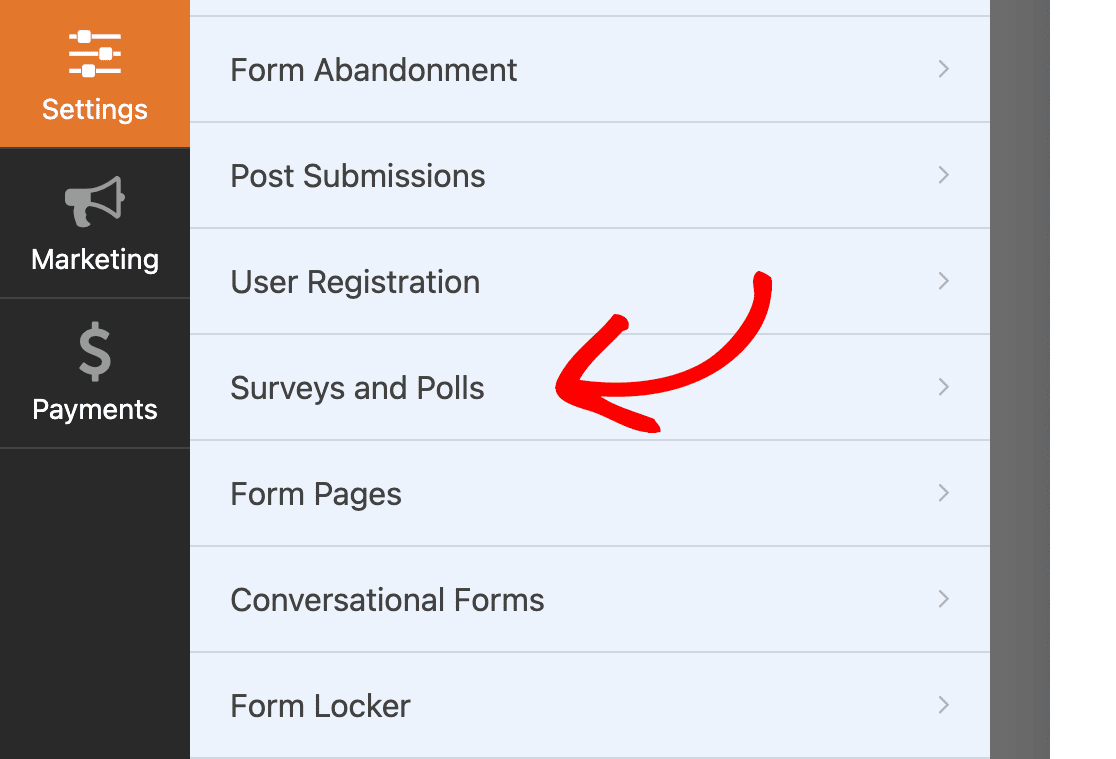 Then simply click the toggle switch to enable survey reporting.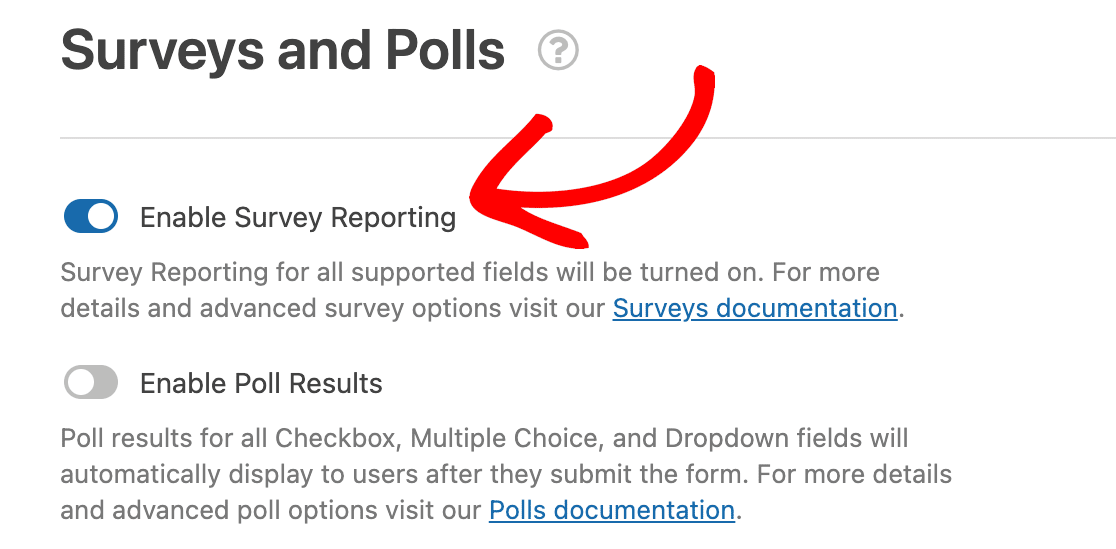 Though it seems like an extra step in the process, what this does is give you access to a greater variety of graphs and charts so that if you want to incorporate those in presentations, social media, or anywhere else in your survey reporting, you have more options. The reporting updates in real-time.
The default chart report is a bar graph.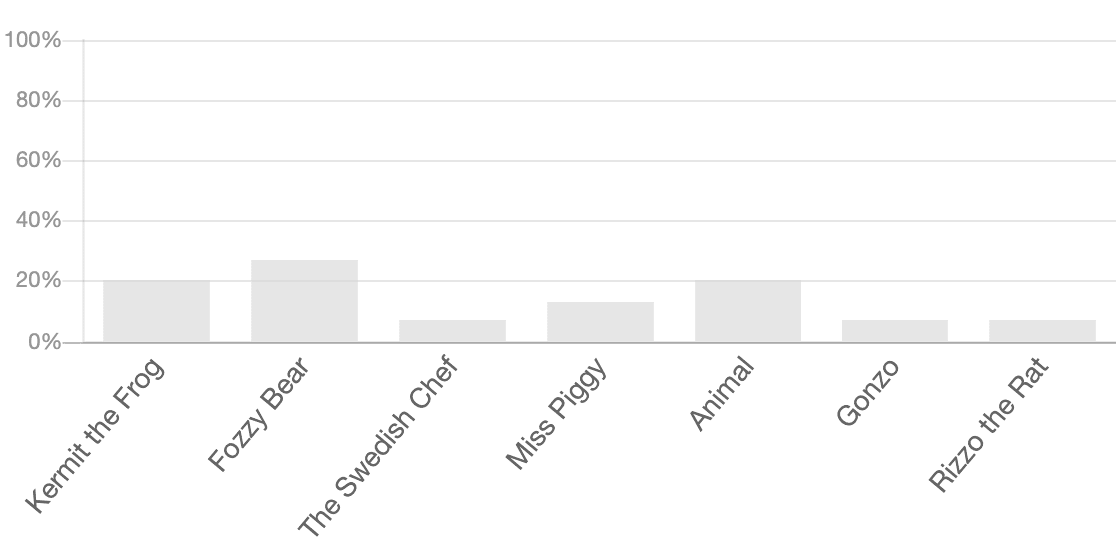 There's also a vertical bar graph to give a slightly different look if that better fits your needs.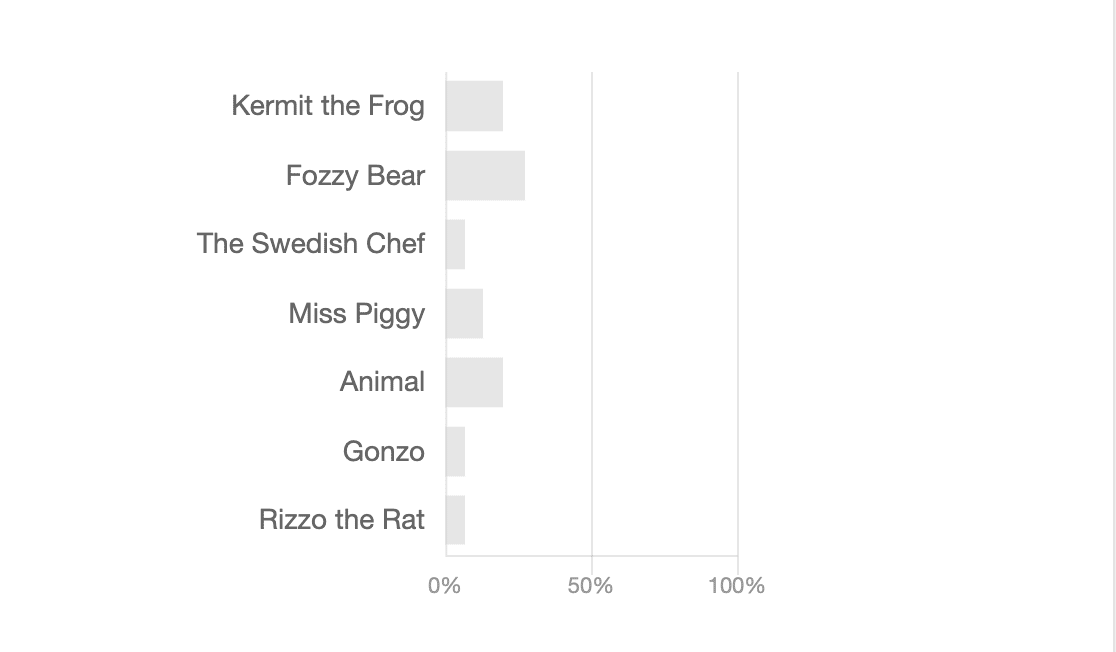 If you're looking for more color, the pie chart option gives you vibrant colors. If you don't like the particular color scheme, you can refresh to get another one. The colors are randomly generated.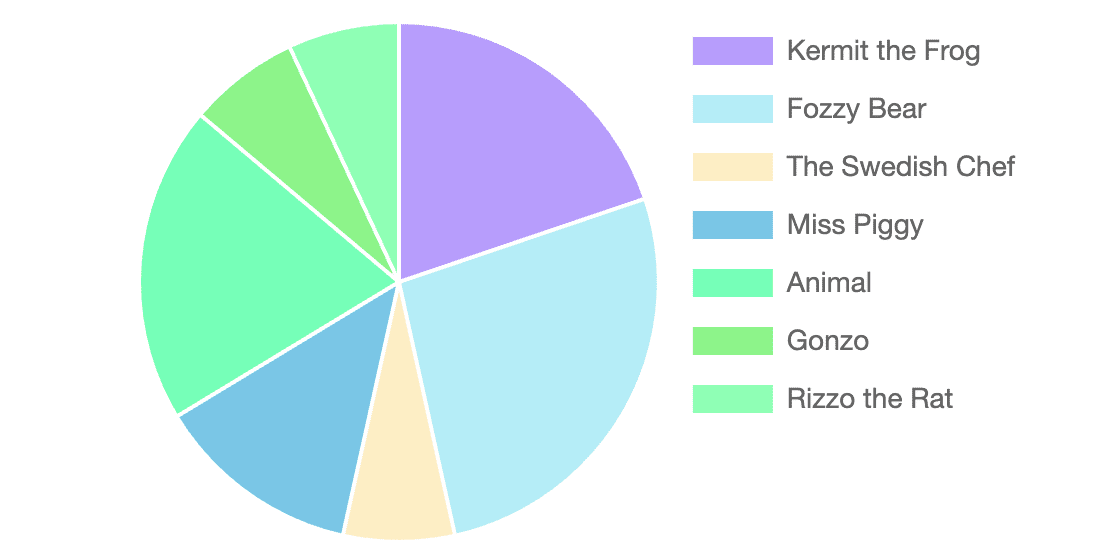 There's also a line graph option.

Finally, below every visual representation of your poll data, you can find the percentages.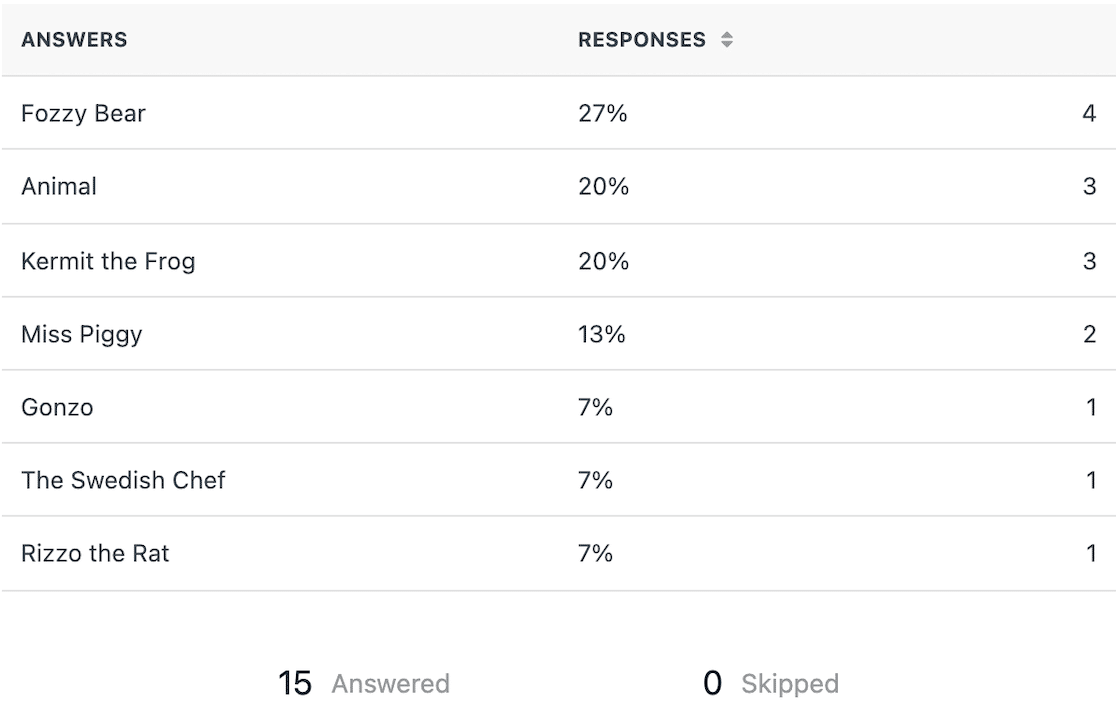 When it comes to creating surveys and polls, WPForms has a nicer user interface that lets you see your survey or poll as you're working on it. Additionally, the advanced survey reporting features for WPForms are more powerful than Forminator's and allow you to visualize results in more ways.
Forminator vs. WPForms: Which Is Best?
If you want the best WordPress forms and polls plugin, get WPForms. It provides superior functionality, pricing for different budgets and needs, and the best selection of form templates.
For users who are just getting started, you'll find that it's easy to create basic forms and publish them to your site within minutes. Even if you're looking to make more advanced forms with lots of conditional logic so that you're only gathering the information you need, it's super easy to do with WPForms.
More advanced users will love advanced features like enhanced reporting, 5000+ Zapier integrations, and all of the marketing integrations that can connect directly to your WPForms account.
In fact, with all of the integrations available for WPForms, you're certain to find other ways to strengthen your business or organization with all the different forms and polls you can create.
Is WPForms worth it? 5+ million people agree: definitely.
Create Your WordPress Form Now
Next, See What Else You Can Do With WPForms
We've barely scratched the surface when it comes to all of WPForms' features. Once you install the plugin, you'll have fun exploring all of it. Here are some ideas for other things you can do with WPForms, as well.
You might also be interested in seeing how WPForms stacks up against other form builders.
Ready to build your form? Get started today with the easiest WordPress form builder plugin. WPForms Pro includes lots of free templates and offers a 14-day money-back guarantee.
If this article helped you out, please follow us on Facebook and Twitter for more free WordPress tutorials and guides.