We're back with a brand new addon that will be super helpful for taking payments via your WordPress forms.
Please welcome… PayPal Commerce for WPForms!
PayPal Commerce offers enhanced payment options for online sellers, membership sites, nonprofits, and other businesses looking to expand their supported payments.
We know that you enjoyed our PayPal Standard integration and we wanted to build on its success to offer even greater flexibility. With PayPal Commerce, our Pro customers can easily take PayPal payments and enjoy a bunch of useful extra features.
Read on to see the fascinating capabilities of the PayPal Commerce addon in action.
Quick PayPal Integration With WordPress Forms
Ease of use is always the #1 priority in everything we do at WPForms. We wanted to make this integration quick and completely effortless for you.
Connecting PayPal Commerce with WPForms only requires entering your PayPal account credentials in WPForms payment settings.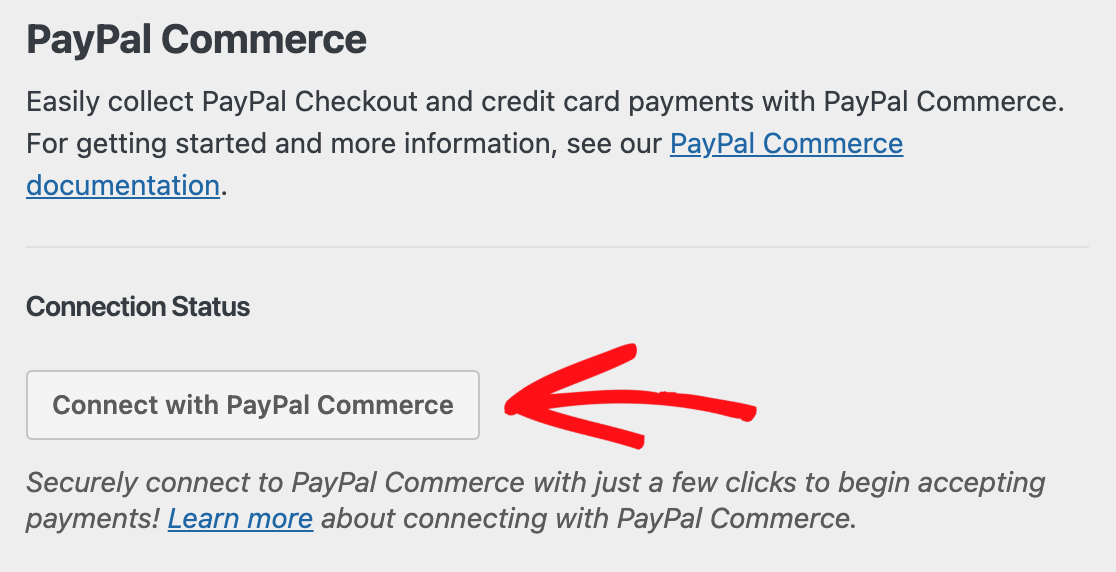 If you already have a PayPal Business account, this will only take you a minute at most. That's all there is to it!
For detailed instructions, see our guide on installing and using the PayPal Commerce addon.
When the integration is activated, you're all set to decide how you want to accept payments from your customers utilizing the awesome flexibility of PayPal Commerce.
Flexible Payment Options With No Extra Configuration
These days, customers expect a speedy and streamlined online payment process that offers just enough options to suit their preferences.
One of the standout features of PayPal Commerce is that it supports PayPal checkout AND credit card payments.
This means that you can now include both payment options — PayPal and credit cards — in a single form! And WPForms lets you conveniently configure both types of payment methods from the same menu within the form builder.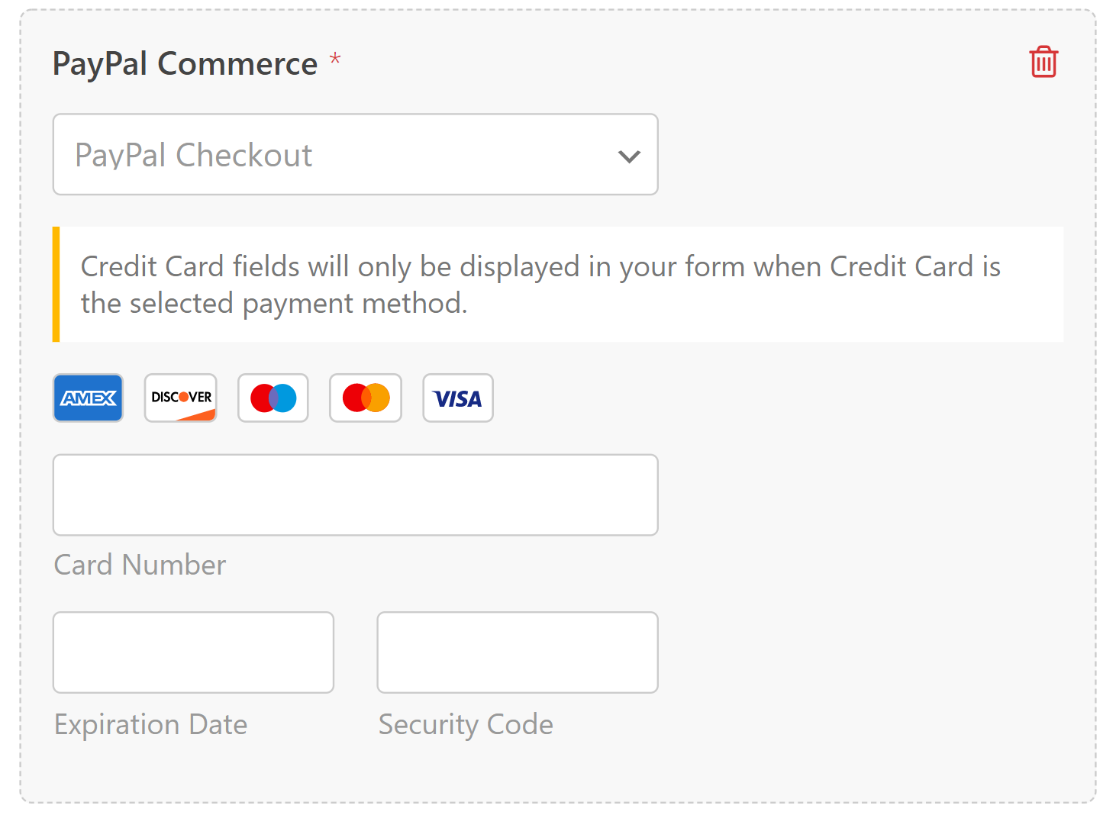 If you wish to remove one of the payment methods from the form, you can simply use the toggle buttons under Field Options.
The PayPal Commerce addon supports popular credit card networks including Visa, Mastercard, American Express, Maestro, and Discover.
You can also control which credit card network options you'd like to offer to your customers. All you need is to toggle on or off the supported credit cards in your form from the Field Options.
The PayPal Commerce field will only display the icons for the credit cards you've chosen to accept. This is a great way of letting your visitors know which cards they can use on your site.

Pretty slick, right?
We've also added some cool extra touches that make the PayPal Commerce field visually pleasing. For instance, the PayPal Commerce field automatically replaces the default form submit button with the PayPal branded checkout button.
You can even change the shape and color theme of the PayPal checkout button with a single mouse click. No coding is required!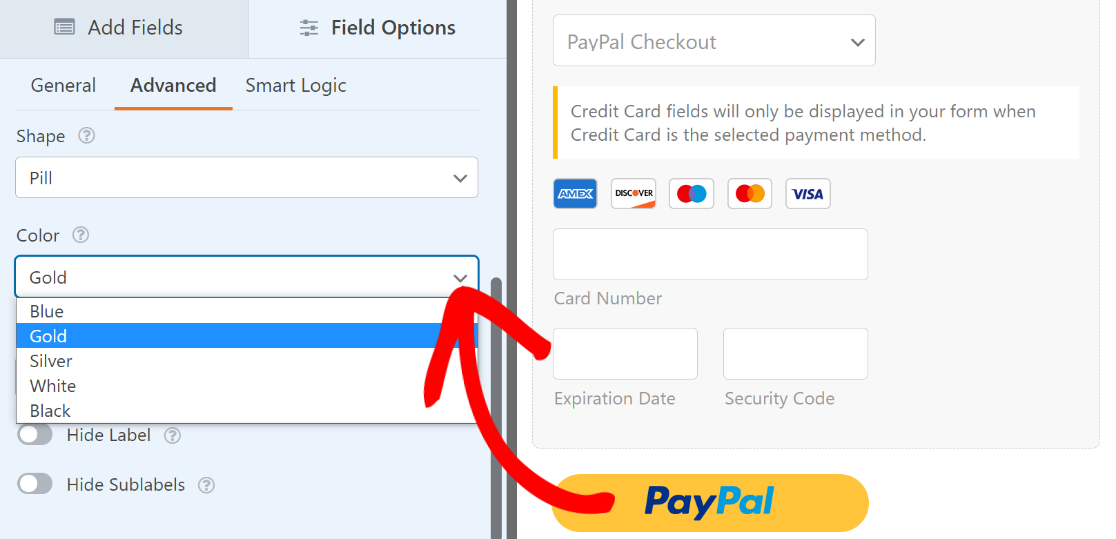 We believe that customers should be able to make payments quickly without leaving your website to complete the process. With PayPal Commerce, submitting the payment form launches a modal allowing the customer to sign in to their PayPal account and confirm the payment quickly.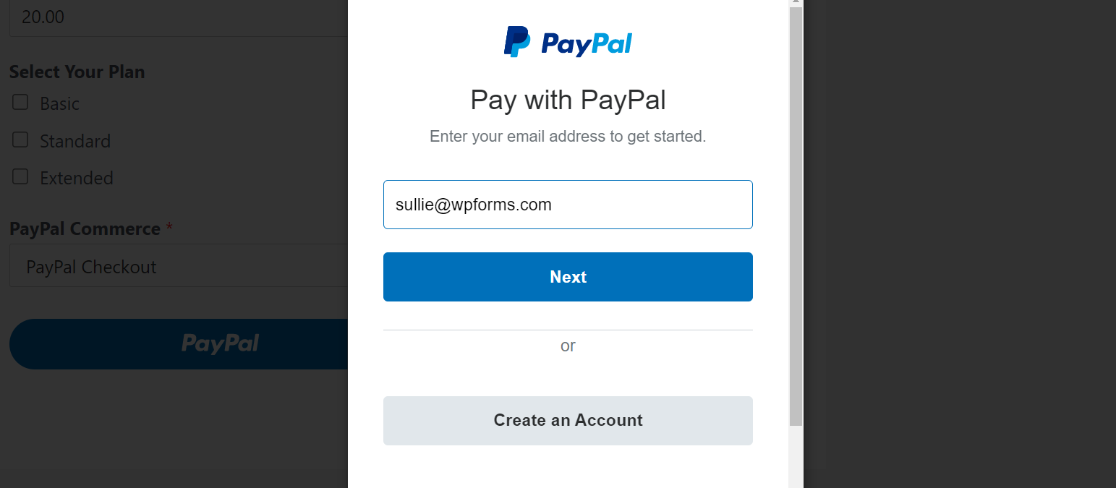 For credit card payments, customers just have to enter the required card information and press submit to complete the transaction. It's really as simple as that!
But wait… there's more!
One-Time Payment and Recurring Payment Support
One important way that PayPal Commerce gives businesses more control is by supporting both one-time and recurring payment models.
Your preferred payment model can be selected from Payments tab in the form builder screen and navigating to the PayPal Commerce. On this screen, you can choose between the two payment models using toggle switches.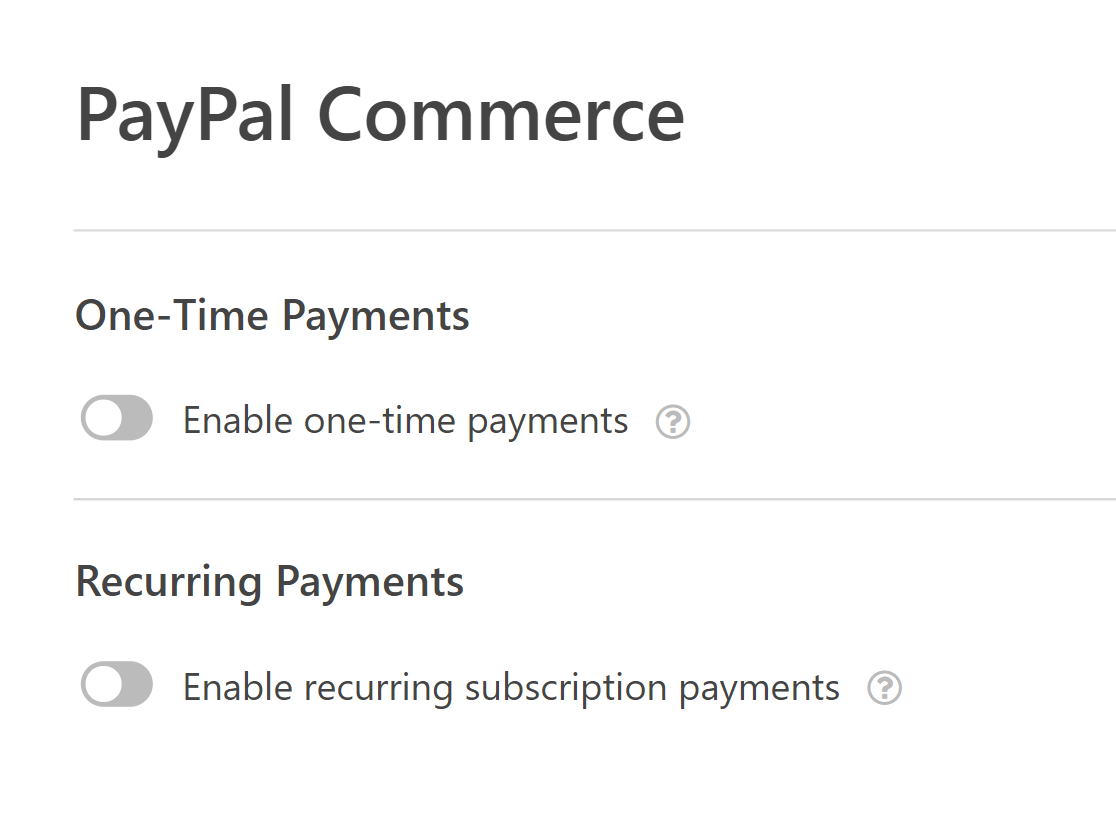 The recurring payments option is excellent if your business follows a subscription-based model. PayPal Commerce lets you control the recurring period and total cycles of a subscription plan so you can create a pricing model that exactly matches your business strategy.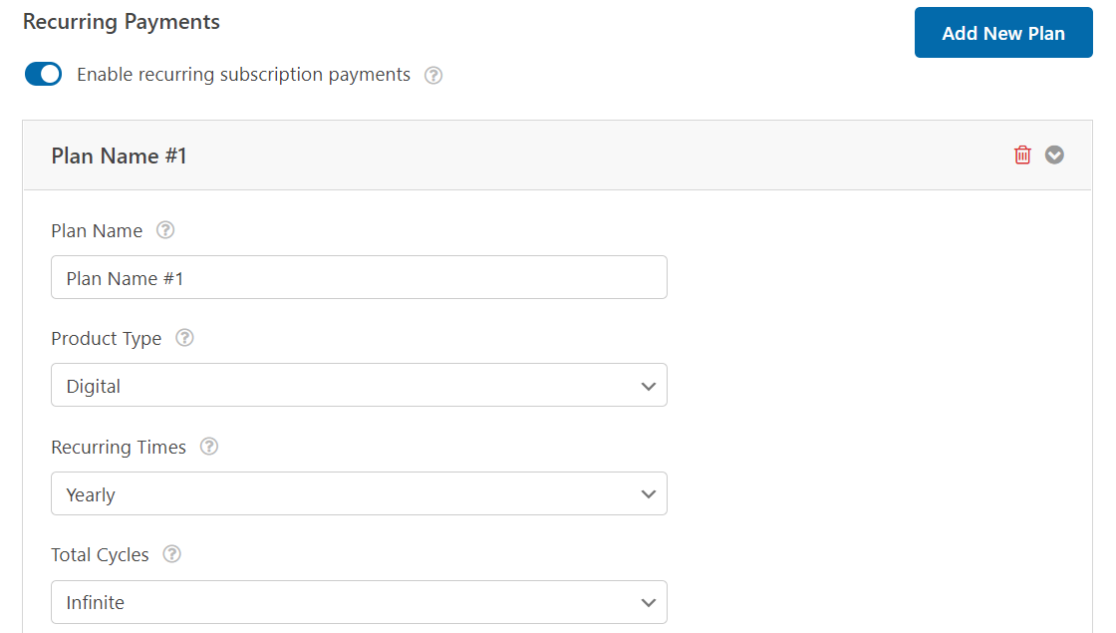 You can easily set up recurring payments when you select the PayPal checkout method.
If you want, you can include a mix of one-time payments and recurring payment options in your form using conditional logic. You can also easily add multiple subscription plans and configure charges for each per your defined rules.
In fact, you can also use conditional logic to include other payment gateways along with PayPal (either PayPal Standard or PayPal Commerce) in the same form.
You can view the details of payments processed by PayPal Commerce from the Entries section of WPForms as usual. The entry for each transaction includes details like payment status, gateway name, and a PayPal transaction ID link where you can see further details for that transaction.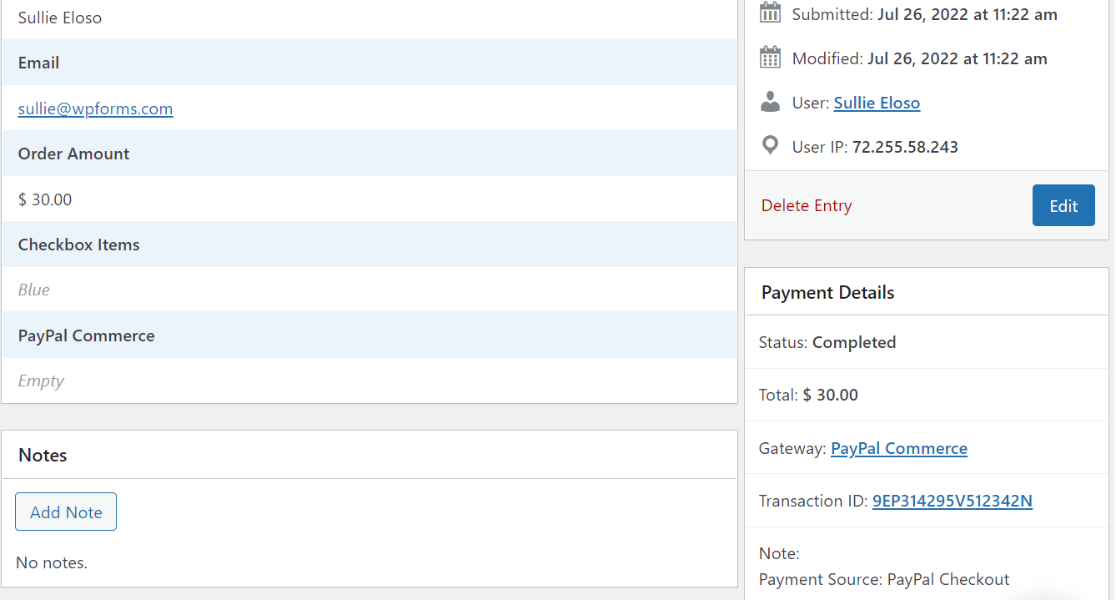 It's always convenient to have a record of payment details stored within your WordPress site. In case you need to crosscheck anything later, you can always refer to your WPForms entries.
There's More Yet to Come
PayPal Commerce is one of the biggest addon releases for WPForms that we've worked on lately. If you loved PayPal Standard, we're sure you and your customers will also enjoy the added benefits of PayPal Commerce.
If you're already using PayPal Standard, we highly recommend taking the new PayPal Commerce addon for a spin. Adding new payment methods could expand your revenue streams and help your business grow even faster.
If you haven't yet upgraded to WPForms Pro, this is the perfect opportunity to become a Pro user and enjoy building full-fledged payment forms for your site.
The whole team is already hard at work on the next WPForms update. So don't forget to keep an eye on our blog for the next announcement!
Meanwhile, please reach out to us if you have any thoughts or feedback you'd like to share about our latest feature addition.
-Jared Atchison