Are you wondering which spam-filtering tool is the best between Akismet vs reCAPTCHA?
Form spam is a huge problem for all WordPress sites. If you don't take the right measures, you may find yourself overwhelmed with tons of it.
Fortunately, there are lots of tools that can help. For WordPress sites, 2 of the most popular anti-spam tools are Akismet and Google reCAPTCHA. Both of these tools are very effective.
But which is best?
In this article, we'll explore both and share our verdict.
Let's get started!
Does Akismet Slow Down WordPress?
No, Akismet doesn't slow WordPress down!
Akismet is a cloud-based app, so it doesn't use up your server's resources while it works.
In fact, a comparison of site speed tests reveals that there is no difference in the performance of a site when it has Akismet installed vs a site without Akismet.
Plus, Akismet is owned by Automattic (the parent company behind WordPress.com), so you can be sure the plugin meets these standards and will not harm your site speed.
Now that we've dispelled your fears about Akismet slowing down your website, let's get into our WordPress Akismet vs. reCAPTCHA comparison.
Akismet vs reCAPTCHA: Which Is Best to Stop Spam?
In this comparison, we'll take a look at the effectiveness, ease of use, support, and pricing of Akismet vs reCAPTCHA.
Akismet Spam Protection for WordPress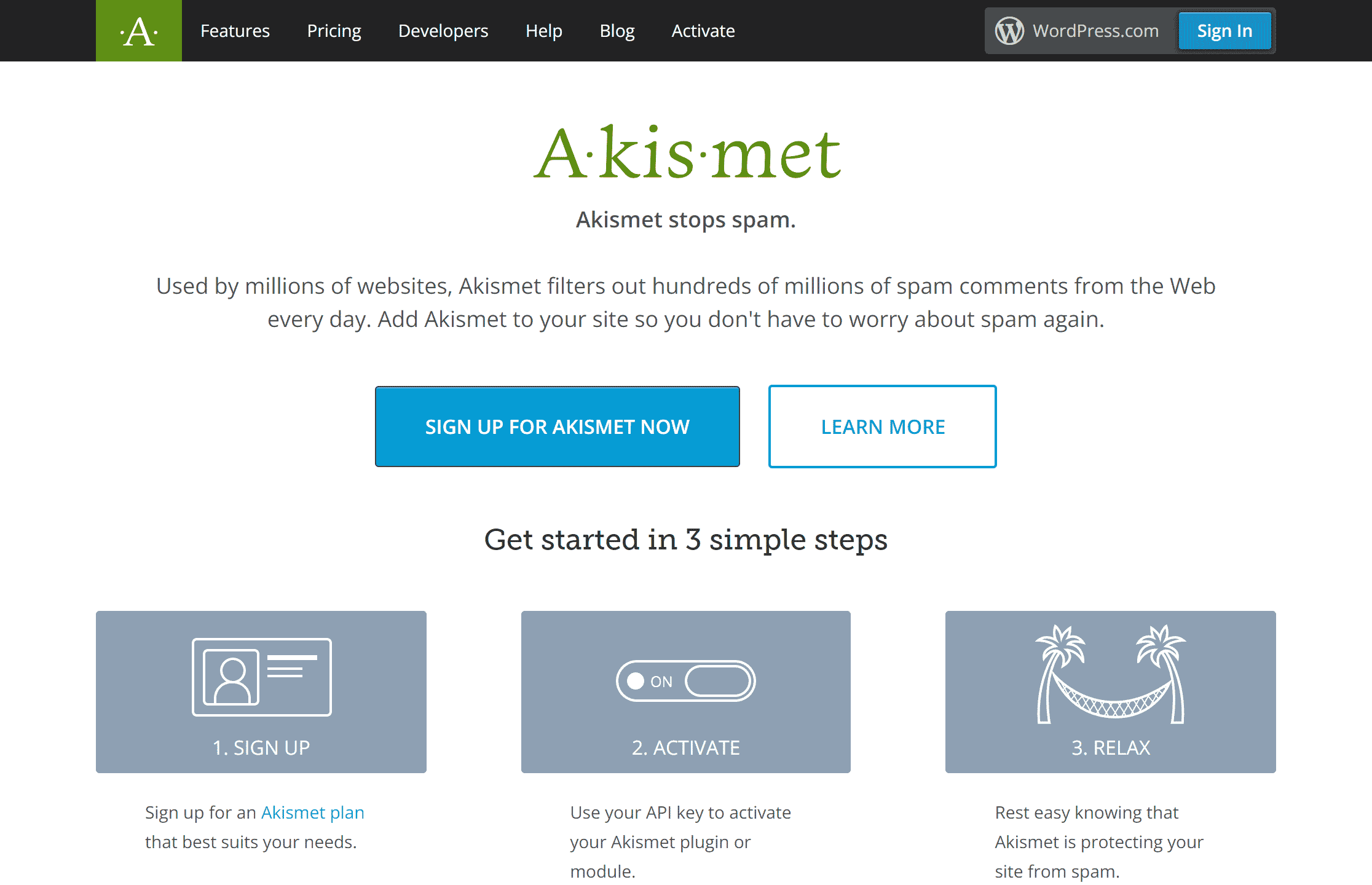 Akismet is one of the most popular WordPress anti-spam plugins. It's great for stopping contact form spam as well as WordPress comment spam.
Akismet helps to beat spam in 2 main ways.
First, it analyzes comment and form submissions and compares them with its huge database of known spam entries.
Secondly, Akismet can analyze the way users behave on your web pages to distinguish between human users and spambots.
When it finds spam, it automatically blocks it or puts it in the spam folder in WordPress for your review. Akismet stops WPForms from storing a spam entry entirely.
The best part is that Akismet is a cloud-based app, which means it doesn't take up your server resources while it does its work.
So how does Akismet compare with Google reCAPTCHA when it comes to integrations, ease of use, support, and pricing?
Let's find out!
Akismet Integrations
One of the best things about Akismet is that it integrates very nicely with some of the top WordPress plugins. These include popular plugins like WPForms, Jetpack, Gravity Forms, and more.
This makes it preferable to alternatives like CleanTalk or Antispam Bee.
WordPress forms are particularly vulnerable to spammers. And form spam can make managing your form entries a nightmare.
But if you're using WPForms, as over 5 million professionals do, you'll love being able to leverage the native WPForms Akismet integration.
To use it, you just need to have an active Akismet account with Akismet Spam Protection plugin installed on your site. You can then use an API key to connect Akismet with WPForms.
That's it! You don't need to perform any extra steps to integrate WPForms with Akismet. 
To enable Akismet for any specific form, you can go to the settings for that form and simply use a toggle button to enable Akismet spam protection.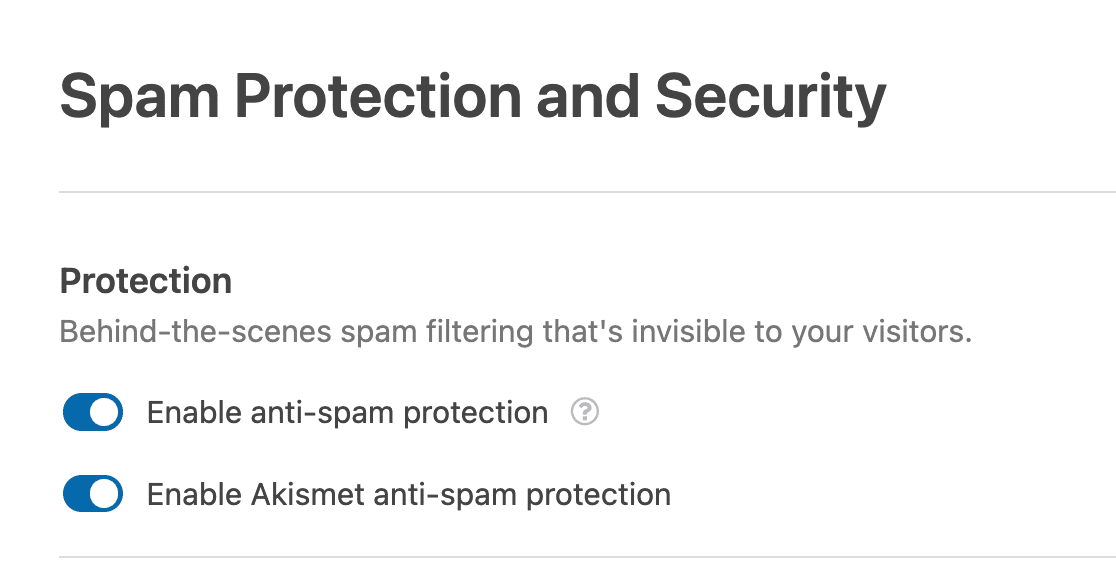 Besides, Akismet also protects you from spam comments by integrating with your core WordPress installation. This additional functionality might make Akismet worth it over alternatives like reCAPTCHA.
Akismet Ease of Use
This is one area where Akismet has a big advantage over reCAPTCHA.
Since your WordPress installation will likely come with Akismet installed, you'll only have to set up an account and enter your API key to get started.
It's fairly simple to use Akismet with WPForms for spam prevention. 
Besides the easy setup process, Akismet also offers a much better user experience for visitors filling out your forms.
This is because Akismet doesn't require visitors to solve any image puzzles, which can be time-consuming. Instead, Akismet analyzes user behavior from the background and simply blocks spam entries if it finds any cause for suspicion.
The result is a distraction-free and unobtrusive spam-filtering method that doesn't cause any friction in your visitor's experience.
Akismet Support
Akismet doesn't offer too many options when it comes to live support.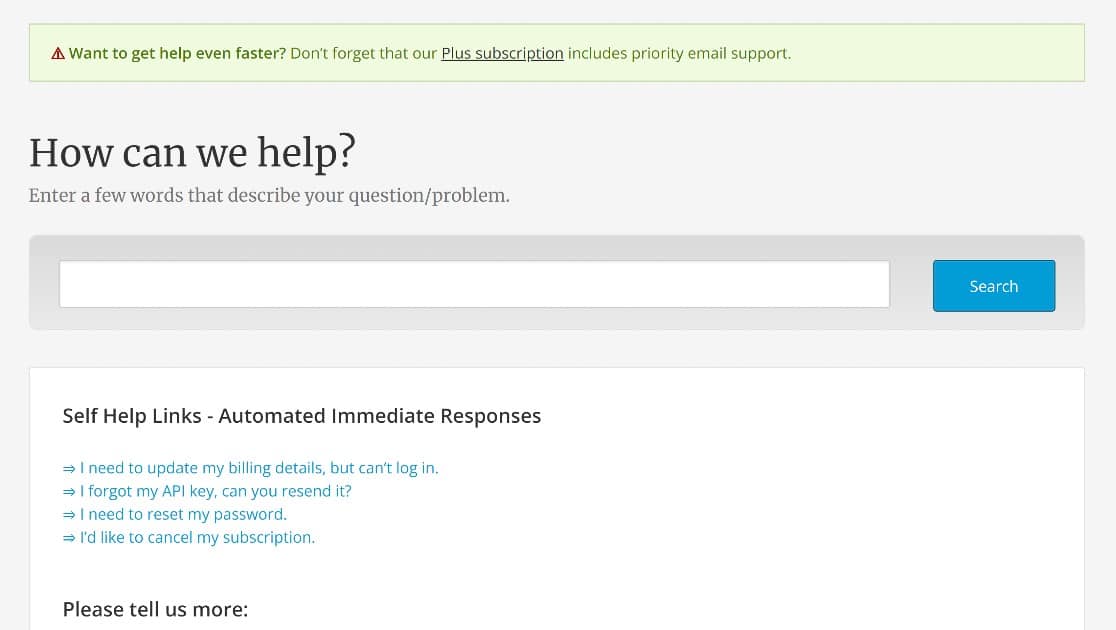 There are self-help resources that offer quick solutions to common issues, and you can fill out a form to send a more detailed message, but there's no option for live chat.
If you'd like a little more attention, there's the option of priority email support on the Plus plan.
Akismet Pricing
Akismet uses a unique pricing model with a Personal plan for non-commercial sites that allows you to pay what you think the service is worth. That means if you have a small personal site, you don't have to worry about paying an extra subscription to protect it from spam.
Paid plans start with the Plus plan which costs $8.33 per month, billed annually. This plan allows for up to 10,000 API calls per month.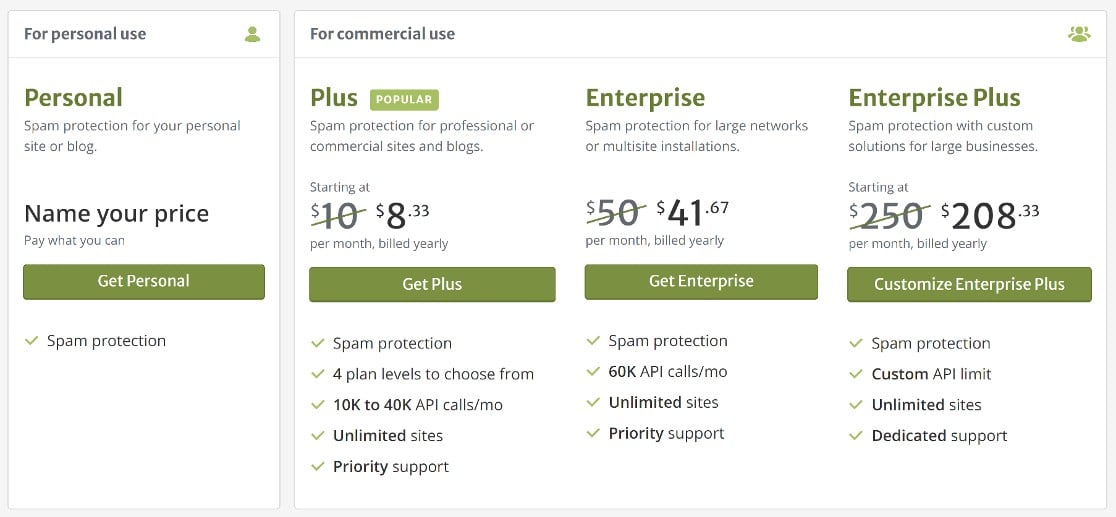 That wraps it up for the Akismet portion of our Akismet vs reCAPTCHA comparison.
Now that you have a good idea what to expect from Akismet in terms of integrations, ease of use, support, and pricing, let's take a look at reCAPTCHA.
reCAPTCHA for WordPress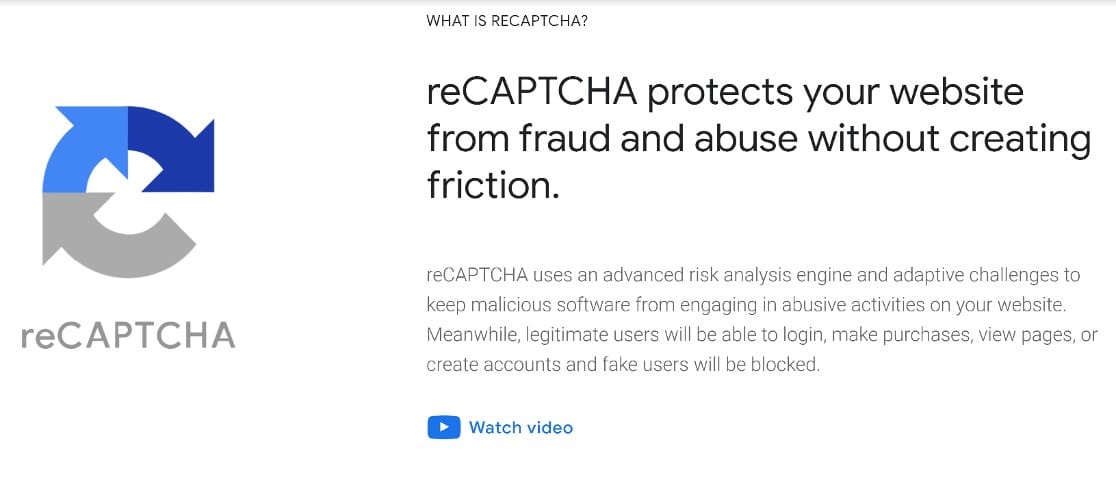 Google reCAPTCHA is one of the industry-leading tools for fighting spam, and can make a good WordPress Akismet alternative.
reCAPTCHA is not a dedicated WordPress tool like Akismet, but you can still use it with your WordPress website, using one of the many WordPress reCAPTCHA plugins out there.
There are different versions of reCAPTCHA, and each stops spam in different ways:
reCAPTCHA v3 – Runs in the background to verify the authenticity of users on your web pages, without requiring any image challenges for the user to solve.
reCAPTCHA v2 – reCAPTCHA v2 offers 2 further options. There is the "I'm not a robot" checkbox that simply requires users to tick the checkbox and solve image puzzles. And there is the 'invisible CAPTCHA' that is triggered by suspicious user behavior and may require image puzzles sometimes.
Whichever you decide to use, be sure you choose a WordPress reCAPTCHA plugin that supports it.
Now, how does reCAPTCHA compare with Akismet when it comes to integrations, ease of use, support, and pricing? We'll explore this next.
reCAPTCHA Integrations
reCAPTCHA integrates well with a lot of the best WordPress plugins. Like Akismet, you can use it with popular contact form plugins like WPForms.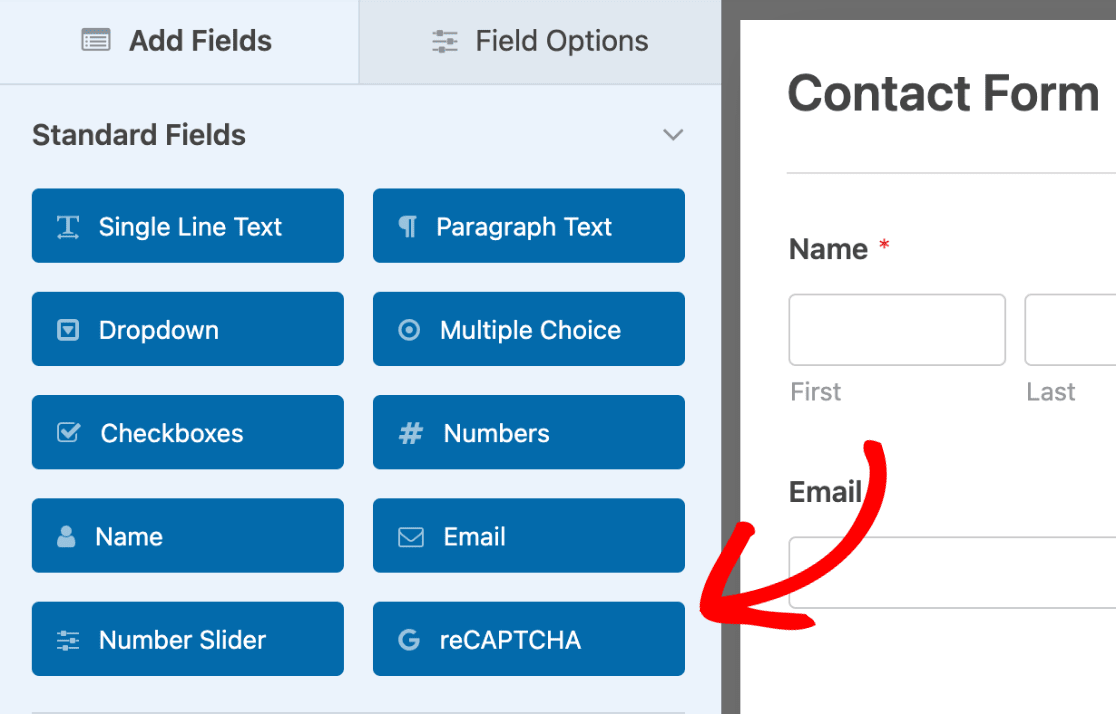 In fact, with WPForms you can easily add reCAPTCHA to any form on your site to prevent bots from filling it out, including your registration form, order forms, and more.
Alternatively, you can simply integrate it into your website using a dedicated WordPress reCAPTCHA plugin like the Google Captcha plugin. Depending on where you want to use reCAPTCHA, this might be the better option.
For example, if you want to add reCAPTCHA to the default WordPress comments form, a dedicated reCAPTCHA plugin might be best. The Google Captcha plugin also offers advanced features like an IP address whitelist.
reCAPTCHA Ease of Use
Setting up reCAPTCHA is slightly more complicated than configuring Akismet. You'll need to register your site on the reCAPTCHA admin console, then get your site key and secret key and add these to WordPress using a plugin.
These steps can take a bit longer as compared to the setup process for Akismet, but it's still doable even if you're a beginner.
However, one noticeable difference between reCAPTCHA and Akismet is in the frontend behavior. reCAPTCHA v2 often requires visitors to solve image puzzles to verify their authenticity.
As a result, reCAPTCHA is slightly less user-friendly than Akismet as it can get in the way of user experience sometimes.
reCAPTCHA Support
reCAPTCHA offers more support options than Akismet. The first line of support for reCAPTCHA users is the Stack Overflow community or the reCAPTCHA support group.
reCAPTCHA Enterprise users can use Google Cloud support which allows for phone support and a technical account manager.
reCAPTCHA Pricing
reCAPTCHA is free for use with up to 1 million calls per month. Beyond this point, you'll need to upgrade to reCAPTCHA Enterprise at a cost of $1 per API call up to 10 million API calls. If you need more API calls, you'll need to contact your Google Cloud Sales Team for custom pricing.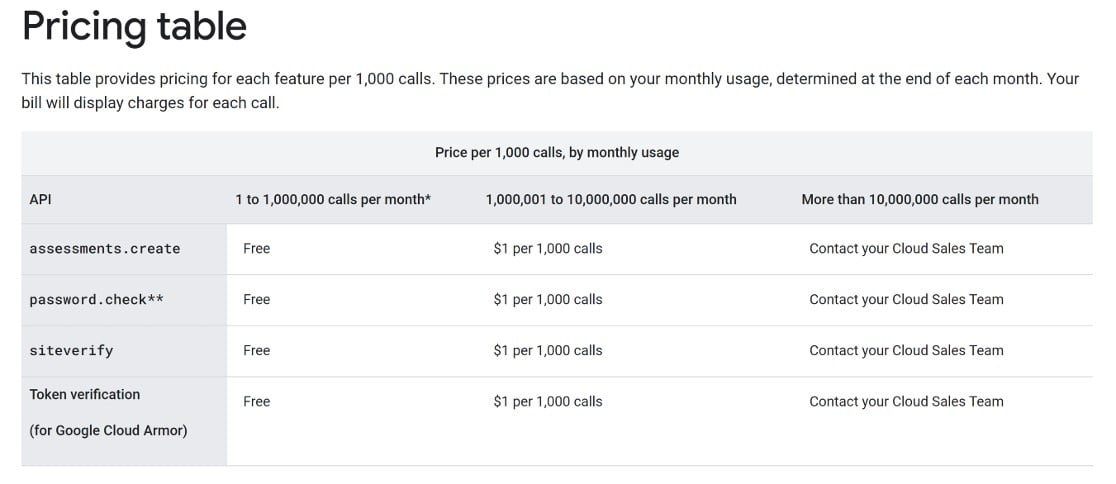 This brings us to the end of our Akismet vs reCAPTCHA comparison. So which is best? Check out our verdict in the next section.
Akismet vs reCAPTCHA: Our Verdict
Both Akismet and reCAPTCHA are powerful tools for fighting WordPress spam.  Akismet comes pre-installed on most WordPress sites and its setup process is faster than reCAPTCHA.
Plus, Akismet's background processing enables a more user-friendly experience. reCAPTCHA v3 works in a similar way, but the other reCAPTCHA types may require different levels of human interaction. For these reasons, Akismet has a slight advantage in terms of ease of use. 
Nonetheless, reCAPTCHA is still a very effective spam-filtering tooI and a popular Akismet alternative. reCAPTCHA is also free for commercial use—you get up to 1 million API calls. On the other hand, you'll have to pay to use Akismet if your website is commercial in any way.
Overall, we'd say Akismet and reCAPTCHA are both highly capable spam-blocking tools for WordPress. The bottom line is that you can use either tool to great effect by combining them with WPForms in order to reduce spam submissions.
And that's it for our Akismet vs reCAPTCHA comparison!
Next, Check Out the Top Alternatives to Google reCAPTCHA
We've just shown that Akismet can be a great reCAPTCHA alternative. But it's not the only one. If you'd like to consider more options, such as hCaptcha, we've got you covered.
Take a look at our roundup of the top reCAPTCHA alternatives for WordPress.
Create Your WordPress Form Now
Ready to build your form? Get started today with the easiest WordPress form builder plugin. WPForms Pro includes lots of free templates and offers a 14-day money-back guarantee.
If this article helped you out, please follow us on Facebook and Twitter for more free WordPress tutorials and guides.