On the hunt for some email signup popup examples to borrow ideas from?
Growing your email list is a huge part of your online business strategy, and using popups to ask for an email address has proven extremely effective time after time.
So in this post, we've gathered up a list of the very best email signup popup examples to inspire you on your journey to building an explosive email list with your own awesome optin.
What Are Email Popups?
An email signup popup is simply a notification that appears on a website and asks for someone's email address.
There are a lot of ways to achieve this, so it's important to look for some key things when you're building an email signup popup that will really explode your email list.
An effective popup will:
Draw the user's attention without completely annoying them.
Invite people to do different things like sign up for an email newsletter, receive a coupon, subscribe to blog posts, and more.
Offer a great incentive (a solid part of any email marketing plan).
Show specific popups to specific people based on their behavior (Segmentation is a nice-to-have option that converts like wildfire.)
Can be triggered in a variety of ways including on exit:

So, what is an example of a popup? Let's check out the best ones out there today:
Great Email Signup Popup Examples
Use the following awesome examples of email signup popups to help you build your own.
1. 2-Step Popup Example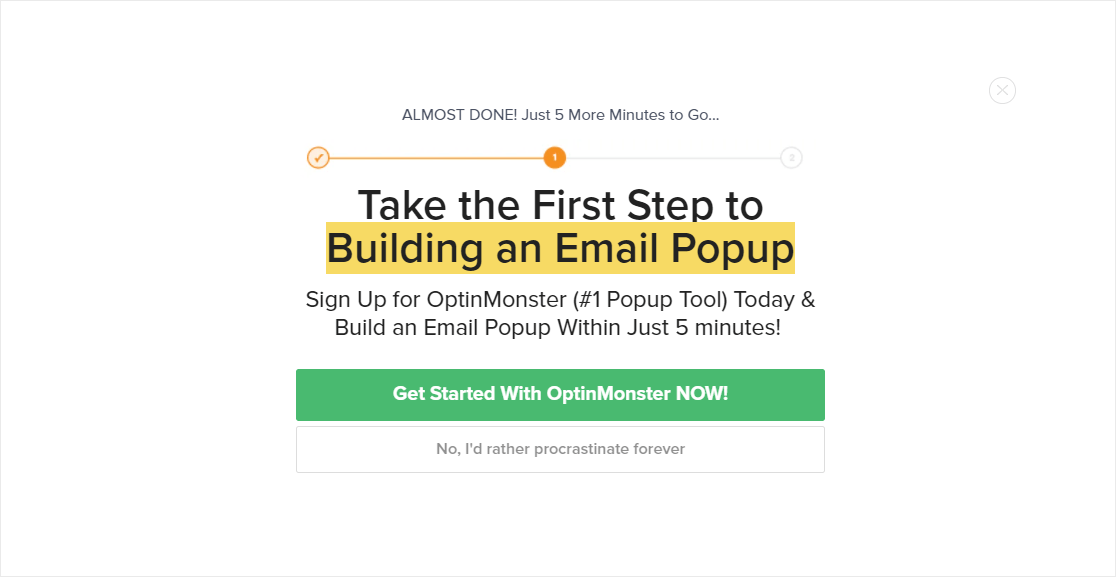 There are 2 steps to this email signup popup example because it's been proven the human brain prefers to finish an action once it's started.
Why it works:
Behavioral psychology helps encourage email signups/purchases.
Bold Call to Action button color.
Yes/No action options encourage people to select the option you want.
2. Build Trust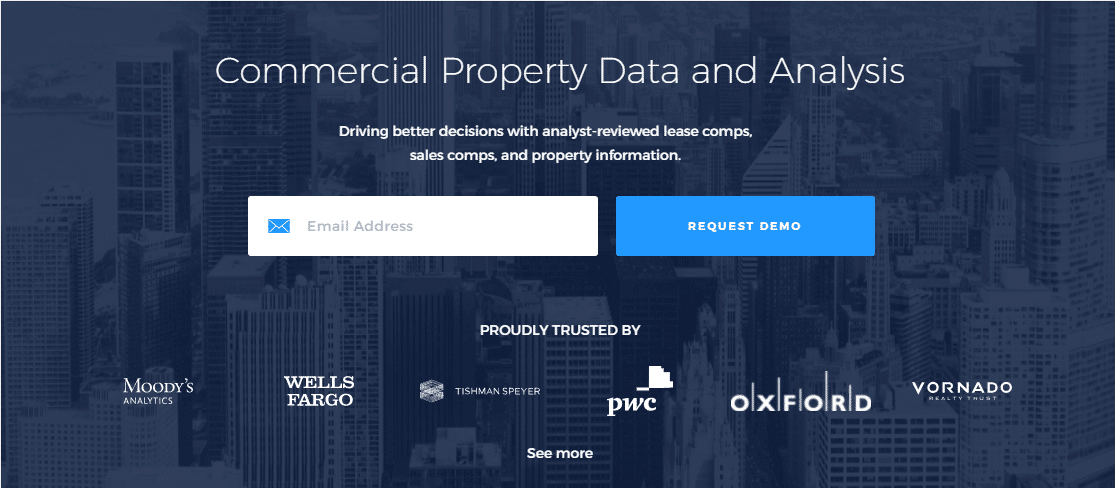 This brand offers a demo in exchange for an email address, and they show who other clients are to prove they can be trusted.
Why it works:
Strong and actionable CTA button with custom text that says Request Demo.
Displays recognizable client names to build trust and tap into the power of social proof.
3. Video Popup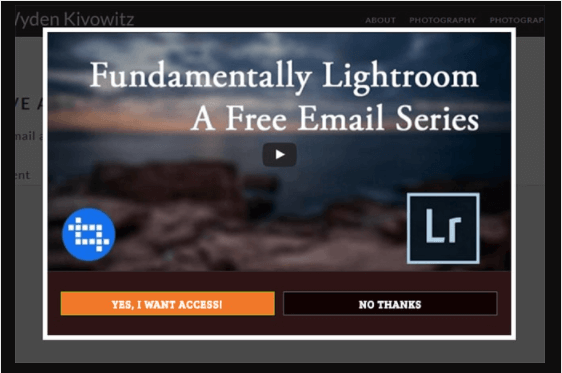 These days, more and more you'll see small business WordPress website themes that offer stunning video motion. So it isn't surprising that people are using it in their popups, too.
Why it works:
Video can be impressive and engaging in the right industry.
There's a Yes/No CTA on this email signup popup example.
4. Bold Image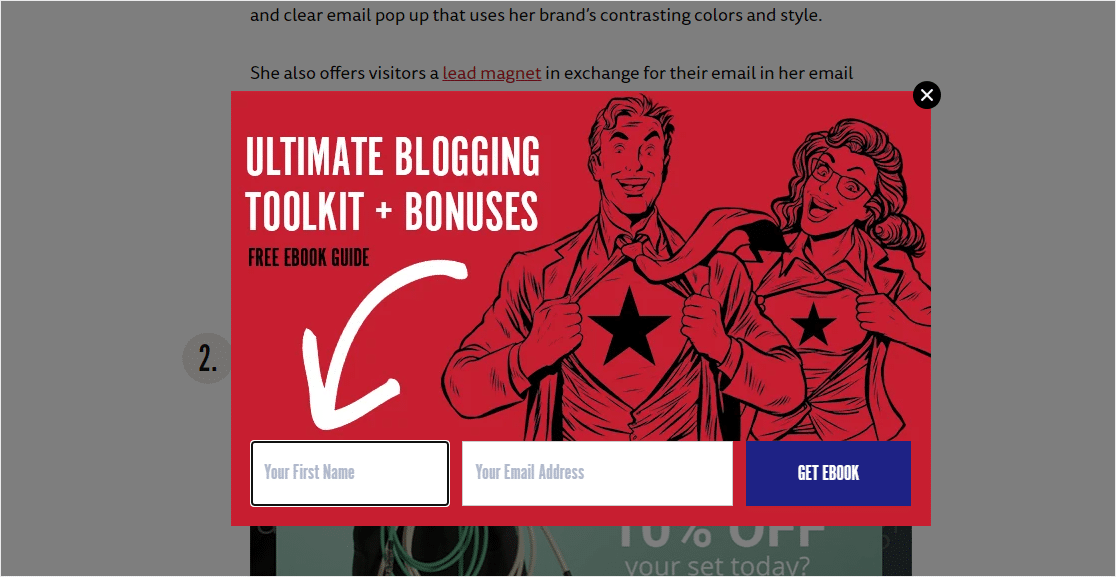 BlogTyrant knows a ton about blogging, and it seems they know how to make a perfect email signup popup, too.
Why it works:
Bright colors match the branding and build trust.
Simple and no-fuss with only 2 fields required.
Offers a genuinely helpful lead magnet.
5. Fullscreen Lightbox With Coupon

This lightbox popup does a lot of great things that make it land on our list of the best email signup popup examples for WordPress.
Why it works:
Uses a coupon as a special offer for email capture.
Offers a Yes/No option.
Segments users to show up while they are on specific products.
6. Yes/No Popup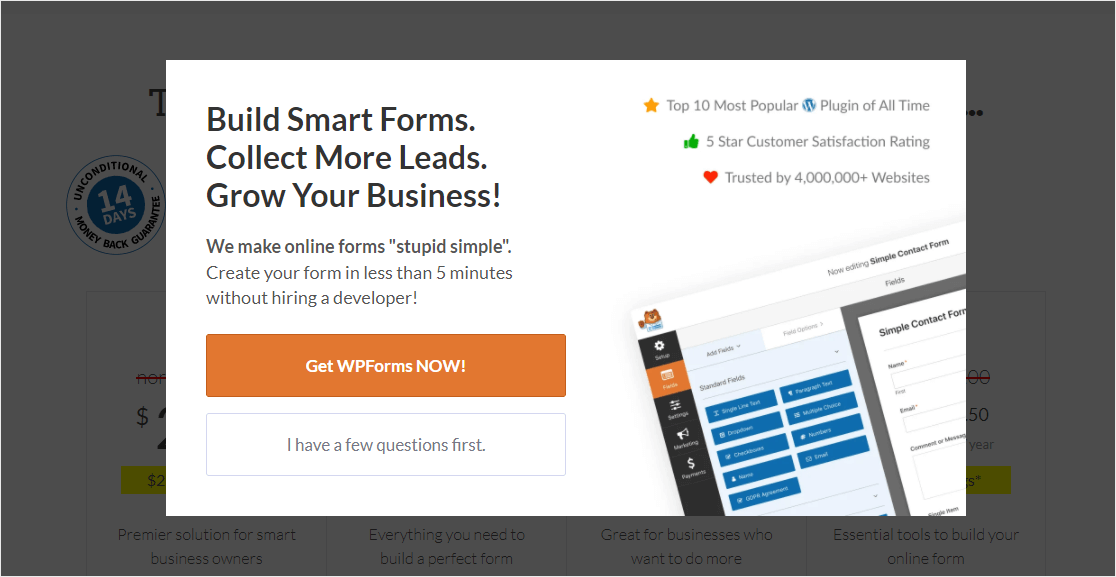 The Yes/No popup uses behavioral psychology to boost traffic and explode email lists. It's wildly impressive how turning it on can quickly fire up your marketing game.
Why it works:
It's incredibly easy to set up a Yes/No campaign with OptinMonster.
Can segment the audience and display different popups based on activity for more conversions.
7. Free Trial Overlay

The Free Trial email signup popup is brilliant because not only do you get someone's email and grow your email list, you also get people trying out your software or service.
Why it works:
Offers something for free in exchange for their information.
The lightbox style can't be ignored by someone browsing through the shop on the site.
8. Fullscreen Distraction-Free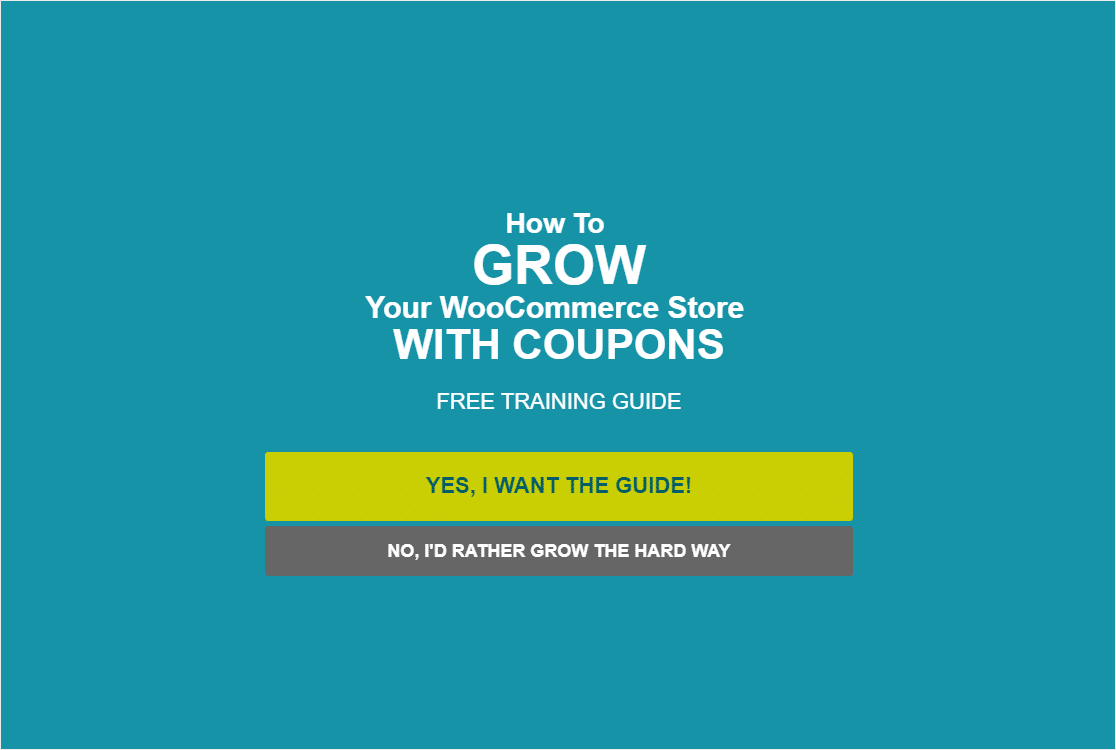 We're all distracted all the time. And websites are no different. This email signup popup example uses a distraction-free style.
Why it works:
This great landing page makes it easy for the website visitor to focus.
A Yes/No option helps encourage a positive answer and more conversions on your email signup popup.
9. Coupon Codes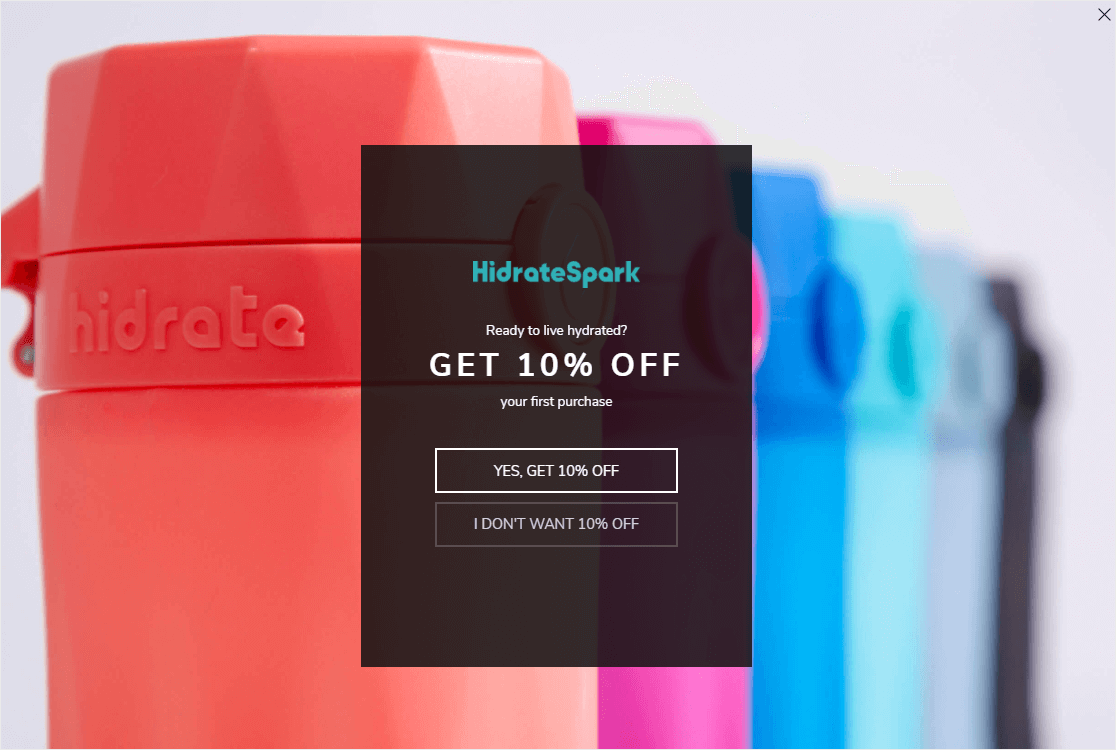 One of the most popular email signup popup examples is the coupon code popup.
Why it works:
People love sales and coupons and have proven that they'll hand over their email address in exchange for one.
People love that they can use them right away.
A great way to get people to commit and make a purchase is through coupon codes on your order form.
10. Social Proof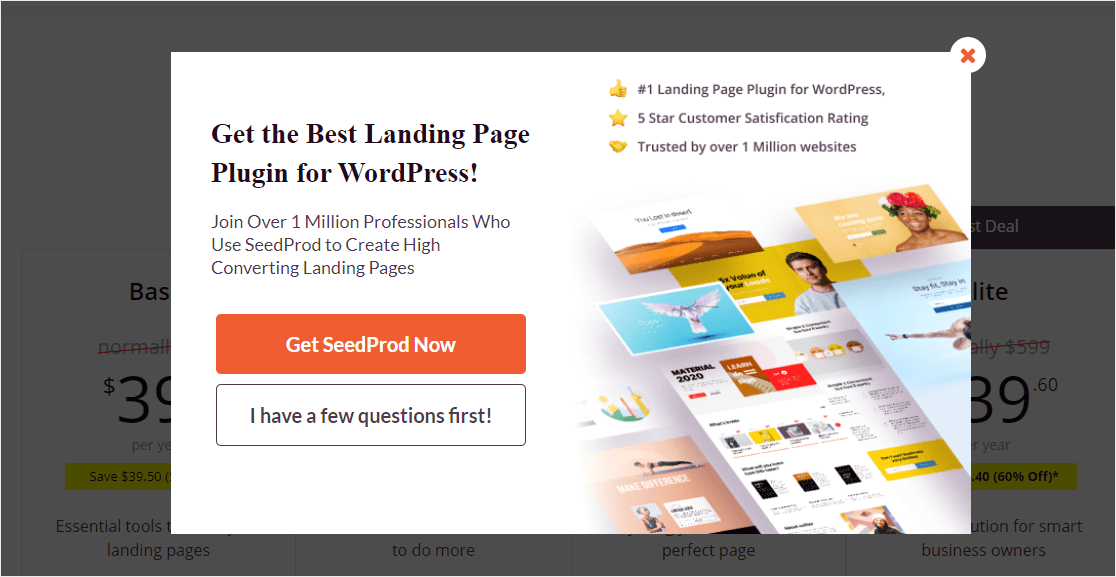 SeedProd's popup offers social proof plus 2 options: ask questions and send over your email address, or buy the product.
Why it works:
Uses social proof by showing how many websites use them.
It's simple and straightforward to collect emails.
It collects an email address while also providing support to the customer or lead to answer any questions they may have.
11. Checklist Popup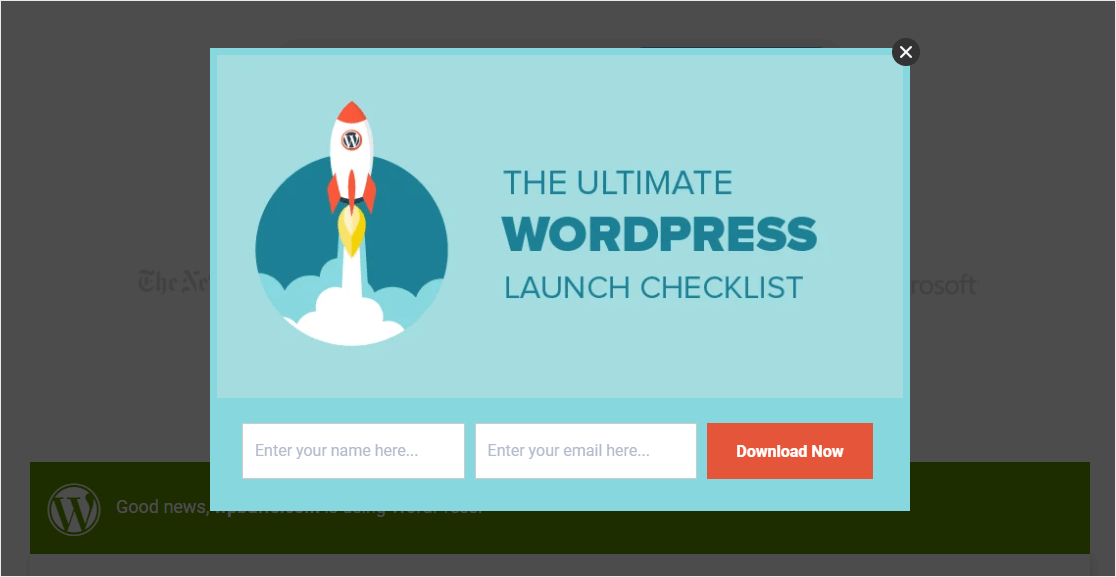 On the IsItWP website, you'll find a really straightforward type of email signup popup example that converts great.
Why it works:
People love checklists as a lead magnet optin form because they are actionable and useful.
There are only 2 fields so the conversion rates are higher.
The CTA button is a bright color and has custom text that offers the action to Download Now.
12. Feedback Popup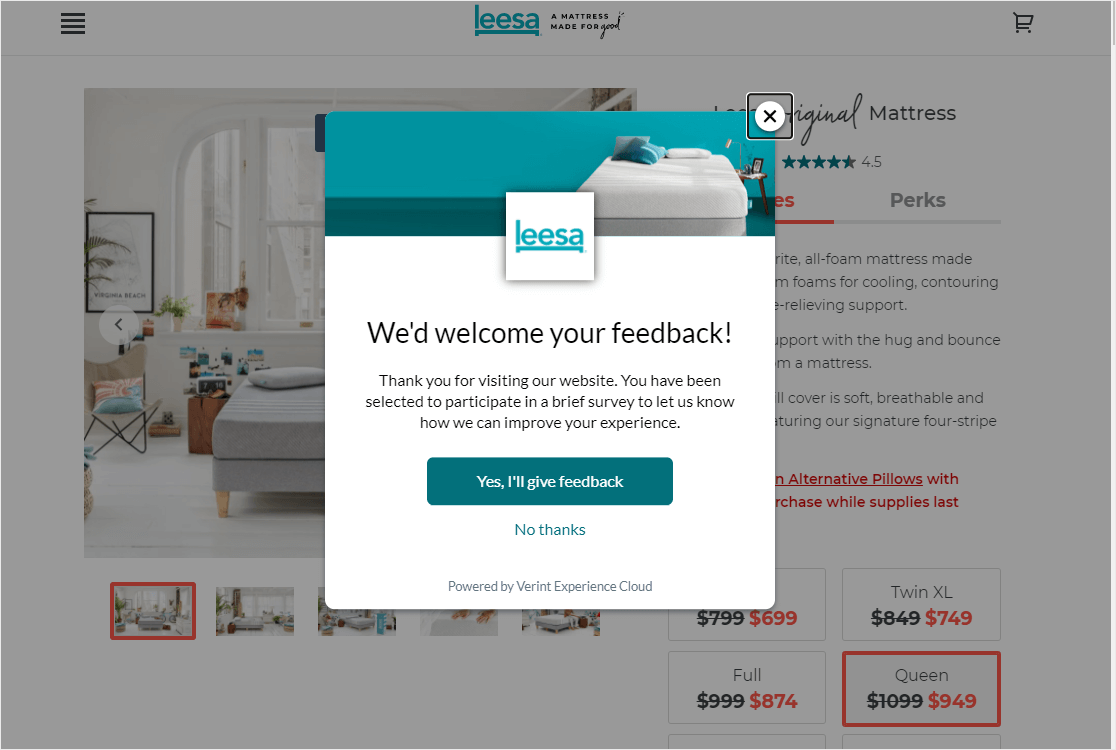 This mattress company uses an email signup popup to get an email address and a customer feedback form filled out.
Why it works:
Collects valuable data.
Uses a Yes/No offer.
Customized colors match the brand.
13. Exit-Intent Popup Example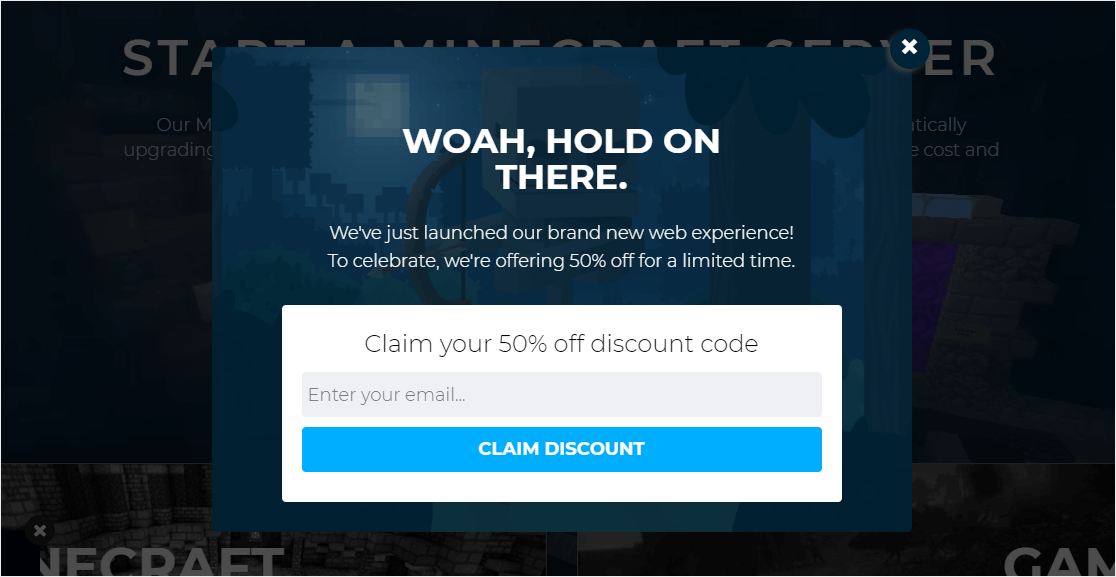 You've seen email signups that appear when you move your mouse to the close button, right? If you're using a powerful web conversion toolkit like OptinMonster, you'll have access to the ability to trigger an email signup popup when someone is about to leave your site.
Why it works:
Capture more leads and sales from people who were about to leave without buying or signing up.
Ability to overcome common objections (try us risk-free!) or offer a discount that really captures your visitor's attention.
14. Power Words Example
Using power words in your copywriting will surely help you boost your conversions, and this idea is shown in this powerful email signup popup example.
Why it works:
The 'PSST!' copy makes this sound like a super-exclusive deal.
The use of Yes/No on this form makes someone select 'No Thanks' to close the offer.
How Do I Create an Email Signup Popup?
If you're using WPForms, here's our tutorial on how to easily create a WordPress popup form.
For building advanced and customizable popups that people love to fill out, we recommend our sister product OptinMonster Pro.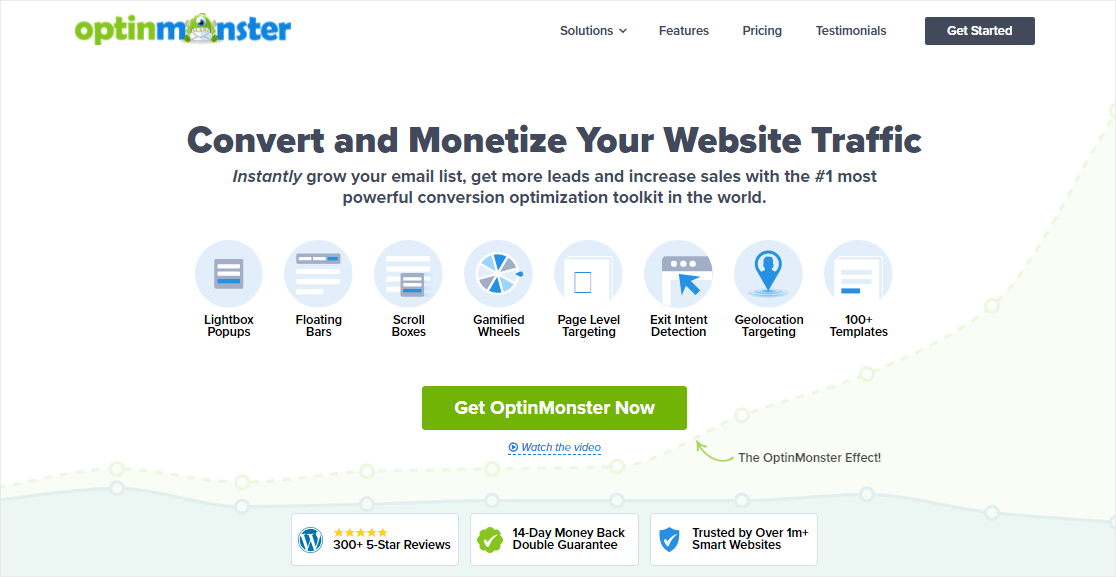 Smart business owners have found truly explosive growth once they've started using some of OptinMonster's amazing features to build not only their own email signup popups but also:
Easy A/B Testing to find out what works best for your audience.
2-Step Optins for building highly engaged lists.
Yes/No Popups that use behavioral psychology to your advantage.
Floating bars, fullscreen welcome mats, and more than just popups.
….and much, MUCH more.
We cover all things popup in our OptinMonster review, and we genuinely believe this tool is worth every cent.
The amount of features that help grow your business and your email list makes it incredibly valuable.
Final Thoughts on Email Signup Popup Examples
And that's that. Our list of the best email signup popup examples from around the web.
Hopefully, you found some that inspired you to get started on your own.
So don't wait another minute – get started with OptinMonster today. They offer a 14-day money-back guarantee, so there's nothing to lose to try.
And make sure to read our list of the best WordPress hosting providers out there to make sure yours is up to speed.
And if you like this article, then please follow us on Facebook and Twitter for more from the blog.