Are you looking for a way to create an upload form that automatically sends WordPress file uploads to your Dropbox? You probably want to easily manage those files or create a backup copy for safekeeping.
In this guide, we'll show you how to add Dropbox to your WordPress website. That way, you can make contact forms that send a copy of your WordPress form file uploads to Dropbox.

If you'd prefer to read the tutorial, we've written how it's done below.
Dropbox Upload Form for WordPress
There are lots of ways to create a Dropbox upload form, but the best solution is to use a form builder plugin to make your form directly in WordPress. WPForms lets you create a custom form and manage uploads from your WordPress dashboard.
How to Add a Dropbox Upload Form to Your WordPress Website
Step 1: Create a File Upload Form
The first thing you need to do is to install and activate the WPForms plugin. For help with this step, learn how to install a WordPress plugin.
If you don't have a form on your website with a file upload function yet, go ahead and create one. WPForms includes tons of prebuilt templates to help you get started quickly.
You can easily create a file upload form using WPForms. Simply follow the instructions in the video below.
Or, if you'd prefer a written tutorial, follow our guide on creating a file upload form. You can also read about how to create a WordPress upload widget, or check out any of these more specific tutorials:
Once you've created an upload form, you can connect Dropbox with it to send a copy of all uploaded files as backups.
Step 2: Test Your Upload Form
Now, you need to submit a test entry to your file upload form. You'll need this later when you're connecting your form to Dropbox.
To do this, go to WPForms » All Forms. Find your upload form and click on Preview.

Then fill out the form, including uploading a simple file. Once you're done, click Submit.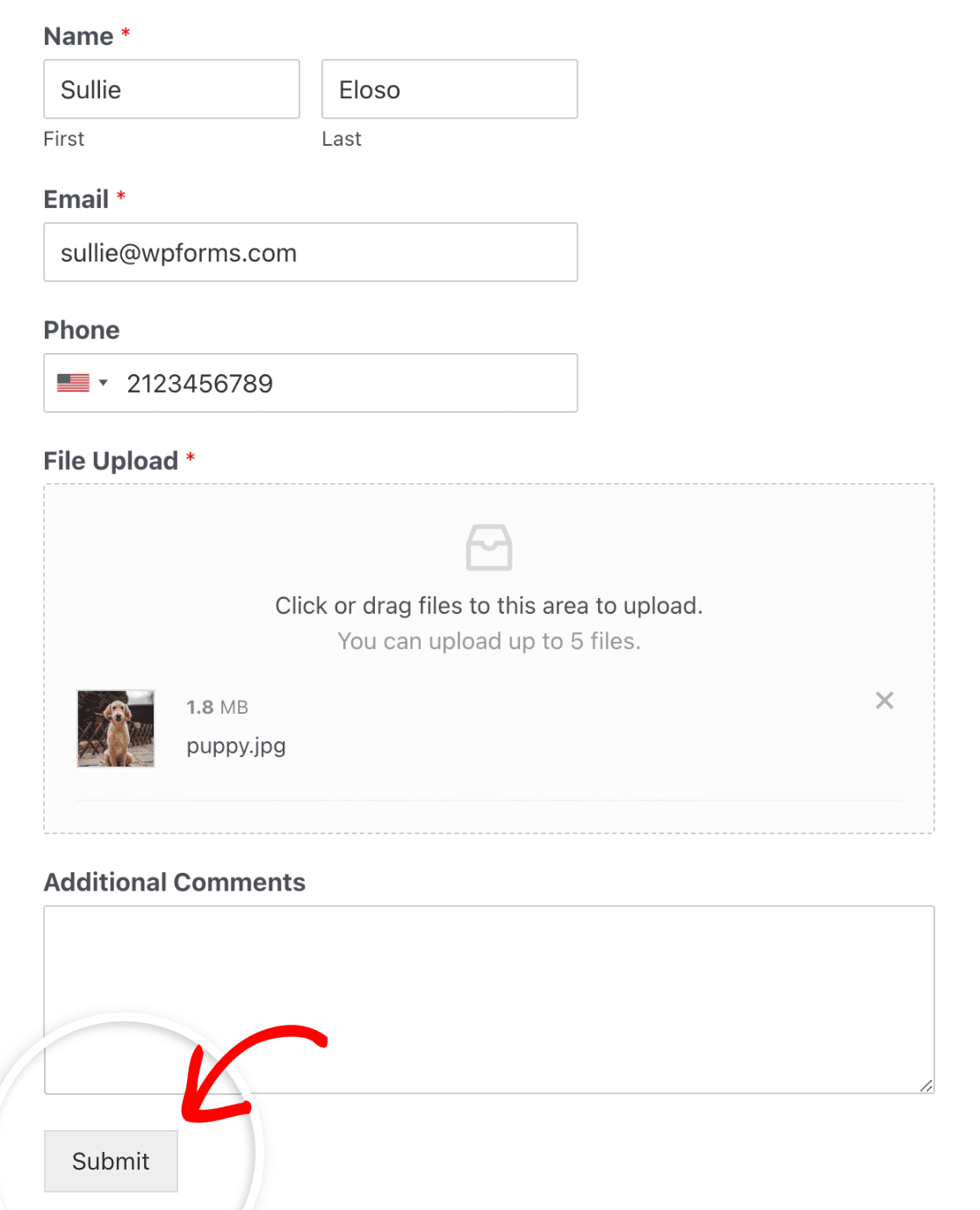 Step 3: Install the Zapier Addon
Before you can connect the WPForms plugin with Dropbox to store uploads from your website, you'll have to connect the plugin with Zapier.
Zapier allows you to connect WPForms with many 3rd party apps to add more features and functions.
So let's get started.
Go to WPForms » Addons and install the Zapier Addon.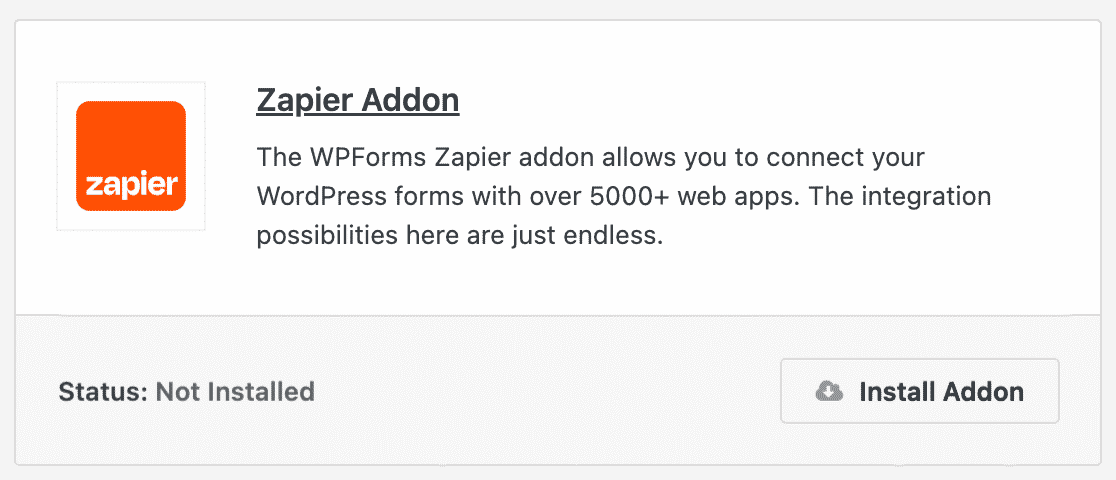 Then go to WPForms » Settings » Integrations and expand the Zapier section. Here you'll find your Zapier API key.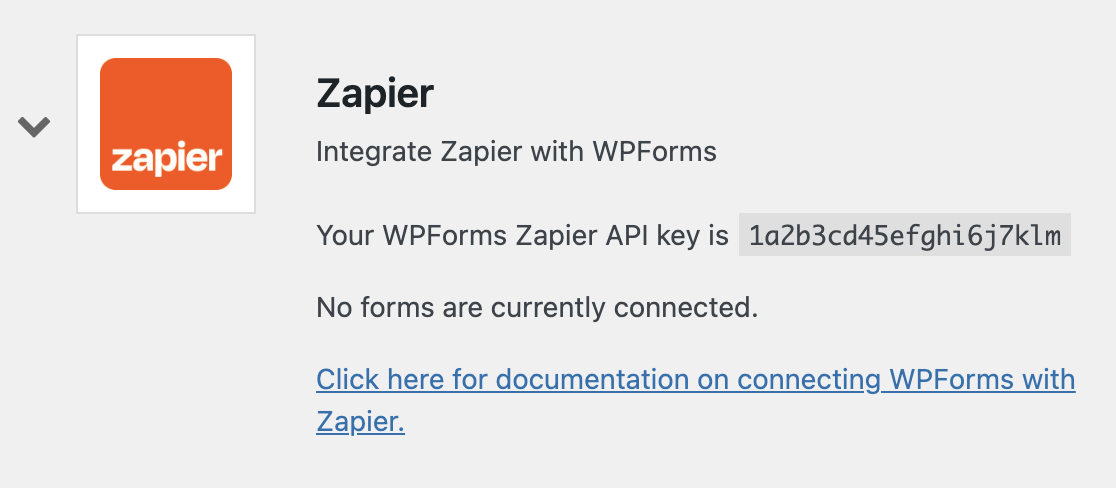 You'll need this later to connect your site to Zapier, so keep this page open in a separate browser tab as you move forward.
Step 4: Choose WPForms as Your Zapier Trigger App
Now you're ready to connect WPForms to Zapier. In a new tab, log in to your Zapier account and click on the Create Zap button.

On the next page, search for WPForms and choose it as the trigger app.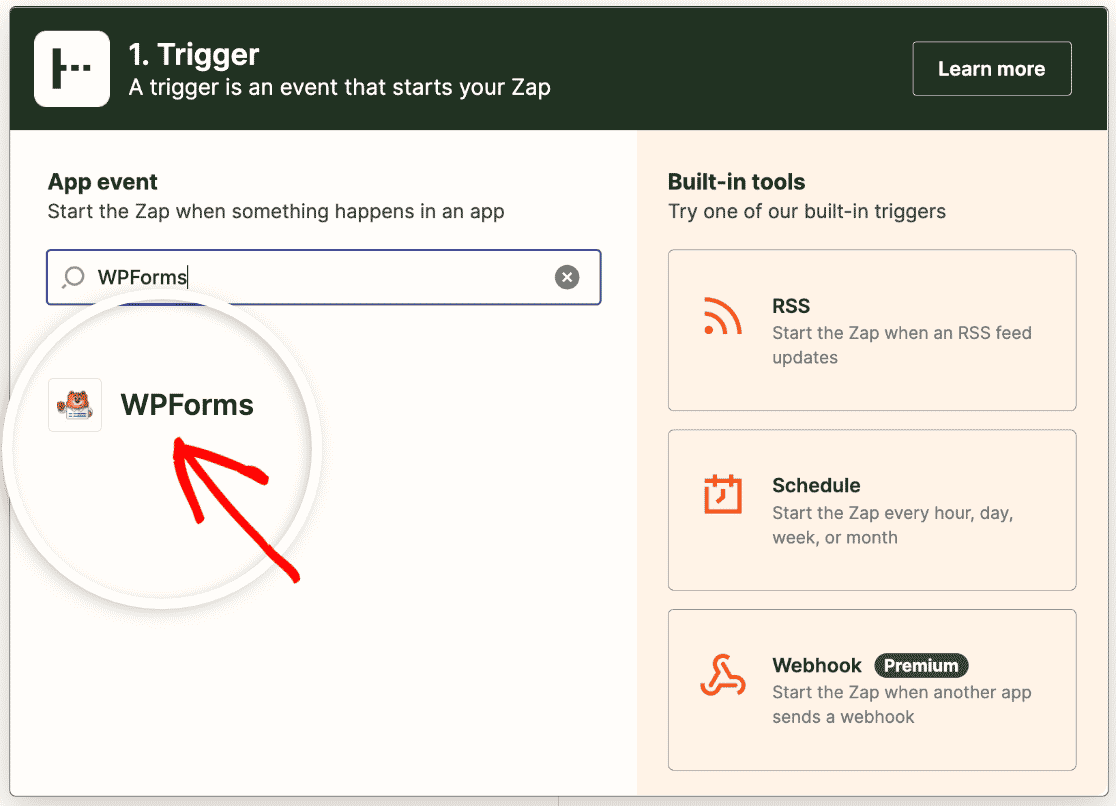 Select New Form Entry as the trigger event and proceed to next step. This will make form submission the event that starts your Zap.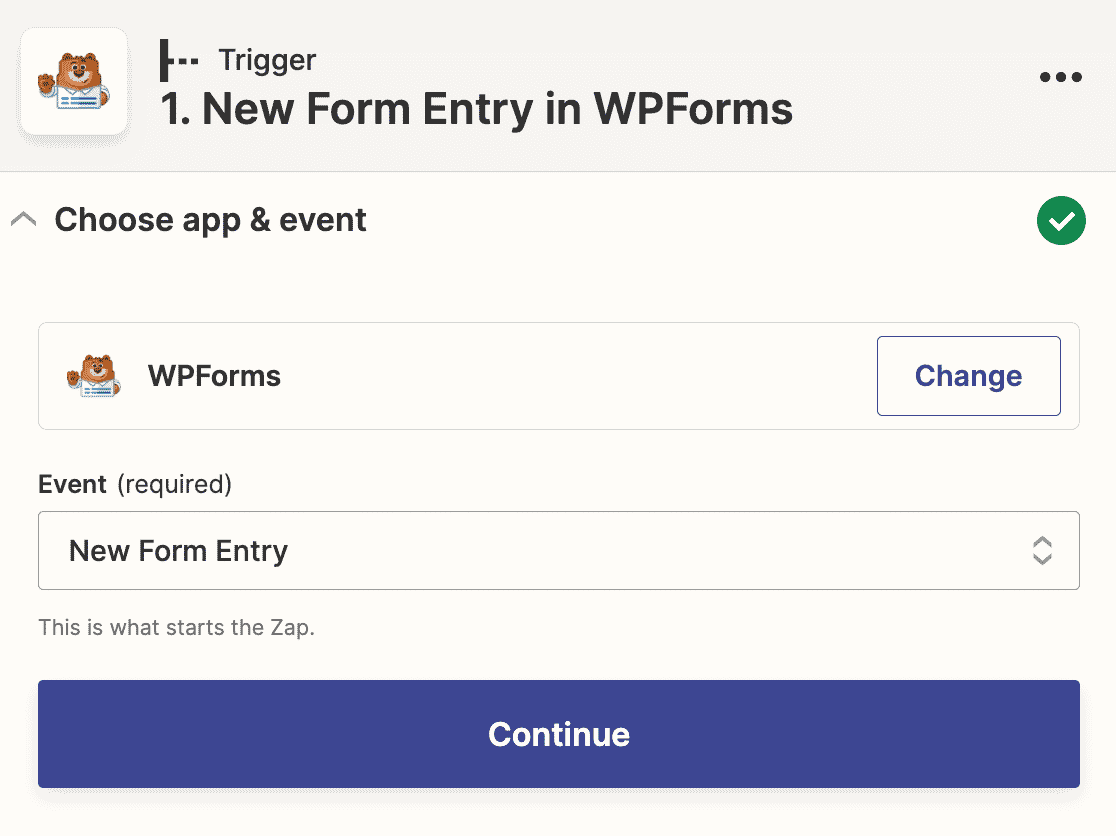 Zapier will now ask you to connect your website with your Zapier account. Click on Sign in.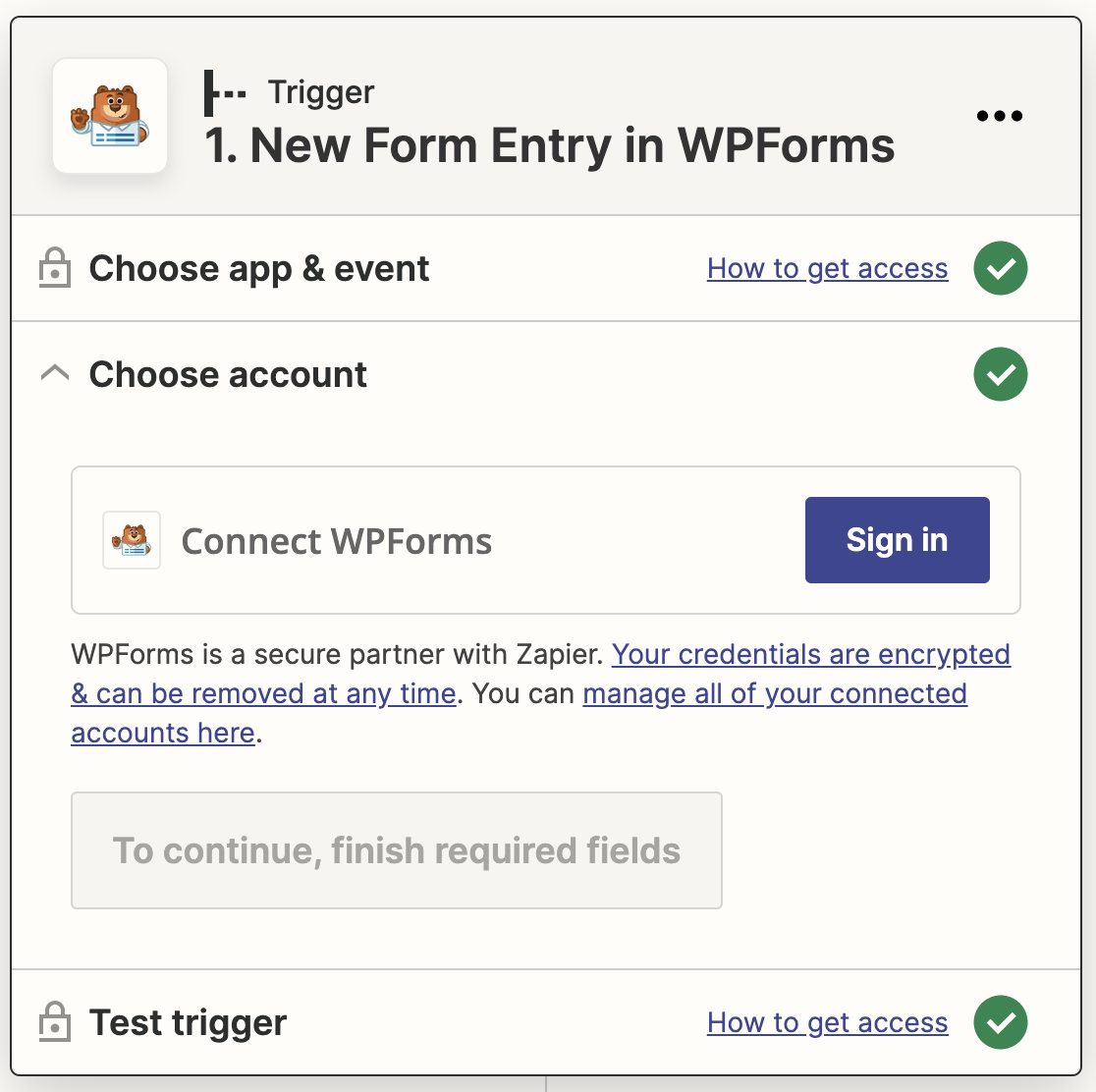 In the connect account window, enter your website URL and the Zapier API key, which you can copy from the browser tab you left open.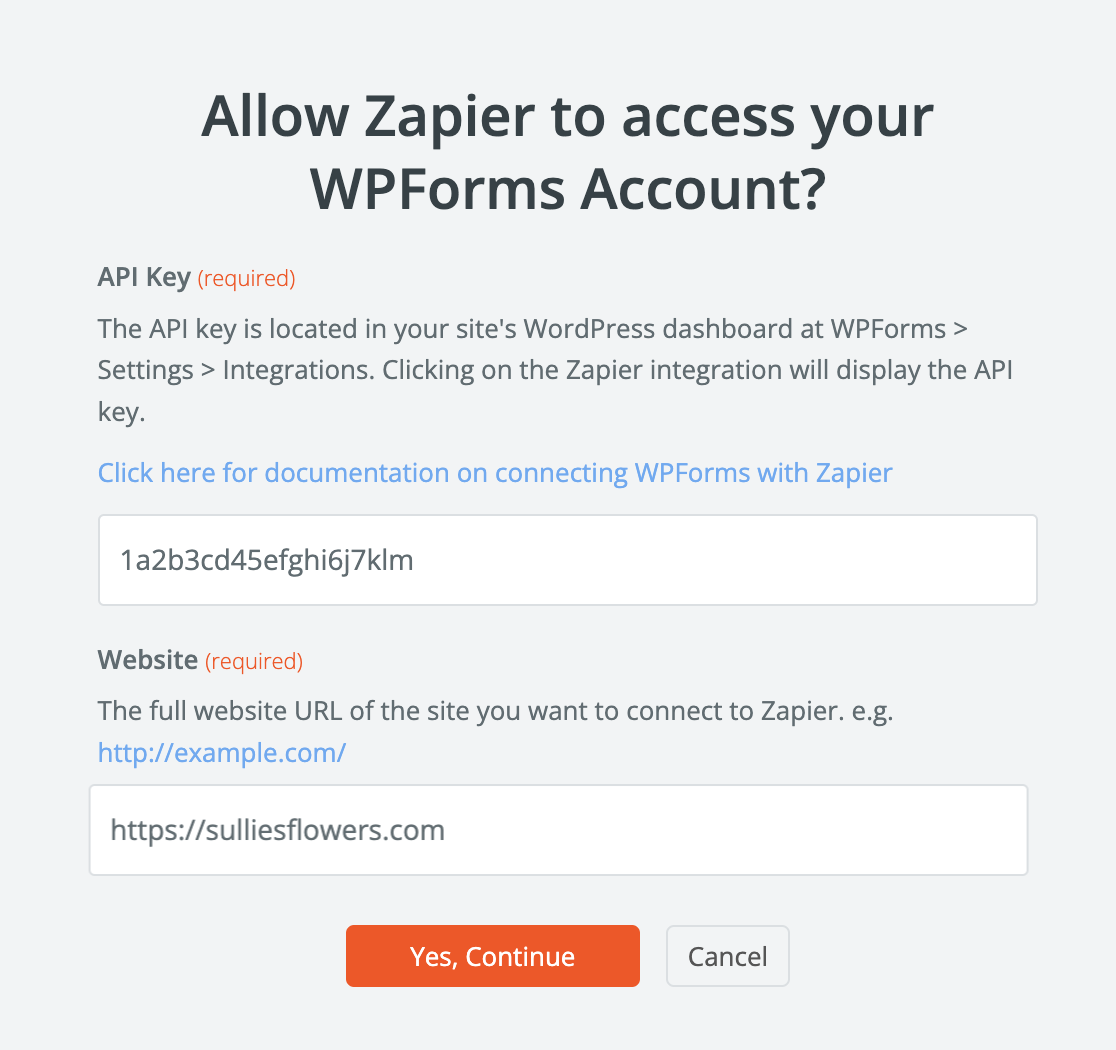 In the next step, choose the upload form you've just created in WPForms and click Continue.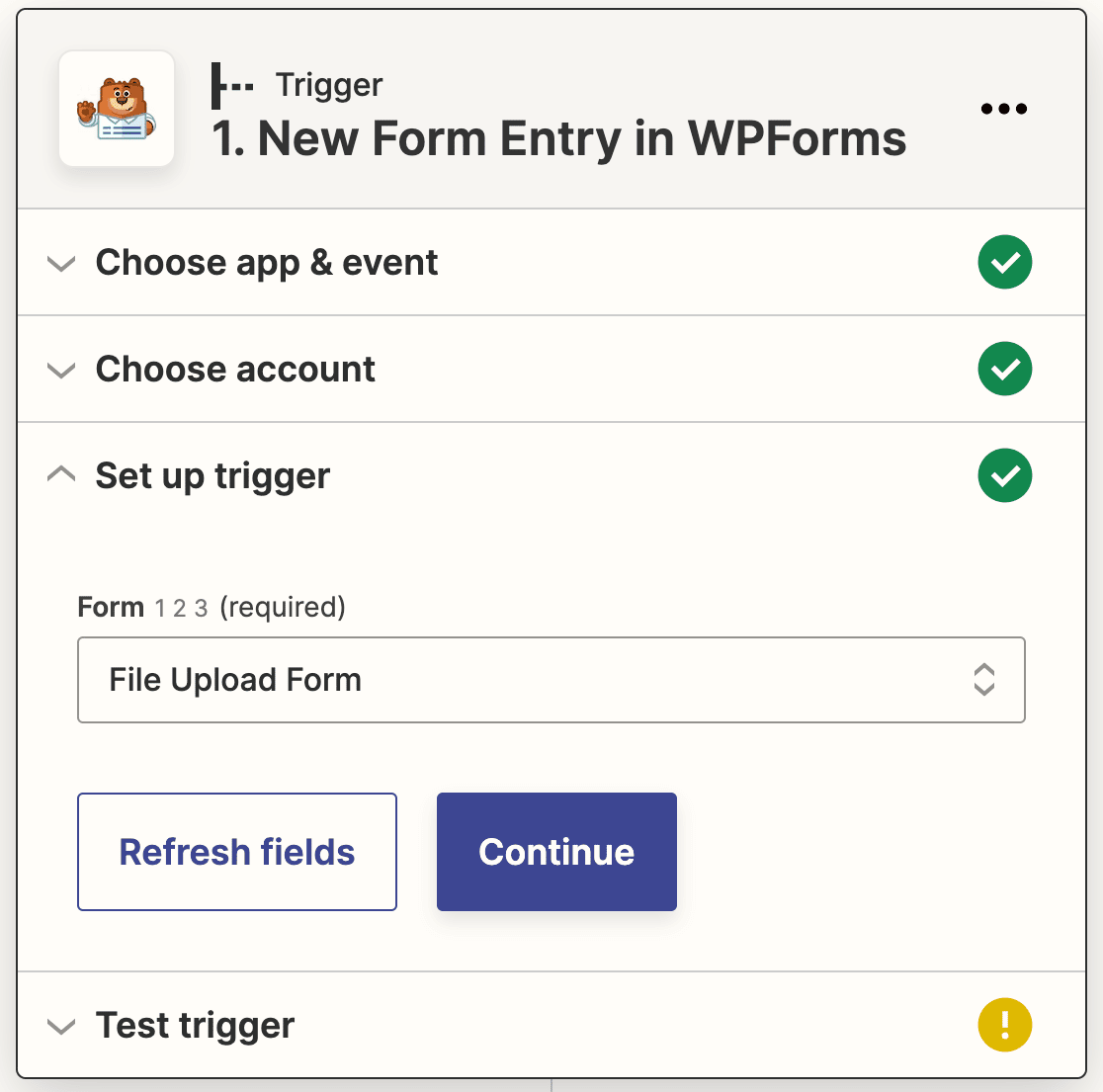 Zapier will then test your connection to make sure everything is set up correctly. Click Test trigger to begin.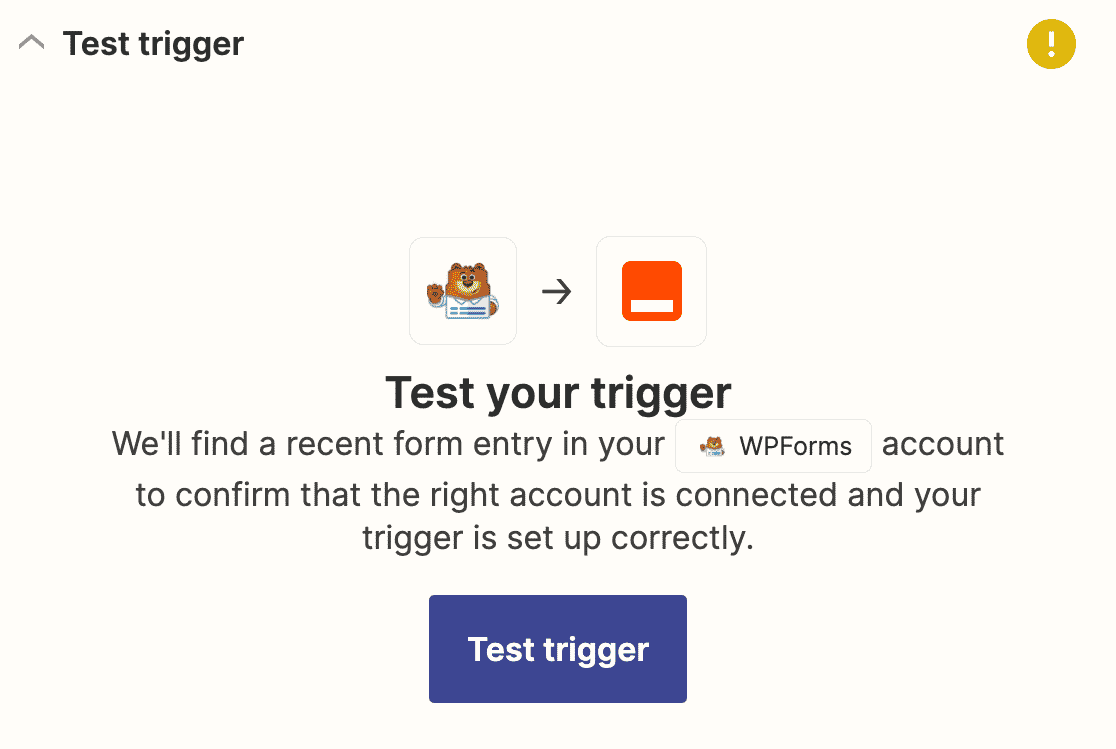 If the test is successful, you'll see the test entry you submitted earlier.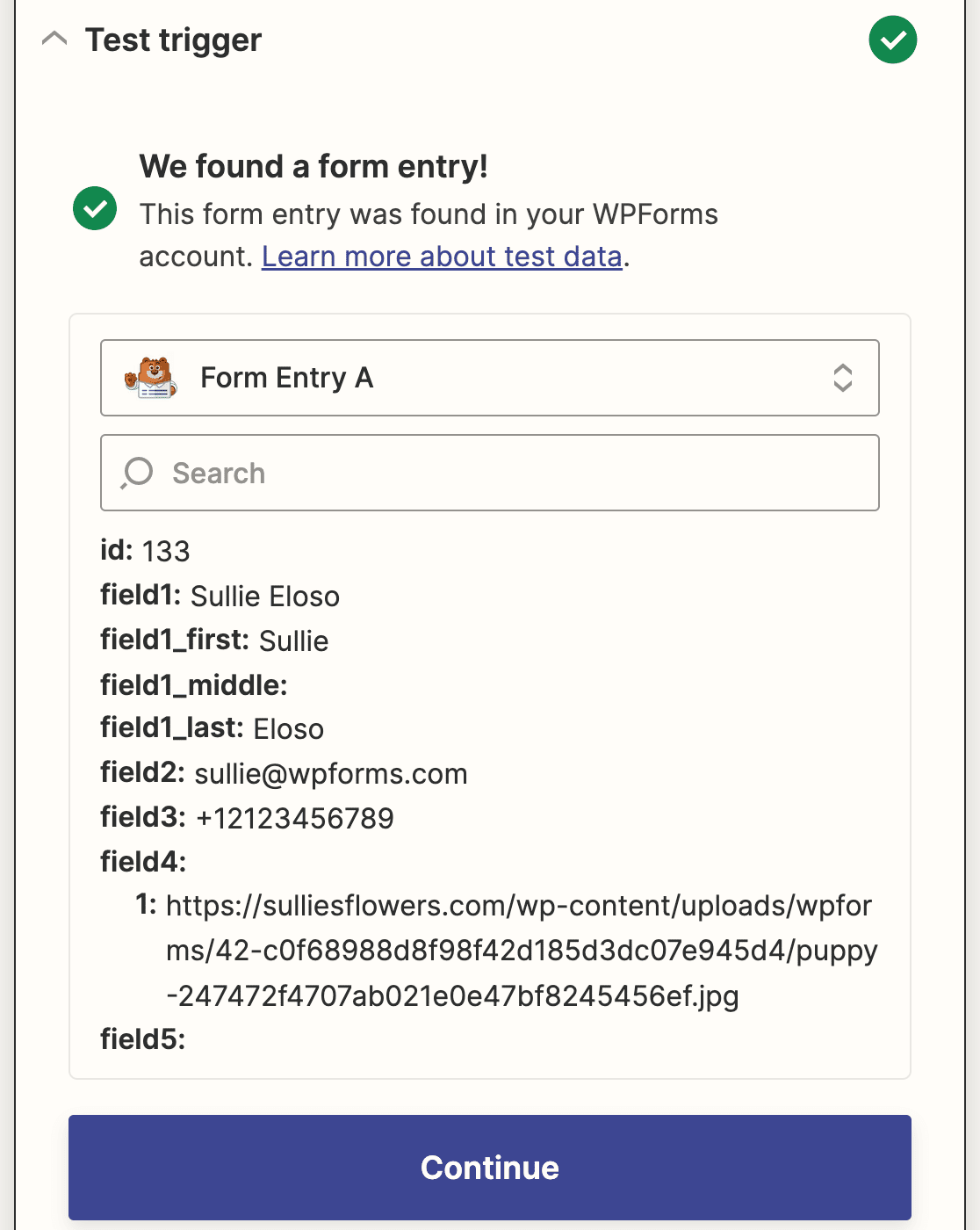 Click Continue to move on and connect Dropbox with WPForms.
Step 5: Set Up Dropbox as Your Zapier Action App
Next, you'll connect Dropbox to Zapier. In the wizard, search and select Dropbox as the Action app.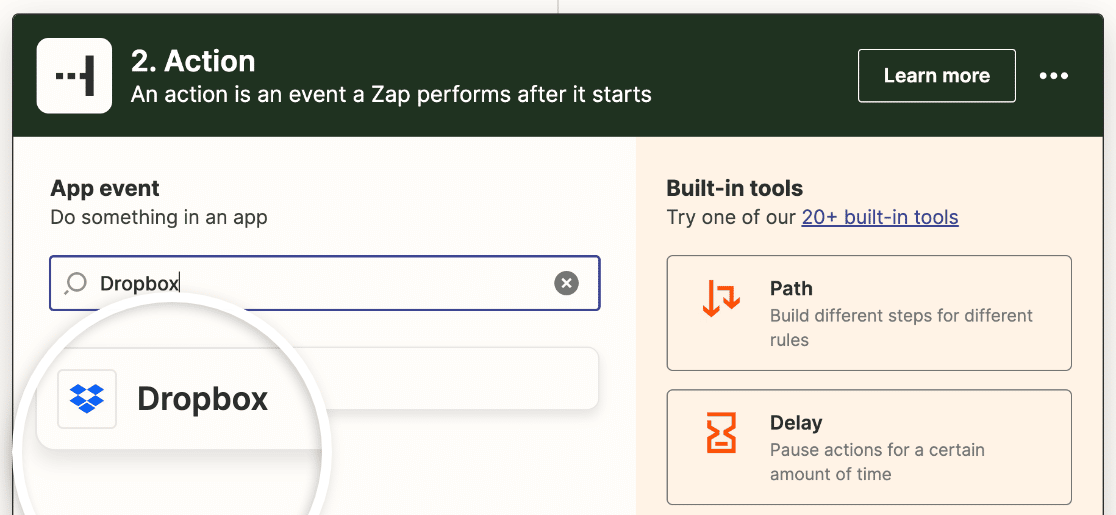 Next, choose Upload File as the Action and click Continue. This will make it so that whenever someone adds a Dropbox file to your form, it's uploaded to your account.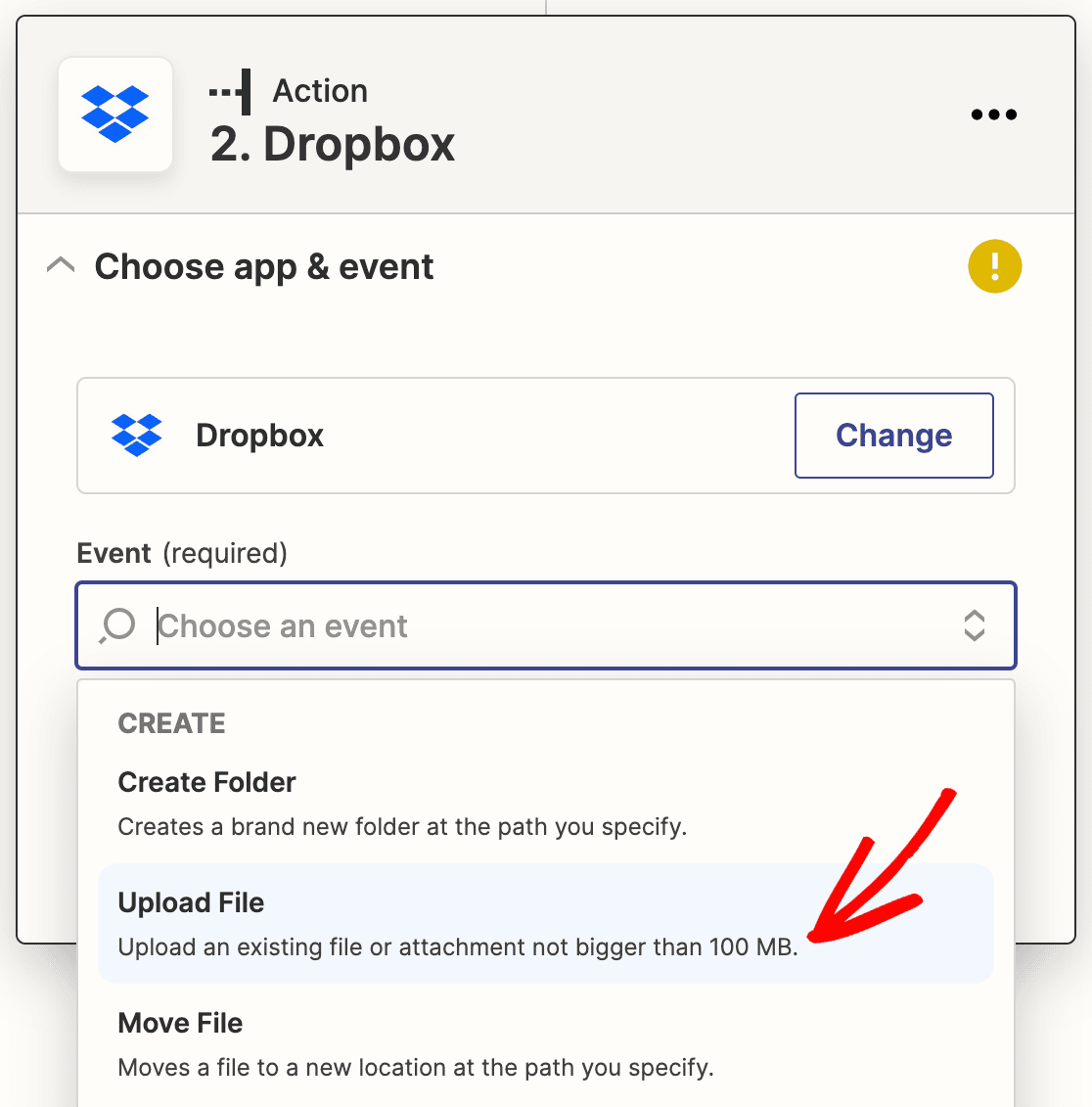 On the next screen, select Sign in to connect your Dropbox account with Zapier.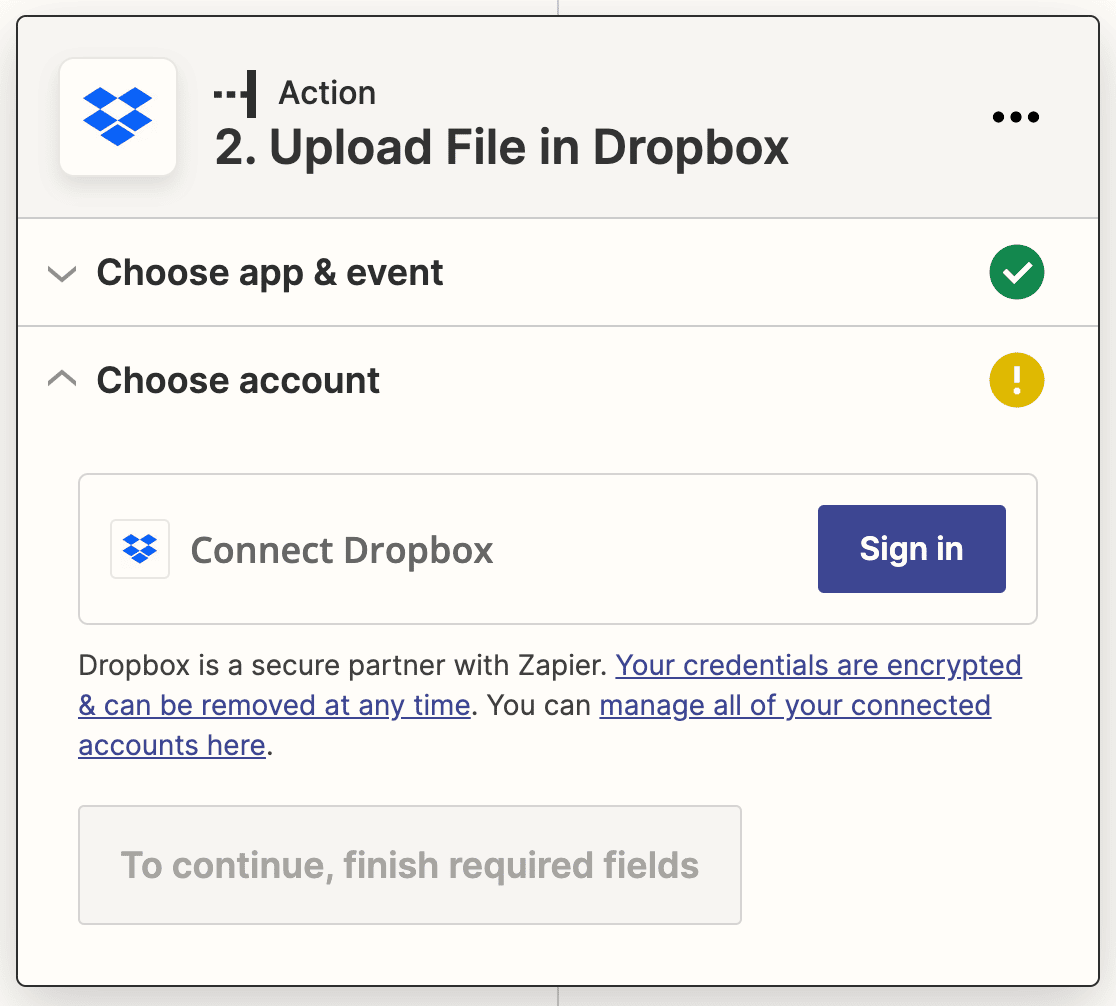 This will open a popup window where you'll need to log in to Dropbox. Enter your email address and password, then click Sign in.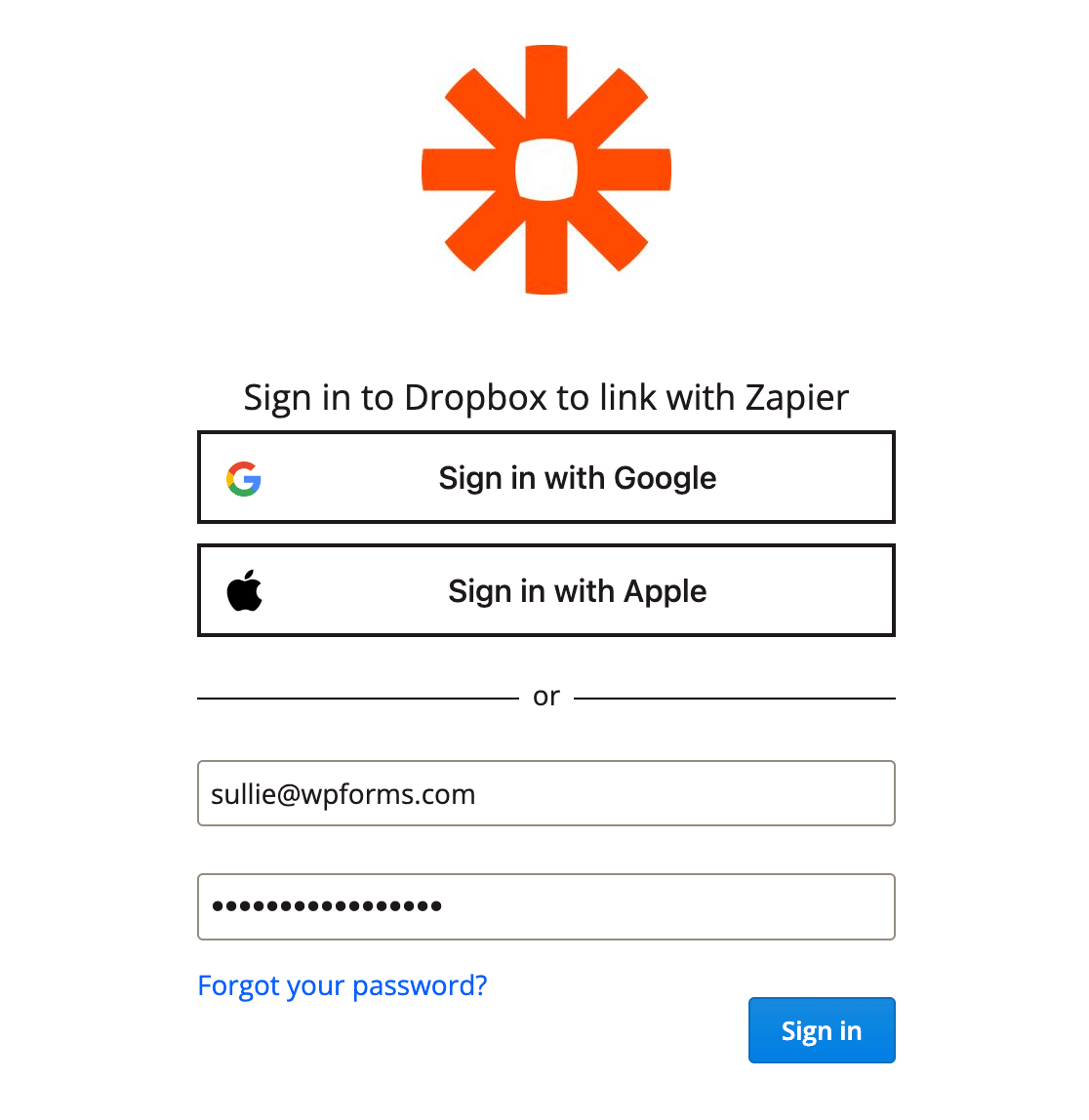 Another window will open where you'll need to allow Zapier access to your Dropbox account. Click the Allow button to proceed.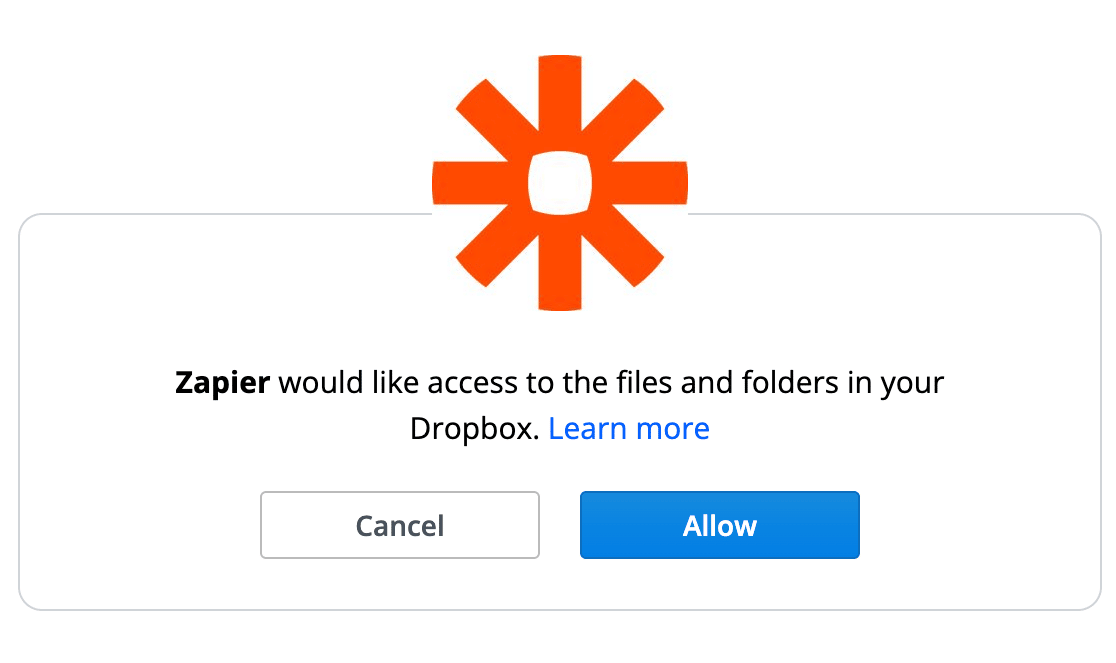 You'll then be taken back to the Zap setup wizard. Click Continue to move on to the next step.
You'll now need to specify the correct folder in Dropbox where you want to upload the files from your WordPress form. In addition, you'll also need to specify the file upload field from your form, which will also show the filename for the test submission you created.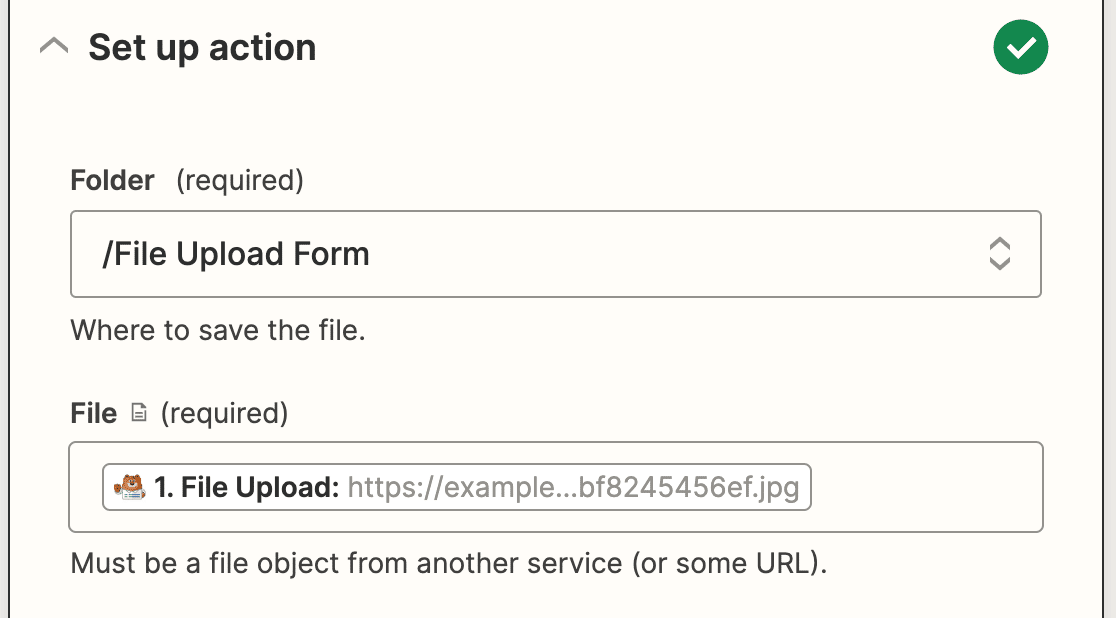 The other option on this screen are optional. Fill them out if you want to, then click Continue.
Now Zapier will test your Dropbox connection just like it did for WPForms. Click Test & continue to start.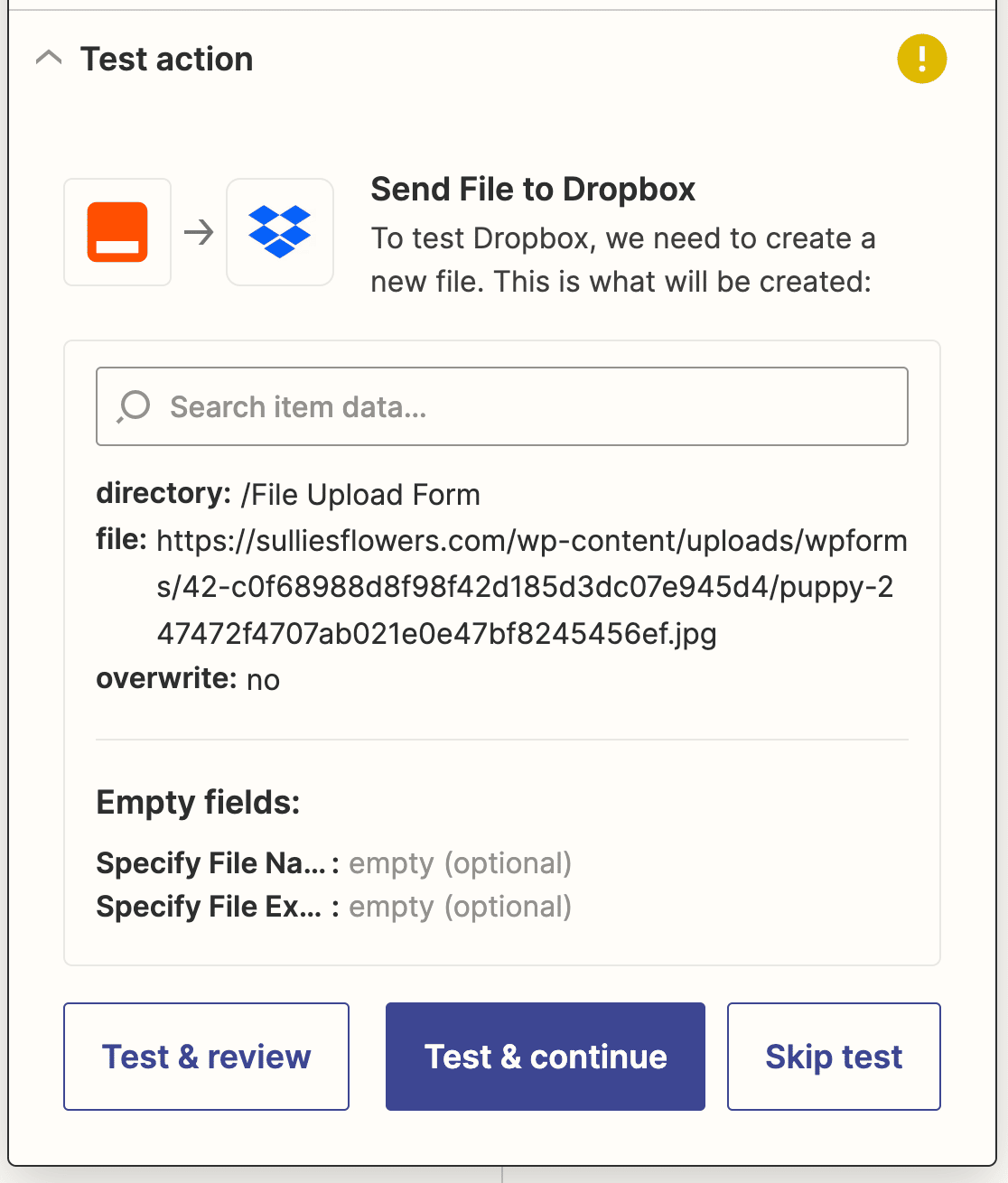 If everything's working correctly, you'll see a success message. The file you uploaded for your test entry should also now be in the Dropbox folder you selected in the previous step.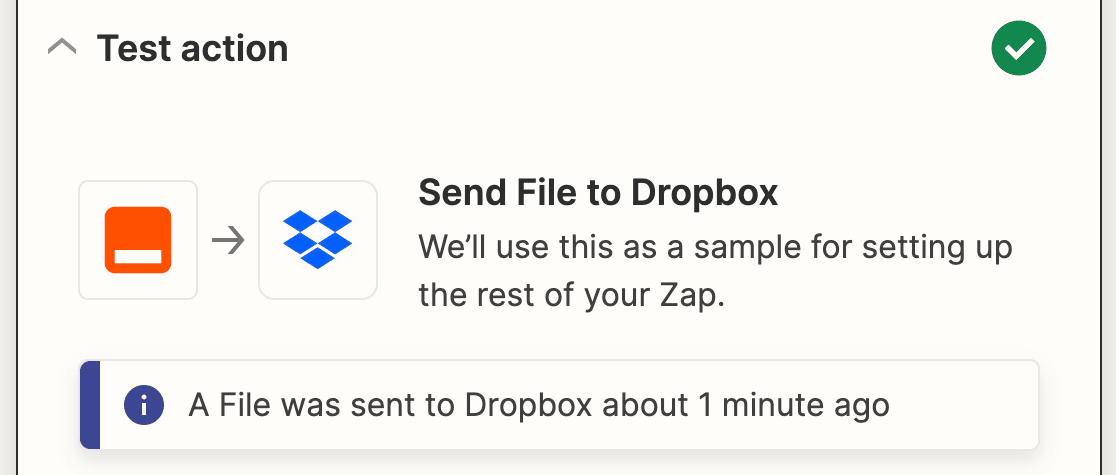 Don't forget to publish your Zap before you close Zapier.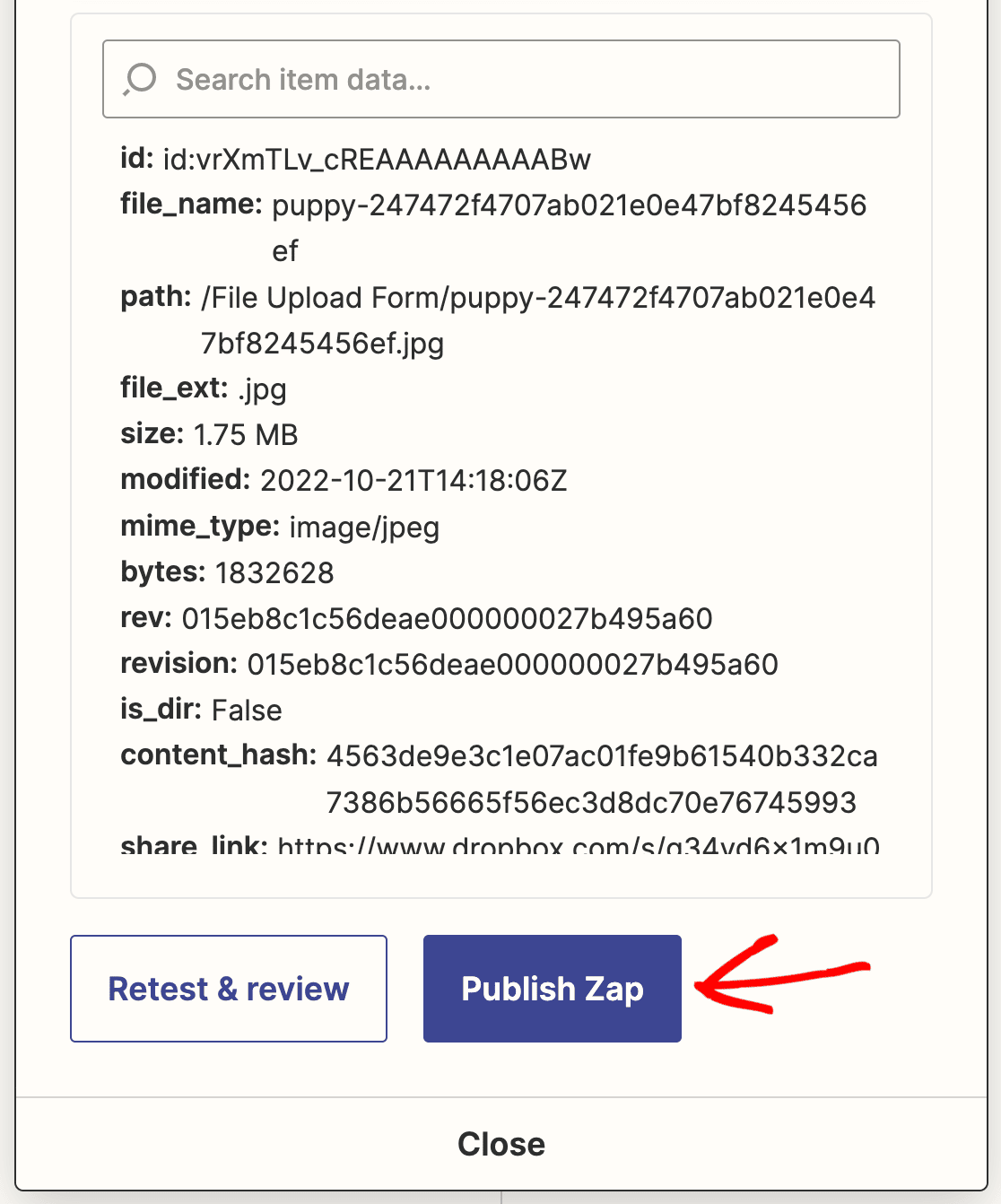 Step 6: Embed Your Dropbox Upload Form on Website
The last thing you need to do is add your file upload form to your website so users can fill it out. WPForms allows you to add your forms to many locations on your website, including your blog posts, pages, and even sidebar widgets.
So let's take a look at the most common post or page embed option.
To begin, create a new page or post in WordPress, or open an existing one in the editor. After that, add a new block and select the WPForms icon. You can search for it if you don't see it right away.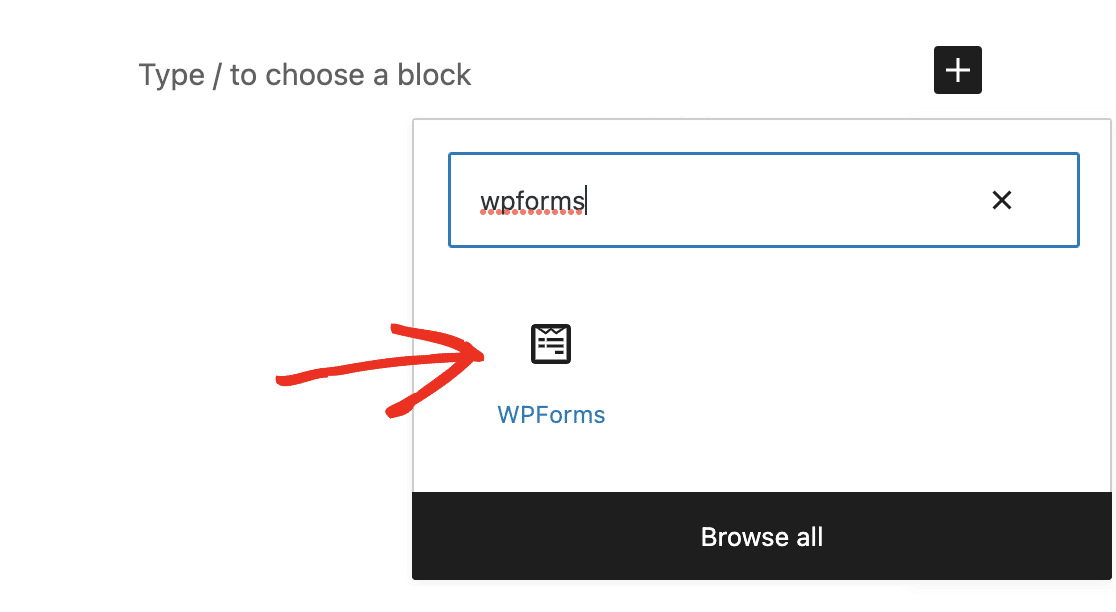 Now click on the WPForms dropdown and pick the file upload form you created and connected to Dropbox.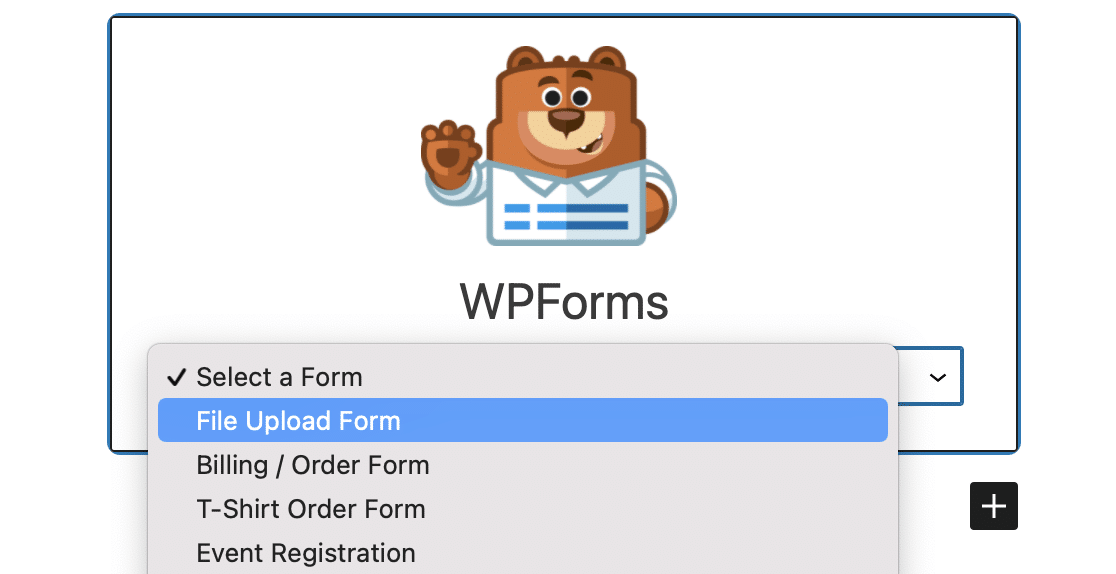 If you like the way the form looks, go ahead and publish it to make the form live on your site.

Next, Check Out More WPForms Integrations
Bravo! You've just finished creating an awesome upload form that also sends a copy of the file uploads to Dropbox. You now know how to add Dropbox to your website through your form plugin.
Want to send form entries to Google Sheets so you can view all your entry information in a spreadsheet? The WPForms Google Sheets addon lets you connect any form directly to Google Sheets.
Or, for more awesome ways to use WPForms and Zapier together, check out these posts:
And these are only some of the many superpowers you get when using WPForms. Check out dozens of amazing features of our WordPress plugin and explore the blog for more tutorials like this one.
Also, follow us on Facebook and Twitter for more WordPress guides and tutorials.