Looking for the very best email marketing software?
A good email marketing platform will let you:
 Connect with your site visitors
 Build long-lasting relationships
Convert them into happy customers
The bottom line is, you'll make more money.
So in this article, we'll compare the top email marketing service providers out there today.
What Are the Best Email Marketing Services?
Asking yourself what are the top email marketing tools? Here are our top picks.
| | Price | Free Plan or Trial Period | Best for |
| --- | --- | --- | --- |
| Constant Contact | $20+/month | 60 days | Small businesses |
| Sendinblue | $22+/month | 300 emails/day | Email + SMS marketing |
| HubSpot Email Marketing | $45+/month | 2,000 emails/month | Large-scale businesses |
| AWeber | $19+/month | 30 days | Advanced campaigns on a budget |
| Omnisend | $16+/month | Up to 250 subscribers | eCommerce beginners |
| Drip | $49+/month | Up to 100 subscribers | Advanced eCommerce business owners |
| ConvertKit | $29+/month | 14 days | Bloggers and content creators |
| Moosend | $8+/month | Up to 1,000 subscribers | Budget-minded marketers |
| Mailchimp | $10+/month | Up to 2,000 subscribers | Best all-around email marketing platform |
| MailerLite | $10+/month | Up to 1,000 subscribers and 12,000 emails/month | Best Mailchimp alternative |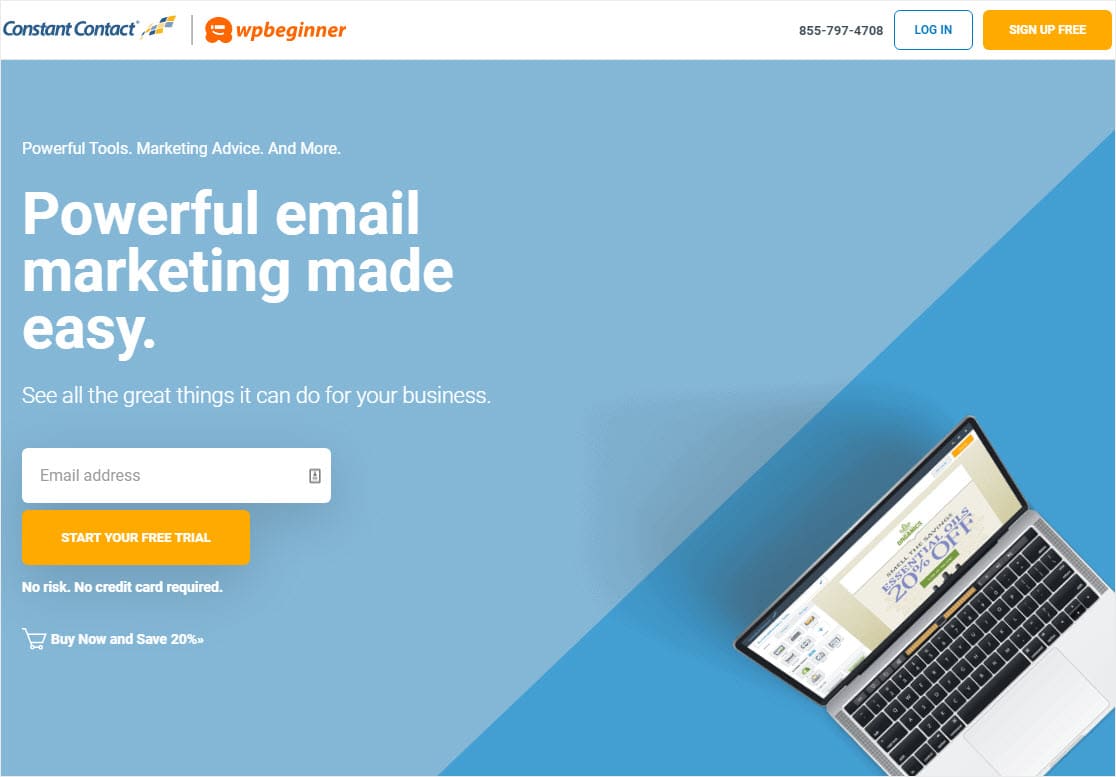 Constant Contact is one of the most popular email marketing service providers for small businesses. In fact, it makes sense why it's on this list of the greatest email platforms since it's one of the fastest-growing services around, especially because it's so easy to use. It's great for any business whether you're a solopreneur with a membership website or a local bank hoping to promote a financial product.
It's also the email service provider that comes built into the WPForms plugin. You can easily add a Constant Contact checkbox to any WordPress form on your site.
Choose from over 100 pre-designed email templates, use the built-in drag-and-drop editor, and collect and manage email lists from all over your website, mobile devices, and even social media — all with a few simple clicks.
Plus, enjoy these top-notch features when using Constant Contact:
Upload your contact list from places such as Excel, Gmail, and Outlook for easy list management
Use the built-in heat tracking tool to see where people are clicking
Automatically send personalized email messages to unlimited emails from your business email address
Segment lists based on the content people click on so they get more of what they like
Track unsubscribes, bounces, and inactive emails
Monitor email campaign activity to make better data-driven decisions
Stellar live chat and phone support, emails, and discussion forums
A helpful blog with B2B email design inspiration and more
Constant Contact has a 60-day free trial and doesn't require a credit card to use.
After that, plans start at $20/month.
Get started with Constant Contact today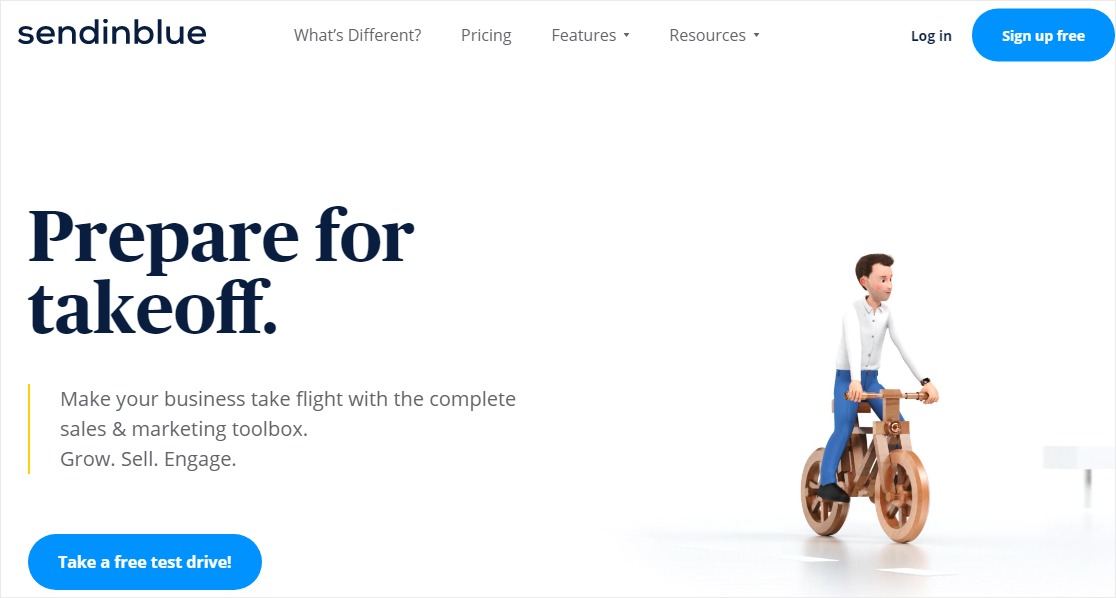 Sendinblue is a powerful email service provider that wants to empower businesses to build better relationships through email marketing campaigns and automation. It's both an email and SMS marketing software. It gives you the tools you need to promote your brand while staying user-friendly and simple to use.
To create personalized emails all you have to do is use the built-in drag-and-drop builder. You can also create custom contact fields and access the HTML editor. Plus, use one of the free responsive templates to build a beautiful email design for your newsletter subscribers that works on all mobile devices.
If you're looking for more features, here are all the advanced marketing features Sendinblue has to offer:
8 automation workflows so people receive the right emails at the right time
Identify the best time to send emails to each subscriber and automate the campaigns
Optimize campaigns using detailed reports, heat map tools, real-time stats, and A/B testing
Option to set up Sendinblue with WP Mail SMTP for reliable transactional email deliverability
Send email messages via text message with a few clicks
Rank leads and email prospective customers based on the lead scoring feature
Send customized transactional emails and personalized email
Access an integrated live chat software
Doing an email marketing services price comparison and looking for one with free email accounts? Sendinblue has a free plan that includes unlimited storage for contacts and 300 emails/day.
After that, plans start at around $22/month.
Get started with Sendinblue today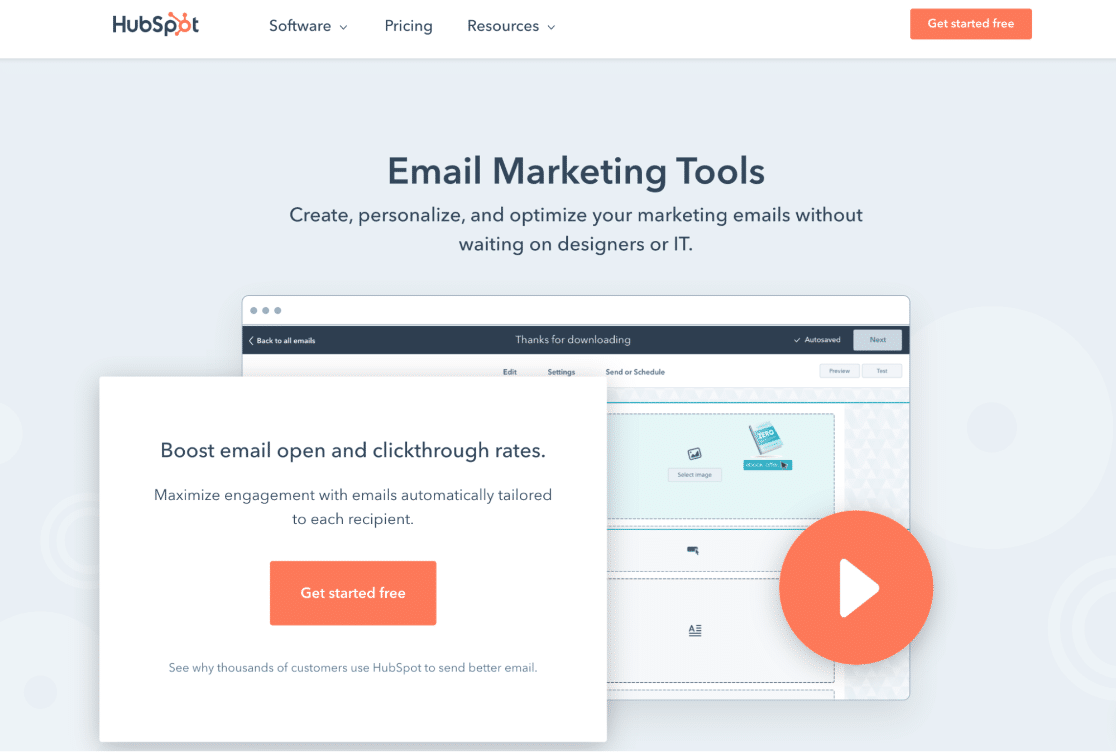 HubSpot email marketing is combined with the power of CRM. This lets you create deeply personalized email campaigns based on your subscribers' lifecycle stage, list membership, or any other information in their contact records.
Plus, with HubSpot, you can create your entire lead generation funnel. From the lead capture form you use to collect new contacts to the landing page it's built on, HubSpot has all the tools you need.
You can also easily send your customers' info from your forms to HubSpot with our HubSpot addon.
Here are some of HubSpot's best features:
User-friendly drag-and-drop email editor and goal-based email templates
Easily set up complex automation flows to take your email marketing strategy to the next level
Use the smart A/B testing to automatically detect the winning email variation
Built-in analytics reports with features like an HTML click map and other post-send analytics
Comes with a free form builder, landing pages, live chat, ad management, and more
Available as a WordPress plugin to easily integrate with your WordPress website
HubSpot's free plan lets you send 2,000 emails/month to unlimited contacts.
For more advanced features, premium plans start at around $45/month.
Get started with HubSpot today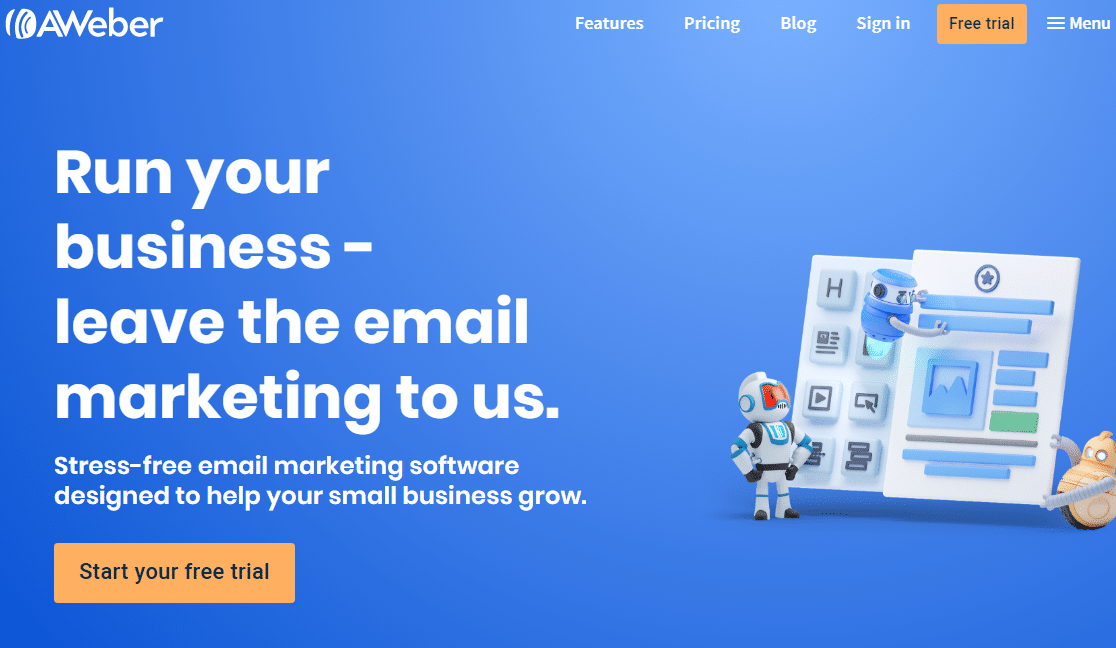 AWeber is a top-notch email marketing service that has all the tools you need to generate leads, build a bigger email list, and grow your business.
Connect your WordPress website and the WPForms form builder plugin to AWeber with a few simple clicks. From there, access pre-designed email templates and the drag-and-drop builder for easy targeted campaign creation.
Set up automated email sequences to promote upcoming product launches, new blog content, or this year's biggest sales to get people engaging with your site's content.
In addition, access features such as:
Tags to organize emails based on opens and clicks
Great storage space
Targeted messages based on email activity and interests
Split testing for things like subject lines, send times, and email content
Track data like deliverability rates and performance
Send as many emails as you want; there are no limits
Automatically send new blog posts to subscribers
Access thousands of royalty-free stock images
Take advantage of the free 30-day trial so you can ensure AWeber has the tools you need to grow your business and email list.
After your free trial, plans start at $19/month.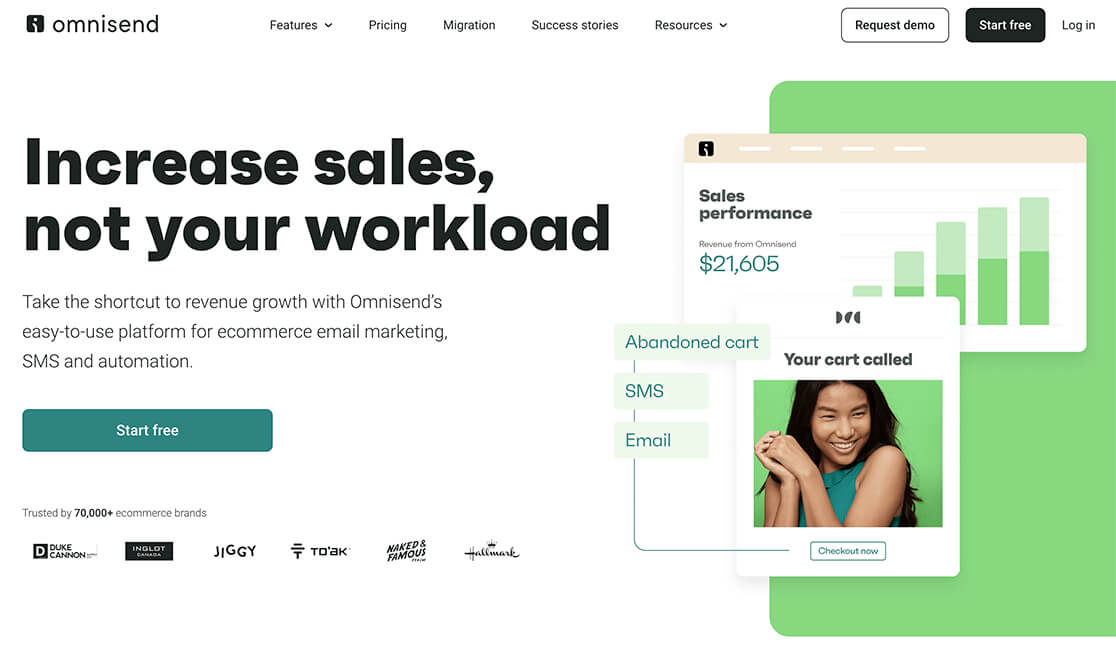 Omnisend is a powerful email marketing and SMS automation software for eCommerce businesses. It offers an omni-channel marketing platform so you can communicate with your website visitors using email marketing, SMS, and web push notifications, all from one single platform.
It comes with pre-built automation workflows, subscriber segmentation, A/B testing, detailed reports, and tons of popular integrations to make it easy for you to grow your online business faster with email marketing.
Here are some of Omnisend's most notable features:
Professional email templates
Pre-built email automation and marketing workflows
Unlimited segmentation
Detailed sales and performance reports
Built-in A/B testing and email marketing popups
You can use Omnisend for free if you have less than 250 subscribers.
After that, their paid email marketing automation plans start at $16/month.
Get started with Omnisend today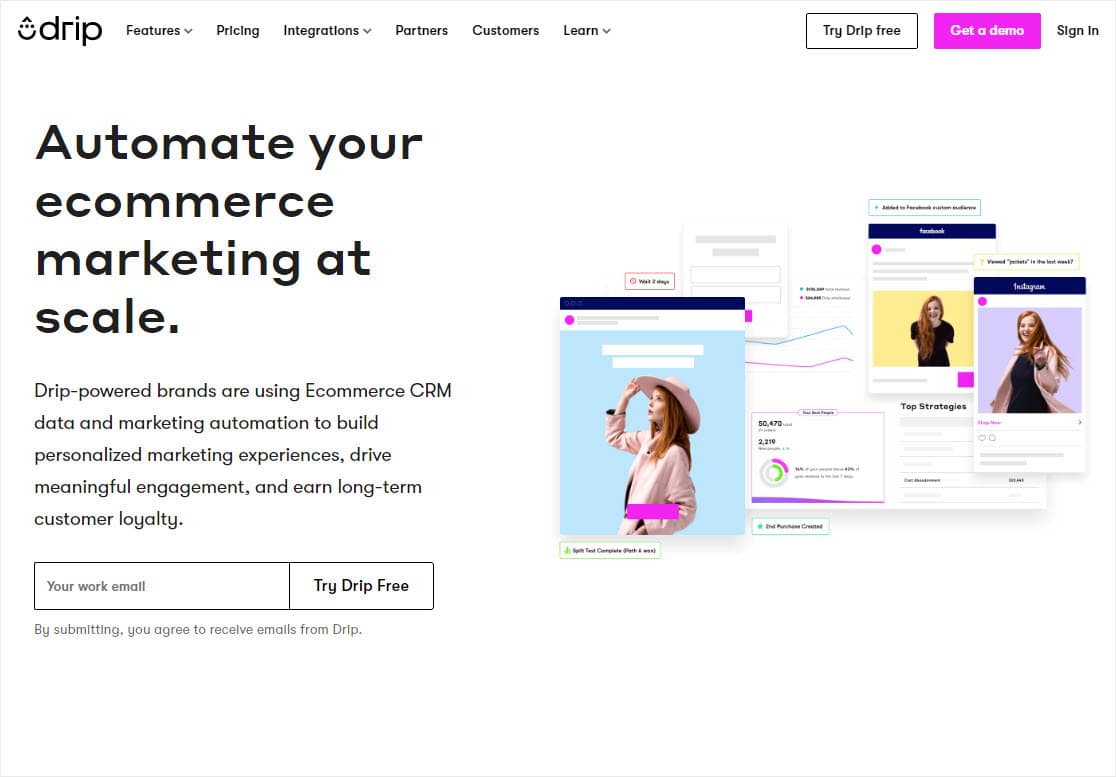 Drip is a powerful email marketing platform for eCommerce site owners, bloggers, and marketers looking to have smart conversations with their subscribers via email.
This beginner-friendly service works perfectly with WPForms. And it only takes a few simple steps to configure on your WordPress website.
There are many integration addons, such as the one for WooCommerce, which makes running your business easier.
Plus, you can send text messages, display Facebook ads, and much more using the automated customer workflow.
Here are more of Drip's most notable features:
Segment email lists based on visitor behavior on your website
Customized messages to increase open and click-through rates
Create custom conversion reports
Track the number of subscribers, eBook downloads, signups, quote requests, and more to get measurable data
Track conversion rates to ensure you're making money online
View the 10 built-in reports in your WordPress dashboard and export statistics
You can use Drip for free if you have 100 subscribers or less.
After that, plans start at $49/month for up to 2,500 subscribers.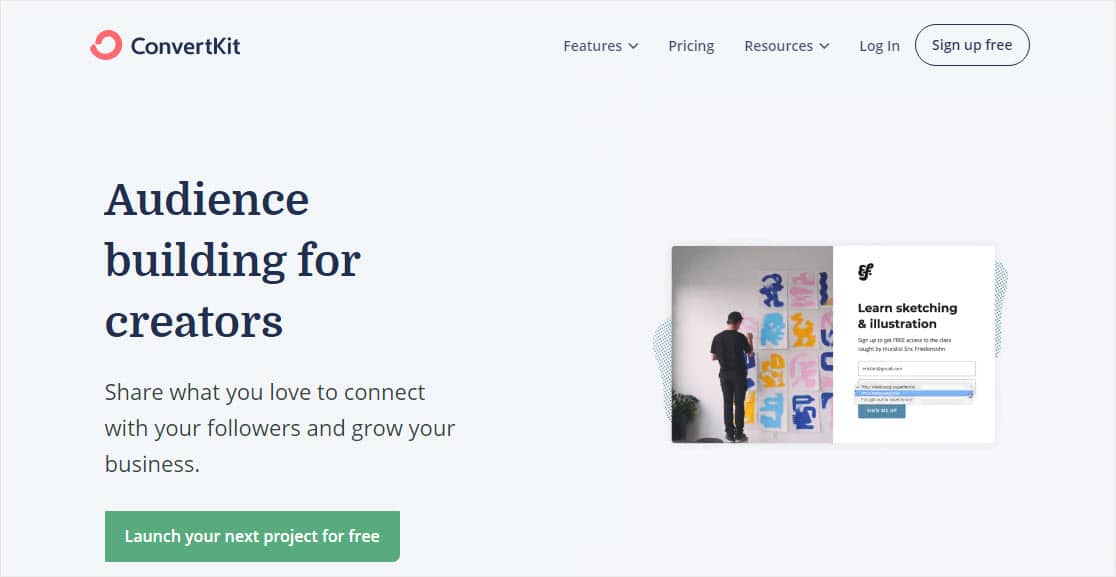 ConvertKit is a great email service provider for bloggers, writers, digital marketers, and publishers of any kind. It seeks to make email marketing easy to understand and use, no matter what your overall goals are.
For example, you can use customized templates to build signup forms, popup forms, course signups, or landing pages. These forms are GDPR compliant, have lead magnet delivery functionality, and even custom fields. In addition, you can make users double optin to your email list when receiving a lead magnet to reduce spam and boost deliverability rates across all email clients.
Here is more of what you can expect from ConvertKit:
Create powerful and automated funnels and customize a subscriber's path based on their actions
Segment your lists and send targeted content to increase conversions with personalized email
Deliver new blog posts to subscribers once content is published
Send plain text emails for a personal feel and to prevent landing in a spam folder from spam filters
A homepage dashboard with an easy user interface
A drag-and-drop sequence builder to create personalized automated emails
You can sign up for a free 14-day trial with ConvertKit to make sure it's the email service provider for you.
After that, plans start at $29 per month for up to 1,000 subscribers.
Get started with ConvertKit today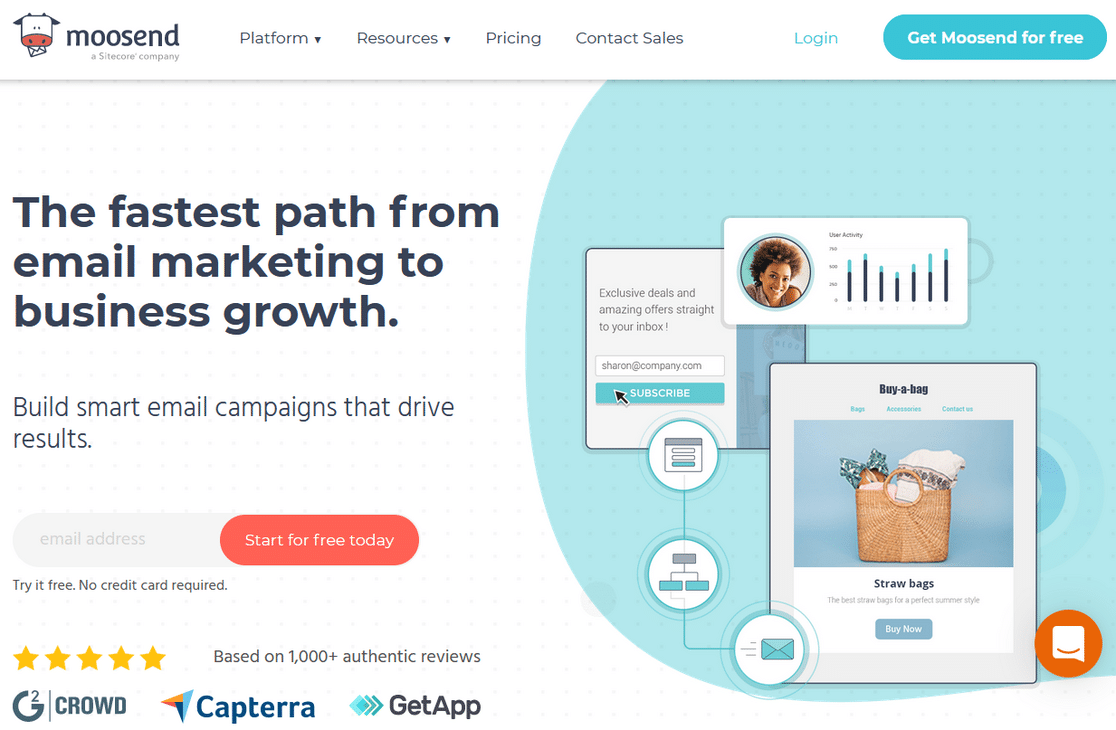 Moosend is an affordable email marketing service that's super easy for beginners to use. Additionally, it comes with marketing automation features, landing pages, email subscription forms, and more.
Designing beautiful emails is a breeze using the drag-and-drop email editor. There are also over 40 free and responsive email templates to get you started quickly.
You can send highly relevant emails to boost your open and click-through rates with powerful personalization features. It also gives you the chance to segment lists and lets you send content to specific groups. This way the right people get your message and have a chance to convert.
Take a look at the other features you get with Moosend:
Easily add video, countdown timers, and custom fonts to your emails
Make personalized product recommendations with the AI-engine
Use pre-built workflow templates to automate marketing efforts including user onboarding, cart abandonment, and more
Perform A/B testing to find the winning email version
View real-time email analytics and heatmaps to track your results
Create custom landing pages and subscription forms
Moosend offers a forever-free plan for up to 1,000 email subscribers and unlimited emails.
After that, pricing starts at $8 per month for the Pro plan which includes transactional emails, landing pages, SMTP server, and more.
Get started with Moosend today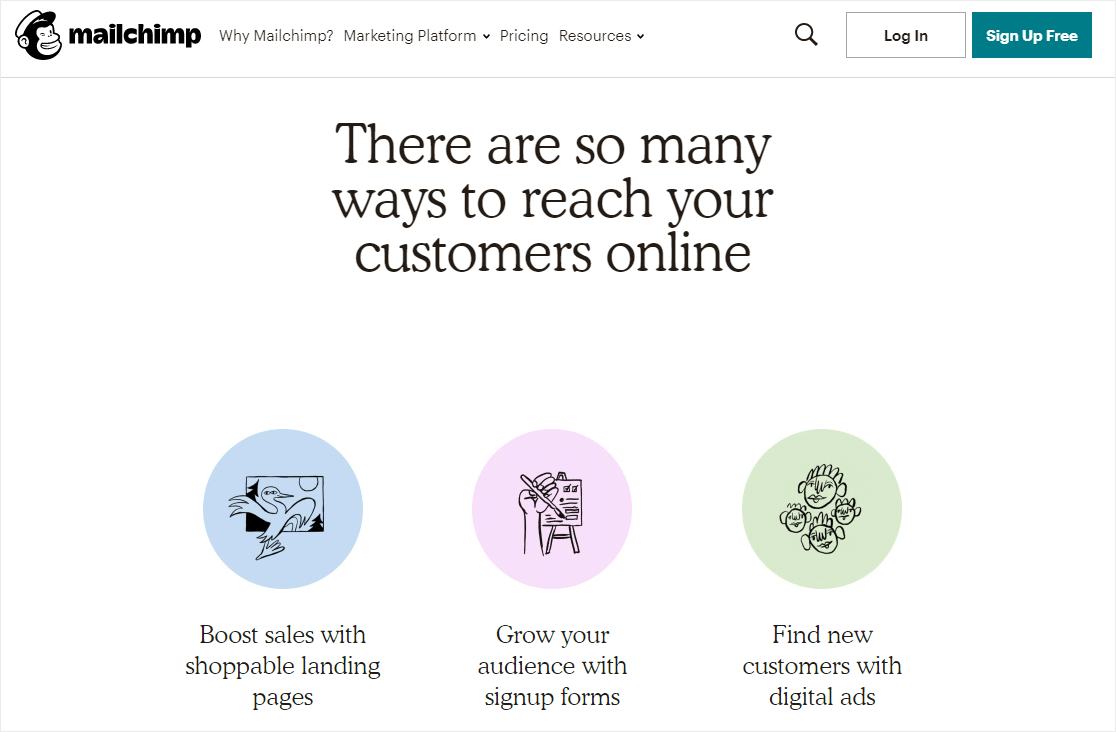 Mailchimp is one of the best email marketing services around. It comes with plenty of built-in features that let you collect and manage site visitor email addresses. And it all starts with easily adding a Mailchimp signup checkbox to your site's forms.
Whether you're a blogger, eCommerce shop owner, or a business corporation, Mailchimp makes connecting your site a breeze. Plus, you can take advantage of the landing page, email campaign, signup form, and Facebook ad templates. This way you can reach the broadest audience possible.
In addition, Mailchimp makes it easy by providing you with data so you can see what's working and what's not. View all your data in one place, get real-time stats, and monitor your email ROI with detailed revenue reports.
Take a look at Mailchimp's other cool features:
Integrate with hundreds of other apps and tools you need to run your business, such as Salesforce, Zapier, and even Freshbooks
Use with popular eCommerce platforms like WooCommerce, Magento, and Shopify
Segment contacts into groups for targeted email sending
Use merge tags to personalize emails
Use the landing page builder to grow your email list
Schedule email delivery times based on user locations to increase click-through rates
Create automatic emails based on user behavior using the autoresponder
One of the best things about Mailchimp is its affordability if you're doing a price comparison of email marketing tools. You can get free email service and even build an email list of up to 2,000 subscribers before you have to pay.
When you reach the 2,000 subscriber limit, plans start at $10/month.
Get started with Mailchimp today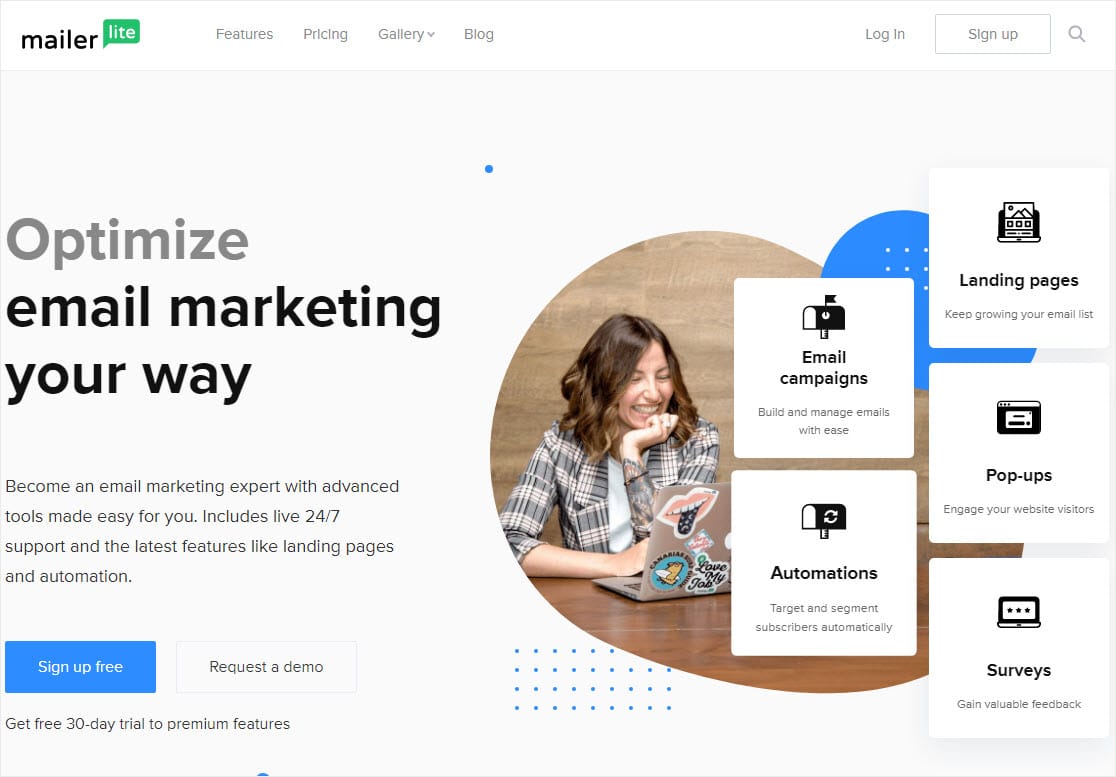 MailerLite is an advanced email marketing software using the latest technology to help you grow your business. But it also makes it user-friendly enough that anyone can use it. It comes with a drag-and-drop email builder, the ability to create popups and landing pages, and easy integration with WordPress.
With MailerLite, you don't need to have any coding knowledge. All you have to do is use the free newsletter templates to get started. You can generate leads using custom forms embedded on your WordPress site. In addition, enable the unique double optin feature to ensure subscriber consent and cut down on spam.
And to top it off, you can create a custom MailerLite signup form in WordPress with WPForms and our MailerLite addon.
MailerLite also comes with these additional features:
Responsive design so those on the go can see forms, landing pages, and email campaigns
Personalized emails according to timezones, segmentation, and tags
Split testing of emails to find what's working and what's not
Click tracking for gaining insight, detailed reports to monitor success, and geolocation tracking
Simple management interface for adding, filtering, and organizing contact information
Automated email newsletters whenever new blog content publishes
MailerLite is free for marketers who have less than 1,000 subscribers and send less than 12,000 emails per month.
After that, paid plans start at $10/month and increase as subscriber counts increase.
Get started with MailerLite today
Wrapping Up: Choosing the Best Email Marketing Services
Which is overall the top email marketing service? It depends on your needs…
Best Overall Email Marketing Service for Beginners
If you're a complete beginner just starting out with bulk email marketing services, Constant Contact is the best email marketing tool provider for you. It comes with an impressive 60-day free trial so you can make sure it's the right solution for you. Plus, it already comes integrated with WPForms.
Best Email Marketing Service for eCommerce
If you're an eCommerce shop owner looking to promote your brand and increase sales (or thinking of adding a store to your site in the future), then HubSpot, Omnisend, and Drip are our top choices for best email marketing services for eCommerce.
Drip is going to be a better, more powerful option for you. Create custom conversion reports so you can monitor your individualized progress with one of the best targeted email marketing services out there. Send emails based on user behavior such as abandoned carts and first-time users, and automate everything so you can focus on other parts of your business.
Best Free Email Marketing Service
Lastly, if you're looking for a cost-effective email marketing solution that comes packed with lead generation features as well as SMS marketing, then Sendinblue is the best choice.
Email Marketing Services FAQs
Before we wrap up, we wanted to address a few of the most common questions we get about choosing an email marketing provider.
Which Is Better: Mailchimp or Constant Contact?
We get asked this a lot. In our experience, Constant Contact email marketing is superior in nearly every way. It doesn't charge you for unsubscribed email addresses. Constant Contact offers more advanced automations. And unlike Mailchimp, Constant Contact has stellar customer support available for ALL plans via phone, email, and live chat.
Mailchimp is popular because it has a free plan, but Sendinblue actually offers a much more generous free plan to get you started.
Is Email Marketing Still Effective?
Yes, 100%. Email marketing is the best way to stay in touch with your website visitors and turn them into loyal customers. Just check out these amazing email marketing statistics you should definitely know.
Email marketing is much more effective than social media marketing. Just take a look at this infographic by OptinMonster: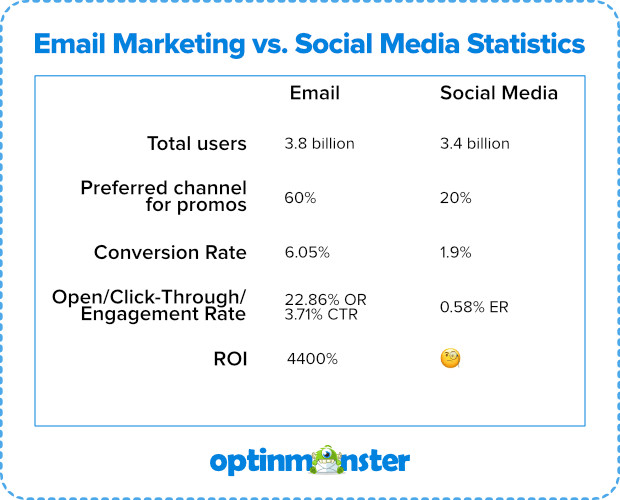 What Is the Success Rate of Email Marketing?
Email marketing on average yields $44 for every $1 you spend — a 4400% ROI.
How Do I Get Better Email Open Rates?
First, you'll want to check your email deliverability to make sure you're actually reaching users' inboxes.
Then, make sure your subject lines are interesting enough to get subscribers to click them.
Another thing you can do is to make sure you're using a professional email address at your own domain. If you'd like to change your sender details, you can check out this guide on changing WordPress email sender details.
Should I Use a Provider Not on This List of Email Marketing Services?
Ultimately, the tool you pick for your company email should be what works best for you and your small business.
We suggest you don't pick a provider based solely on catchy names, a big presence on social media, or if it seems cost-effective because it used an advertisement company to claim it offers the cheapest email marketing services.
You may have heard of another email marketing software that's not in this post (there are tons out there).
We're familiar with and have tried all the top email marketing tools out there including tools like MailGet, ActiveCampaign, Wishpond, Ontraport, Mailjet, Campaign Monitor, Benchmark Email, Keap (formerly known as InfusionSoft), Mad Mimi, Klaviyo, Zoho Mail Campaigns, Redcappi, Marketo, Emarsys, Vero, SendBlaster, Eloqua, Bronto, Pardot by Salesforce, Sendloop, iContact, Emma, TotalSend, SharpSpring, Adestra, MailPoet, and others.
The email marketing tools featured in this post ended up here because they offer the best features at the best price. Our goal is to provide you with a comprehensive guide to help you grow your email marketing campaigns and business online.
What Are the Types of Email Marketing?
Generally, there are 13 different types of email marketing emails you can send your customers:
Welcome Email
Offer Email
Survey Email
Request Email
Newsletter Email
Free Gift Email
Value Email
We're Hiring Email
New Product Email
Reorder Email
Announcement Email
Anniversary Email
So as you can see, an effective email marketing campaign uses a mix of emails that purely help the customer and promotional emails that sell to the customer. Check out this post from our sibling site's blog on the different types of emails to send your email list for more details and examples on each type.
What Is an Email Marketing Specialist and Do I Need One?
An email marketing specialist is someone who can help write emails, create workflows, drive traffic, get conversions, help with partnership marketing, monitor email campaigns, build relationships, and more.
This may sound like a lot of work. But if you're a small or medium-sized business, don't worry! You can be your own email marketing specialist with the help of the awesome email marketing providers featured in this post. They're really that intuitive and easy to use, and marketing automation will help a ton.
What Is an Email Marketing Service?
Wondering to yourself how can I send bulk emails? The answer is with an email marketing service.
An email marketing service is software that lets you send messages from yourself or your business to potential customers and current customers, with the ultimate goal (for most) of growing your income. Using iCloud mail, Yahoo Mail, or AOL mail? You'll want to step up your game and start using ad-free solutions with a custom domain — which you can do with every service on this list.
So simply put, you send marketing emails with it. Email marketing tools help you promote your services or products through email — just one segment of internet and digital marketing.
While a lead generation form helps you collect emails and generate more leads, an email marketing tool helps you get your message straight into the inboxes of those people.
So now that we've answered the question of how do you send marketing emails, let's next take a look at why email marketing is so important.
Why Get Started With Email Marketing?
Because over 70% of website visitors abandon your website and never return, small businesses looking to grow should definitely get into email marketing. Email campaigns are a great way to stay in touch with site visitors once they leave your website.
Here are some other benefits of email marketing:
Increase Sales: Email campaigns are the perfect way to get people to come to your website and buy. Plus, email is known for outperforming both social and organic search traffic.
Boost Repeat Visits: 96% of people who come to your website aren't ready to buy on their first visit. But if you can get them to subscribe before they leave, you have another chance to encourage them to come back and make a purchase.
Build a Loyal Following: Repeat visitors to your website are more likely to convert when compared to first-time visitors. That's why campaigning to those that have visited your site before and convincing them to come back helps you build a larger following.
Save Money: Email has one of the highest ROIs out of any marketing strategy. In fact, according to the DMA, for every $1 you spend on email marketing, you can expect an average return of $32.
What to Look for in the Best Email Marketing Services
Choosing the best email service for your small business takes a little bit of time. It can also be overwhelming if you don't know what to look for.
After all, what works for one business as far as sending bulk email may not necessarily work for yours.
To help you out, we've rounded up the top things to look for when choosing an email marketing service provider:
Ease of Use: As with most things, the email marketing software you choose should be easy to use and integrate with your form builder seamlessly.
Email Automation: Using an autoresponder, your Email Service Provider (ESP) should make sending out email campaigns automatic. The phrase "set it and forget it" should apply.
Reporting: Being able to track the success of your campaigns is a must. After all, you'll want to make sure the campaigns you're sending out are working. And if they're not, you'll need to pinpoint why so you can make improvements.
Price: Anything you use to help your business grow has to meet your budgetary needs.
Pro Tip: Build Your Email List Fast!
Once you decide which professional email marketing software is the best option for you, you'll want to get started building your email list right away.
We recommend WPForms. Not only is it simple enough for beginners to use, but it also comes packed with powerful and unique features designed to help you quickly turn site visitors into subscribers.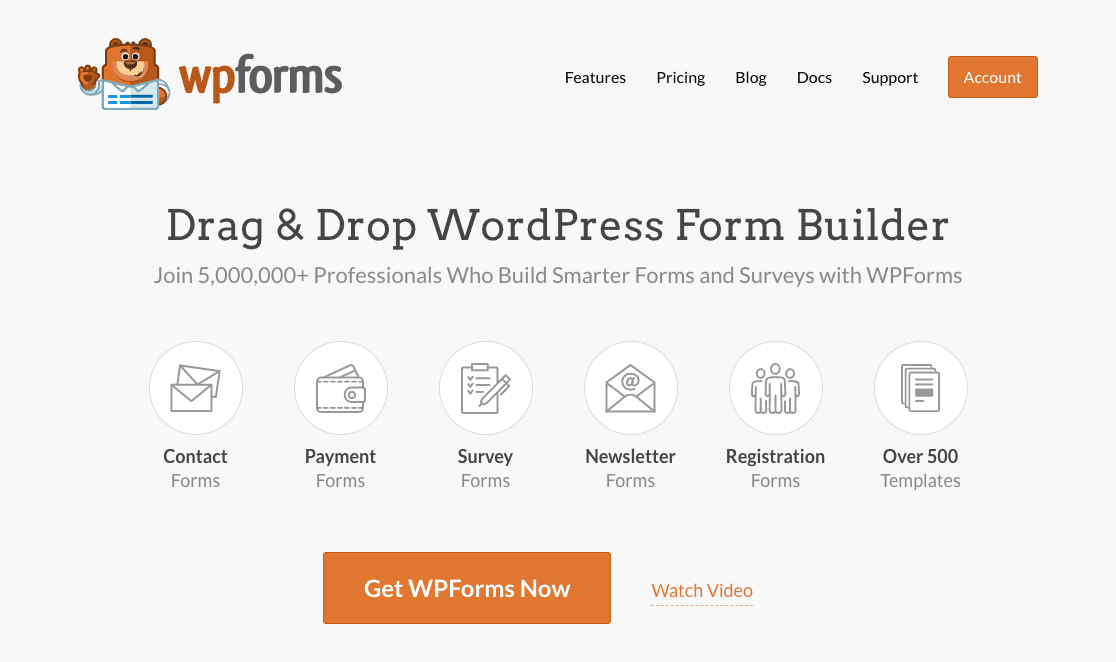 WPForms integrates seamlessly with all of the best email marketing programs mentioned above, making your lead generation efforts easy.
Plus, it comes with over 500+ pre-made templates, advanced form fields so you can collect all the information from site visitors you want, and smart conditional logic to save you time.
The new and updated WPForms also provides tons of extra features like Save and Resume functionality so your users can fill out longer forms with more convenience.
And the best part is, you don't have to have any coding skills since WPForms comes with an easy-to-use drag-and-drop form builder with a user-friendly interface that gives you the power to create an email signup form in under 5 minutes.
Create Your WordPress Form Now
So, what are you waiting for? Get started with the most powerful WordPress forms plugin today.
And don't forget, if you like this article, then please follow us on Facebook and Twitter.