6 Best Email Marketing Service Providers (Compared)
by Lindsay Liedke on Nov 28, 2018
Are you looking for a way to connect with your site visitors, build longer-lasting relationships, and convert them into customers? If so, you need to get into email marketing. And to start, you'll need to choose from the best email marketing service providers in the market to get started.
In this article, we'll compare the top email marketing service providers available today that also happen to integrate seamlessly with WPForms, making your email campaigning efforts a cinch.
Why Get into Email Marketing?
All website owners looking to grow their business should get into email marketing. After all, email campaigns are a great way to stay in touch with site visitors once they leave your website.
Here are some of the benefits of email marketing:
Increase Sales: Email campaigns are the perfect solution for getting people to come to your website and buy what you have for sale. Not to mention, email is known for outperforming both social and organic search traffic.
Boost Repeat Visits: 96% of people who come to your website aren't ready to buy on their first visit. But if you can get them to subscribe before they leave, you have another chance to encourage them to come back and make a purchase.
Build a Loyal Following: Repeat visitors to your website are more likely to convert when compared to first-time visitors. That's why campaigning to those that have visited your site before, and convincing them to come back, can not only help you build a larger following, but increase sales as well.
Save Money: Email has one of the highest ROIs out of any marketing strategy. In fact, according to the DMA, for every $1 you spend on email marketing, you can expect an average return of $32.
What to Look for in an Email Marketing Service
Choosing an email marketing service for your business takes a little bit of time. It can also be overwhelming if you don't know what to look for. After all, what works for one business may not necessarily work for you.
To help you out, we've rounded up the top things to look for when choosing from the best email marketing service providers around:
Ease of Use: as with most things, the email marketing service you choose should be easy to use and integrate with your form builder seamlessly.
Email Automation: Using an autoresponder, your email service provider should make sending out email campaigns automatic. In fact, the phrase "set it and forget it" should apply.
Reporting: being able to track the success of your campaigns is a must. After all, you'll want to make sure the campaigns you're sending out are working. And if they're not, you'll need to pinpoint where so you can make improvements.
Price: Anything you use to help your business grow has to meet your budgetary needs.
So, now that you know what to look for, let's compare some of the best email marketing service providers for your small business.
1. Drip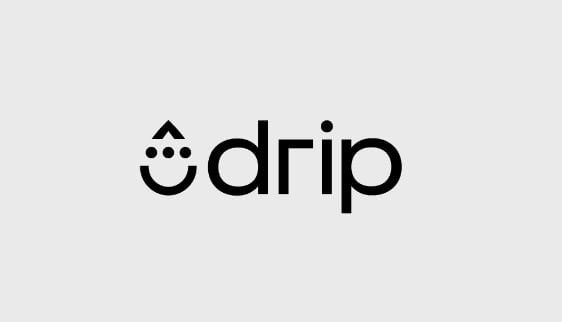 Drip is a powerful email marketing service for eCommerce, bloggers, and marketers looking to have smart conversations with their subscribers via email.
This beginner friendly service works perfectly with WPForms, and only takes a few simple steps to configure on your WordPress website.
In addition, there are many integration addons, such as the one for WooCommerce, which makes running your entire business smooth. Pus, you can send text messages, display Facebook ads, and much more using the automated customer workflow.
Segment your email lists based on site visitor behavior and send customized messages so the right people get the right email campaign at the right time and convert, just like you want them to.
Create custom conversion reports to make sure your efforts are producing positive results. For instance, measure how many eBook downloads, signups, or quote requests are happening on your site every day.
From there, set a dollar amount and automatically track conversion rates to make sure you're making money online like you hoped you would. And don't forget to check out the 10 built-in reports in your dashboard and export the stats you need to show your team so you can start making better data-driven decisions right away.
You can use Drip for free if you have 100 subscribers or less. After that, plans start at $49/month for up to 2500 subscribers.
2. Constant Contact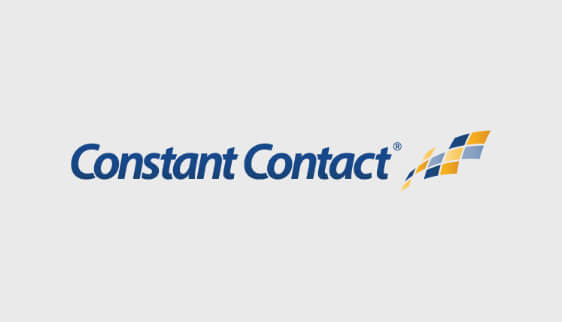 Constant Contact is one of the most popular email marketing service providers for small businesses. In fact, it's one of the fastest growing services around, especially since it's so easy to use.
Choose from over 100 pre-designed email templates, use the built-in drag and drop editor, and collect and manage email lists from all over – your website, mobile device, and even social media – all with a few simple clicks.
Plus, upload your email list from places such as Excel, Gmail, and Outlook, making management of your email list simple. Not to mention, you can easily create a Constant Contact signup form using WPForms for making the most out of your email marketing efforts.
Automatically send personalized email messages, a series of emails to an entire list, and even targeted messages to specific email lists so you see more clickthroughs and higher conversion rates.
And don't forget to segment your lists based on the content people click so they get more of what they already like.
Track things like unsubscribes, bounces, and inactive emails using this advanced email marketing software. And of course, check out email campaign activity to make sure your emails are performing.
In fact, Constant Contact has a cool click-tracking heat map tool to see what people are clicking on.
Constant Contact has a 60-day free trial and doesn't require a credit card to use. After that, plans start at $20/month.
Get started with Constant Contact today.
3. MailChimp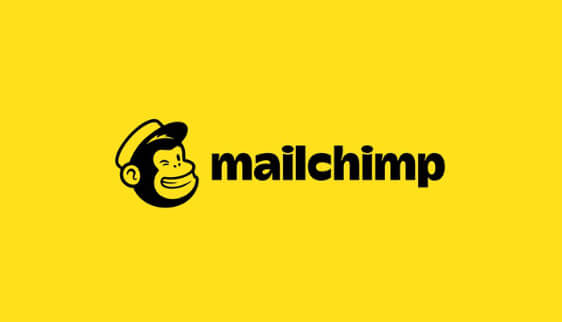 MailChimp is one of the best email marketing service providers around. In fact, MailChimp comes with built-in features that let you convert site visitors into subscribers and customers.
Whether you're a blogger, an eCommerce shop owner, or a business corporation, MailChimp makes connecting your site a breeze. Plus, you can take advantage the landing page, email campaign, signup form, and Facebook ad templates so you can reach the broadest audience possible.
Integrate with hundreds of other apps and tools you need to run your business, such as Salesforce, Zapier, and even Freshbooks. Plus, MailChimp is compatible with eCommerce platforms such as WooCommerce, Magento, and Shopify.
And don't forget, if you're using WPForms as your contact form builder solution, you can easily add a MailChimp signup checkbox to your form.
Segment contacts into specific groups for sending targeted emails, use merge tags, and even set up delivery times so your subscribers see your emails at a reasonable time based on their location.
And using the built-in autoresponder, send emails based on user behavior such as welcome, abandoned cart, first purchase, product recommendation emails so you get more subscriber engagement and conversions.
When it comes to making smart marketing business decisions, MailChimp makes it easy by providing you the data you need to know what's working and what's not. View all your data in one place, get real-time stats for those really important email campaigns, and monitor your email ROI with the detailed revenue reports.
One of the best things about MailChimp is its affordability. For example, you can get set up for free and even build an email list of up to 2,000 subscribers before you ever have to think about paying a dime.
After you reach the 2,000 subscriber limit, plans start at $10/month.
Get started with MailChimp today.
4. GetResponse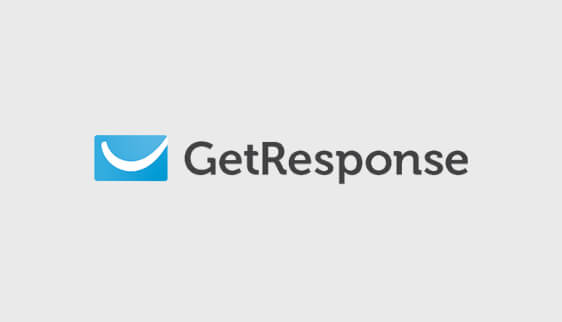 GetResponse is a highly popular email marketing service that is extremely easy to use and is perfect for beginner marketers.
With an intuitive interface that is both modern and beautiful, GetResponse simplifies email marketing for small business owners with no prior experience.
It comes with a drag and drop builder, which makes creating email campaigns a cinch, gives you the chance to segment lists, and lets you send content to specific groups. This way the right people get your message and have a chance to convert.
Automate your marketing efforts based on user behavior and scale your business into something successful that even the toughest competition is envious of.
Use the automation templates, cart abandonment campaigns, web event tracking, and even add tags to organize your email list and monitor subscriber habits and preferences. And lastly, add a GetResponse signup checkbox to your contact form with WPForms.
Lastly, A/B test your campaigns to make sure they're working, create landing pages designed to convert, and integrate with popular third-party lead generation software such as OptinMonster, Salesforce, and Google Docs.
You can sign up for a 30-day free trial to see how things work and decied whether this solution is good for your small startup.
After your free trial, GetResponse plans starts at $15/month.
Get started with GetResponse today.
5. AWeber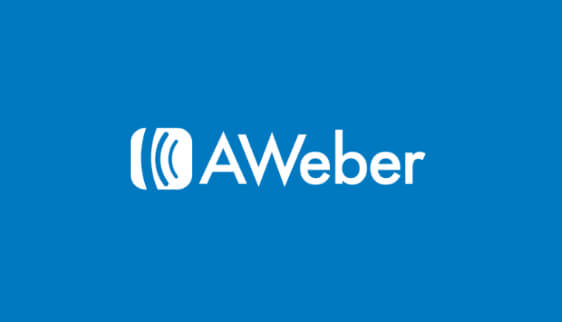 AWeber is a top notch lead generation email marketing service that has all the tools you need to generate leads, build a bigger email list, and grow your business into something successful.
Connect your WordPress website, and the WPForms form builder plugin, with a few simple clicks. From there, access pre-designed email templates and the drag and drop builder for easy campaign creation.
Set up automated email sequences to promote upcoming product launches, new blog content, or this year's biggest sales to get people engaging with your site's content and converting.
In addition, apply tags to your campaigns based on user clicks and opens so targeted messages reach the right people and encourage the right action.
Split test your campaigns to see what's working. Test things like subject lines, send times, content, and more. Plus, track your email's deliverability rates, performance, and more to make sure your leads are converting and your business is growing.
Take advantage of the free 30-day trial so you can ensure they have the tools you need to grow your business and email list.
After your free trial, plans start at $19/month.
Get started with AWeber today.
6. Campaign Monitor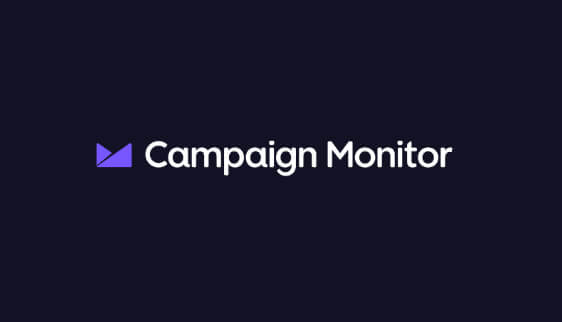 Campaign Monitor is a powerful email marketing service that comes with drag and drop simplicity so email marketing doesn't have to be difficult.
Pick from hundreds of pre-built templates so you can create customized and personalized email campaigns that are branded to match your business, encourage people to convert, and keep repeat visitors engaged with your site's content. Plus, create a Campaign Monitor subscribe form in WordPress in minutes using WPForms.
Create segmented lists and automate email campaigns based on user interests and behavior to increase sales and secure long-term customers.
In addition, track subscriber activity, including active, inactive, and unsubscribed users, monitor engagement with your campaigns, and even see opens, clicks, shares, and bounces to make sure you're seeing the results you're after.
And don't forget to A/B test your email's images, subject lines, content, and more so you can give subscribers more of what they want, and less of what they don't.
If you're just starting out, Campaign Monitor has a simple plan that starts at $9/month, comes with up to 2,500 subscribers, and all the basic core features.
Keep in mind that you can create a free account, but only for up to 5 subscribers, just to make sure Campaign Monitor is the solution for you.
Get started with Campaign Monitor today.
Wrapping Up: Choosing the Best Email Marketing Service Provider
If you're a complete beginner just starting out with email marketing and own an online business, then Constant Contact is the best email marketing service provider for you. It comes with an impressive 60-day free trial so you can make sure it's the solution for you and it's super simple to connect to WPForms.
That said, if you're an eCommerce shop owner looking to promote your brand and increase sales, Drip is going to be a better, more powerful option for you. Create custom conversion reports so you can monitor your individualized progress, send emails based on user behavior such as abandoned carts and first-time users, and automate everything so you can focus on other parts of your business.
Lastly, for those looking for a cost-effective email marketing solution that also comes packed with lead generating features such as landing page creation, automated workflows, and triggered email campaigns, MailChimp is the best option for you.
We hope this comparison of the best email marketing service providers helps you decide which solution is best for you. Just remember, no matter which solution you choose, WPForms integrates seamlessly with them all so that your email marketing efforts are effortless.
If you want more information about how to improve your form conversions, be sure to check out this article outlining research based tips for improving contact form conversions.
So, what are you waiting for? Get started with the most powerful WordPress forms plugin today.
And don't forget, if you like this article, then please follow us on Facebook and Twitter.