Are you trying to choose the best form builder for your WordPress site? Perhaps you're considering Ninja Forms vs Formidable Pro?
In this article, we'll compare Ninja Forms vs Formidable Pro vs WPForms. These three plugins are some of the leading WordPress form builders. While most WordPress form builders offer ways to build forms, they don't all offer the same experience or come with the same range of features.
To help you decide, here's our complete WPForms vs Ninja Forms vs Formidable Pro review.
Let's dive right in!
Ninja Forms vs. Formidable Forms vs. WPForms at a Glance
Formidable Forms performs better than Ninja Forms when it comes to available features, including Google Sheets integration and surveys and polls. However, WPForms offers the widest range of beginner-friendly tools and options, as well as better support, competitive pricing, and excellent ease of use.
What Should You Look For in a WordPress Form Plugin?
Good WordPress form builders should offer an easy way to build and embed forms on a WordPress website. Additionally, they should offer ways to enhance these forms or customize them to meet various needs. Here's a quick checklist of the basic features a good WordPress form builder should have:
Drag-and-drop form builder
Easy form management
In-form payment processing
Marketing integrations
Extra features and integrations
In the next few sections, we'll evaluate WPForms, Ninja Forms, and Formidable Forms Pro to see how well these plugins provide these features and more.
Ninja Forms vs Formidable Pro vs WPForms: Which Is the Best WordPress Form Builder?
WPForms is the clear leader when it comes to WordPress form builders.  WPForms has 6+ million active installations and has 12+ thousand 5-star reviews on WordPress.org, making it the gold standard of WordPress form builders.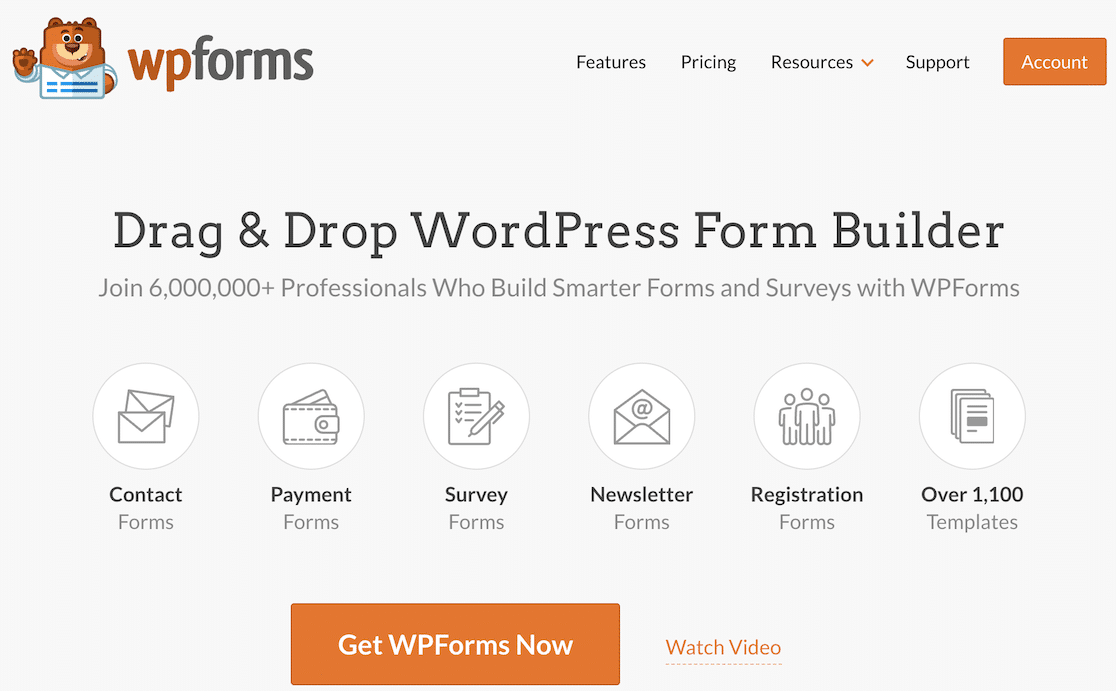 One of WPForms' strongest features is its easy-to-use drag-and-drop form builder. With a live preview area, you'll be able to see how any changes you make to your site appear in real-time. These features make WPForms an excellent tool for users of all levels of experience.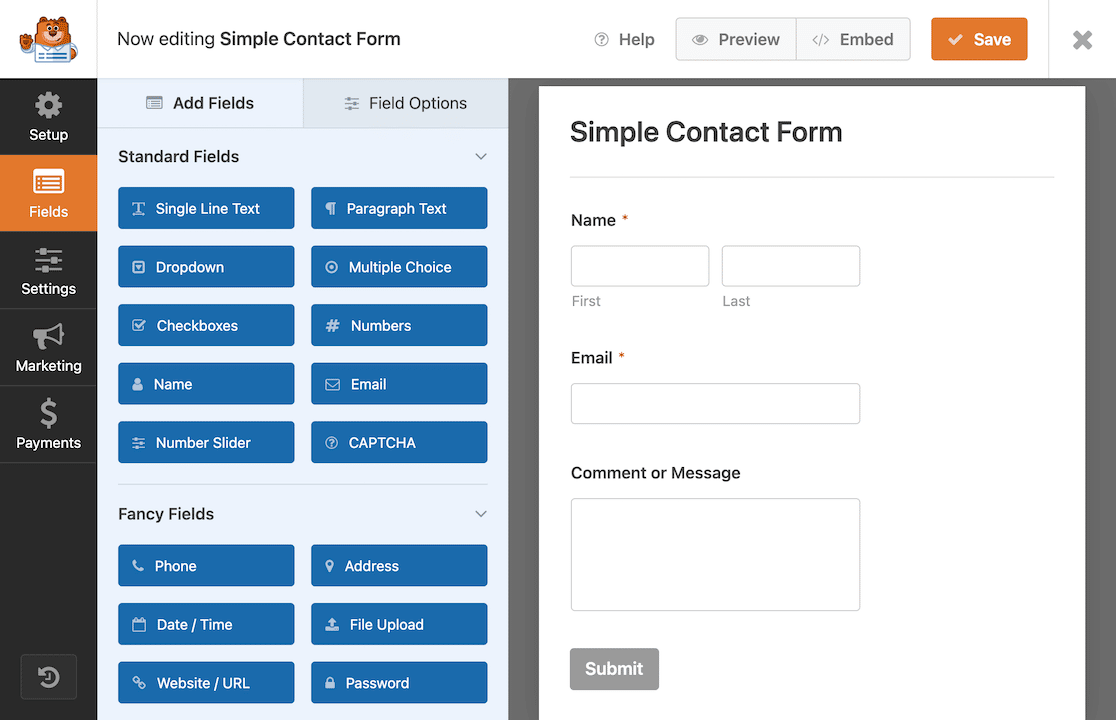 In addition to the exceptionally easy-to-use form builder, WPForms comes with 1,200+ WordPress form templates, which is far more than either Ninja Forms or Formidable Pro. These templates are designed to serve various business and nonprofit needs, and all you'll need to do is edit placeholder content to customize them. You can also add any additional form fields you want from the available 30+ form fields.
This means you'll be able to create pretty much any kind of form. And if you want to build unique forms, you'll love being able to use the extremely powerful Form Layout field that will allow you to create custom layouts without having to write any code at all.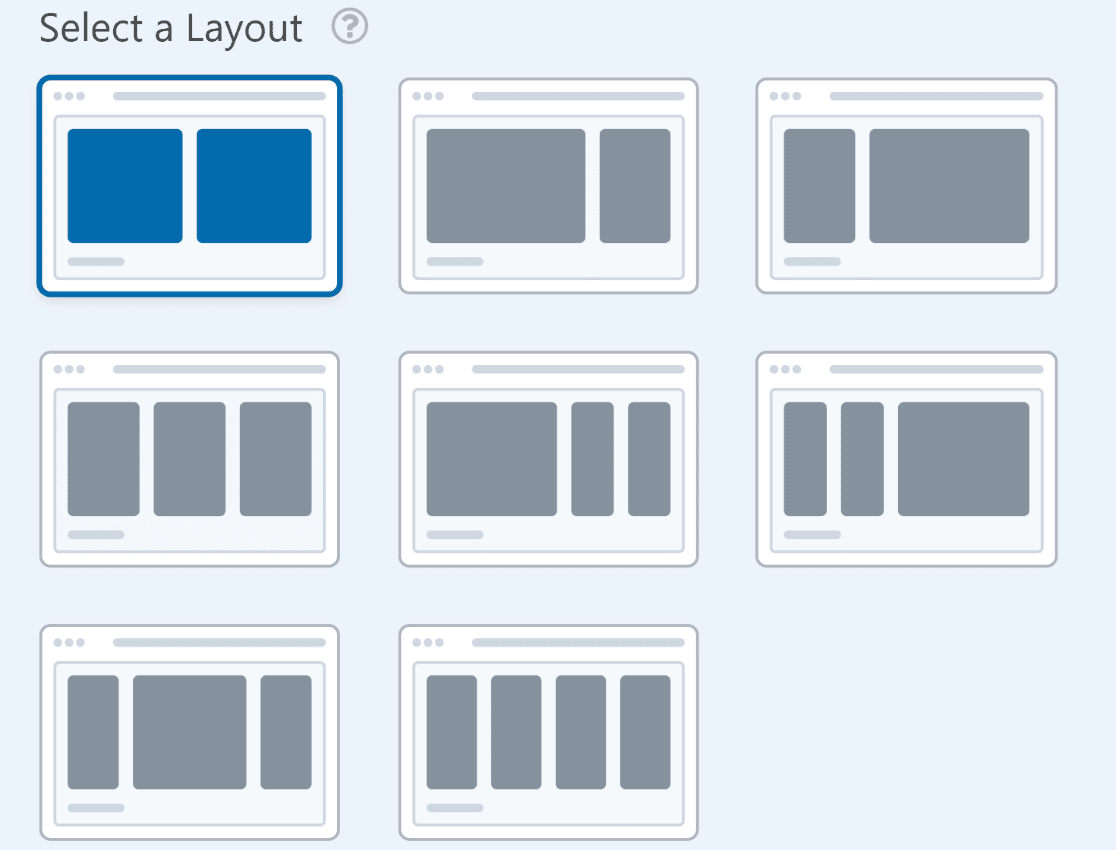 Some other pretty handy WPForms features include conditional logic that allows you to choose when to hide or display certain form fields, Conversational Forms, and so on.
You can even create calculator templates and complete calculations within your forms.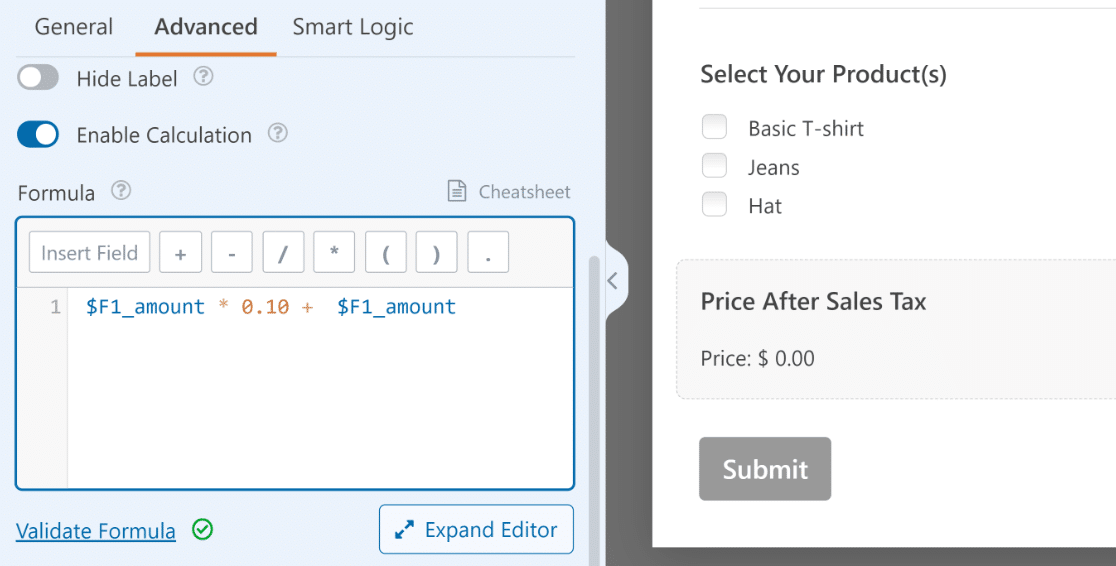 This feature really sets WPForms apart from other form builders.
Ninja Forms is one of the other leading WordPress form builders. The plugin is relatively popular with 900,000+ active installations and a 4.3-star review on WordPress.org.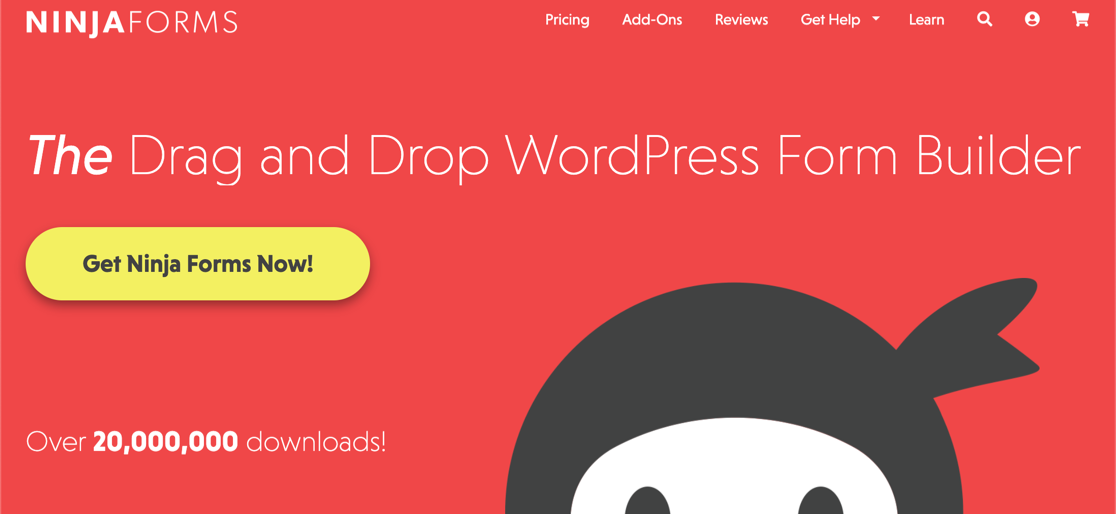 When it comes to basic form building, Ninja Forms performs comparably well, with an easy-to-use drag-and-drop form builder and 30+ form fields, which are suitable for users of all levels.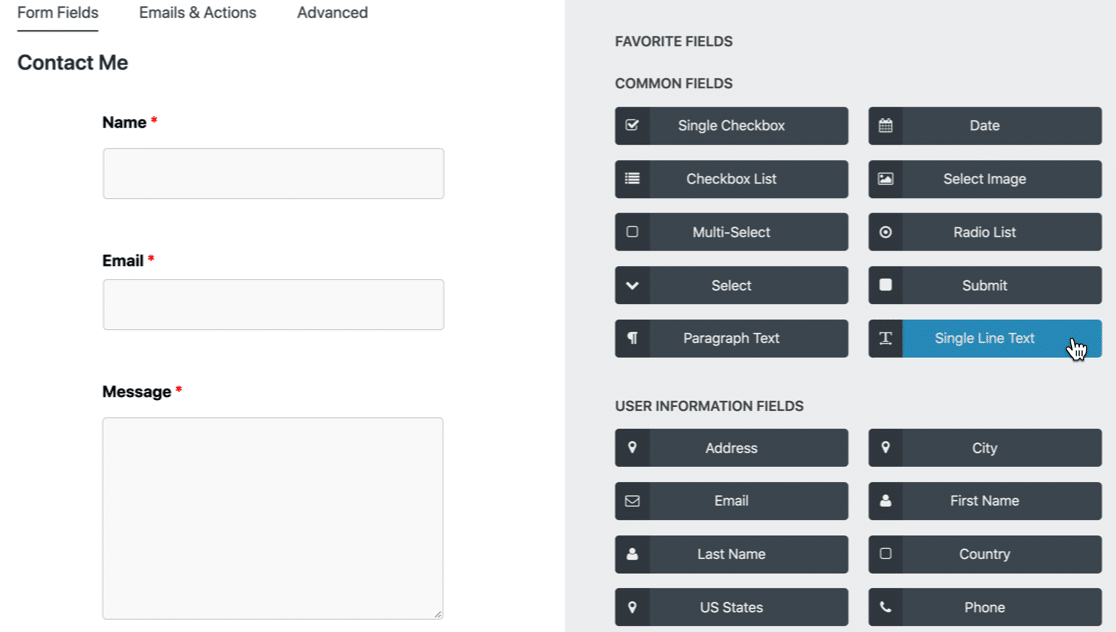 Formidable Forms is another somewhat popular WordPress form builder. With 300,000+ installations it's not quite as widely used as WPForms or Ninja Forms.
However, its 4.7-star rating on WordPress.org shows that people who use it generally enjoy the experience. We've tried it out and it's one of the top WPForms alternatives we'd recommend.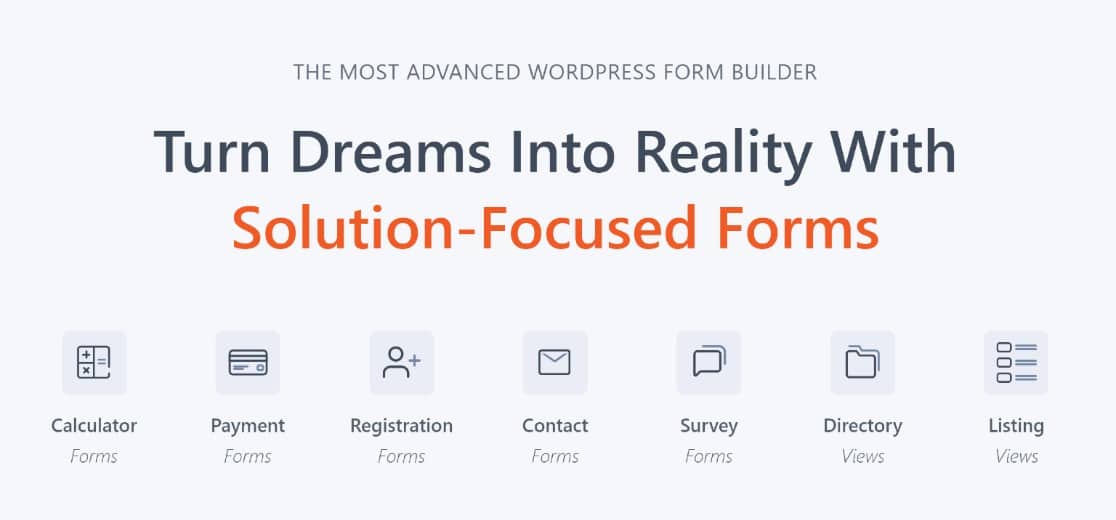 Getting started with Formidable Forms is simple enough. The thing to note about Formidable Forms, though, is that it's somewhat highly powered for beginners or non-technical users. For example, many advanced features require some coding knowledge to set up.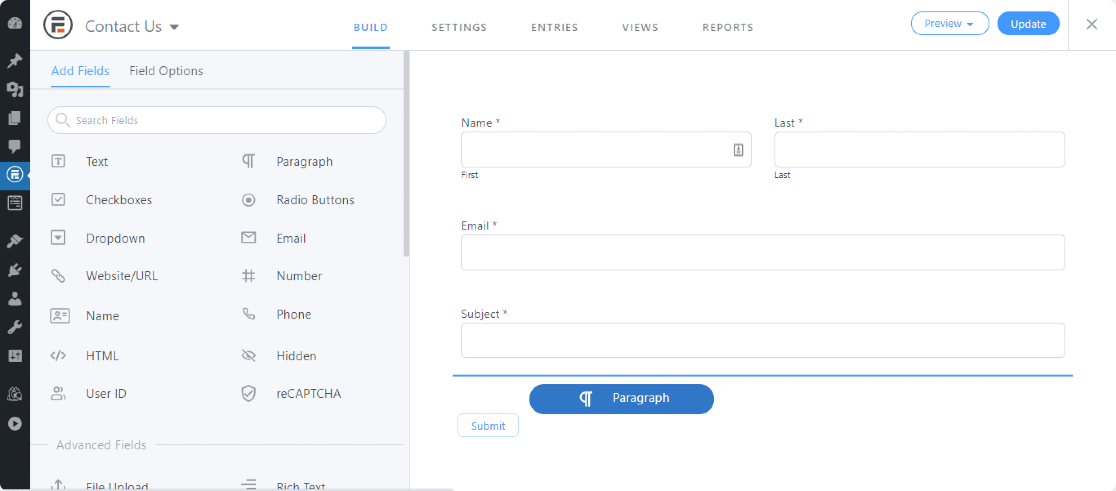 Formidable Forms also has the ability to do some calculations, but not quite to the same extent that WPForms does.
Let's dive a little deeper to see how these form builders compare when it comes to features, ease of use, support, and pricing.
WPForms vs Ninja Forms vs Formidable Pro Features
All 3 of these WordPress form builder plugins offer tons of features to help you create the forms your website needs. Here are some of the top options available.
Form Management Tools
Form management is an extremely important aspect of any form builder. Not only do you want a way to build powerful forms, but you'll also want some easy ways to manage these forms and any form submissions. WPForms excels in this area, with several unique WordPress form and form entry management features.
On paid licenses, form entries are stored in the backend of your site, making them easy to access.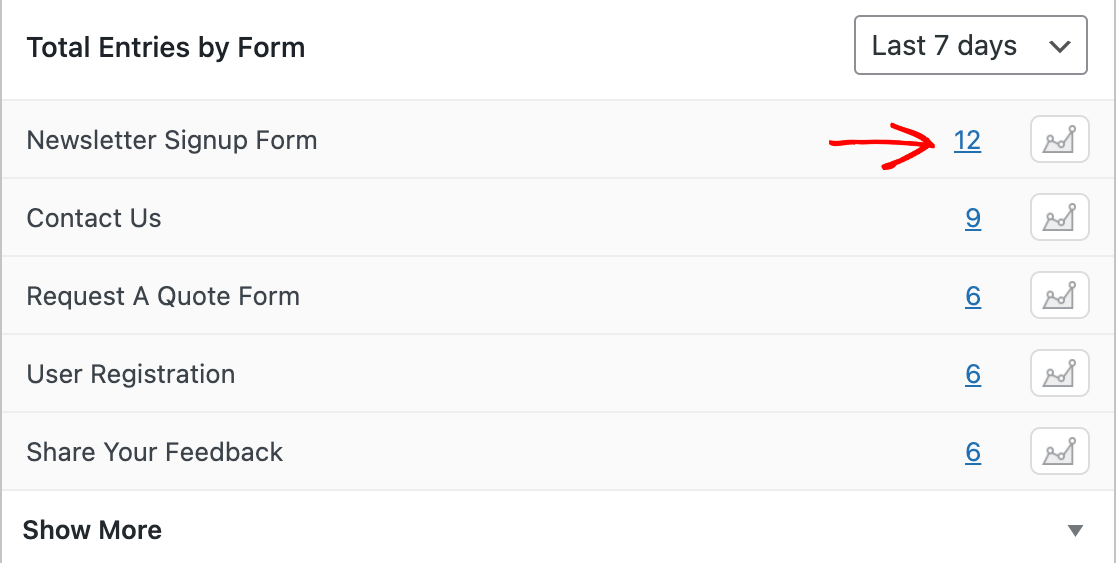 Even with WPForms Lite, you can activate entry backups using WPForms Lite Connect to access them once you upgrade to a paid license. No matter which version you have, you can always receive entries by email.
And that's just the tip of the iceberg. For example, want to experiment with some forms? With many form builders, changes to published forms cannot be reversed which means you'd need to create two separate forms for any A/B testing.
With WPForms, you can easily undo any changes you make to your forms, using the form revisions feature.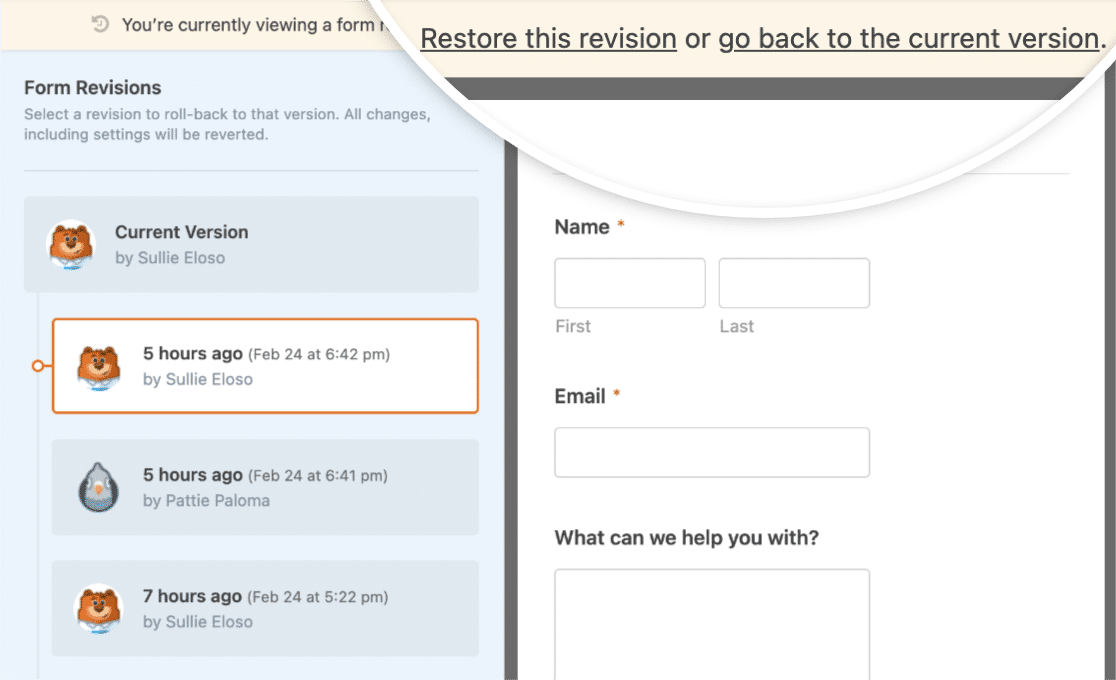 Another very helpful tool is the form locations feature that allows you to see, at a single glance, all the locations on your website where you've embedded a particular form.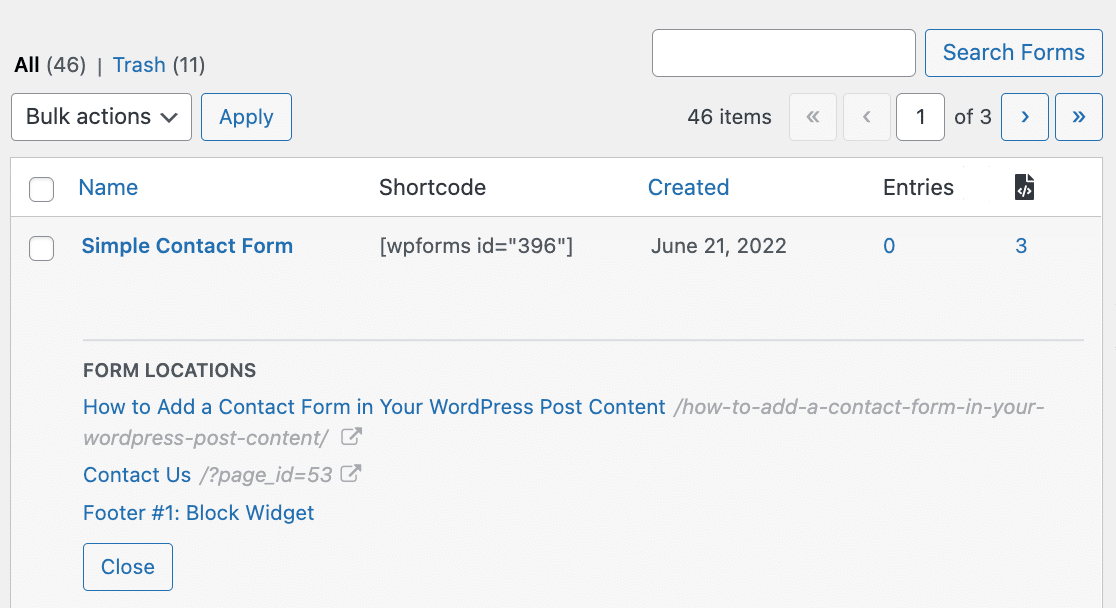 This feature is particularly useful for form validation exercises, which is one of the key WordPress maintenance tasks to undertake regularly.
In comparison, how well does Ninja Forms do this? Ninja Forms offers decent form entry management, where you'll be able to view form entries from the WordPress dashboard.

Similarly, Formidable Pro offers easy form entry management tools that you can access from the WordPress admin area.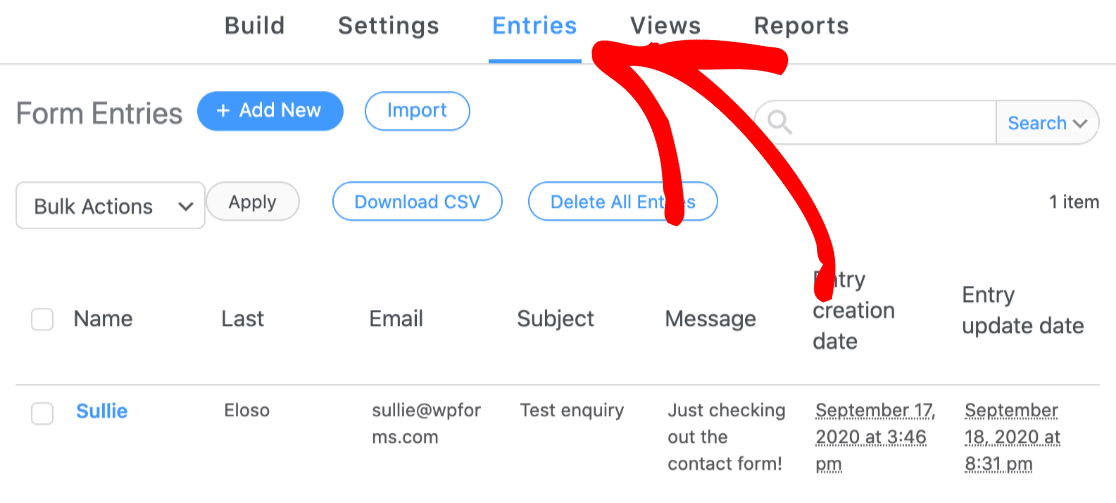 Where both WPForms and Formidable Pro outshine Ninja Forms when it comes to entry management is with additional tools like the survey reporting dashboard that allows you to analyze form entries using survey reporting tools like graphs and charts.
Payment Integrations
Good form builders should offer some ways to collect payments or donations with a WordPress form. Again, WPForms excels at this, with an impressive suite of in-form payment options which include powerful tools like Stripe, Square, Authorize.net, and PayPal Commerce.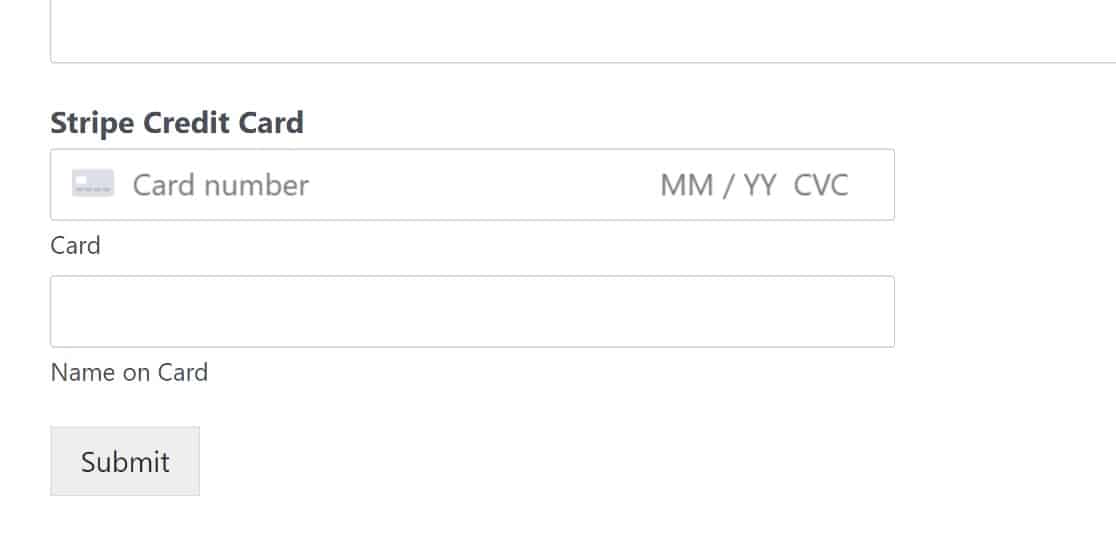 If you're a small business with a handful of products, using WPForms is a clever way to sell on WordPress without using WooCommerce.
WPForms offers Stripe integration for all license levels, including free users, making it a great option for those who want to sell online with Stripe. In fact, when you use Stripe on your form, your customers can pay with Apple Pay and Google Pay, as well.
WPForms gives you the flexibility to use any of these payment gateways in any of your forms. You don't have to commit to a single form of payment.
It's also super easy to integrate the payment processors with WPForms.
Once you've installed the associated addon for the gateway you'd like to use, you'll go through a quick integration process and then you'll be able to enable payment gateways on specific forms.
Like WPForms, Ninja Forms offers 4 payment gateways to choose from, including PayPal, Stripe, Elavon, and Recurly. While this is a decent range of options, it doesn't include some major payment gateway providers like Square.
Formidable Pro offers fewer payment options with Paypal, Stripe, and Authorize.Net on offer only. That said, you can also make WooCommerce forms using custom fields in Formidable Forms. Plus, Formidable Forms now offers Stripe payments to users at the free tier, as well.
In WPForms, the Stripe integration is available in all license plans including free, so everyone can build payment forms using WPForms. In contrast, you'll need a paid license to create payment forms with Ninja Forms or Formidable Forms.
As a result, WPForms is the clear winner when it comes to payment gateways.
Marketing Tools and Integrations
Forms are often the main point of contact between businesses and users. They can be used for collecting data, adding users to lists, and so on.
When combined with powerful marketing tools and apps, contact forms can help you build email lists and set up email marketing campaigns. So one thing you should be on the lookout for in a form builder are integrations with leading online marketing apps.
WPForms offers quite a bit in this area. First, you'll have a number of newsletter opt-in templates to choose from, which you can then connect with your preferred email marketing service.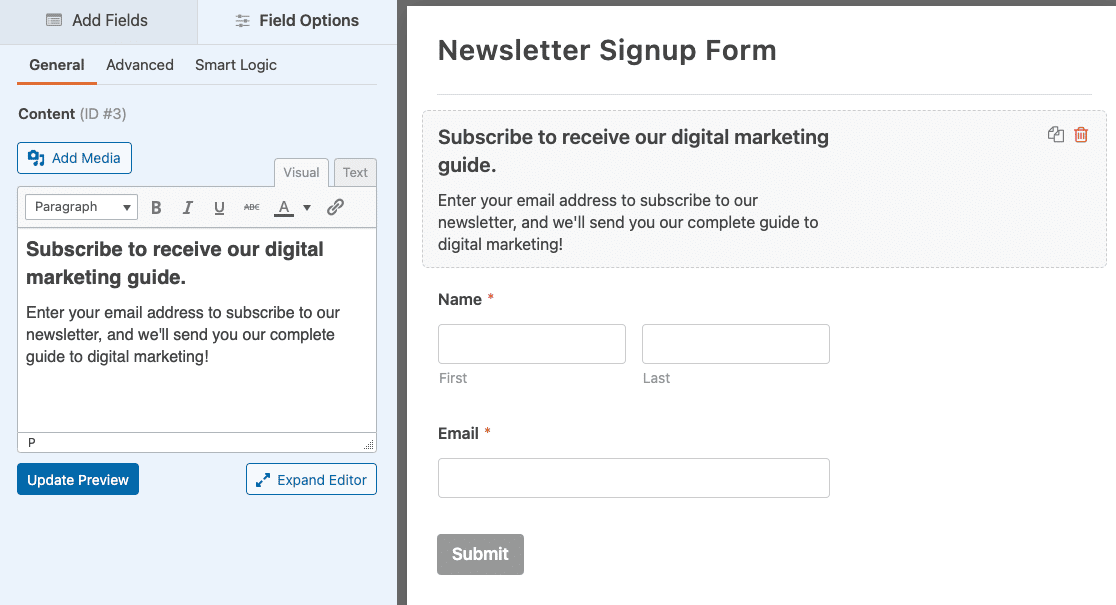 For example, it will take just a few minutes to create a form with a Constant Contact signup checkbox.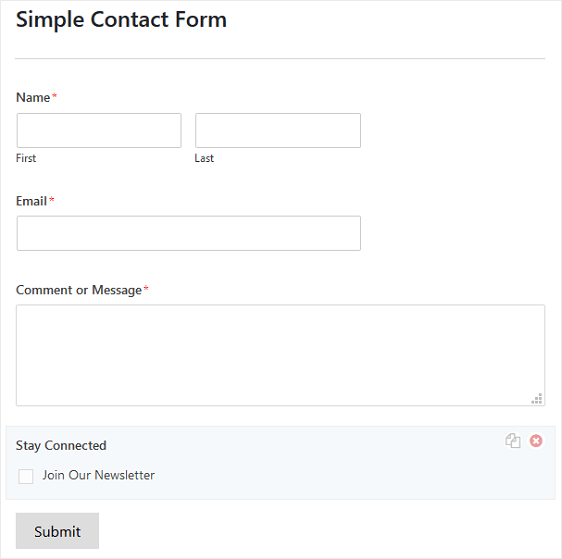 And you can do the same thing with apps such as MailChimp, GetResponse, and so on.
Ninja Forms offers integrations with 10 of the major email marketing services. These include services like MailChimp, MailPoet, Constant Contact, and so on.
Formidable Pro is similarly well-featured in this area, with a ton of integrations to support your marketing.
Anti-Spam Tools
When it comes to WordPress, anti-spam measures are an absolute must-have. This is because WordPress forms tend to be targeted by tons of spammers.
Fortunately, WPForms offers a suite of industry-leading tools to help you keep spam at bay. These include native tools like the WPForms anti-spam token and the WPForms Akismet integration.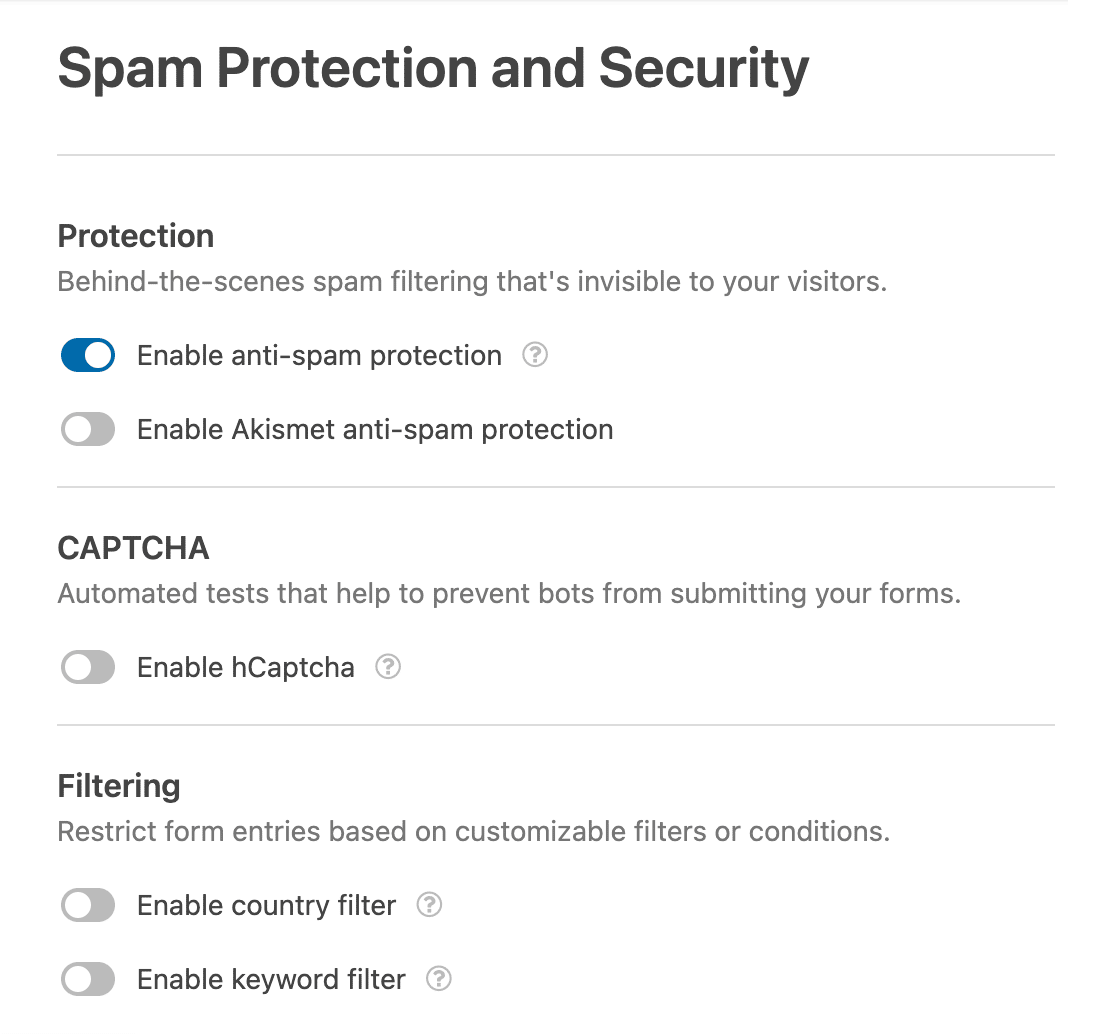 The WPForms Akismet integration is one we'd particularly recommend, as Akismet is one of the most powerful anti-spam tools for WordPress.
For other anti-spam options you'll have with WPForms, there is a range of CAPTCHA tools that you can use on your site.
These include WPForms Custom Captcha which allows you to set custom math questions, along with Google reCAPTCHA, Cloudflare Turnstile, and hCaptcha.
Ninja Forms offers some good anti-spam tools too. For instance, there is a built-in Ninja Forms honeypot trap that adds a hidden field to your forms. Human users can't see this field so they'll never fill it out. When bots do, they'll be marked as spam entries.
Ninja Forms also allows you to set a custom question and answer similar to WPForms Custom Captcha. For more firepower, you can also use tools like Google reCAPTCHA and Akismet, but unlike WPForms, Ninja Forms does not offer Cloudflare Turnstile or hCaptcha integrations.
Formidable Pro, on the other hand, offers a Google reCAPTCHA integration, alongside other tools like a native email address deny/allowlist feature.
While these tools are useful, Formidable Pro does not offer a custom captcha or custom question-and-answer option. It also does not have Cloudflare Turnstile or hCaptcha integrations, a country or keyword filter tool, or an anti-spam token.
Given the number of anti-spam features tools on offer, WPForms is by far the best form builder to use for stopping spam, when compared with Ninja Forms, Formidable Forms and other leading form builders.
Here's the complete guide to how you can stop bots from filling out your forms using WPForms.
Special Features
WPForms offers several exceptional tools that can help to improve the form-building experience.
For example, you can use the WPForms User Journey addon to track every action users take from the moment they land on your site until they submit a form.
WPForms truly stands out in this area, with more unique tools such as the WPForms native Google Sheets integration that allows for automated updates to a Google Sheets spreadsheet.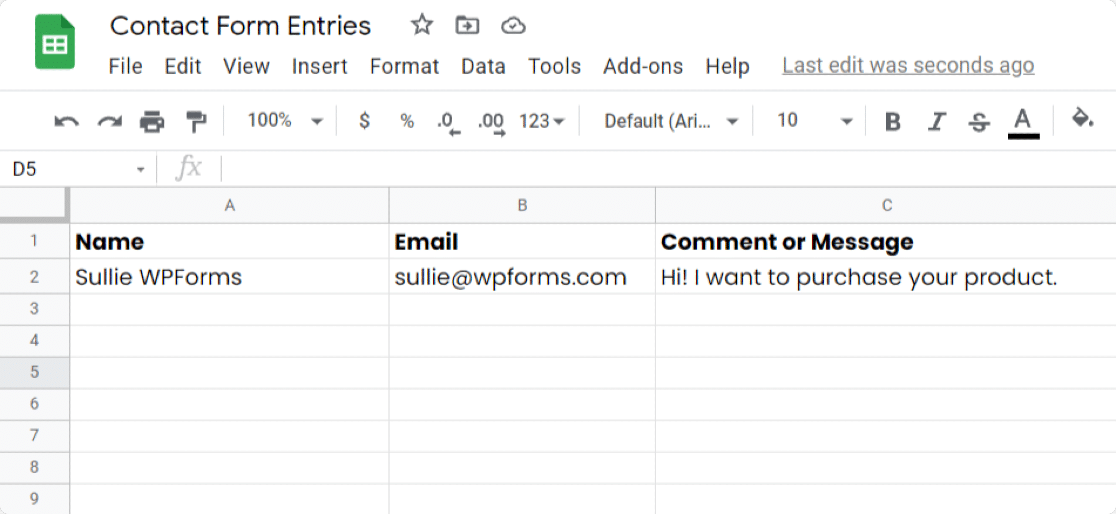 This will allow you to do things like create an automated donation tracker.
Some other unique WPForms features and addons include the Geolocation Addon, the Save and Resume Addon, the Form Abandonment Addon, Calculations Addon, and a host of others.
Like WPForms, Formidable Forms offers advanced features such as Google Sheets integration, calculations, and surveys and polls. In contrast, Ninja Forms does not offer any survey and polls tool or any other features with similar functionality.
WPForms vs Ninja Forms vs Formidable Pro Ease of Use
In addition to the really useful features on offer, one of the reasons we'd strongly recommend using WPForms is because of how user-friendly it is.
Everything in WPForms is designed to be as easy and accessible as possible even to complete beginners.
You'll need to install the plugin just like any other WordPress plugin. Once you have, creating a new form is a straightforward task using the drag-and-drop builder. And to help with this, you'll have the WPForms Challenge to guide you. The WPForms Challenge is a step-by-step guide to help you become familiar with WPForms features and form building.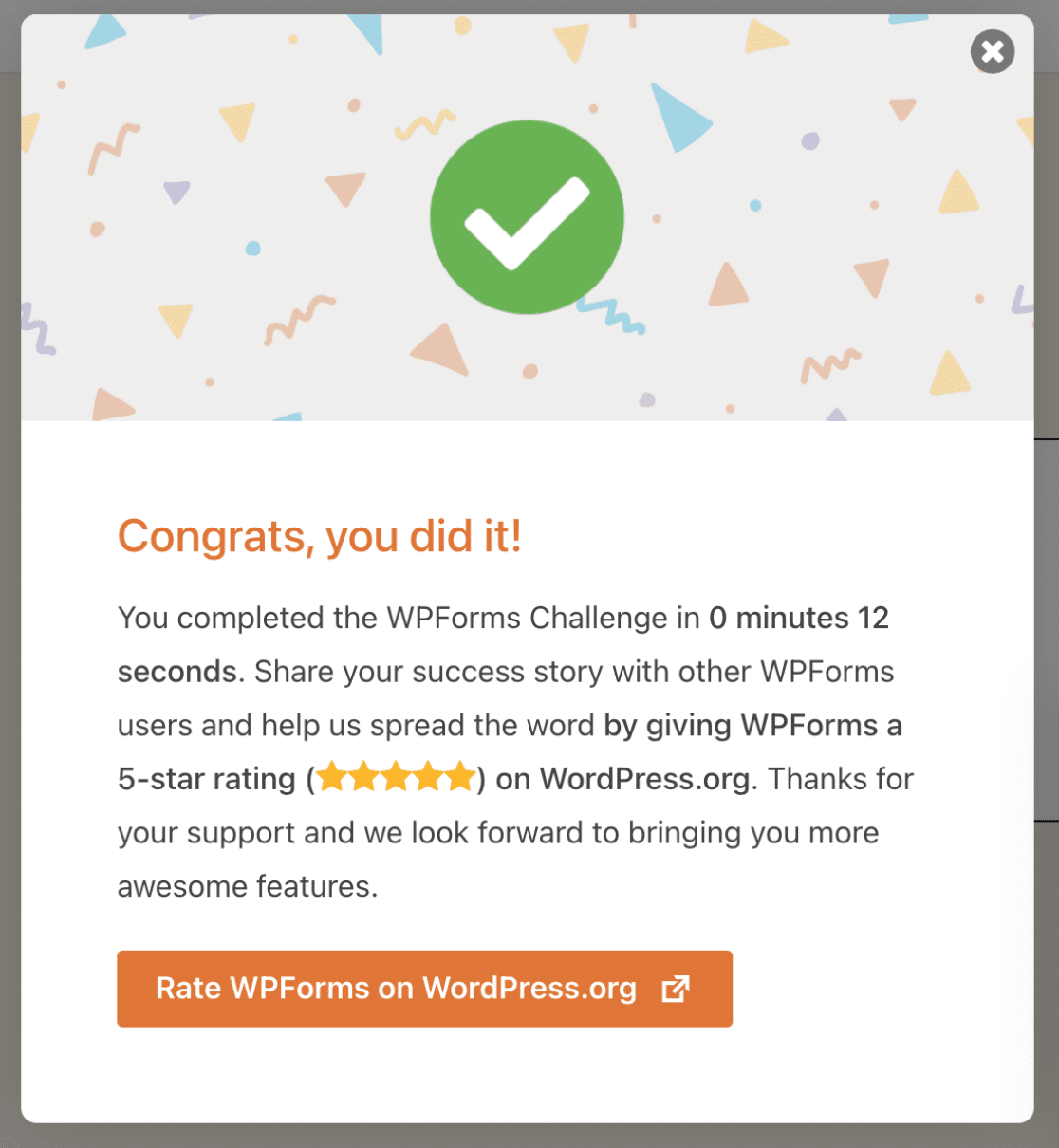 And, as we've mentioned, you can simply use one of the  1,200+ WordPress form templates if you're pressed for time.
Installing a WPForms addon or integration is similarly easy. With a WPForms Pro license, you'll have access to all WPForms addons, which can then be installed with a single click.
For addons that provide integrations with 3rd-party services or apps, there'll be a quick integration process, and then you'll be redirected back to your site.
Ninja Forms is easy enough to install and get started with. It offers a user-friendly interface and a drag-and-drop form builder, similar to WPForms. That said, the form-building experience is less intuitive.
For starters, you'll have far fewer form templates to help you get started, compared with WPForms. Ninja Forms offers only 16 pre-built form templates which is rather limited.
If you decide to build your forms from scratch, you'll find the drag-and-drop form builder easy to use. Still, it doesn't quite measure up to the WPForms form-building experience.
For example, WPForms allows you to publish forms to the frontend of your site quite easily, using the embed tool.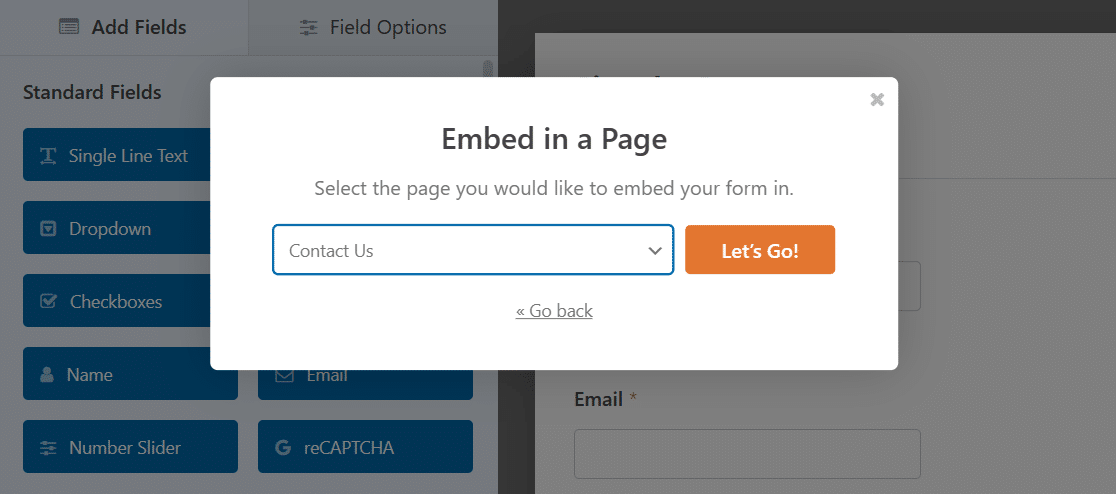 In contrast, with Ninja Forms, you would have to first click the publish button, and then get the shortcode for your form, which you'll need to paste into pages or posts manually.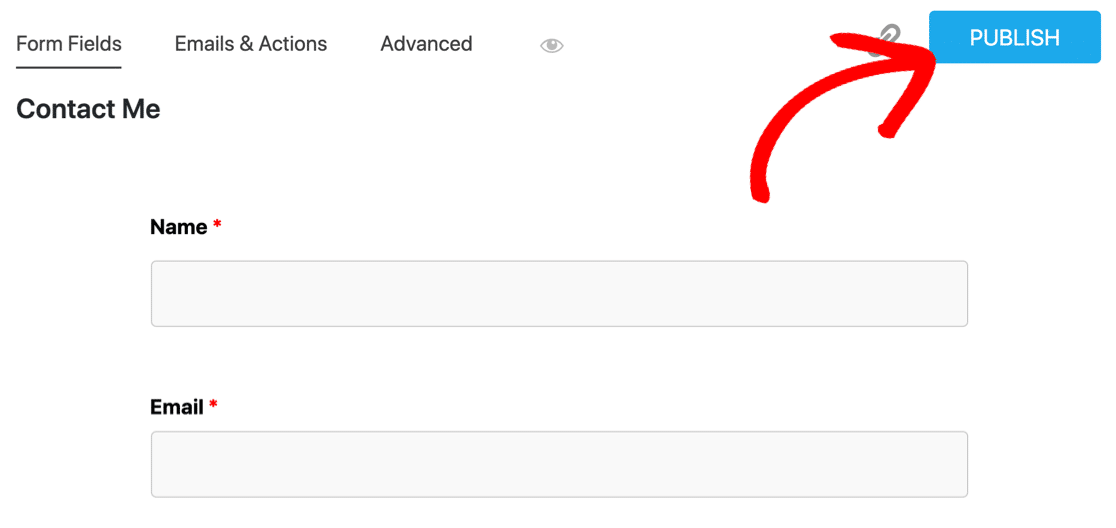 If you're only looking to make basic forms, this limitation may not be a deal-breaker. However, once you get started with more advanced form-building, the gap in ease of use is more significant.
For example, users of all levels will find it easy to access and work with WPForms' advanced form options, which can be accessed within the form builder. With Ninja Forms, on the other hand, while there is an an advanced options tab within the form builder, you'd still have to switch on Developer mode to access the most advanced form-building features.
Getting started with Formidable Forms is easy enough. Once the plugin is installed and activated, you can get on with creating your first form.
Formidable Forms uses a drag-and-drop form builder interface that has a similar layout to the WPForms form builder. You'll see your form canvas on the right, with form fields on the left.
Formidable Forms is easier to embed into a page than Ninja Forms. You'll be able to use the native Formidable Forms block to embed forms in the block editor.

Overall, the WPForms Embed tool offers the easiest way to embed forms in pages.
WPForms vs Ninja Forms vs Formidable Pro Support
When it comes to support, you'll be spoilt for choice. All users can use the WPForms documentation to navigate basic or complex form-building issues. You can also ask questions in the WPForms VIP Circle Facebook group, and paid users can contact WPForms support directly.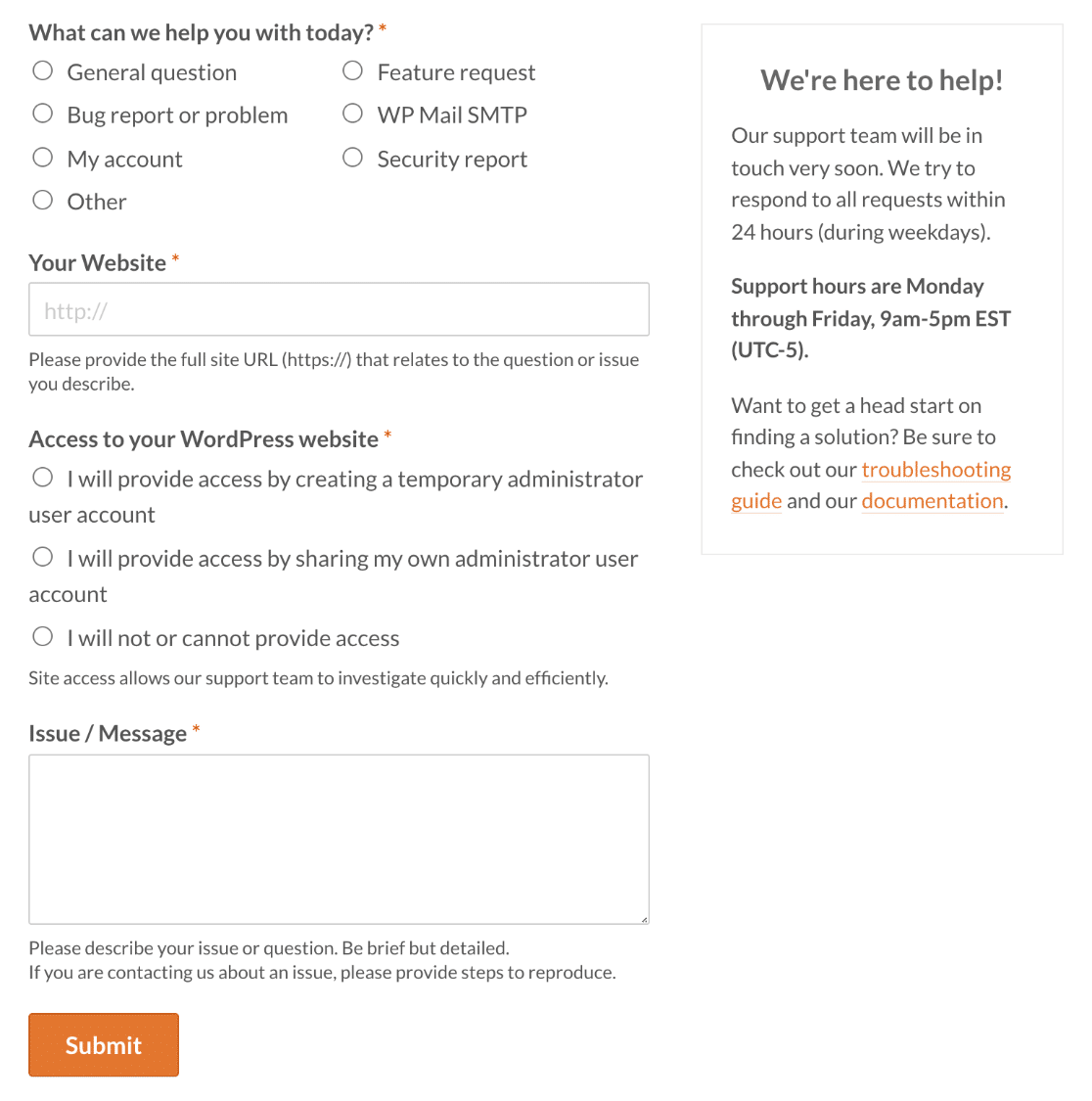 Ninja Forms offers documentation to help you set things up or find specific answers when you're stuck. If you can't find a suitable piece of documentation, both free and paid users can get in touch with Ninja Forms support by submitting a support ticket.
To receive more personalized support, you can contact Ninja Forms support from Monday to Friday between the hours of 9 am and 4 pm.

For free users, replies may take up to 24 operating hours, while paid users are promised a response within 8 operating hours.
While this may be good enough, both WPForms and Formidable Forms offer a little more. WPForms, for example, offers similar support options including a dedicated support team, and a huge documentation base, along with a dedicated community on Facebook where users can interact with WPForms support staff.
Similarly, with Formidable Forms, the first line of support is the Formidable Forms knowledge base. For more direct support, you can contact the Formidable Forms helpdesk from 9–5 on Mondays through Thursdays, and from 9–4 on Fridays.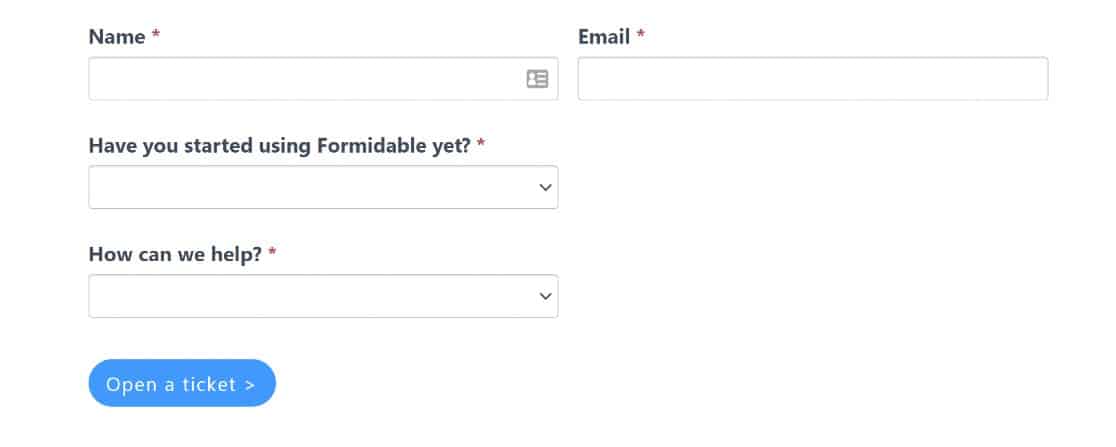 Like WPForms, Formidable Forms also offers an online community.
WPForms vs Ninja Forms vs Formidable Pro Pricing
WPForms comes with several pricing plans. The recommended Pro license starts at $199.60 annually. If you're looking to start small, there's a Basic license that starts at $49.50 annually, and you may also consider using the free starter version of the plugin, WPForms Lite.
That said, the WPForms Pro license is the recommended tool for growing businesses, as it offers access to all the best WPForms features at extremely competitive pricing.

Ninja Forms uses a somewhat unique pricing model that allows you to pay for specific modules or sign up to any of its membership plans.
Plans begin at $49 for the Personal plan which offers 4 basic addons, and can be used on only one site.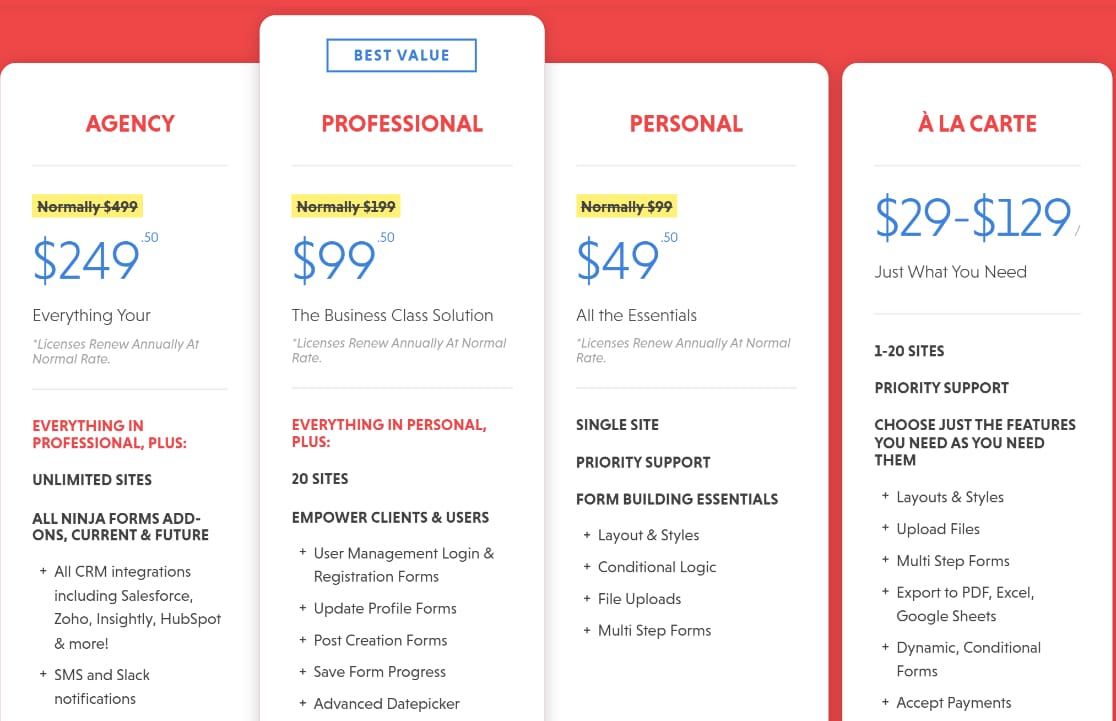 Formidable Forms offers 4 plans which start at $39.50 for the Basic license. It's most popular plan, the Business license, costs $199.50 annually.

This is comparable to WPForms, so the difference between the two comes down to the features and other factors such as support and ease of use.
WPForms vs Ninja Forms vs Formidable Pro: Which Is the Best Form Builder for WordPress?
While Ninja Forms is a strong contender, both WPForms and Formidable Forms Pro have a little too much in the locker for Ninja Forms to compete.
Both plugins offer an array of impressive features like survey and polls functionality, geolocation, Google Sheets integration, and more anti-spam tools.
We'd say Formidable Forms is a closer alternative to WPForms than Ninja Forms. However, these form builders are best suited for different groups of users.
For example, WPForms is easier to use for beginners, while advanced users will love some of the technical options available in Formidable Pro.
And that wraps it up for our WPForms vs Ninja Forms vs Formidable Pro comparison! Hopefully, by now you've have a clear idea which form builder is best for your needs.
Next, Check Out WPForms
We've just walked through a WPForms vs Ninja Forms vs Formidable Pro comparison, and we've concluded that WPForms is the best. If you'd like to learn more about how WPForms can help you build powerful forms, take a look at our complete WPForms review.
Create Your WordPress Form Now
So, what are you waiting for? Get started today with the easiest WordPress form builder plugin. WPForms Pro includes pre-built form templates and powerful form features! It also offers a 14-day money-back guarantee.
If this article helped you out, please follow us on Facebook and Twitter for more free WordPress tutorials and guides.