Do you want to compare the features and pricing in SurveyMonkey vs Mailchimp vs WPForms?
These are the popular tools to create online contact forms, powerful surveys, and email campaigns. And people often get confused about which tool works best with their WordPress websites.
In this article, we'll compare the features of SurveyMonkey, Mailchimp, and WPForms, so you can decide which one is the fit for your business.
Create Your WordPress Survey Form Now
SurveyMonkey vs Mailchimp vs WPForms: Quick Overview
SurveyMonkey is a web-based tool used to create, run, and analyze online surveys. Its advanced features make it a popular choice among big industries and large-scale businesses to conduct competitive analyses and run online surveys.
Mailchimp is a cloud-based marketing platform that provides multiple features to grow your business online. Apart from marketing features, Mailchimp is commonly known for its email marketing tools that help you automate and manage email campaigns across different platforms.
WPForms is a popular form builder plugin for WordPress. Whether you want to create basic contact forms or powerful online survey forms, WPForms has it all! You can create any form and add it to your WordPress websites with just a few clicks.
And the most impressive thing is that you don't have to write a single line of code in order to build a form with WPForms.
SurveyMonkey vs Mailchimp vs WPForms: A Detailed Comparison
Now let's see a detailed comparison of these tools based on their features, ease of use, and prices. Here's a quick overview
| | SurveyMonkey | Mailchimp | WPForms |
| --- | --- | --- | --- |
| Rating | Web-based survey tool | Email marketing tool | Best form builder for WordPress |
| WordPress Plugin | No | No | Yes |
| Annual Plan Available | Yes | No | Yes |
| Pricing | $384/yr | $299/mon | $299/yr |
Features
The most important thing to look into before purchasing any tool is its features. It's essential to check whether your tool includes enough features that fit your website needs or not.
Let's first take a closer look at all the features of SurveyMonkey vs Mailchimp vs WPForms.
SurveyMonkey Features
SurveyMonkey is a web-based software that lets you create online surveys and polls. It includes advanced survey features to help conduct deep market research and analysis.
With SurveyMonkey, you can create a set of audiences and stop people from participating in the survey if they aren't part of the targeted audience.
Furthermore, you can accept payment, export survey results, and also create multilingual surveys.
Features:
Pre-built survey templates
Team collaboration
Conditional logic
Reporting tools
Question and page skip logic
White label surveys
Mailchimp Features
Mailchimp is a popular email marketing solution. It also includes other additional marketing features that you can embed in your email campaigns and create more effective email newsletters for your business.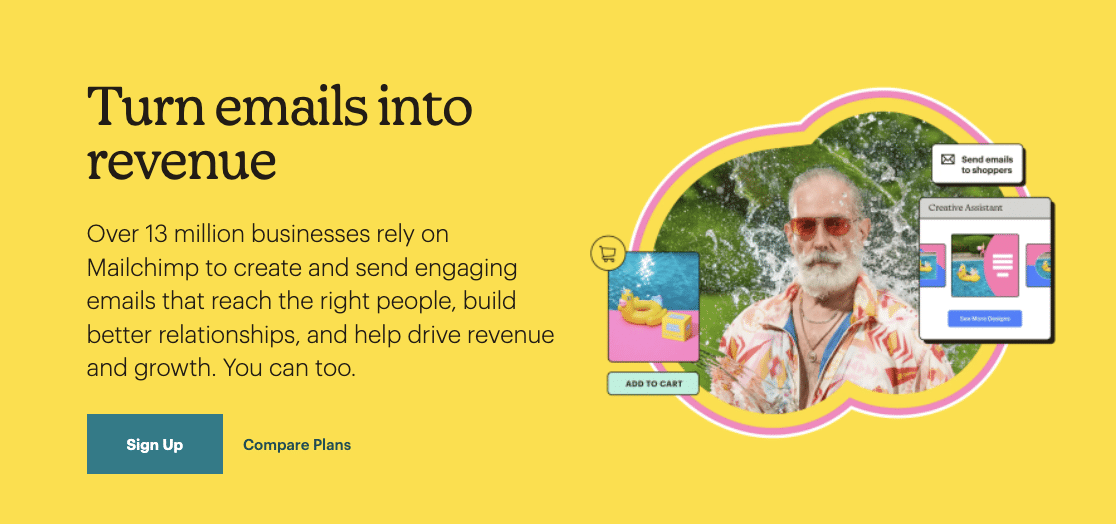 With Mailchimp, you can automate your email campaigns, view real-time stats, and track how your emails are performing.
One of its cool features is that you can schedule your email delivery time. This allows you to schedule your emails to be sent out at the time of day that most people open your emails.
Features:
Pre-built email templates
Email scheduling
Social posting
A/B testing
Facebook & Instagram ads
Surveys
Though Mailchimp is a powerful email marketing platform, its integration with WordPress is a little tricky. We always need to look for the Mailchimp integrations available to connect Mailchimp with the WordPress websites.
WPForms Features
WPForms is a powerful and straightforward WordPress form builder plugin. From creating basic contact forms to interactive surveys, and RSVPs to job applications, you can do it all with WPForms.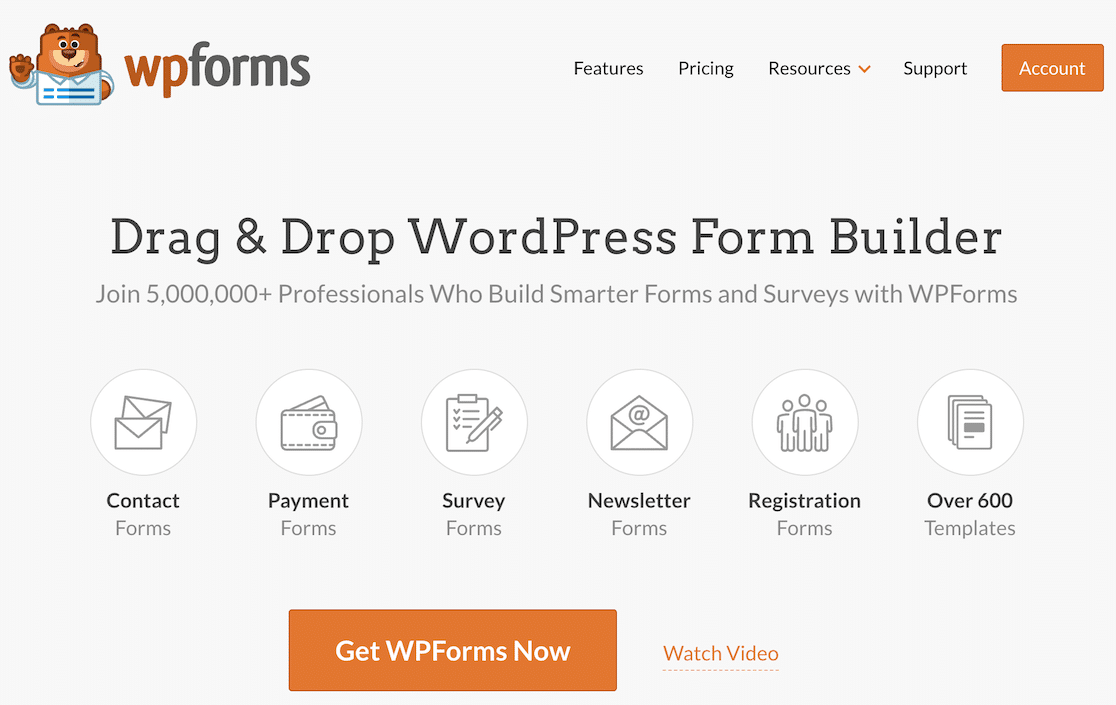 WPForms comes with a huge built-in form template library. This library consists of 600+ ready-made form templates that you can use on your WordPress websites.
With WPForms Pro, you get a complete set of templates that includes:
Feedback form templates to collect feedback from customers, users, employees, etc.
College application form template to create an easy admission process for students
Incident report form template to document incidents that happen at the office or on job sites
Order and billing template for cafes, restaurants, pubs, etc
And many more other form templates.
All WPForms' templates are completely customizable and easy to use, and if you don't want to start things from scratch, these templates work wonders for you.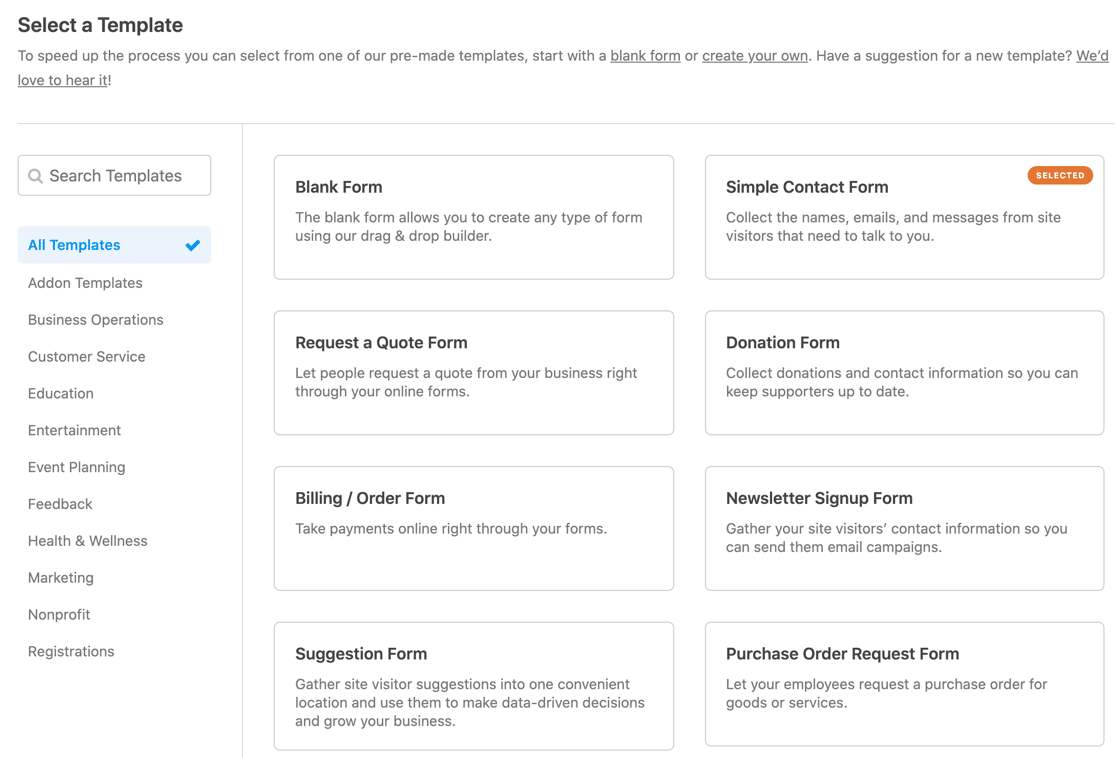 The Pro version of WPForms includes a Surveys and Polls addon. Using this addon, you can create different types of surveys and polls effortlessly on your WordPress site.
You can build interactive and engaging survey forms and add smart survey field options such as Matrix Questions, Net Promoter Score, Star Ratings, etc.
Let's check out some features of the Surveys and Polls addon:
Smart Survey Reporting: The surveys and polls addon includes 2 smart survey reporting features: Survey Reporting and Poll Results.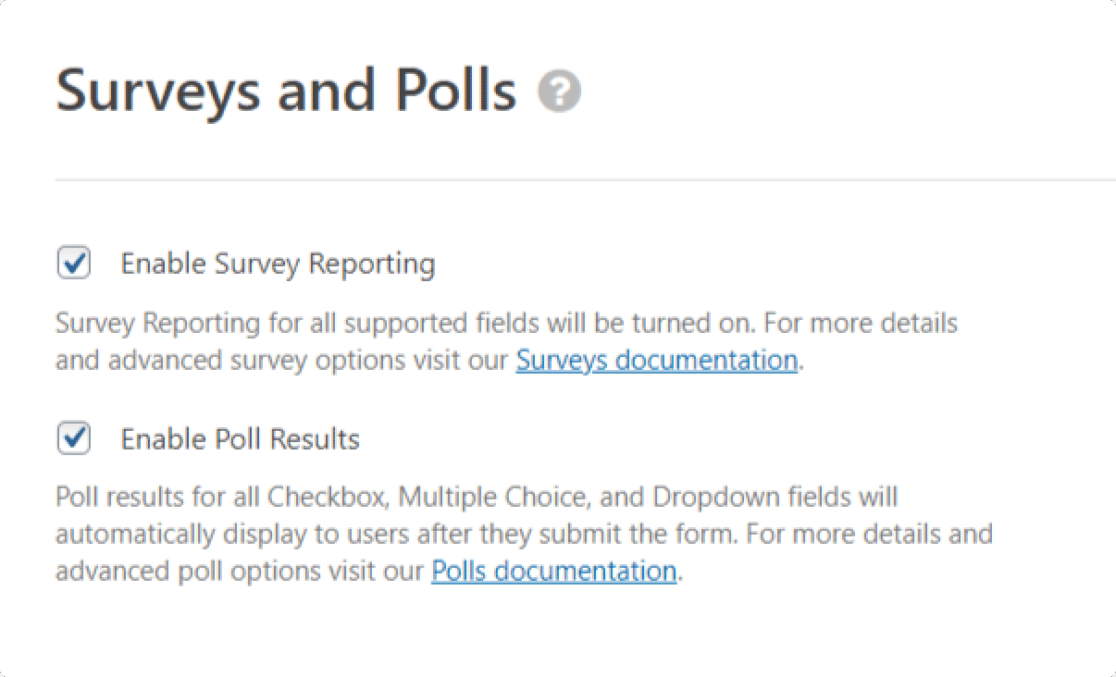 The Survey Reporting feature helps you collect the survey data, while with the Poll Results feature, you can display survey results on your site for your users.
These are built-in survey features; you don't have to add any extra form fields for surveys. Enabling these options can turn any form on your website into a survey form.
Beautiful Visual Reports: You can generate beautiful survey reports and display real-time insights with the best visualizations for each question type of your survey.

With WPForms, you can manage and view your survey results on your WordPress website's dashboard. You don't need to switch tabs or export reports to analyze your survey data.
Real-time Report: To enhance your user experience, you can also display the survey results to each user after submitting the form.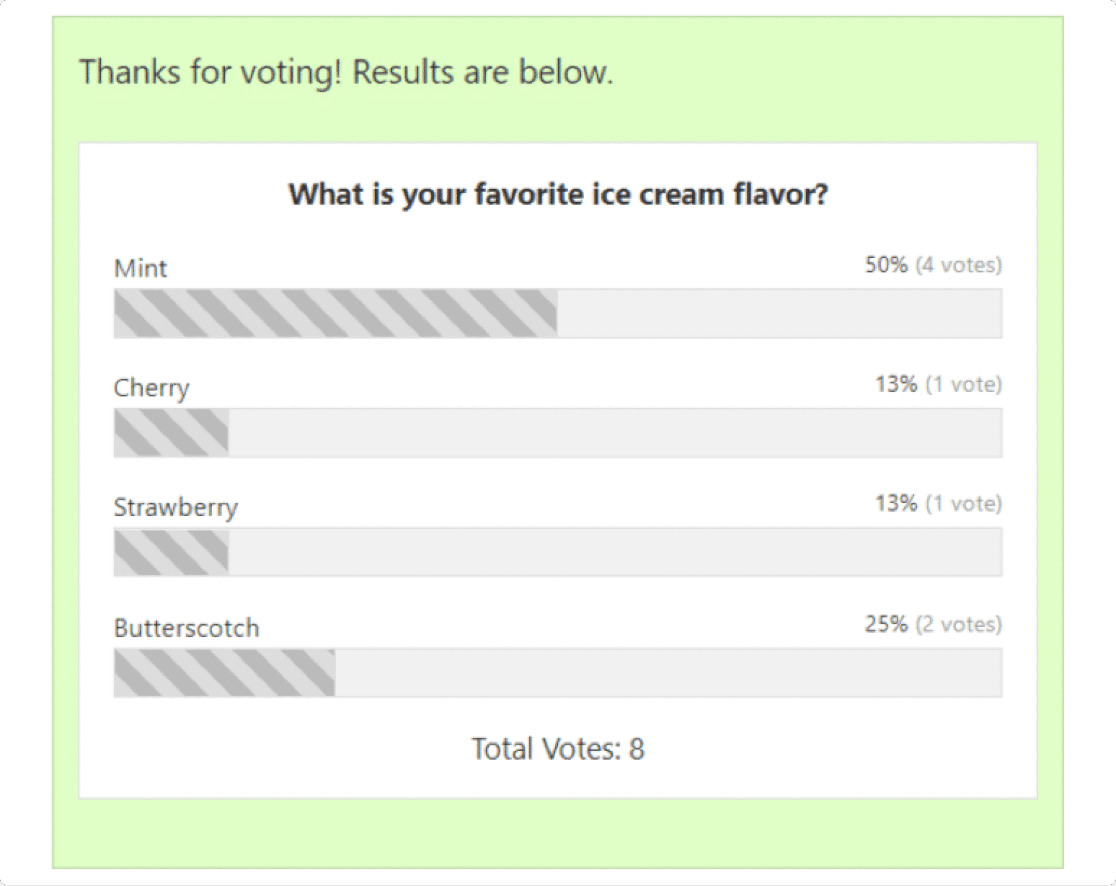 Export Survey Reports: Export your reports as PDF or JPG with a single click.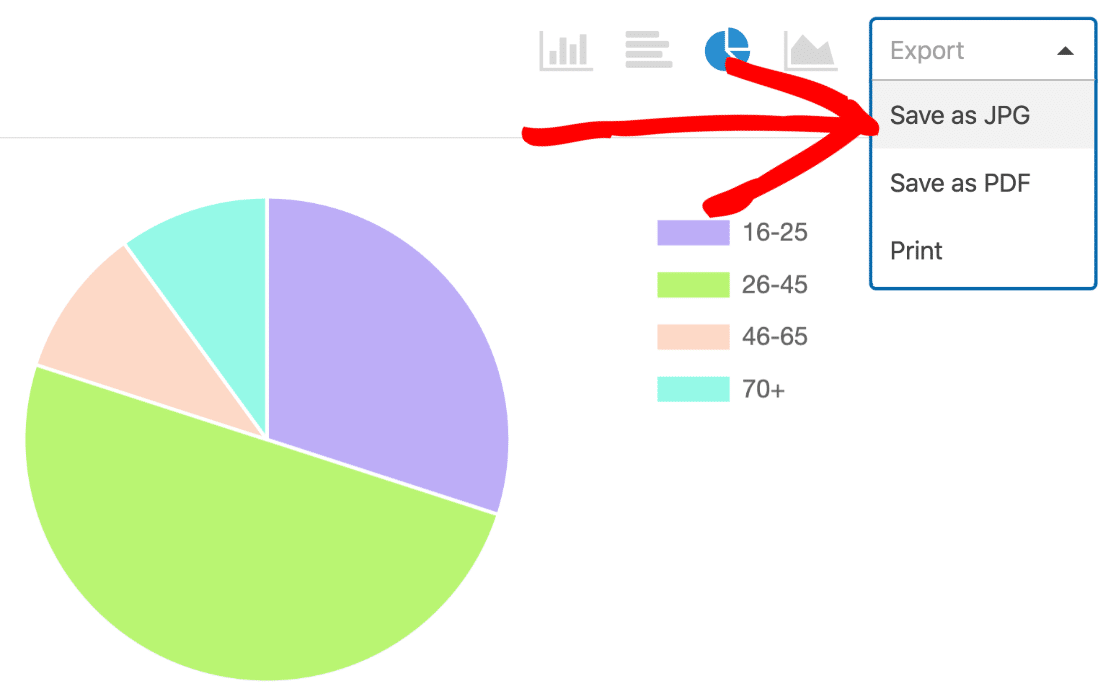 The above mentioned are only the surveys and polls addons features. WPForms includes a ton of features that you can use to create highly engaging and interactive online forms.
Easy drag and drop form builder
Smart conditional logic
Add images and branding
Integrated with popular payment gateways like PayPal, Stripe, and Square
Integrated with email marketing services like Mailchimp, Sendfox, and MailPoet
Google reCaptcha, hCaptcha, Cloudflare Turnstile, and custom CAPTCHA to stop contact form spam
Features to create multi-step forms
Add autocomplete address field to your forms
Allow users to add a digital signature to your online forms with their mouse or touchscreen
Add access control rules and permissions to your WordPress forms
Track lead sources for your websites
And more.
Ease of Use
Now let's see how user-friendly these tools are. We'll check the complete process of creating surveys with each tool and judge the available survey options from the beginner's perspective.
SurveyMonkey Ease of Use
First, log in or sign up for a SurveyMonkey account.
SurveyMonkey runs on a freemium business model. The free version has limited features, while you can run more advanced surveys with the pro version.
Below you can see the SurveyMonkey dashboard; it's pretty clean and interactive. You get 3 options to get started with your surveys:
Build it for me
Start from template
Start from scratch
Once you choose your option, you'll be redirected to a new page. SurveyMonkey includes 5 major steps to build the survey form:
Design survey
Preview score
Collect responses
Analyze results
Present results
Each step is loaded with multiple options making it a bit overwhelming for new users.

SurveyMonkey also includes a Question Bank with pre-written questions. With its free version, you can add 10 questions and collect 40 responses for each survey.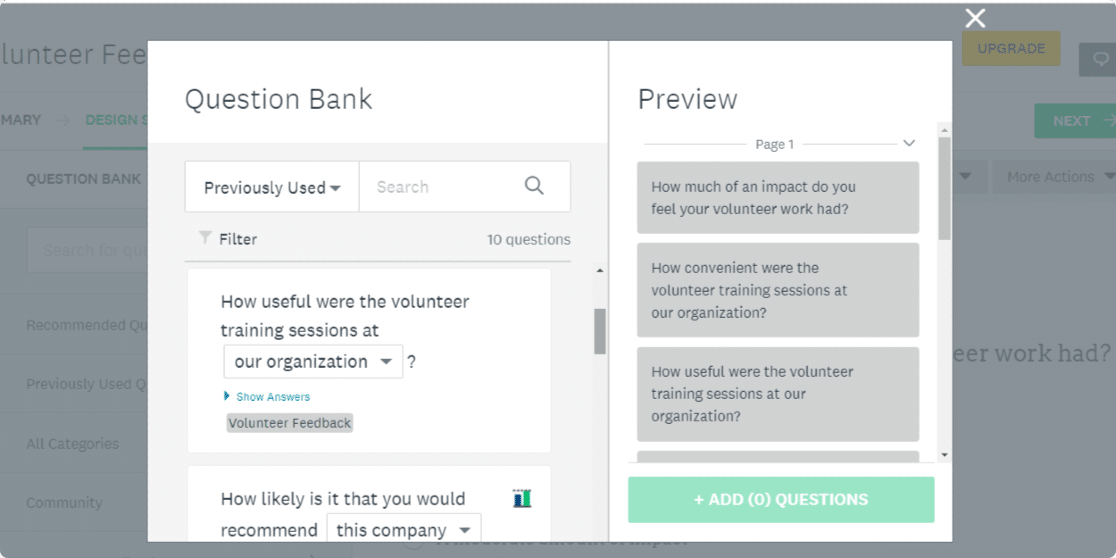 One of the major drawbacks of SurveyMonkey is that its dashboard is crowded with many options. All survey features are grouped in one place, making it extremely difficult to find the right option to enable in the survey.
As you can see, most of the advanced survey features are locked in the premium version, so you can only create some basic surveys using the free version of SurveyMonkey.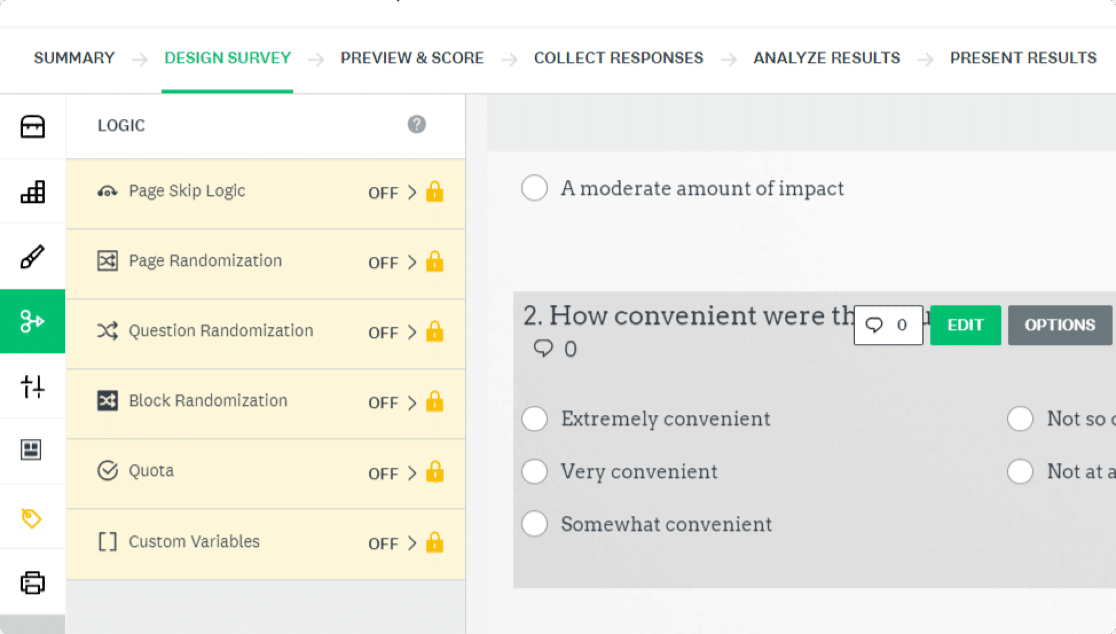 The interface of SurveyMonkey is not for beginners. If you have hands-on experience with web-based tools, you can explore and use all features of SurveyMonkey.
Mailchimp Ease of Use
Mailchimp has a clean and well-detailed interface. In the dashboard, you can see the options to:
Send your email
Create a website
Add your contacts
Start an automation
To create a survey, click on the pencil icon on the left side of your Mailchimp dashboard.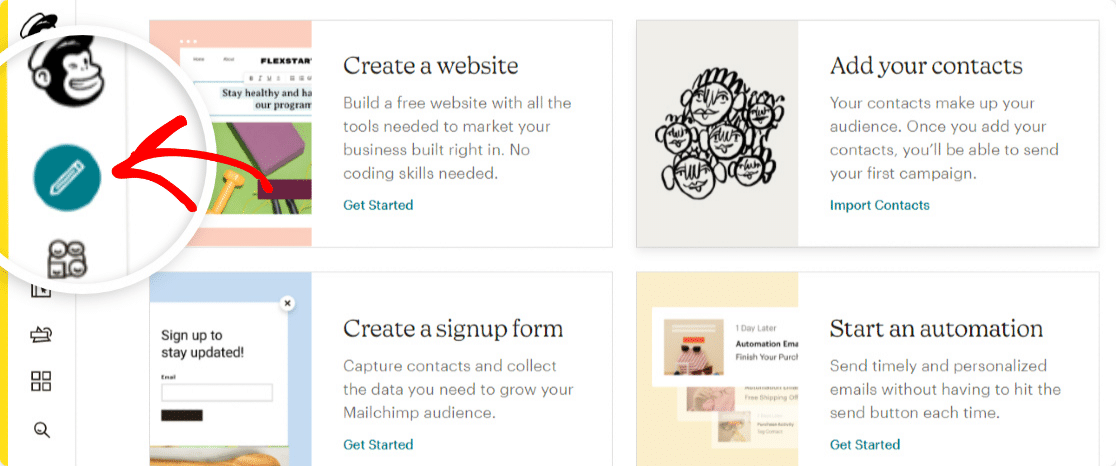 Click on the Survey option and begin with selecting an audience. Next, you'll see options to add questions to your survey. You can create surveys with:
Radio buttons
Checkboxes
Open Text
Range
Email
You can preview, duplicate and delete, etc., from the options available within the dashboard.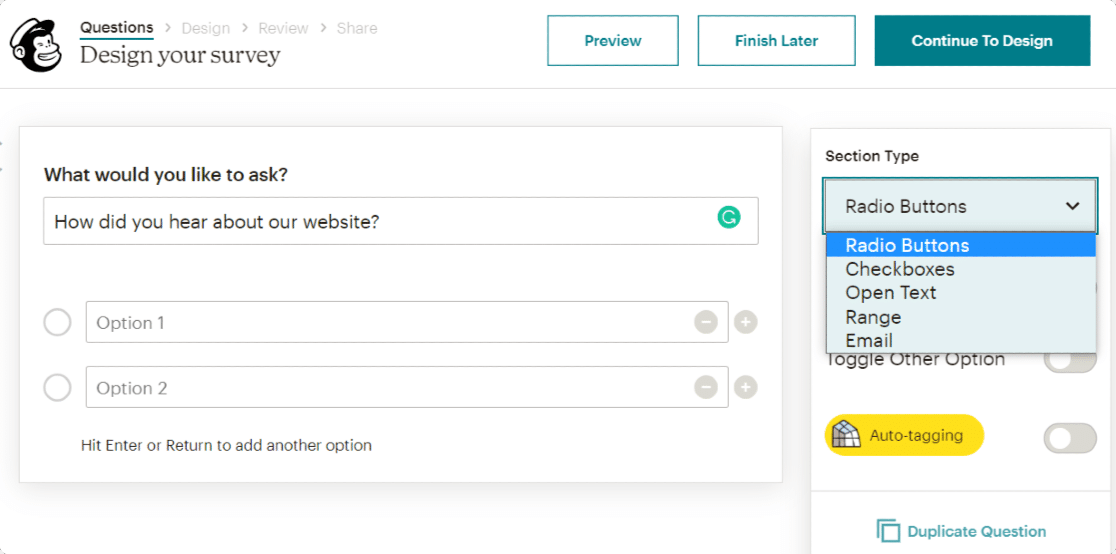 With Mailchimp, you can also customize your surveys. You can add your brand logo and description, but at the same time, it will also display the Mailchimp watermark in your surveys. If you want to remove Mailchimp branding, you need to switch to higher-paid plans.
Moreover, you can customize the submit button label, add a confirmation message, required question message, and closed survey message.
Once you finish your survey, you can share it via multiple channels to get responses:
You can share surveys via email campaigns or automation
Create a survey link and share it via website, text, or chat
Share on Facebook
Share on Twitter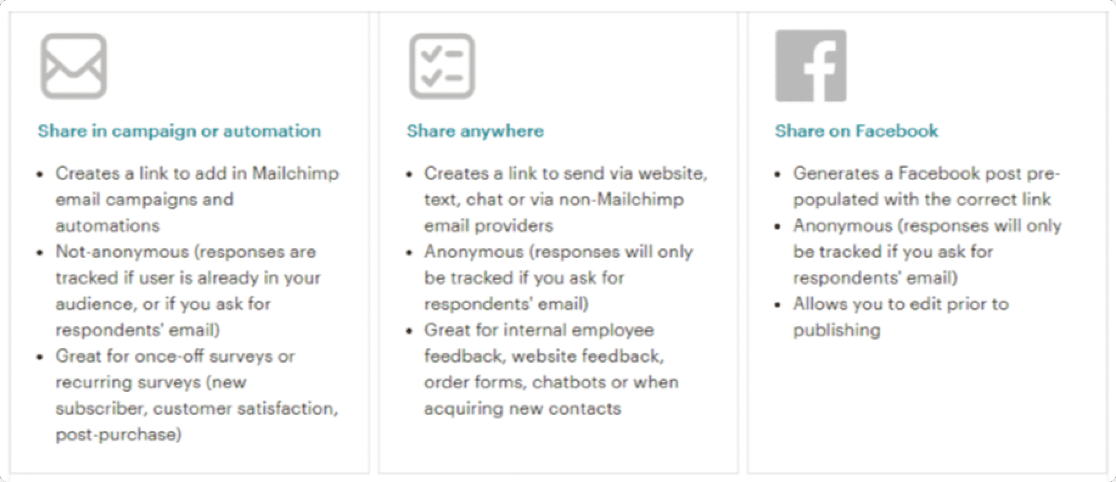 Though Mailchimp includes pretty good survey options and is beginner-friendly, embedding these surveys into email campaigns is tricky. You've to generate a link to embed surveys in your email campaigns.
Also, the survey reporting features are limited as compared to WPForms and SurveyMonkey. Undoubtedly, Mailchimp is the best tool for email marketing, but it lacks many features when it comes to running surveys online.
WPForms Ease of Use
WPForms is built with a special focus on usability and simplicity. You can create forms on your WordPress websites following 3 simple steps.
Step 1: Choose your form template
Step 2: Customize your form
Step 3: Publish your form
WPForms' template library includes beautiful and flawlessly working form templates. This template library also consists of an extensive section of survey templates. You can choose any survey template to fit your needs.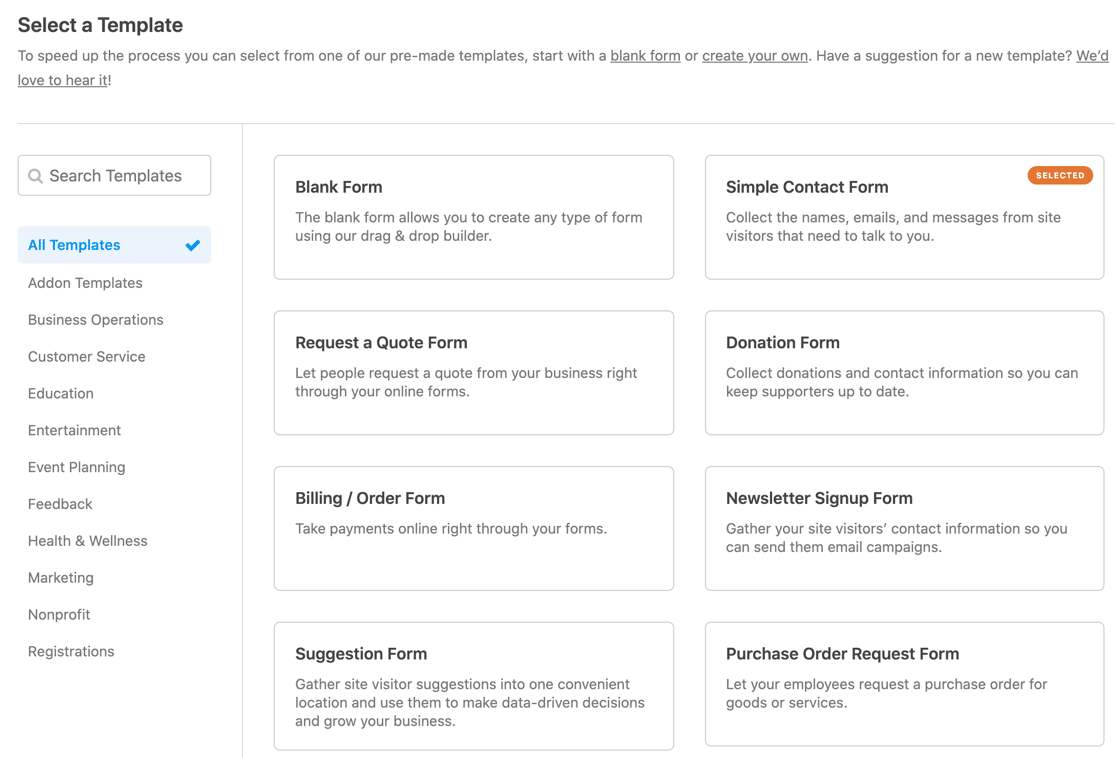 The WPForms builder has an easy drag and drop interface and minimalist design. You can see that each option is clearly visible in the form builder dashboard. On the left-hand side of the dashboard, you can check the additional form fields, and on the right, you can see a live preview of your form.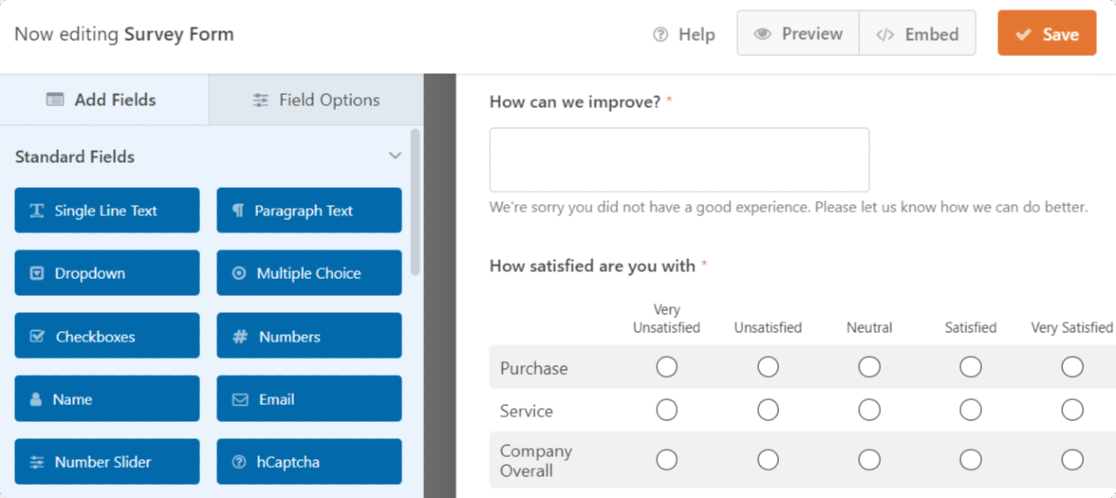 You can add more form fields by dragging them from the left and dropping them into the form. And with a simple click, you can edit, modify and delete form fields. It's also easy to create multi-column layouts.
In our tools list, WPForms is the only official WordPress form builder plugin. So you can add WPForms surveys to a WordPress website without embedding any HTML code.
Pricing
Let's see the pricing packages of these 3 popular tools.
SurveyMonkey Pricing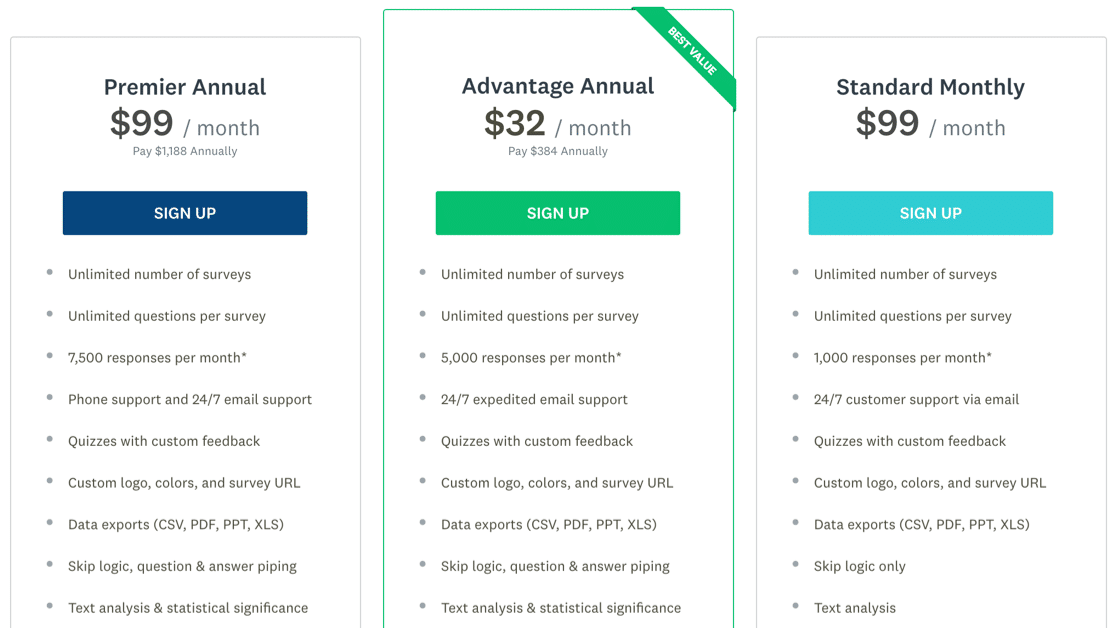 SurveyMonkey offers 3 premium plans, Individual Plans, Team Plans, and Enterprise. These plans are further fragmented into sub-plans. The popular Advantage Annual plan is for one user and costs $384/ year.
Mailchimp Pricing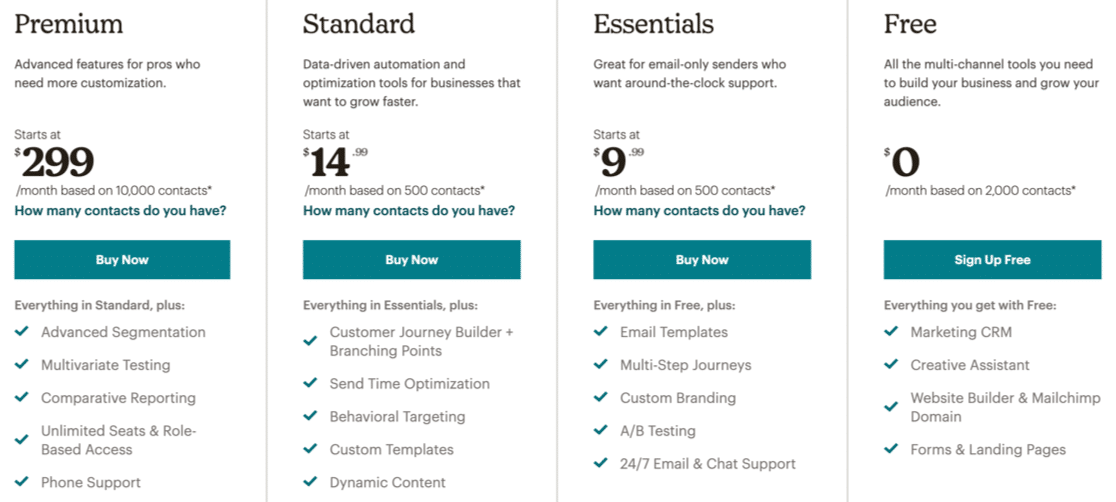 Mailchimp includes 3 paid plans, Premium, Standard, and Essential. The premium plan costs $499/mo.
And if you want to add more website and e-commerce features, you've to pay extra for the addon features. It also offers a dedicated email plan for developers.
WPForms Pricing
WPForms offers 4 premium plans Elite, Pro, Plus, and Basic.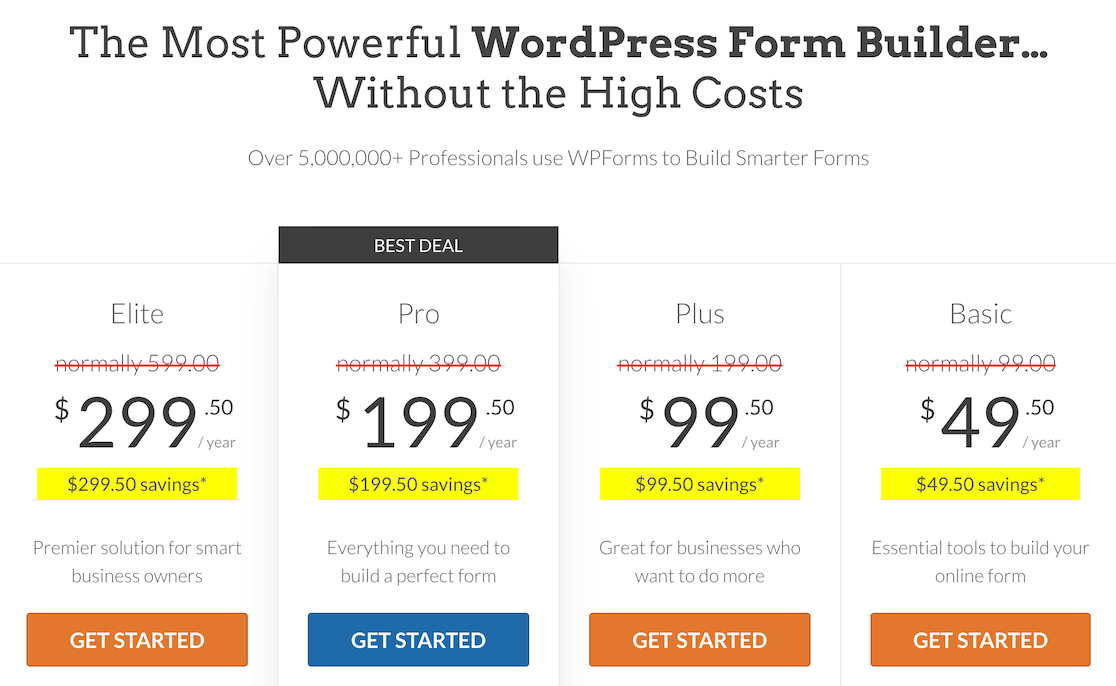 Basic: Supports 1 site and costs $39.50/ year – includes multi-page forms, templates file uploads, spam protection, conditional logic, and custom thank you pages.
Plus: Supports 3 sites and costs $99.50/ year– adds support for popular mailing list providers like Mailchimp, plus more pre-built form templates
Pro: Supports 5 sites and costs $199.50/ year – includes advanced features and addons to create surveys and polls, and conversational forms.
Elite: Supports unlimited sites and costs $299.50/ year – premium integrations like Webhooks, Salesforce, and usage on unlimited sites.
If you want to try WPForms for free, we recommend installing WPForms Lite. It lets you build basic forms and see entries in your email notifications. You can also turn on the Lite Connect feature to store entries so you can unlock them when you upgrade to the paid version of the plugin.
Also, WPForms offer a 14-day money-back guarantee so that you can use WPForms on your websites worry-free.

SurveyMonkey vs Mailchimp vs WPForms: Final Verdict
Compared to SurveyMonkey and Mailchimp, WPForms is the best tool to run online surveys and polls.
That's because:
WPForms includes powerful survey features and reporting tools.
The drag and drop builder of WPForms makes it user-friendly and super easy to use.
Backed by a fantastic support team. Plus, the availability of detailed online resources makes everything great.
WPForms is a native WordPress plugin, which means you can create surveys without generating and embedding any HTML code.
All survey features are packed in 1 plan, you don't need to buy extra addons or pay additional charges.
The Pro plan of WPForms is more affordable than the other two tools on our list.
Create Your WordPress Survey Form Now
Next, Check Must-Ask Exit Survey Questions
We hope this article helps you choose the best survey tool for your WordPress websites. Next, you can check out our must-ask exit survey questions for inspiration.
Also, you might be interested in learning how to add matrix questions to your surveys and polls.
So what are you waiting for? Get started today with the easiest WordPress form builder plugin. WPForms Pro includes lots of free templates and offers a 14-day money-back guarantee.
If this article helped you out, please follow us on Facebook and Twitter for more free WordPress tutorials and guides.