Looking for a simple yet creative way to create a business card order form on your WordPress website?
With a business card order form, you can display business cards online for your customers and provide them an easy way to choose the option they want to purchase.
In this article, we'll show you how to create a business card order form using the WPForms image choices feature so you can give people the best buying experience possible.
Create Your Business Card Order Form Now
 Here's a table of contents to help you navigate the tutorial:
What Is a Business Card Form?
A business card order form is a form that you can use to display and sell business cards online.
With a business card order form, you can collect your customer's information such as email, name, phone number, or shipping address and allow them to select their business card from the available card options in the form.
Why Create a Business Card Form With WPForms?
WPForms is the best form builder plugin for WordPress. On top of business card order forms, you can create many other awesome online forms using this plugin.
Creating business card order forms with the WPForms plugin allows you to add plenty of powerful features to your form. You can:
How to Create a Business Card Order Form
Let's take a look at how to create a business card order form in WordPress with WPForms.
Step 1: Create a Business Card Order Form in WordPress
The first thing you'll need to do is install and activate the WPForms plugin. If you need more details, check out this step-by-step guide on how to install a plugin in WordPress.
Next, you'll need to create a new WordPress form. For detailed steps, see our tutorial on creating a simple order form in WPForms.
If you don't want to spend your time building a form from scratch, you can simply choose a Billing / Order Form Template from the WPForms template library.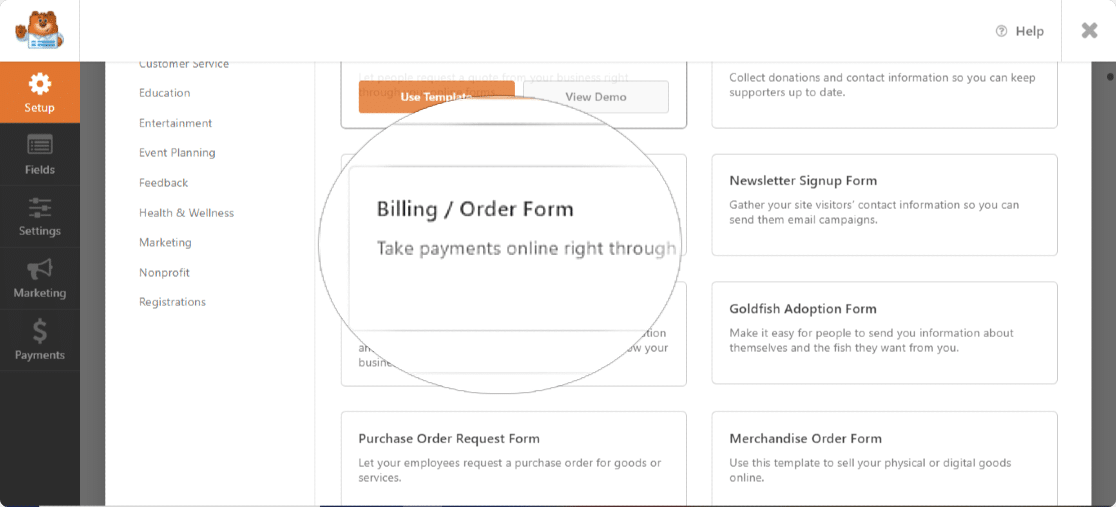 The WPForms template library consists of 300+ beautiful and functional form templates that you can use and start your work with a few clicks.
Step 2: Customize Your Business Card Order Form
As soon as you select the order form template, you'll redirect to the WPForms form builder dashboard.
You can see your order form on the right and the form fields on the left.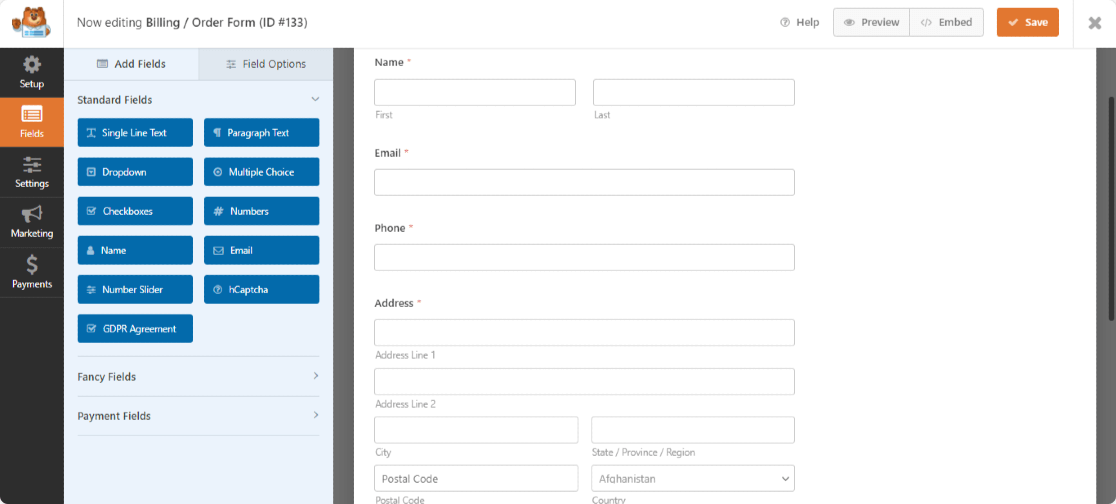 The pre-built order form template comes with the following form fields options:
Name
Email
Phone
Address
Available Items
Total Amount
Comment or Message
You can add additional fields to your form by dragging them from the left-hand side to the right-hand side.
Click on the form field you want to edit on the right-hand side, and make your changes in the editor on the left-hand side.
Here, we'll change the Available Items field.

We'll add 4 business card options and complete them with image choices, so your customers know exactly what they're getting when they pick an option.
To do this, first, you need to change the Available Items label to something like Please choose the business card template you would like.
Then, add business card template names and the corresponding prices for people to choose from.
To show your prices right on your form, enable the "Show price after item labels" toggle button under the Items fields.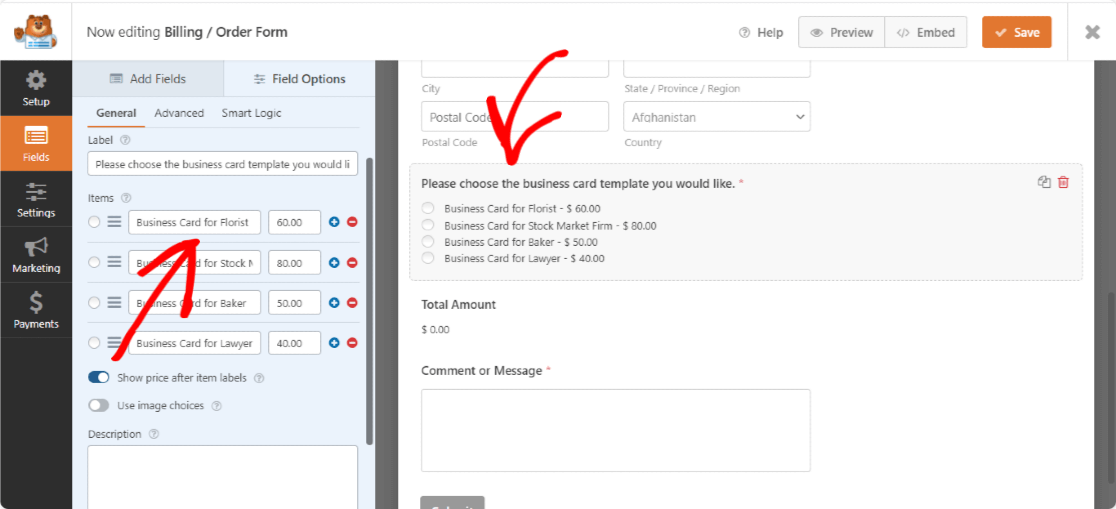 You can also add or delete any additional order form fields you want to by clicking the + and – signs.
Suppose you want to display a long order form with a ton of information for people to fill out all at once. You can try creating a multi-step form in WordPress using WPForms.
Step 3: Add Images to Your Form
Now, it's time to add images of the business cards you want available for people to choose from.
To add images, enable the "Use image choices" toggle button.
You can now upload your business card templates in the Available Items form field. Just click on Upload Image and choose the images you want to add for each item available for purchase.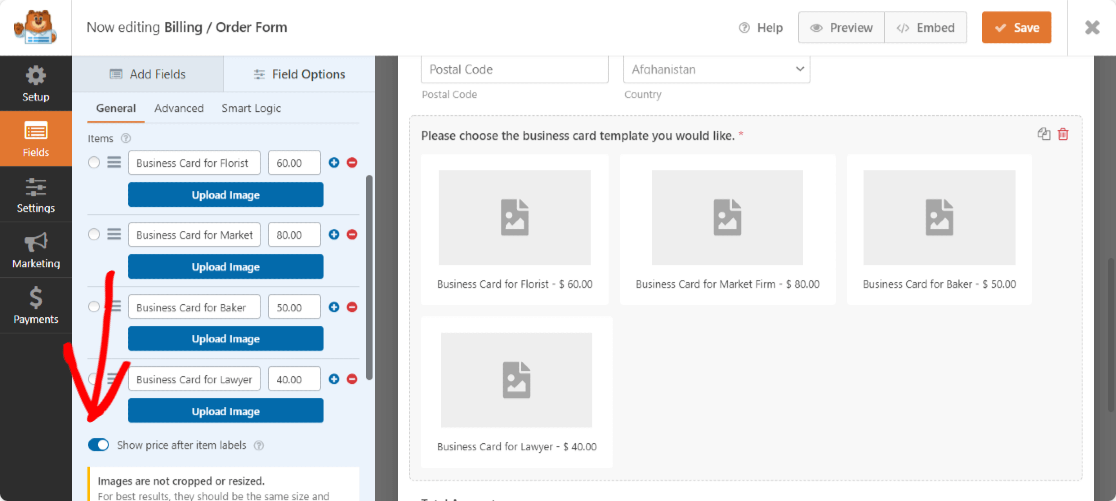 When you do this, you can check the live preview of each image you upload on your form, so you can make sure they look like you want them to.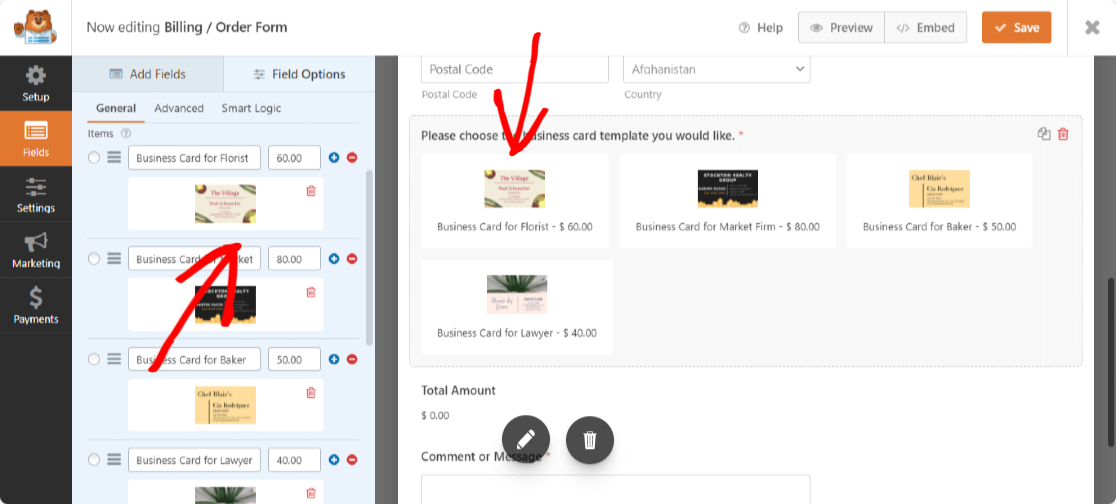 Moreover, you can also choose the image layout for your business card order form. You can display your images to be in:
Line
1- column
2 columns
3- columns
Now let's configure the payment settings for your form.
Step 4: Configure Payment Settings
While creating an online order form, it's important to set the payment options correctly for your buyers and business.
To configure the payments settings for your business card order form, click on the Payments tab on the very left corner of your page.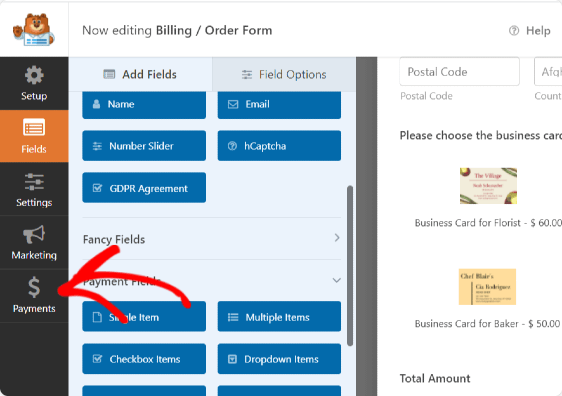 WPForms integrates with PayPal, Authorize.Net, and Stripe for accepting payments. For our order form, we'll choose PayPal Standard to process payments.
Note: The Authorize.Net payment option is included in the WPForms Elite Plan.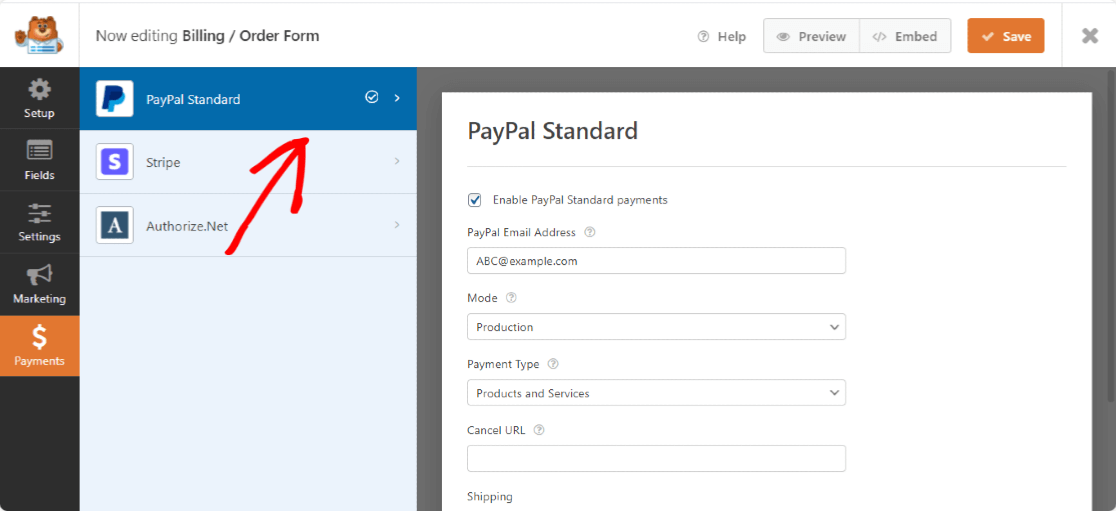 Here you'll need to configure the following options:
Select the checkbox near Enable PayPal Standard Payments
Enter the Email Address that is integrated with your PayPal account
From the Mode dropdown menu, select Production to receive payments
Select Products and Services as the payment type
Under the Shipping option, choose Ask for an address and do not require option because we've already added an Address field in our form.
Once done, click on the Save button.
Superb! You've configured the payment settings. Now let's tweak some additional settings for your online business card order form.
Step 5: Configure Your Form Settings
To start, go to Settings » General.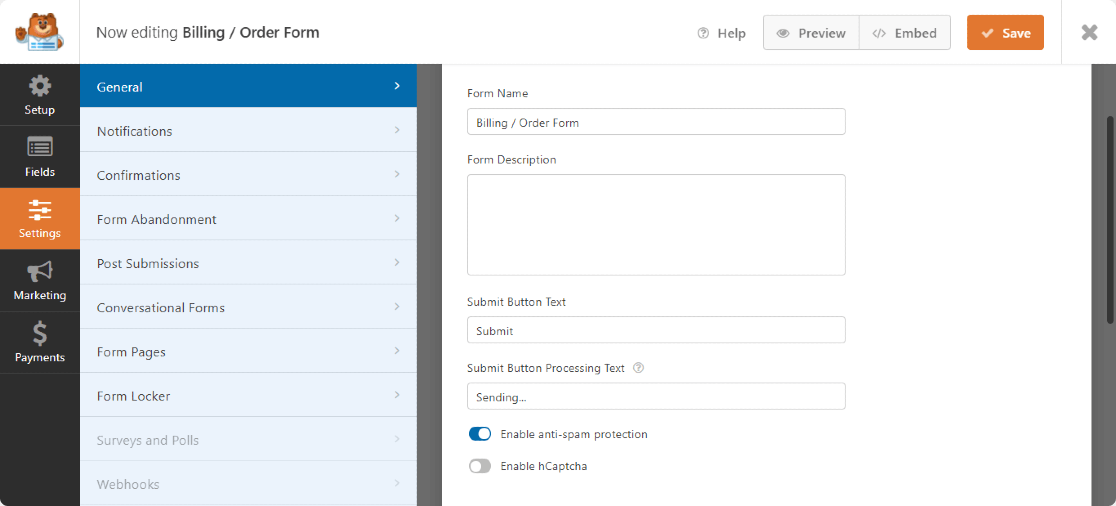 Here you can configure the following:
Form Name: You can change the name of your form from here
Form Description: Add a description of your form
Customize Submit Button: Change Submit Button and Submit Button Processing Text however you'd like.
Enable Anti-Spam Feature: Stop contact form spam and protect your website from hackers with the anti-spam feature of WPForms. The anti-spam checkbox is by default enabled for all new forms. You can also enable the hCaptcha option if you want.
Enable dynamic fields population: You can enable this option to populate some of your form fields from one form to another.
AJAX Forms: Enable AJAX settings with no page reload.
Disable storing entry information in WordPress: Enable this option if you don't want to store entry details of your buyers.
Disable storing user details (IP address and user agent)
Enable offline mode for the form
Step 6: Customize Your Form's Notifications
Click on Notifications. Here you can customize which email addresses receive notifications about order form submissions.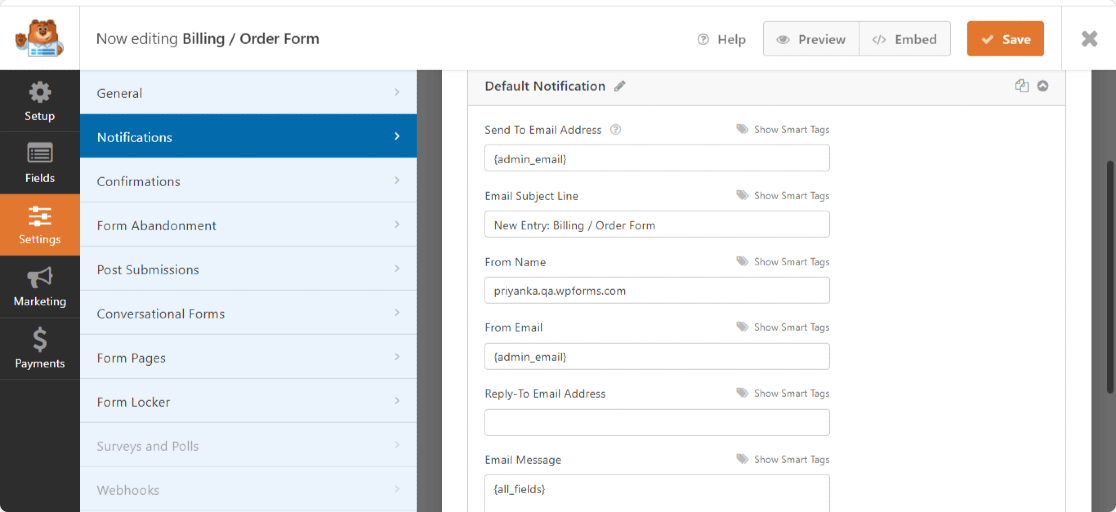 You can also add multiple form notifications to send your customers an email receipt after they've made a purchase.
Step 7: Configure Your Form's Confirmations
Next, click on the Confirmation tab to customize the message people receive from you once they submit their order form.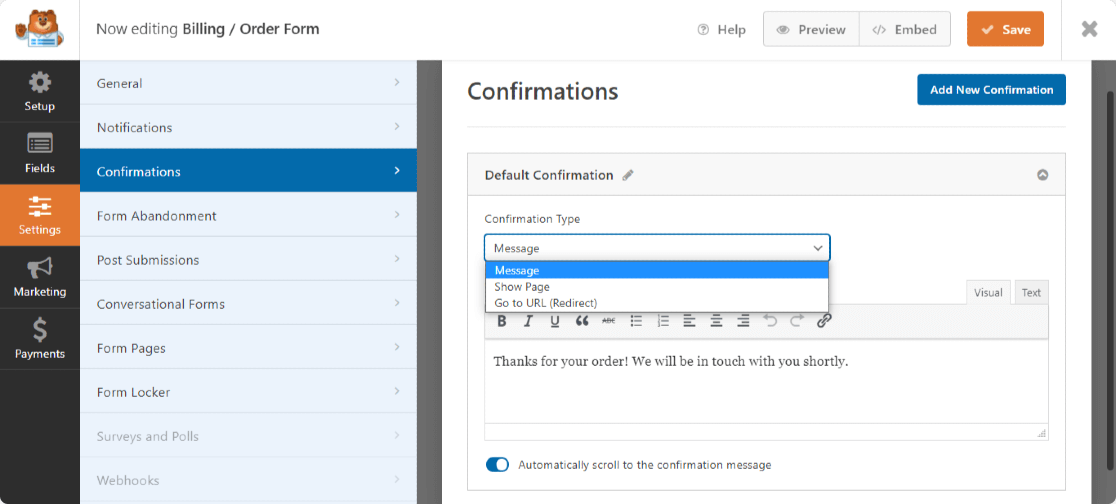 WPForms has three confirmation types, Message, Show Page, and Go to URL(redirect).
Message: You can display a sweet and simple customized message to your buyers once they complete their purchase.
Show Page: You can create and display a beautiful Thank You Page to your buyers. Choosing this confirmation type helps you redirect your customers to a thank you page on your website.
Go to URL (Redirect). This option is used when you want to send site visitors to a different website.
Step 8: Add Business Card Order Form to Your Website
And you've configured all your form settings successfully. Lastly, you need to embed your business card order form on your website.
With WPForms, you can add online forms in multiple locations, including your blog posts, pages, and even sidebar widgets of your website.
Before embedding your form to a page, you can check how your form will look on your website page.
To preview your form, click on the Preview button at the top.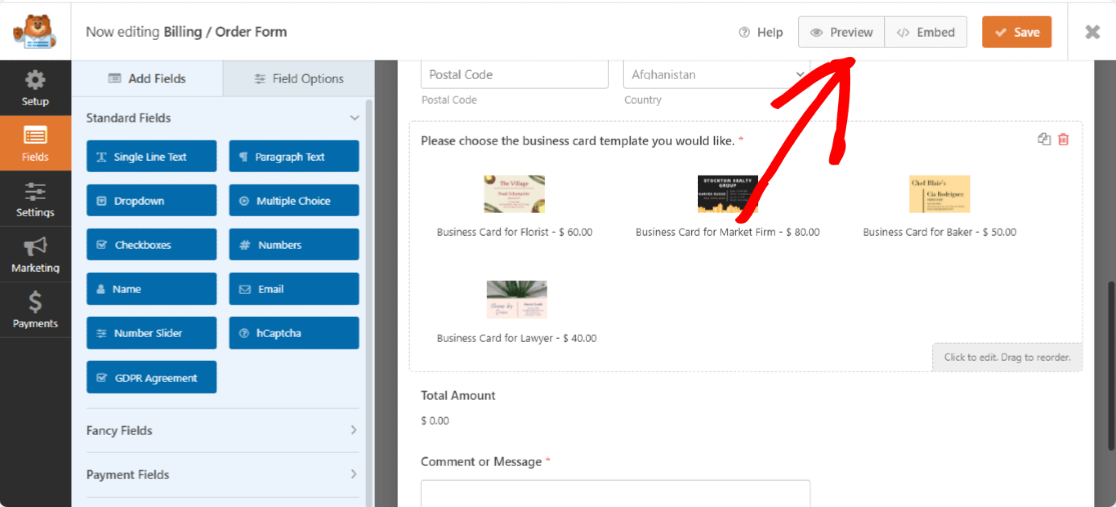 Let's add your business card order form to your page.
Create a new page or open an existing page on the WordPress website. Click on the "+" icon and add the WPForms block from the block editor.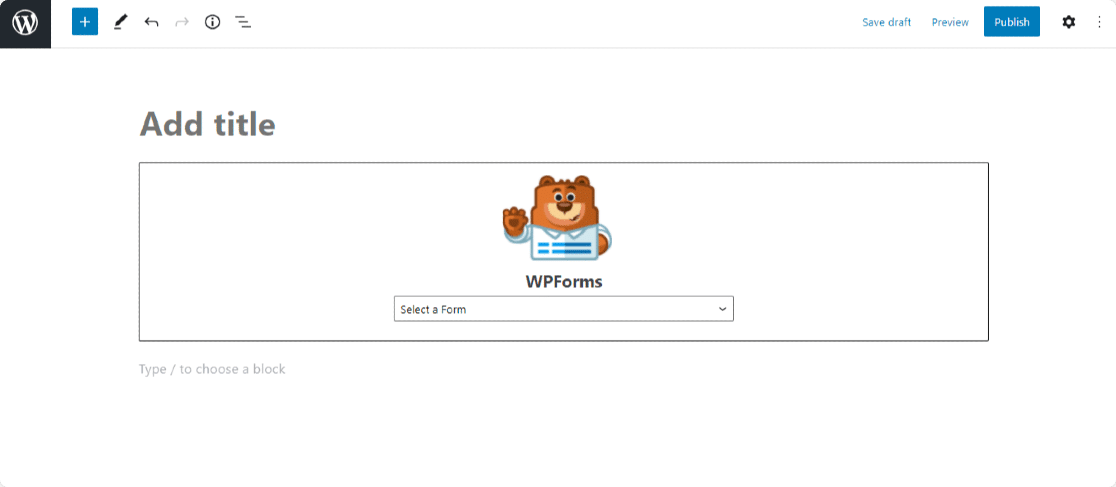 Select your form and publish the page.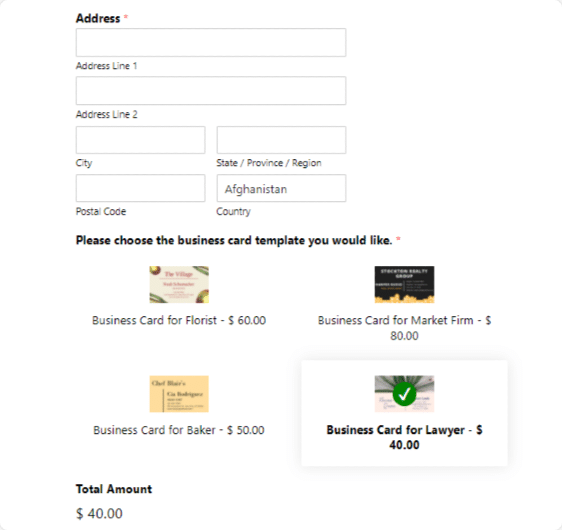 Congrats! You've created a business card order form for your website.
Next: Take Your Online Business to the Next Level
And there you've it! You now know how to create a business card order form using the image choices feature in WPForms.
After setting up your online order form, you might want to know the parameters that help you get your online business to the next level. Check out our impressive article on how to get your online business to the next level for more details.
Next, you might be interested in checking the useful eCommerce statistics (2021).
Using WPForms, you can create amazing online forms for your website. Its Pro version includes powerful features and ready-made form templates that give you a head start for your work.
So, what are you waiting for? Get started with the most powerful WordPress forms plugin today.
And don't forget, if you like this article, then please follow us on Facebook and Twitter.