Do you need to make a time off request form to manage employee PTO?
WPForms can help you say goodbye to manual paperwork, scattered emails, and confusion surrounding personal time off requests.
Create Your Time Off Request Form Now
In this article, we'll show you the easiest way to make a form to allow employees to request PTO.
What Is a Time Off Request Form?
A time off request form is a form that lets your employees request either unpaid or paid time off. It is vital for:
Boosting Employee Morale: Transparency in time off processes boosts employee morale because they know how to request time away when they need to.
Providing Data for Analysis: Over time, time off request forms generate valuable data that can be analyzed for patterns or busy periods.
Streamlining Processes: A time off request form eliminates confusion by maintaining a clear record of who is off on which vacation days.
Ensuring Compliance: Complying with labor laws and regulations like FMLA is crucial. A time off request form allows businesses to track leave of absence accurately and keep a record.
Let's move on and look at the time off request form we created in WPForms.
Creating a Time Off Request Form
To create a time off request form, you can rely on the ease of use and simplicity of WPForms. Follow the steps below to get started:
1. Installing and Activating WPForms
WPForms is a powerful WordPress plugin that empowers you to create customized forms easily. It includes 1000+ WordPress form templates, including HR forms.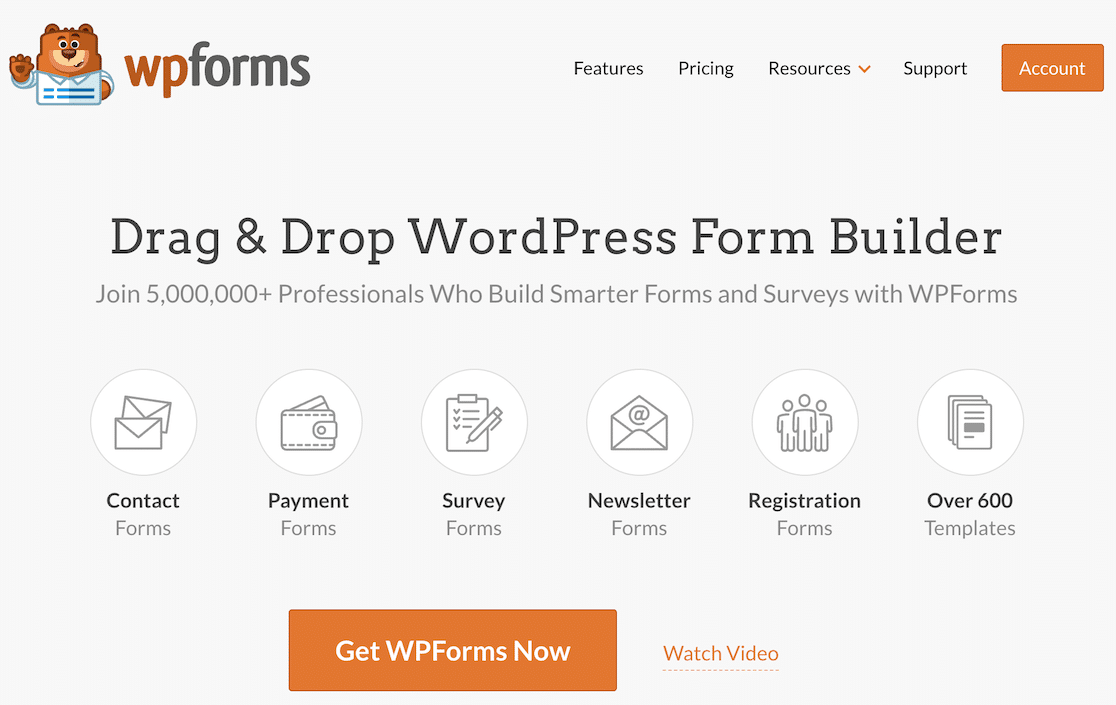 Ready to create your time off request form? You must first install the plugin on your WordPress site before you can use WPForms.
Now let's choose a template.
2. Utilizing the Time Off Request Form Template
Let's get started on creating your time off form.
From your dashboard, navigate to WPForms and click the Add New button.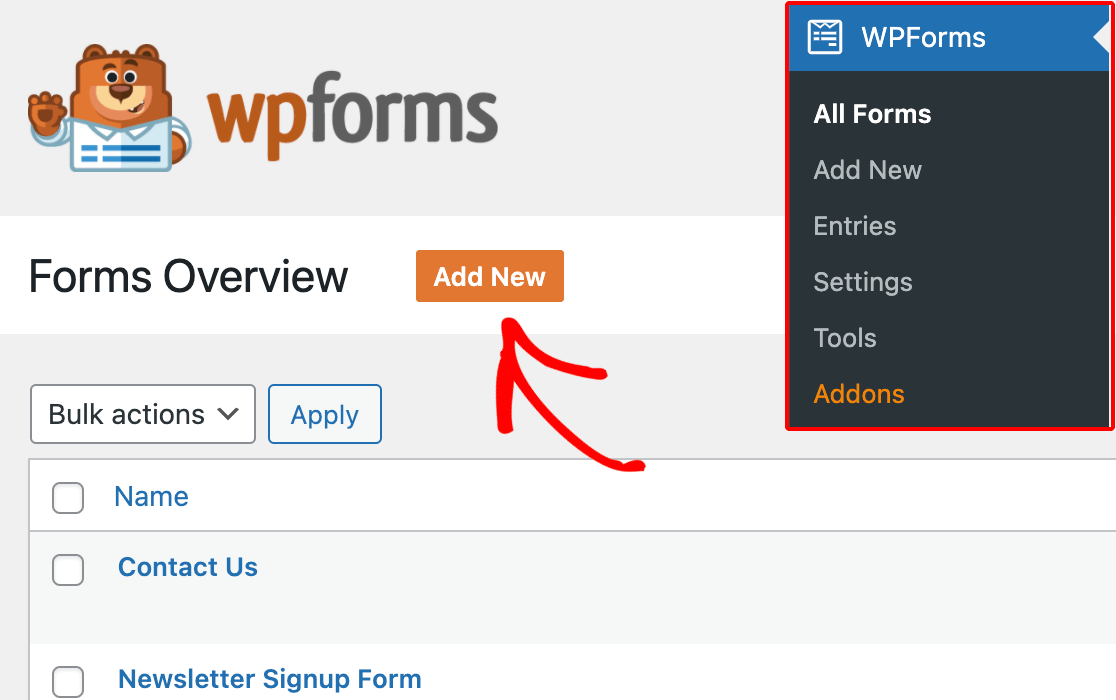 Give your form a name and use the search box to find it. We're going to use the Time Off Request Form template.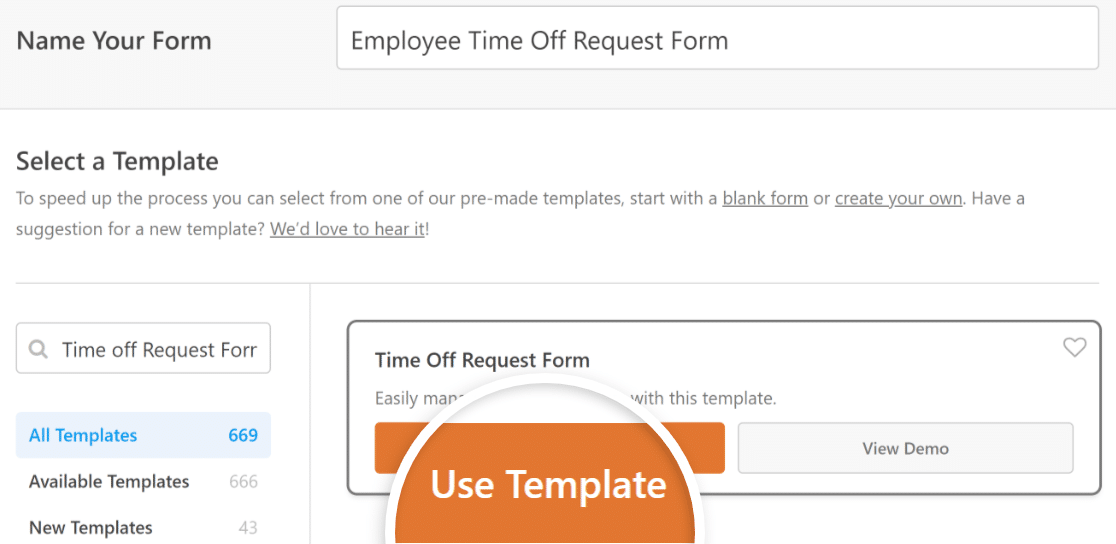 Once you choose a template, WPForms will launch the form builder. On the right, you'll see a preview of your form.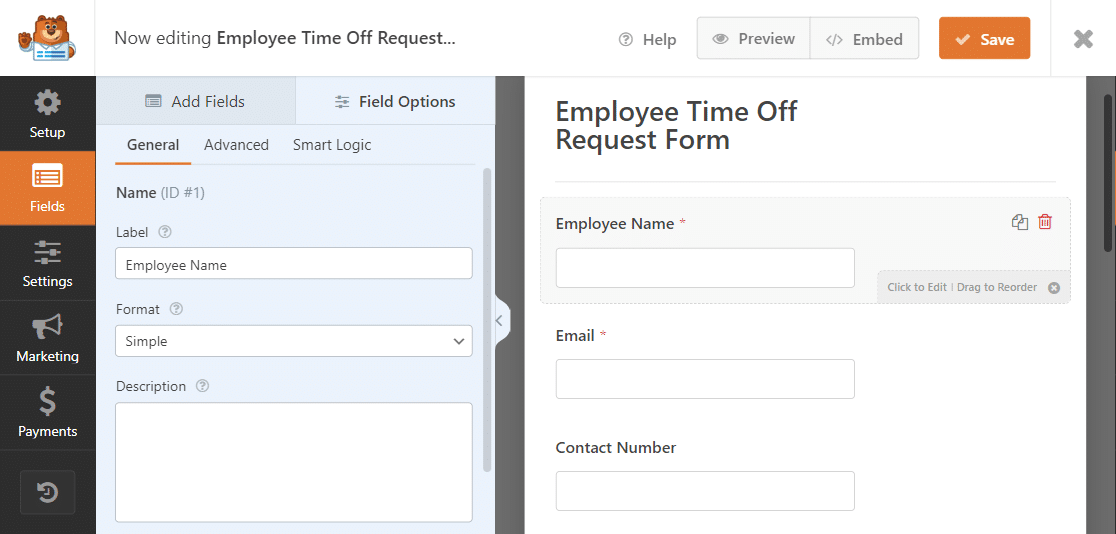 The template is simple. It asks for an employee's name, email, number, dates of leave/return, reason for departure, and has a field for additional comments.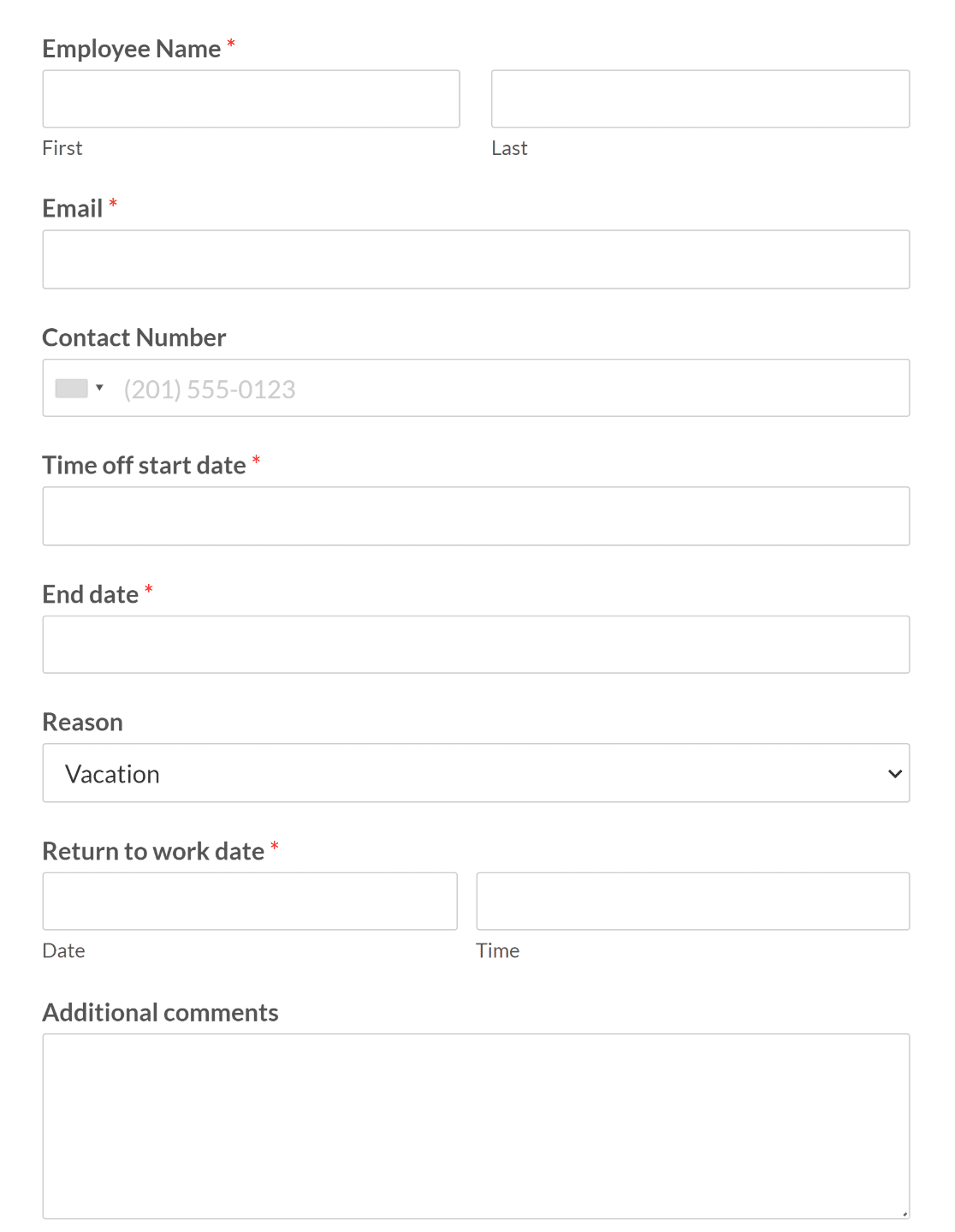 You don't have to use this template right out of the box. Next, we'll show you how to customize it.
3. Customizing Form Fields to Your Liking
Once you've created a time off request form, it's time to customize and style the form fields.
For instance, instead of having employees enter their names manually, you can use the Add Fields menu to introduce a Dropdown of their names.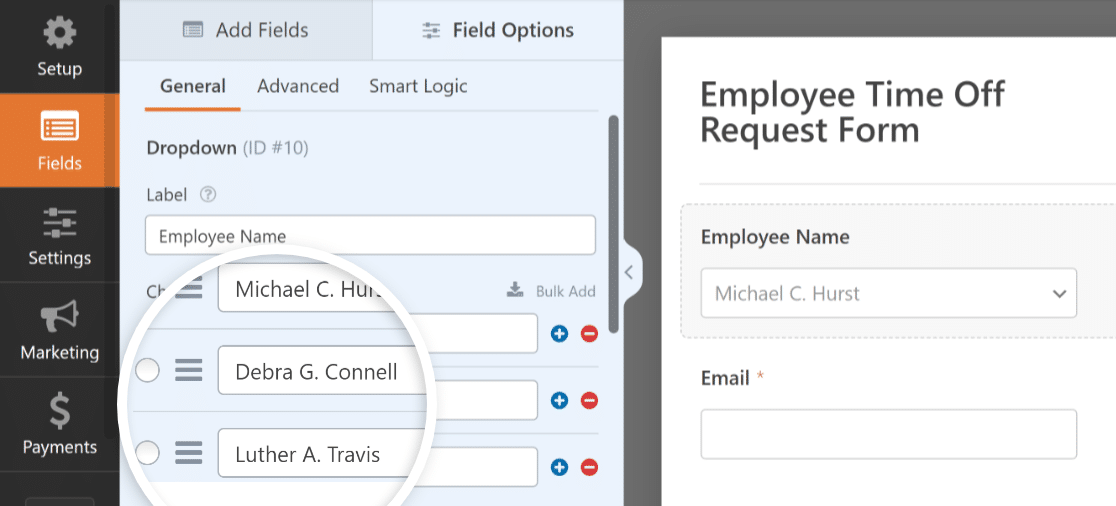 You can even consider adding a Dropdown field for employees to select their department to further help with your employee management.
To make sure everyone fills out the necessary details, you can also mark fields as required from the General tab in Field Options.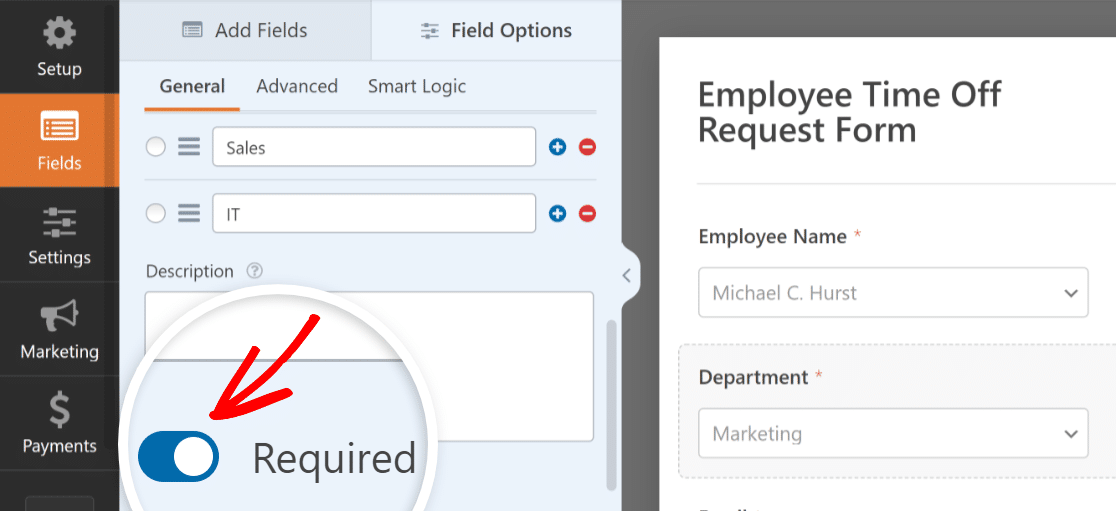 Depending on your organization's requirements, you can upgrade to WPForms Pro to unlock all of the fancy field. This is handy if toy want to add a File Upload field for employees to attach medical certificates, travel itineraries, or other necessary documents for time away on business.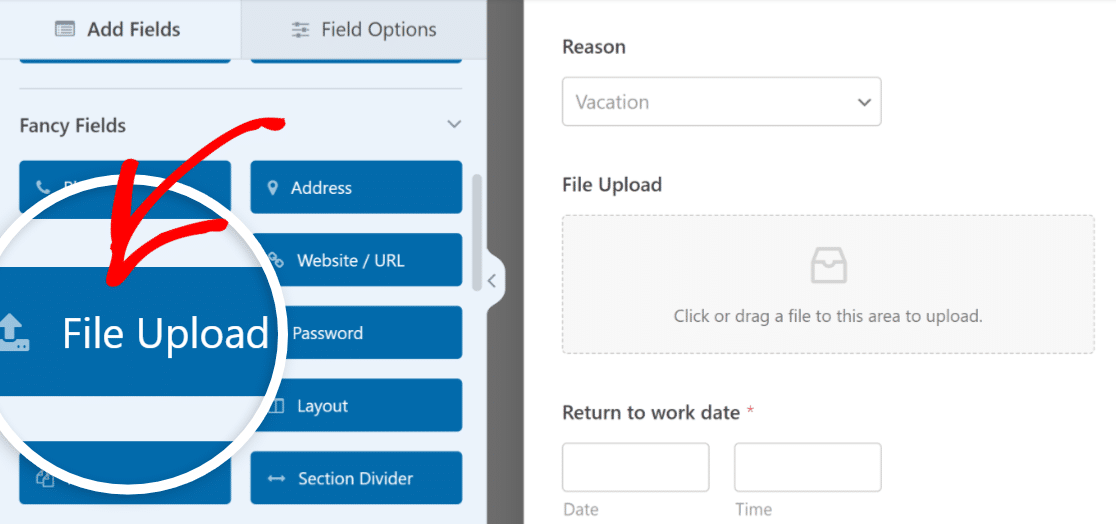 Next, we'll look at some extra features you can enable.
4. Enabling Advanced Features for Functionality
Enabling advanced features in your time off request form can greatly enhance its functionality and assist with your time off policy.
For instance, you can Enable Conditional Logic on the File Upload field to only make it visible when an employee selects Medical in the type of leave.
You might do the same with requests for jury duty leave, requiring employees to submit a copy of their jury summons.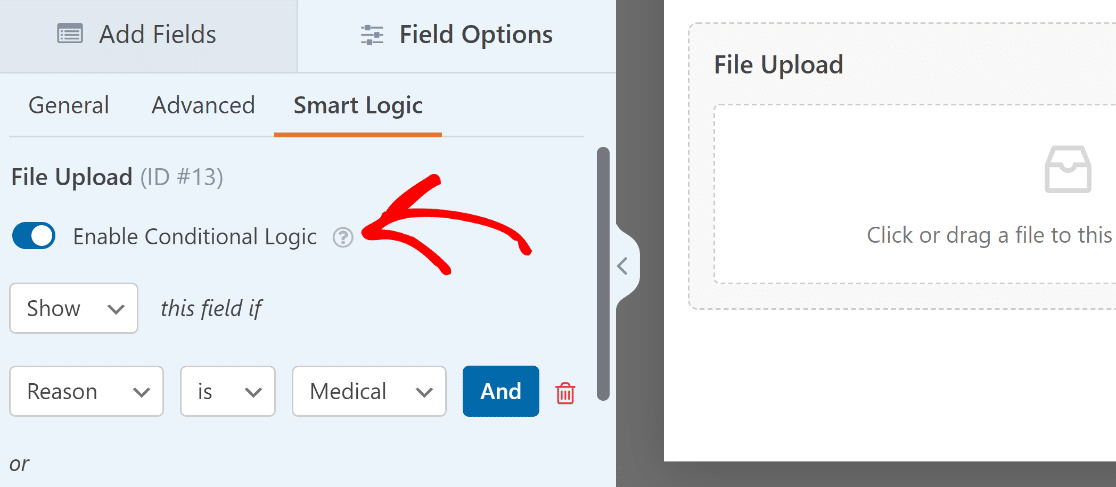 With WPForms Pro, you can also store and manage form entries in your WordPress database for easy management. This feature is particularly beneficial for time off request forms, as it enables you to review and track requests systematically.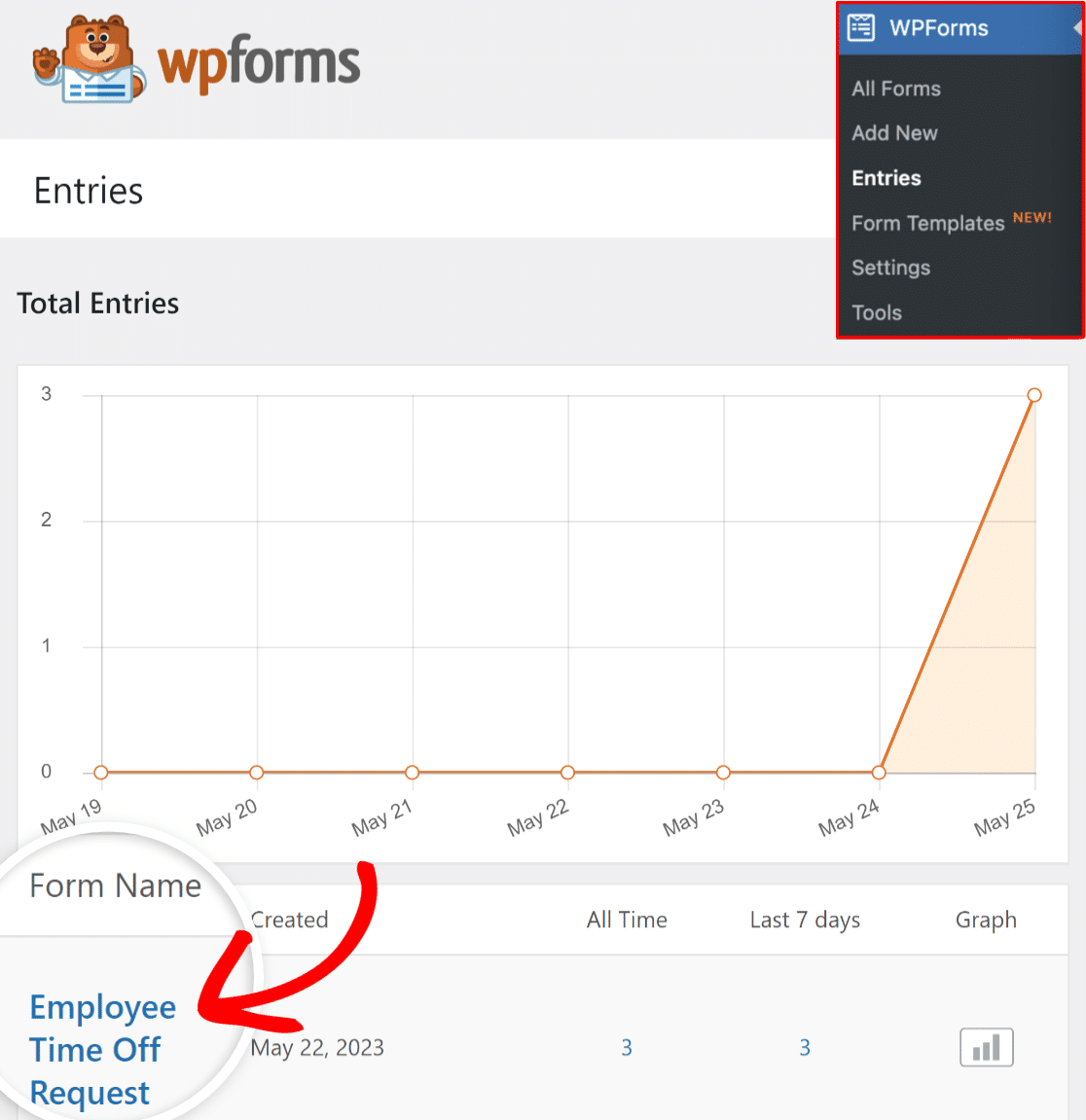 5. Configuring Form Notifications and Confirmations
Configuring form notifications ensures that the relevant personnel, such as HR or managers, are promptly notified as part of company policy.
Navigate to Settings » Notifications to tweak the settings.
To modify a notification, click on it and customize the email subject, message, and recipient.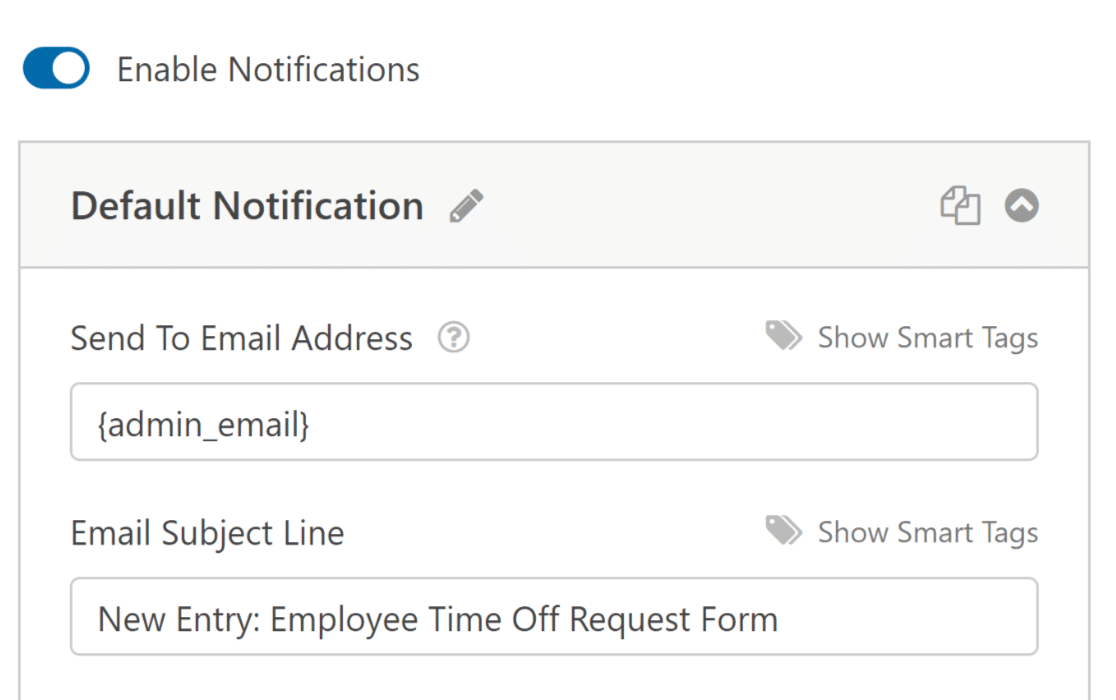 Similar to email notifications, form confirmations play a vital role in communicating with employees when a formal request is submitted.
WPForms offers different Confirmation Type options, such as a message, show page, or redirect. Choose the confirmation type that suits your needs.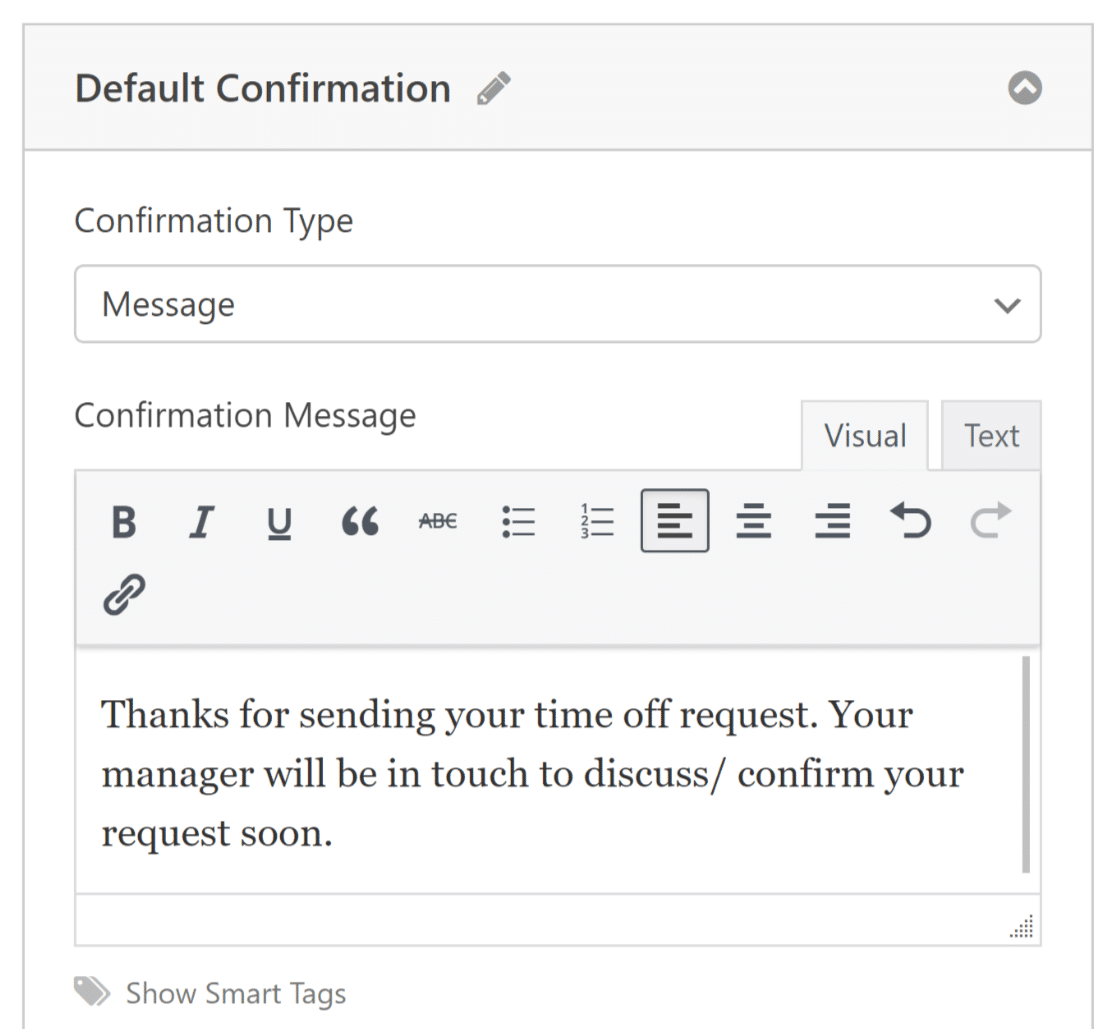 If  your form is not sending email notifications, we recommend installing the WP Mail SMTP plugin to fix your emails before going any further.
Before moving on, don't forget to save your settings. Simply hit the Save button at the top of the screen to ensure your progress is not lost.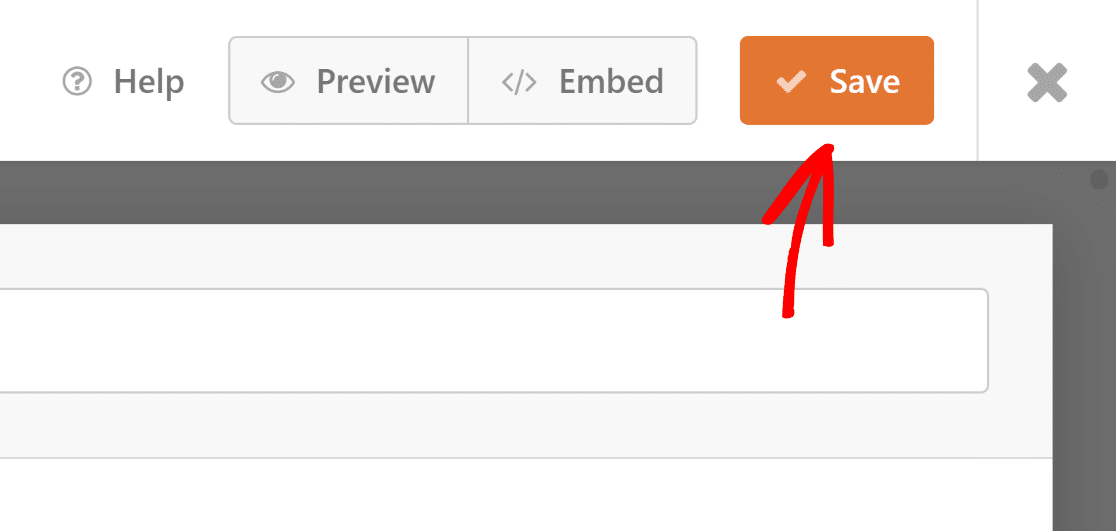 Now we're ready to publish your form. In our experience, publishing a form on a page takes just a few seconds.
6. Adding the Time Off Request Form to Your Website
There are various ways to add your form to a page in WPForms. We'll show you how to do it using the block editor.
Create a new page or open an existing one in the block editor. Then, simply click the Add Block button and find the WPForms block to get started.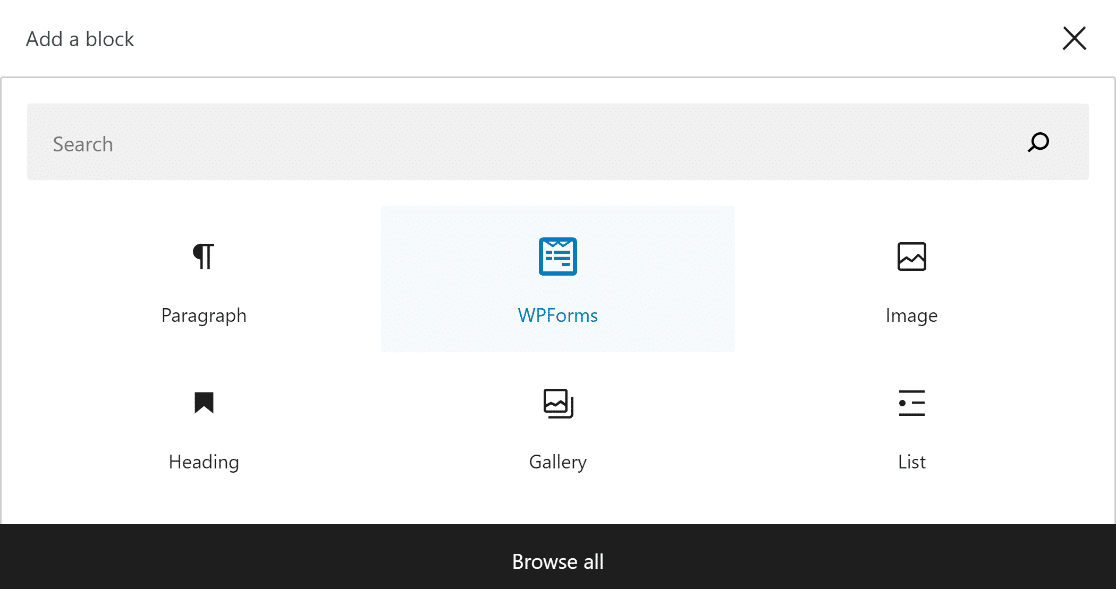 Next, select your time off request form from the dropdown menu in the WPForms block. Then Publish or update your page or post.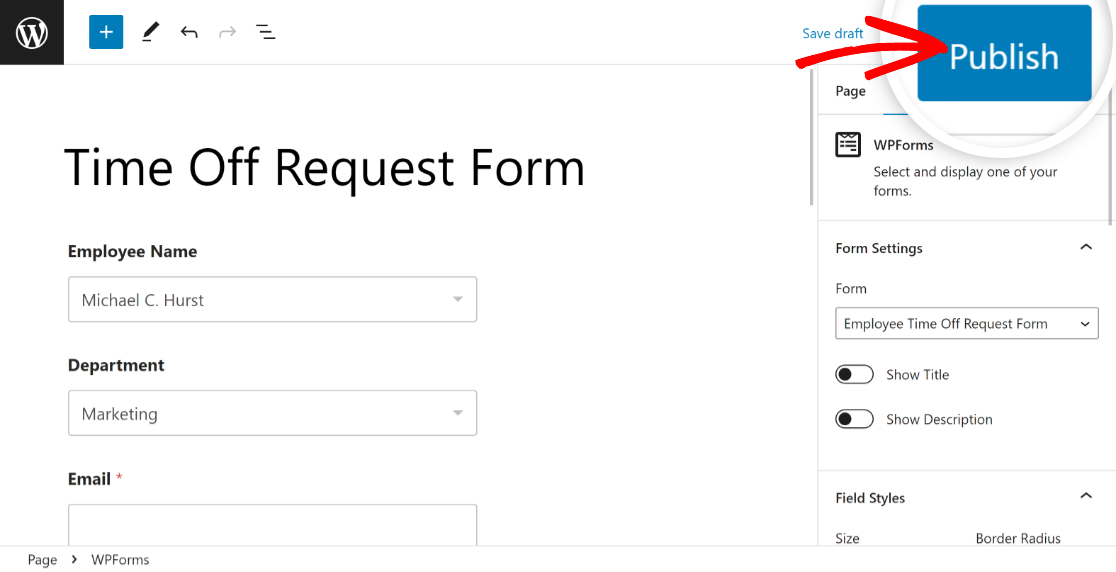 After publishing, it's crucial to test the embedded form to ensure it functions correctly and avoid any unforeseen issues. Fill out the form with test data and submit it to confirm that submissions are being properly captured.
And that's it! Now you know how to create a time off request form from a template.
Next, Style Your Time Off Request Form
Learn how you can further contribute to a positive employee leave request experience by styling WPForms using the block editor. We have you covered whether you want to improve the form's appearance.
Ready to build your time off request form? Get started today with the easiest WordPress form builder plugin. WPForms Pro includes lots of free templates and offers a 14-day money-back guarantee.
Create Your Time Off Request Form Now
If this article helped you out, please follow us on Facebook and Twitter for more free WordPress tutorials and guides.