Considering SurveyMonkey vs JotForm vs WPForms to create online surveys?
SurveyMonkey and JotForm are web-based applications to create online surveys and forms. At the same time, WPForms is a popular WordPress form builder plugin to create multiple types of forms, including surveys and polls.
In this article, we'll compare the key features of SurveyMonkey, JotForm, and WPForms so you can easily decide which one is best for your site.
Create Your WordPress Survey Form Now
SurveyMonkey vs JotForm vs WPForms Comparison Chart
Check out the chart below to get a quick overview of our three survey tools.
| | SurveyMonkey | JotForm Silver | WPForms Pro |
| --- | --- | --- | --- |
| Rating | Web-based survey tool | Web-based form builder | Best online form builder for WordPress |
| Pricing | $384/yr | $348/ yr | $199.50/ yr |
| Pre-built Survey Templates | Yes | Yes | Yes |
| WordPress Embed Wizard | No | No | Yes |
| Direct Elementor Integration | No | No | Yes |
| Survey forms | Unlimited | 100 | Unlimited |
| Form Submission Limit | Unlimited | 10,000/ mon | Unlimited |
| Entry Storage | Yes | Yes | Yes |
SurveyMonkey vs JotForm vs WPForms: Detailed Comparison
Now we'll make a head-to-head comparison of all features and check how user-friendly these survey tools are.
So let's get started!
Features
JotForm and WPForms are the form builders used to create online forms, including survey forms. On the other hand, SurveyMonkey is an advanced tool made explicitly for conducting surveys online.
The major difference between these tools is the type of users and audiences. While SurveyMonkey and JotForm can be ideal for experienced and advanced users, WPForms is created with a focus on non-technical users.
Whether you're a beginner or expert, you can easily explore and use the features of WPForms and create different types of WordPress forms on your website.
SurveyMonkey Features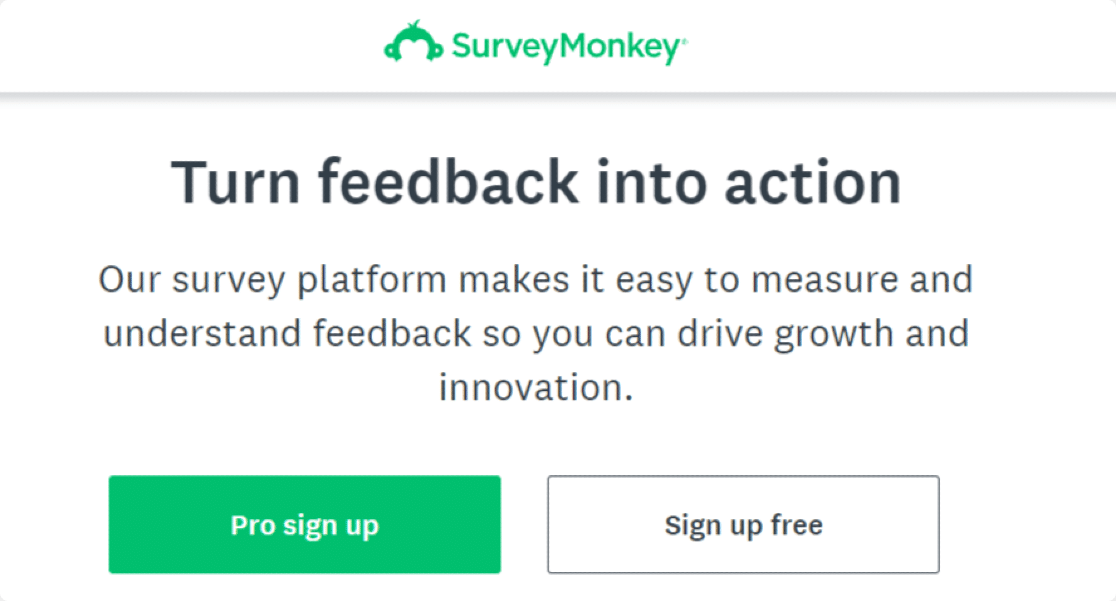 SurveyMonkey is a survey platform designed for market research. It comes with advanced tools that help you conduct deep market research and competitive analysis.
You can create surveys, target a particular set of audiences and stop people from taking part in the survey if they aren't part of your targeted audience.
Also, you can create multilingual surveys and export survey entries in various file formats.
Features:
Pre-built survey templates
Reporting tools
Conditional logic
Question bank
Create white label surveys
Export surveys to SPSS
Question and page skip logic
Team collaboration
JotForm Features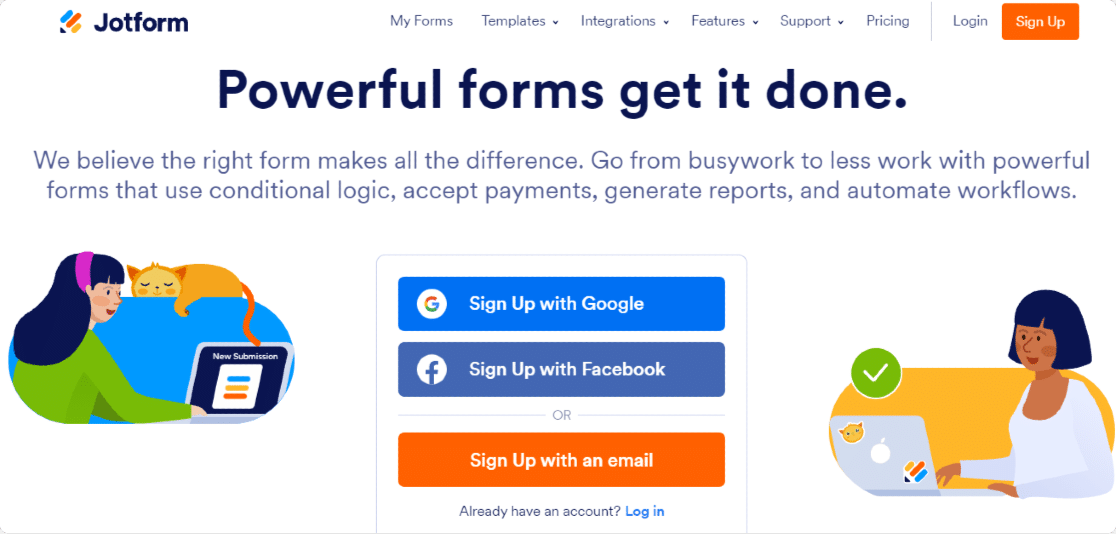 JotForm is a web-based application that gives you the flexibility to create custom online forms.
You can create forms from scratch, use a pre-built form template, and set up auto-responder email notifications.
JotForm includes a variety of features but has very low limits on its plans. The silver paid plan, which is their best value plan, comes with only a 10,000 monthly submission limit.
JotForm also integrates with popular payment gateways such as PayPal, Stripe, and Square. However, you only get 1,000 payment submissions with its silver plan.
Features:
Form templates
Customizable notifications
Auto-responder email
Accept payments
White label branding
HIPAA compliance
WPForms Features
WPForms is the most beginner-friendly WordPress form builder plugin. It lets you create any form, including surveys and polls on your website, without juggling any HTML code.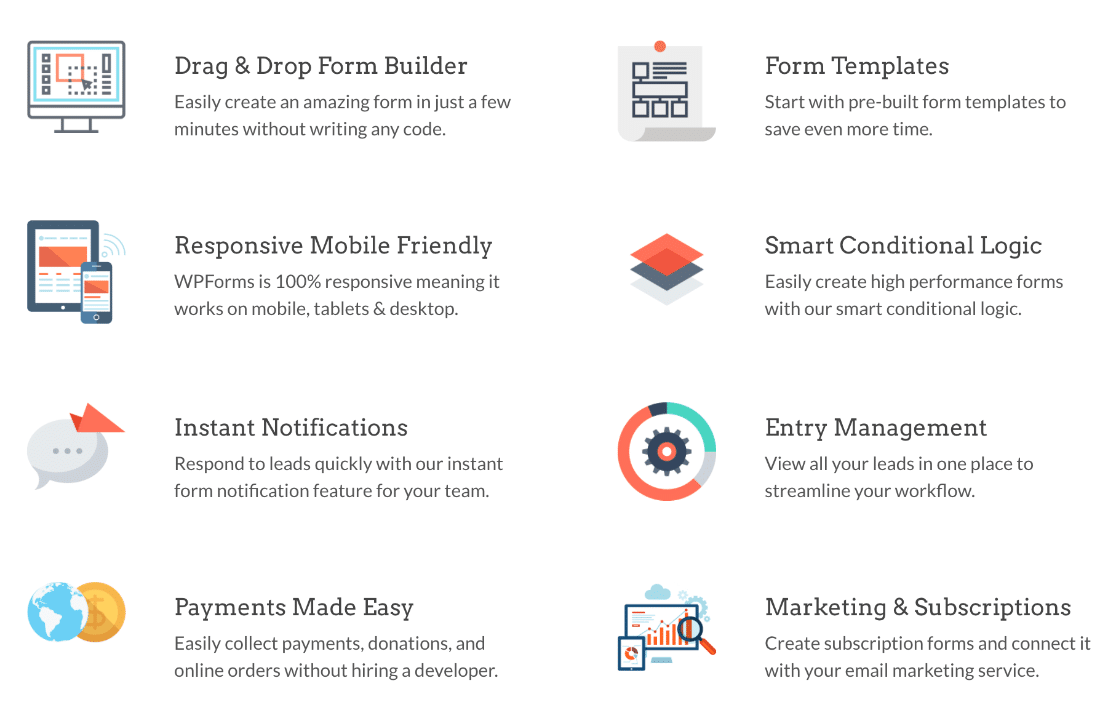 And to make your form building process much easier and faster, WPForms provides you with tons of pre-built beautiful survey form templates.
These form templates are created by marketing experts with all the necessary form field options. However, if you want, you can modify these templates according to your preference.
The easy drag and drop builder of WPForms makes your form customization process a breeze.
With the Pro version of WPForms, you get a powerful Surveys and Polls Addon to create different types of surveys and polls on your WordPress site.
You can add survey field options such as Net Promoter Score, Matrix Questions, Star Ratings to create more engaging and interactive surveys.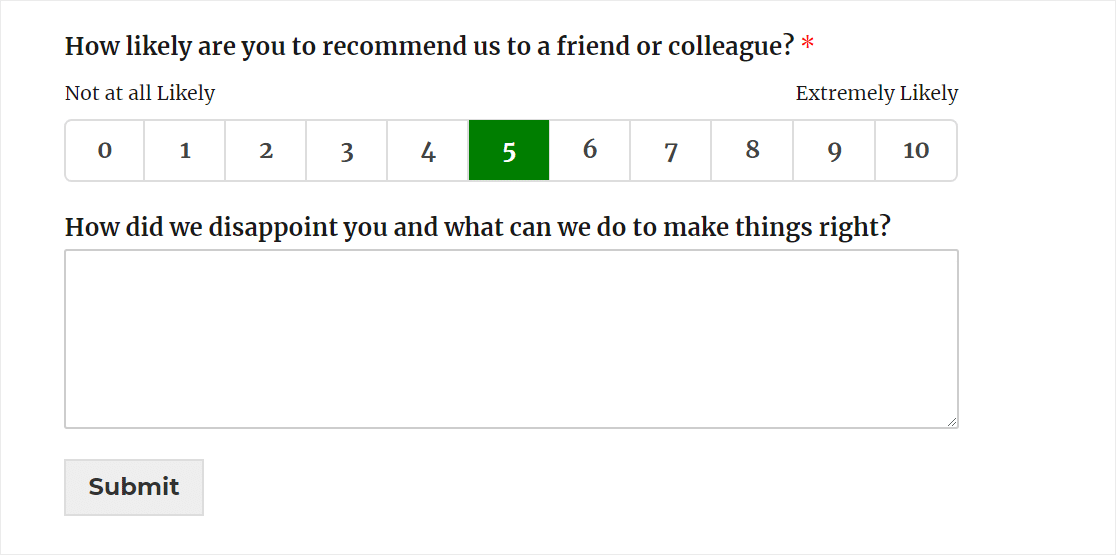 Before checking out WPForms' features, let's first see some major features of the Surveys and Polls addon.
Surveys and Polls Addon Features
Smart Survey Reporting: The Surveys and Polls addon enables the two types of survey reporting feature: Survey Reporting and Poll Results.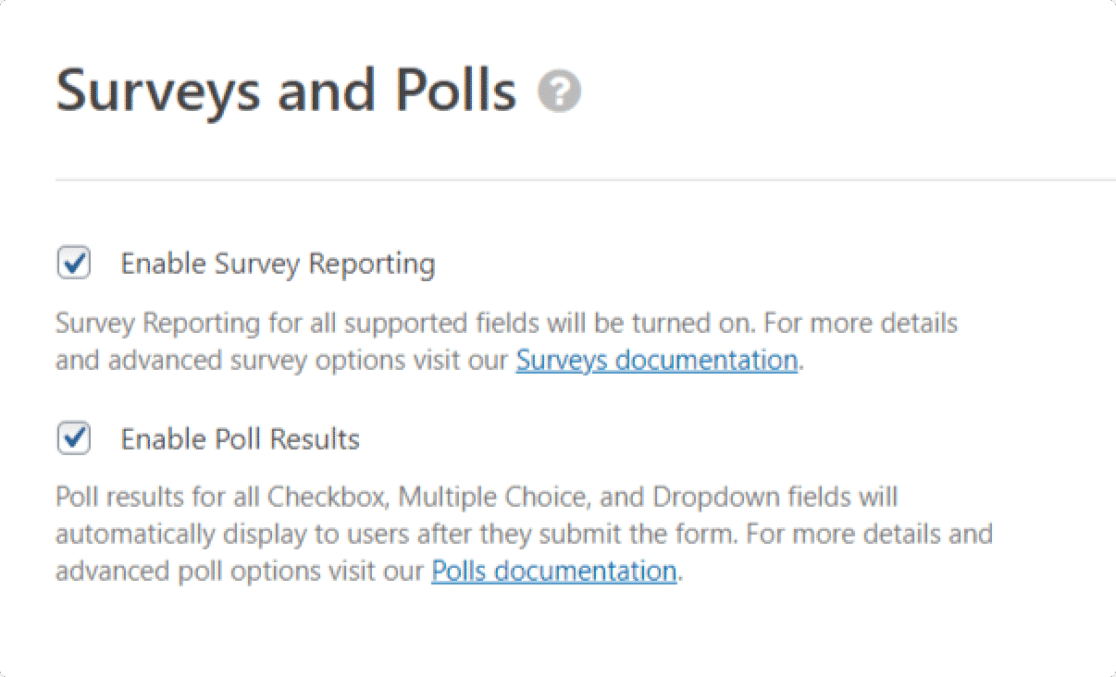 Beautiful Survey Reports: The survey reporting feature creates beautiful survey reports that you can directly access from the dashboard of your WordPress website.

Real-time Polls Report: The poll result feature allows you to display poll results immediately to each user after submitting the form.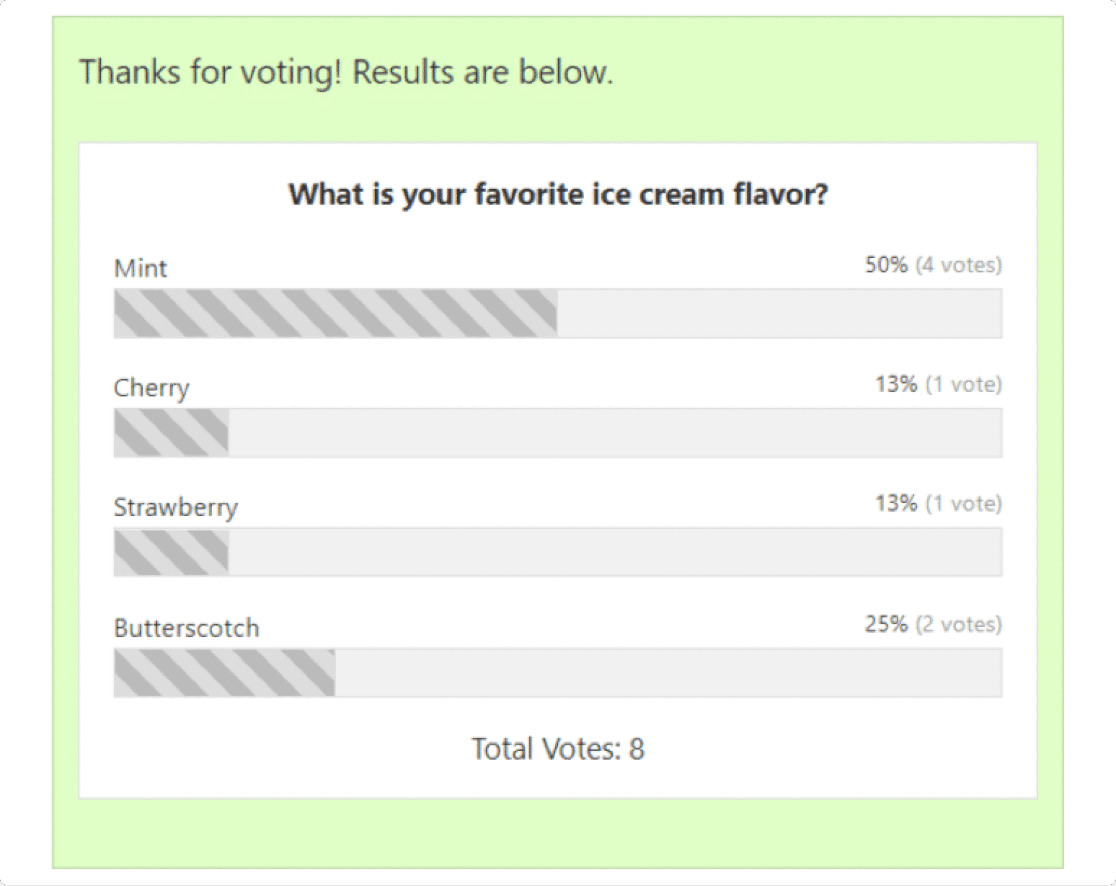 Export Survey Reports: For further analysis, you can export the entire survey report or individual charts as JPG or PDF with a single click.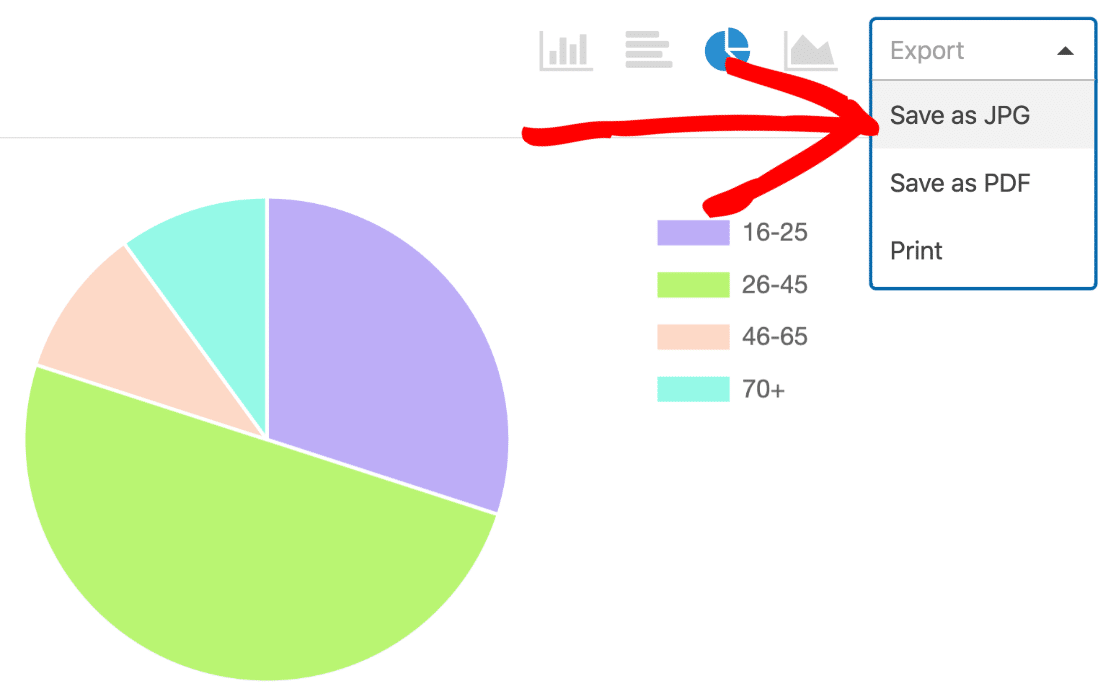 These are the features you get with the Surveys and Polls addon. To create highly engaging survey forms, you can combine these survey features with WPForms' basic features.
Features:
Flexibility to create unlimited surveys
You can add unlimited questions
You can conduct a Strawpoll on your website so you determine your visitors' viewpoints
Get unlimited responses
Enable the conditional logic option to personalize your survey questions based on the user's previous answer
Add advanced survey fields, like Likert scales and Net Promoter Scores
Create survey forms with a GDPR agreement field
Add images and branding
Save survey results in WordPress
Generate customizable PDF survey reports
Automatically close your survey using a form expiry date
Set a maximum number of responses for a survey
Capture data from abandoned surveys
Offline editing
Apart from all these options, if you're looking for a way to conduct more secure and safe surveys. For example, if you want to restrict your survey form access by age or password to protect your survey forms, you can enable the WPForms Form Locker Addon.
This awesome addon helps you create more secure online forms by giving you complete control over who has access to your forms. Check out the article on how to install and use the Form Locker addon in WPForms for more details.
SurveyMonkey vs JotForm vs WPForms: Creating Surveys
Now that you know the features you'll get with each tool let's look at the process of creating surveys with SurveyMonkey, JotForm, and WPForms.
Creating Surveys With SurveyMonkey
To get started, first, you need to log in or sign up for a SurveyMonkey account.
Once you complete your signup process, you can access the SurveyMonkey dashboard and start creating your surveys. Because SurveyMonkey is a web-based tool, it requires you to create surveys right on its site.
Click on the create survey button to start with the process. Below you can see the SurveyMonkey dashboard; it's pretty clean and interactive.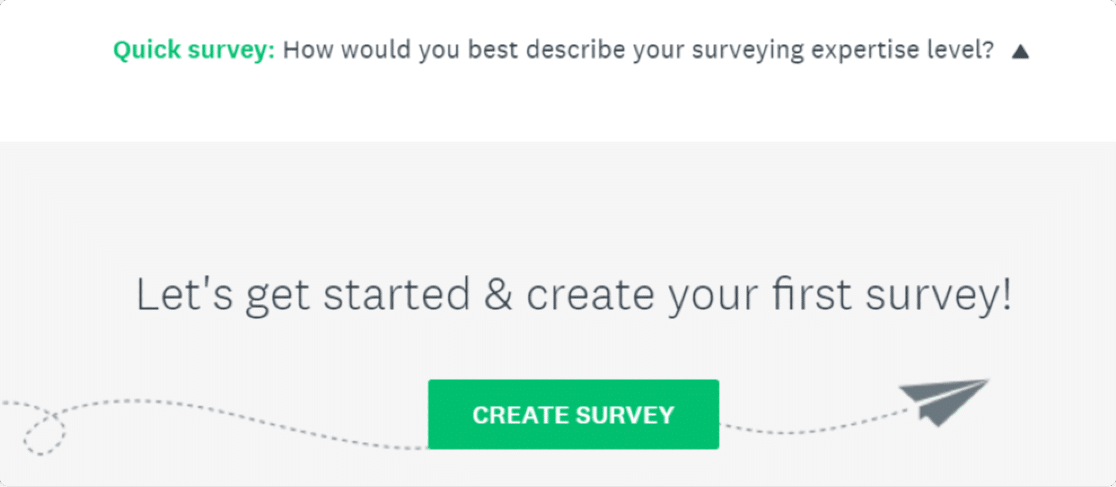 You get 3 options to get started with your surveys.
Build it for me
Start from template
Start from scratch
With SurveyMonkey, you need to complete 5 major steps to create your survey forms:
Design survey
Preview score
Collect responses
Analyze results
Present results

Each of these steps is loaded with multiple options, making it challenging to find the right options at first sight.
If you face difficulty in creating survey questions, you can choose questions from the Question Bank. You can add 10 questions and collect 40 responses for each survey with the free version of SurveyMonkey.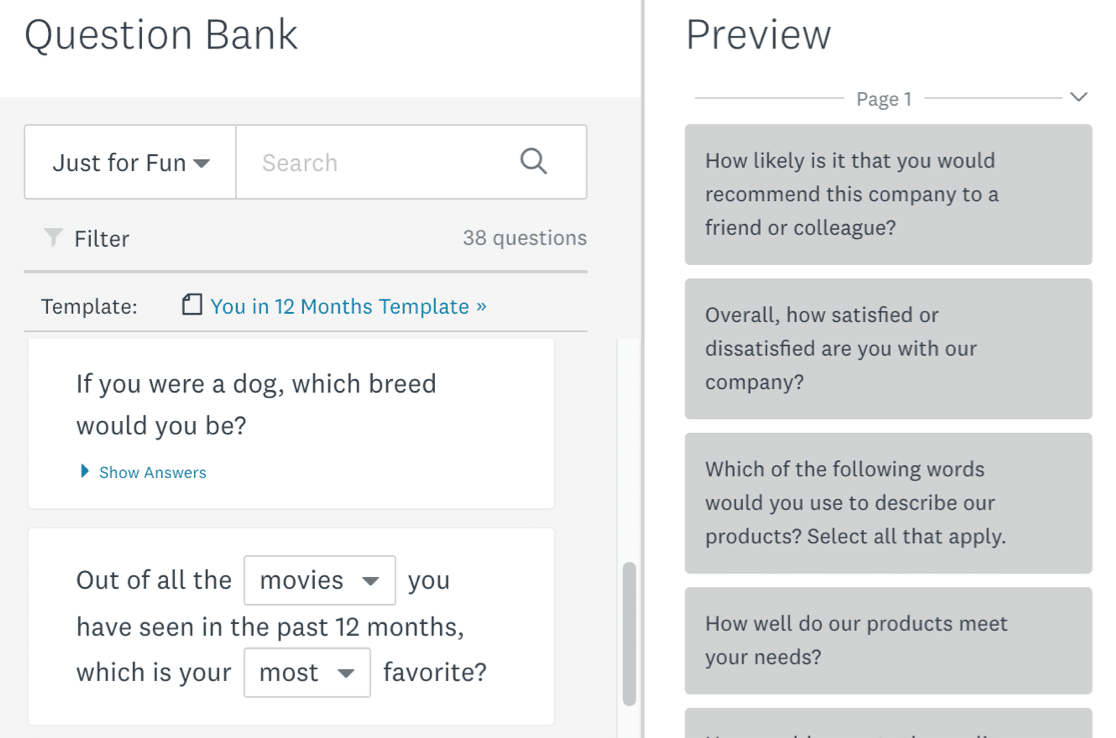 Furthermore, you get options to change style and add logic to your surveys. But most of the options are locked in the free version.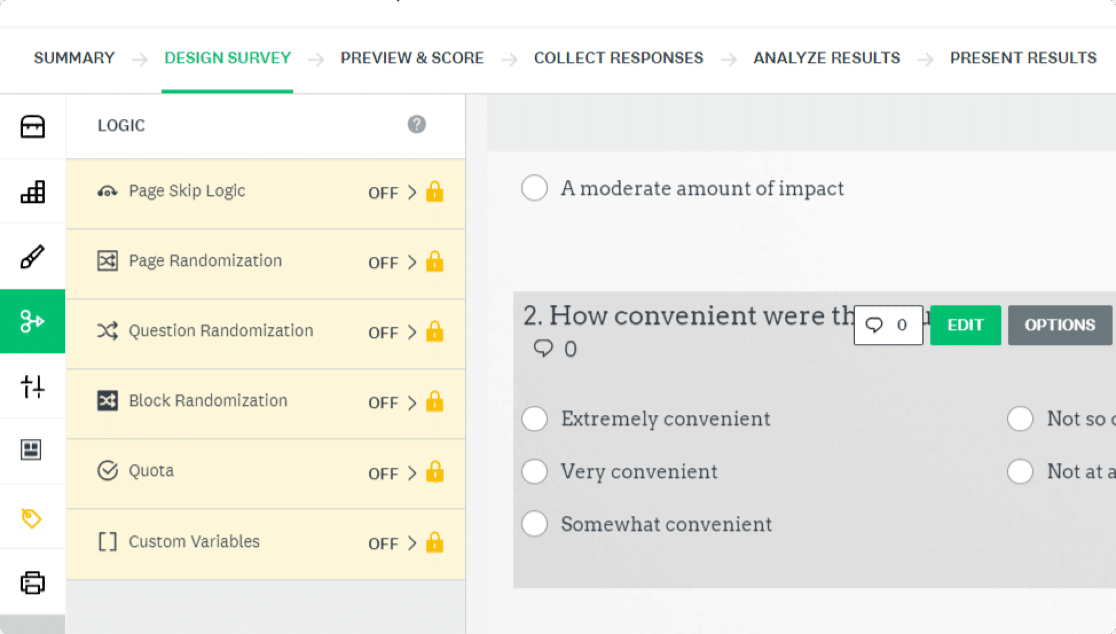 Undoubtedly, SurveyMonkey consists of powerful survey options, but it is not for beginners. To leverage SurveyMonkey features, you need to have hands-on experience with web-based software.
Creating Surveys With JotForm
Like every other online tool, first, you need to sign up for a JotForm account.
Once you complete your signup process, you'll be redirected to the JotForm dashboard.
On the JotForm dashboard, click on the create form button to start building your survey form.
You can:
Start from scratch
Use template
Import form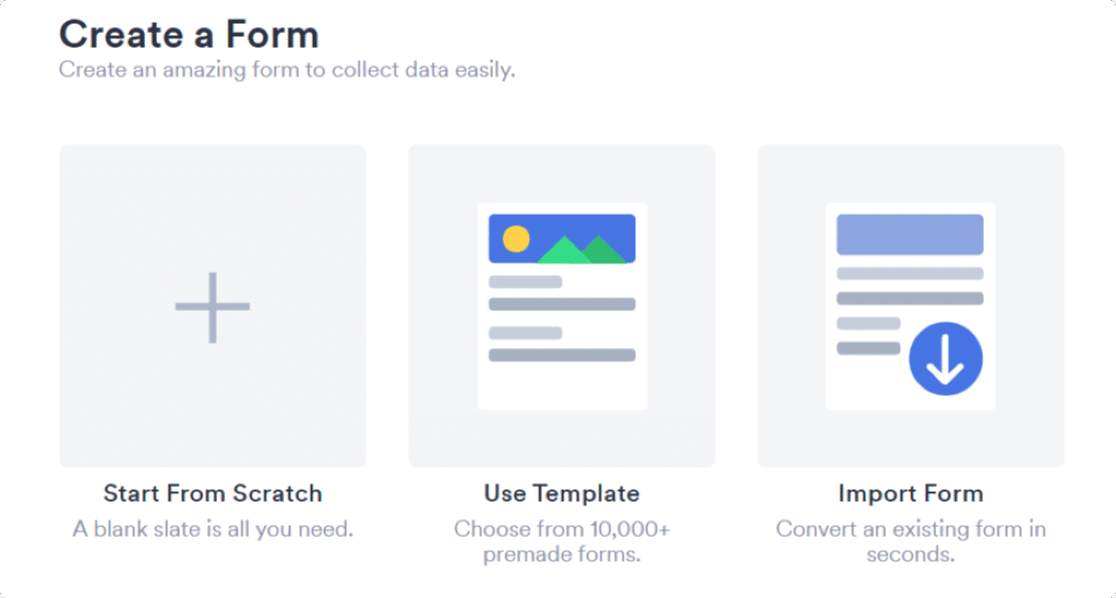 Once you choose your option, you can edit and modify your form in the JotForm builder.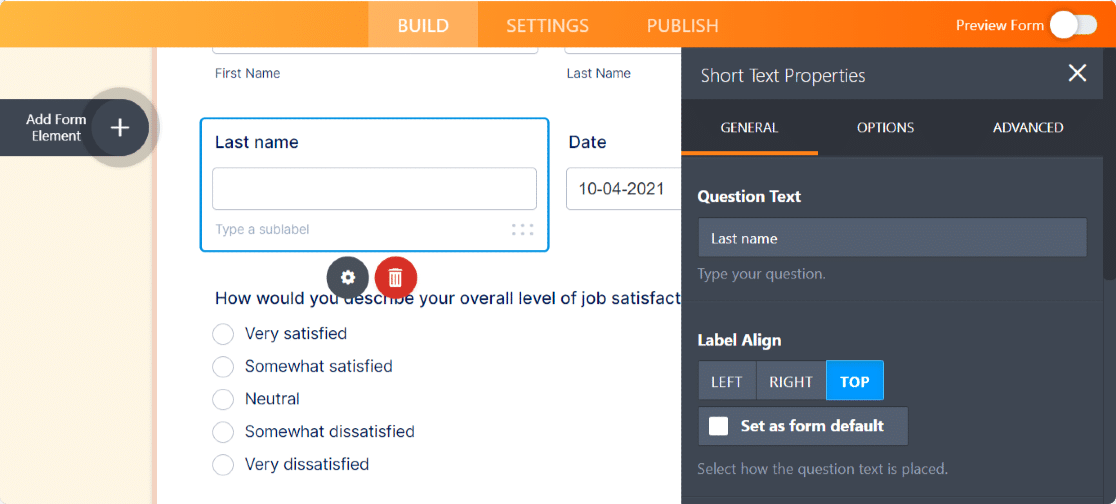 JotForm's form builder is simple but quite messy.  As you can see, the sidebar on the right overlaps the form and makes it difficult to check the live editing.
There is no direct option that you can use to add JotForm's survey form to WordPress. You need to generate a form link or embed a code snippet to add your forms in WordPress.
JotForm is a user-friendly tool. However, connecting JotForm with WordPress is a challenging task.
Creating Surveys With WPForms
In our survey tools list, WPForms is the only WordPress plugin. It's completely compatible with WordPress websites and provides easy options for adding survey forms to WordPress sites.
Installing WPForms is super easy. Still, if you face difficulty in the installation process, you can go through our guide on how to install a WordPress plugin.
With WPForms, you can create a powerful survey form in 3 simple steps:
Step 1: Choose your form template
Step 2: Customize your form
Step 3: Publish your form
Done!
Once you are done with WPForms installation, head over to your dashboard to start creating your form.
You can choose from the pre-built form templates to kick-start your work. There's a particular category of survey templates that you can choose from.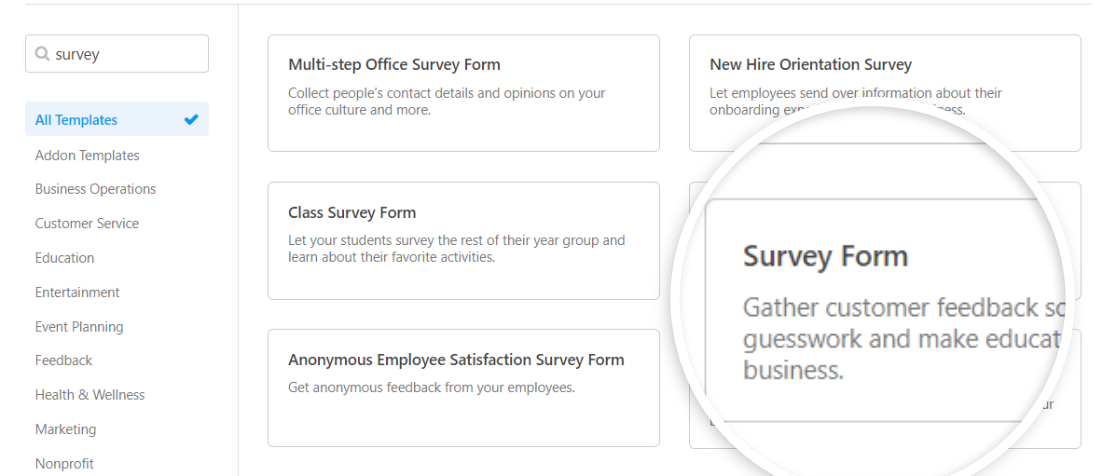 Once you select your template, you'll be redirected to WPForms' form builder dashboard.
The form builder dashboard of WPForms is quite simple and beautiful. It has an easy drag and drop interface, and all options are self-explanatory.
On the left-hand side of the dashboard, you can check the additional form fields, and on the right, you can see a live preview of your form.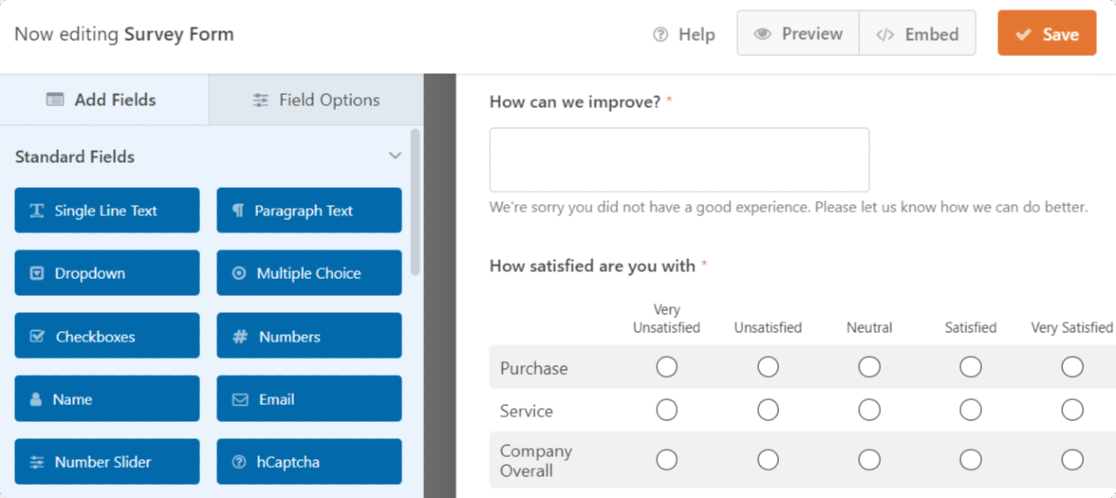 You can add more form fields by dragging them from the left and dropping them into the form. And with a simple click, you can edit, modify and delete form fields.
Even better, you can embed your survey form directly from the form builder without closing or switching the tab.
Click on the Embed button at the top and add your form to any page of your WordPress website.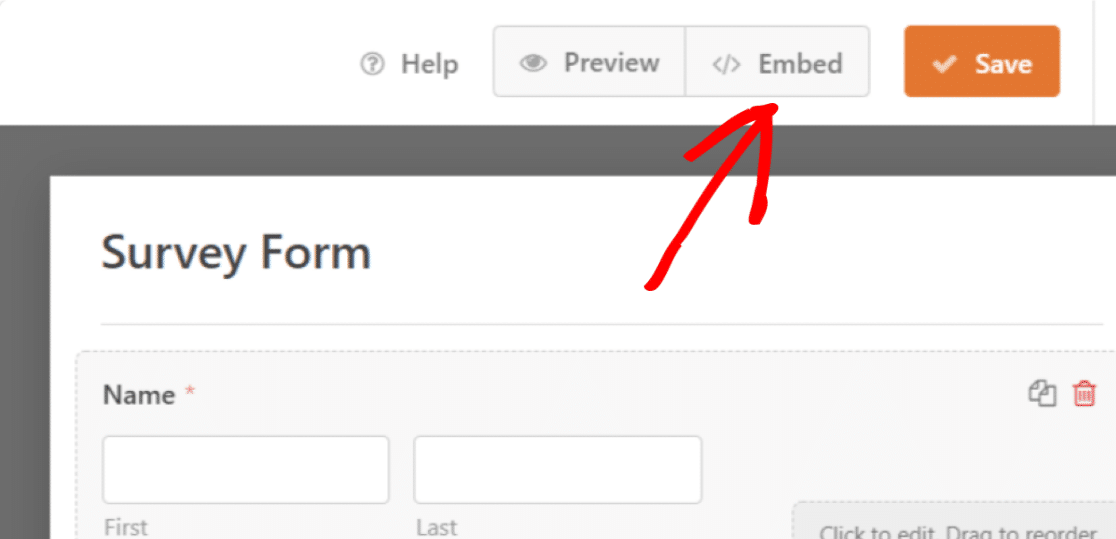 From the above discussion,  you can see creating and adding survey forms with WPForms is a piece of cake.
Pricing
Let's check the pricing packages of these 3 survey tools.
SurveyMonkey Pricing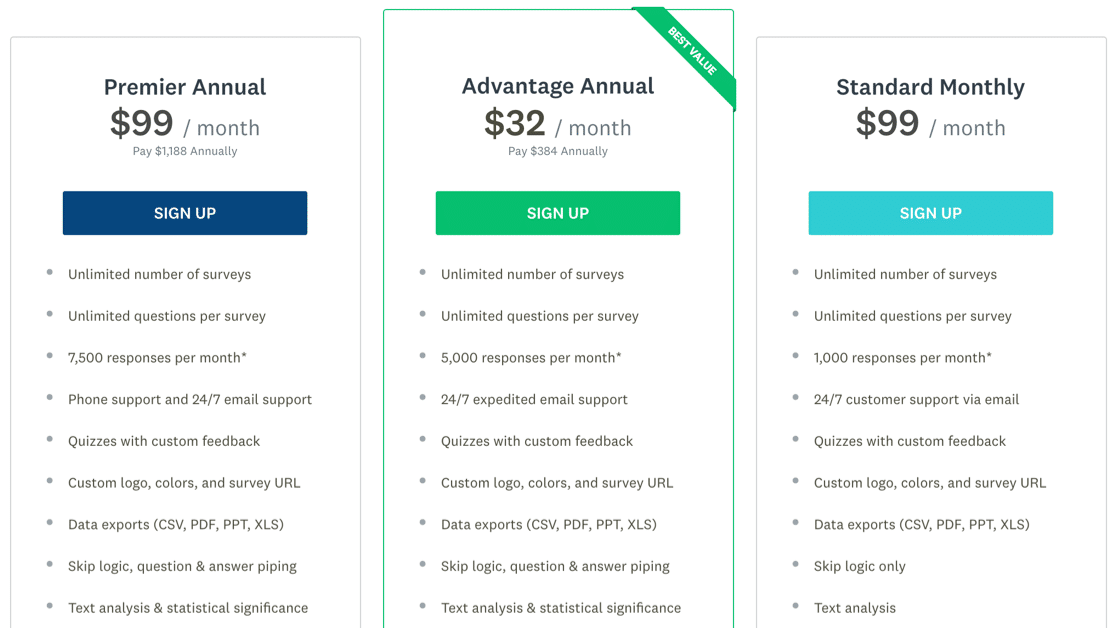 SurveyMonkey runs on a freemium model. The premium version offers 3 paid plans, Individual, Team, and Enterprise.  The popular Advantage Annual plan is for one user and costs $384/ year.
JotForm Pricing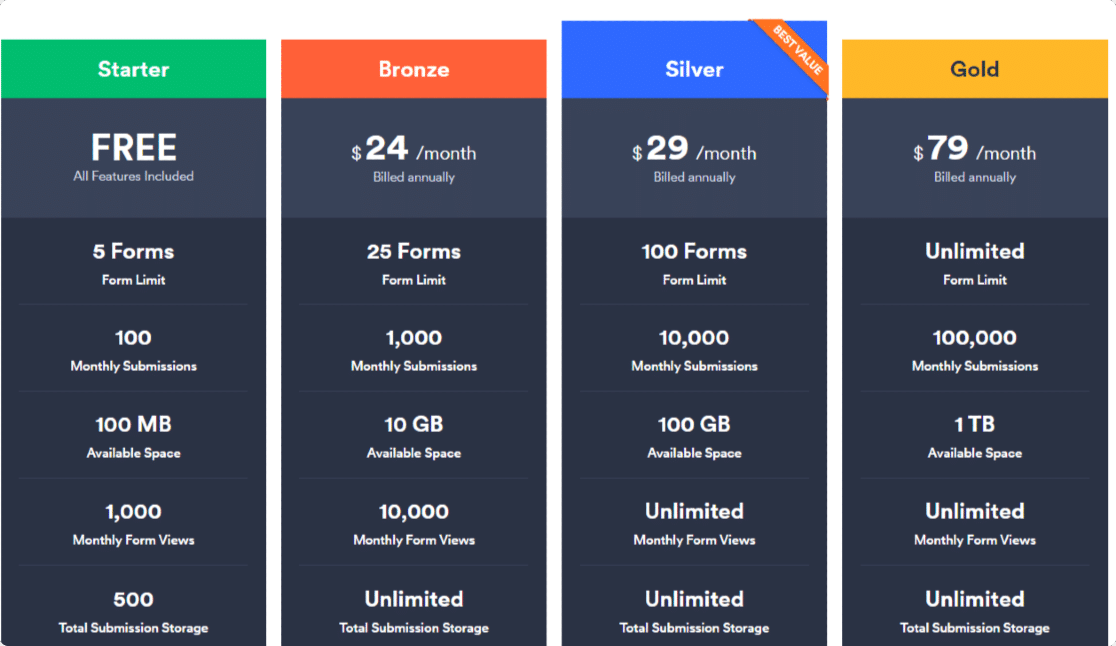 JotForm offers 3 paid plans, Bronze, Silver, and Gold. The silver plan costs $348/ yr. This plan includes multiple features but limits you in many ways. You can only create 100 forms and receive 10,000 submissions in a month.
WPForms Pricing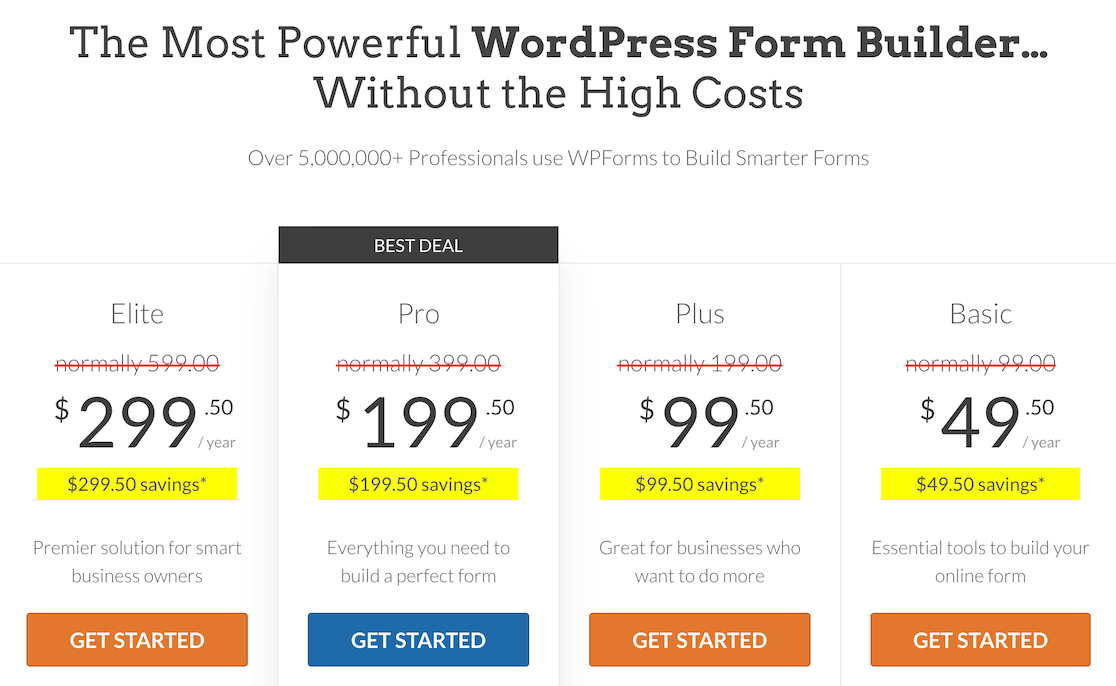 WPForms offers 4 premium plans: Elite, Pro, Plus, and Basic.
The Surveys and Polls addon comes with the Pro license, which supports 5 sites and costs $199.50/ year.
In addition to these, you also get payment integrations with Stripe (available with all licenses), Square, and PayPal. WPForms also integrates with other platforms like Zapier and Uncanny Automator. You'll be able to connect your forms to 5,000+ web applications easily.
If you want to try WPForms before purchasing it, you can get an unlimited free trial by installing WPForms Lite. It lets you build basic forms and collect entries via email. If you turn on the Lite Connect feature, you'll also be able to store entries so you can unlock them when you upgrade to the paid version of the plugin.
SurveyMonkey vs JotForm vs WPForms: Final Verdict
In comparison with SurveyMonkey vs JotForm vs WPForms, WPForms is the best tool to create survey forms with WordPress.
Because:
WPForms is a popular form builder plugin with 5+ million active installs to date.
It's pocket-friendly because all survey features are packed in 1 plan; you don't need to buy extra addons or pay additional charges.
No need to juggle any HTML code to publish your form
The support is fantastic, and the availability of detailed online resources means you can get started in minutes.
Create Your WordPress Survey Form Now
Next, Display Poll Results on Your WordPress Site
There you have it! Now you know how SurveyMonkey vs Jotform vs WPForms stack up.
Once you've started collecting survey and poll data from your users, make sure to check out our tutorials on writing survey results summaries and displaying results on your website.
So what are you waiting for? Get started today with the easiest WordPress form builder plugin. WPForms Pro includes lots of free templates and offers a 14-day money-back guarantee.
If this article helped you out, please follow us on Facebook and Twitter for more free WordPress tutorials and guides.