7 Ways to Fix Your Low Converting Contact Forms
by Lindsay Liedke on Aug 6, 2018
Are too many visitors abandoning your website without filling out your contact form? You might be making some costly conversion mistakes that turn those visitors away.
In this article, we'll show you 7 ways to fix your low form conversion rate.
The Importance of Tracking Form Conversions
Forms are one of the most important points of interaction on your website. When a visitor fills out a form on your site, they're taking the next step in their customer journey.
It's important to improve your forms, so that more of your visitors will reach out to you. But unless you track your contact form submissions, you can't know whether your changes are improving your form conversions rates, or making them worse.
Google Analytics is the industry standard tool for tracking the behavior of your website visitors. But it doesn't allow you to track your form submissions out of the box.
As a result, tracking contact form submissions can be a hassle, especially if you're not a developer or a Google Analytics expert.
If you're looking for an easy way to track conversions for all of your forms, we recommend using MonsterInsights, the best Google Analytics plugin for WordPress.
MonsterInsights allows you to easily set up Google Analytics in WordPress. It also allows you to track your form submissions using the Forms addon.
For help with this, check out our helpful tutorial on tracking WordPress form conversions using MonsterInsights.
This will give you a starting point for fixing your form conversion rate to be even better than it is now.

Now let's take a look at how to increase form conversion rates.
1. Shorten Your Form
Shortening your forms is the easiest way to fix form conversion rate. Short forms are easy to fill in, so it entices visitors to submit your forms, which in turn boosts your conversions.
Below are a few ways to shorten your forms.
Remove unnecessary fields: If you're asking too many questions of your leads, consider eliminating unnecessary fields. Limiting the number of fields to just three can increase your conversion rate to 25 percent.
Create multi-page forms: Splitting a form into multiple pages helps the user avoid long form fatigue. Learn how to create a multi-page form in WordPress.
Use smart conditional logic: With conditional logic, you can show or hide fields based on user selection, so you can reduce the length of your form significantly.
2. Capture Partial Entries
While reducing the number of form fields can encourage more visitors to submit your form, it's not always the right choice if you're looking to qualify your leads.
In fact, even the highest-converting forms in the world still experience some form abandonment.
Capturing partial form entries is one of the best ways to mitigate lost leads due to form abandonment.
WPForms allows you to collect partial form entries by using the Form Abandonment addon. With form abandonment, you can still follow up with interested leads and turn them into loyal customers, even if they leave before hitting "submit."
Here's how it works.
Once you enable the Form Abandonment addon, partial entries will be saved automatically. This way you can follow up with them even if they don't complete the whole form.
You can even automate the process with an email notification that only gets sent to abandoning users.
To save partial form entries, you can select the checkbox near Enable Form Abandonment Lead Capture by going to Settings » Form Abandonment in your form builder.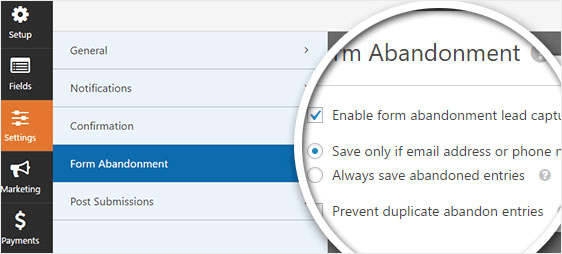 For more details, see our guide on how to use Form Abandonment with WPForms.
3. Embed Your Form in a Different Location
If conversions are too low for a specific contact form, the reason could be that your form isn't very visible to your visitors. In that case, you might want to change the location of your form on your site.
WPForms allows you to place your forms anywhere on your site including pages, posts, sidebars, and even the footer section.
If you want to quickly show your form to your visitors without navigating away to another page, consider creating a contact form popup with a popup creation tool like OptinMonster.
For more details, you can learn how to create a contact form popup with OptinMonster.
4. Make Form Filling Convenient
Making it easier to fill in a form can significantly boost conversions. There are many ways to make form filling convenient for your users.
For example, one easy method is to enable autocompleting the address fields in your contact forms.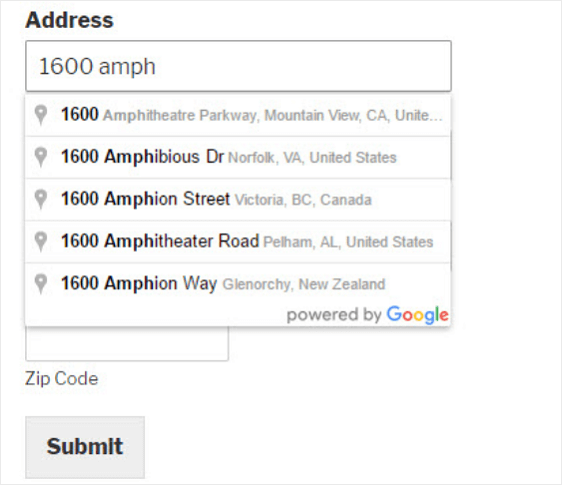 You can use Google Places API on your form to enable autocomplete in the address fields. Whenever a user submits an address, it automatically fills in the address field.
You can learn how to autocomplete the address fields in WordPress.
Another option is to only make the most important form fields optional. This way when someone is filling out your form, they don't feel pressured to give you all their personal information right away unless it's absolutely necessary, or they want to.
WPForms makes changing whether a field is required or not easy to do.
For instance, if you want to give site visitors the option to provide you their phone number, click on the Phone form field on the right hand side of the Form Builder.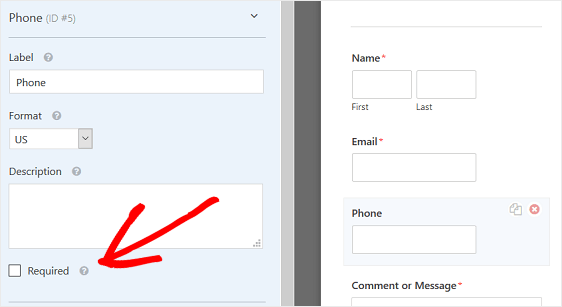 From there, scroll down and make sure the Required checkbox is unchecked. That way, only if a site visitor wants to give you their phone number they can.
Otherwise they can leave the field blank and still submit your form.
5. Make Your Buttons Pop Out
When you're creating a call-to-action (CTA) button for your form, make sure to use contrasting colors instead of colors that blend in. The idea is to make your form's button visually appealing so it pops out from rest of the form.
For more CTA button design ideas, you can read our article on how to design contact form CTA buttons.
While you're at it, make sure to think about what the CTA button says. The goal is to inspire people to submit their forms, whether it be a simple contact form, a survey form, or even a volunteer application form.
Again, changing the copy of your CTA is very easy when using WPForms. When you're done customizing the form fields, go to Settings » General.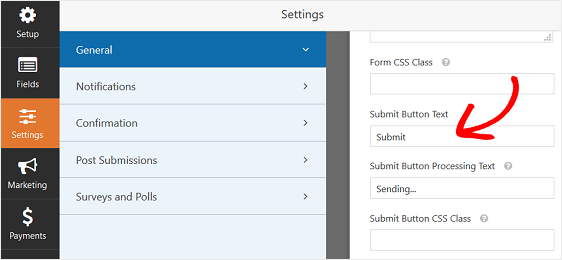 Here you can change the CTA copy to whatever you want it to be.
Some good examples include:
Subscribe Now
Get Started
Click to Download
Buy Now
Start Free Trial
And so on. Your contact form's call to action copy will depend on the type of form you've created. Just remember, the point is to convince people to finish filling out your form and click submit.
6. Gain People's Trust
People want to know that their personal information is safe when they submit a form on your website. Even if that information is just a name and an email.
After all, no one willingly subscribes to an email list that is going to spam them.
That's why you might consider adding a privacy statement on your contact form to gain the trust of people before they decide to submit your form.
Even better, if you want to ensure people know what they're getting into when they submit a form your website, you can do one of two things:
Add a GDPR form field to get people's consent to collect their information
Include a terms of service agreement on your form that people can either visit or agree to right on your form

This way, site visitors know their information is safe with you and know exactly what you plan to do with it once they submit a form. This transparency, in addition to what you include on your site's privacy policy page, will increase trust and help your form conversions.
7. Split Test Forms
Just because you follow all of the steps above when it comes to fixing your form's low conversion rates, doesn't mean it's always going to work.
That's where A/B testing comes into play.
Luckily, if you're using MonsterInsights, you can easily split test all of your form's elements using Google Optimize, one at a time, to see which changes increase conversion rates the most.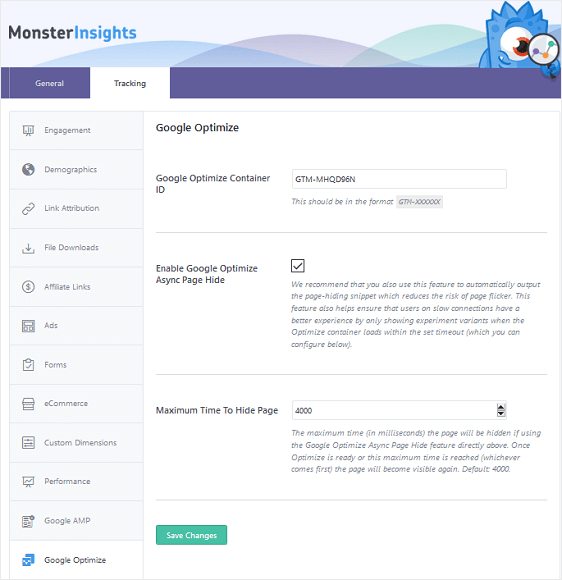 If you aren't sure what to A/B test on your forms, start with these:
Form Length. Remember, shorter forms are usually best, but not always. That's why you need to split test to see what your target audience likes most.
Call to Action Button. Size, location, color, and CTA copy are all things you can test to see which get the most conversions. By changing the CTA button on this European eCommerce site, conversions sky rocketed an impressive 35.81%.
Form Fields. Finding out which form fields that you require that people don't like filling out and cause them to abandon your form will make the user experience much better and boost conversions.
Form Location. You can add contact forms to many places on your website. Test which ones convert the most, and focus on those. Making it easy on site visitors to get in touch with you will help low converting forms and get you more form submissions.
And there you have it! You now have some excellent strategies for fixing your low converting contact forms.
For more tips on form conversions, you can see these tricks to boost mobile form conversions, or check out these tactics to increase donation form conversions.
So, what are you waiting for? Get started with the most powerful WordPress forms plugin today.
And don't forget, if you like this article, then please follow us on Facebook and Twitter.