Top 3 Places to Include a Contact Form for More Leads
Last updated on Apr 12, 2017 by Courtney Robertson
Are you making it easy for your website visitors to reach you? By placing your contact form in prominent places on your site, you'll get more inquiries from your visitors. In this article, we will show you the top 3 places to include a contact form on your website for more leads.
Increase Leads with Contact Forms
Every page on your website needs a way to guide visitors through the process toward becoming happy customers, no matter what industry you are in. Whether you are…
A blogger seeking speaking opportunities
A business owner seeking customers
An e-commerce store increasing sales
A non-profit organizer fostering donor relations
…it's important to encourage visitors to take the first step in their customer journey.
To help your website visitors get started, you'll need a call to action on each page.  This is some sort of prompt that will encourage a visitor to take action toward becoming a client, such as joining your email newsletter or downloading a lead magnet.
But, how can you include a call to action on your blog's posts and pages? And how will this help you get more leads?
We'll help you figure these questions out with a simple solution: a contact form.
Here are three places to include a contact form on your website so you can start gathering more leads.
1. In Your Sidebar
By placing contact form in the sidebar of your site, it will be easily accessible no matter where visitors are in your site, including your blog posts.  Your form can appear on the left or right side of the website like this: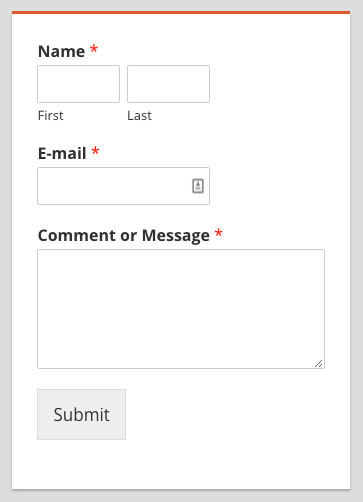 Need help placing WordPress contact form widget? See our tutorial: how to add a contact form in a WordPress sidebar widget.
2. About Page
An often overlooked opportunity to connect with your visitors is on your about page. To make the most of this page, remember to include these details:
What your business does using plain language.
What happy customers are saying about their experiences with you.
Who works at your company and how to reach each person.
A story about how your products and services impact people.
A call-to-action that motivates visitors to do something now, such as a contact form.
To see an example of an outstanding About Page, check out Cut Cable Today.  The page builds trust, introduces the company owner, tells a story, and ends with a contact form.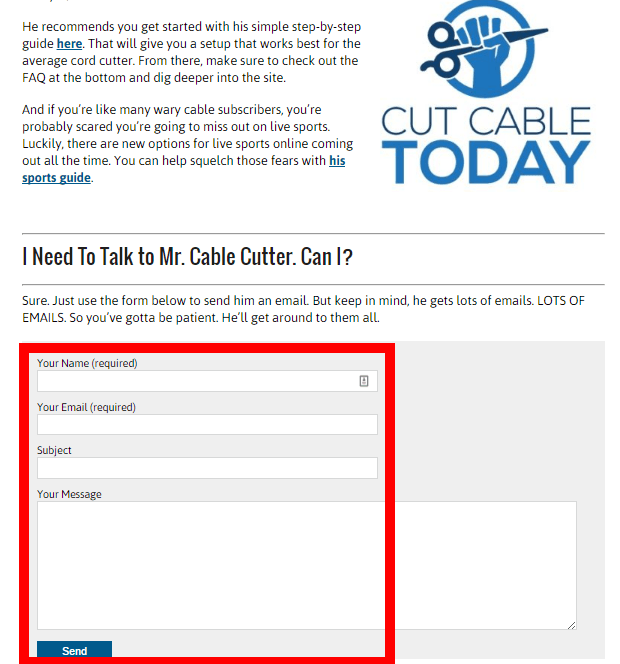 3. Contact Page
Your contact page is one of the most important pages on your website.  People visiting it are more likely to do business with you.
To help your visitor take their next step toward becoming a happy customer, be sure to:
Spell out why someone should contact you and how you can help solve their needs.
List your phone number for visitors that prefer to be supported by calling someone.
Link to social media accounts like Twitter, Facebook, and Instagram to give visitors a way to engage with the business.
Include a short form using fields that will help you understand who's contacting you without getting spammed.
Redirect visitors to a thank-you page that explains when and how you'll be contacting them.
If you make it easy for your visitors to reach you using the tips above, you'll notice an increase in the number of leads you get from your site.
Want to do even more with your forms? Check out how to create a contact form popup in WordPress.
What are you waiting for? Get started with the most powerful WordPress forms plugin today.
If you like this article, then please follow us on Facebook and Twitter for more free WordPress tutorials.