Are you part of a company that employs remote workers and needs some of the best remote working tools? There are many benefits to running a remote team, so long as you're equipped with the right tools to succeed.
In this article, we'll share 9 of the best tools for working remotely so you and your team members can maximize productivity and secure more sales than ever before, no matter where you are.
9 of the Best Remote Working Tools Needed for Sucess
We've gathered some of the most important remote working tools into one list so your business can take efficiency and communication to the next level. Here are the best software for remote companies to keep your team connected.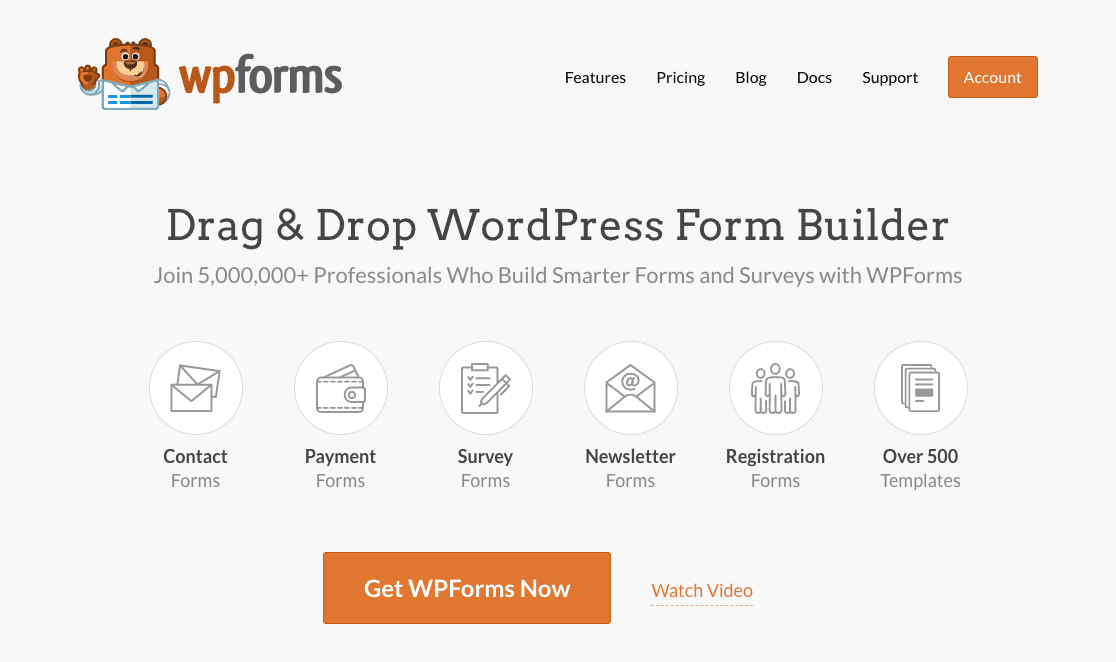 Hiring remote workers for your team is easy using WPForms. In fact, you can use a traditional job application form and gather potential job candidates or create an employee referral form and let your current team members find the best talent for you.
But WPForms can help your remote team beyond the hiring process.
For example, you can create a simple contact form, let team members upload files for open projects, display a survey or poll to customers for testimonials or new product ideas, and even collect donations for your nonprofit organization using WPForms.
In addition, WPForms helps you with the following:
Email marketing efforts with ActiveCampaign, Mailchimp, Drip, Constant Contact, Campaign Monitor, HubSpot, Salesforce, AWeber, Brevo (formerly Sendinblue), MailerLite, and GetResponse integrations
Collecting signatures on important documents or online contracts
Managing order form entries from the backend of your website
Letting team members submit blog posts to be used on various platforms using the Post Submissions addon
And so much more
With the WPForms form builder plugin for WordPress, you never have to worry about where in the world your remote employees are. You can handle internal business operations and customer-related operations as a team, all from the backend of your website.
Ready to get started with email marketing? Check out our roundup of the best email marketing services, complete with free options, and decide which is best for your needs.

If your goal is to make yourself and your team more productive in a remote environment, Time Doctor is a great remote tool for you. It's a time tracking software that helps you and your team reduce wasted time while working from anywhere.
Here are some of Time Doctor's awesome features:
Time tracking lets your team create their own tasks to show when and how long they work on a project
Keep track of attendance and see when people started and stopped their workdays
Screenshots help keep users accountable and make your business feel as if you're in the same office
Web usage lets you track the use of distracting sites
Payroll to manage paying your employees
Reporting summarizes tasks and time spent on them
Reminders to make sure people are staying on track
With Time Doctor, you can create a more reliable team that gets tons of work done. Plus, it offers support 24/7.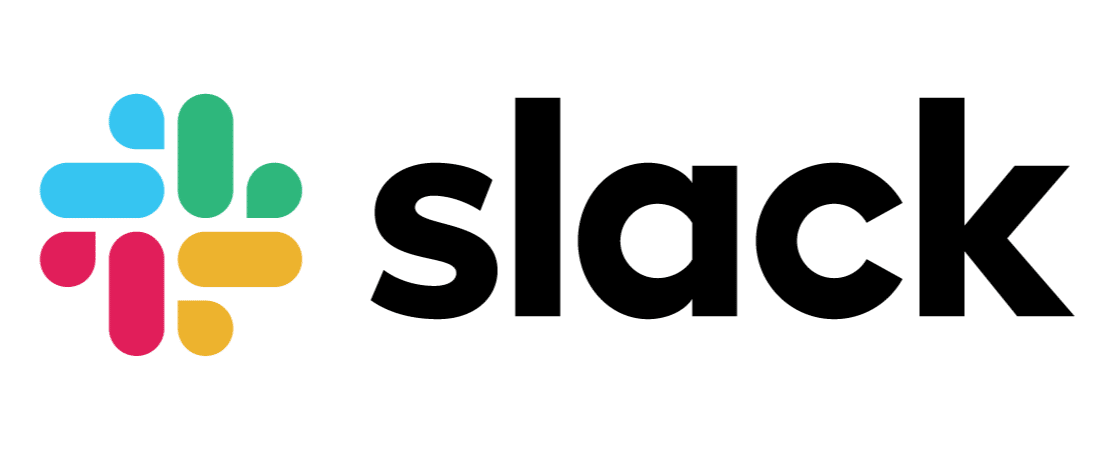 Slack offers real-time messaging between teams, regardless of time zone. It works perfectly for remote teams that need to have an open line of communication at all times and comes with neat features like:
Different channels so teams can divide into groups and keep conversations organized
The ability to share files
Third-party app integrations
Archived messages with search capabilities
Voice and video calls
Communicating with remote workers is the key to your business' success. Using Slack, you and your team can be on the same page at all times without having to deal with messy inboxes full of random email messages.
You may also want to consider using a shared inbox platform like Zoho TeamInbox, which simplifies email communication and provides transparency to the whole team across email threads and conversations.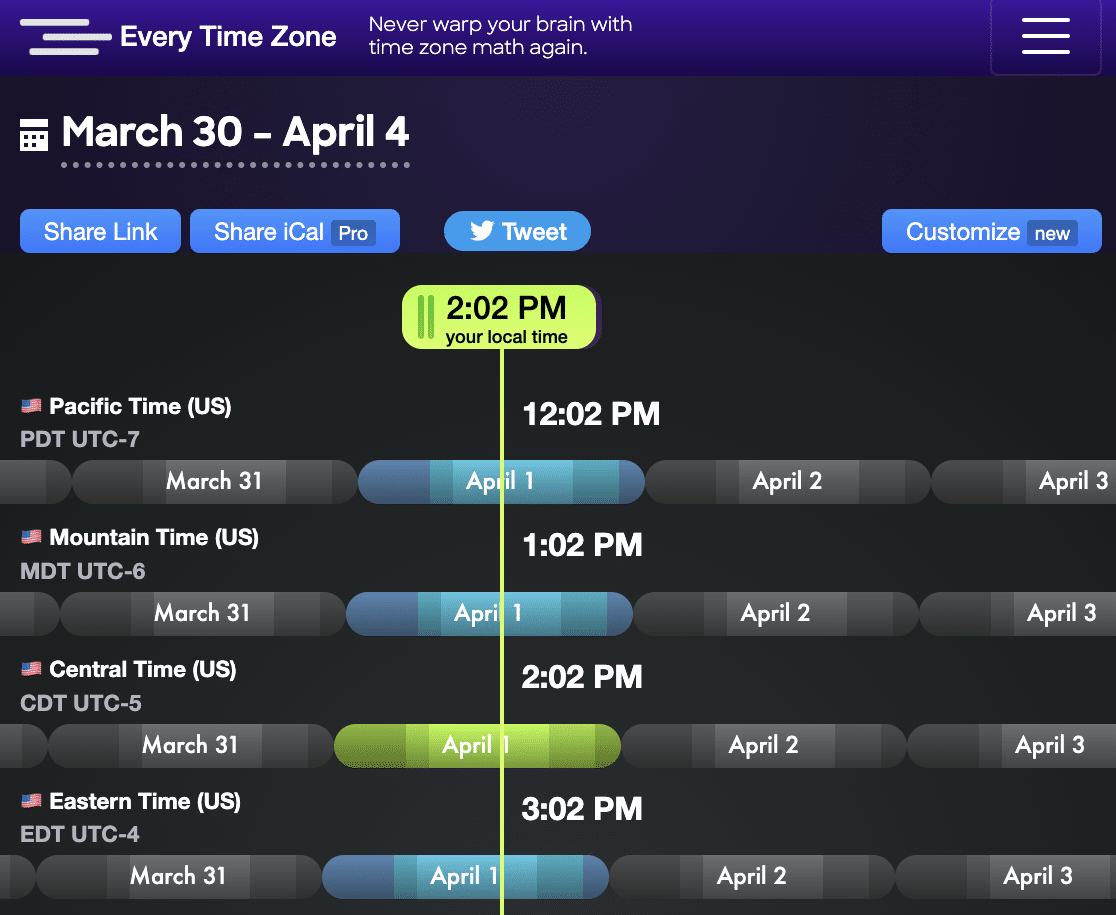 Speaking of communicating in real-time, it's tough to know who's awake and asleep when you work with a large team spread across the globe.
Make things easier on yourself and eliminate the need to do extra math by referencing Every Time Zone before you chat it up with someone. Check out the time zones of fellow remote employees and see who is available to talk.
Though this might seem insignificant, there will be times when you need to get ahold of someone right away. If that person is 12 hours ahead of you, and fast asleep, you can easily redirect your efforts to another team member closer to your time zone and discuss the issue with them instead.

If you need a more comprehensive file-sharing tool than Slack, Google Drive has it all.
For starters, it lets you share formatted word documents, spreadsheets, and even slideshow presentations all from one convenient location.
In addition, you can grant people access to certain Google documents and allow them to view or edit them as you wish. Plus, let team members collaborate on a document, make real-time changes, leave comments, and even chat with one another while working from afar.
With this neat remote working tool, you can save any file type including images, recordings, or videos, organize work according to team or project using folders, and access files from any device.
You can also scan important documents and upload them directly to your Google Drive, work offline, and even see old versions of documents in case you need to go back in time and make a fix.
Working together in different places has never been so easy.
Need something a little simpler?
Google Drive is an amazing platform but comes with a steep learning curve if you're not used to working with all of its services at once. For those who need a simple place to store, share, and view documents, check out Dropbox instead.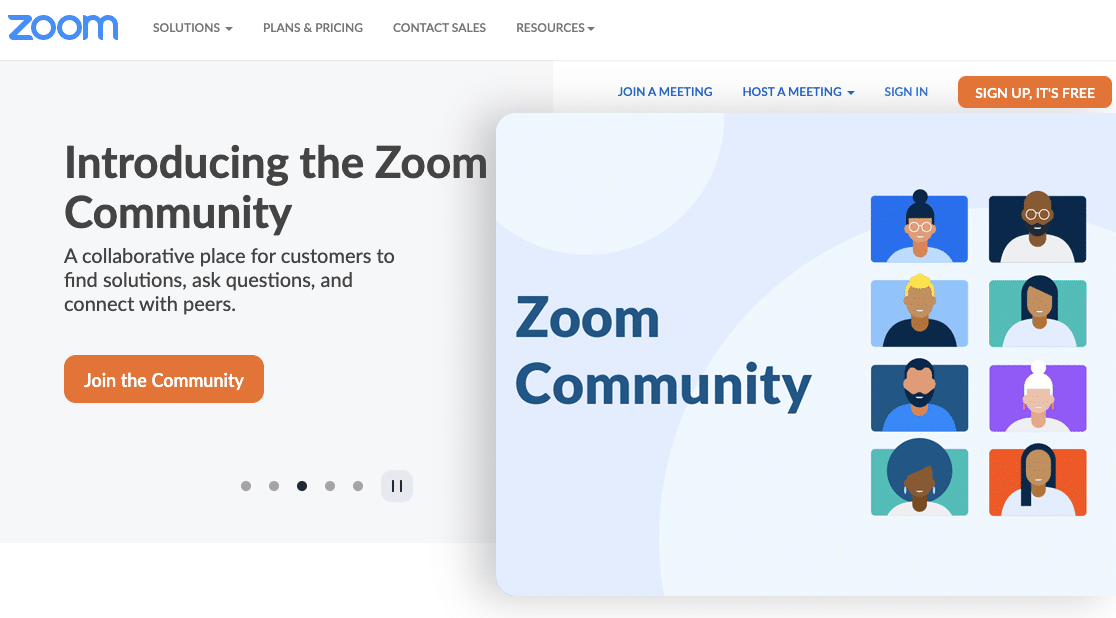 Need an easy way to hold remote meetings? Then you need to check out Zoom. As one of the most powerful webinar software on the market to date, this interactive video conferencing tool makes getting your remote team together for a meeting a cinch.
It comes with HD quality audio and video and allows you to share your screen with others. This is great if you're teaching someone how to use a new online tool or want to display a document for the team.
What's more, Zoom lets people in the meeting chat in real-time. Whenever someone has a question but doesn't want to interrupt the team member talking, all they have to do is type it out using the chat feature for all to see.
This awesome remote working tool also comes with features such as:
Fullscreen and gallery views
Join as a view-only attendee
Annotation and co-annotation functionality
Built-in security measures such as password protection
Toll-free options in 60+ countries for joining meetings
Instant or scheduled meeting setups
Stop worrying about how you'll meet with your remote team and use Zoom instead.
You'll see how much more productive your team is and how successful your business becomes after scheduling a few meetings with your remote employees.
You can also connect Zoom with a plugin like Uncanny Automator to schedule meetings with clients automatically. When a user fills out a form on your site, Uncanny Automator will register them for a Zoom meeting instantly. In fact, you can slash admin time and automate your entire site with Uncanny Automator.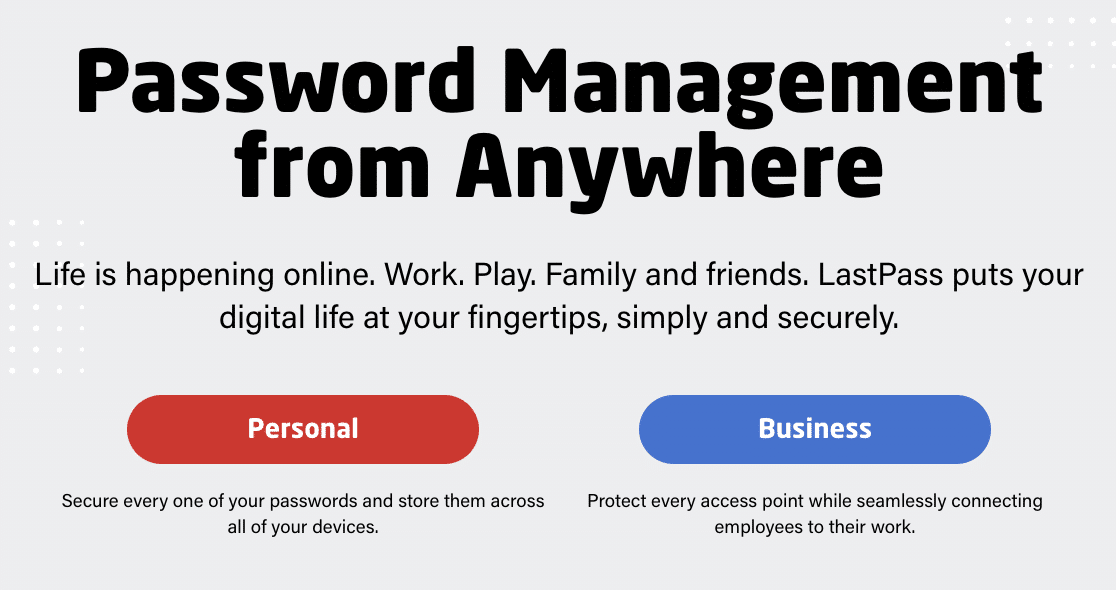 In today's digital world it's not unusual to see people with countless numbers of online accounts, all with different passwords. And the crazy thing is that all of these accounts are a necessary part of running a successful business.
In an effort to safeguard those passwords, ensure people don't lock themselves out of applications, and make sharing team passwords easier, look into using LastPass.
With LastPass, each remote worker will have one master login password to remember after installing LastPass on their browser. Every other password they want to save in their LastPass account will automatically load when needed.
Available on a wide variety of devices, LastPass makes managing passwords easy and safe, which is essential when running an online business made up of remote employees.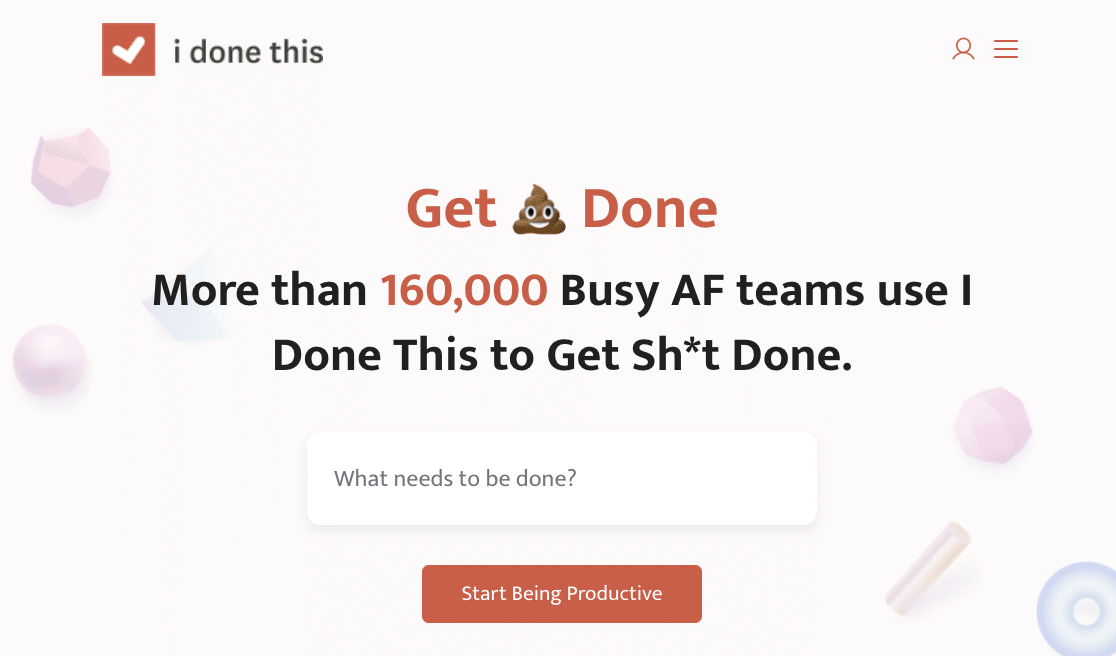 Accountability, staying on track with tasks, and managing a team spread across the globe can be challenging at best. That's why investing in a tool as simple as I Done This can be so helpful.
With this neat check-in tool, each team member reports in on a daily basis, either via their browser or email. They check off what they accomplished for the day and make notes of roadblocks. Then, the entire team gets to see what everyone else is up to so that everyone is on the same page at all times.
A simple tool like this boosts accountability and productivity on all fronts. It keeps tasks organized, informs the group when something is stalled and why, and lets people take charge of their work, even if they are in a different time zone than others.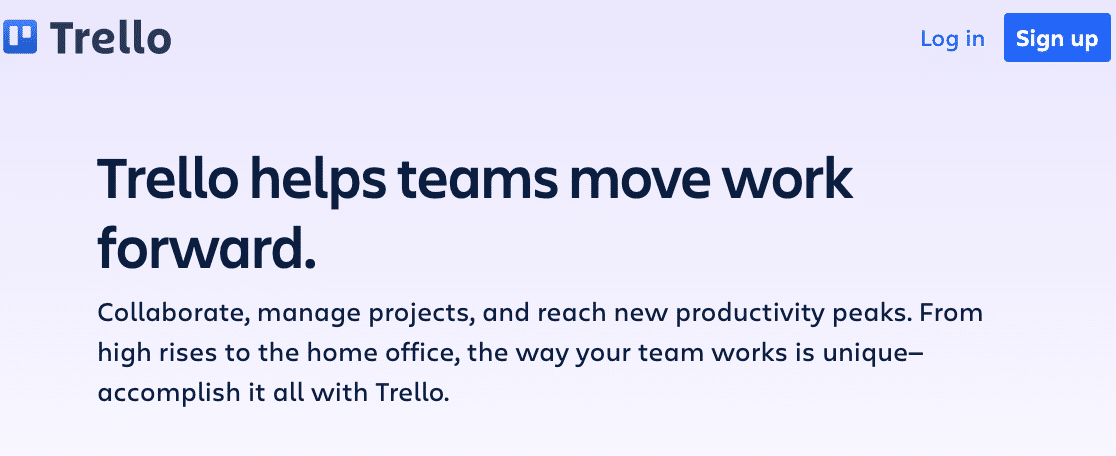 If you're in the market for a simple project management tool, Trello is for you. Not only does it visually map out what you and your team are working on, but it's also free to use.
Here are some of Trello's best features:
Collaborate with your remote team via the cloud
Use the drag-and-drop functionality to move tasks around
Color code boards and tasks so teams always know what tasks are theirs
Assign tasks, due dates, and even add comments
Integrate 3rd party apps and get more done
Sync your Trello boards across all devices and access them anywhere
Upload file attachments from various locations
Invite new people to your boards so they can join the project
Though Trello has all the basics you could need in a project management tool, it's good to know about more comprehensive options, too.
For example, Hootsuite or CoSchedule is perfect for managing tasks, publishing blog posts, and automatically scheduling social media messages.
All of these tools serve to save you time and money so that your business not only grows but also succeeds.
Next, Get the Best WordPress Plugins for Your Remote Business
And there you have it! Some of the very best remote working tools you need for your online business to succeed.
If you're looking for additional tools and plugins to help you run your remote business, be sure to check out our roundup of free WordPress plugins for your site.
So, what are you waiting for? Get started with the most powerful WordPress forms plugin today.
And don't forget, if you like this article, then please follow us on Facebook and Twitter.