Knowing online business statistics can help you grow your business online.
The type of content you publish for customers, the way people make online purchases, and how people search for information is constantly changing. That's why staying up to date on the latest trends and stats is so crucial to your success.
In this article, we've compiled a detailed list of online business statistics for you so you don't have to look all over the place for the data you need.
Since we've collected such a large number of statistics, here's a quick table of contents so you can jump to the exact fact or statistic you need:
Now, let's check out this amazing roundup of online business stats and facts!
Internet – Stats and Facts
The internet is a big place. And it continues to grow and diversify with each year. Here are some general internet facts and statistics that you're sure to appreciate as you make your mark in this competitive landscape and grow your business into a successful one that your customers love.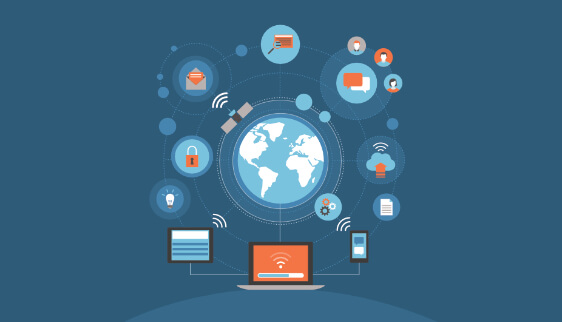 1. In 2021, there were 5,168,780, 607 internet users. (Internet World Stats)
2. Asia has the highest percentage of internet users (53.4%), followed by Europe (14.3%), Africa (11.5%), and Latin America (9.6%).
3. There are almost 2 billion websites on the world wide web. (Internet Live Stats)
4. Google averages 40,000 searches every second, which equates to 1.2 trillion searches worldwide per year.
5. Chrome is the most widely used browser (63.84%), followed by Safari (19.56%), Edge (4%), Firefox (3.91%), Samsung's browser (2.84%), and Opera (2.35%). (StatCounter)
6. 3.1 billion internet users are also social media users. (Top 10 Website Hosting)
7. Google remains the most popular search engine.
8. WordPress raked in a whopping 15.5 billion pageviews in 2018 alone.
9. 43% of the world uses WordPress to power their websites. (WordPress.org)
10. The fastest growing segment of the internet is mobile social media users. (vpnMentor)
11. 44.1% of people use laptops and desktops, 51.6% use mobile phones, and 4.2% use tablets.
12. Behind WordPress, the next five most popular content management systems are Joomla, Drupal, Magento, Blogger, and Shopify.
13. People on mobile devices spend the most time on these apps: maps, instant messenger, music, photos, weather, and games.
14. When it comes to social media apps, the most popular are Facebook, YouTube, WhatsApp, Facebook Messenger, WeChat, and Instagram.
Online Businesses – Statistics and Facts
Knowing how people engage with their favorite brands and what influences them to buy are the keys to growing a successful online business. That's why we've gathered some of the most compelling online business and eCommerce stats and facts around.

1. 64% of small businesses have their own website. (Devrix)
2. 35% of small business owners feel that their business is too small for a website.
3. 19% of small business owners without a website believe that their business would grow 25% in three years or less with the benefit of a website.
4. 46% of small businesses didn't have a web presence in 2018. (The Balance Small Business)
5. 55% of people will search online for reviews and recommendations before making a purchase, with 47% visiting the company website, 26% checking out the physical store, and 23% of people talking with friends and family. (KPMG)
6. Men tend to spend more per transaction than women, spending an average of $220 versus $151 for women.
7. 30% of people would rather return to a website they've purchased from in the past.
8. The reasons people decide to buy include competitive pricing (36%), preferred website (30%), best delivery options and price (17%), stock availability (14%).
9. 92% of all online feedback is considered positive, followed by 6% neutral, and 2% negative.
10. Most people (47%) share feedback on the seller's website, followed by Facebook (31%), brand websites (18%), WhatsApp (17%), and Instagram (12%).
11. Other popular places to add reviews and recommendations include online forums, WeChat, blogs, Twitter, YouTube, Snapchat, and Pinterest.
12. The top five things that influence buying decisions are: lowest price, enhanced delivery options, easy return policy, payment options, ability to see inventory availability, and information about the product/service.
13. The two main reasons people won't buy online include wanting to see and touch the item before buying and delivery taking too long.
14. 59% of Millennials will head to Amazon before any other website, making them one of your biggest competitors right off the bat. (Inviqa)
15. It's estimated that by the year 2040, 95% of purchases will be through eCommerce. (Nasdaq)
16. The average cart abandonment rate across all industries is 69.89%. (Baymard Institute)
17. That said, 54% of shoppers that abandon a cart item, and later find out the product price has dropped, will return and buy it after all. (nChannel)
18. 71% of people believe they'll get a better deal online, even if the item isn't technically on sale.
19. It costs upwards of 5-6x as much to acquire a new customer than to retain an existing one.
20. Loyal customers are worth up to 10x as much after they make their first purchase.
21. 73% of people prefer to do business with brands that personalize the shopping experience.
22. If you require account creation at checkout, 23% of people will abandon their carts immediately.
23. Customer service means a lot; 80% of people claim they'll quit doing business with a company after a poor customer service experience.
24. 71% of people don't trust sponsored ads, 69% don't trust advertisements, and 65% don't trust press releases.
25. 82% of people want an "immediate" response to their marketing or sales question.
26. 46.5% of small and mid-sized businesses believe that free shipping increases their sales profits. (MCM)
Want to start your online business? Use the free business name generator tool by WPBeginner to come up with catchy company name ideas and get started.
Lead Generation – Facts and Stats
Over half of all businesses claim that generating leads and traffic to their site is their biggest marketing challenge. If this is something you struggle with, read up on these important facts and statistics to see where you can make improvements.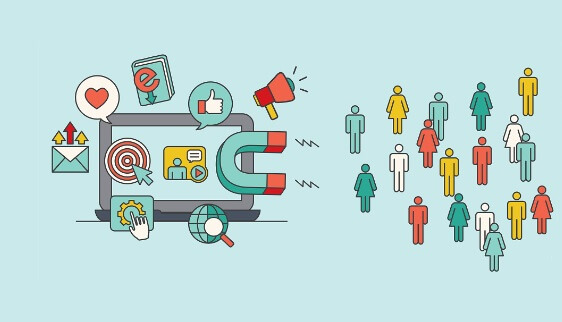 1. The top three most difficult things to do in sales (compared to a few years ago), include getting responses from prospects, engaging multiple decision makers, and closing deals. (Hubspot)
2. Qualified leads rely on word of mouth (55%), customer references (46%), and media articles (38%) to make purchase decisions.
3. Sales for eCommerce in 2018 came in at $2.842 billion, and topped $3.453 billion in 2019. (vpnMentor)
4. Multi-step forms in WordPress can lead to 300% more conversions. (Venture Harbour)
5. The United Kingdom, United States, and South Korea take the lead when it comes to online buying.
6. 50% of people who conduct a local search on their smartphone visit the physical store within a day, with 34% of those using computers or tablets do the same. (GO-Globe)
7. 18% of local mobile searches lead to a sale within one day.
8. 98% of your site visitors will leave without leaving any contact information, making it difficult to nurture leads. (Marketo)
9. The top 3 methods for lead generation include email, event, and content marketing. (DM News)
10. 45% of companies use a CRM to store lead data and 84% of those companies use a lead scoring strategy.
11. 17% of people still use spreadsheets to store lead information.
12. Web forms are the most popular way to capture leads, followed by traditional data entry.
13. Marketers claim that lack of people, budget, and time are the reasons they don't have a successful lead generation plan in place. (B2B Marketing Community)
14. That said, most marketers will admit the budget for lead generation will increase to keep up with the competition.
15. The top lead generation strategies used by marketers involve a company website, email marketing, and SEO.
16. 25% of small businesses have no idea what their lead generation conversion rates are.
17. Acquiring new ones can cost you up to 5 times more than retaining the existing ones.
Content Marketing and Blogging – Stats and Facts
Content marketing is a central part of doing business online. After all, if people don't know you exist, and you don't add value to people's lives, selling online may not be as lucrative as you'd like.
Here are some great content marketing and blogging stats that will help inspire new marketing ideas or at least remind you why content marketing is so important.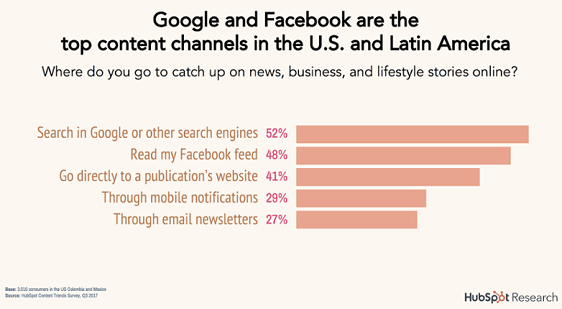 1. Google and Facebook reign supreme as the places to get news, business, and lifestyle stories in the U.S. and Latin America. (Hubspot)
2. 9% of marketers plan to include the platform Medium into their marketing efforts over the next 12 months to extend their reach and drive more traffic. (Hubspot)
3. Content marketing gets 3x the leads per dollar spent when compared to paid search efforts. (Content Marketing Institute)
4. It also generates 3x as many leads as outbound marketing, but costs 62% less.
5. As far back as 2014, people saw an average of 5,000 ads/day.
6. Small businesses with blogs get 126% more lead growth than those without.
7. 61% of people will make a purchase after reading a recommendation on a blog.
8. If you want 6x more conversions than traditional marketing, implement content marketing into your overall plan.
9. Websites with blog content have 434% more search engine-indexed webpages.
10. Publishing 16 blog posts a month will garner you about 3.5x more business.
11. 83% of B2B marketers use email newsletters as part of their content marketing strategy.
12. 83% of marketers use content marketing to generate leads for their business. (MarketingProfs)
13. Over 409 million people view more than 20 billion webpages a month. (WordPress.com)
14. Leading publishers using WordPress include TechCrunch, TED, CNN, and the National Football League.
15. The top five languages being used on WordPress blogs include: English (71%), Spanish (4.7%), Indonesian (2.4%), Portuguese (Brazil) (2.3%), and French (1.5%).
16. Approximately 70 million new posts and 77 million new comments are published every day using WordPress.
17. Companies that blog receive 97% more links to their website. (Hubspot)
18. Blogs are a trusted source for online information.
19. Marketers prioritizing blogging see 13x the positive ROI.
20. Blogs have the potential to generate businesses 2x more email traffic.
Video Marketing – Facts and Statistics
Digital marketing continues to evolve, and it just so happens that video content is coming along for the ride. As the second largest search engine in the world, YouTube can attest to the fact that people love to watch videos for a variety of reasons: entertainment, education, and information about brands, products, and services.
Read on to find out some of the best video marketing statistics so you can decide whether video marketing is something you want to invest in.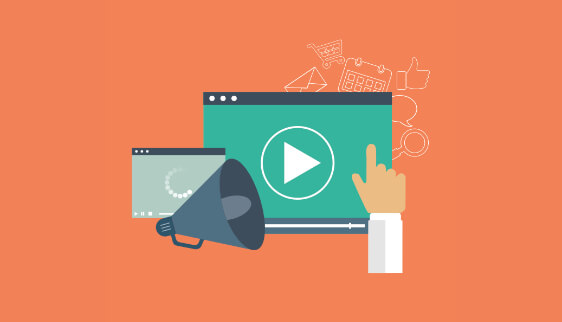 1. Organic traffic improves by up to 157% with added video content. (Hubspot)
2. 4 out of 5 people believe product demos are helpful.
3. 45% of people watch more than an hour of Facebook or YouTube videos a week.
4. 43% of people want to see more video content from marketers.
5. While online searching for local products or services, 44% of people viewed an online video. (JLB Media)
6. 53% of those viewers then contacted the business after watching the video, with 51% visiting the company website, and 33% visiting the physical shop.
7. 4x as many people would rather watch a video about a product than read about it.
8. One billion hours of video is watched daily on YouTube. (YouTube)
9. 82% of people watch videos on Twitter. (Insivia)
10. 85% of Facebook video content is viewed without sound.
11. Over half of marketers believe that video is effective for increasing brand awareness.
12. Creating a video landing page has the potential to increase conversions by as much as 80%.
13. 52% of marketers claim that video content is the type of content with the best ROI.
14. People tend to stay on webpages 2.6x longer if there's video content.
Email Marketing – Statistics and Facts
Email marketing services are a great way to generate leads, nurture relationships with new subscribers and existing customers, and promote your business to people long after they leave your website.
Take a look at these exciting email marketing statistics and facts and discover where you can make changes in your own strategies.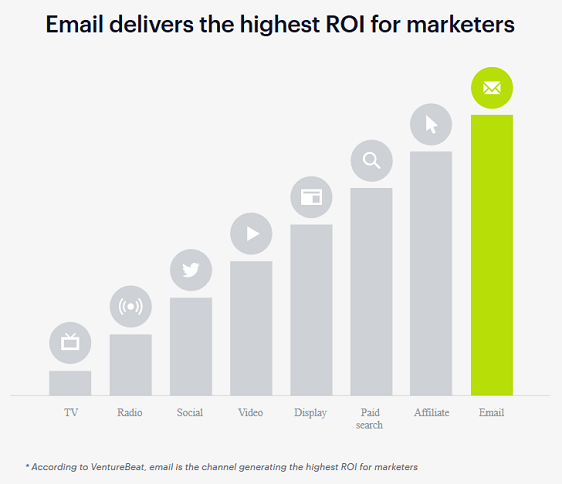 1. Email continues to deliver the highest ROI out of all other marketing strategies. (Campaign Monitor)
2. Email personalization generates a 26% increase in open rates.
3. Automated emails can boost revenue by as much as 320%.
4. Approximately 53% of emails are opened on mobile devices; of those opens, 23% of people will re-open the same email again later.
5. People who re-open emails on a computer are 65% more likely to click through.
6. You can expect up to a 760% increase in revenue generated by segmenting your email campaigns.
7. Email is 40x more effective at acquiring new customers than Facebook or Twitter.
8. Including a call to action button instead of a link boosts conversion rates by as much as 28%.
9. 68% of people base whether to open an email or not according to the "From" name.
10. 61% of consumers prefer to be contacted by brands via email.
11. Half of all small and medium-sized businesses use marketing automation software to send drip campaigns and keep people engaged.
12. Split testing your email campaigns can improve conversions by 49%.
13. The reason B2B marketers succeed with their email campaigns is because they provide compelling content for each stage of the customer journey. (B2B Marketing Community)
14. Transactional emails have 8x more opens and clicks than any other type of email campaign and make 6x the money for businesses. (Experian)
We've got even more email marketing statistics for you to check out if you want to see more.
Social Media – Stats and Facts
People are spending more of their free time on social media than ever before. Adding to that, brands are advertising to their target audience on a variety of platforms, and consumers are not only learning about products and services, but visiting company websites from their social media accounts at alarming rates.
Check out how social media has the potential to help you succeed.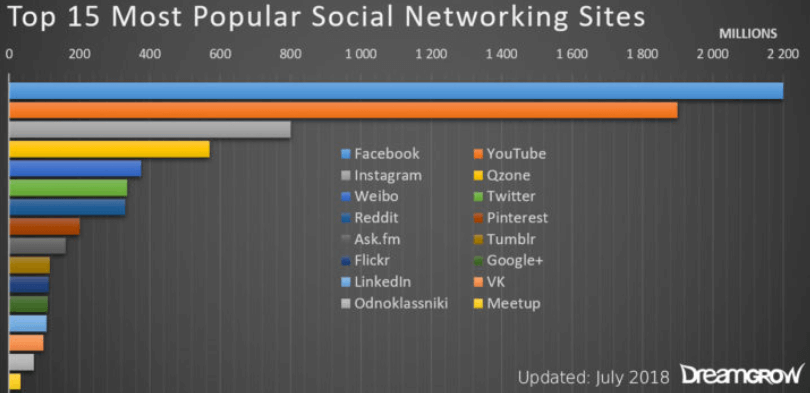 1. The top three social media networks include Facebook, YouTube, and Instagram. (Dreamgrow)
2. If your social posts are visual, they're 40x as likely to get shared on social media.
3. More than 50 million businesses use Facebook Pages to connect with customers; 4 million of those businesses pay for social media advertising.
4. 92% of all user interactions on Twitter involve link clicks.
5. Top brands on Instagram see the highest engagement rates when compared to Facebook and Twitter.
6. 25% of U.S. shoppers consult social media before buying a gift. (nChannel)
7. 62% of consumers share online deals with friends, exposing your brand to a broader audience.
8. 78% of small businesses attract new customers and engage existing ones using social media.
9. 85% of online orders from social media come from Facebook.
10. Online stores with a social presence have an average of 32% more sales than those that don't. (BigCommerce)
11. The average eCommerce site publishes 4.55 posts a week on their Facebook page.
12. Business Facebook communities are growing by an average of 8% a month.
13. 60% of those with a Facebook account are also using Twitter.
Alright, I'm Inspired to Grow My Business! What's Next?
Now you should have tons of ideas on how to grow your business. All you need are the tools to make your online business more successful.
WPForms Pro is the best way to do that because:
It's really easy to use and lets you get forms online in minutes
You can do really neat things to boost your conversions, like adding a coupon code field to your order forms
It's easy to create Mautic WordPress forms to use your visitors' details in marketing automation projects
When you buy WPForms, you get access to priority support when you need it
All of your forms will be fully mobile responsive so your customers can use them on mobile too.
Create Your WordPress Form Now
Next, Grow Your Business' Email List
And there you have it! The ultimate list of online business statistics designed to help you find ways to improve your business, grow your audience, and make more money online.
Just remember, when it comes to generating leads for your online business, web forms rank as the best way.
If you're in need of a beginner friendly and simple to use form builder for WordPress, be sure to read about how to grow your email list fast using WPForms.
So, what are you waiting for? Get started with the most powerful WordPress forms plugin today.
And don't forget, if you like this article, then please follow us on Facebook and Twitter.