Are you looking for the best social media plugins for your WordPress site?
Your website should be able to easily connect to popular social networks so you can grow your following plus your website traffic.
So we put together this list of the best social media plugins for WordPress so you can find the ones that work best for you and your small business.
How Do I Add Social Media Plugins to WordPress?
Asking yourself how do I add social media plugins to WordPress? It's super simple and explained very well in this article on how to install a WordPress plugin.
Once you know how easy it is to add a WordPress plugin to your website, let's jump right into the very best social media plugins out there.
What's the Best Social Media Plugin for WordPress?
There are a lot of WordPress plugins out there, so we narrowed down our favorite social media tools in this list.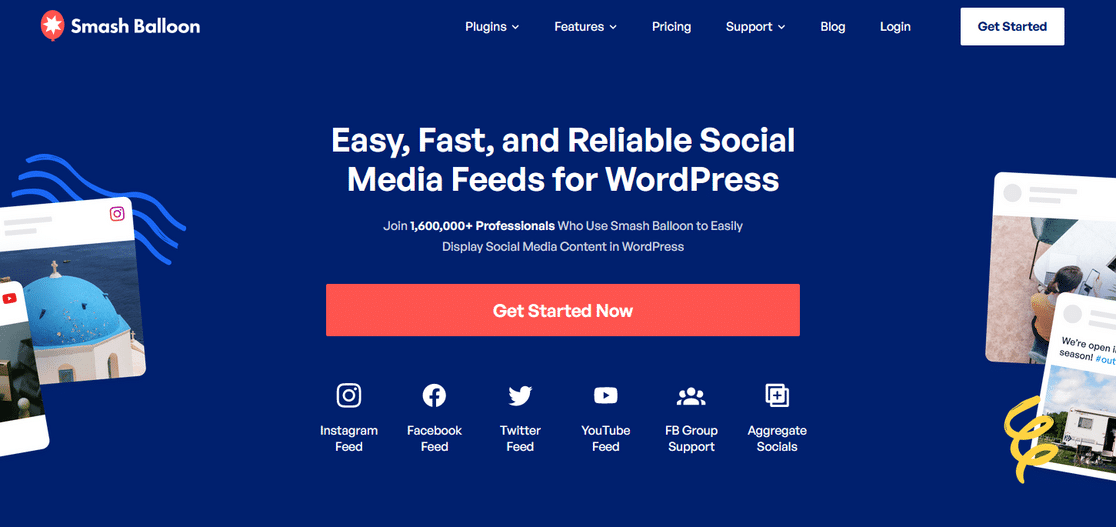 Smash Balloon is by far the best social media plugin for WordPress. It's actually a combination of several insanely powerful plugins that help you with bringing each social media platform onto your WordPress site.
Features:
Social Wall – Combine your social feeds from Facebook, Twitter, Instagram, and YouTube into a single powerful wall
Instagram Feed – Link photos and stories right to your WordPress website and do things like let people shop from your Instagram on your site.
Custom Twitter Feed – Display Twitter cards, show tweets that mention you (perfect for testimonials), and more.
Custom Facebook Feed – Add Facebook posts, photos, videos, and broadcast live videos from your WordPress site
YouTube Feed – Create feeds of videos from your favorites list, embed a YouTube playlist on your website, show linked thumbnails to your videos, customize the layout, and more.
Unlimited feeds – Make as many social feeds are you want.
Mobile-responsive – Looks great on all devices.
Customize designs – You get to control how your feeds look.
Check out this Smash Balloon review to see more info and screenshots.
Get started with Smash Balloon today!

Shared Counts is an awesome, lightweight social media plugin for WordPress. It shows how many shares something on your site has gotten on different social media platforms.
Lightweight plugin – Doesn't slow down your site and is super straightforward.
Easy to use – A simple tool even beginners will love.
Developer-friendly – Hooks and filters if you want advanced customizations.
GDPR-friendly – Doesn't use cookies.
Custom post types – Easily enable the plugin for custom post types.
Helpful buttons – Facebook, Pinterest, Twitter, LinkedIn, Yummly, Print, and Email.
Get started with Shared Counts today!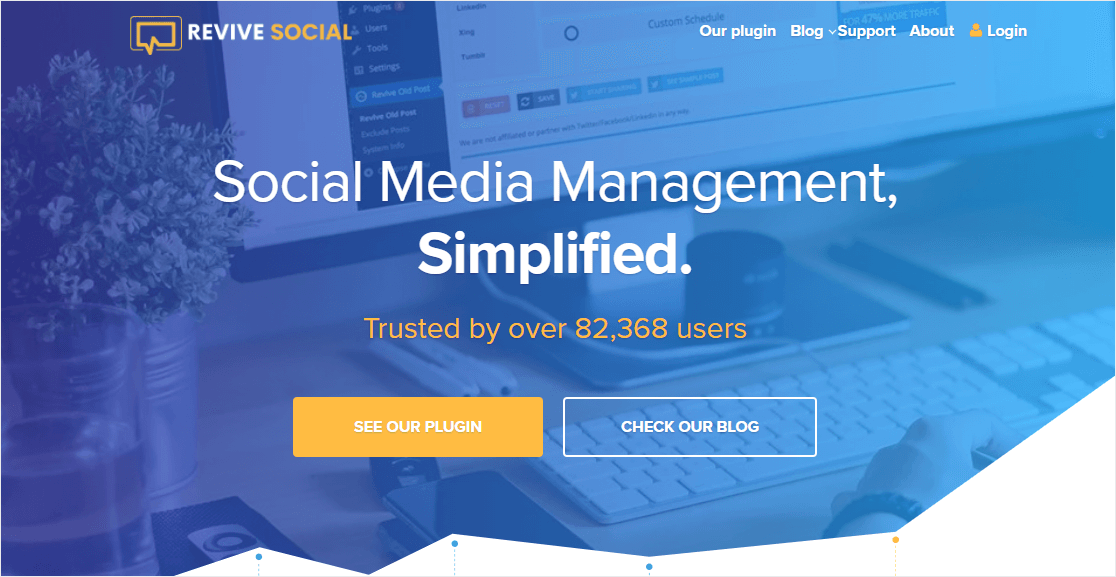 The Revive Social plugin is another one on our list of the best social media plugins that you should check out if you want to get into marketing automation. It lets you automatically share your WordPress content to your social media.
Features:
Scheduler – Automatically set a schedule for how often you want your old content (and new content) to be shared and save on costly social media management tools.
Hour timer – The paid version lets you decide how many hours you want between posts, great if you're sharing a lot of backdated content.
RSS to social media – Share posts from any RSS feed to Facebook, Twitter, LinkedIn, Tumblr, and more.
Auto WordPress post share – Automatically share posts to your social media as soon as you hit the publish button, even if a post is scheduled.
Social media analytics – Discover a ton about the source of your traffic without manually adding UTM tags to posts.
Hashtags – Create your own hashtags for post shares from your tags, categories, or even custom fields.
Exclusions – Choose to keep certain posts out of feeds and social media if you don't want them there.
Get started with Revive Social today!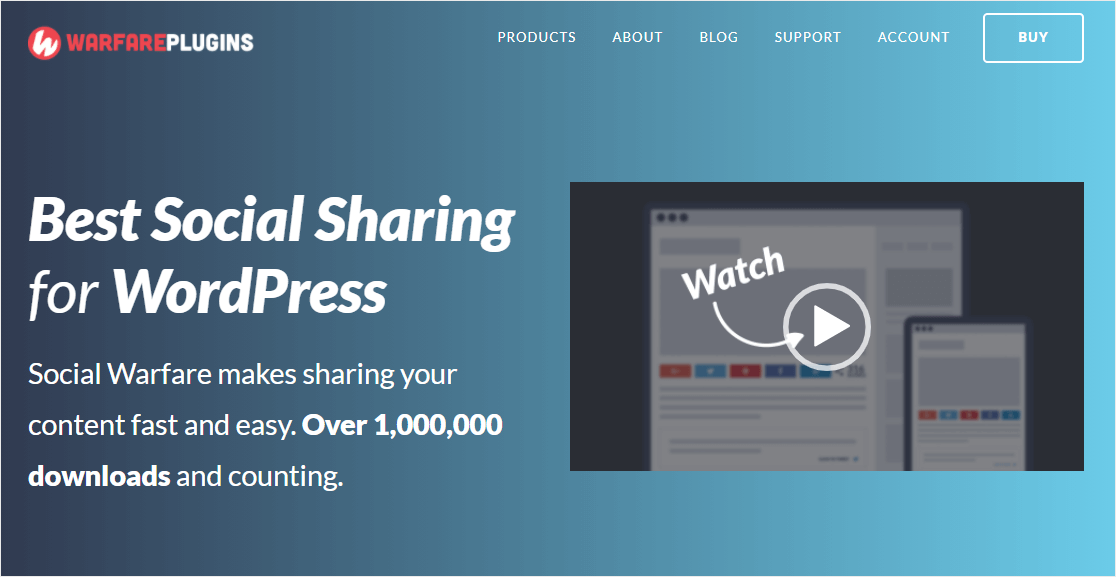 Another one of the best social media plugins on our list is the feature-heavy Social Warfare. This lets you control what people share on social media (and how they share it).
Features:
Customizations – Add custom titles, images, and descriptions to your posts that get more clicks and traffic.
Analytics – Track how your social shares are doing with Google Analytics.
Popular posts widget – Display your most popular posts from your blog right in a widget and automatically calculate which ones are doing well.
Easy Recovery – You can recover share counts when switching permalink structures.
Get started with Social Warfare today!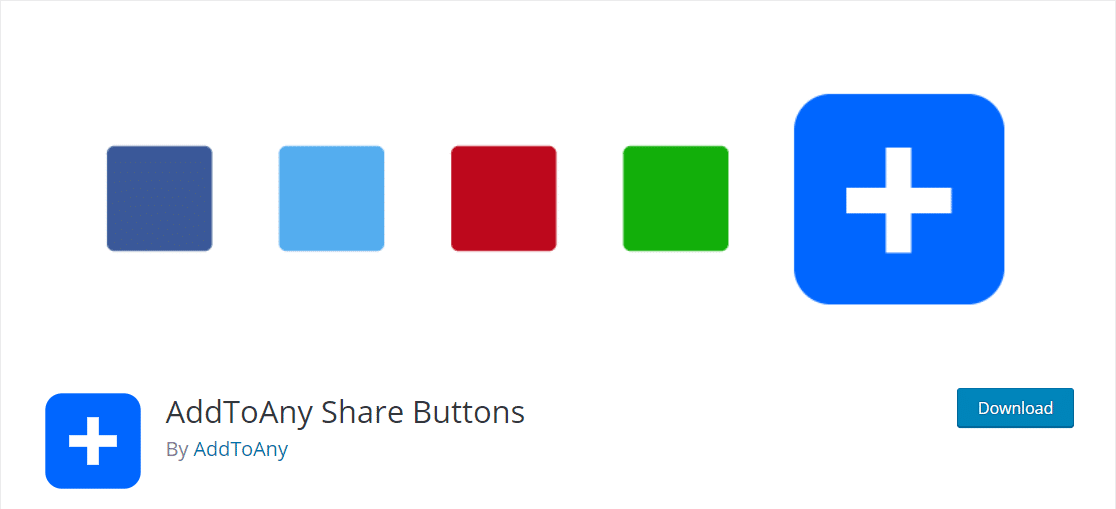 AddToAny Share Buttons is a great social media plugin for WordPress if you want a simple plugin with universal social sharing.
Features: 
Social media share buttons – They offer tons of social media platforms.
Social sharing bars – Floating and standard social sharing bars
Universal sharing menu – Makes it so easy to keep track.
Global social sharing buttons – Everything you and your visitors need to easily share your content.
Simple Social Icons shows simple social media icons in a sidebar widget. It's straightforward and insanely easy to set up and get those powerful social icons in your WordPress sidebar.
Features:
Customizable button styles – Simple ability to choose your own colors.
Lightweight – Won't slow down your site and runs very fast.
Limited icons – But still has the most popular social platforms.
Reorder icons – Move around the placement of each one of your social media icons so you can put the more important ones front and center.
Add your own – Gives you the ability to add additional icons to use.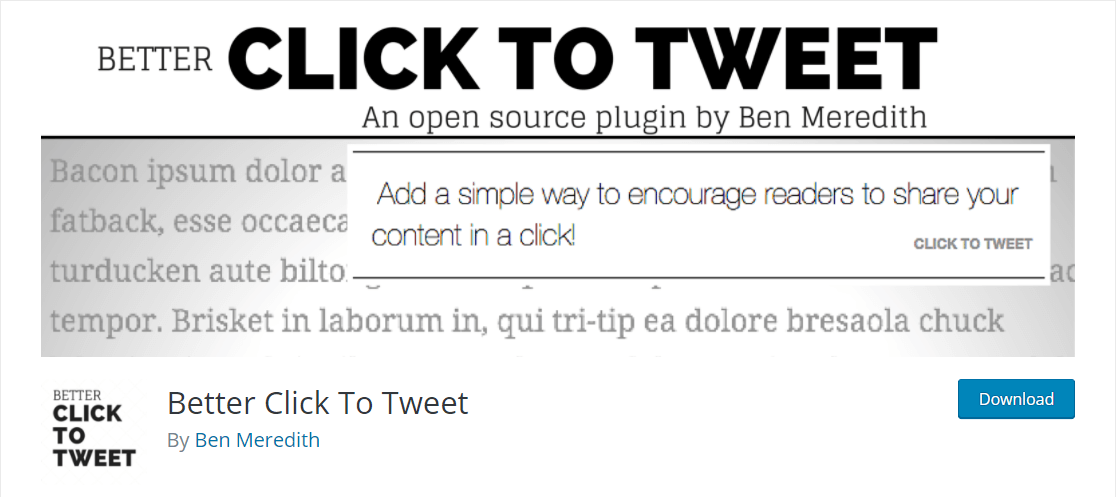 Better Click to Tweet is what's responsible for those cool quote boxes you'll notice on blogs. It helps encourage your readers to share an impactful quote on Twitter which exposes your brand and your WordPress website to social media instantly.
Features:
Well-loved – Definitely the most popular click to tweet plugin out there.
Accessible for everyone – Free version and paid premium version.
Easy to use – Use simple shortcode or the block editor.
Boosts traffic – Adjustable callback URL.
Customizable display – Remove or change the 'via' section.
Designer-friendly – If you're a designer, developer, or handy with CSS, there are tons of options for styling.
Link-shorteners – Works alongside URL shorteners for condensing character length.
Active support – The plugin author is very active in the WordPress.org support forums for the tool.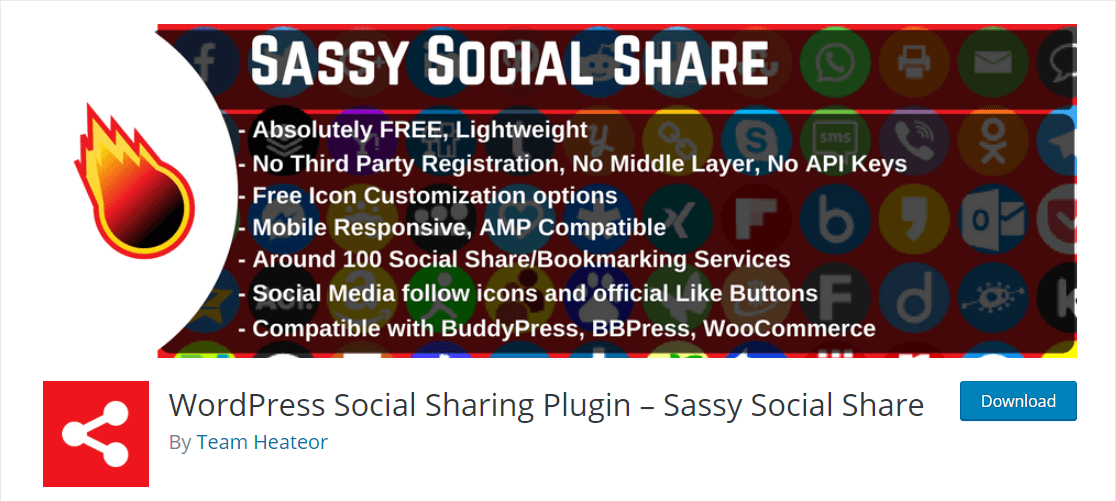 More than just a fun name, Sassy Social Share helps your visitors share your content on their favorite social media platforms easily. This plugin supports a ton of different sites.
Features:
Great compatibility – Will work with BuddyPress and WooCommerce.
Featherlight – Won't take up a bunch of your website speed to run as it's optimized for blazingly fast performance.
A+ customer service – Great support team known for their quick and helpful answers.
100% responsive – Will look great and professional on any device of any size.
Tons of sites – Supports 100+ social media and bookmarking sites.
Page reload support – Compatible with AMP.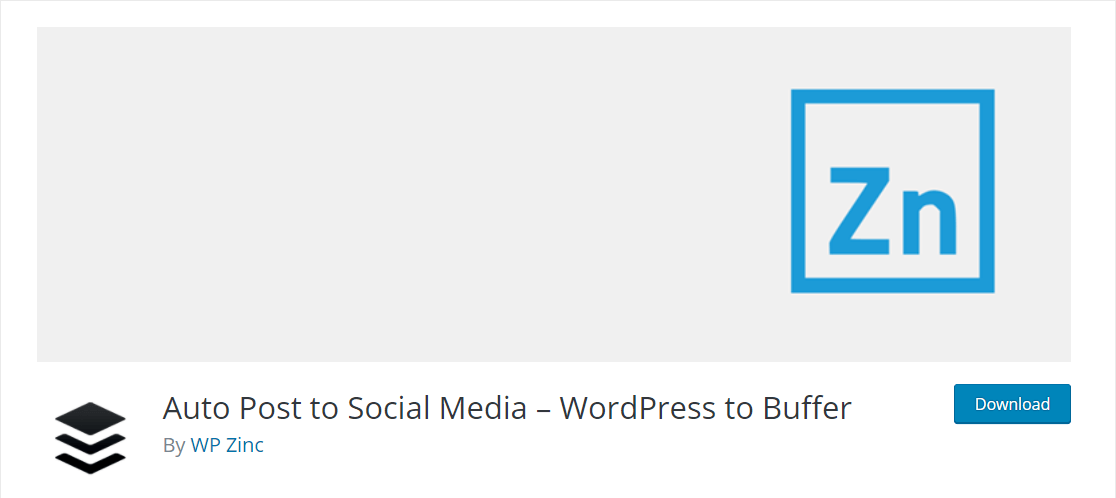 WordPress to Buffer is a great social media tool to use if you're using the popular social media management software Buffer. This plugin sends updates to your Buffer account when you're doing scheduled publishing.
Official Buffer partner – Selected by the social media management platform itself for continued access to Buffer's API.
Smart WordPress automation –  Will auto-post your WordPress content to your Buffer account's queue.
Easy social media sharing – Automatically send scheduled publications to your social media profiles on Facebook, Twitter, and LinkedIn.
Instagram and Pinterest – The paid version of this plugin allows you to connect with Instagram and Pinterest for sharing heavily visual content.
Dynamic tags – Sync your post title, content, and more for a customized status update by defining your status text dynamically.
Suspension prevention – You won't need to worry about getting your important social media accounts suspended for posting the same posts more than once.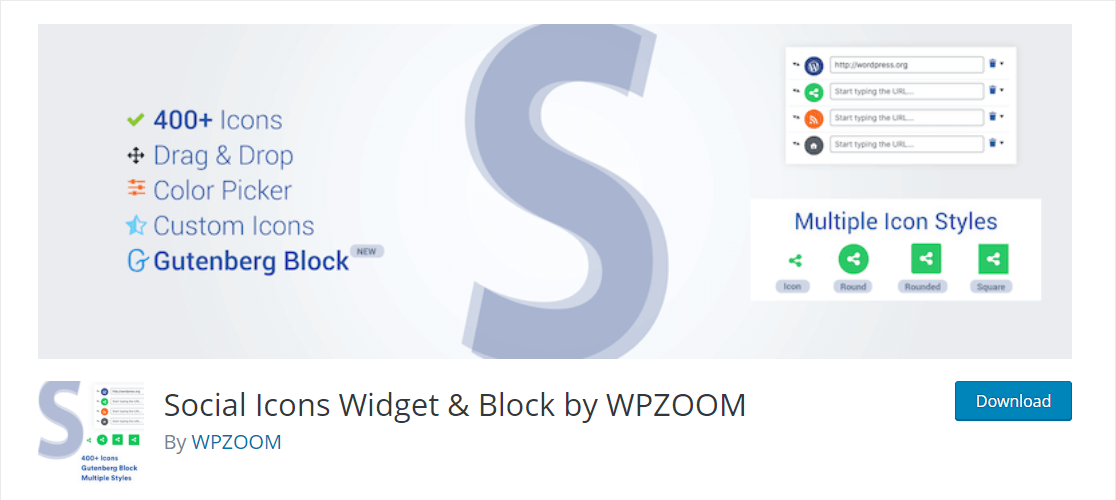 WPZoom has another one of the best social media plugins for WordPress with the helpful tool known as Social Icons Widget. It lets you quickly add social media icons to your website's sidebar with a widget. You can then link them to your social media profiles right in your sidebar.
Features:
Easy to use – Quickly add social media icons with links to your profiles to your WordPress website with a widget.
Unlimited icons – Add as many social icons as you need.
Customization – Includes the ability to change button colors, change the hover color, and a color picker to easily match your branding, plus padding and sizing options for the icons.
Plenty of social networks – Supports 100+ popular social media platforms and websites.
400+ different icons – You're sure to find the social media platform icon you're looking for with this plugin, including generic ones for linking wherever you need.
Visual editor – Lets you use the plugin with the block editor.
And there you have it! We hope this post helped you find the best WordPress social media plugin for you. In addition to these plugins, here's our roundup of the best TikTok plugins for WordPress.
Next, Get the Best WordPress Plugins
You may also want to check out our post on the best WordPress plugins of all time to find some other great tools to help you grow and manage your website.
And while you're at it, you might also want to check out this list of top email capture tools for WordPress.
Create Your WordPress Form Now
Ready to build your form? Get started today with the easiest WordPress form builder plugin. WPForms Pro includes lots of free templates and offers a 14-day money-back guarantee.
If this article helped you out, please follow us on Facebook and Twitter for more free WordPress tutorials and guides.