Are you wondering how to start the customer journey for those that have never purchased from you? Understanding the customer journey, and what's needed to reach those that may be interested in what you have to offer, is the first step in growing a successful business.
In this article, we'll share with you the essential points of contact during the customer journey that happen before you secure an online sale.
What is the Customer Journey?
The customer journey can be summed up as the process people follow before, during, and after making a purchase.
Every time a customer comes into contact with your brand, no matter what stage of the customer journey they're at, can be called a customer touchpoint.
Your goal is to make sure that customers are happy throughout the entire customer journey. You must ensure that every step of the way your customer feels you have something valuable to offer that's worth their money. You should also focus on providing a seamless user experience whether a site visitor decides to buy from you or not.
It can be hard to reach potential customers on a personal level online. After all, the only contact customers are likely to have with you are on your website. They might contact you using your simple contact form. Or perhaps they'll comment on a blog post and have a short dialog with you.
But compared to traditional brick-and-mortar shop interactions, eCommerce interactions are minimal at best.
That's why as a website owner looking to build a profitable online store, you need to optimize the customer journey at all three major stages to mimic an in-person experience as much as possible.
Let's take a look at the first stage in the customer journey that happens before someone decides to make a purchase, and how you can initiate contact so they'll continue through your sales funnel and finalize a transaction.
How to Start the Customer Journey
There are three main customer touchpoints that happen for potential customers before they decide to buy from your online shop:
Word of Mouth
Social Media
Email Marketing
Of course, your customers may come in contact with your brand through other means before they decide to buy. The point is, these are the main ways to start the customer journey so you can build a successful online shop.
1. Online Word of Mouth
Finding ways to generate more eCommerce sales is becoming tough.
Think about it. How are you convincing people to purchase from your online shop or your WordPress t-shirt order form?
Competition in all industries is increasing and just having a well-designed WordPress website that functions the way it should is not enough these days. You have to think outside the box and try new and exciting ways to get people started on the customer journey to buying from you.
One of the most unique customer touchpoints you can tap into to help boost online sales is word of mouth. Now, online word of mouth marketing is going to differ from traditional word of mouth marketing. After all, people aren't technically "talking" to each other face to face online.
That said, online word of mouth customer touchpoints include those times someone who has never previously come into contact with your brand or made a purchase from you hears from someone else how satisfied they are with your business online through a forum, social media, a blog comment, or even a review.
And since 92% of people trust recommendations from family and friends over all other types of advertising, it would make sense that using online word of mouth marketing would be effective in initiating the customer journey with new, prospective customers.
There are many ways to reach potential customers through online word of mouth marketing:
Request a Review or Testimonial
WPForms makes asking established customers for reviews or requesting a testimonial easy to do.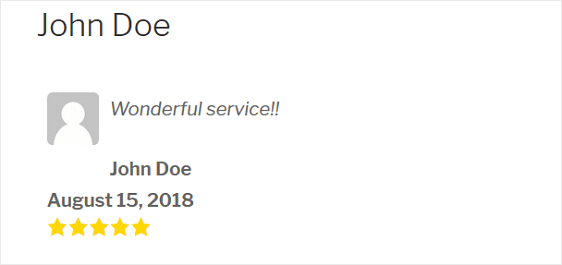 Doing this, you can find out how people feel about your brand, products and services, and their overall experience with your business. Then, you can use the positive remarks as social proof to get others started on their customer journey.
Create Exceptional Experiences
If you really want to get new people started on their customer journey, you need to focus on giving those farther down the sales funnel something worth talking about.
40% of global consumers aged 16-24 use social media to research products. Adding to that, 30% of the general population do the same.
If you can create a great experience for those that have already had contact with you, engage with them on platforms other than your website, and get them talking about your brand in a positive way, news about your online shop is sure to spread like wildfire.
Incentivize Referrals
One trick you can use to get more people "talking" about your brand online is to implement a referral program that rewards people for bringing in new customers.
Take for instance Airbnb. They offer $95 cold hard cash to anyone that refers a friend using their Airbnb email, Facebook, or Twitter.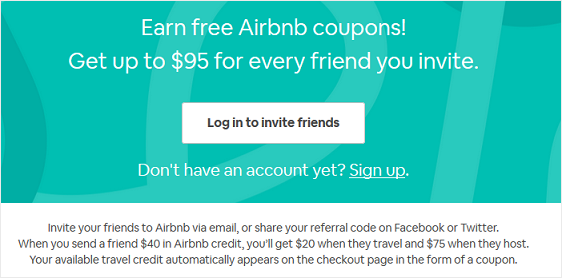 This genius way of spurring online word of mouth marketing has worked wonders for not only Airbnb, but others such as Uber, Amazon, and Evernote.
In the end, word of mouth marketing, even performed online, is cost effective (in other words, free), more effective than using celebrity influencers (if you're a small business looking to grow), and holds the potential to produce very positive results since people trust their peers.
2. Social Media
Though we already touched on some of the ways social media helps you initiate people's customer journey with your company, it's worth noting there are other ways to take advantage of the power of social media as a customer touchpoint.
To start, check out one of the best free WordPress plugins for your website called Shared Counts.
This plugin gives you an easy way to display social share buttons on your website so those that have traveled down the sales funnel, or have at least had some contact with your brand, can share their favorite content with others.

Once others see this content, they may be inspired to click on it and check out what you have to offer them too.
Not to mention, this social share plugin lets you display social share counts as added social proof that people are talking about your brand, like what they see, and want to share it on their own social media networks.
It's also a good idea to use a tool such as CoSchedule, Hootsuite, or the free WordPress plugin Revive Old Posts to automatically share all new content to your social media accounts for others to see.
Again, this opens up the possibility that your followers will like what they see and share it with their friends and family, thus initiating the first customer touchpoint for many people.
Do you really want to maximize the chances of getting people started on the customer journey using social media? Make sure some, if not all, posts link back to landing pages on your website.
3. Email Marketing
The last customer touchpoint that will get people who have never made a purchase from you interested in starting their customer journey with you is email marketing.
And it just so happens, this is something WPForms excels at helping you with.
With WPForms, you can create WordPress subscribe forms for people just beginning their customer journey with you. You can then send out email campaigns encouraging people to come back again and look into buying something.
For help with this, check out our tutorial on how to create a MailChimp subscribe form in WordPress.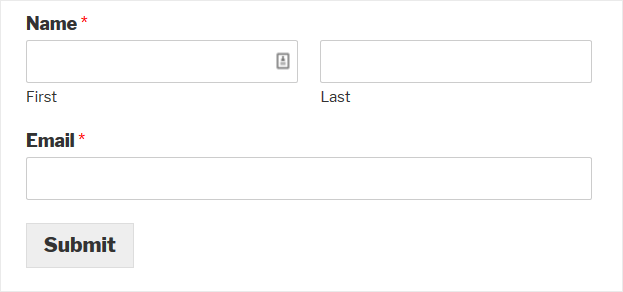 And don't worry, if you don't use MailChimp as your email marketing service, WPForms also integrates with:
For added tips on how to encourage people to sign up for your email list, check out these easy ways to grow your email list, ways to personalize your emails to win over leads, and the most important email marketing metrics that will help you succeed.
And there you have it! You now know how to start the customer journey for those that have never before made a purchase from you.
If you're looking for ways to improve an already existing online order form, read up on how to optimize your order forms and boost sales here.
So, what are you waiting for? Get started with the most powerful WordPress forms plugin today.
And don't forget, if you like this article, then please follow us on Facebook and Twitter.