Do you want to know how to create a WordPress job application form?
You just need the right WordPress job application plugin to make your candidate search super easy.
In this post, we'll walk you through exactly how to create a job application form in WordPress.
Make Your Job Application Form Now
Video Tutorial on Making a Job Application Form Online
We'll be using the best WordPress employment application plugin to show you how to create a simple job application form.
If you would like to work through the written tutorial on how to create an application form, you'll find everything you need in the steps below.
How to Create a Job Application Form in WordPress
This guide will walk you through how to make an application form using the best job application plugin for WordPress
Let's dive in.
Step 1: Install WPForms
The first thing you'll need to do is install and activate the WPForms plugin. For detailed instructions, see this step-by-step guide on how to install a WordPress plugin.
WPForms is the best form builder for WordPress. Thanks to its 500+ ready-made templates including templates for business forms and job applications, WPForms also doubles as a great WordPress job application plugin.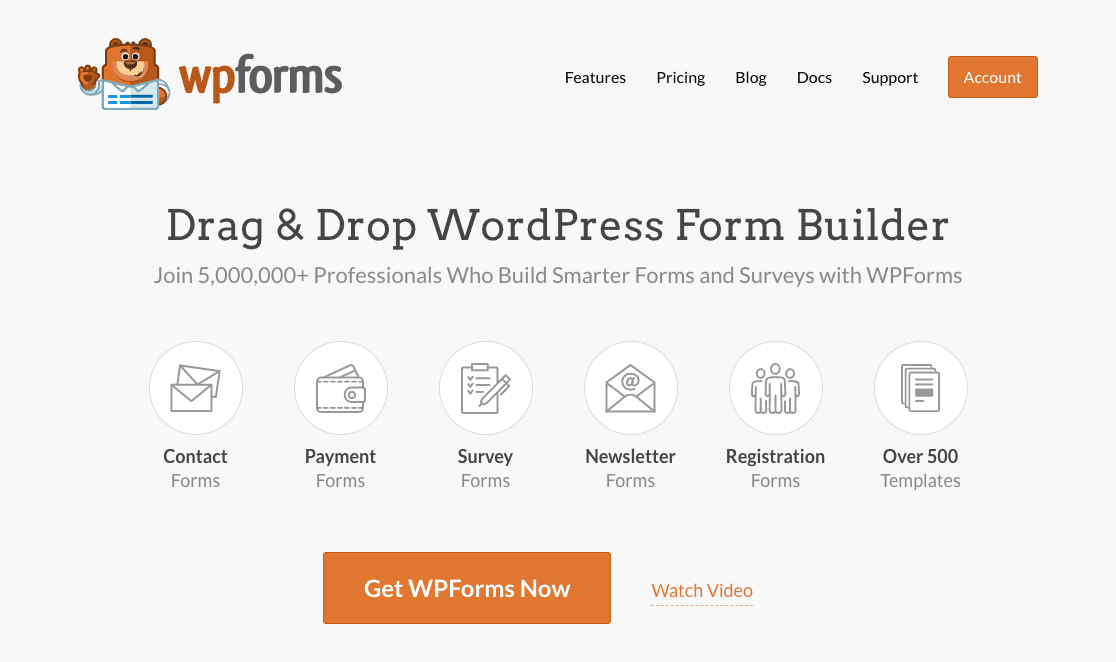 The WPForms Pro license comes preloaded with a job application form template with a file upload field. We'll use this template to make the whole application form creation process easier.
Step 2: Select Job Application Form Template
After installing WPForms on your site, click on WPForms » Add New from your WordPress dashboard.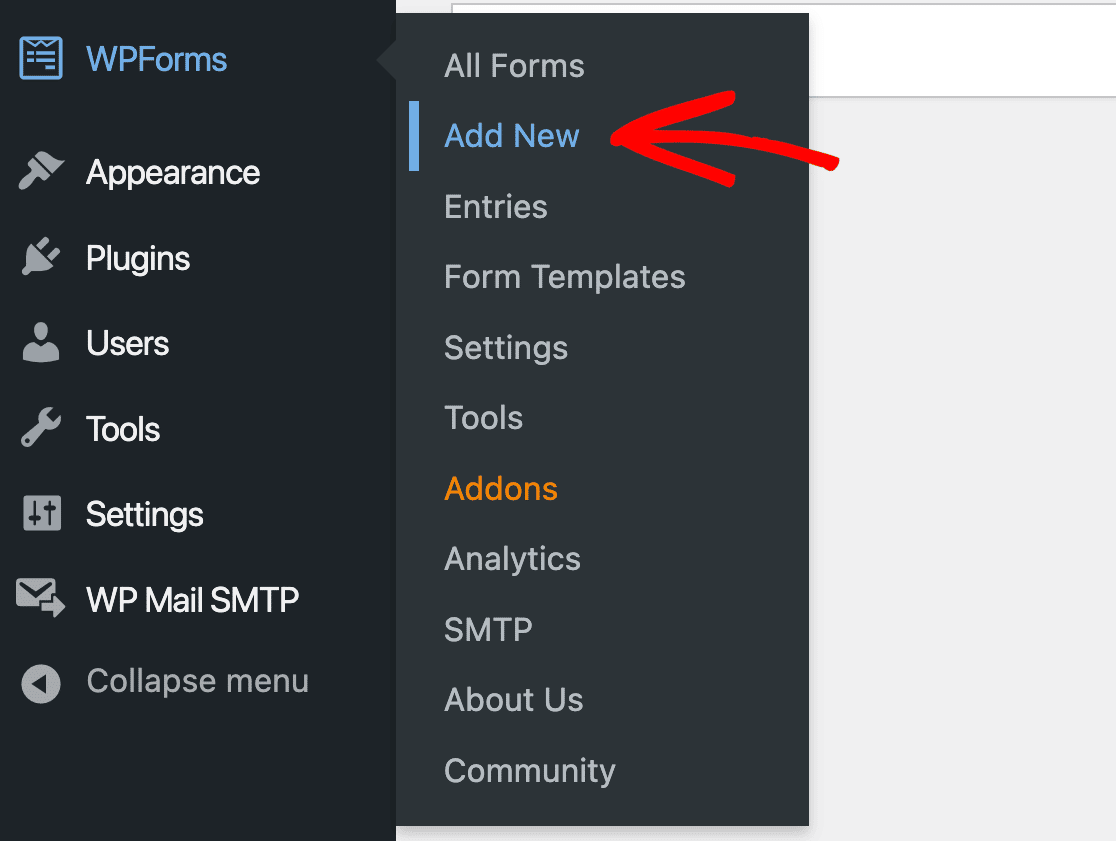 Give your form a name, then scroll down and type "job application" into the search field. WPForms includes 4 job application form templates:
You can customize any template to meet your needs. Choose the one that's best suited to your business and click Use Template. For our example, we'll use the Job Application Upload Form.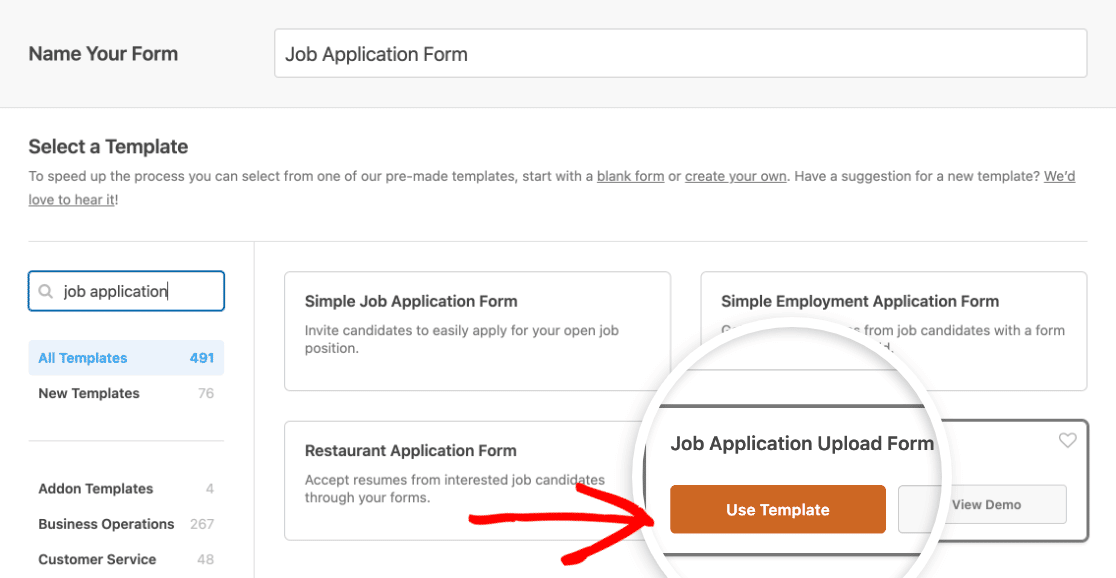 Next, we'll customize our WordPress job application form.
Step 2: Customize Your Job Application Form
WPForms allows you to create an easy and streamlined job application process by allowing you to customize the form as you see fit.
The application for employment template already includes basic questions like name, phone number, and other contact information, but you can ask for more info if you need it.
The template also includes a file upload file where applicants can upload their resume, but you can also place a field asking for the work experience of each applicant.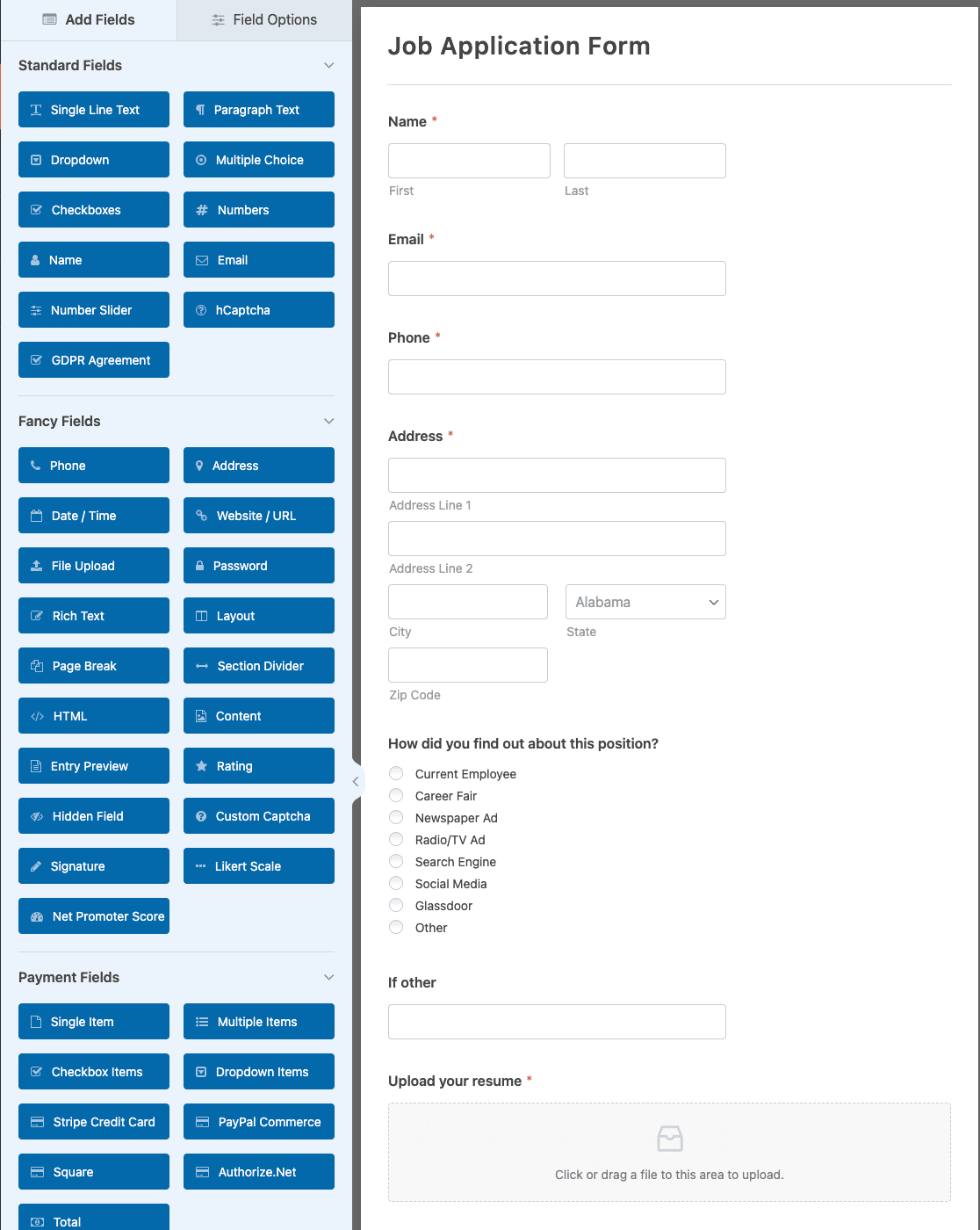 Here are a few ideas of additional form fields you might want to add using the drag and drop form builder:
Position — Add a Multiple Choice, Checkboxes, or Single Line Text field to have people specify which position they're applying for.
Start Date — Add a Date / Time field and let people enter when they can start.
Referral — Add a Multiple Choice, Checkboxes, or Single Line Text field asking people if they were referred by another employee, a family or friend, etc.
You can also ask for details like employment history, desired salary, names of previous supervisors, reason for leaving prior jobs, educational background, volunteer work, hobbies and interests, licenses and certifications, availability, and more.
Lastly, it's important you customize the File Upload field to make sure potential candidates know where to upload their resumes or cover letters to their job application.
To do this, click on the File Upload field and do the following:
Add a description with instructions if needed.
Specify the types of file extensions you'll allow people to upload.
Enter a maximum file size if you want to restrict the size to be smaller than the default of 128MB.
Change the default maximum file number from 1 if you want to allow for more files per field.
Enable the Required option if everyone applying must upload a file.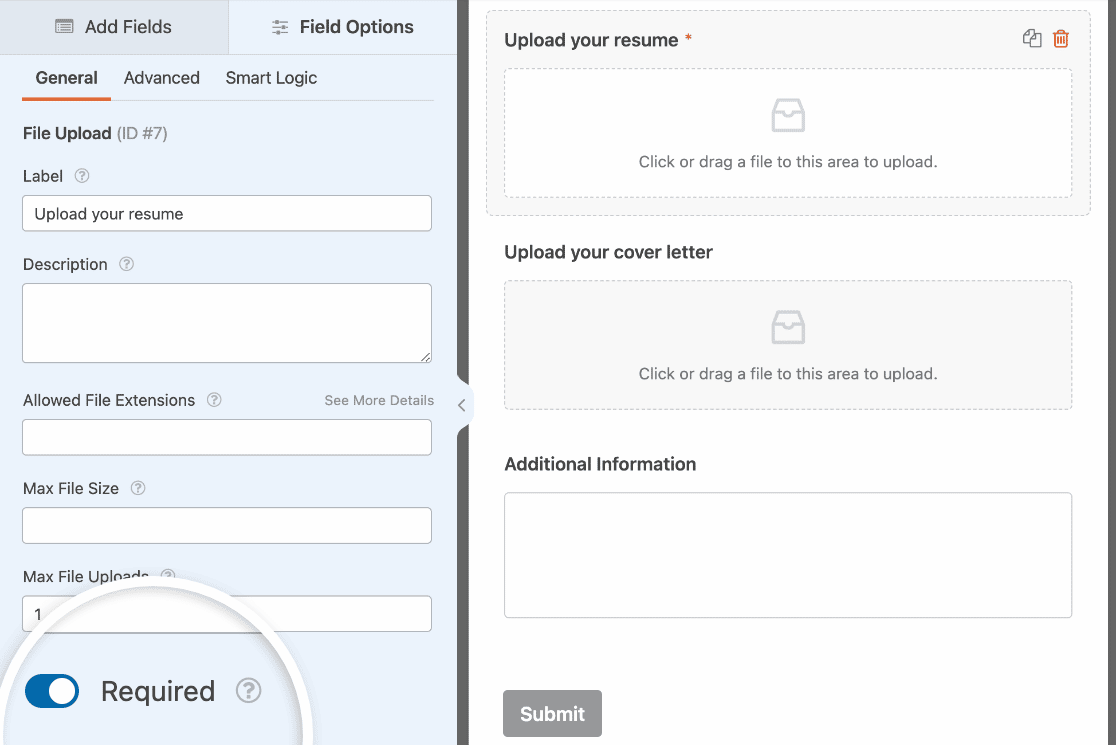 Under the Advanced section, toggle on the option labeled Store file in WordPress Media Library for easy access to the files your applicants upload to their forms.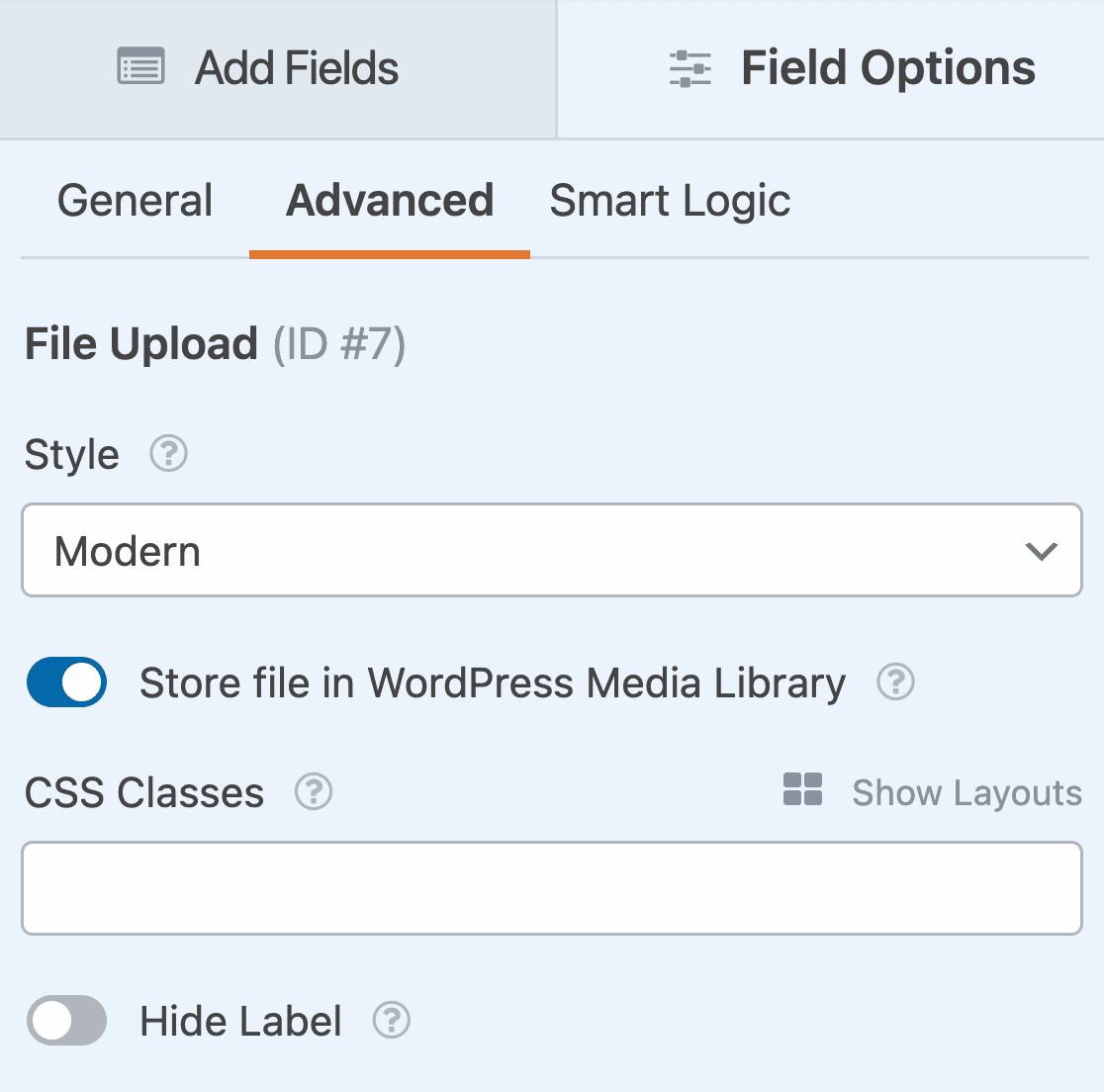 Want to have an upload button instead of the Modern style drag and drop file uploader? Choose the Classic style from the dropdown.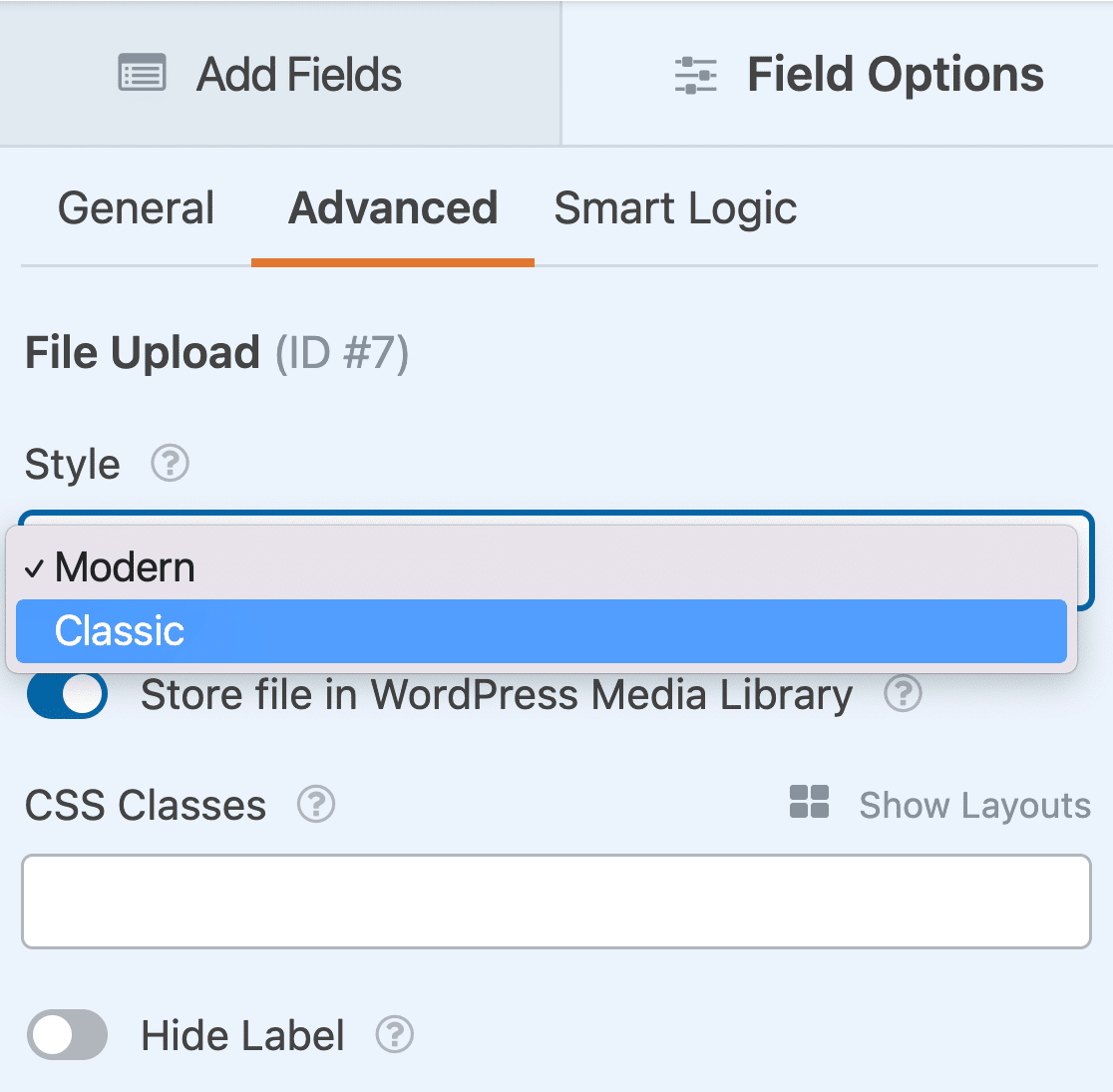 When you're done customizing your form, click Save.

Step 3: Enable Conditional Logic
Having a long job application form is not ideal. To fight form fatigue, create clutter free forms, and still gather the information you need from candidates, you should enable smart conditional logic on your WordPress form.
Let's take a look at how to do this.
In our example, we'll ask people filling out the job application form if they were referred by an existing employee. If they were, a box will appear asking for the employee's name. Pretty cool, right?!
We're going to use the existing Multiple Choice field from the Job Application Upload Form template. If you're using another template or building your form from scratch, you can add a Multiple Choice field by dragging and dropping it from the left side of the form builder into the preview area.
Click on the Multiple Choice field to open its field options. Here you chance its label and choices.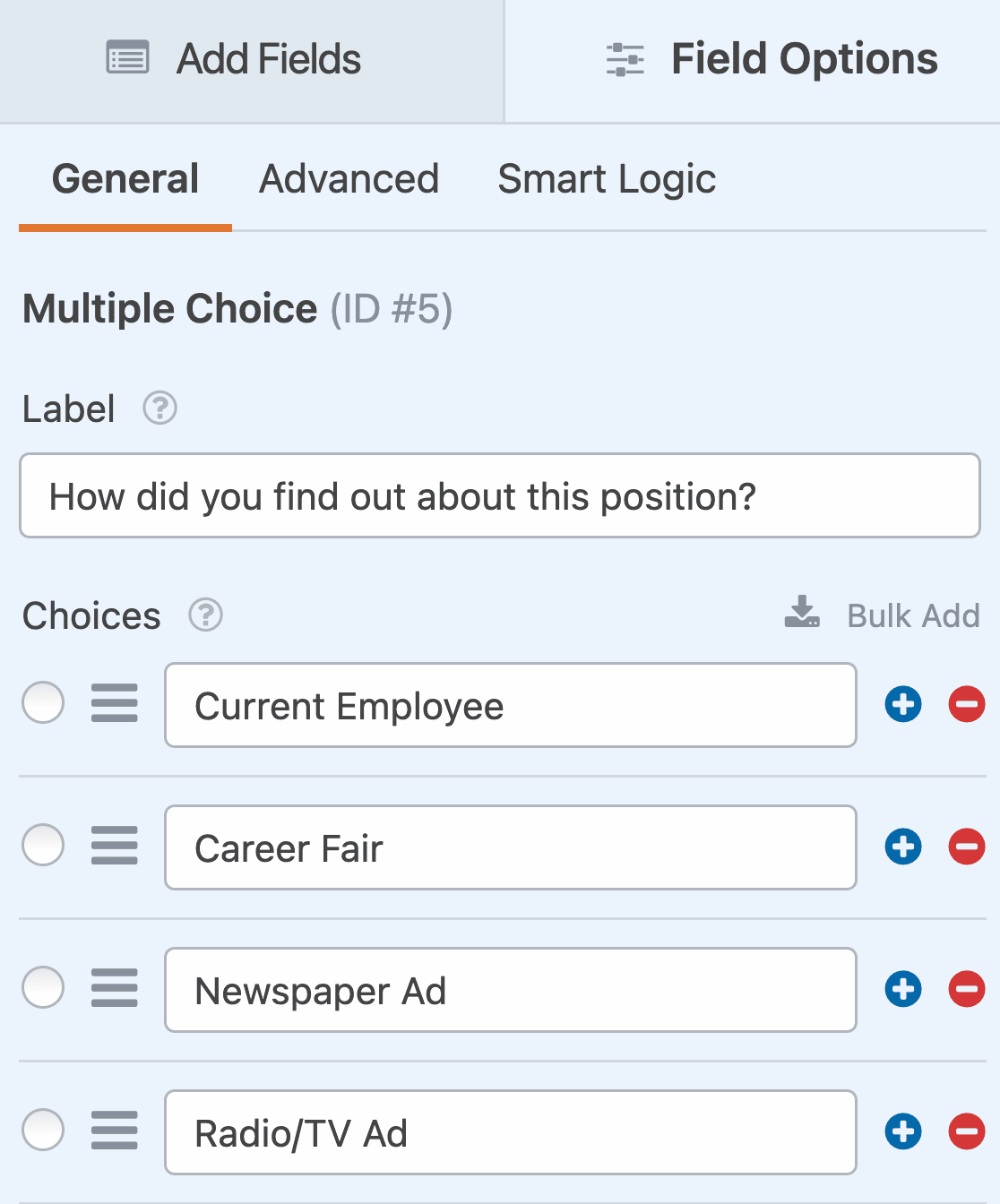 For our example, we aren't making any changes. Instead, we'll just add a Single Line Text field under the existing one in the template.
Then we'll click on it change the label to "Who referred you?"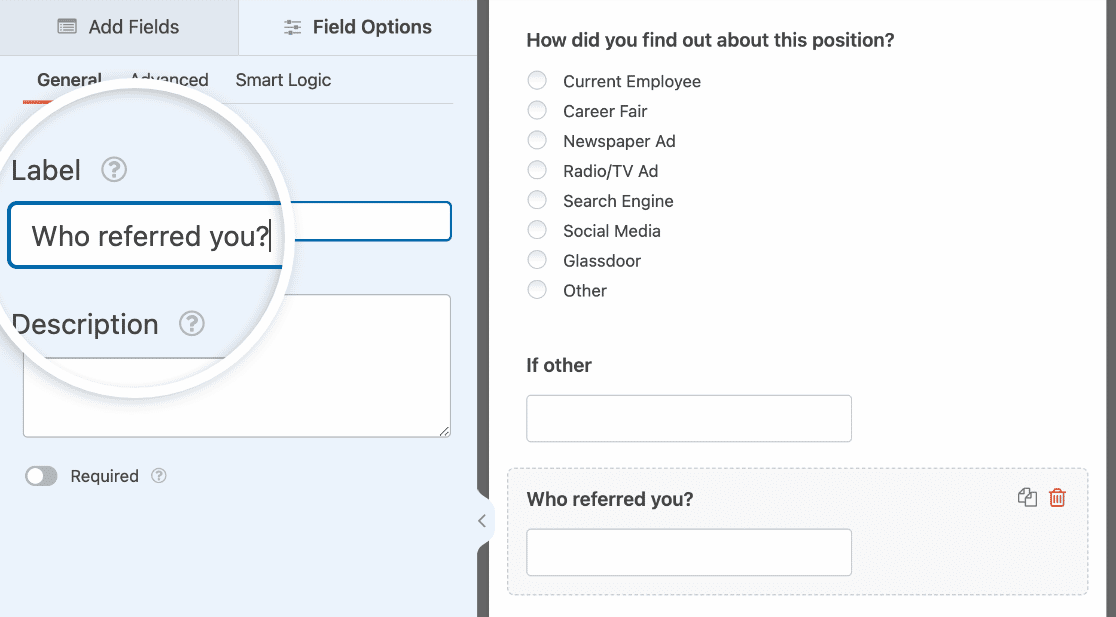 Next, head over to the Smart Logic tab and toggle on the Enable conditional logic setting.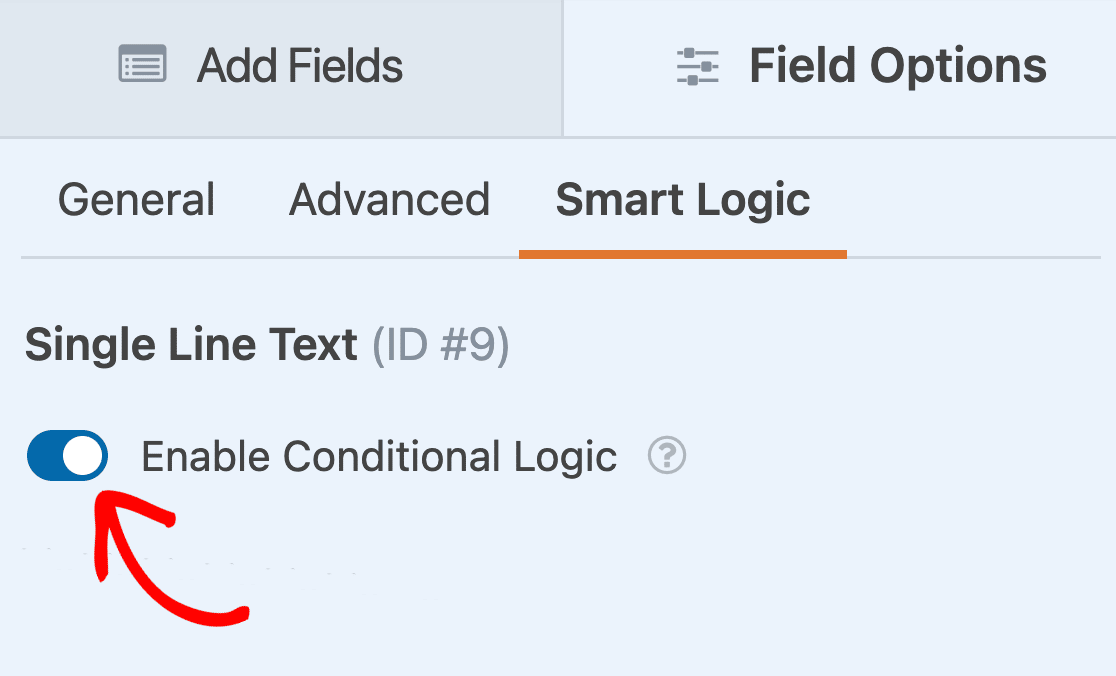 Then change the dropdowns to read "Show this field if How did you find out about this position? is Current Employee."
Now, whenever someone filling out your WordPress job application form selects the multiple choice option "Current Employee" when answering the question "How did you find out about this position?" the Single Line Text field will appear so they can enter who referred them.
Check it out: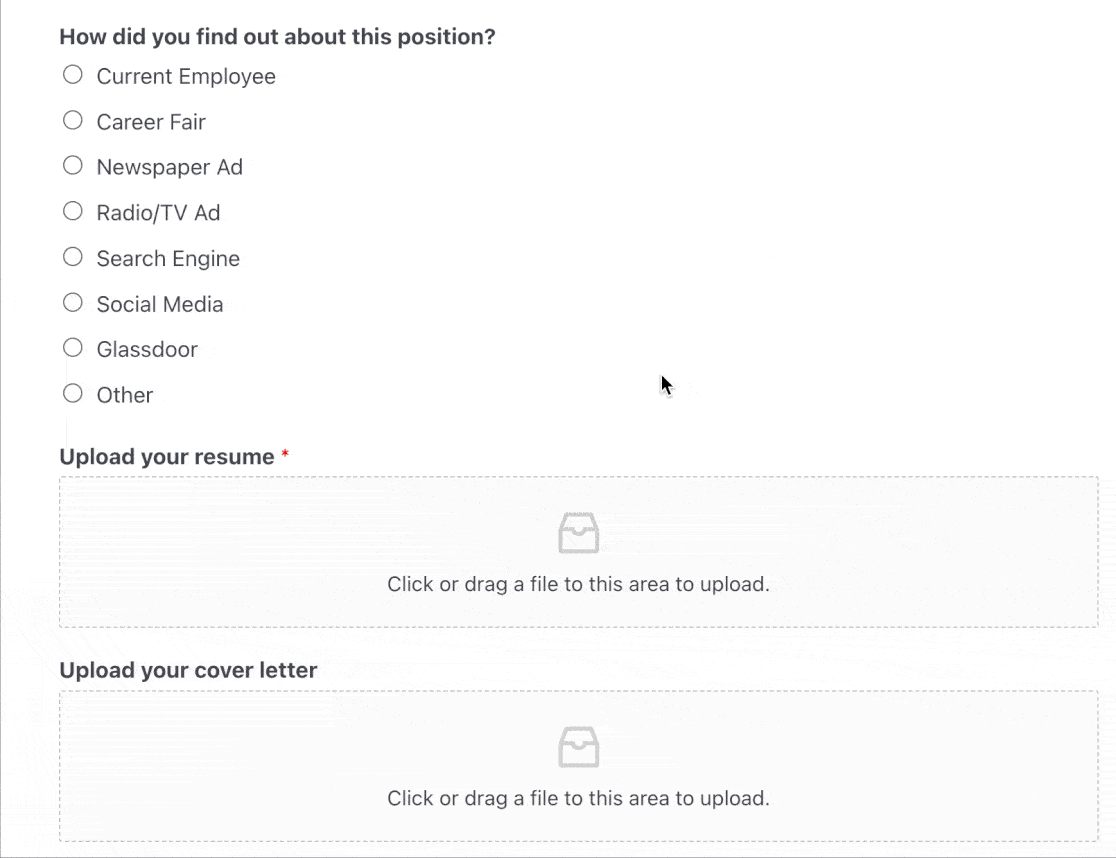 The If Other field in the Job Application Upload Form template works the same way. It will only appear if the applicant chooses "Other" when answering "How did you find out about this position?"
When you're done, click Save again.
Step 4: Configure Your Form Settings
To start, go to Settings » General.

Here you can configure the following:
Form Name — Change the name of your form here if you'd like.
Form Description — Give your form a description.
Tags — Organize your site's forms by applying tags to them.
Submit Button Text — Customize the copy on the submit button.
Submit Button Processing Text — Change the text that shows while your form is submitting.
Under the Advanced section, you can also:
Add CSS Classes — Apply custom CSS to your form or submit button.
Enable Prefill by URL — Automatically fill in some fields based on a custom URL.
Enable AJAX form submission — Enable AJAX settings with no page reload.
Disable storing entry information in WordPress — You can disable the storing of entry information and user details, such as IP addresses and user agents, in an effort to comply with GDPR requirements. Check out our step-by-step instructions on how to add a GDPR agreement field to your simple contact form.
Next, move down to the Spam Protection and Security settings.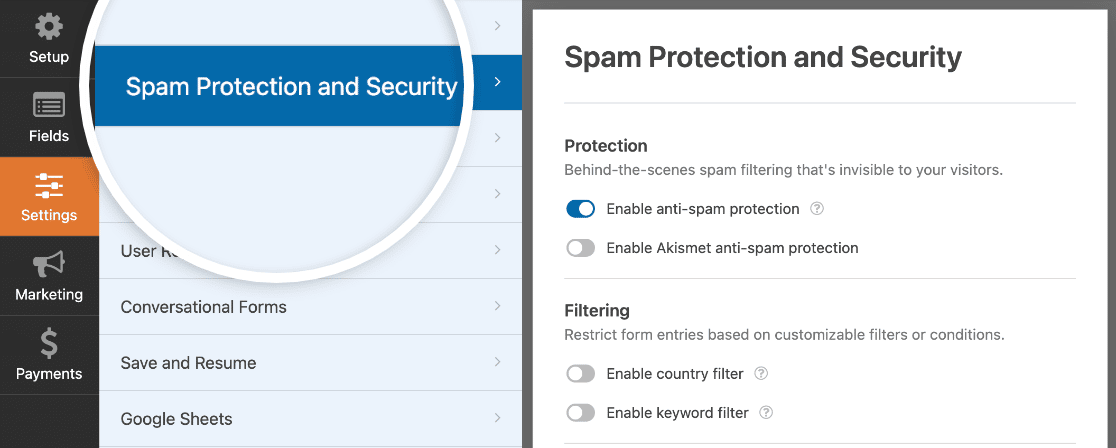 Here you can:
Enable anti-spam protection — Stop contact form spam with the WPForms anti-spam token. The anti-spam feature is automatically turned on for all new forms.
Enable Akismet anti-spam protection — Connect your form to the Akismet plugin to prevent spam.
Enable country filter — Stop entries from specific countries.
Enable keyword filter — Disallow submissions that include certain words or phrases.
When you're done, click Save.
Don't forget that you can activate the Form Locker addon and add an expiry date to your form. This will let you close the form at a set date and time.
Step 5: Customize Your Job Application Form's Notifications
Email notifications are a great way to send an email whenever an application is submitted on your WordPress website.

In fact, unless you disable this feature, whenever someone submits a job application form on your site, you'll get a notification about it.
If you use Smart Tags, you can also send a notification to the user when they apply online for one of your job openings, letting them know you received their application and will be in contact shortly. This assures people their application has gone through properly.
For help with this step, check out our documentation on how to set up form notifications in WordPress.
And if you want to keep branding across your emails consistent, you can check out this guide on adding a custom header to your email template.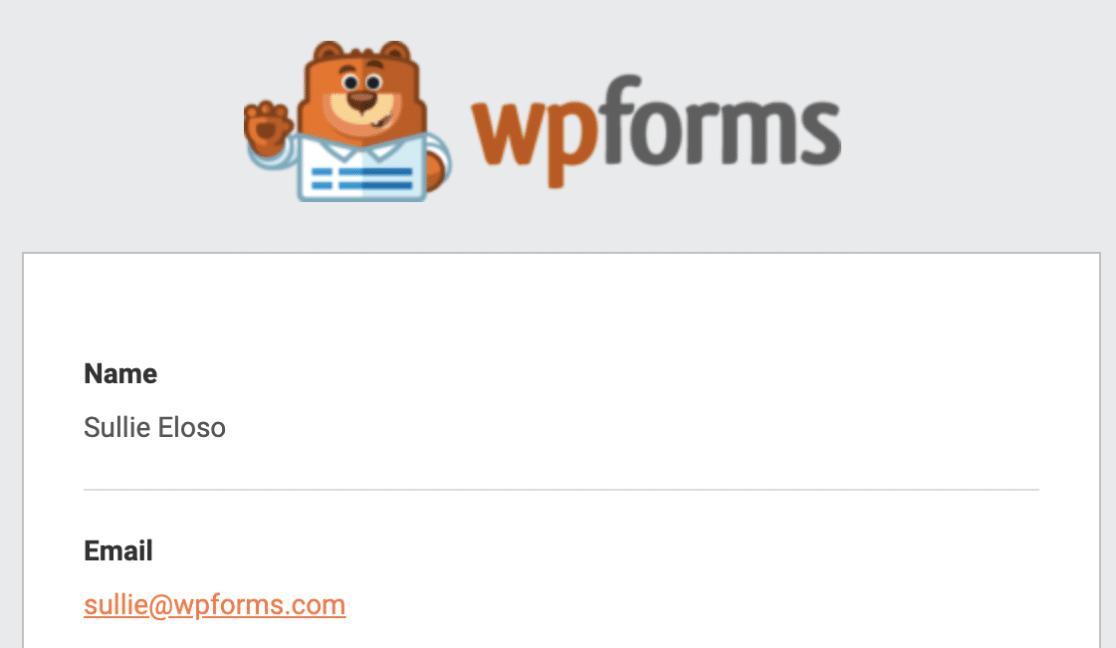 Step 6: Configure Your Form's Confirmations
Form confirmations are messages that display to site visitors once they submit an online employment application on your website. They let people know that their application has gone through and offer you the chance to let them know what the next steps are.
WPForms has 3 confirmation types to choose from:
Message — This is the default confirmation type in WPForms. When a site visitor submits a job application form, a simple message confirmation will appear letting them know their application was processed. Check out some great success messages to help boost user happiness.
Show Page — This confirmation type will take site visitors to a specific web page on your site thanking them for applying. For help doing this, check out our tutorial on redirecting customers to a thank you page. In addition, be sure to check out our article on creating effective Thank You pages.
Go to URL (Redirect) — This option is for when you want to send site visitors to a different website.
Let's see how to set up a simple form confirmation in WPForms so you can customize the message site visitors will see when they apply for a position you are hiring for.
To start, click on the Confirmation tab in the Form Editor under Settings.
Next, select the type of confirmation type you'd like to create. For this example, we'll select Message.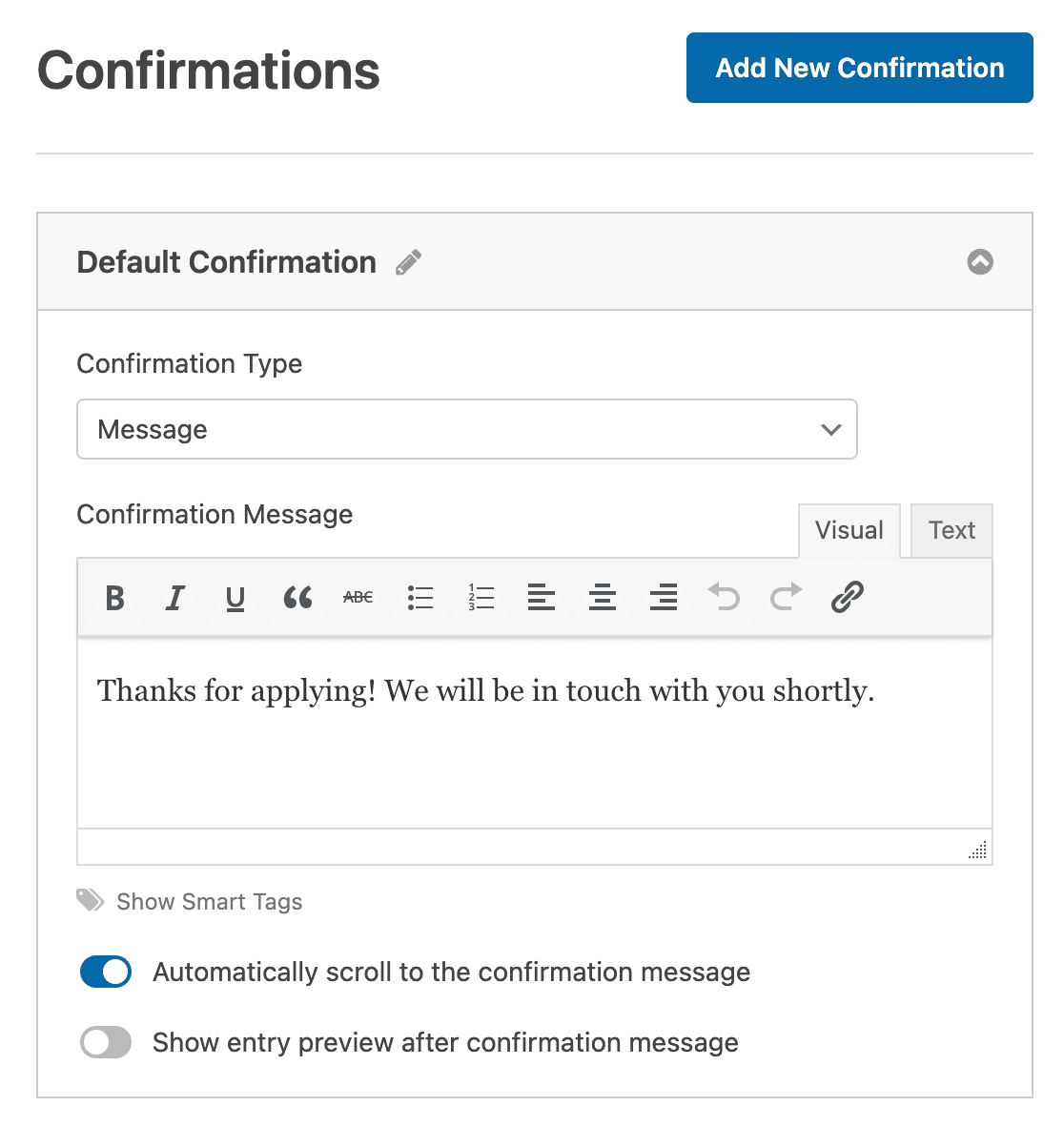 Then, customize the confirmation message to your liking and click Save.
For help with other confirmation types, see our documentation on setting up form confirmations.
So now you're ready to add your job application form to your website.
Step 7: Add Your Job Application Form to Your Website
After you've created your form, you need to add it to your WordPress site. WPForms allows you to embed your forms in any location on your website, including your blog posts, pages, and even sidebar widgets.
So let's take a look at the most common placement option: WordPress page or post embedding.
To begin, create a new page or post in the WordPress backend, or open an existing one in the editor.
After that, add a new block and select WPForms.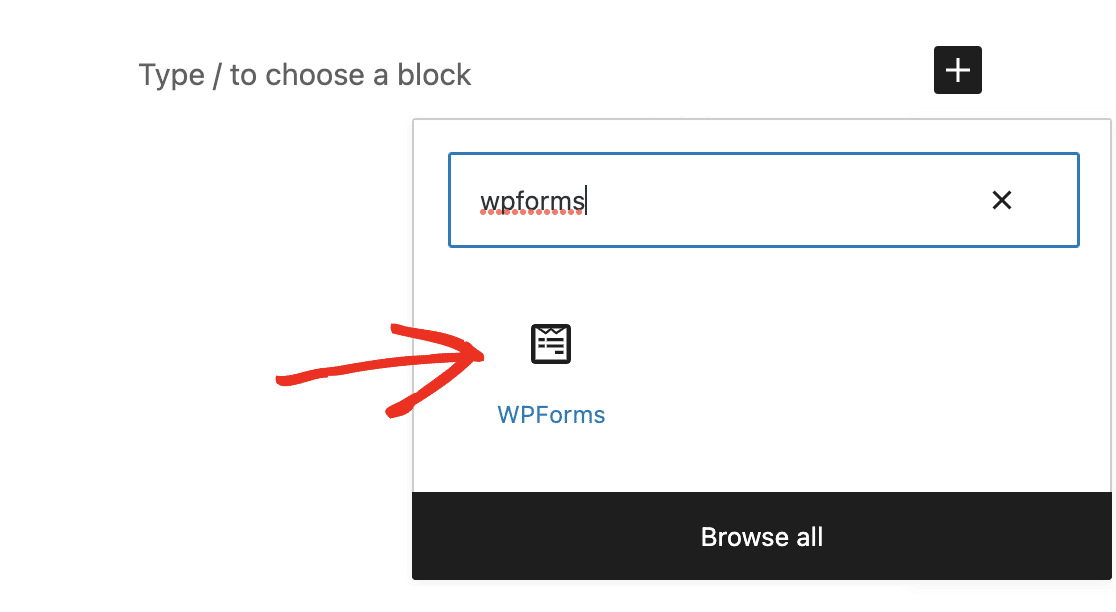 The handy WPForms widget will appear inside of your block. Click on the WPForms dropdown and pick which one of the forms you've already created that you want to insert into your page. Select your Job Application Form.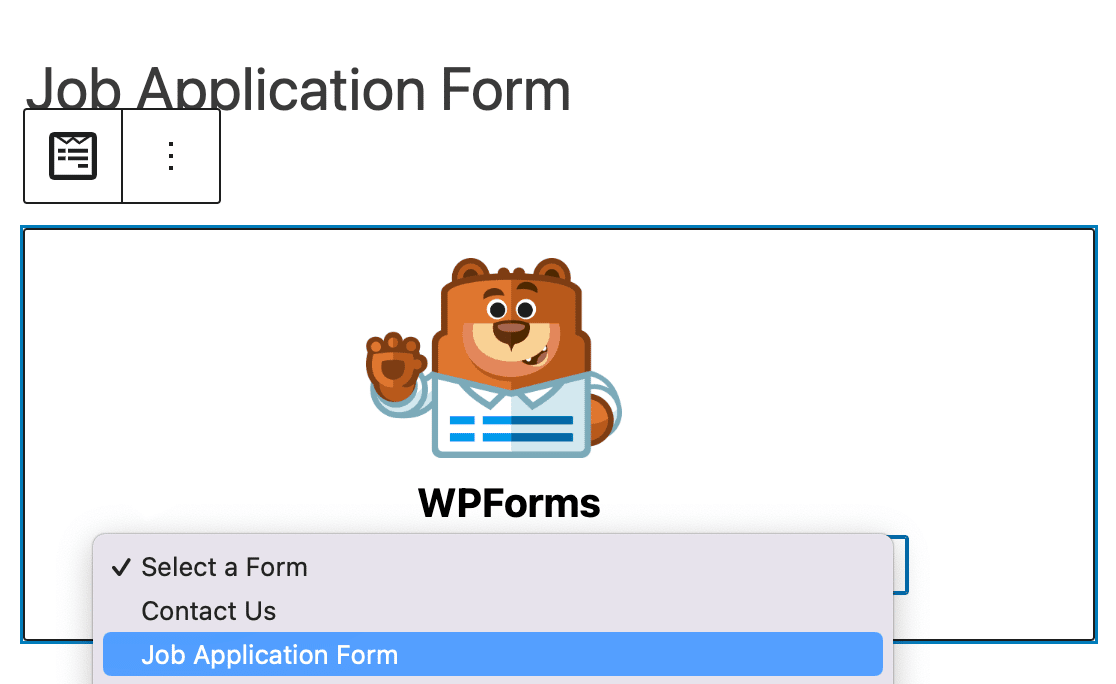 Then, publish your post or page so your job application form will appear on your website.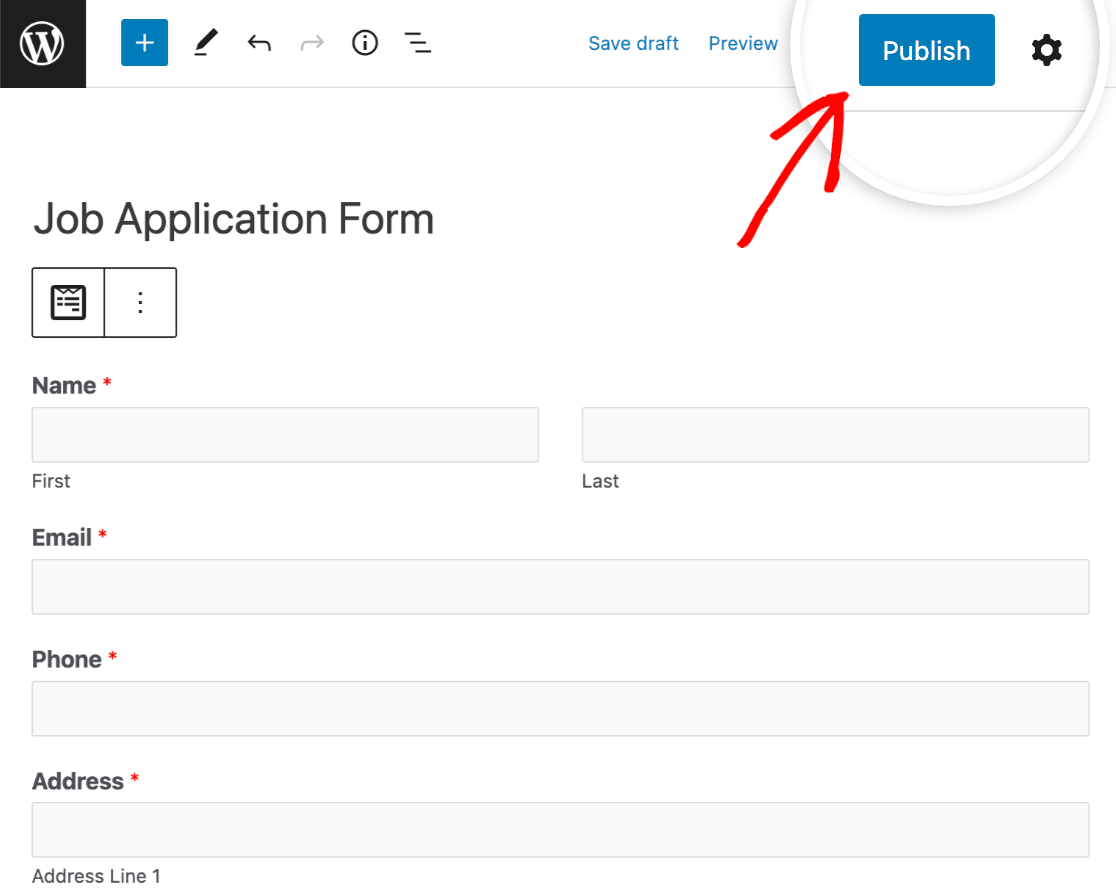 If you want, you can also create your job application form by publishing it using a shortcode. You'll find the shortcode in the WPForms area of your WordPress dashboard.
To view application form entries after they've been submitted, check out this complete guide to form entries. For example you can:
View, search, filter, print, and delete any application form entries, making the hiring process that much easier.
Use our Zapier addon to automatically save file uploads to cloud services like Google Drive and Dropbox.
Make Your Job Application Form Now
And there it is! You now know how to create an online job application form in WordPress using the WPForms plugin, so you can easily get job applicants and find the right person for the position you're trying to fill.
Next, Take Your WordPress Forms to the Next Level
You've probably realized by now that WPForms is an extremely versatile form builder that also serves as a WordPress employment application plugin.
If you want to learn more, here are some articles displaying other awesome capabilities you get with WPForms:
Ready to make your application form? Get started with the most powerful WordPress forms plugin today. WPForms Pro comes with a free job application form template.
And don't forget, if you like this article, then please follow us on Facebook and Twitter.