How to Allow Users to Submit Blog Posts on Your WordPress Site
by Courtney Robertson on Oct 13, 2016
Have you ever visited a website that allows users to submit blog posts, without even having to log in? Do you want to have user-submitted content on the front end of your site? In this article, we'll show you how to allow post submissions to your WordPress site.
How you accept submissions on your blog is completely up to you. You can automatically publish anything from anyone, or you can require user registration, and approve or reject the content before it gets published. This method is useful for sites that accept guest blog posts, and as a way to gather content for developing clients websites.
If you don't like the video, or need more instructions, we've written everything out for you below.
Step 1: Get and Install WPForms
The first thing you need to do is install and activate the WPForms plugin. Here's a step by step guide on how to install a WordPress plugin. To access this addon, you must have the Pro license plan. To activate the addon, go to WPForms » Addons.

Once you've activated the plugin, let's go ahead and create a new blog post submission form. If you haven't created a form yet, see our step by step guide on how to create a custom login form.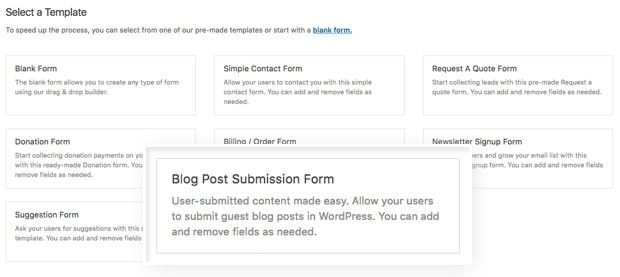 Step 2: How to Allow Post Submissions
The super easy blog post submission form template will create the form fields you need to accept posts.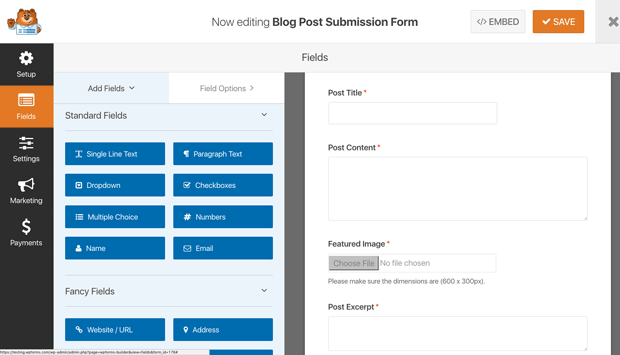 If you use the featured image field, you'll also want to connect these uploads to the WordPress media library. This option should be automatically checked off for you.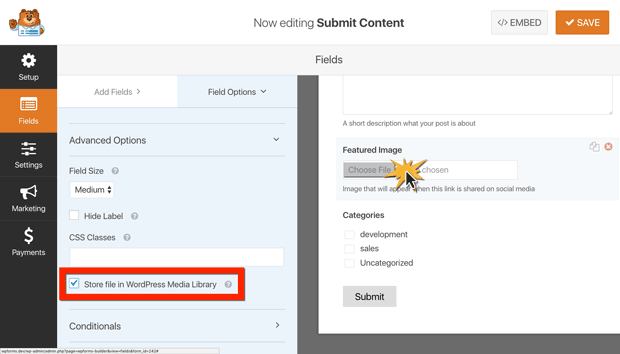 All the form fields should match up automatically with the post Title, Content, Excerpt, and Featured Image.
If you modified or created any new form fields, you'll need to match them up with the corresponding custom fields for your posts.
To change those settings, go to Settings » Post Submissions.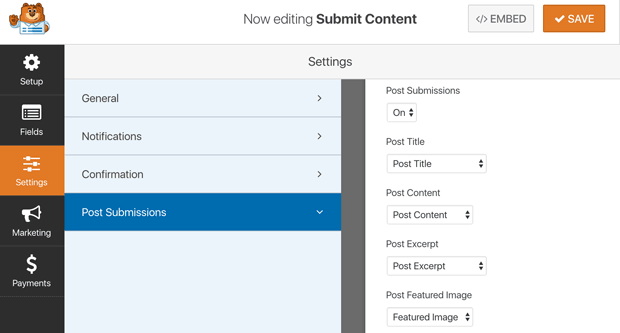 The Post Type field determines whether the submitted content will be a post or a page. Or,  if you have a plugin that allows for another option besides Posts or Pages, that other Custom Post Type will be displayed. Our example below shows "Products."
The Status field determines whether the content is immediately published when it's submitted, or whether it gets save as "Draft" or "Pending Review."
The Author field won't be displayed on the front of your site. Under the Post Author field here in the settings, you can determine who the displayed post author should be.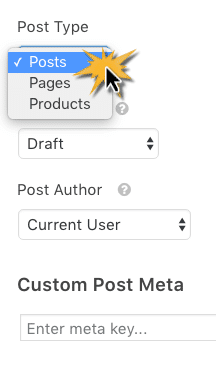 Note: When you map a checkbox field dynamically to the post categories, those categories will automatically get applied to the final post.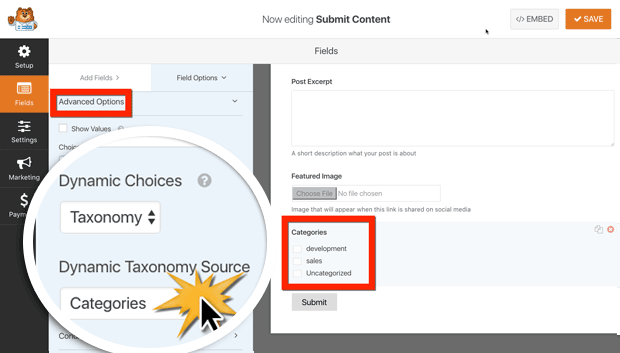 Step 3: Publish Your Form
Now it's time to publish your form!
WPForms allow you to add your forms in various locations from your blog posts, pages, and your sidebar (widget-ready areas).
First let's take a look at the most common post / page embed option. Start by creating a new post or page in WordPress and then click on the Add Form button there.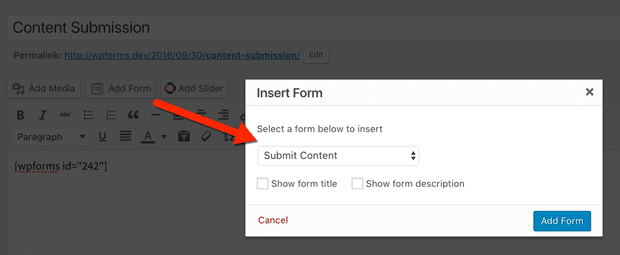 Next, you need to select your form in the modal popup and click Add Form.
After that, simply publish your page and view it!
Below is an example of our form: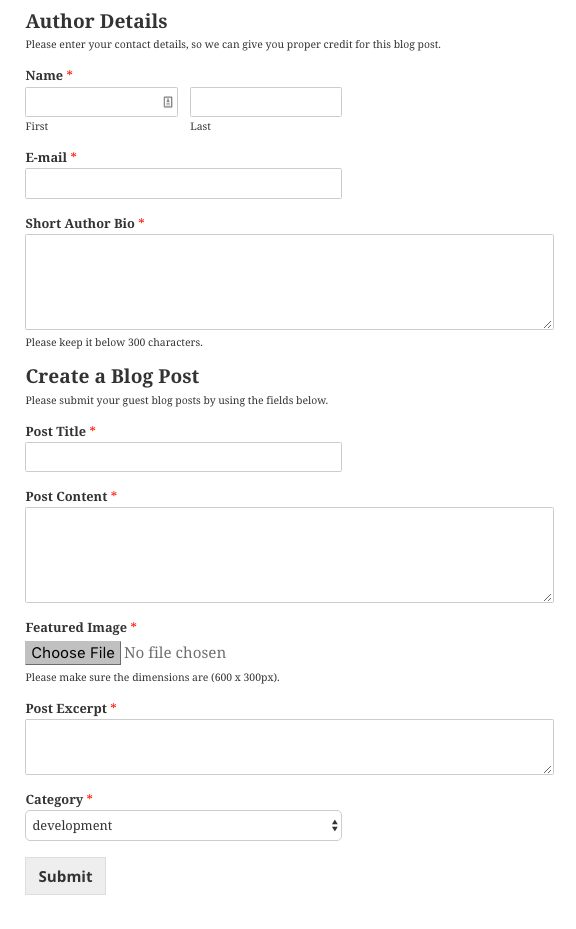 That's it! Now you can allow users to submit posts on your website.
Want your users to be able to upload files to your site, without having to submit a whole blog post? Check out our guide on How to Create a File Upload Form in WordPress.
If you liked this article, you can follow us on Facebook and Twitter for more free WordPress tutorials.