Are you trying to figure out how to create a membership site with WordPress?
Membership sites let you charge users for access to restricted content so you can skyrocket your website's revenue.
In this article, we'll show you exactly how to easily create a membership site using WordPress.
What Is a WordPress Membership Site?
A membership site invites visitors to pay to access certain areas or content on your site. It lets you restrict access to all or some of your site's content, downloads, forums, online courses, support team, and more.
Membership sites are an increasingly popular and easy way for people to make money online with their websites.
What Are the Benefits of Creating a WordPress Membership Site?
There are a lot of reasons why you may want to consider having your own members only area of your website. Here are some of the most popular benefits of creating a membership site:
More Income. Membership websites use a recurring billing model, meaning you can generate a steady stream of income that grows every month when more and more visitors register. This can help boost your income, especially if you're already using affiliate sales and advertising.
Less Work. Put your content to work for you. Membership sites are a fantastic way to grow your passive income by creating premium content once, then adding to it only if you choose to. If you create a great membership site once, you don't have to do much more to continue to grow it unless you decide to update your content or interact with your members.
Establish Authority. When you restrict content to a membership plan, visitors will easily understand that your premium content is valuable and that you are a master on the subject.
Grow Your Email List. When you add registered users to your email list, you'll fill it with engaged visitors who are already familiar with your site and more likely to interact with your emails. This will help boost your email marketing efforts.
What Is the Best Membership Plugin for WordPress?
There are a lot of great membership plugins for WordPress.
With the WPForms User Registration Addon, you can create registration forms to let your visitors register for a WordPress account easily. And you can automatically add them to your email list, send them welcome emails, and even activate their accounts.
However, if you're looking for a more comprehensive membership website plugin, you should use MemberPress.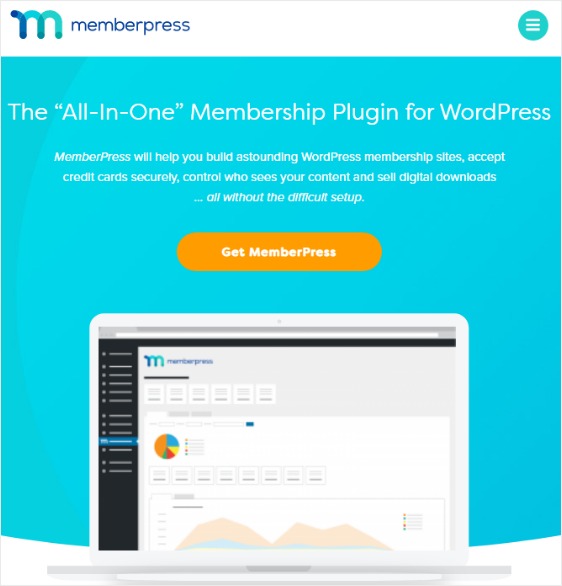 We recommend it because it's easy to use, works great with WPForms, and is one of the most popular membership plugins on the market.
How to Create a Membership Site with WordPress
Asking yourself how do I create a membership website? Let's go ahead and take a look at how to create a membership site with WordPress and MemberPress.
Step 1: Set Up The MemberPress Plugin
You'll want to start by installing and activating the MemberPress plugin. Here's a step by step guide on how to install a WordPress plugin.
Next, click on the link to the plugin's options page in the Dashboard notification.

In addition, you can also access this page by going to MemberPress » Options.
Now, configure all of the settings to your liking.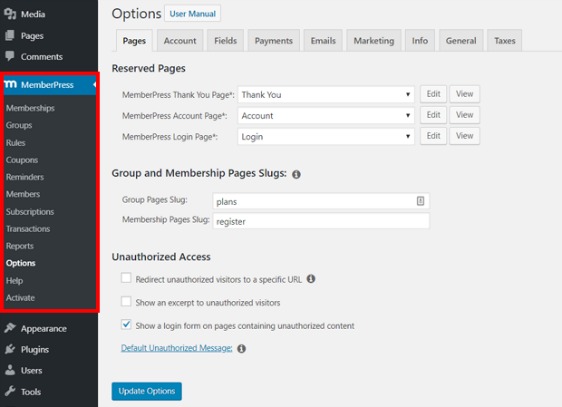 Step 2: Set Up Your Payment Methods
Next, click on the Payments tab on the options page to set up the payment gateways you want to use on your membership site.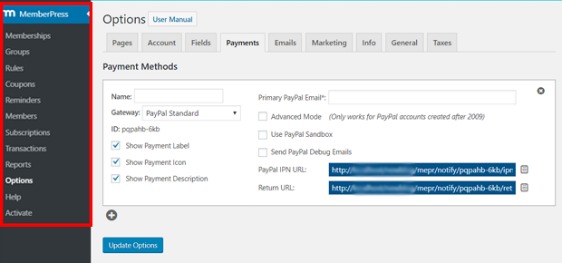 MemberPress lets you accept payments with Stripe, PayPal, and Authorize.net as your payment gateway. Feel free to set up multiple payment gateways or just stick with one.
For an in-depth comparison of the 2 most popular options, check out our article Stripe vs Paypal.
Step 3: Create Membership Levels
Now that your MemberPress settings are all configured, the next step is to create membership levels for visitors to purchase.
Each level can have different pricing, features, and content. Luckily, you can make unlimited membership levels with MemberPress.
To do this, go to MemberPress » Memberships from the left-hand Dashboard menu, and after that click on the Add New button.

Next, enter a title and description for your membership level in the editor. Then, set the price, billing type, and access time from the Membership Terms section on the right.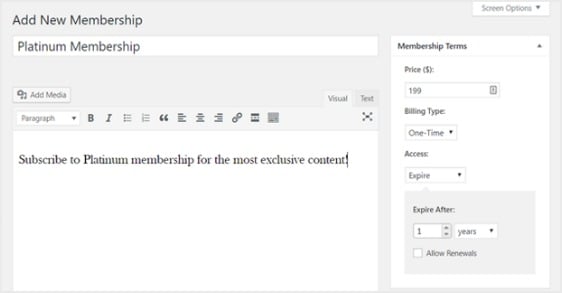 After that, you'll want to scroll down to the Membership Options section to customize it the way you want it. And don't forget to click on the other tabs to configure the Permissions and Price Box as well.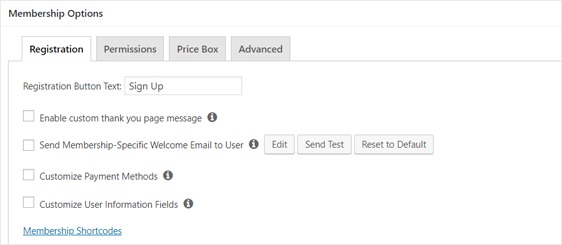 Next, publish your membership level.
Step 4: Set Up Access Rules
You'll want to make sure you define where and to who you want to restrict access on your membership website. So to do this, you need to set up rules.
Go to MemberPress » Rules in the left-hand panel and select Add New.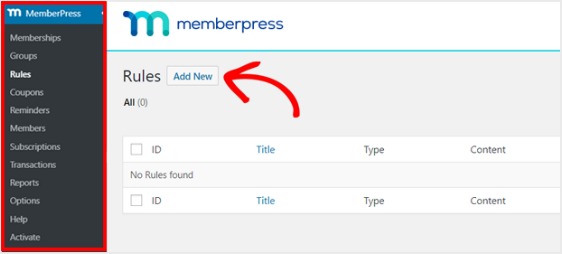 Now on the screen that appears, create a new rule to link your content to the membership levels you already created.
For instance, you can select all the content under a specific category be accessible only by users with the 2 most expensive membership plans. In this example, we selected the Advanced WordPress Guide category.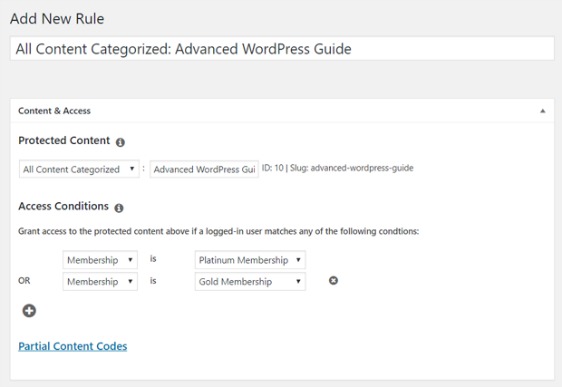 Next head to the Drip/Expiration settings.
If you choose to enable the Drip option, this will let you gradually release content.
On the other hand, the Expiration option lets you choose the time when the content is no longer available.

Once everything looks the way you want it to, save your rule. Now you can repeat this step to create more rules.
Step 5: Create Members Only Content
Next, you'll want to create members only content so that you actually have premium content to offer people after they register for your membership site.
You can add content with a post or page. So for this example, we'll create content to link to the access rule we created in the last step.
Create a new post and add the content you want to it. Next, select the Advanced WordPress Guide category.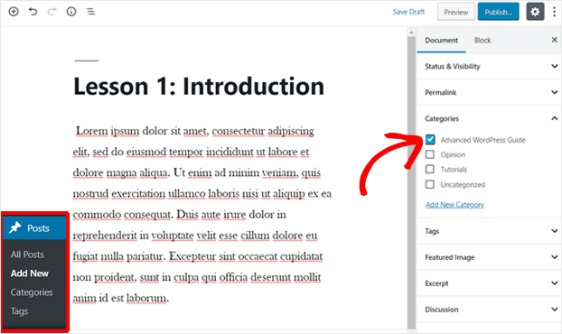 Next, scroll down to the MemberPress Unauthorized Access section. Here you can set up what non-members (non-registered users) will see when they try to access this content.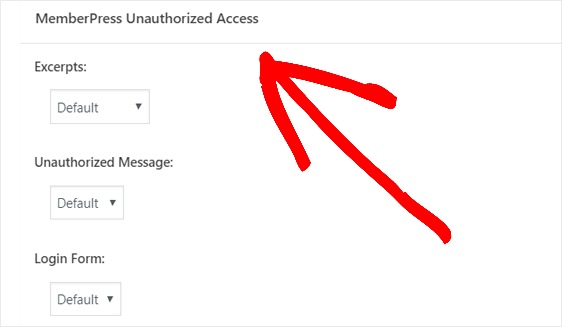 And when everything is configured the way you'd like it, publish your page. Then, you can head to Posts » All Posts to see which content access is restricted to certain membership levels.

You can also create online courses with the built-in Courses addon. Creating your course curriculum is easy with the visual course builder. It's built on top of the WordPress block editor so it's a similar process to the steps above.
Step 6: Create a Pricing Page
In this next step, you'll want to build a pricing page so your site visitors can see your different membership plans and sign up. MemberPress lets you do this easily from the Groups settings.
Go to the left-hand panel and select MemberPress » Groups. Next, click on the Add New button.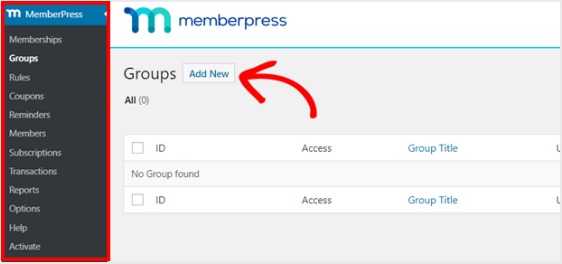 Name your group something like 'Pricing Plans' so people know what the page is about. After that, scroll down to the Group Options section. Here, you can add the memberships you want to show on your pricing page. You can also change the pricing page theme on this page.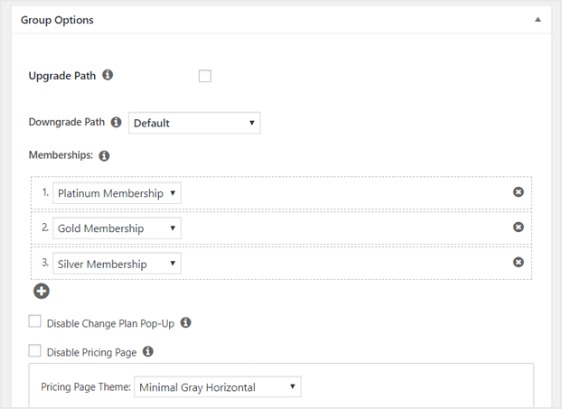 Now publish this page when you're ready, and preview it to check it out.
Here's an example of how a pricing page will look on the default WordPress Twenty Nineteen theme: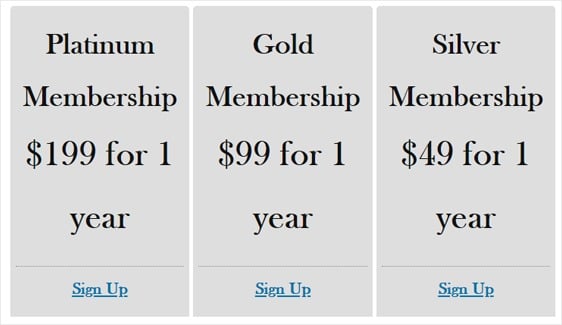 Now to make sure your pricing page gets seen, you want to setup MemberPress to direct unregistered users to this page when they try and access members only content. In other words, when someone who hasn't paid to access your premium content tries to, they'll be sent to a sales page.
To do this, go back to MemberPress » Groups and copy the URL of the group.

Next, head to MemberPress » Options and scroll down to the Unauthorized Access section. After that, check the box next to Redirect unauthorized visitors to a specific URL and paste the URL in the box below.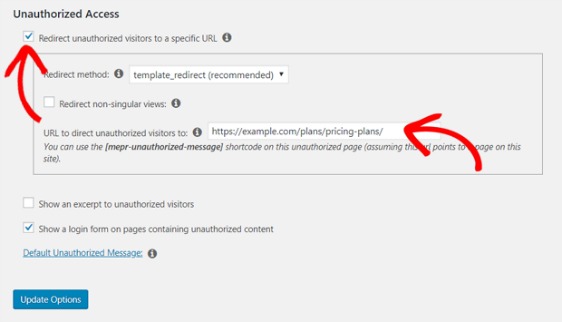 Finally, select the Update Options button to complete this step so unregistered users will be redirected.
Step 7: Add Sign Up and Login Forms
Now everything is almost all set up. So the final step is to add sign up and login forms to your membership site so people can access them.
Let's do this with a widget. Go to Appearance » Widgets from the left-hand panel and drag the MemberPress login widget to a widget-ready area of your choice.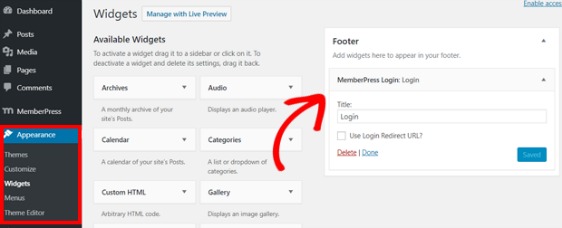 Next, you'll need to add your pricing page URL to the navigation menu so people can actually sign up.
So head to Appearance » Menus and create a new menu or choose an existing one.
After that, select Pricing Plans from the left under Groups and click on the Add to Menu button.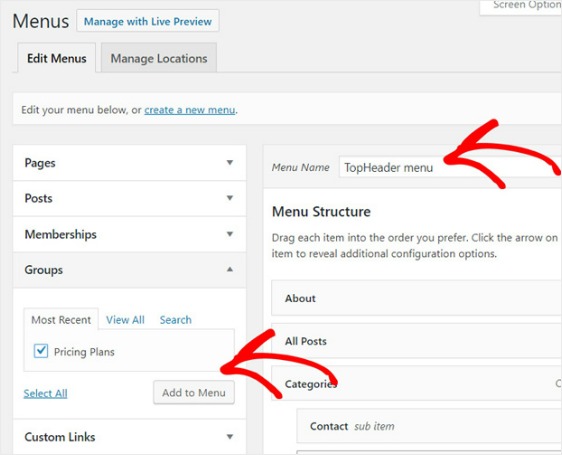 And when your pricing page shows up below the Menu Structure, drag it to rearrange it to where you want it and then click Save.
And that's it! You've successfully created your Membership site with WordPress.
How to Get Analytics on Your Members
And now that you have a membership website, you'll have a thriving and growing community that you'll want to take good care of.
Your next step is to optimize your membership site to get more traffic and more registrations. You can use MonsterInsights to take a look at the stats of your membership site.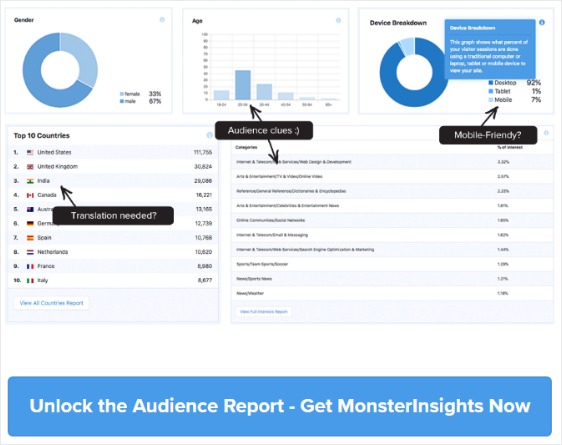 MonsterInsights is the best Google Analytics plugin for WordPress. You can use this plugin to get in-depth insights into what your registered users are doing, your transactions, and more.
How to Boost Your Site's Membership Signups
Similarly, you'll also want to focus on growing your membership signups on your site.
You can use the OptinMonster software to build your email list and let people know about your membership site. Check out this case study where one business uses OptinMonster to grow their online community by 30,000 members per month!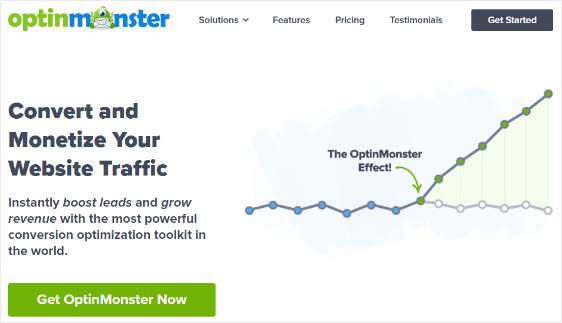 You can also consider running a WordPress giveaway and awarding the winner a free basic membership to attract some viral attention.
Final Thoughts on Creating a WordPress Membership Site
And there you have it. You now know how to create a membership site with WordPress using a membership plugin.
Want to read about even more ways to boost your online income? Check out this article on WPForms power hacks to grow your business online. You might also be interested in our roundup of the top PayPal plugins for WordPress.
So what are you waiting for? Get started with the most powerful WordPress forms plugin today.
If you like this article, then please follow us on Facebook and Twitter for more free WordPress tutorials.