Are you wondering whether to you use a contact form or an email address on your Contact Us page? Your decision will have a big effect on whether or not you get the kind of inquiries you want.
In this article, we'll weigh the pros and cons of each method, and show you why we believe a contact form is best.
Contact Form vs Email Address—Which Is Better?
When trying to decide if you should add a contact form to your site or just publish your email address, there are many factors to consider. Below, we've weighed the pros and cons of 6 different points you might want to think about.
1. Look Professional
There's no question: when you make the effort to use a contact form vs. a business email address, it shows that you take your website and your business seriously.
A publicly visible email address reveals that you either don't know how to display a contact form, or simply don't care.
When you have a contact form on your website, your website looks more professional.
Winner: Contact Form
2. Keep Your Team in the Loop
Do you need more than one person to be notified when someone fills out your form?
If you're just displaying an email address on your website, there's no way to do this automatically. Instead, you'll have to forward the email yourself every time to those that need notification.
But with a contact form, you can create multiple notifications and even customize who receives each message based on how the user answers the form.

This way, any time someone fills out a contact form on your site, the right people on your team are notified immediately.
Winner: Contact Form
3. Safeguard Your Inbox
Publishing an email address on your website is basically asking for spam. Spambots crawl around the internet looking for publicly displayed email addresses to harvest.
Even legitimate visitors can send you all kinds of signature files, email read receipts, or large file attachments that take up valuable space in your inbox. Any of these unnecessary email options could also contain a virus.
The good news is that with a contact form, you can take extra measures to prevent spam.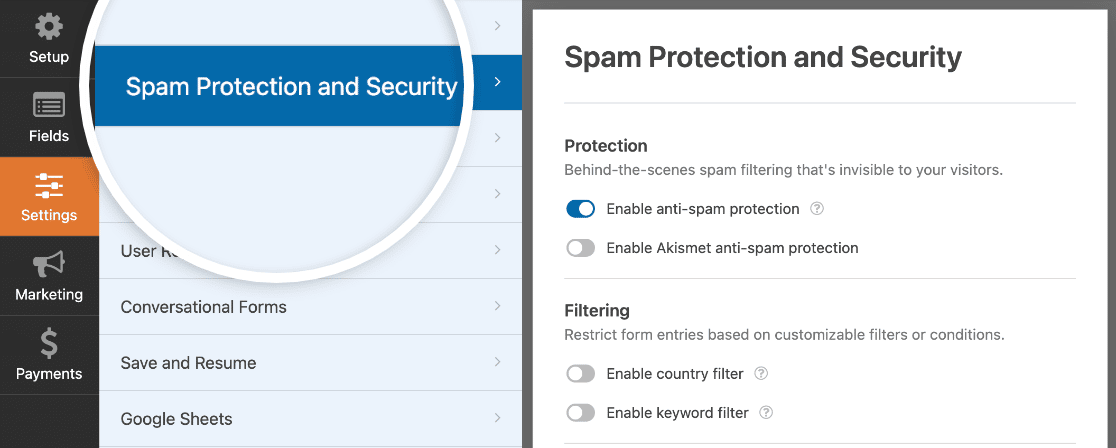 If you want to keep your email inbox clean and keep your website secure, using a contact form is a no-brainer.
And it just so happens that WPForms has a built-in anti-spam feature, as well as the option to enable, hCaptcha, reCAPTCHA or invisible reCAPTCHA for your forms as added layers of protection.
Winner: Contact Form
4. Make It Easy on Your Visitors
What's easier for your website visitors: filling out a form, or sending you an email?
That depends on your audience. Some visitors may feel it's more personal to send an email rather than submitting a form.
If you do decide to write an email address on your website, at least make sure to use a clickable email link. A clickable email address is also called a "mailto link," and looks something like this:
<a href="mailto:[email protected]?Subject=Hello%20again" target="_top">Send Mail</a>
On the other hand, some visitors may prefer submitting a contact form vs using a mailto link because it doesn't require opening their email software. Worse, if they don't have their email software set up correctly, your email link won't work for them at all making it impossible for them to contact you.
You could be missing out on important queries and leads if your visitors are getting frustrated by the lack of a contact form. Plus, you can add a newsletter optin checkbox to a contact form to add contacts to your mailing list automatically.
Winner: Tied
5. Stay Organized
If your email inbox is flooded with all sorts of email, it's easy to lose track of contact page emails from a mailto link.
By using a contact form, you can decide on the email subject line of your inquiries, helping you to keep your inbox organized.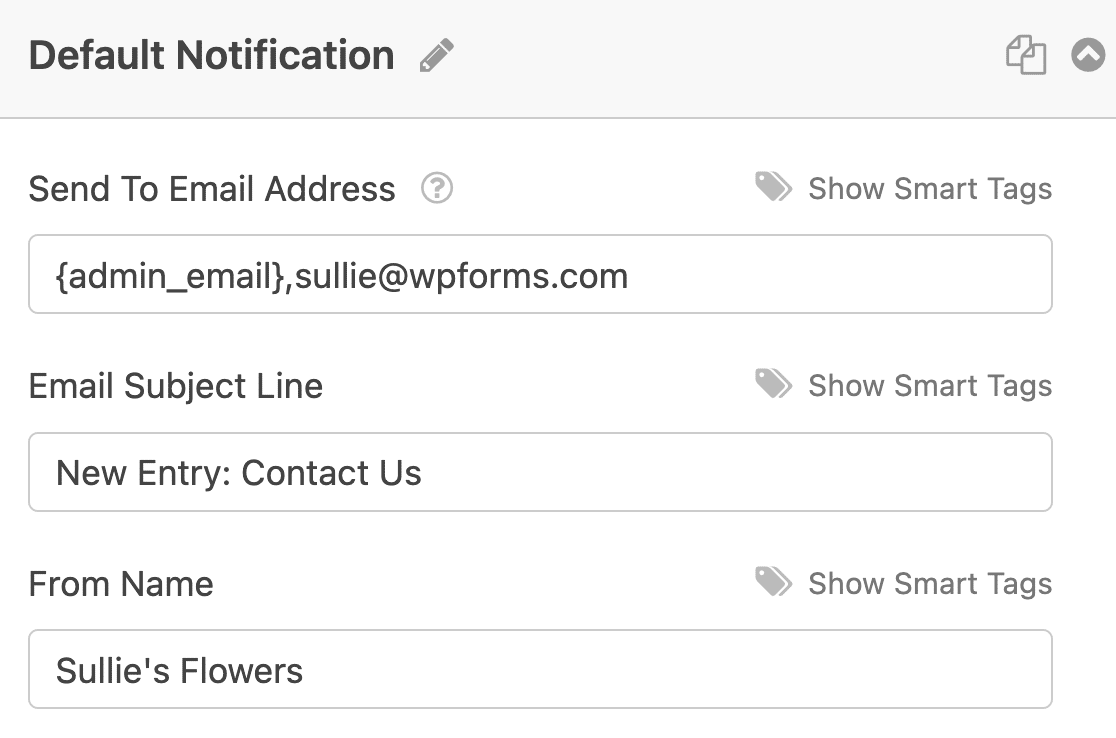 Another way to view the responses you've received is to view your contact form entries within your website. This way you don't have to search for them among all your other emails.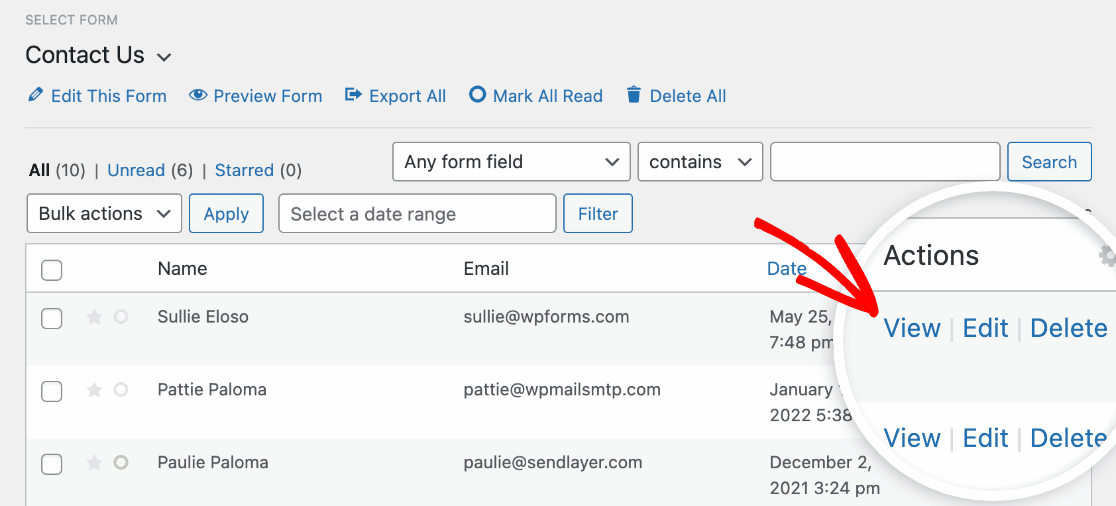 As a bonus, if you're running website backups you'll always be able to retrieve contact form submissions, no matter what happens to your email inbox, which is just another benefit of having a contact form on your website.
Winner: Contact Form
6. Build Your Email List
If a website visitors sends you an email using a mailto link on your site, is there any way to get them to subscribe to your email newsletter?
You could ask them in your reply email, and then manually add them to your list. But that's not a very efficient use of your time or convenient for your site visitors.
With a contact form, you can easily add a subscription checkbox to request permission and build your email list.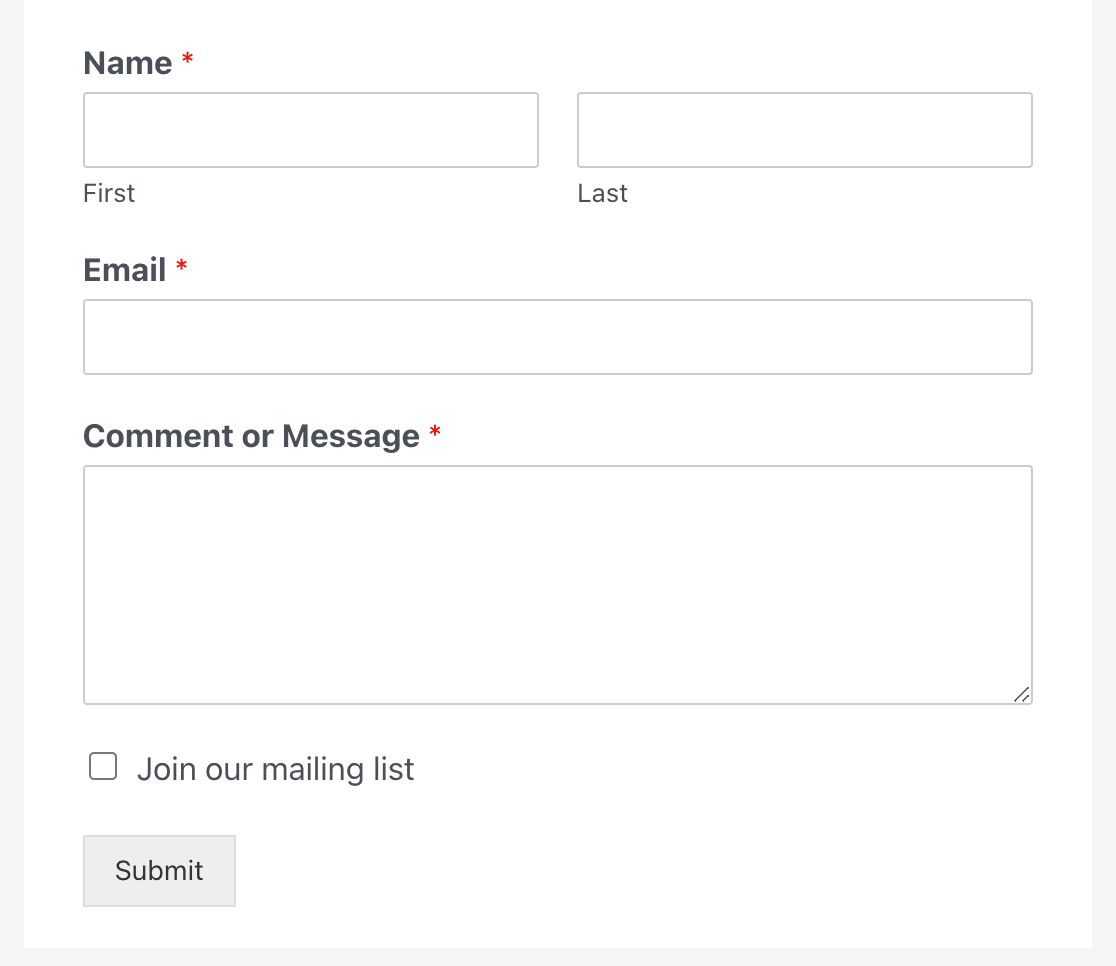 And if you're worried about GDPR compliance, know that WPForms lets you add a GDPR Agreement form field to any form you create for site visitors to click. This field is used to gain explicit consent from site visitors and allows you to send marketing emails to them without worry that you're violating EU rules and regulations.
Are you convinced you need a contact form for email list building? Check out our roundup of the best email marketing services, complete with free options, and get started today.
Winner: Contact Form
Next, Build Your Contact Form With WPForms
And there you have it! You now know that when it comes to using a contact form vs email address on your WordPress website, the best option is to use a contact form.
Create Your WordPress Contact Form Now
Are you now convinced you need a contact form on your website? If so, check out our guide on how to create a simple contact form using WPForms and start making it easier for people to get in touch. We know that some readers have difficulty with Formidable Forms notfications, so we also put together a guide on how to fix Formidable Forms not sending email.
So, what are you waiting for? Get started with the most powerful WordPress forms plugin today.
And don't forget, if you like this article, then please follow us on Facebook and Twitter.