4 Ways to Create a Contact Form With Multiple Recipients (Step by Step)
Last updated on Jan 19, 2017 by Courtney Robertson
Do you want to send notifications to multiple people when someone fills out your form? With WPForms it's easy to customize who receives what message. In this article, we'll walk you through a few different methods to make your contact form send to multiple recipients.
This tutorial will go over four different methods for sending multiple notifications. You can:
Send the same notification separately to multiple emails
CC multiple recipients with a single notification
Send a notification to different recipients based on form answers
Send separate, different notifications to each recipient
Let's get started!
1. Same Notification to Multiple Emails
If you'd like to duplicate the same email notification message to send to several different people, it's simple. First you need to go to Settings » Notifications.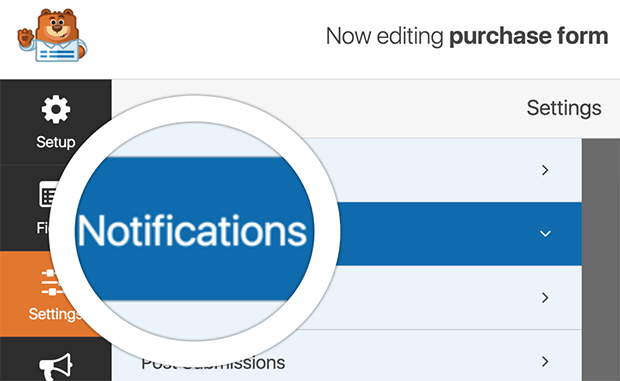 In the Send To Email Address, you can type in each person's address. Be sure to separate each email address with a comma.

You can then customize your notification message below. For more help, check out our tutorial on how to setup form notifications in WPForms.
2. Reply-All Notifications with Carbon Copy
Using the method above, each user will be sent a separate copy of the same notification email. When each recipient gets their email, they can only see the email address that sent the message. They can't see anyone else that also received the notification. This is by design for security purposes, so that each recipient's email address is kept private.
But what happens if one of the recipients wants to reply to everyone that was notified?
Luckily, we added that option for you with the Email Carbon Copy or CC email option.
You can enable this feature by navigating to WPForms » Settings. Then, just check the box next to Email Carbon Copy. Be sure to save your changes.
Then in the WPForms editor, you can go to Settings » Notifications. You'll see a new CC field where you can enter an email address.
Now when the user receives the email, they can see the sender and anyone else CC'd in the email message. When replying, the user can respond using the Reply-All feature.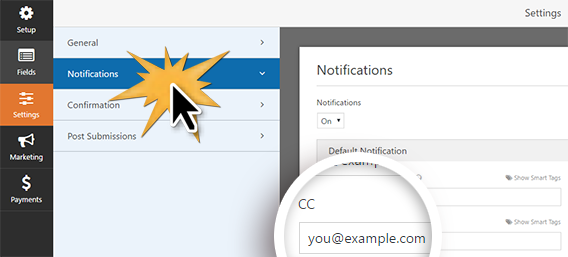 3. Email Different Recipients Based Upon Answers
If you want to send your form notifications to different recipients based upon how a user completes the form, you can use Conditional Logic.
To set up your smart notifications, you can go to Settings » Notifications. On the right-side preview panel, scroll all the way to the bottom.
Select Enable conditional logic.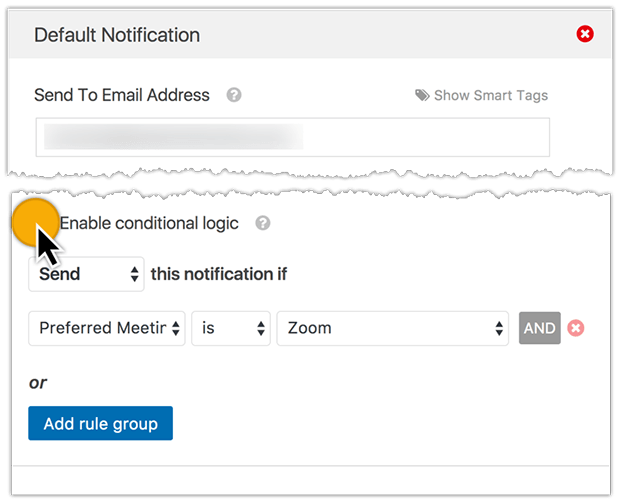 Then you can decide what the criteria are for sending that message. If the form entry meets that criteria, your form will automatically send the message to the email addresses shown in the Send To Email Address field at the top of the screen.
For more help, see our guide on creating a contact form with a dynamic recipient.
4. Different Notifications to Multiple Recipients
Let's say that you want to send different email notifications to different recipients. In that case, you will want to create additional notifications so you can customize them separately.
To do that, you can go to Settings »  Notifications. First you'll need to set up your first notification and save your form.
Then select Add New Notification in the top right corner.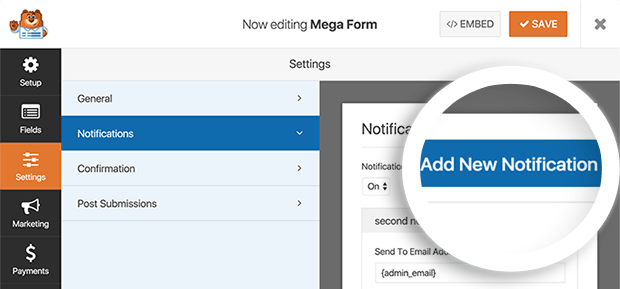 After naming your new notification, you can see each of them in the right-hand preview panel.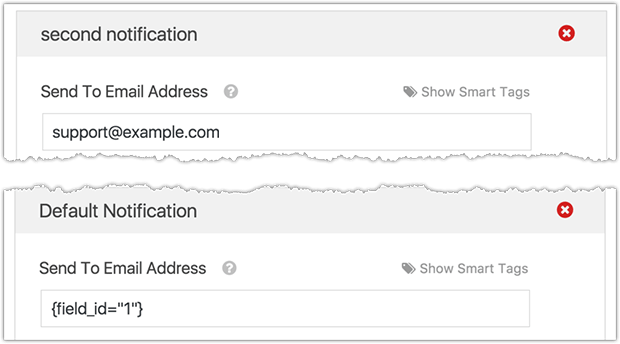 For more help, see our guide on how to create multiple notifications.
You've got many ways to send contact form notifications to different emails.  We hope this overview helped you make a contact form send to multiple recipients.
Looking for more hidden ways to maximize the information you can gather with contact forms? You might also want to check out our article on clever web form hacks.
What are you waiting for? Get started with the most powerful WordPress forms plugin today.
If you like this article, then please follow us on Facebook and Twitter for more free WordPress tutorials.