Looking for a WordPress CRM plugin but need some expert recommendations to get started?
With so many options out there, it can be difficult to find the plugin right for you and your business. That's why we've compiled 7 of the best CRM plugins for your WordPress website.
Best CRM Plugins for WordPress
It's important that you research the industry and compare the top CRM providers before choosing the one right for you. Let's jump into our list of the best CRM plugins for your WordPress website:
We'll start with a plugin that connects your site to a CRM platform.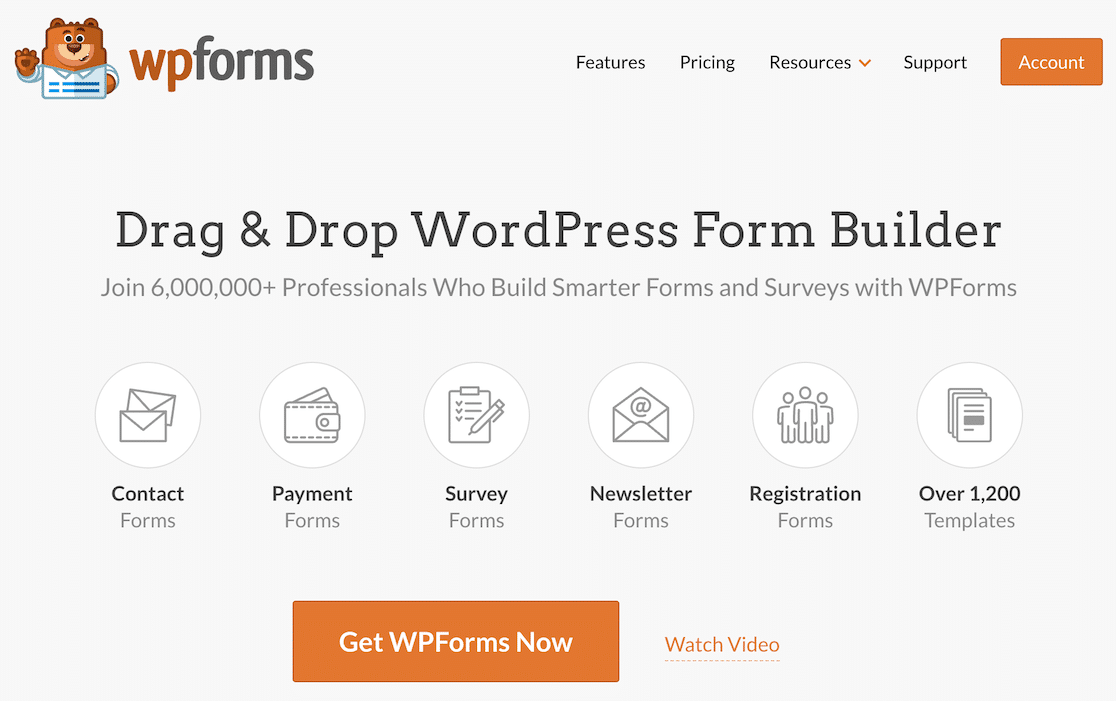 WPForms is our top pick when it comes to CRM plugins for WordPress. While WPForms is better known as a drag-and-drop form builder, it also integrates seamlessly with popular CRM platforms like HubSpot and Salesforce.
It's a versatile plugin that addresses many business needs.
WPForms lets you effortlessly send your contacts and leads directly to your CRM from your WordPress forms without writing a single line of code.
You can connect your lead forms, contact forms, signup forms, registration forms, or any other form to your CRM, eliminating the need for manually copy pasting customer data from your WordPress forms to your CRM system.
On top of that, WPForms includes over 1,200+ customizable form templates. These allow you to add a form to your site for any scenario in no time.
Let's take a look at the individual benefits of the two main CRM integrations offered by WPForms:
HubSpot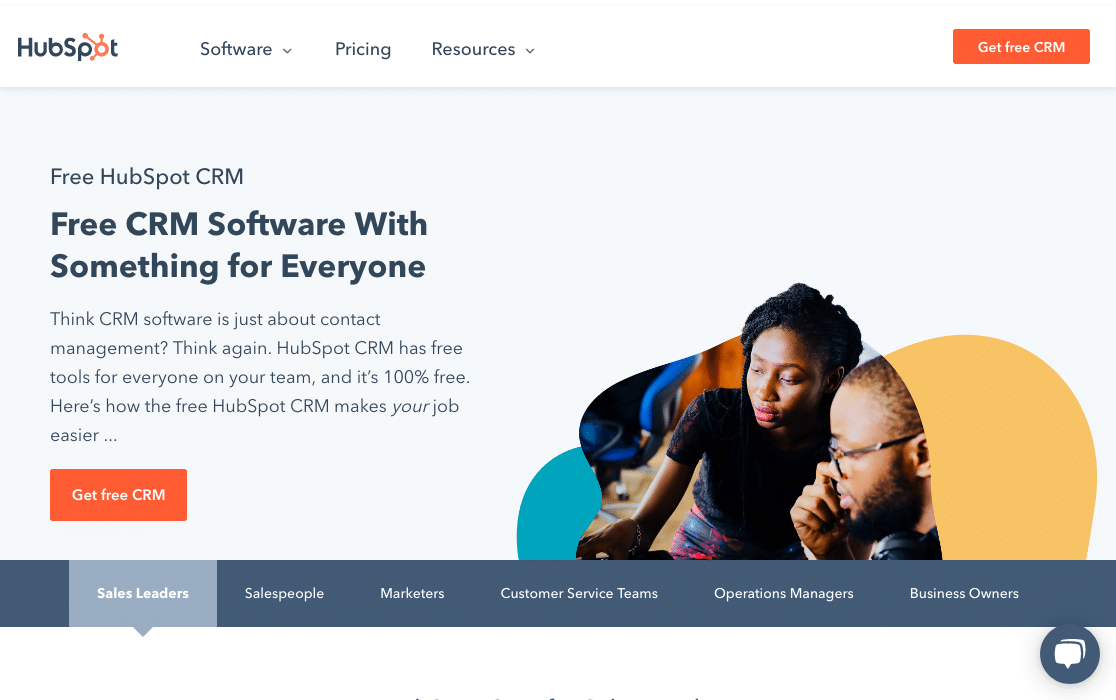 The WPForms HubSpot addon lets you streamline your workflow by adding leads to your  HubSpot CRM as soon as they submit your form.
Apart from automatically sending leads from your forms to HubSpot, WPForms also sends notifications for every new form submission. This is great because you can keep up with
Smart conditional logic, which means that you can choose to only send entries to HubSpot if they opted in
HubSpot properties, including custom properties that you've created in your HubSpot account
Custom field mapping so that your data is sent to the right place.
The HubSpot addon is available in the WPForms Elite license.
Salesforce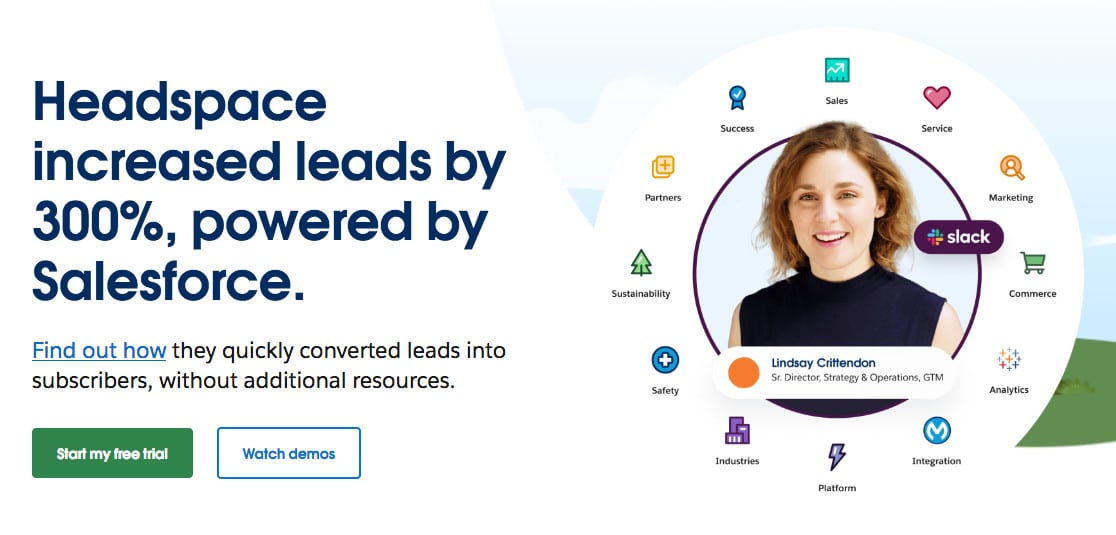 The Salesforce addon provides direct integration with your CRM. You can save money by not having to pay for a 3rd party connector app or a developer to set this up.
It's extremely easy to create a WordPress-Salesforce integration on your web forms. And you can automatically create a Salesforce object when your forms are submitted.
The Salesforce addon lets you use conditional logic. This lets you control which entries get sent over to Salesforce and how that is triggered.
You can even connect more than one Salesforce account and choose which account to use on each form.
Overall, WPForms is the best WordPress CRM plugin for small businesses.
Pricing: For these integrations to work, you will need the WPForms Elite license. WPForms Elite starts at $299.50 per year and has a 14-day money-back guarantee. Sign up or upgrade your subscription.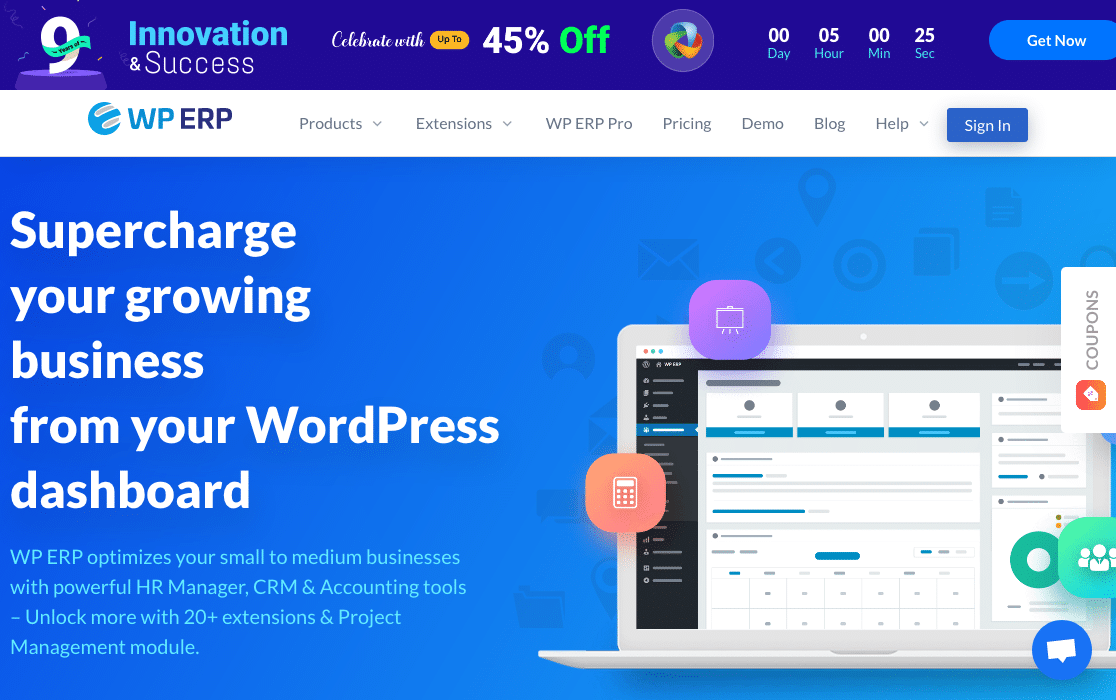 WP ERP is one of the top WordPress CRM plugins aimed at small to medium businesses and is ready to use from your WordPress dashboard.
With it, you can easily track and follow up queries with leads, subscribers, and clients. You can also build long-lasting relations with a feature-rich open source WordPress CRM which comes in both free and pro versions.
Features include a user-friendly CRM sales dashboard coupled with a contact management system. It also has company, task, and activity management features, scheduling and calendars, deals (lead generation), a custom field builder, and more.
Pricing: There's a free version of WP ERP available on the WordPress plugin repository. The paid version of WP ERP starts at $12.99/mo for 1 user. Addons are charged on top.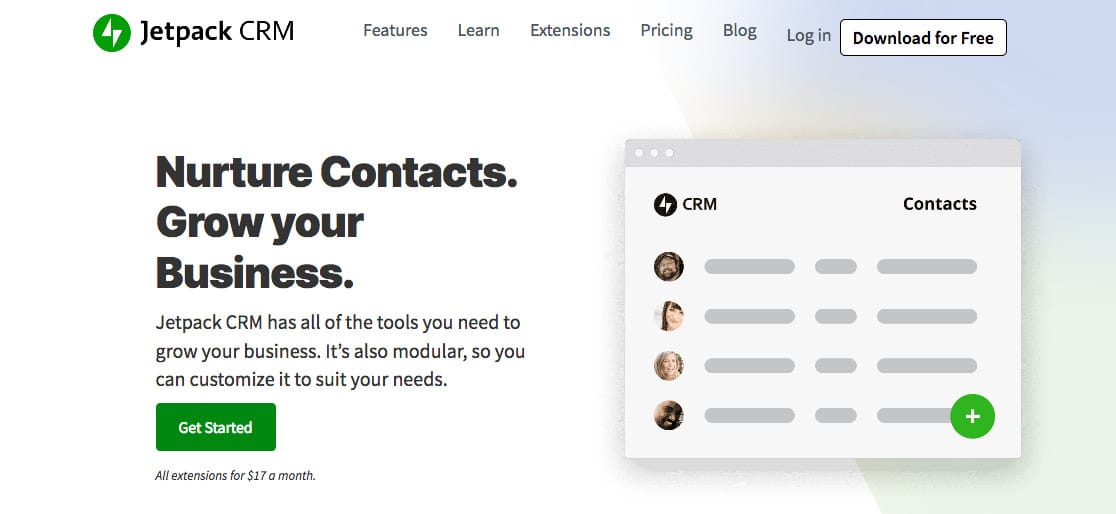 Jetpack CRM, self-dubbed the 'The Entrepreneurs' CRM for WordPress' is a simple CRM solution with a budget-friendly pricing structure.
Jetpack allows you to get set up for free giving you access to all core functionalities like:
Contacts
Quotes
Invoices
Transactions
Tasks
Forms
Jetpack's Entrepreneur package, its highest level subscription, includes automation, lead nurturing, sales funnels, priority support, and access to all 30+ CRM extensions.
Jetpack's huge variety of extensions includes API access, a private portal for clients to access your site, open source developer access, eCommerce integrations, white-label the CRM, and a language translation feature and currency converter.
Pricing: A free version is available on WordPress.org. The paid version starts at $11/mo for the Freelancer plan, billed annually. The Entrepreneur plan is priced from $17/mo.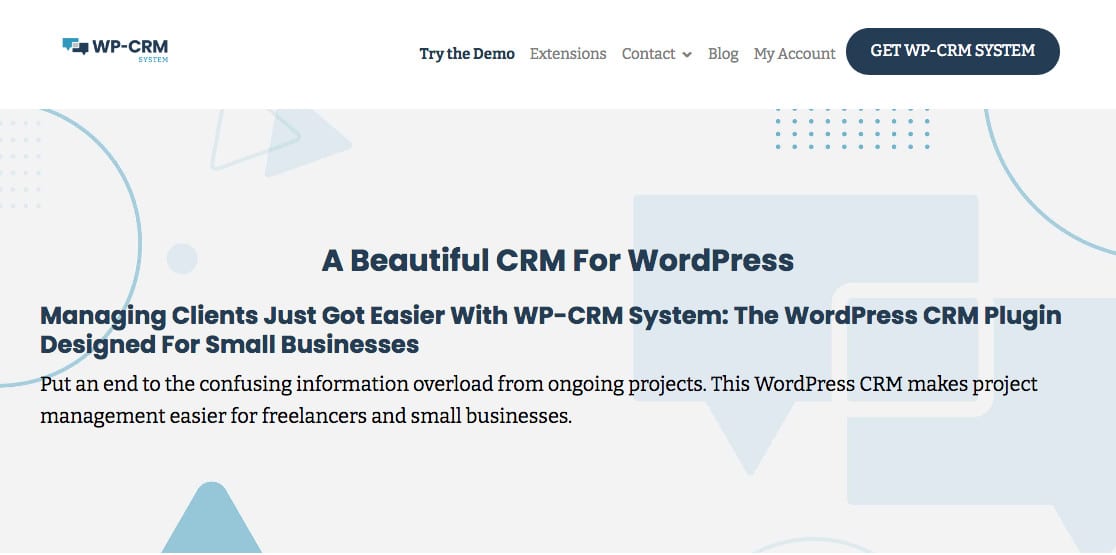 The WP CRM plugin offers a feature-rich CRM right onto your WordPress dashboard.
It allows you to manage projects, assign individual tasks, track marketing campaigns, and help smoothly convert your leads.
Some of the standout features of this plugin include:
Custom fields to track your business' important client data
Simple contact management system with no limits on how much you have in your database
Large collection of premium addons with options to integrate Mailchimp, Zendesk, and many more.
Pricing: WP CRM free is available on WordPress.org. The paid version is priced from $99 per website per year, right the way up to $249 per website per year. Paid versions unlock premium features like Zapier, WooCommerce, and Slack integration.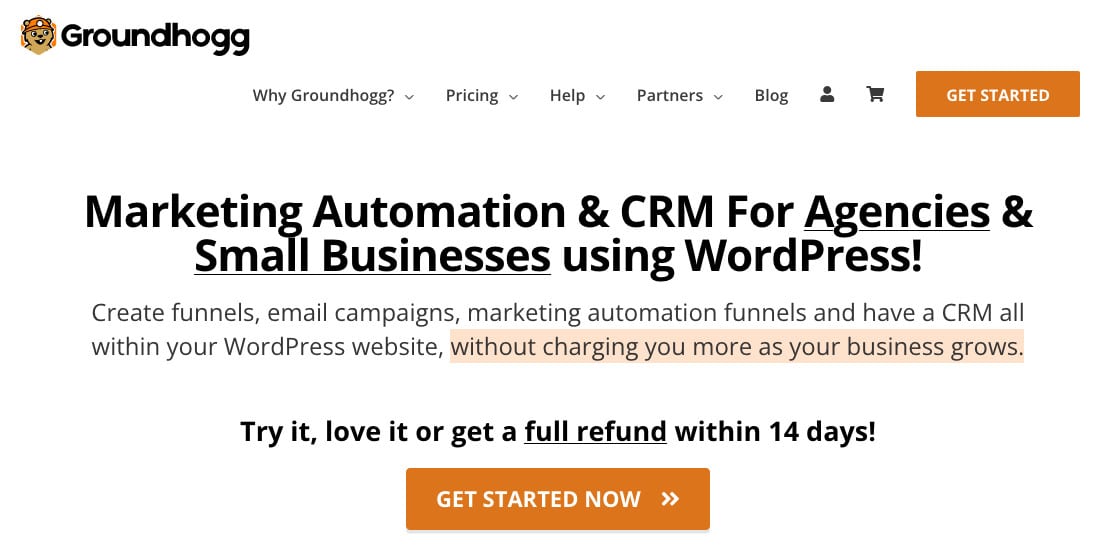 Groundhogg is another great option as its main focus is on creating sales funnels, email campaigns, and marketing automation.
It's also compatible with various 3rd party plugins like Zapier, HelpScout, and WPForms, all from your WordPress dashboard.
It may not be the cheapest CRM on this list but Groundhogg's extensive list of tried and tested integrations coupled with their dedicated support and development team will make it worthwhile.
One big benefit of Groundhogg is that it doesn't charge as your business grows — it's a flat rate whether you have 500 or 25,000 contacts.
Pricing: The free version is available from the WordPress plugin repository. With Groundhogg's $40 per month pro version, users can enjoy "everything you need to maximize results and consolidate your business." This includes all form integrations, conditional logic, 18 premium integrations, text (SMS), and the use of Groundhogg on 5 different websites.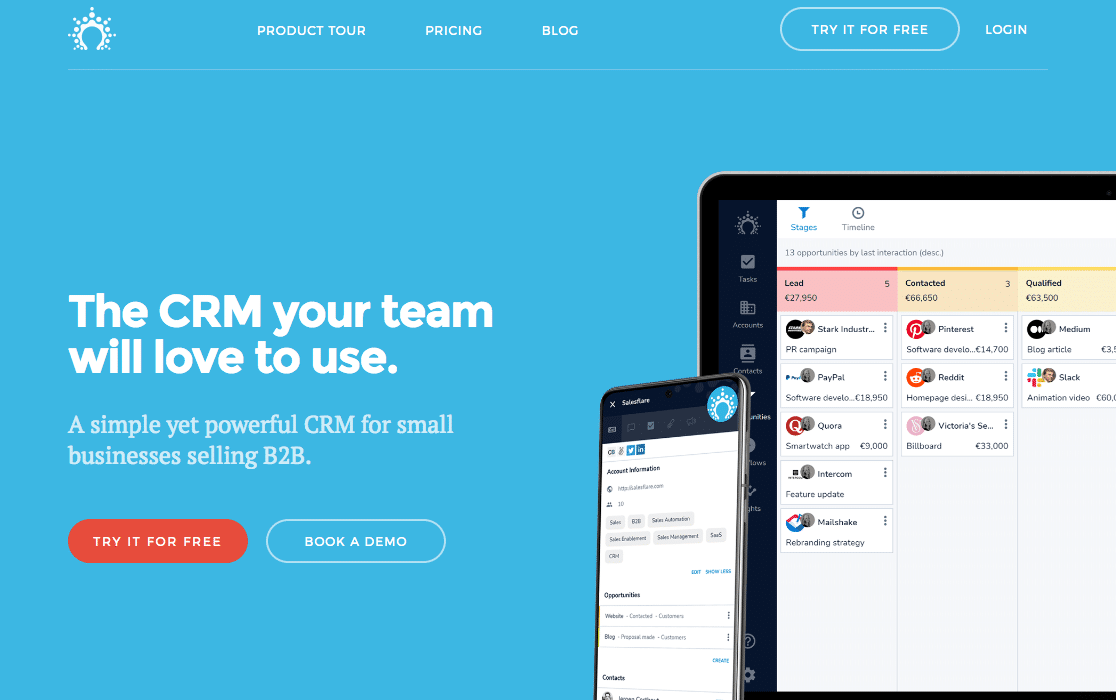 Salesflare is a very easy-to-use CRM that smoothly integrates with WordPress. Users can sign up for a free trial and then choose from 3 different monthly pricing plans.
This plugin automates your data to make your life as straightforward as possible, increasing your sales while boosting your customer service.
Salesflare can:
Automatically fill out your address book
Keep track of all interactions with the people you're in contact with
Accept data from email, social media, company databases, phones and calendars
Create automated customer timelines that tell you everything your need to know.
Useful features include opportunity management, integration with email clients (e.g., Outlook or Gmail), interaction tracking, email marketing, lead management, and API access to create and develop on top of the current plugin.
Pricing: The paid version starts at $29 per user, per month.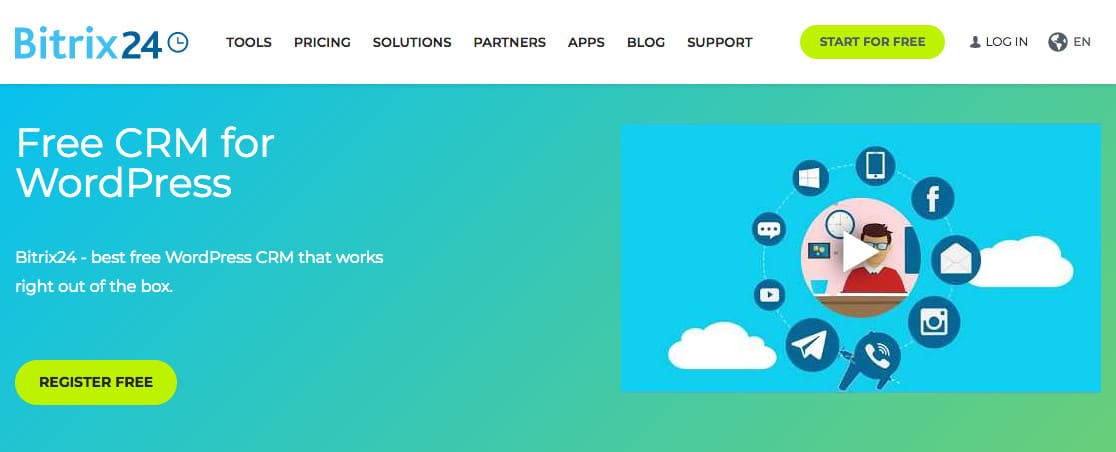 Last but not least, Bitrix24. This powerful WordPress CRM tool has all you need to manage your customer relationships.
Bitrix24 is geared towards small-medium businesses with an array of handy CRM features. With this tool, you can directly add contacts to your WordPress user database. That's a convenient feature to have if you want to manage your contacts without having to leave our main WordPress site.
This CRM is good for those who want a free option. Most of the features on this CRM are built into the core plugin, with many of the apps free to download.
Bitrix24 can cover a lot of areas in your business, although some options may require a paid addon. For example, you can:
Manage leads
Automate sales
Measure marketing analytics
Bring your social media, email, live chat, and messenger together inside the platform.
Pricing: Bitrix24 is free for unlimited users, but features are limited, with monthly premium plans starting at $16.80 (if paid yearly).
What CRM Works Best With WordPress?
After checking out these plugins and platforms, we can confidently say that the best CRM plugin for WordPress is WPForms With HubSpot or Salesforce.
WPForms is the best form builder for WordPress, and the direct integration with HubSpot or Salesforce makes it easy to connect your forms to your CRM.
Since WPForms doesn't charge extra for additional users, and you don't have to pay for the integration, it's also easy to predict the cost of your WordPress CRM integration over time.
You can use multiple forms to send leads to different departments or businesses, create custom connections, and use conditional logic to take control of your business.
Best WordPress CRM Plugins FAQs
Is WordPress a CRM or CMS?
WordPress is a CMS (Content Management System) that lets you build and manage your website and all its content. However, WordPress is an incredibly flexible platform and there are many plugins that enable you to integrate your WordPress site with dedicated CRM tools like HubSpot.
Do I Need a CRM For My Small Business?
Every small business dealing directly with clients needs a CRM in order to manage your customers efficiently. This is why most successful business owners rely on a CRM to track customer data and automate communication with existing and potential customers.
Is There a CRM Plugin for WordPress?
Yes, there are various CRM (Customer Relationship Management) plugins for WordPress, and they work in different ways.
Some CRM plugins allow you to place a form on your site, then route any form entries with customer information to a separate CRM platform. If you need professional features, or you've already signed up for a CRM software, and you just need the WordPress connection, this will likely be the best option.
If you want to keep everything inside your WordPress site, you could use a dedicated CRM plugin that stores all of your data in one place.
Next, Try WPForms With Your CRM
Ready to take the next step? Check out our tutorials on how to send a contact from a WordPress form to HubSpot or how to use Salesforce with WPForms.
We hope this article helped you find the best CRM WordPress plugins for your business. You may also want to see our other roundup posts:
If you liked this article, then please subscribe to our YouTube channel for WordPress video tutorials. You can also find us on Twitter and Facebook.