Are you wanting to take payments on your website and wondering what the best PayPal integrations are?
Many small businesses take online payments with PayPal. So, finding tools to connect to the popular payment provider can help free up a ton of your time.
So in this post, we'll cover the very best PayPal integrations you can use to sync helpful tools to your PayPal account.
How Do I Integrate Payment Into My Website?
To accept payments on your website, you'll need to connect your site with a payment provider.
For WordPress, PayPal or Stripe are our top choices and what we recommend. Both are incredibly secure and well-known. Plus, this combo will give you the ability to take credit card payments while still accepting PayPal.
You can learn more about the differences in our post on Stripe vs PayPal.
Now once your PayPal Merchant account is set up, you can easily integrate payments with your website using the following awesome tools.
The Best PayPal Integrations
Connecting payments to your website is important. And Paypal is wildly popular. So without further ado, let's check out our top pick for the best PayPal integrations.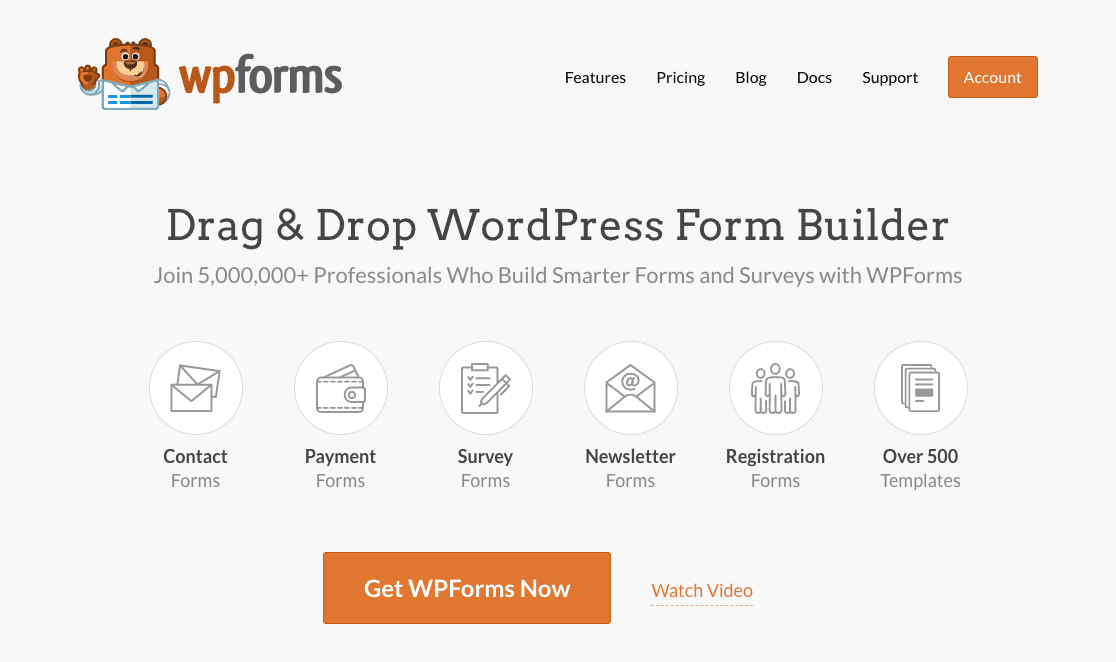 WPForms is our favorite PayPal integration. It's a contact form plugin that can be used to build order forms that accept PayPal, so you can make money from your website.
Features:
An exclusive PayPal addon feature to collect payments, donations, and orders through your website forms
Lets you collect pre-payments, great if you're a service-based small business
Add a simple donation form (that accepts PayPal) to your website if you're a nonprofit
Includes the ability to accept PayPal, Square, and Stripe, and the Elite plan offers Authorize.Net for enterprise-level businesses
Track PayPal transactions from your forms in Google Sheets
Allows you to accept recurring and one-time payments
Tons of other explosive small business features since it's one of the most popular WordPress plugins out there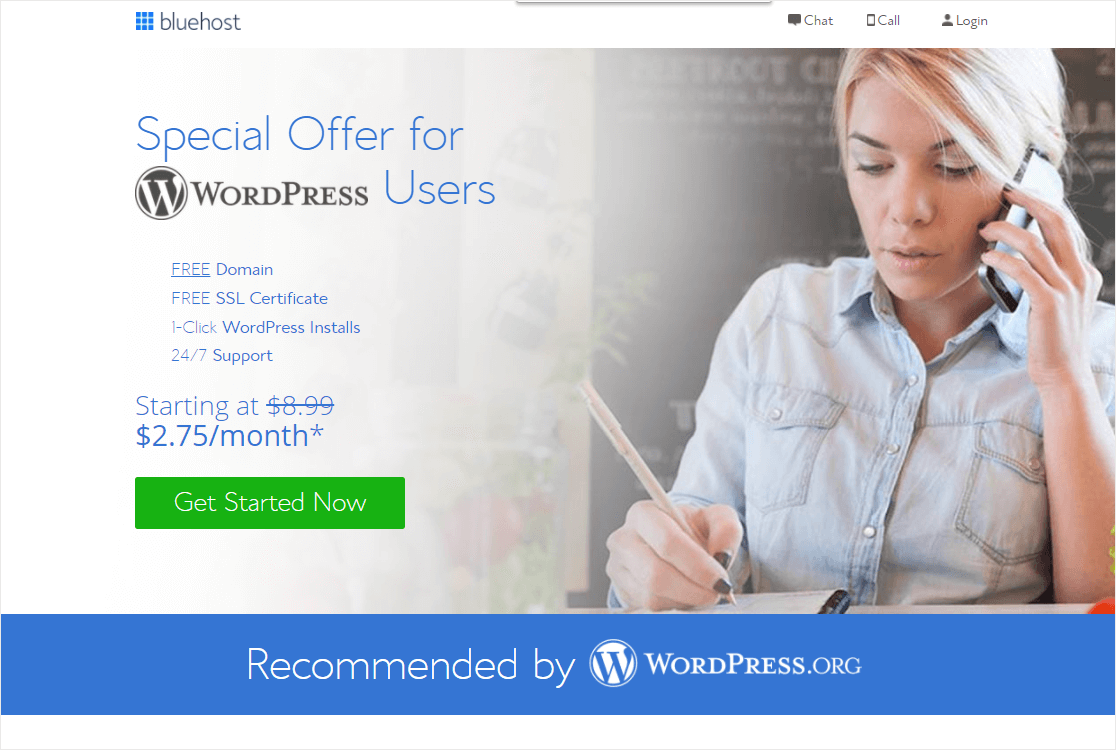 WordPress.org (self-hosted with Bluehost) integrates pretty well with PayPal directly, you'll just need to find the right tool to do it with. If you aren't a developer needing tons of customization, you'll want a contact form that does this for you with a PayPal integration (like the WPForms PayPal addon).
Features:
A good amount of choices but you'll need to make sure you have a plugin to actually get the integration going
Lots of great WordPress PayPal plugins for you to choose how you want to accept it
Tools that let you accept payments without a PayPal merchant account
Customizable so you can pick which PayPal integration plugins you want, and which ones you don't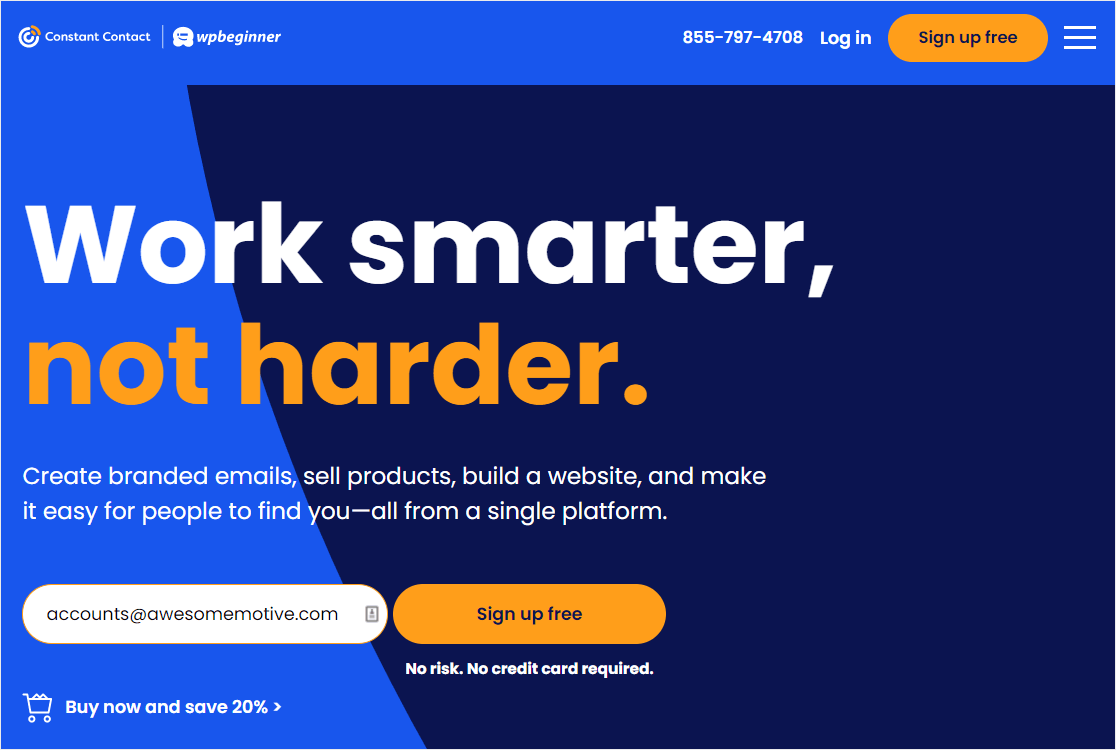 Constant Contact is an email marketing provider that offers PayPal integration built right in. They give you the ability to add a PayPal button right into your emails, which you can then direct to a payment page for PayPal checkout.
Features:
Insert a branded PayPal button into your emails
Link to a PayPal URL to return leads to checkout pages or shopping carts
Link PayPal to an event to collect payments
Includes some of the best email marketing features available to really grow your email list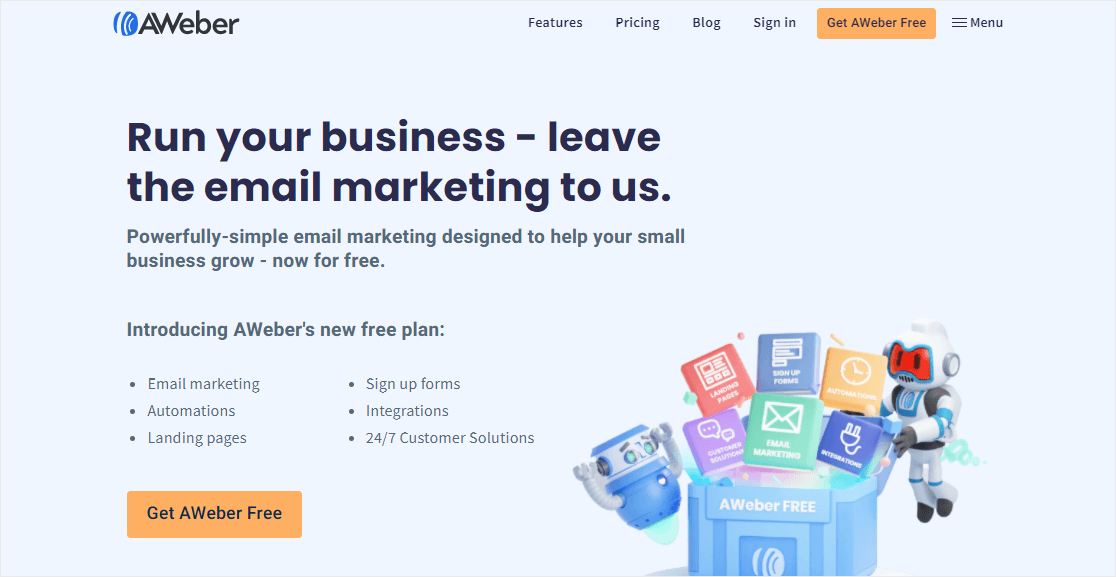 AWeber is another great email marketing service that comes with a PayPal integration. You can easily invite leads and customers to hop onto your email list by connecting your PayPal account to your AWeber account.
Features:
Manage subscribers by adding them to your lists when a PayPal payment is made
Customize email marketing tags by product purchased
Easily add subscribers to different lists based on their purchases
Set up Drip campaigns and insert a PayPal button into cart abandonment emails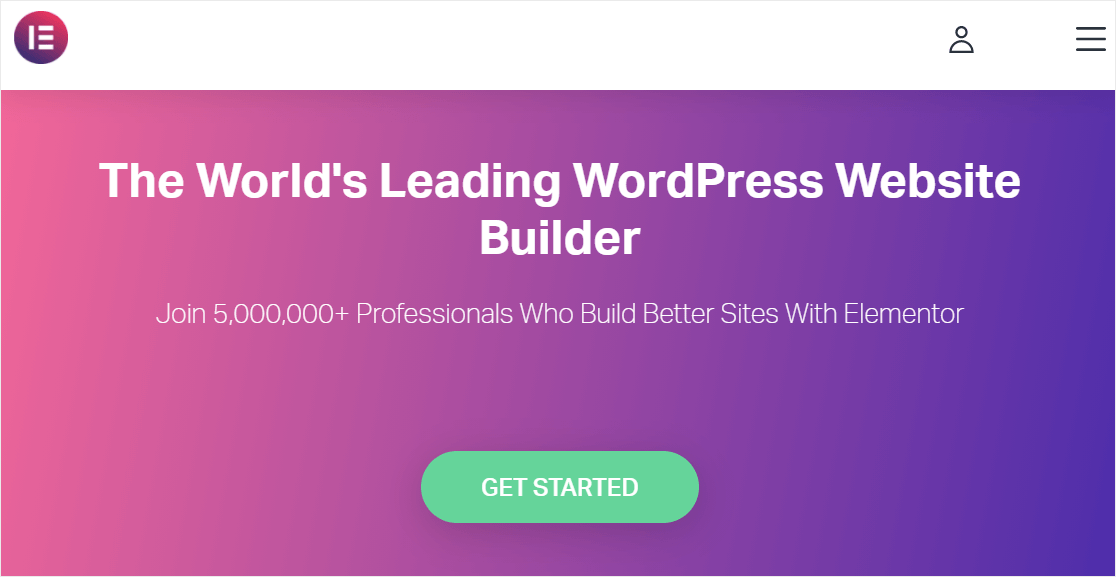 Another one of the best PayPal integrations on our list is Elementor. The easy to use site builder has a lot of great features.
Features:
You can use Elementor with eCommerce platforms like WooCommerce
Use separate plugins to customize the look of your PayPal button
Integrates easily with form plugins like WPForms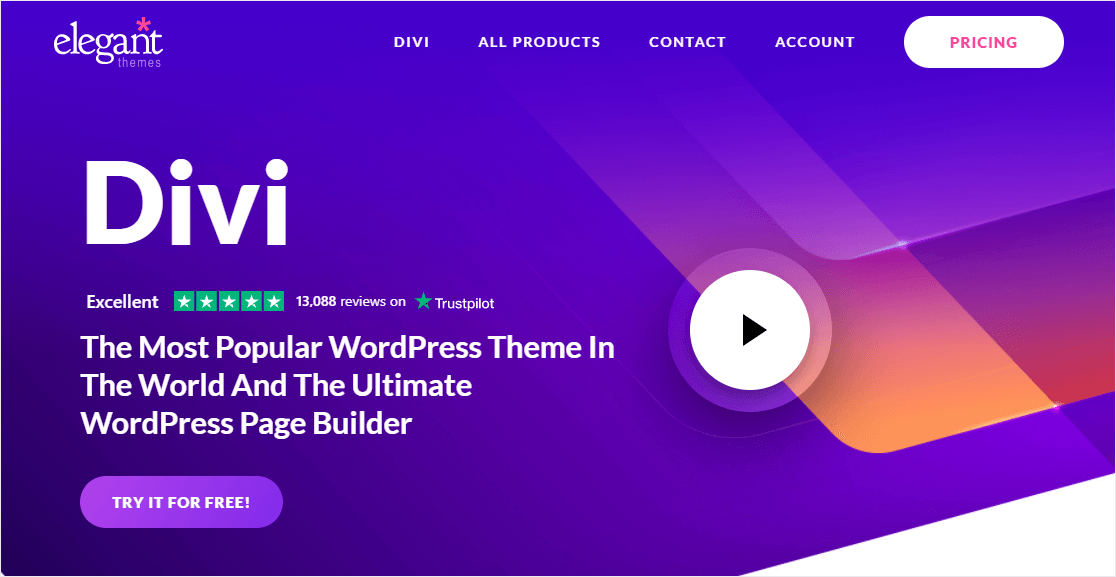 Divi is another visual website builder on our list of the best PayPal integrations. It's a popular tool from Elegant Themes (it's actually a theme, too), so you can do a ton of things with it.
Features:
The Elegant marketplace has a free tool to let you build a 'Buy Now' PayPal button
This tool will also let you build a 'Donate' button
Plays well with other WordPress plugins like WPForms and WooCommerce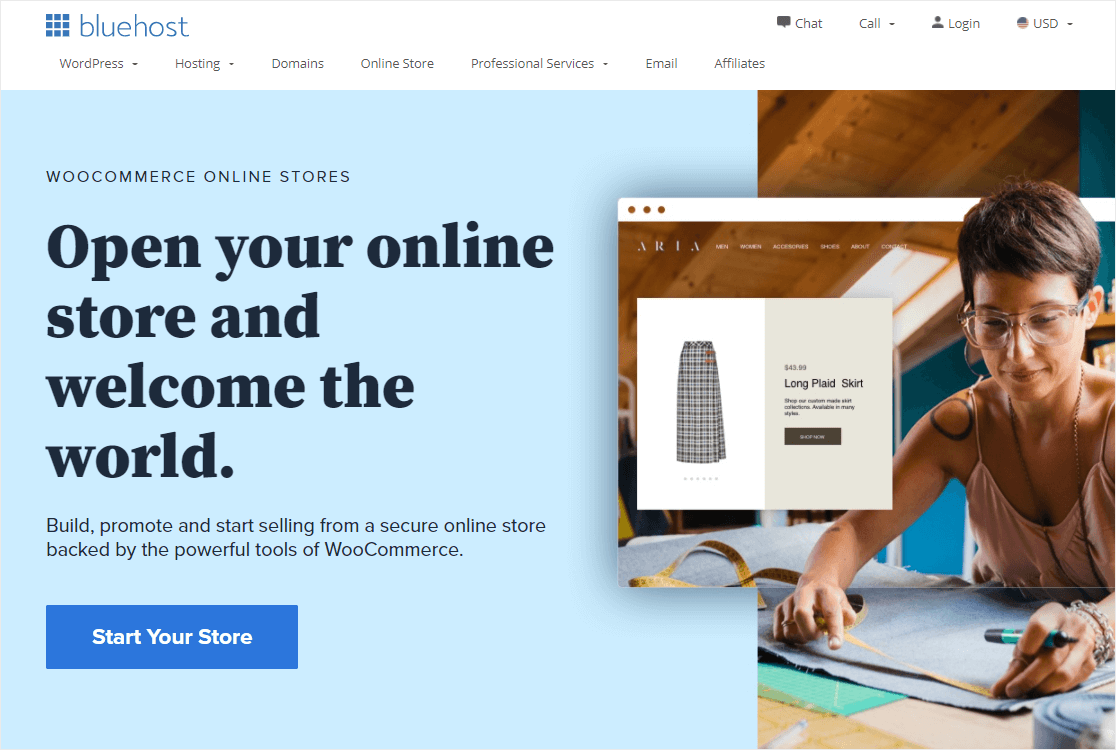 The popular online shop builder tool WooCommerce is free to install, but you can get a WooCommerce Bluehost hosting plan which gives you many of the things you'll need including PayPal Payments Pro (normally $79/year). The variety of WooCommerce plugins makes it a fantastic pick if you're looking for website PayPal integrations.
Features:
Gives you complete control over your eCommerce shop and has a lot of room for growth as you continue to grow your small business website
WooCommerce through Bluehost includes the ability to take credit card payments via PayPal directly on your website
Expand the functionality of your WooCommerce and PayPal integration with other WordPress WooCommerce plugins
Use PayPal Checkout in your online store and access customizable smart payment buttons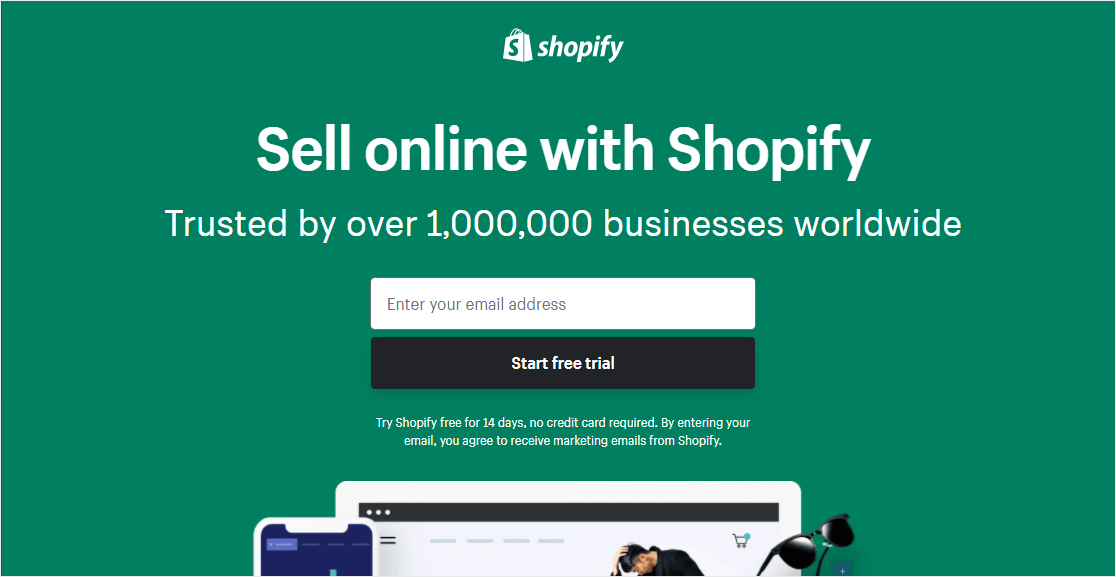 Shopify is an online shop platform that doesn't use WordPress.org like WooCommerce does, so you'll lose website flexibility with this PayPal integration. But you can always connect your WordPress website to a shop hosted on Shopify and take advantage of their PayPal integration that way.
Features:
Easy PayPal integration, however, you'll lose the ability to really customize your site with WordPress.org
It's very easy to set up and offers pre-built templates
PayPal is one of Shopify's main payment providers
You'll be charged transaction fees each time a customer makes a purchase using PayPal unless you also activate Shopify Payments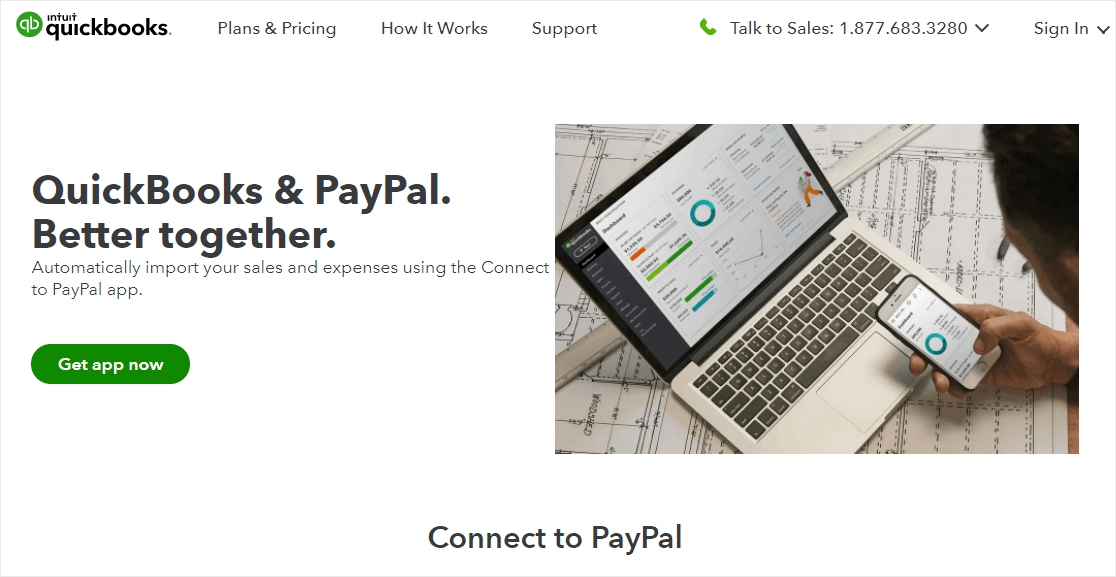 Quickbooks Online offers a PayPal integration so you can use it as your small business website accounting software. Any money sent through your PayPal account can be tracked inside the software. It makes tax time a breeze for business owners.
Features:
Automatically record customer and product details from PayPal and receipts
PayPal fees are automatically recorded as an expense
Offers a separate expense account for fees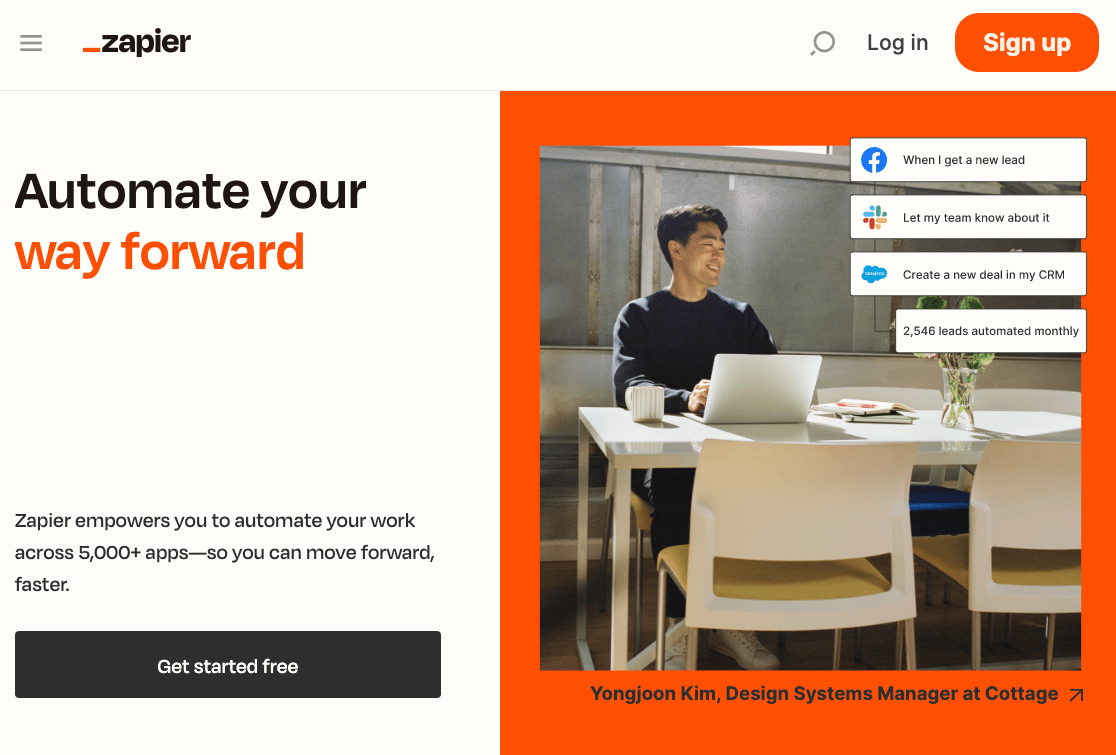 Using a product you love but realized it doesn't have a PayPal integration? Zapier to the rescue! You can connect your PayPal account with thousands of web apps using this intelligent 3rd-party connector service.
Features:
How Do I Integrate Paypal Payments in My Website?
If you want to integrate the PayPal payment gateway into your WordPress site, the best choice is to use WPForms.
You can use the pre-built order form template and simply set up your PayPal integration in just a few steps inside of the easy drag and drop form builder.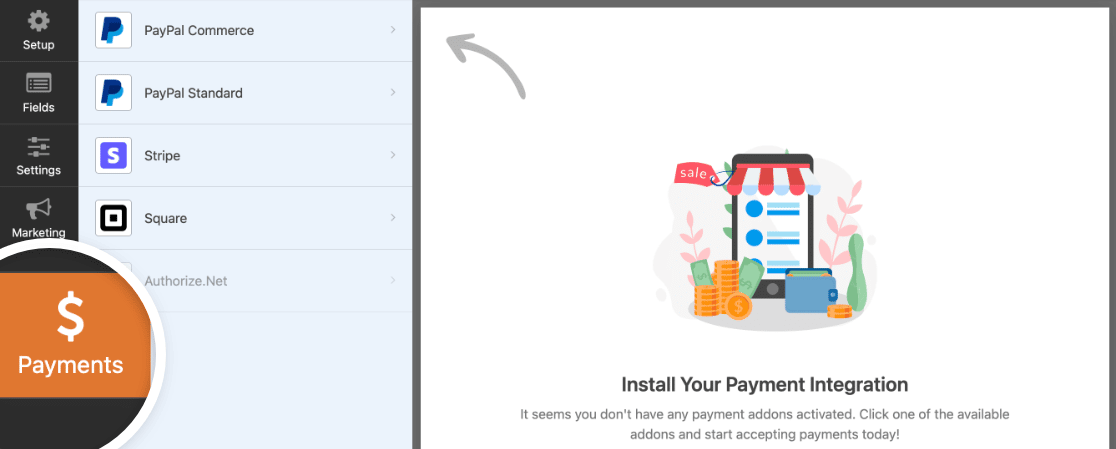 If you're ready to integrate PayPal with your WordPress forms, check out our easy guide on how to create a simple order form in WordPress.
This amazing integration with PayPal is available with the PayPal addon which (just like the Square and Stipe addons) comes with the WPForms Pro plan.
WPForms Pro has some other really insanely effective features for your small business website too, like:
Tons of Templates — Get up and running accepting PayPal fast through a pre-built order form.
Email Marketing Integrations — Set up your WordPress forms to automatically send data to your email lists in Constant Contact, AWeber, Mailchimp,  and more.
Unlimited Forms — Create as many forms as your website needs.
Conversational Forms — Use highly engaging Conversational Forms to impress customers and potential leads with interactive marketing.
Landing Pages — Get more leads by creating distraction-free form pages.
Surveys and Polls — Understand what your customers want more of, plus use a beautiful reporting dashboard that lets you export this priceless data.
Secure Forms — Protect forms with different anti-spam options like custom captcha, hCaptcha, or Google reCAPTCHA v2 or v3.
…and so much more
Then once you integrate PayPal with your WordPress website and start accepting money through order forms, your website's income can truly skyrocket.
Integrate Your WordPress Forms to PayPal Now
Next, Offer Your Users Multiple Payment Methods
And that about does it for our list. Hopefully, you now have a better idea of what the best PayPal integrations are for small business websites.
If you're taking payments with PayPal but want to accept credit cards as well, make sure to check out our posts on how to accept payments with Stripe on your website and how to use the Square addon to take payments online.
And don't forget to check out our guide on hide your WordPress site until it's ready so you have time to test your PayPal forms before going live!
So what are you waiting for? Get started with the world's best form builder today. WPForms Pro comes with a free order form template that can be set up with PayPal, Stripe, or both.
And don't forget to please follow us on Twitter and Facebook to stay up to date with the blog.