Do you run a services business and want to give your site visitors an easy way to request a quote from you? Being able to give customers an idea of what they can expect to pay for a service you provide is helpful for establishing contracted work between you and your clients.
In this article, we'll show you how to create a request a quote form in WordPress.
Benefits of a WordPress Quote Request Form
Many times, businesses display their phone numbers so customers can call and request a quote. However, while this method works for large businesses, it presents several challenges for small business owners:
Limited Availability – If you're an owner operator, you may not be available to answer the phone all the time. This can lead to lost sales opportunities.
Lack of Details – Sometimes you need specific details to prepare a quote, which can require multiple phone calls back and forth with the client. This can be frustrating for both sides.
No Records – Unless you use a CRM, it's hard to keep records of communications. You might end up losing money because of this disorganization, which hurts your bottom line.
That's why smart business owners use a request a quote form to automate processes and grow their business.
With a request a quote form, you can get specific information from potential clients and use smart logic to tailor the form based on user's needs.
This will improve customer satisfaction and boost retention.
You can also automatically integrate your form with an email marketing service to close more deals, build a bigger email list, and grow your business.
In fact, WPForms currently integrates with the following email marketing services, making your life easier:
Now let's take a look at how to create a request a quote form in WordPress with a plugin.
How to Create a Request a Quote Form in WordPress (Template)
We put together a video tutorial so you can follow along with this guide.
If you'd prefer to read the instructions, here's a step-by-step guide on creating a WordPress request a quote form.
Step 1: Create a Request a Quote Form in WordPress
The first thing you'll need to do is install and activate the WPForms plugin. For more details, follow this step by step guide on how to install a plugin in WordPress.
Next, go to WPForms » Add New to create a new form.
On the setup screen, name your form and select the Request a Quote Form template.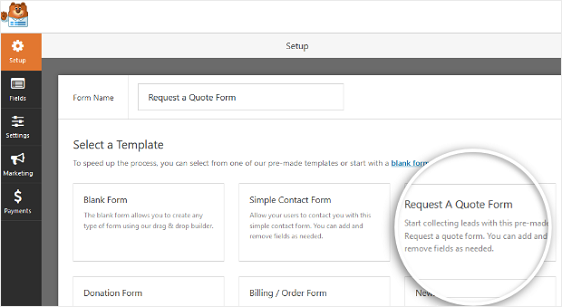 WPForms will create a request a quote form.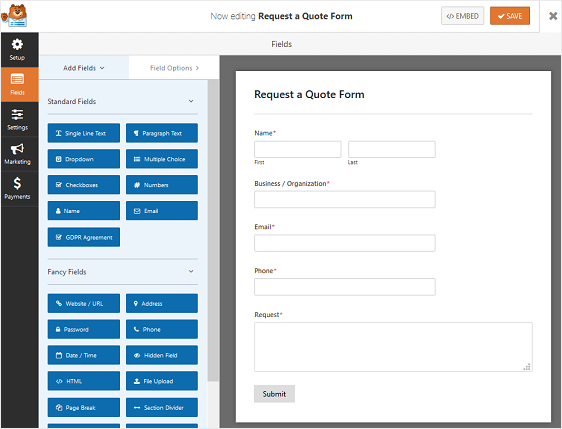 Here, you can add additional fields to your quote request form by dragging them from the left hand panel to the right hand panel.
To customize the form fields, click on them to make changes. You can also click on a form field and drag it to rearrange the order on your request form.
Once you're done customizing your form, click Save.
For our example, we'll create a request a quote form for a landscaping business.
Step 2: Customizing Your Request a Quote Form
WPForms allow you to gather all the information you need to create a custom quote for your customers.
To help you with some common customizations you might want to make to your quote request form, we'll first show you how to add checkboxes to it so customers can select which services they want quotes for.
For our landscaping business example, we'll add a checkbox for services like mowing, mulching, and lawn treatment.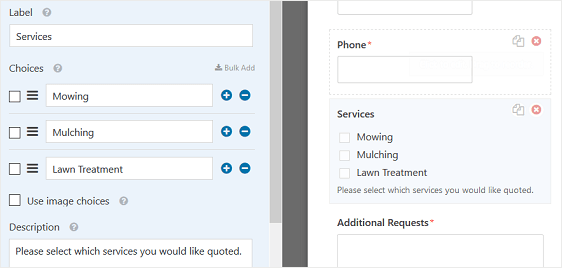 You can add a checkbox field by following these steps:
In the WPForms Form Editor, under Settings, go to Add Fields
Drag the field "checkboxes" to the right hand panel of your form
Click on the checkboxes field in the preview panel to make changes
Label your field, add the service options, and include a description explaining to site visitors what to do
If you want to add image choices next to your service options, check out our tutorial on how to add image choices to WPForms
If you have a lot of service options for people to pick from, and want to split your checkboxes into several columns, go to Advanced Options and pick your Choice Layout to be 1, 2, 3, or inline columns.

This will make your form more organized and prevent form fatigue.
Now for some people, this is all they'll need. If that's true for you, then simply save your form and skip to configuring your fomr's settings.
However, if you want to reduce the size of your form because it's long, then you can enable smart conditional logic to help streamline the process of filling out your WordPress request form for potential customers.
Step 3: Add Smart Logic to Your Form
WPForms smart logic allows you to show or hide form fields based on what the user selects. This is extremely helpful when you need additional information to prepare the best estimate, but don't want to bog down site visitors with form fields that don't apply to them.
For our landscaping example, you'll need to know the size of the lawn area in order to provide the best quote for some of the services you provide.
To start, let's drag a Single Line Text form field to your form. We'll call this field "Size of Lawn Area." You can change the label based on your request a quote form needs.
Next, go to Advanced Options » Conditionals under Field Options. Click the box labeled Enable conditional logic.

From here, you can choose to show a certain field if it meets your user's requirements. In our example, we have chosen to display the "Size of Lawn Area" field if the user has selected the mowing services.
Add as many criteria as you need to make your request for quote form make sense.
When you're done, click Save.
Now we'll look at how to configure your quote request form settings.
Step 4: Customize Your Form General Settings
To start, go to Settings> » General.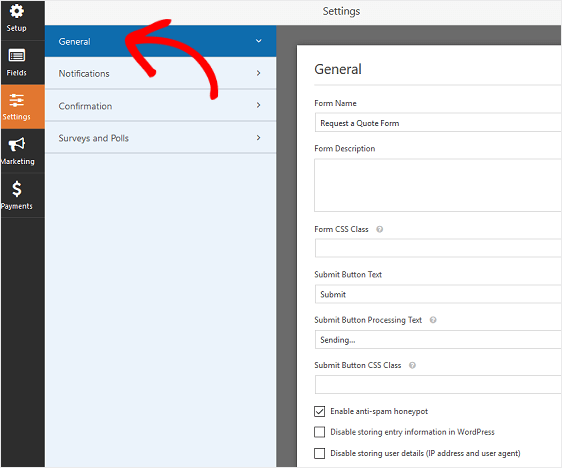 Here you can configure the following:
Form Name — Change the name of your form here if you'd like.
Form Description — Give your form a description.
Submit Button Text — Customize the copy on the submit button.
Spam Prevention — Stop contact form spam with the anti-spam feature, hCaptcha, or Google reCAPTCHA. The anti-spam checkbox is automatically enabled on all new forms.
AJAX Forms — Enable AJAX settings with no page reload.
GDPR Enhancements — You can disable the storing of entry information and user details, such as IP addresses and user agents, in an effort to comply with GDPR requirements. Check out our step-by-step instructions on how to add a GDPR agreement field to your simple contact form.
When you're done, click Save.
Step 5: Configure Your Request a Quote Form's Notifications
Notifications are a great way to send an email whenever a request for a quote is submitted on your website.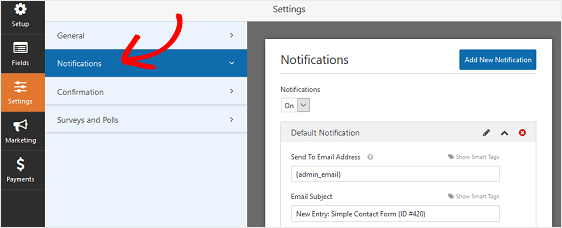 Unless you disable this feature, whenever someone requests a quote from you, you'll receive a notification about the request. You can disable this if you want to.
If you use smart tags, you can also send a notification email to the user when they submit a request for a quote. This will let them know their request has been received and that you'll be in touch soon. It will also include any details they entered on the quote form.
For more help with this step, check out our documentation on how to set up form notifications in WordPress.
If you want to keep branding across your notification emails consistent, you can check out this guide on adding a custom header to your email template.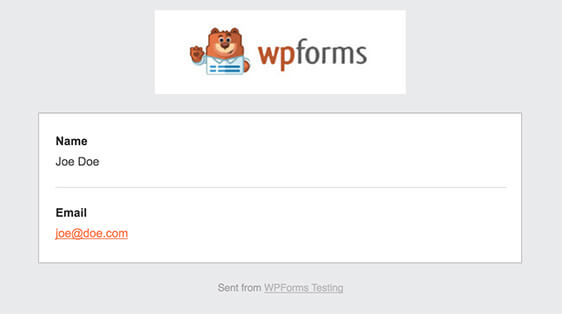 Step 6: Configure Your Request a Quote Form's Confirmations
Form confirmations are messages that display to users immediately after they submit a request a quote form on your website. They let people know their form has been processed and gives you the chance to let them know what the next steps are.
WPForms has three confirmation types to choose from:
Message. This is the default confirmation type in WPForms. When a site visitor submits a request for a quote form, a simple message confirmation will appear letting them know their form was processed. You might thank them for their request and let them know you'll be in touch. Look here for some great success messages to help boost customer happiness.
Show Page. This confirmation type will take site visitors to a specific web page on your site thanking them for their form submission or telling them what to do next. For help doing this, check out our tutorial on redirecting customers to a thank you page. In addition, be sure to check out our article on creating effective Thank You pages for boosting customer loyalty.
Go to URL (Redirect). This option is used when you want to send site visitors to a different website.
To set up a form confirmation, click on the Confirmation tab in the Form Editor under Settings.
Next, choose the type of confirmation you want to create: Message, Show Page, or Go to URL (Redirect).
For our example, we'll select Message.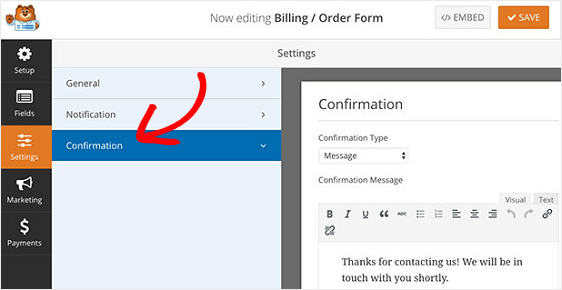 When you're done, click Save.
For help with the other confirmation types, see our documentation on setting up form confirmations.
Now it's time to add your request a quote form to your WordPress website.
Step 7: Add the Request a Quote Form in WordPress
WPForms allows you to add your forms to many locations on your website, including your blog posts, pages, and even sidebar widgets.
Let's take a look at the most common post/page embed option.
To begin, create a new page or post in WordPress, or go to the update settings on an existing one. After that, click inside the first block (that's the blank area below your page title) and click on the +plus sign then the WPForms icon.
The WPForms widget will appear inside your block. Click on the WPForms drop-down and pick which one form you've already created that you want to insert into your page.
After that, publish your page and view it.
Below is an example of our request a quote form: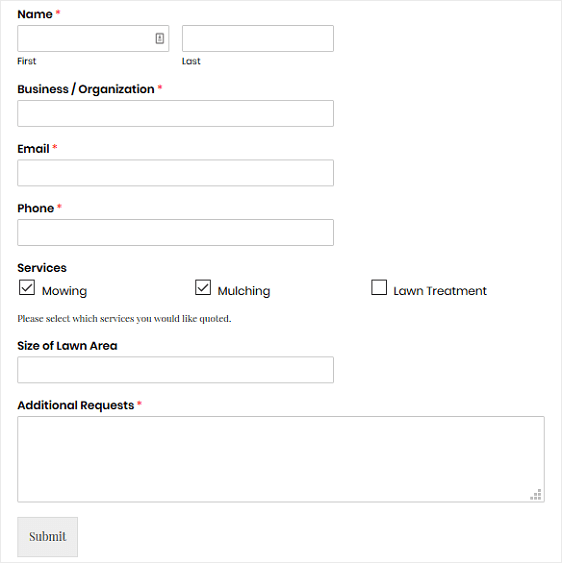 Final Thoughts
And there you have it! You now know how to create a request a quote form in WordPress for your site visitors to fill out.
If you want add an official terms of service or disclaimer to your request a quote form, check out our documentation on how to add a Terms of Service checkbox to your WordPress forms. This helps ensure your users know exactly what's in store for them when they submit a request for a quote from you.
So, what are you waiting for? Get started with the most powerful WordPress forms plugin today.
And don't forget, if you like this article, then please follow us on Facebook and Twitter.