Are you looking for some useful evaluation form examples?
Evaluating forms are great for assessing things that you're already doing well while highlighting areas of improvement. 
In this article, we've put together some evaluation form examples that you can easily recreate using templates. 
Create Your Evaluation Form Now
What Is an Evaluation Form?
 An evaluation form is a form that is designed primarily to collect feedback on a person, organization, product, or event.
Feedback collected using an evaluation form needs to be as insightful and actionable as possible, so your evaluation forms must have all the right fields.
WPForms offers a collection of professionally designed evaluation forms that have all the fields you'll need. And if you want to add any extra fields, this is easy to do using the form builder.
Next, we'll show you our top evaluation form templates!
Evaluation Forms Examples
The evaluation form examples below are all taken from the carefully designed WPForms templates. If you'd like to use one of these examples, make sure to get WPForms Pro to get started right away.
1. Employee Evaluation Form
Employee evaluation forms can be used by every business and nonprofits too. The idea is that you periodically review your employees' performances to reinforce areas of strength, and improve any weaknesses.
The exact metrics to have on an evaluation form depend on your business. If you're in a technical industry, for example, it might make sense to evaluate a range of technical skills. 
On the other hand, you might be more concerned with soft skills if your business is predominantly service-oriented.
The WPForms employee evaluation form template includes a Likert scale field to assess employees by their skills. You can change these values to whatever you like.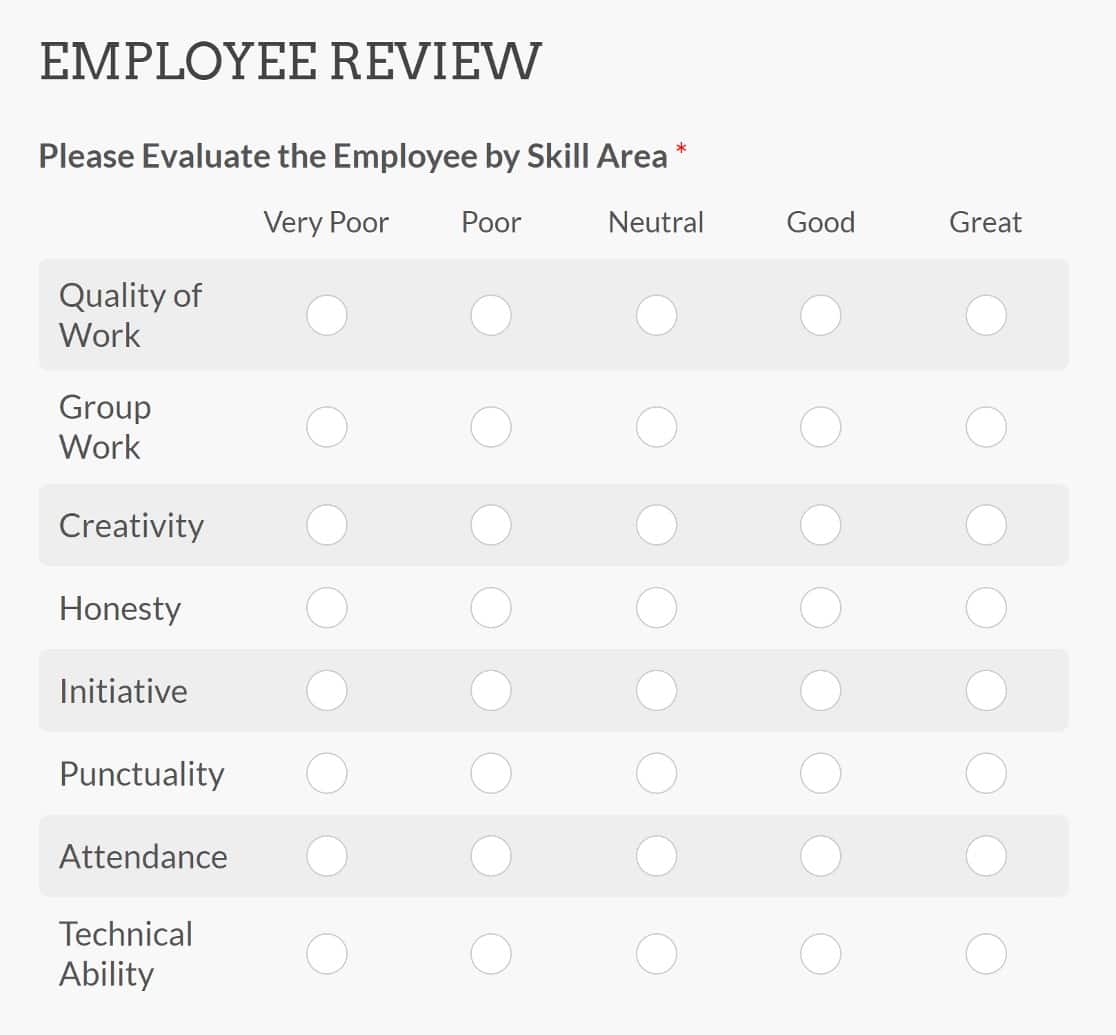 Likert scales generally use a range of 5 possible values on a linear scale to indicate the strength of your response between two extremes.
This template is great to get you started ahead of employee reviews. And if you want, you can add or remove some fields.
For example, you might consider adding an electronic signature field to an employee evaluation form to get the employee to sign off on their appraisal.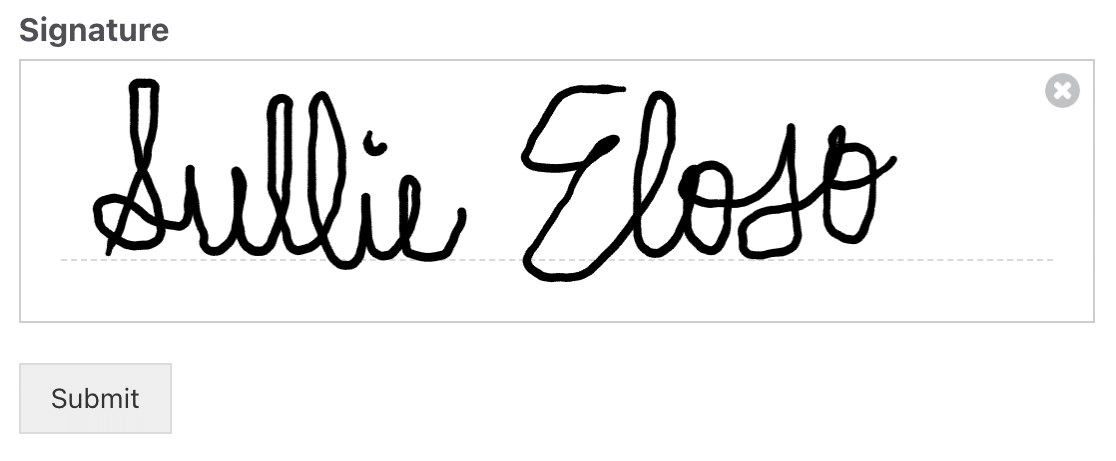 You can also add a File Upload field if you'd like to upload additional documents or performance sheets along with the evaluation form.
2. Customer Service Evaluation Form 
Measuring customer feedback is one of the best ways to improve the quality of your service. And with WPForms' customer service evaluation form template, you can quickly put together a survey form for your customers.
This template has all the basic fields such as the date and time when the customer made contact and the reason for making contact.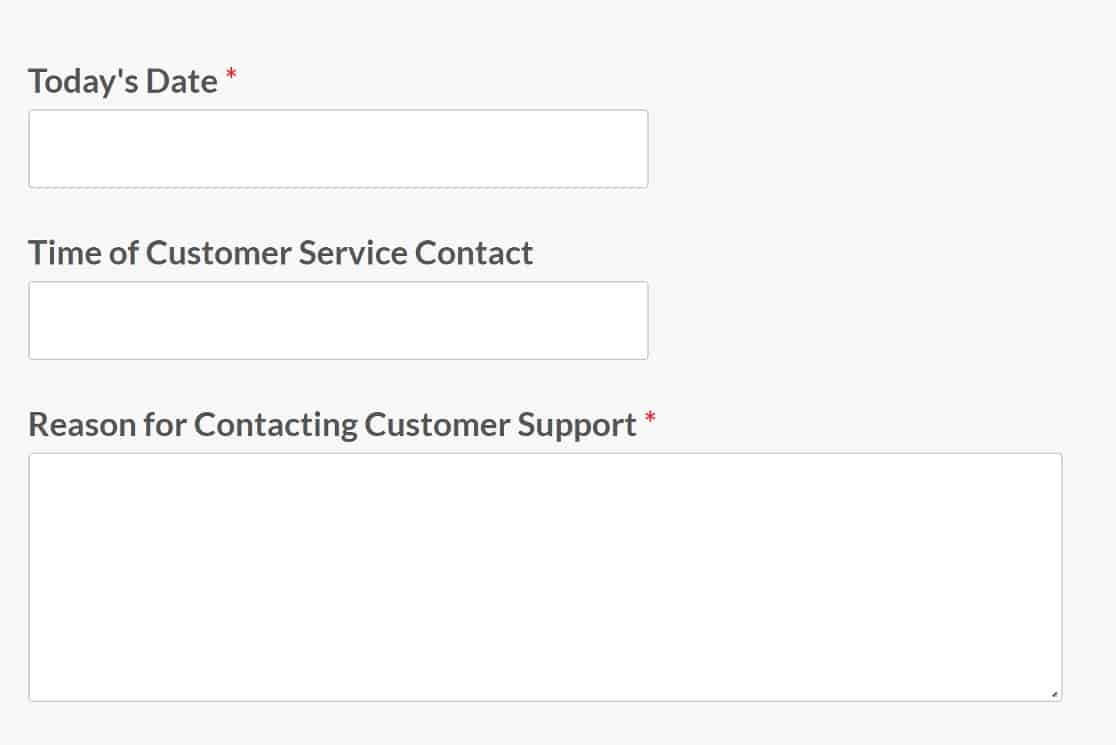 Additionally, there are 3 crucial fields included. Even though this form is 100% customizable, you probably should keep these fields as they'll help you get actionable information from your customers:
Please Rate Your Experience With Us
This is where you can get a good idea of what the customer feels about the overall quality of your service. The field consists of a Likert scale, makes it easy for your customers to specify their satisfaction levels.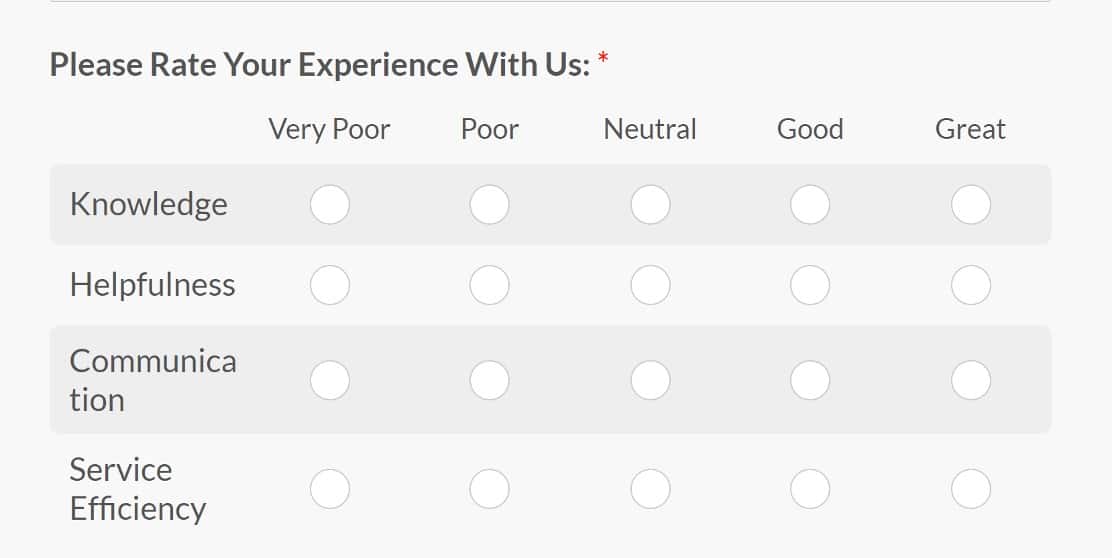 This is a common feature with our evaluation form templates, as Likert scales are usually quite effective.
Did We Solve Your issue?
This can be a yes or no question, but it's advisable to use a paragraph field to allow the customer more room for expression.

How Could We Improve Our Service?
Customers can often give you valuable pointers for how you may improve your service. It's always a good idea to include a question asking customers for their thoughts on service improvement.
In our template, this question is a paragraph field, allowing users to add as much detail as they'd like.

Would You Use Our Service Again?
This field is a simple radio button field that allows users to answer if they'd like use your service again.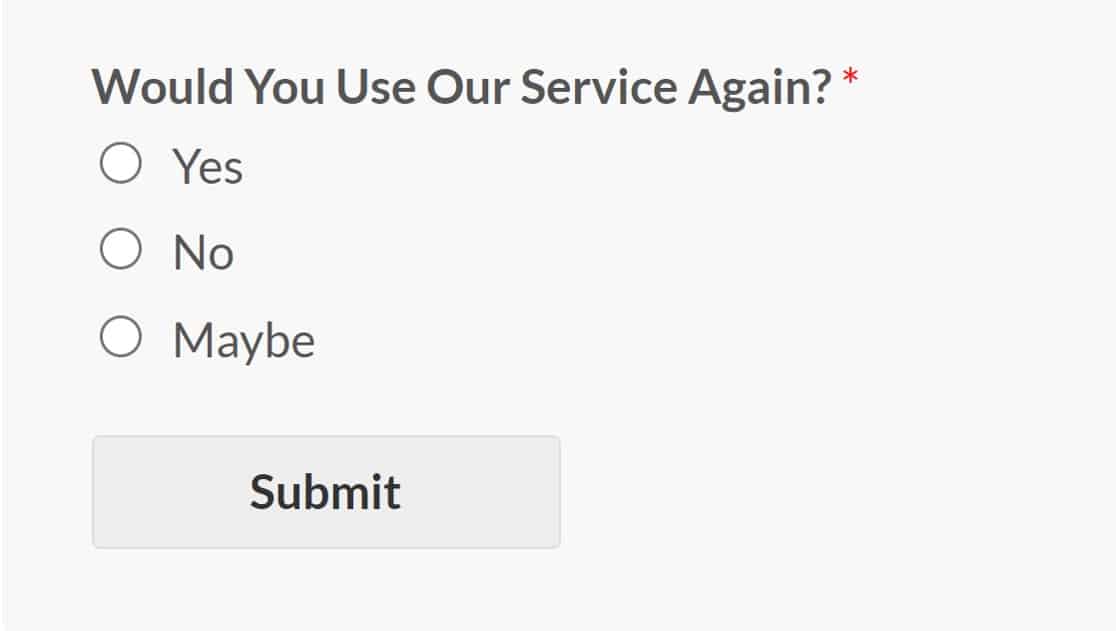 The customer service evaluation form template is short and sweet, but you're free to add more fields or edit existing fields as per your preference.
For instance, you can include a Name field so you can identify the customer by name. You may also add a Single Line Text field to collect the reference or ticket number assigned to the customer's request.
3. Peer Evaluation Form 
Peer evaluation is an important part of overall employee appraisals. The perspective of peers can help management to see different aspects of an employee's skill set and attitude.
You can use a peer evaluation form to complement an employee evaluation form.
The WPForms peer evaluation form template has a similar structure to the employee evaluation form, as it also uses a Likert scale to evaluate team members' behavioral competencies.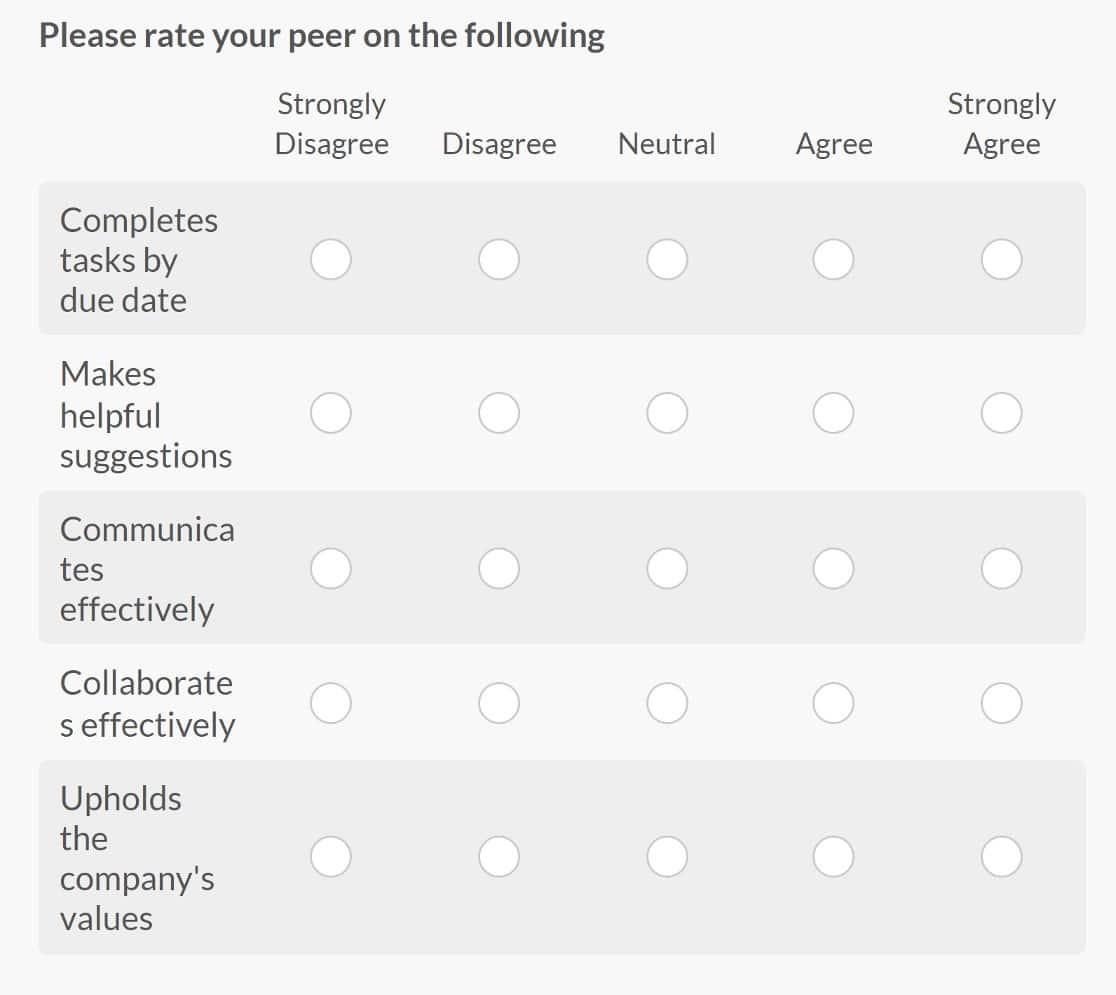 It has two unique fields, though:
What are your peer's greatest strengths?
This is a paragraph field, so it allows the user to go into details.

Because peers often work together, they're typically in a good position to tell what a team member might be strong or weak at.
How do this person's actions impact your own work?
Every employee directly or indirectly impacts the work of other members of the team. This question allows employees to discuss the contributions of their peers and mention if they're being hindered in any way because of another team member.

You can also include fields to gather additional details from employees in the peer review form. For instance, you could require the employee to mention their function in the team from a Dropdown field. 
4. Performance Improvement Plan Form
A performance improvement plan is an excellent tool for setting goals that an employee should be focusing on in the next quarter.
The most important part of WPForms' performance improvement plan template is the Areas of Improvement field;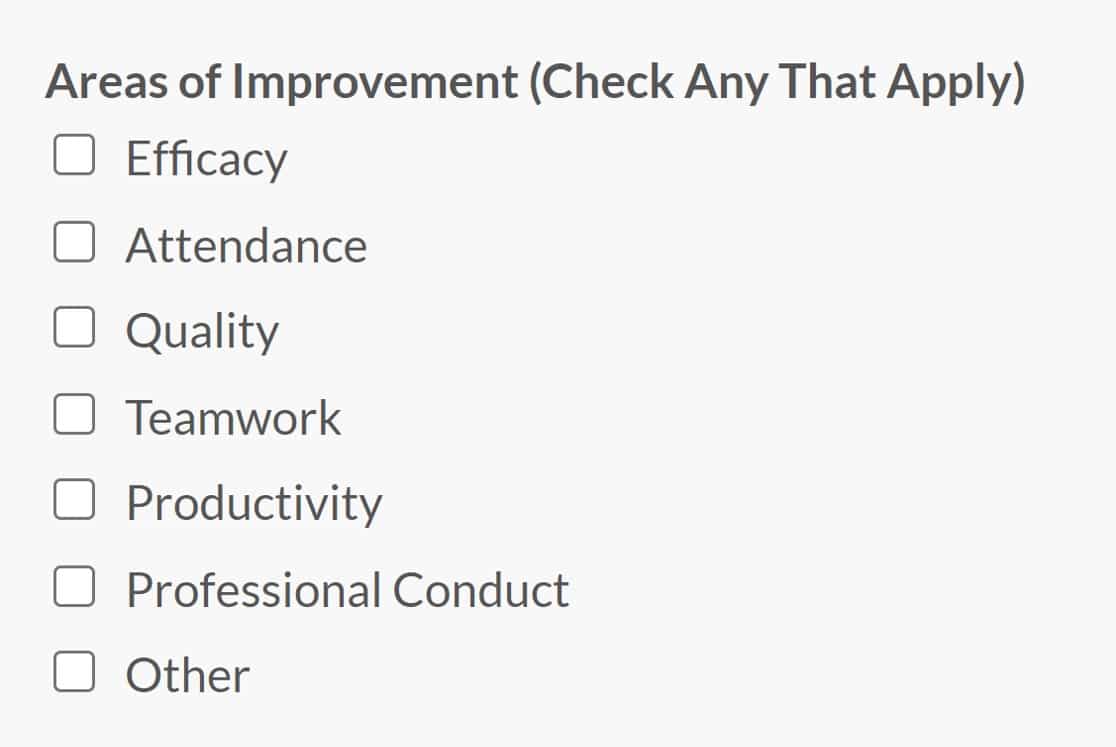 You can select multiple items using the checkboxes in this field.
This field is followed by three very useful ones labeled:
Please describe the reason(s) for submitting this plan

Improvement Goals

Performance Goals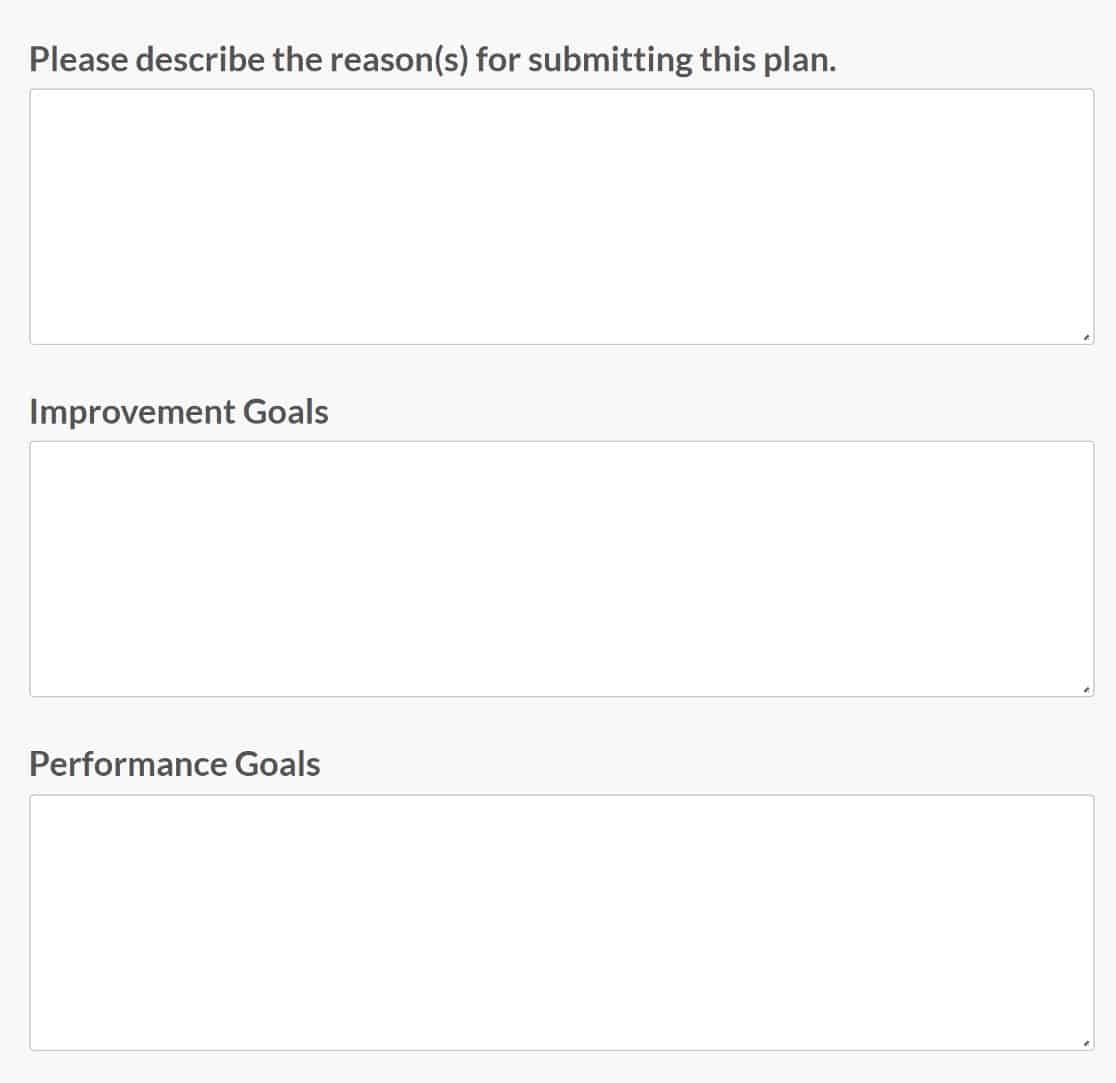 Including a target date or deadline for implementing the improvement plan is also a good idea, so the template comes with a date field too.
Again, you can consider adding an electronic signature field. If you're getting your employee or team member to agree to these goals, you might want them to sign off on the form.
5. Event Evaluation Form 
Getting some feedback after events is always useful. Most events have a lot going on, and it's always better to hear directly from the people what they thought of your event.
Our event evaluation form template includes a radio field for asking if the participants would return next year.

Equally important is the Likert scale field that requires participants to rate their overall experience at your event.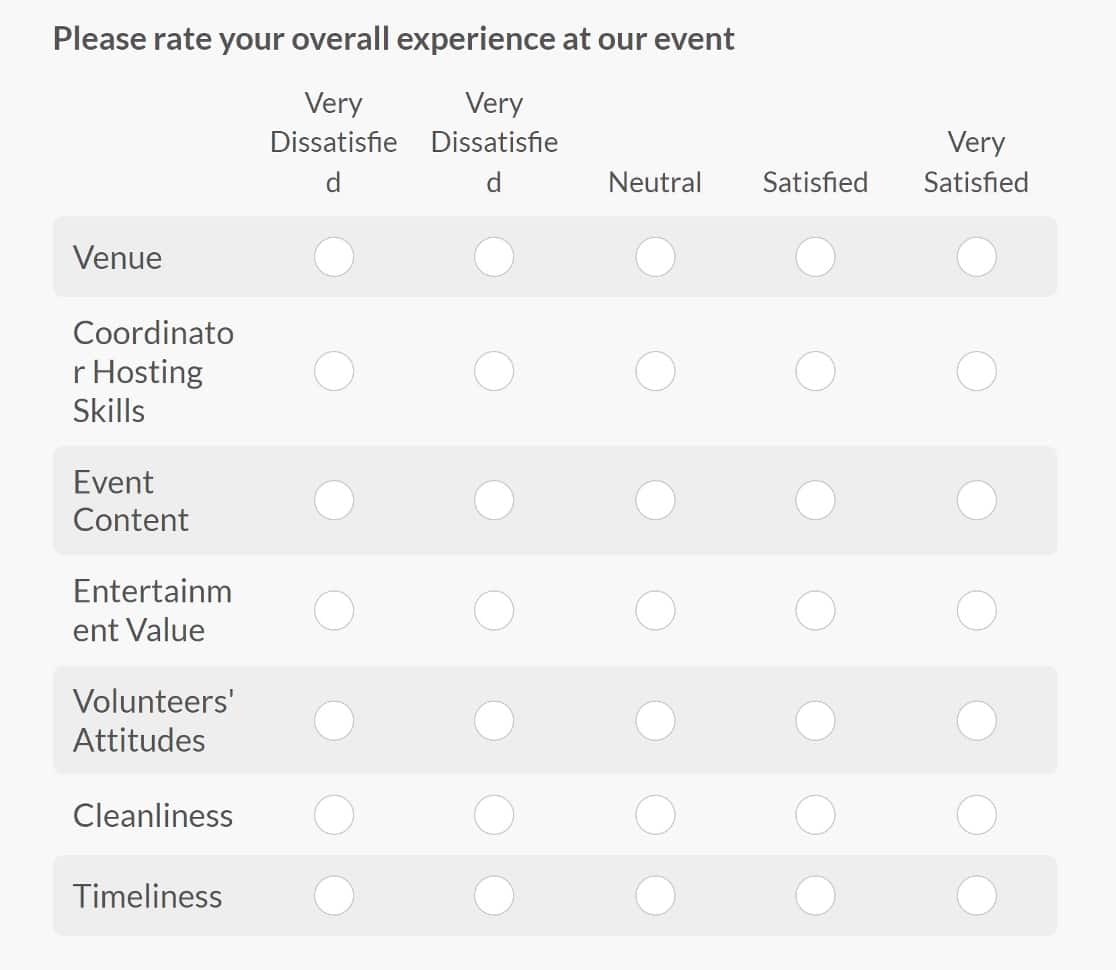 These responses can help you identify the aspect of your event that people enjoyed and also learn of any areas that fell short of expectations.
And then there are paragraph fields allowing users to offer more detailed feedback on things that could be included next time, things that could be improved, additional feedback, and suggestions for other venues.
Additionally, there's a file upload field that allows users to upload images of the event to the form.
You may be surprised to find some great photos taken by your participants that you may be able to share on your own website!
6. Training Course Feedback Template
If you're a corporate trainer, nothing can be more valuable to you than to learn if your training courses are effective.
The WPForms training course feedback template is designed to collect useful insights and see if the attendees have received full value from the course.
The main feature of this template is the linear scale called a Net Promoter Score (NPS) to determine how likely an employee is to recommend the course to coworkers. The NPS is another kind of rating scale question commonly used in feedback surveys.

The template includes some open-ended questions as well that allow participants to discuss more freely about what they liked or disliked about the course.
Plus, there's a Likert scale that participants can use to rate different aspects of the training they received.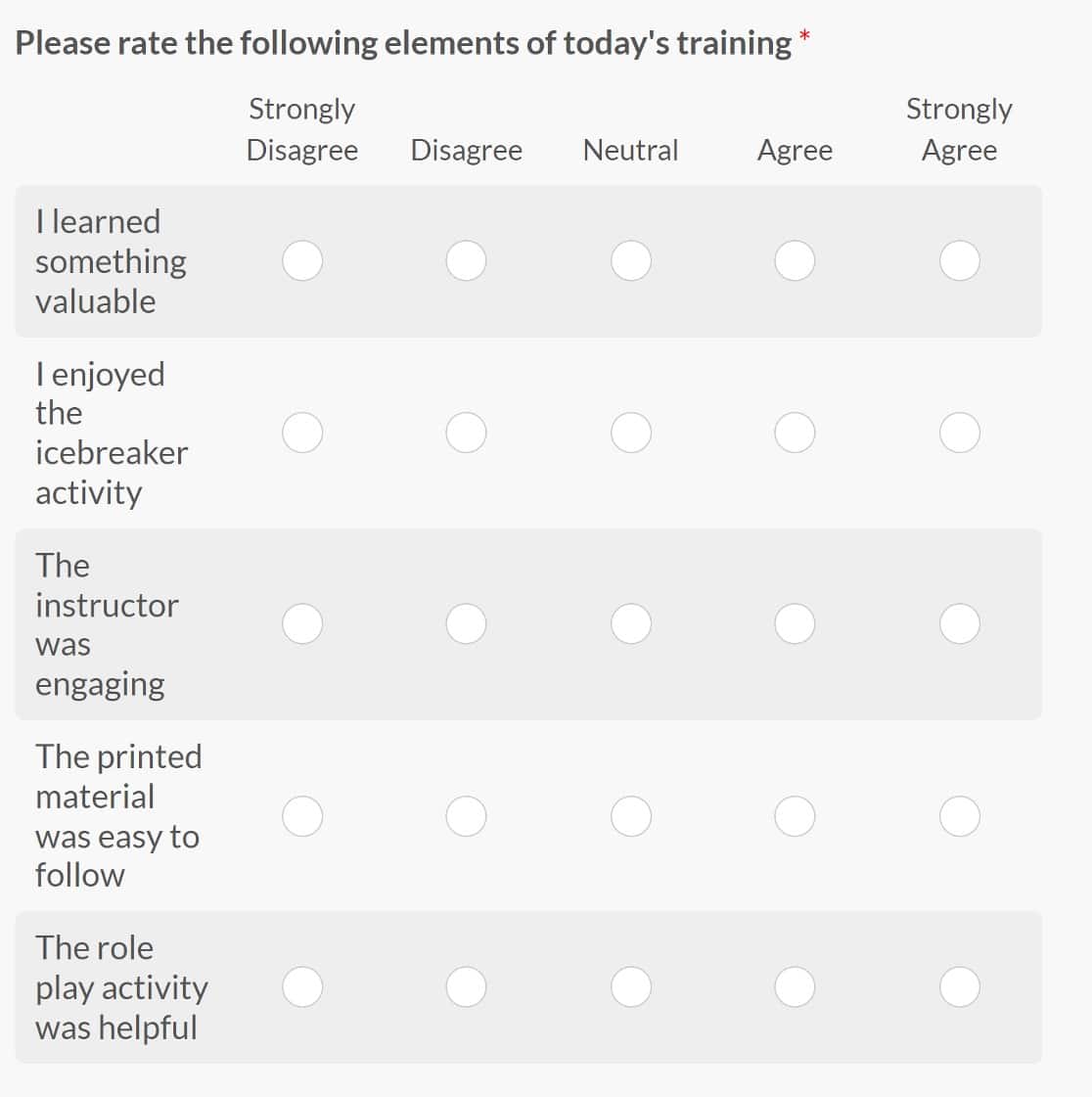 The training course template also includes an email opt-in field. If you're a training organization that offers services to different businesses and individuals, the email opt-in field can be a great way to build your email list for future courses.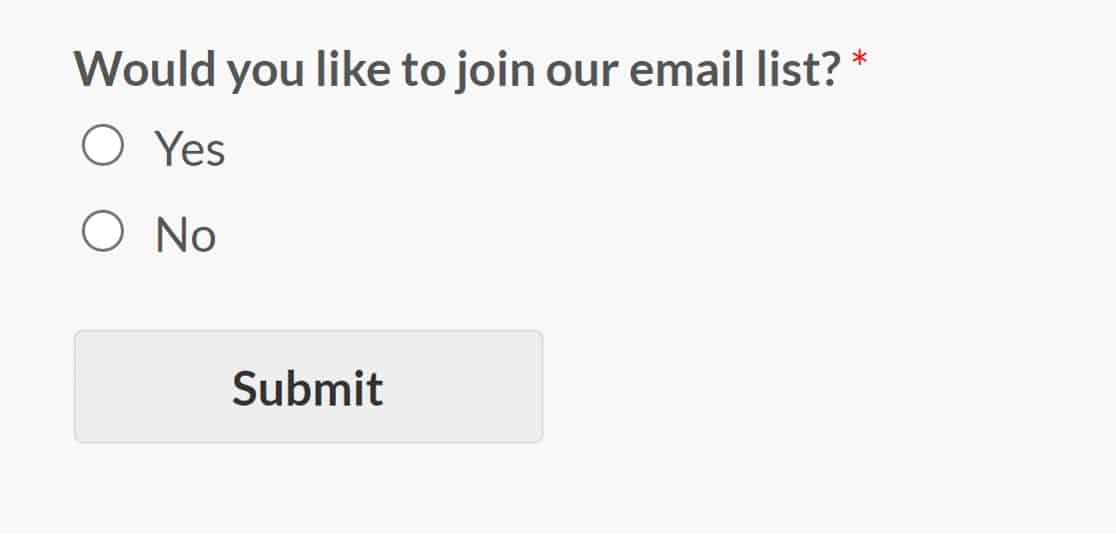 This field has conditional logic enabled, and it is set up to reveal an email field only if the user selects "Yes".
And that's it! We've shared 6 evaluation form examples with templates that can simplify your feedback collection process and play a big role in improving different aspects of your work.
Next, Explore Customer Satisfaction Survey Examples
We've talked about the customer service evaluation form, and it's one of the more popular evaluation form templates. We also have a customer satisfaction survey form template that is better designed to suit product-oriented businesses.
To get started using that template, here's our guide to setting it up with customer satisfaction survey examples. If you're thinking of customizing the template, here's a helpful guide to some questions to include, to help you get the most actionable feedback.
Ready to build your customer satisfaction survey form? Get started today with the easiest WordPress form builder plugin. WPForms Pro includes lots of free templates and offers a 14-day money-back guarantee.
Create Your Evaluation Form Now
If this article helped you out, please follow us on Facebook and Twitter for more free WordPress tutorials and guides.