Looking for some digital marketing stats? Being aware of how the "average" business online functions is a great way to get an idea of which areas of your business online might need more of your focus.
In this post, we've gathered tons of digital marketing statistics all in one place so you can use that data and knowledge to grow your business.
Here's a table of contents so you can jump straight to the type of digital marketing statistics that interest you the most:
What Is Digital Marketing?
Digital marketing is online marketing strategies that are used to identify, build, and target an audience to turn into paying customers for a product or service. This type of electronic marketing involves using many digital channels to connect with current and prospective customers.
If you're curious which channels this style of marketing includes, here's a list of digital marketing examples:
Search Engine Optimization (SEO)
Email Marketing/Marketing Automation
Content Marketing
Social Media Marketing
Pay Per Click (PPC)
Affiliate Marketing
Native Advertising
Online PR
Inbound Marketing
So now that you have a better idea about what digital marketing is, let's see why it's so important in helping you grow your business and make money online.
What Are the Benefits of Digital Marketing?
Asking yourself why is digital marketing important? Let's take a peek at some of the benefits for small business owners:
Lower cost — Digital marketing is cheaper than traditional marketing. If done correctly, the ROI on your digital marketing budget can be huge. One reason for this is focusing marketing efforts in areas where people already spend their time online results in higher-quality leads.
Global reach — Operating a business online costs less and expands your reach to even more audiences across the world.
Potential for viral content — Distributing content online comes with the possibility of viral sharing via social networking, bringing in more business to you for generally no added cost.
Measurable results — Your efforts are much more trackable than traditional marketing, due mostly to the fact that many analytics tools now exist. These tools can help you with specifics like form analytics or Google analytics.
Keep up with competition — It's becoming more and more common for customers to expect all brands, products, services, and small businesses to have an online presence.
Personalization — One of the reasons digital marketing does so well for small businesses is the fact that you can use personalization to automatically alter the user's experience based on their interests. This way, you can present them with page-level targeted offers for specific customer profiles based on behavior.
Obviously, digital marketing is a fantastic way to grow your business online, but what if you're not sure where to start? To get a better idea of who is doing what on the internet, let's check out some digital marketing facts.
The Ultimate List of Digital Marketing Statistics for 2023
Here's our ultimate list of digital marketing statistics:
Email Marketing Statistics
It's impossible to ignore the facts on how effective email marketing is — for every $1 spent it averages a return of $44. Stunning numbers like that are why focusing your digital marketing efforts on email marketing is a must for running a successful business online.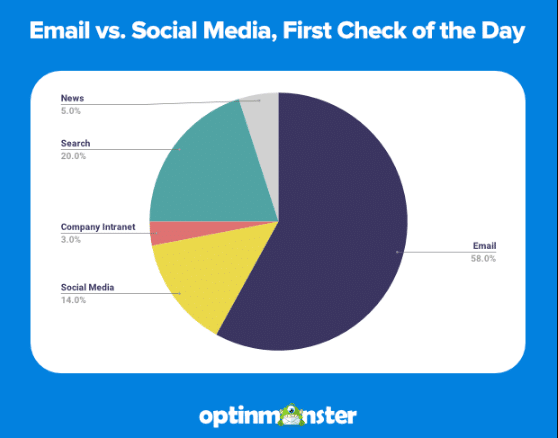 We've got even more email marketing statistics for you to check out if you want to see more.
Social Selling Statistics
The practice of using your social network via social media to discover and nurture relationships with prospects with the goal of converting leads to achieve sales goals is known as social selling. Social networking is an incredibly powerful medium that can be used to drastically improve sales results. For many salespeople, social selling has replaced the sometimes dreaded practice of cold calling.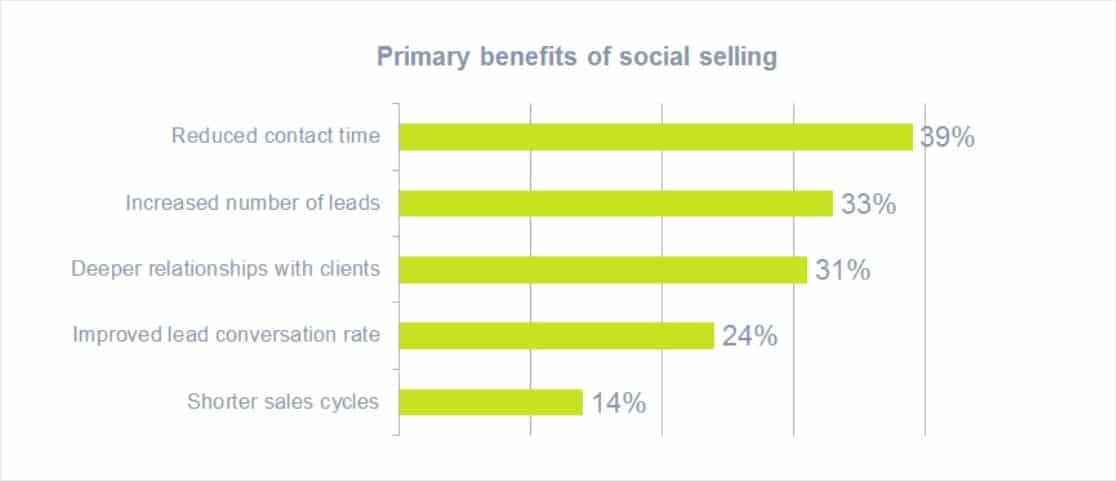 Lead Nurturing Statistics
A digital marketers know that their job doesn't stop at lead generation. These lead nurturing statistics show just how important it is to focus on leads before and after you have them so you can turn them into paying customers.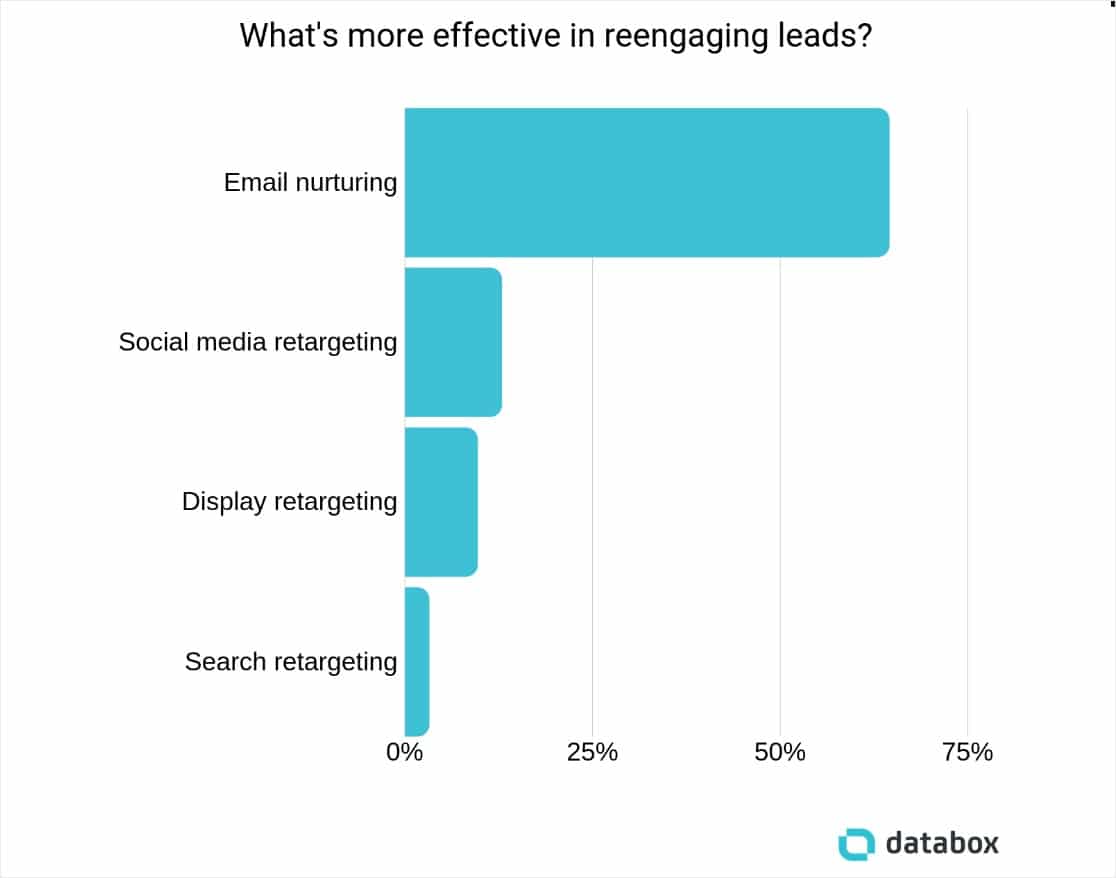 eCommerce Statistics
You can't have a list of small business digital marketing statistics or online business statistics without including eCommerce statistics. eCommerce, which is commercial transactions that take place electronically over the internet, continues to grow like crazy.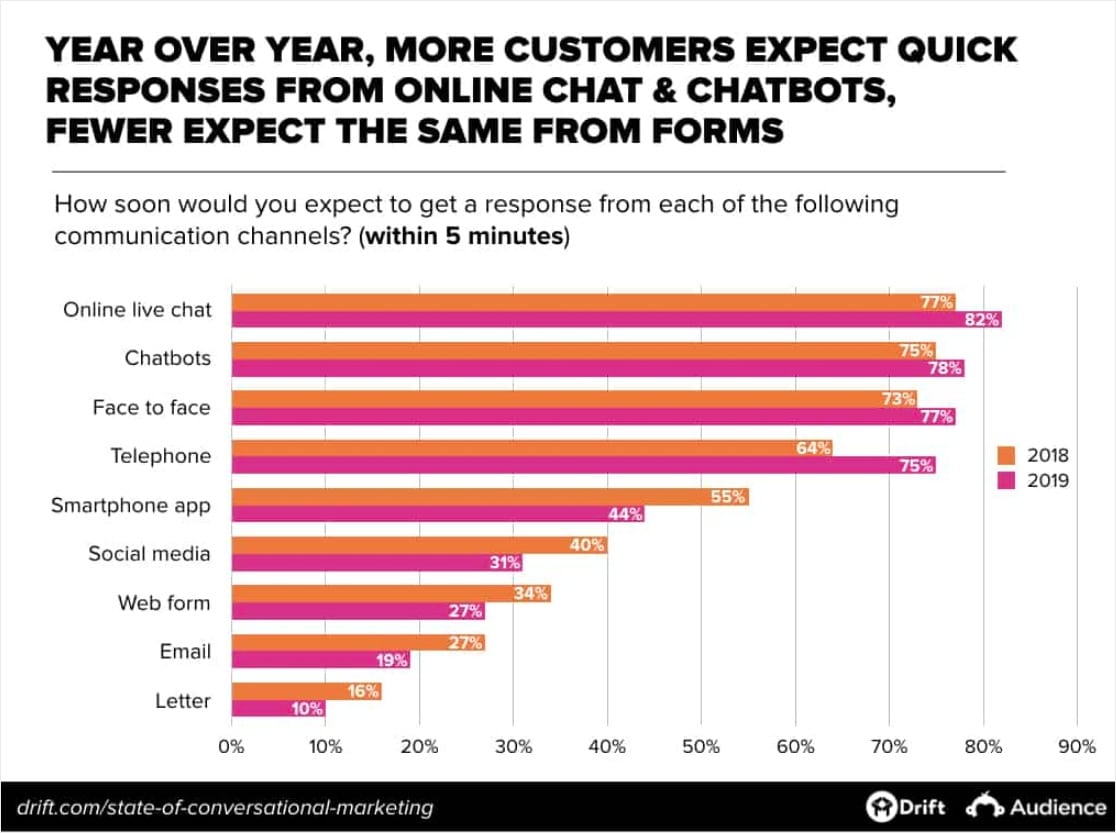 Mobile Commerce Statistics
Mobile eCommerce, also known as mCommerce or mobile commerce, refers to online research and purchasing using mobile devices such as smartphones, tablets, or laptops. This type of shopping-on-the-go eCommerce is convenient for both consumers and retailers and has massive potential for your business online since it lets you reach your audience anywhere at any time.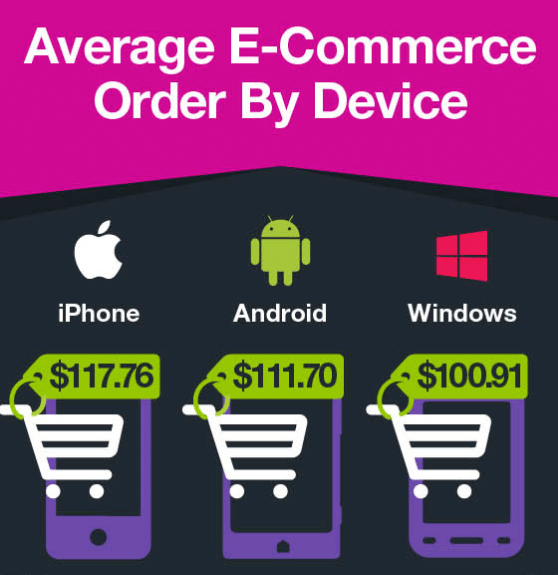 Social Proof Statistics:
Social proof is a psychological phenomenon where people conform to the actions of others by having the assumption that those actions are reflective of good behavior. And there are a ton of ways how social proof can improve your brand presence, including as a tactic for conversion rate optimization. If you're unsure how to use social proof, make sure to check out our post with social proof examples.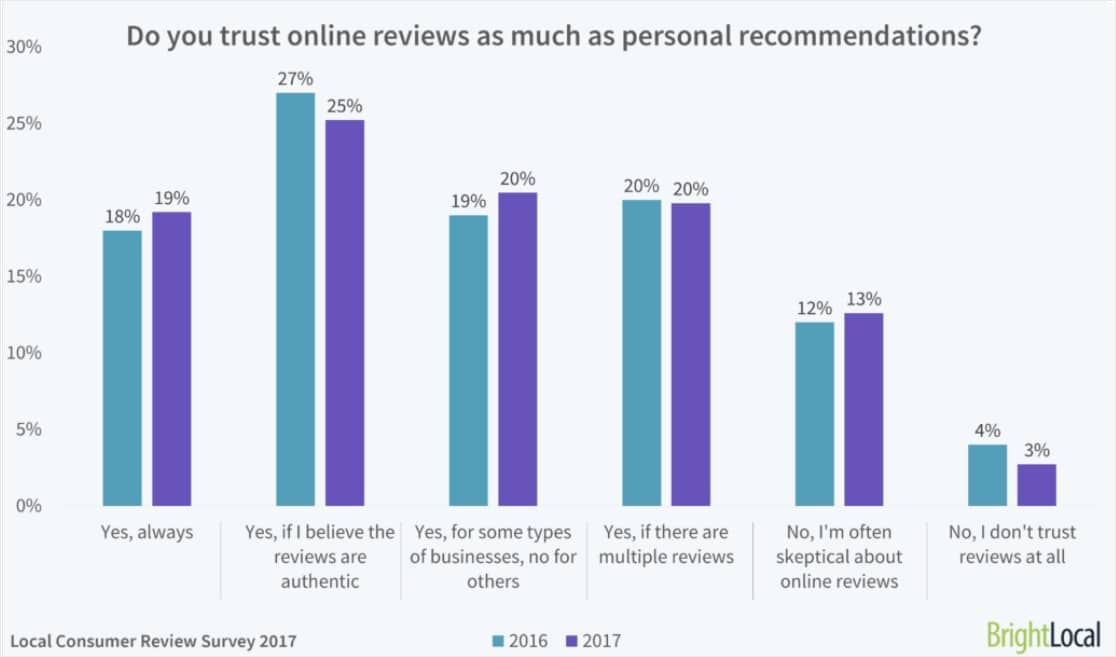 Email Subject Line Statistics
Wondering which email subjects gets the most open rates? Overall, subject lines that are personalized based on what they know their recipients are interested in perform the best.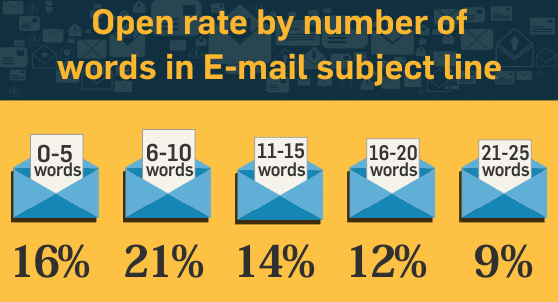 SEO Statistics
Digital marketers know that Search Engine Optimization (SEO) is one of the most important investments to grow your business online and when done correctly, it can cost very little (besides your time) so you can use your marketing budget for things like ad spend. To many, SEO is an art form that combines content creation, branding, and promotion to bring highly qualified visitors to your website naturally via a search engine. And these statistics show exactly why SEO is so important.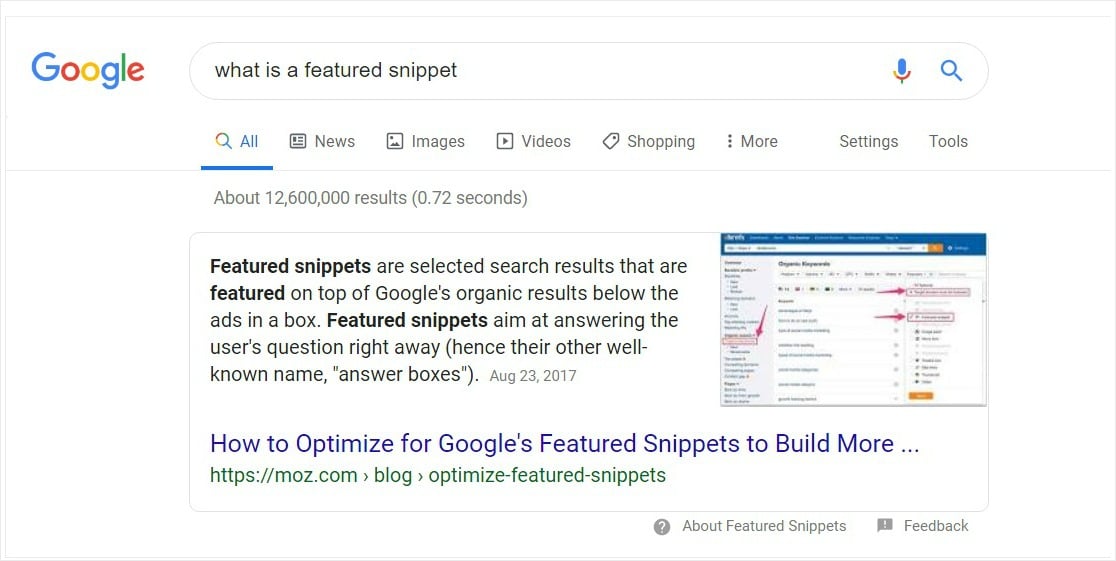 Online Shopping Statistics
How about some online shopping digital marketing facts? Modern consumerism is about more than just buying holiday gifts in your pajamas. These online shopping statistics might shed some light on your visitors' habits and surprise you.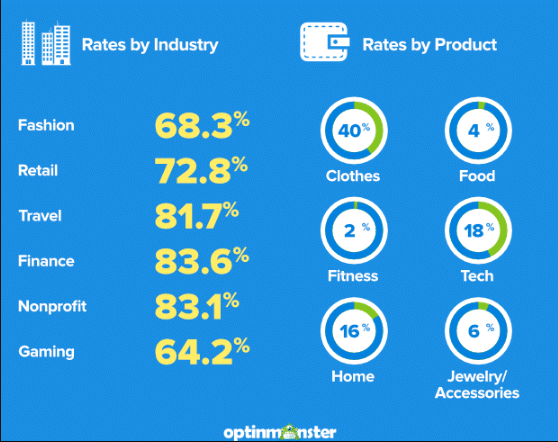 Conversion Rate Optimization Statistics
Conversion rate optimization (CRO) is the process of boosting the percentage of your site visitors who take a desired action — like completing a form, subscribing to a newsletter, or making a purchase. Marketers spend a lot of time getting people to come to our website, but it turns out getting traffic isn't a huge problem for most marketers — a weak conversion rate is. A great first step in CRO is to make sure you're following form conversion best practices.
The average number of fields on lead generation forms is 11. (PAGEWIZ)
Using visual content like videos on landing pages can improve conversions by 86%. (Eyeview)
On average, For every $92 spent on acquiring a customer, just $1 is then spent on trying to convert them. (Econsultancy)
74% of conversion rate optimization programs increase sales. (MarketingSherpa)
68% of small businesses don't have a structured or documented conversion rate optimization (CRO) strategy. (State of Conversion Optimization Report)
Only about 22% of businesses are satisfied with their conversion rates. (Econsultancy)
Personalized Call to Actions (CTAs) convert 42% more visitors than unpersonalized ones. (HubSpot)
A/B testing is the most used method of conversion rate optimization. (Econsultancy)
A 1-second delay in your site speed can reduce conversions by up to 7%. (Neil Patel)
Multi-step forms in WordPress can lead to 300% more conversions. (Venture Harbour)
Asking for a phone number has the worst impact on conversion rates. (WPForms)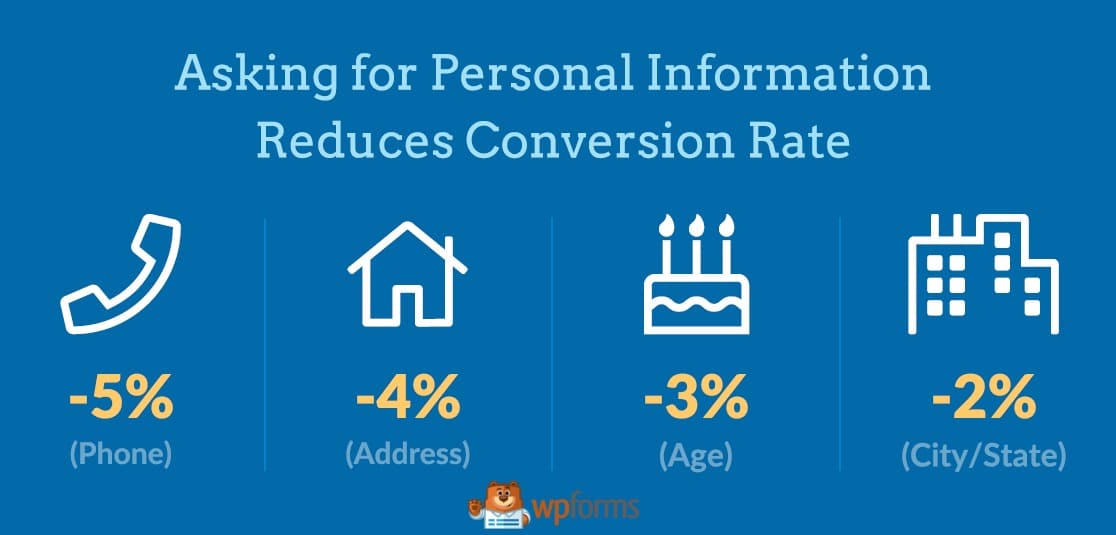 Marketing Statistics
Curious how digital marketing compares to traditional marketing? Here's some general marketing statistics to consider.
Inbound marketing costs 62% less per lead than traditional, outbound marketing. (HubSpot)
Companies that blog get 55% more web traffic.
57% of businesses have acquired a customer through their company blog.
78% of Internet users conduct product research online.
The number of marketers who say Facebook is "critical" or "important" to their business has increased 83% in just 2 years.
200 Million Americans have registered on the FTC's "Do Not Call" list.
FOMO Statistics
The acronym FOMO stands for Fear of Missing Out, and it's one of the most incredibly powerful digital marketing strategies around. It was made popular by online tools like TrustPulse. FOMO is characterized by the desire to stay continually connected with what others are doing, with fear that they are missing out on having rewarding experiences.

And there you have it, folks! Hopefully, this list of digital marketing statistics helped give you some insight into what's going on in the world of online marketing and how you can leverage different strategies for your own business.
Next, Collect Leads With WPForms
Now that you have tons of digital marketing inspiration, it's time to take your WordPress site to the next level.
One of the most effective ways you can grow your website and get subscribers is to use contact forms. WPForms Pro is the best way to do that because:
It's the easiest form builder available for WordPress, allowing you to make forms for any purpose without coding
It has over 500+ pre-built form templates
You can sell digital products on your WordPress site and instantly send a download link to your customer
By creating Mautic WordPress forms, you can use your visitors' details in personalized marketing campaigns
It comes with excellent addon features like the save and resume functionality
When you buy WPForms, you get access to priority support to get all of your integrations working the way you want
All of your forms will be fully mobile responsive, so you can use your WordPress site for mobile eCommerce too.
Create Your WordPress Form Now
Focusing on getting more email subscribers is always a good place to start with your digital marketing efforts. Be sure to check out our post on how to grow your email list for some awesome tips.
And if you like this article, then please follow us on Facebook and Twitter for more updates from our blog.