You asked for it, here it is. Finally, the WPForms Surveys and Polls addon is available for download.
Now you can use the WPForms drag & drop form builder to create interactive surveys and polls for your WordPress site.
This was one of the most requested features from our users, and I'm really excited that we are able to deliver what I believe to be the best WordPress survey and polls plugin in the market.
Unlike the other WordPress survey plugins which lack proper analysis and reporting, we put an extra emphasis on creating the best-in-class reporting to help you visualize the results and make data-driven decisions to grow your business.
Through out the whole process, our goal was to help you build beautiful, complex surveys with drag & drop ease without having to pay high monthly subscription fees or displaying some third-party branding on your site.
Basically the same ease of use that WPForms is best known for with more powerful features.
Let's take a look at the features that makes our survey addon stand out.
Smart Survey Fields
Unlike other WordPress forms plugin that create duplicate fields for surveys which is confusing for users, we decided to fully integrate the survey features into our existing form fields.
This means that you don't have to drop a "Survey Radio Button" field to a form. With a single-click, you can turn any existing form on your website into a survey form.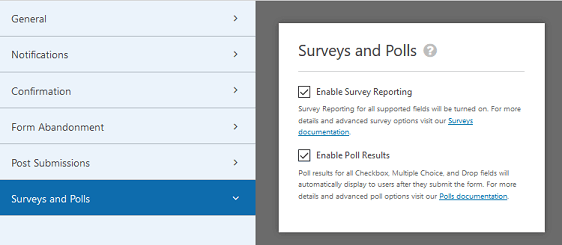 The moment you enable the survey or poll option, all form fields are converted into smart survey fields.
This includes: text field, dropdown field, radio buttons, checkboxes, rating field, etc.
We also added a new Likert Scale field. Likert Scales, or matrix questions, are very important for surveys.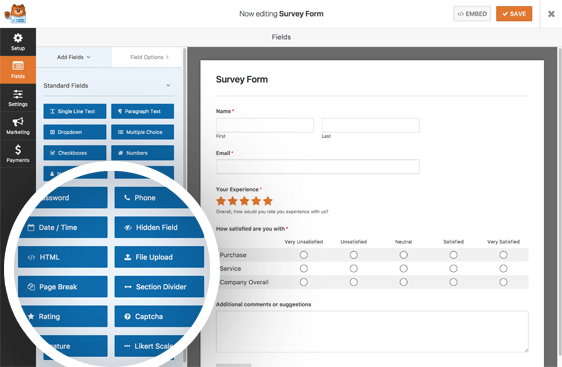 Best-in-class Survey Reports
In the past WPForms releases, we made several database structure changes, so we could offer the best-in-class survey reports.
Now you might be wondering, what makes WPForms survey reports better than others?
1. Beautiful Visual Reports that You can Customize
Our real-time insights feature automatically builds a beautiful report with the best visualizations selected for each type of question.
You have the option to change the visualization type that best suits your need.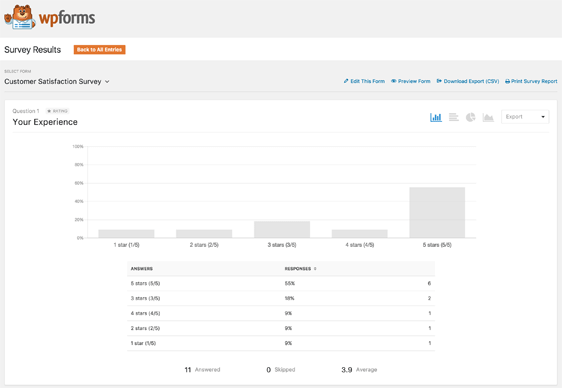 2. Retroactively Enable Survey Reports on Older Forms
One of the reasons why we decided to convert existing form fields into smart survey fields is so that you can retroactively enable survey reporting on your older forms.
Simply edit any existing form and enable Survey Reporting from the settings tab.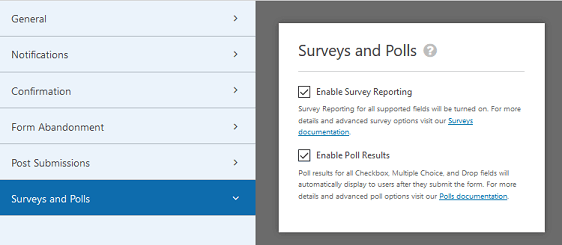 This way you don't have to ask the same questions to your users again. From my knowledge, no other form solution can do this!
Yup, that's why WPForms is the best in the market 😉
3. Real-time Polls Report
With WPForms real-time polls report, you can show the results to each user immediately after they submit the form.
You can embed your polls in your WordPress sidebar widgets, inside a post, page, or basically any other area of your WordPress site.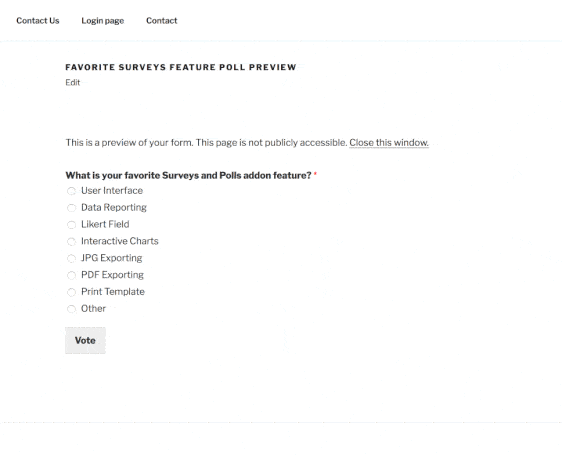 4. Export / Share Individual Charts
We know that sharing your survey results is very important whether you're doing it internally in company presentations or publicly on your website/ social media profiles.
Aside from being able to export the entire survey report, we added the option for you to export individual charts as PDF or JPG with a single click.
This should make it super easy for you to use these beautiful charts in your presentations, blog posts, or on social media posts.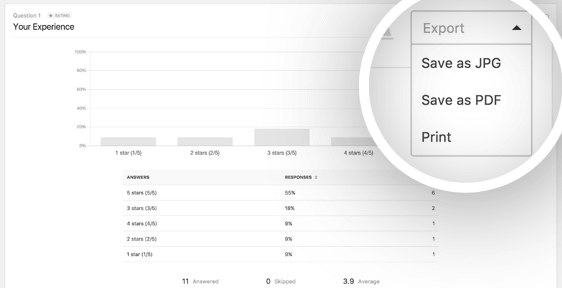 5. Customizable Print Styles
In case you're working on a written proposal and need to print the reports, then we got you covered as well.
Our survey addon comes with beautiful print-styles, so you can easily print your survey reports.
You can also customize your print report by selecting specific questions and graph / visualization styles.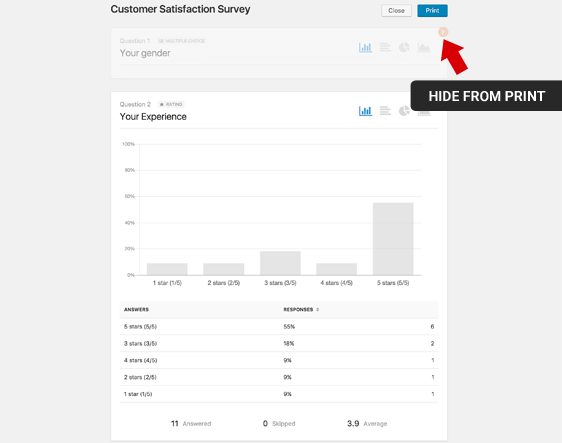 Powerful Survey Logic
We also extended our powerful conditional logic to help you personalize your survey questions based on user's previous answer. This allows you to make sure your audience receives a "wow" experience every time while you collection the insights you need to make data-driven decisions.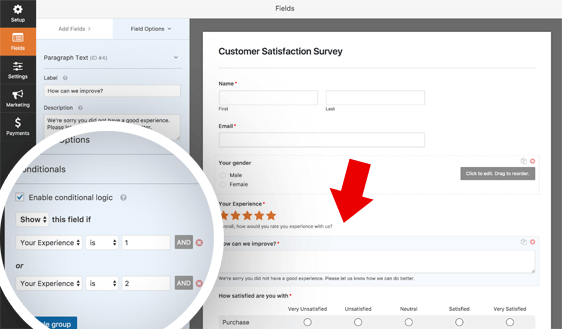 We also added the option to randomize the order of items in your multiple choice / radio button fields, so you can eliminate the choice bias from your survey results.
Simply go to the Advanced Options tab to enable Randomize option.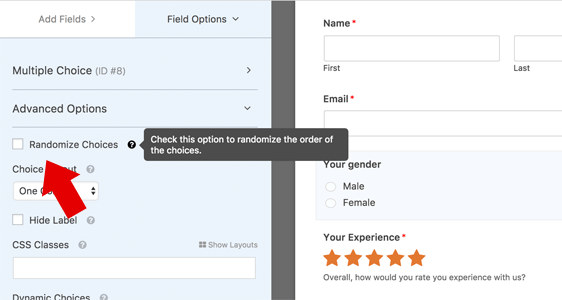 New Form Templates
A release of this magnitude would not be complete without our signature form templates.
WPForms pioneered the concept of form templates in the WordPress forms industry. With the survey and polls addon, we have added two new form templates that you can use to quickly create a survey or poll form.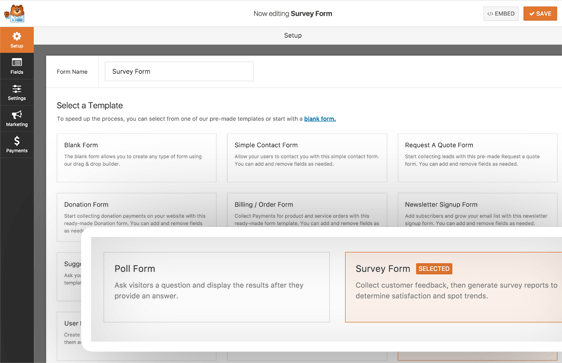 That's all for this announcement. We hope you like the new surveys and polls addon for WPForms. Go ahead, give it a try and let us know your feedback.
Don't have a WPForms Pro license? Click here to Get Started today and experience the WPForms difference.
As always, thank you for your continued support of WPForms. We look forward to bringing you more updates soon!
Syed and the WPForms team