We're working hard on adding all the requested features and enhancements in WPForms. If all goes according to plan, there will be two major updates this week. Here's what's new in WPForms 1.1.4.
Duplicate a Form with 1 Click
A lot of you have been asking for an easy way to duplicate forms. Now you can easily duplicate forms with 1 click.
Simply go to the forms screen, bring your mouse over to the form you want to duplicate, and click on the duplicate button.

I know our form templates make it really easy to create new WordPress forms. This feature will be even more powerful because now you can duplicate those forms.
Before you even ask, yes we're working on an easy way for you to create your own custom form templates. Although there is a way that you can do that right now too (just requires a little bit of coding).
Submit Button Styles
WPForms allowed you to add custom CSS to all input fields except the Submit button. Not sure how we overlooked that, but thanks for pointing that out.
In this version, you now have the ability to add custom CSS styles to your Submit button.
Simply click on the Submit button, and you will be taken to the settings screen where you can add your custom CSS class.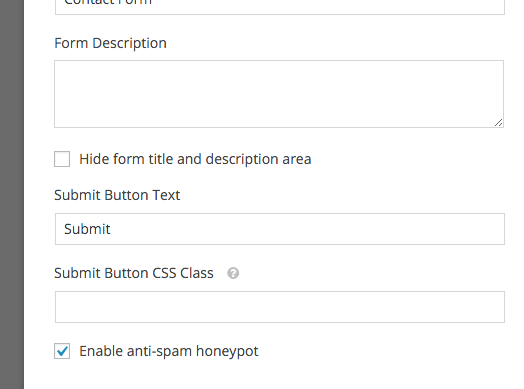 Enhancements + Bug Fixes + What's Next
Aside from those two new additions, we also fixed some minor bugs and added enhancements to existing features.
We're planning on releasing v1.1.5 later this week which will allow you to export your form entries, resend email notifications, and much improved UI for single entry pages.
Next week, we will be launching our GetResponse integration and two more awesome features.
Looking for a drag & drop WordPress form builder? Get WPForms today and unlock all the awesome features.